Spring potato salad with sour cream and dill is fresh and creamy with just the right crunch. Bright flavors of arugula, celery, and fresh peas balanced with smooth potatoes. Perfect for any pot-luck or cookout, this potato salad without eggs is ridiculously easy to prepare. Ready in 25 minutes.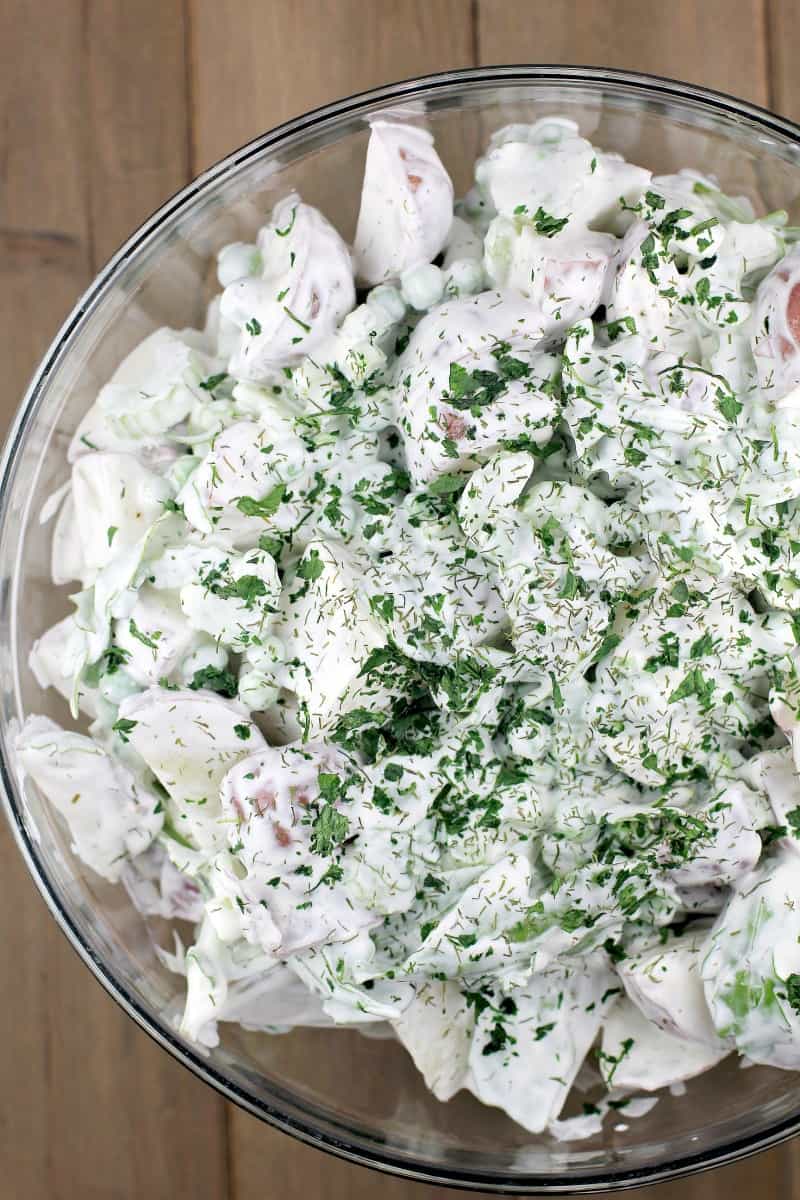 A lightened up potato salad
Potato Salad, finally. I have finally made a really good potato salad. And I mean really good. As in so-good-I-ate-half-the-bowl good. Actually, let's just call it awesome. This is That Good.
I made up this recipe for Easter dinner to go with our glazed ham. Easter was such a beautiful, spring day this year that I thought a bright potato salad with dill would be more fitting than my usual cream cheese smashed potatoes.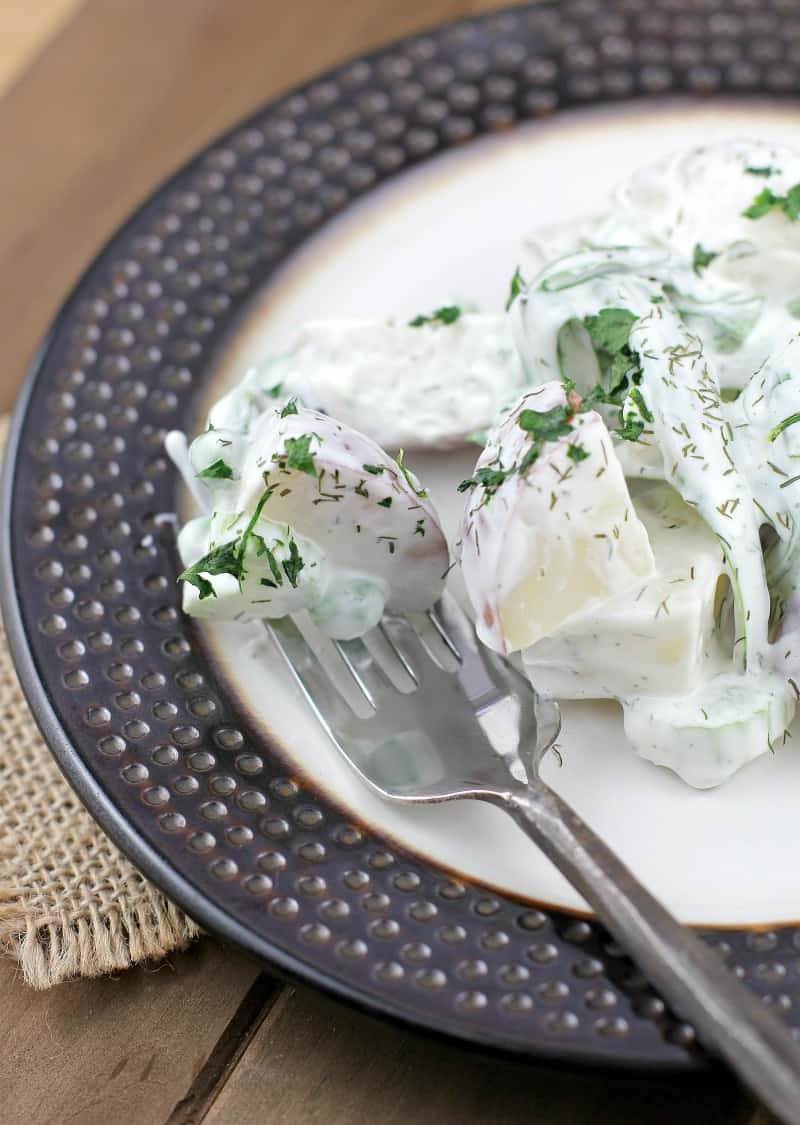 I also wanted to keep this salad lighter. Not to spare calories, which is the very last thing I worry about on a holiday. But I did not want it to taste heavy and make us all lay around like regretful slugs after the meal. After all, it is spring and it was beautiful out.
So to accomplish that goal, I made my spring potato salad without eggs or bacon. Instead I added peppery arugula, crunchy celery, and sweet peas. I also made this potato salad with sour cream and mayonnaise – reduced fat both.
You know what? This is about one of the tastiest recipes I have ever made. Seriously, it is at least in the top ten. Ridiculously good. This is the best potato salad I have ever had, and it was so easy to make.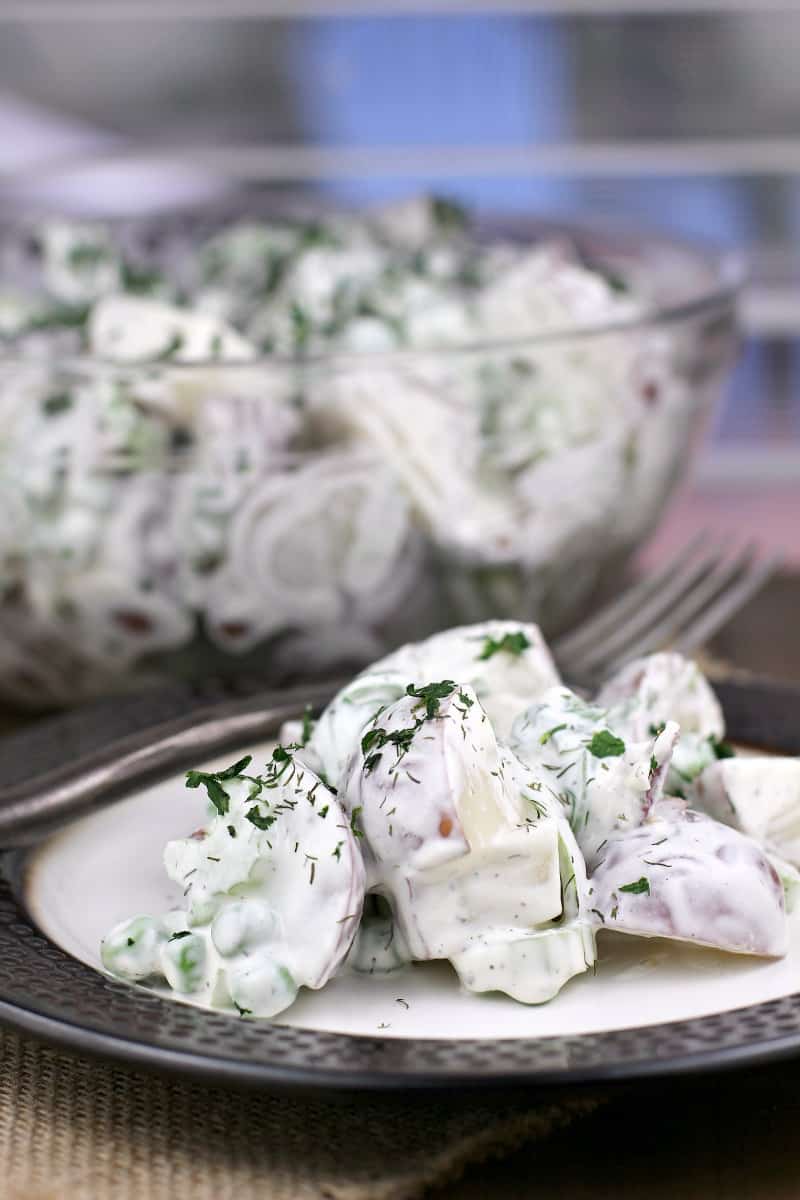 Here are the ingredients
Red-skinned potatoes. With their thin skins, red potatoes don't need to be peeled.
Dill. I used dried, but fresh would be even better. Dill brings that earthy umami that is also so notable.
Dijon mustard. I think I add Dijon to damn near everything.
Light mayonnaise. This is optional to use a "light" mayo, and you can use whatever mayonnaise you like.
Reduced fat sour cream. I tend to use reduced fat sour cream all the time anyway because I prefer the looser consistency.
Seasonings. Salt and pepper.
Arugula. One of my top favorite greens, I LOVE the peppery special flavor of arugula.
Peas. Pretty little green pearls that you can use straight from the freezer because they thaw quickly.
Celery. For crunch and that singular celery flavor.
All very easy, accessible ingredients. I do always use reduced fat sour cream for this potato salad with dill because I just like it better, but I vary on the mayonnaise. So use light or reduced fat if you want, but full fat regular mayonnaise works well too.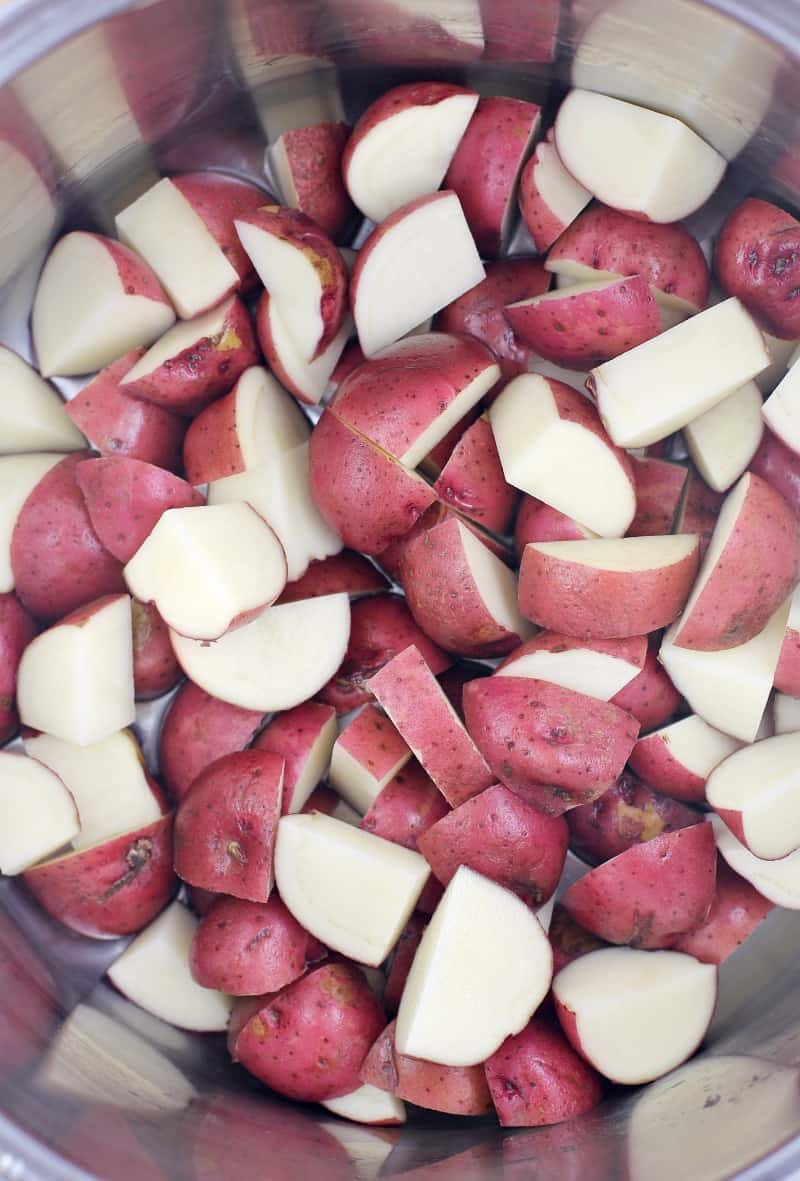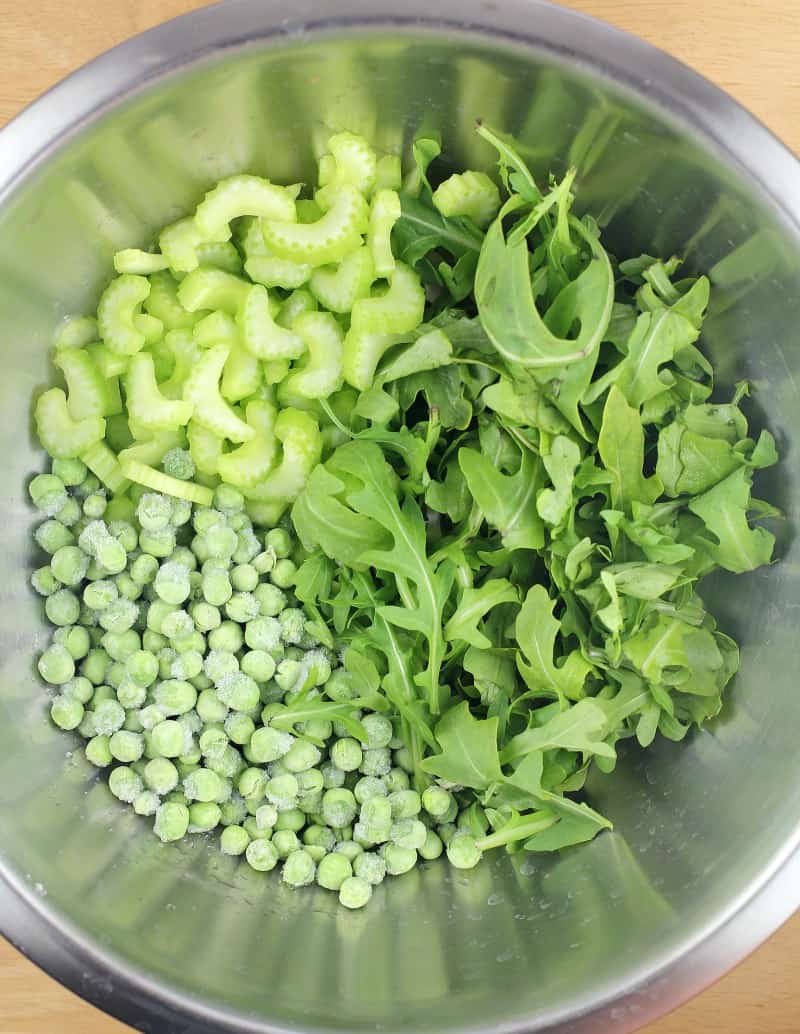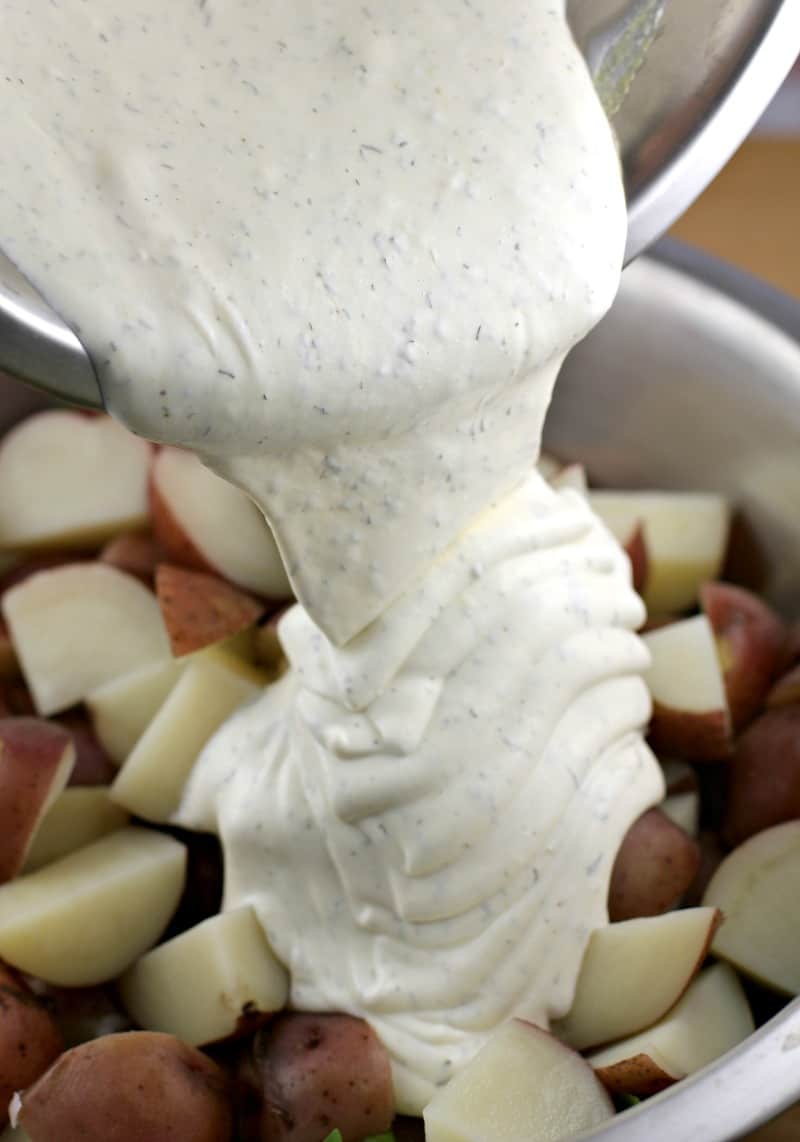 Here are the steps for preparation
First, prep and cook the potatoes. Because they are thin-skinned and cut into bite-sized pieces, they will not take that long to cook. Therefore, bring to a simmer and then start checking to see if they are just fork tender (where the fork inserts easily but the potato still holds together) after 15 minutes.
Once done, drain the potatoes and rinse immediately with cold water to stop the cooking process.
While the potatoes are cooking, gather together the rest of the ingredients and make the dressing in the bottom of a large mixing bowl.
Add the arugula, peas, celery, and potatoes to the dressing in the bowl, and toss gently. That's it!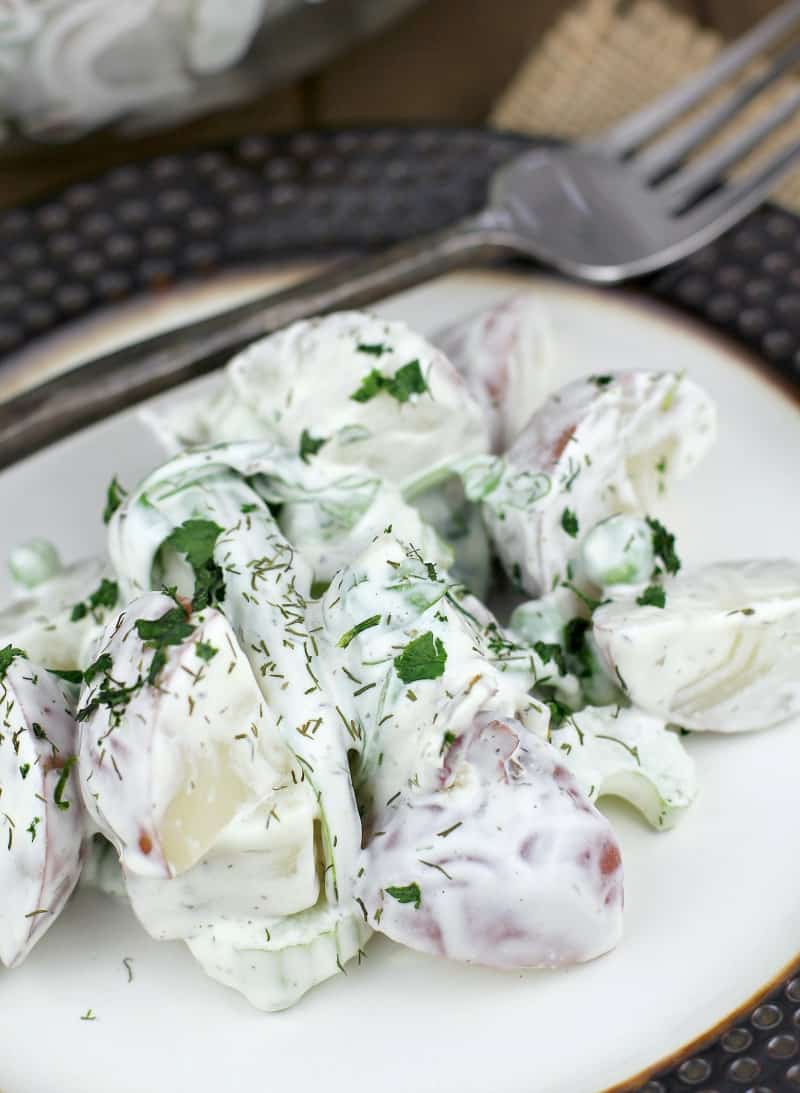 Tips
Use the kitchen timer and start checking the potatoes to see if they are done starting at 15 minutes. If they overcook, they will fall apart when you toss them in the rest of the ingredients.
Once the potatoes are in a strainer or colander, rinse with cold water to stop them from cooking any further. This will give you perfect that hold together when tossed in the salad.
Once you get the potatoes on the stove, then gather the rest of the ingredients. This cuts down on preparation time.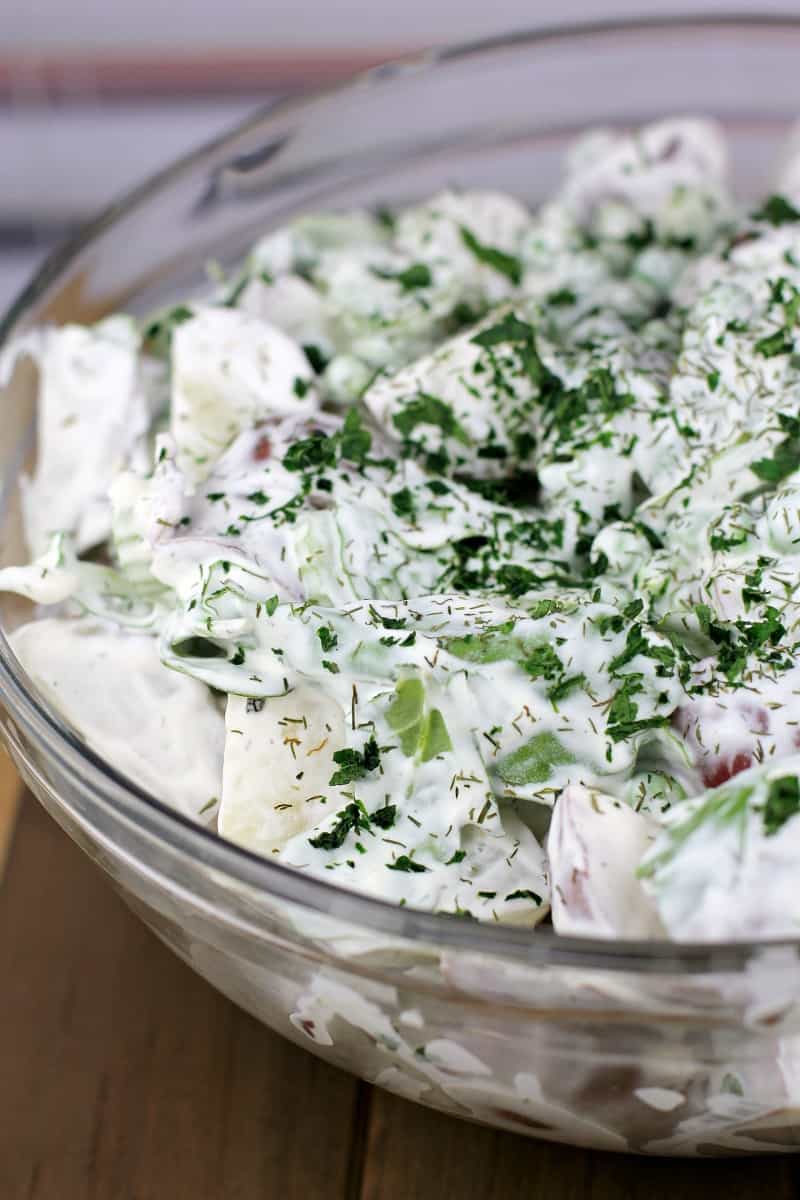 Mix the ingredients for the dressing in the bottom of bowl, add the rest of the ingredients on top, then use a large rubber spatula to gently go under and lift up the dressing. This is the gentlest way I find to make potato salad.
Leftovers of this spring potato salad with sour cream are very good, for up to 3 days. However, the arugula will wilt. So, for your main event, I do not recommend making this recipe in advance.
Store in a serving bowl covered with plastic wrap or in an airtight container.
I say in the recipe card that the peas should be thawed, but that honestly isn't necessary. They thaw so quickly, that I usually just toss them in still frozen.
In addition to being a potato salad without eggs, this recipe is naturally gluten-free.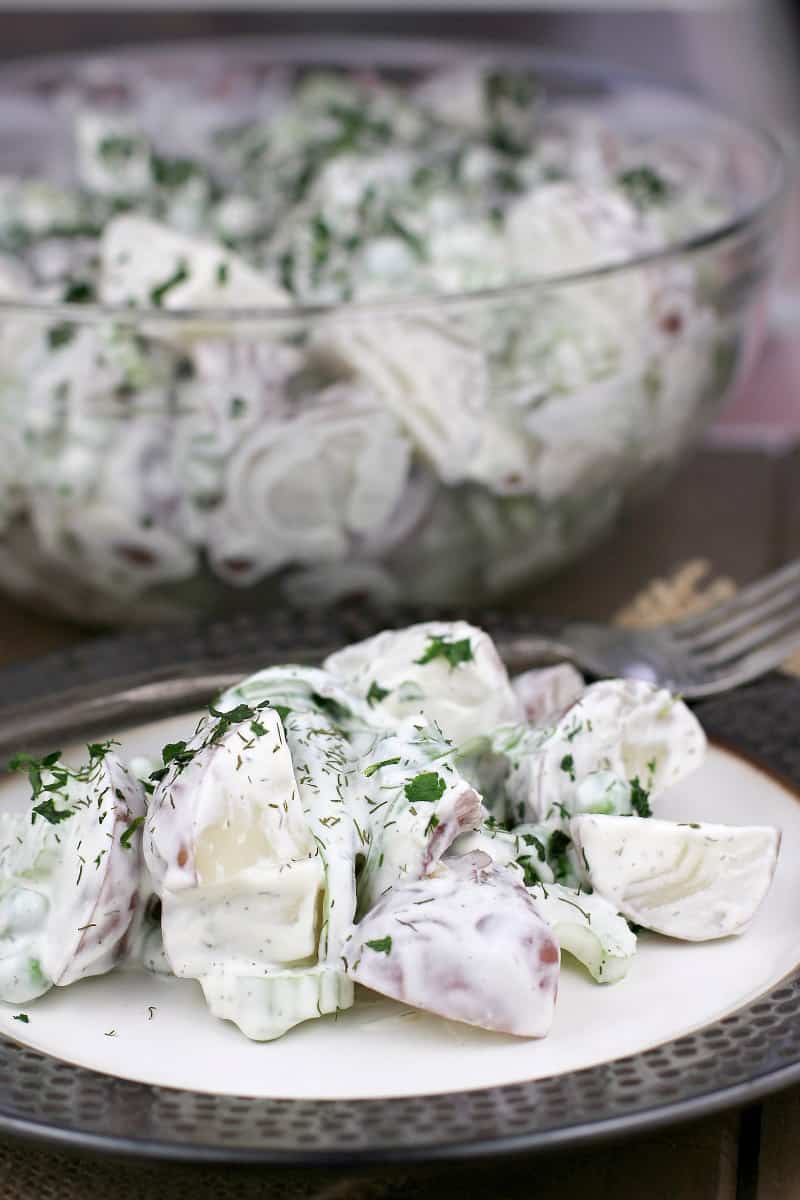 More salad ideas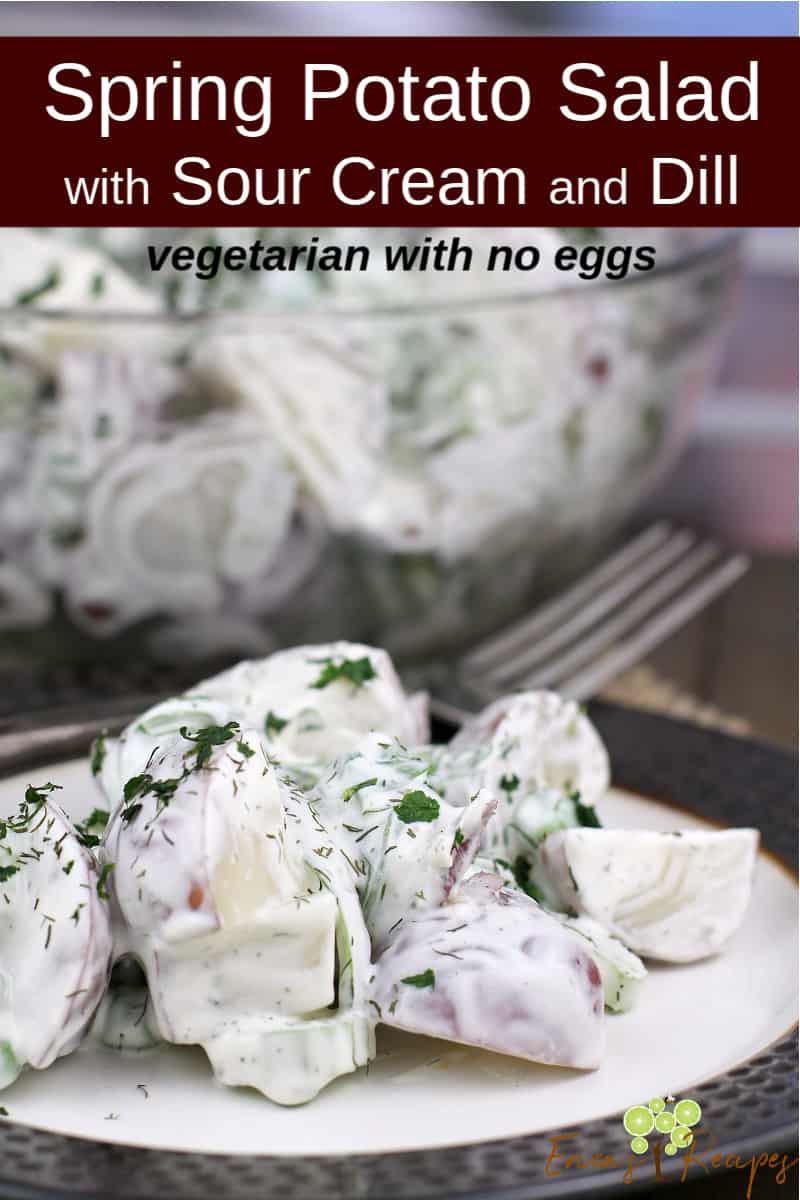 Click the P for Pinterest button to save this recipe. If you make it, come back and tell me! Use the star rating or leave a comment to let me know how it worked for you.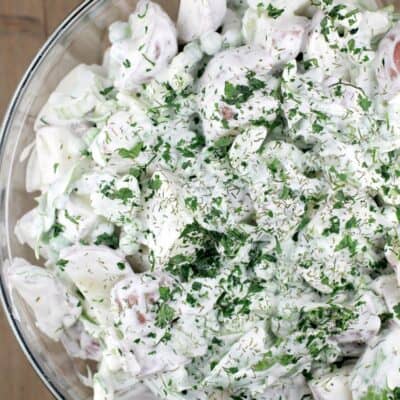 Spring Potato Salad with Sour Cream and Dill
Spring potato salad with sour cream and dill has just the right crunch. Arugula, celery, and peas with creamy potatoes. Perfect potato salad without eggs.
Ingredients
2

lb

red-skinned potatoes

cut into bite-sized pieces

½

tsp

dried dill

1

tsp

Dijon mustard

¾

cup

mayonnaise

light or full fat

½

cup

reduced fat sour cream

pinch

kosher salt

pinch

fresh cracked pepper

1

cup

packed arugula

1

cup

peas

thawed if frozen

2

large celery ribs

sliced into thin slices
Instructions
For the potatoes
Put potatoes in a large pot and cover with cold water. Bring to a boil.

Once just at a boil, reduce heat to medium-high and simmer 15-20 minutes until potatoes are just fork tender. Potatoes are done when a fork inserts easily but the potato still holds together well.

Drain potatoes and rinse immediately with cold water to stop further cooking. Drain well.
For the salad
In a large bowl, whisk together the dill, Dijon, mayonnaise, sour cream, salt, and pepper.

Gently toss in the potatoes, arugula, peas, and celery. Taste for seasoning.
Notes
Calorie calculation is approximate using an online calculator. Hellman's Light Mayonnaise was used in the calculation. Full fat Duke's mayonnaise gives a calculation of 371 calories. Both versions are delicious.
Nutrition
Calorie count is purely an estimate calculated using an online application to serve as a guide and not to be taken as accurate nutritional information. Percent Daily Values are based on a 2,000 calorie diet.
Tried this recipe?
Leave a comment below and let me know!