Jalapeno Pimento Cheese Burger
The pimento cheese burger kicked up with jalapeno is juicy good eating. Jalapeno Pimento Cheese comes together fast so you can enjoy this spread topped on a perfect grilled burger even on a weeknight. Why settle for a plain cheeseburger when you enjoy this crazy awesome burger in almost the same time.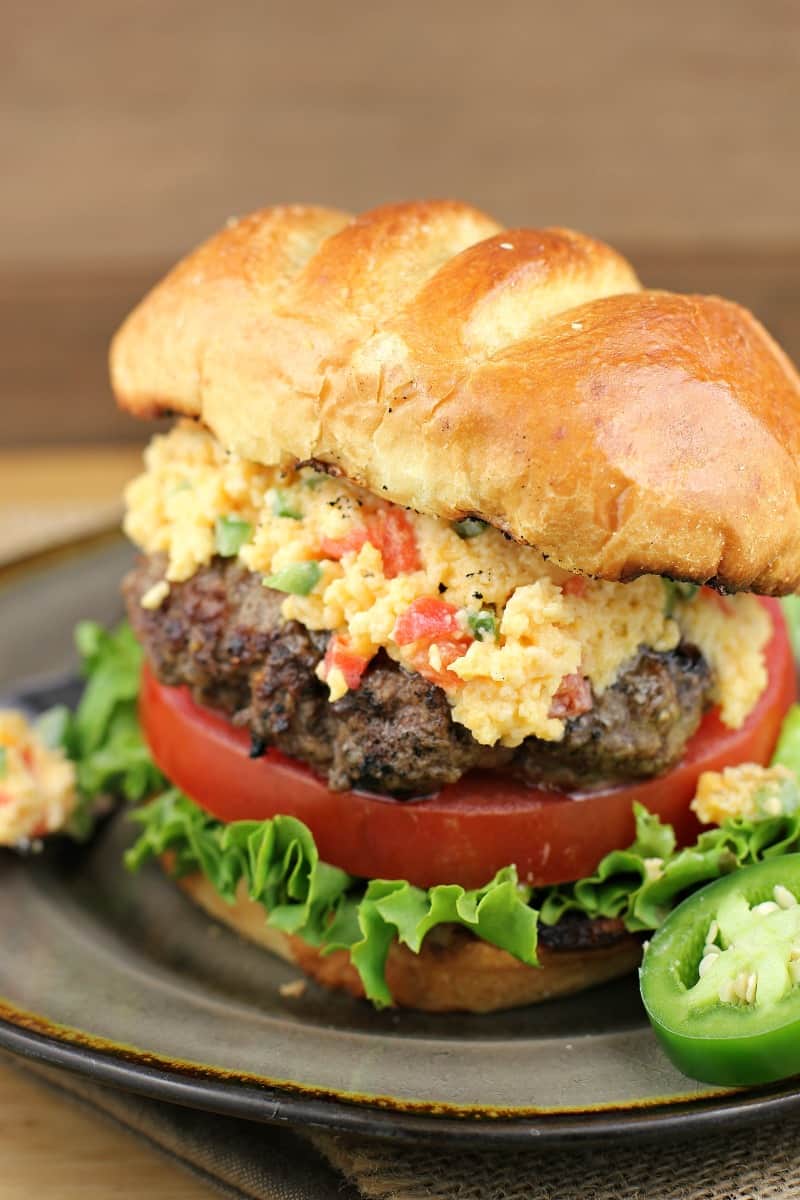 So this little bit of crazy delicious was born out of a random night when I just wanted a big fat sloppy juicy burger. And I wanted the recipe to be easy because I did not have time for complicated things that night.
Hence, why there is no bacon on this pimento cheese burger. Because that would have taken too long. And at the end of it, bacon was not even necessary. Not in the slightest.
This burger was SO good and SO tasty and everything I wanted just as it was. A keeper recipe that was surprisingly easy to make.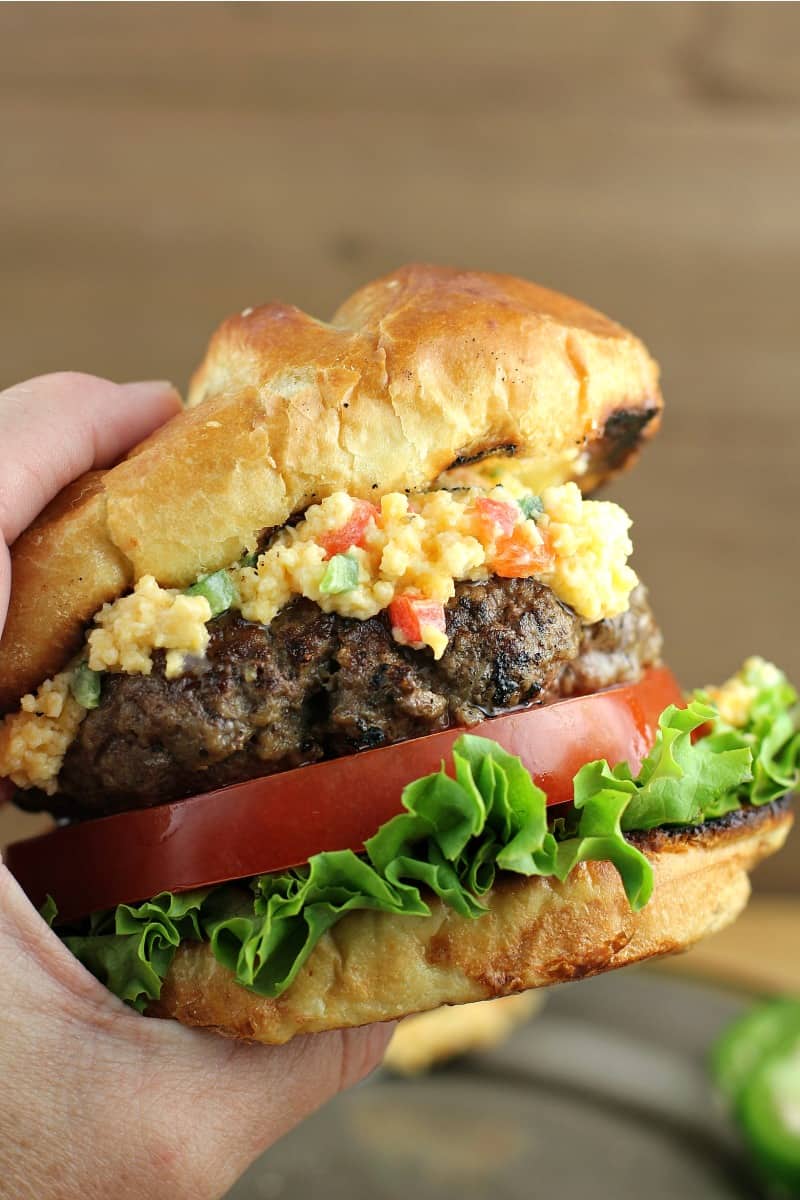 What even is pimento cheese?
In the south of the United States, pimento cheese is considered a spread or a relish, enjoyed on crackers or as a dip.
Pimento cheese is basically cheddar cheese blended with mayonnaise with pimentos added after. Which totally sounds nasty like it should not taste good (or at least be bland), but dang is it good and that is why we're all here.
Pimento cheese is another one of those freak things were ingredients sound like they shouldn't work, but they just do. And it is even better BY FAR when you make your own.
For the love of jalapeno
I adore jalapeno and not for the heat. I am not the biggest fan of spicy foods – I don't like eating to be particularly painful, if you know what I mean. But I love love LOVE the flavor of jalapeno and cook with it for that reason quite often.
When I made this burger again for these photos, my young son ate his all up and loved it. This recipe is not spicy, which is surprising because I added a whole ginormous pepper.
Of course, maybe my pepper was weak, and so that will vary pepper to pepper. So, my point is not to look for this to be spicy. It isn't.
You can make it spicy – add jalapeno slices on the burger and hot sauce to the pimento cheese. But as written, unless you use a freakishly hot pepper, this recipe is low threat for heat.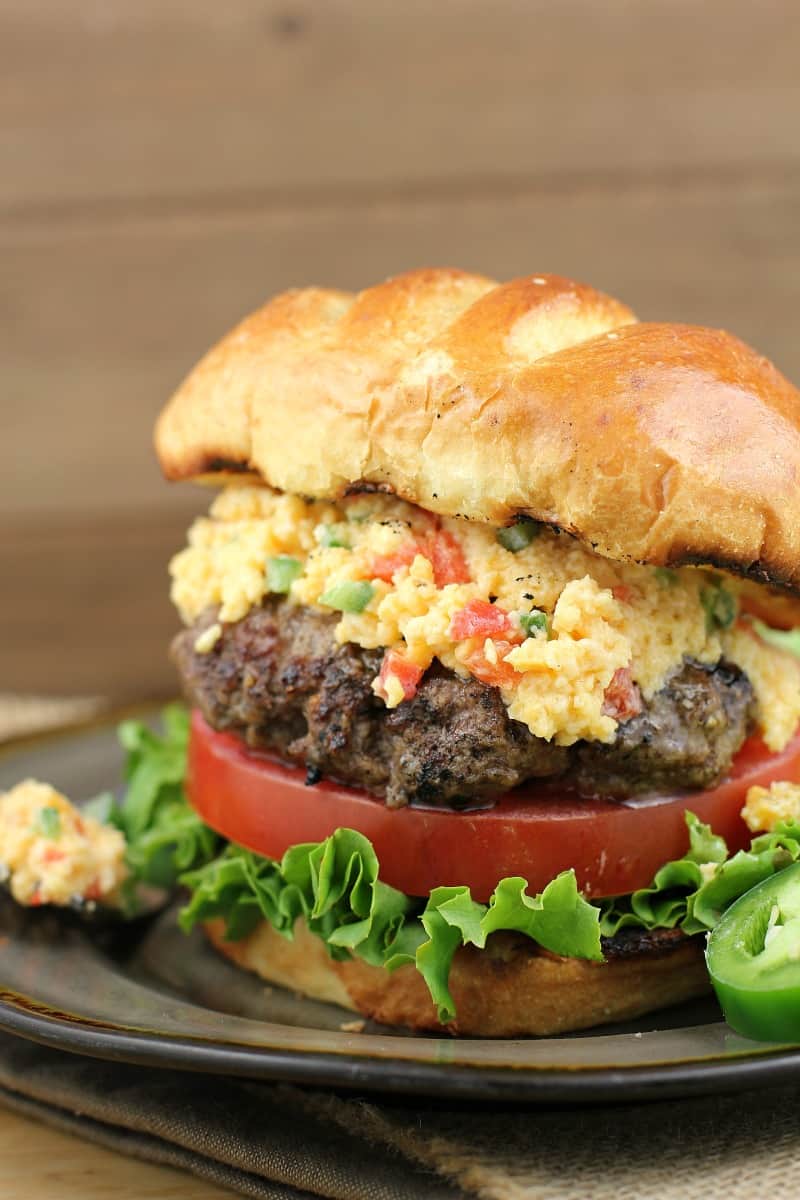 Here are the ingredients
We are going to break this down to 2 sections because you can think of this recipe in 2 parts: 1) the cheese and 2) the burgers.
Ingredients for Jalapeno Pimento Cheese
Sharp cheddar cheese. And I do stress sharp cheddar cheese. This spread needs that flavor.
Mayonnaise. Spring for the creamy good stuff (I'm a fan of Duke's myself).
Pimentos. Find diced pimentos in a cute little jar in the condiment aisle with the pickles and olives.
Jalapeno. I use fresh jalapeno, but pickled will work as well. Not that if using pickled jalapeno, drain very well first.
Seasonings: garlic powder and salt.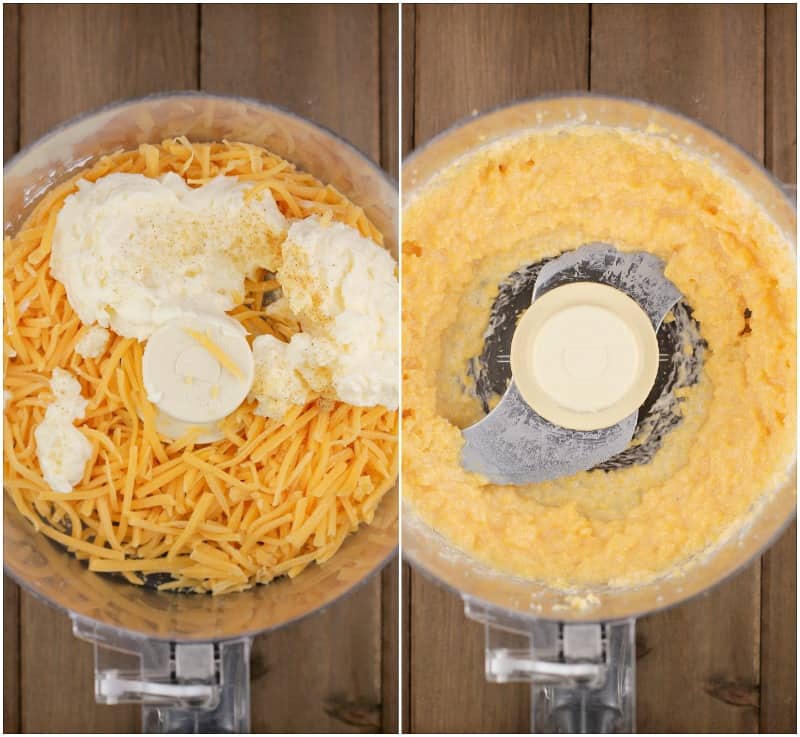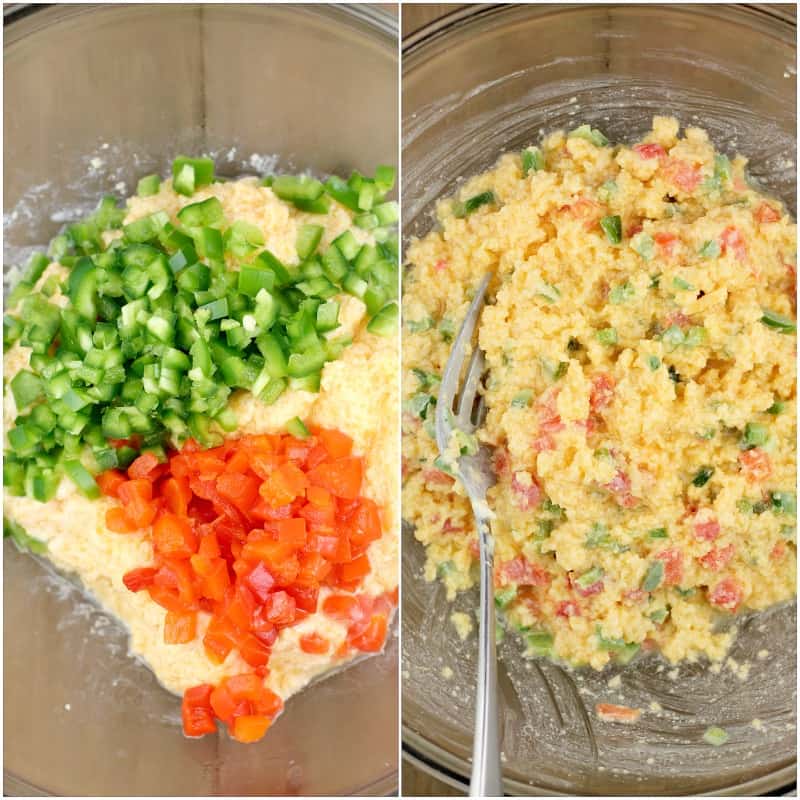 Ingredients for the Burgers
Ground chuck. Chuck makes perfect juicy, but not greasy, burgers.
Seasonings: salt, pepper, and Montreal steak seasoning.
Worcestershire sauce.
Burger buns. Plus butter for the buns.
Tomato. I love to use a giant beefsteak tomato on these burgers.
Green leaf lettuce. I am being oddly specific only because I think green leaf is prettiest on burgers. But clearly, use whatever lettuce you want. It is just lettuce. Or leave it off completely, who cares.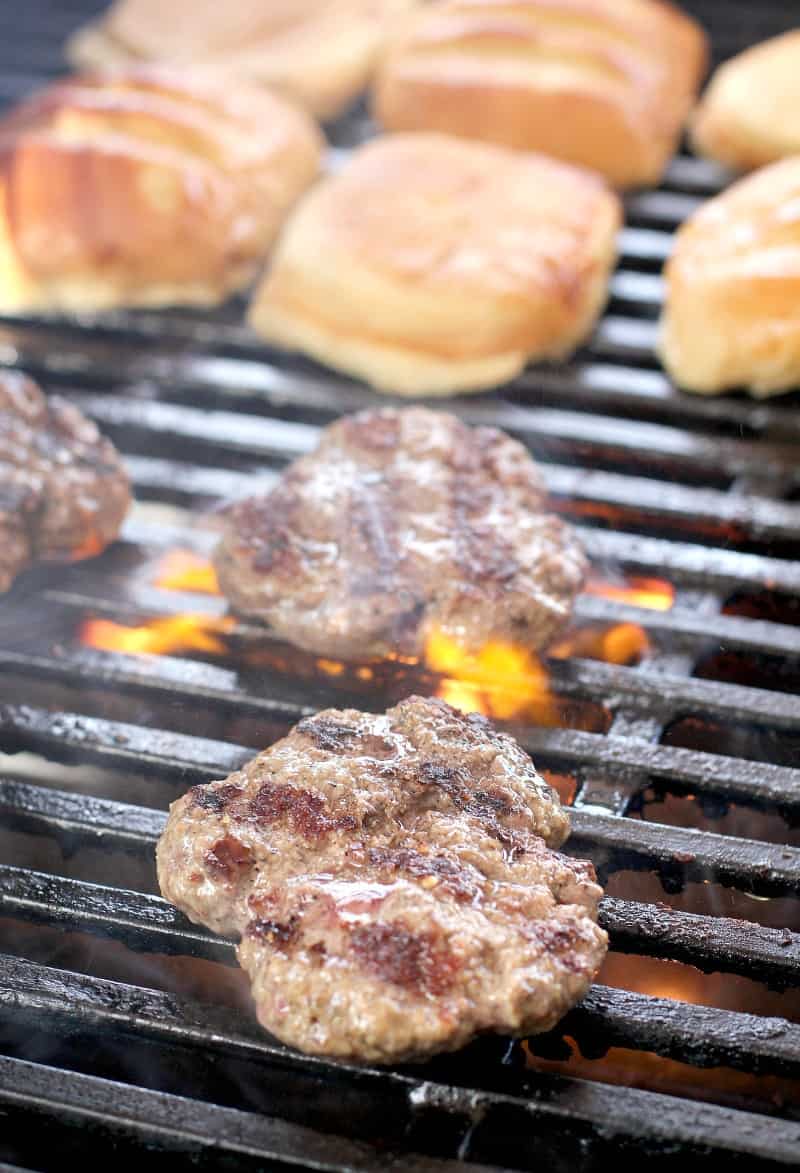 Here is how to make these burgers
First, we make our amazing super TASTY Jalapeno Pimento Cheese. We blend the cheese and the mayonnaise, then add the pimento and jalapeno. Very easy, just takes a moment, and this can be done a day in advance.
Second, we form our burgers. I provide a recipe I like for making my own burgers and they are loaded with flavor. But you could also buy formed burgers, and just season them well for gilling.
Next we grill the burgers, which cook quickly as burgers do. At this time, we also toast our burger buns, because a buttery toasty burger bun makes all the difference.
Lastly, we stack everything together and enjoy our sloppy, juicy, perfect pimento cheese burger.
Tips
Watch the buns! Once the buns are on the grill, they will toast fairly quickly and you do not want burned buns.
When forming the burger patties, try to get them as flat as possible, and even put a dimple in the middle (pro tip for flat burgers). Homemade burgers have a tendency to ball up and not stay flat while cooking.
Drain the pimentos well, and also the jalapenos if using pickled. However, if you do end up with a little liquid in your pimento cheese, then just stick a balled-up bit of paper towel and it will soak it up.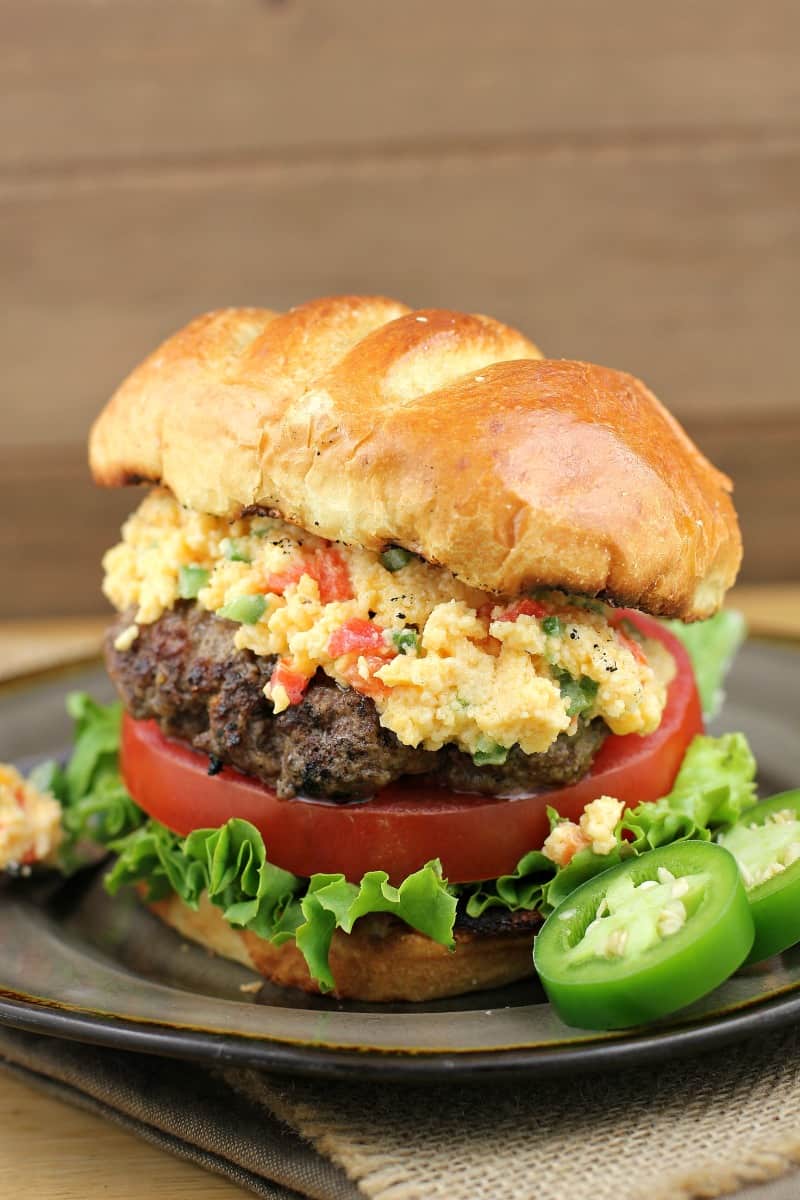 Looking for more burger recipes?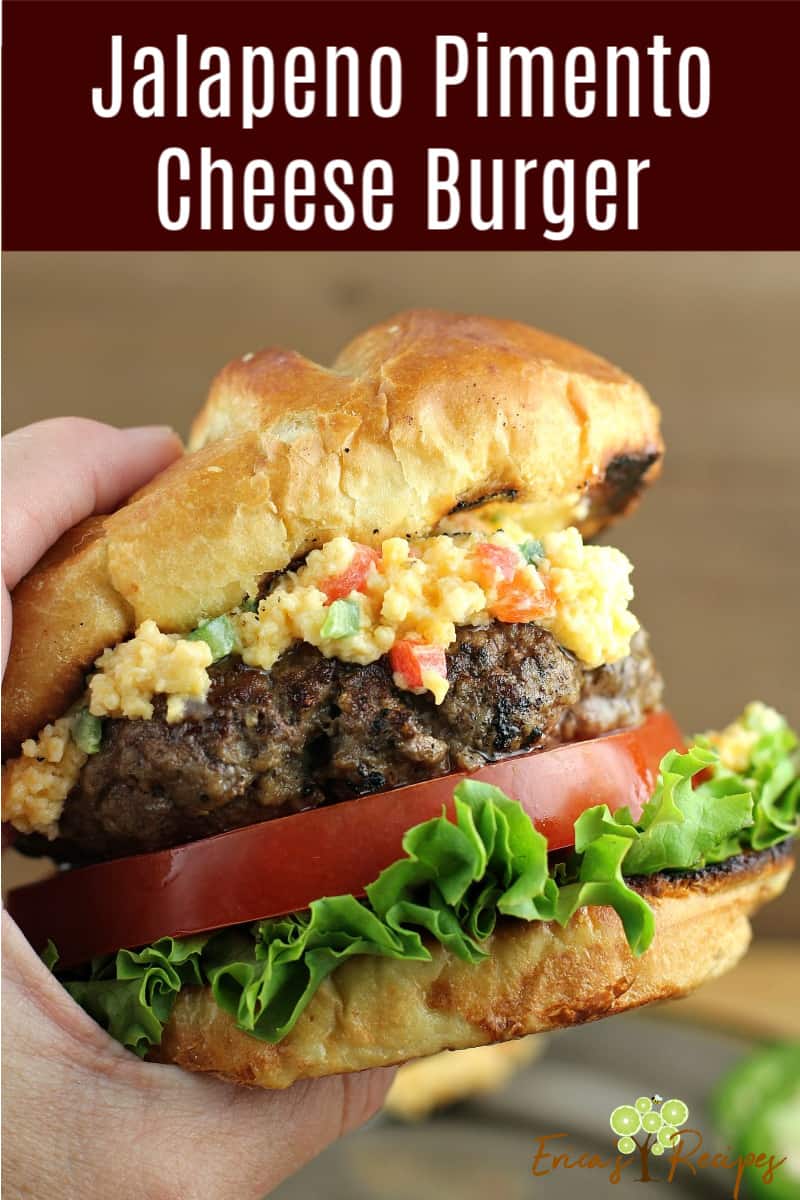 For my best steak recipe, check out Grilled Steak with Horseradish Dijon Sauce with all the tips for a perfect grilled steak.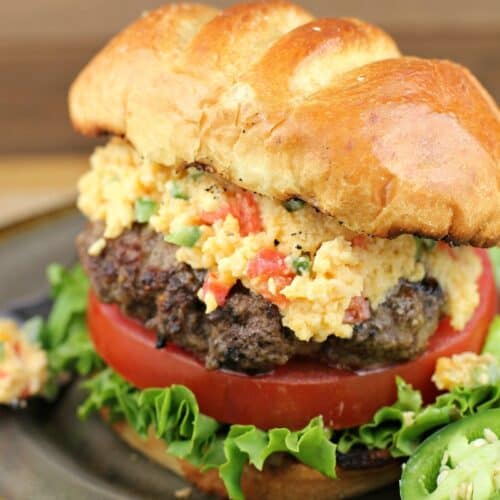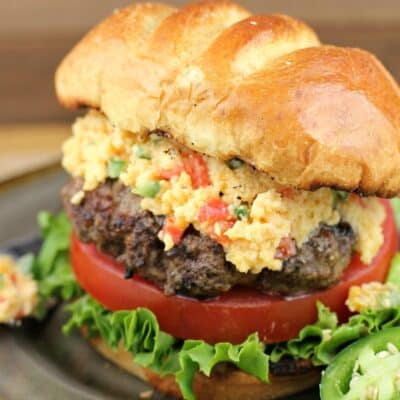 Jalapeno Pimento Cheese Burger
The pimento cheese burger spiced up with jalapeno is juicy good eating. Jalapeno Pimento Cheese comes together fast so you can enjoy this spread topped on a perfect grilled burger anytime.
Ingredients
For the Jalapeno Pimento Cheese
Instructions
For the Jalapeno Pimento Cheese
Combine the cheddar and mayonnaise in a food processor. Transfer to a bowl.

Add the pimentos, jalapenos, salt, garlic powder and combine. Refrigerate until ready to use.
For the burgers
Heat grill on high heat.

In a medium mixing bowl, combine the beef, salt, pepper, Worcestershire, and Montreal seasoning. Form into 4 patties. Lightly butter the burger buns as well.

Grill the burgers 3 minutes per side (for medium) or to desired doneness.

While the burgers are cooking, place the buns, buttered side down, to toast (they will toast very quickly).

Serve burgers on the buns with lettuce, tomato, and Jalapeno Pimento Cheese.
Nutrition
Calorie count is purely an estimate calculated using an online application to serve as a guide and not to be taken as accurate nutritional information. Percent Daily Values are based on a 2,000 calorie diet.
Tried this recipe?
Leave a comment below and let me know!