Cheeseburger and Fries Quesadilla
Ground beef, pickle, onion, tomato, french fries and plenty of cheese served in a toasty Cheeseburger and Fries Quesadilla tortilla and finished with homemade burger sauce.
This post was sponsored.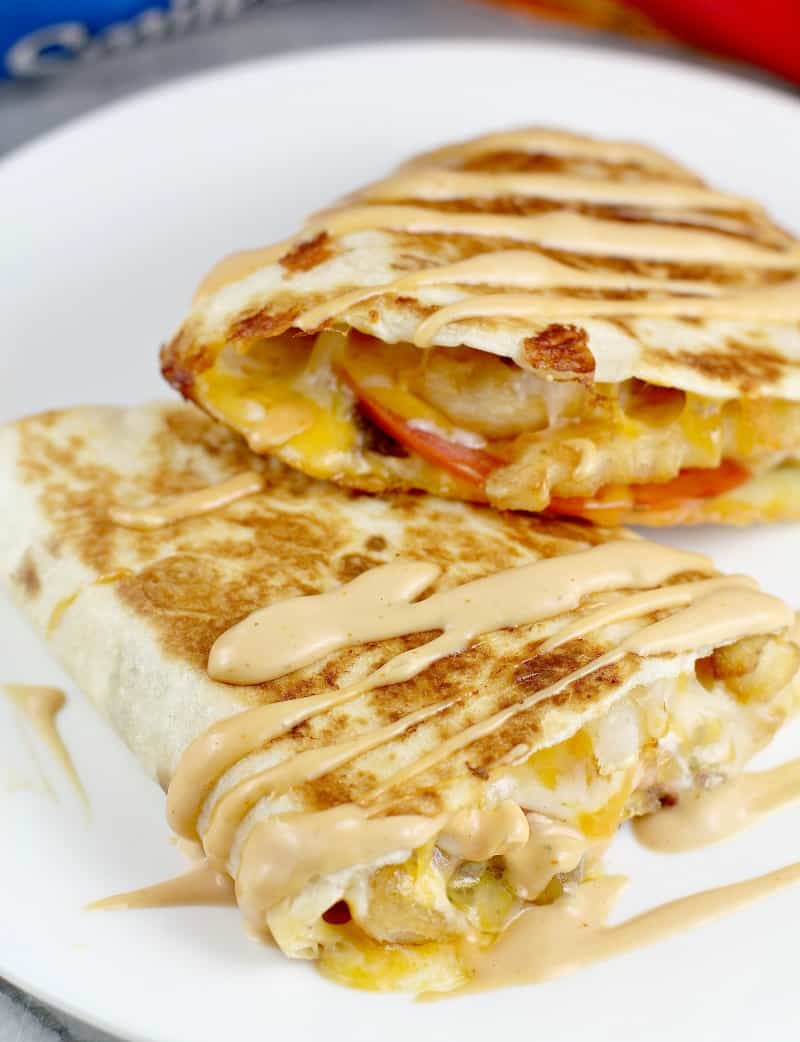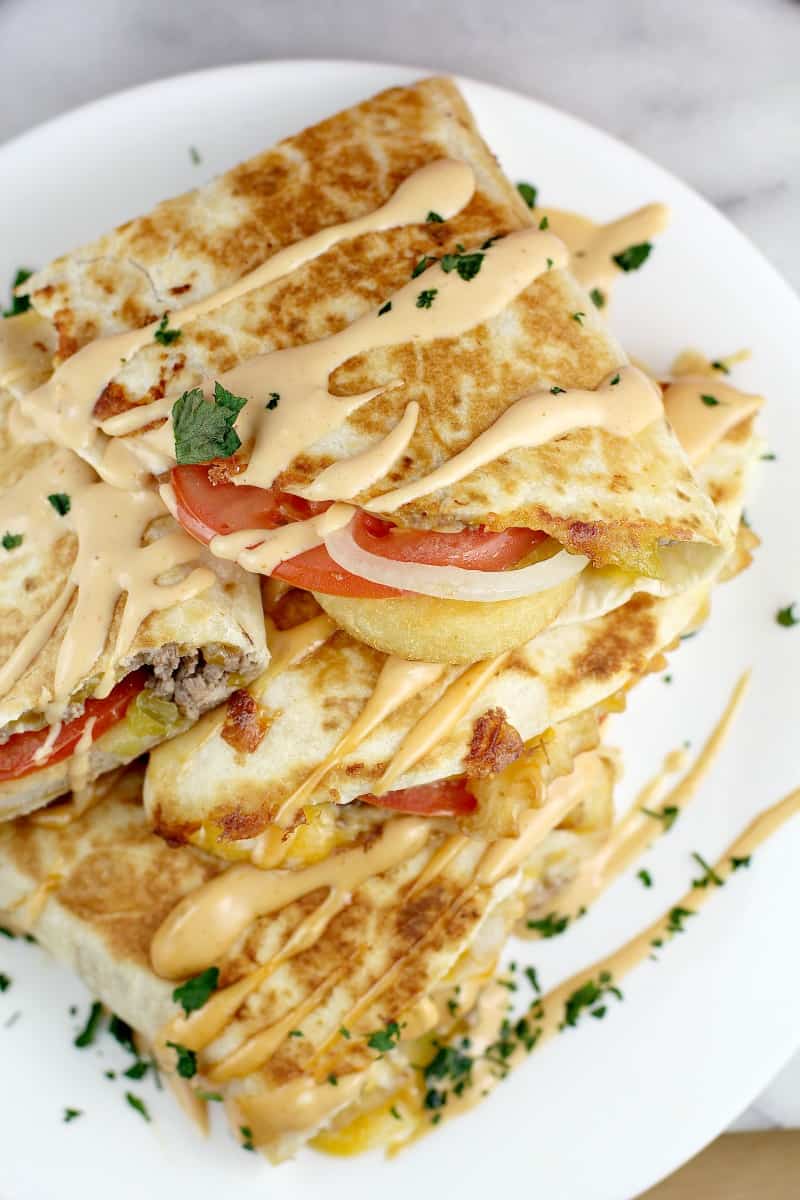 You guys this Cheeseburger and Fries Quesadilla is so fun! With the full intention of having this burger quesadilla and fun recipe idea ready for watching big games and football season and all
….because we are a all-about-football food-family.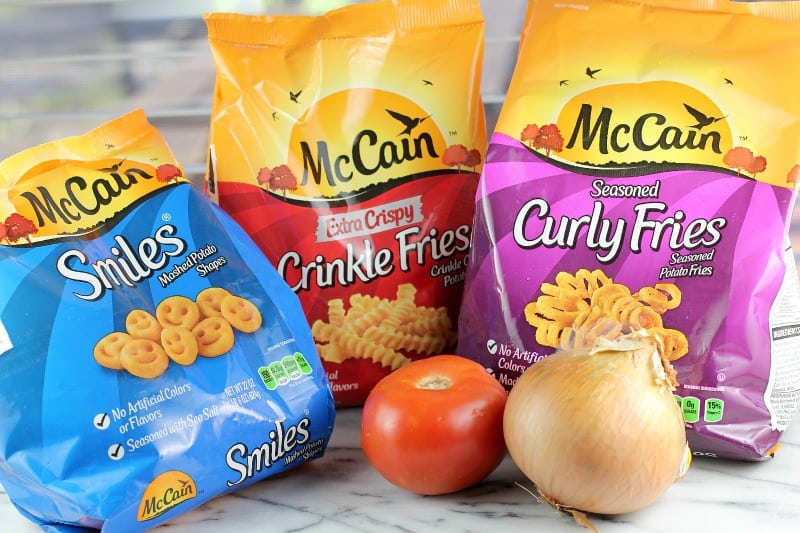 And lately my son has been into basketball too, so we can add that into the mix.
I made this on a weeknight for dinner (yes, really). This burger quesadilla went over HUGE. The 8 year old loved it. He was hilarious – he literally closed his eyes munching down his first bite.
He gets this funny, literally-in-Heaven face when he eats something really good, and he brings that out for me because he likes to make me feel good by enjoying my food.
Then when I told him there was pickle in it, he paused, thought about it, took another bite, thought about it some more, and declared that in a cheeseburger and fries quesadilla, he likes pickles. But nowhere else in the world lol.
Why are Quesadillas Perfect Game-day Food
With cheesy filling in a crispy tortilla, quesadillas strike a perfect balance of textures.
We can change up the filling however we want to keep things interesting.
Quesadillas can be made healthy (like using a great filling and cooking spray) or indulgent. You control your quesadilla!
Quesadillas are an easy dinner or snack. Omelets are too, just saying.
Quesadillas are a fantastic way to use up all your little bits of leftover cheese. Or pretty much anything else.
Well, if quesadillas are so great Erica, why is this just your 3rd recipe for one??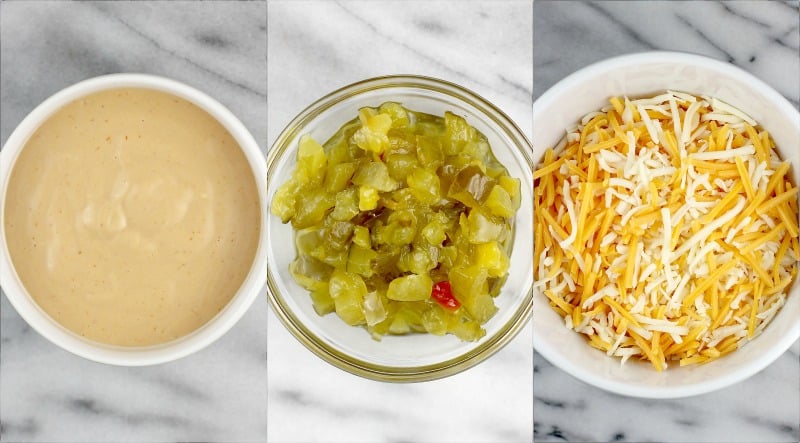 More Quesadilla Ideas
Because when I make quesadillas, it's usually with just deli meat and cheese honestly. It's an easy weeknight dinner for me on the regular.
Also, quesadillas are spectacularly difficult to photograph just saying. All flat foods are.
When my son first saw the bags of McCain potatoes I picked up at Walmart (I got McCain Smiles Mashed Potato Shapes, McCain Seasoned Curly Fries Seasoned Potato Fries, and McCain Extra Crispy Crinkle Fries), he inspected and saw the bag of McCain Smiles Mashed Potato Shapes and literally went "Oh man, they have these at school and they are So Good. I am so going to eat my dinner"
He cracks me up.
But this is fun food intended for gatherings and game-day and such right? Or just a fun weeknight dinner, what evs.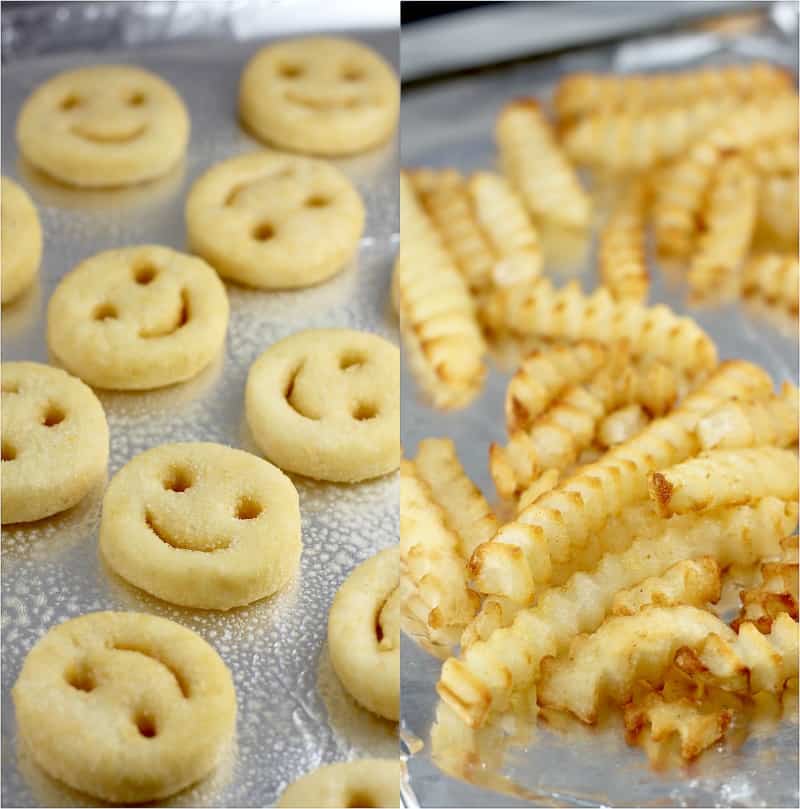 If you don't know, McCain Foods is an international company originating from Canada and the world's largest maker of all things frozen potato. Think thick fries, thin fries, crinkle fries, curly fries, mashed potato fries that smile at you, and tots.
McCain is a household name in the UK, and they want to bring that love here to the US. Can't blame them.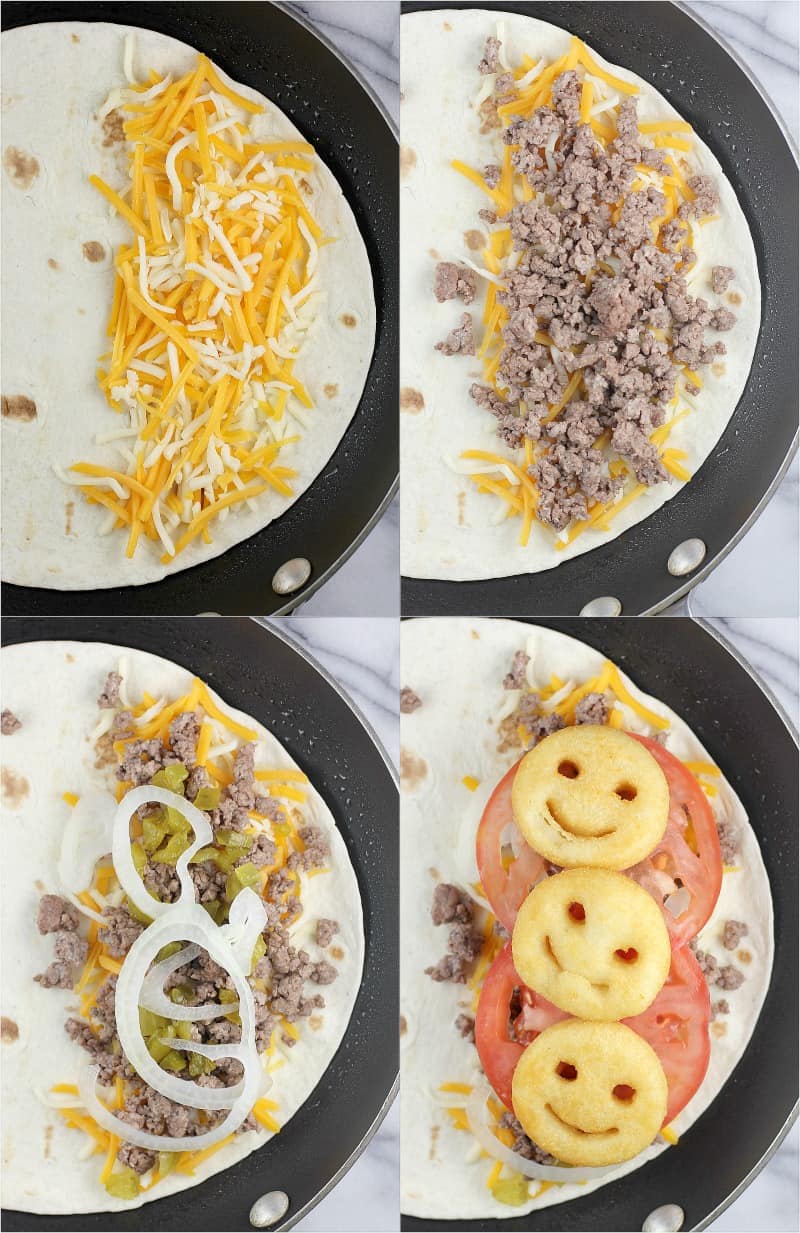 Since I had the opportunity to work with McCain frozen potatoes, I wanted to do something FUN. Life has been down lately, lots of struggles and such, and I literally just wanted to create a fun recipe, completely different from my usual.
Enter the Cheeseburger Quesadilla.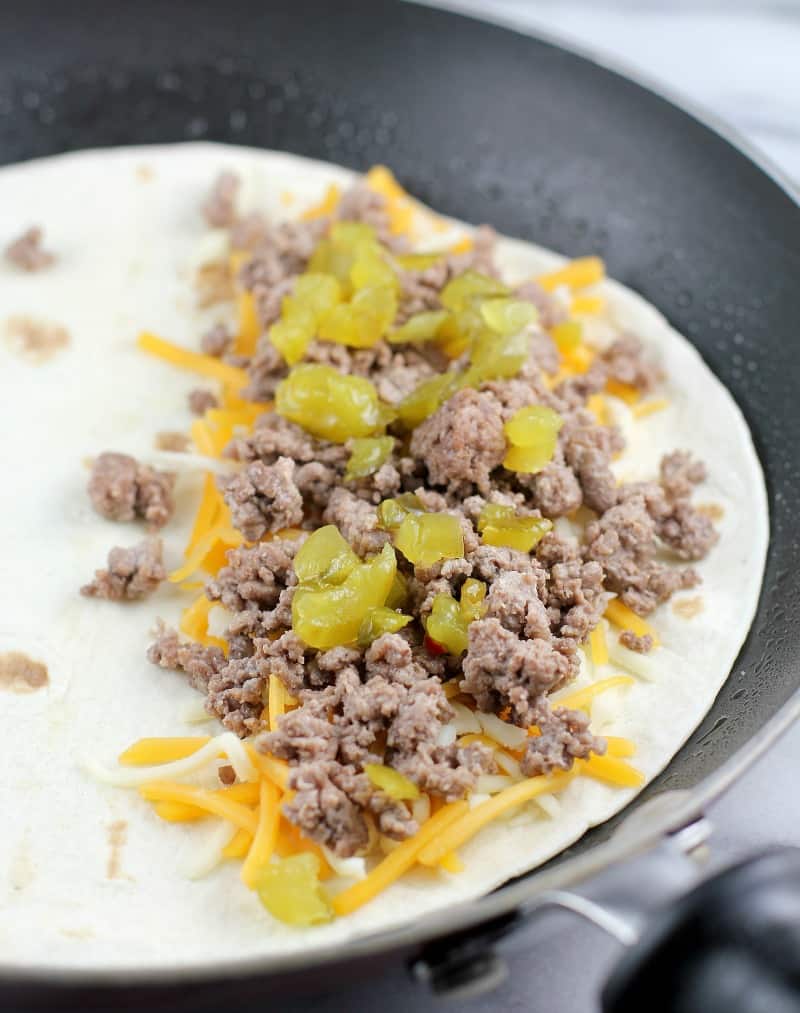 What goes into a Cheeseburger and Fries Quesadilla
tortilla
cheese (I used a mix of cheddar and mozzarella)
meat
pickle (I purchased a jar of "salad pickle" diced in larger chunks than relish. This was perfect!)
more cheese
onion
tomato
McCain crinkle fries or mashed potato shapes
even more cheese
burger sauce (I'll explain about this later)
This is one loaded up quesadilla!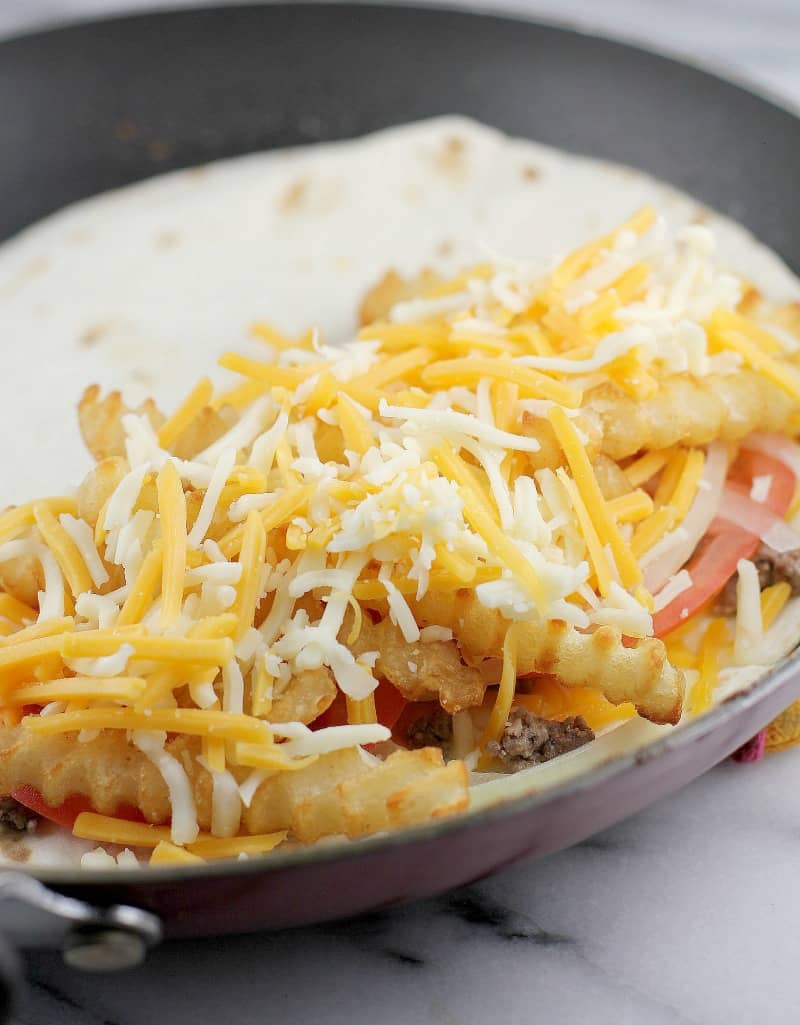 I chose the Smiles Mashed Potato Shapes and Extra Crispy Crinkle Fries because I knew both would work for my recipe idea.
The kids loved the smiles. I appreciated the texture the crinkle fries delivered.
Then I cooked the curly fries separately, but still dipped them in the burger sauce YUMMM.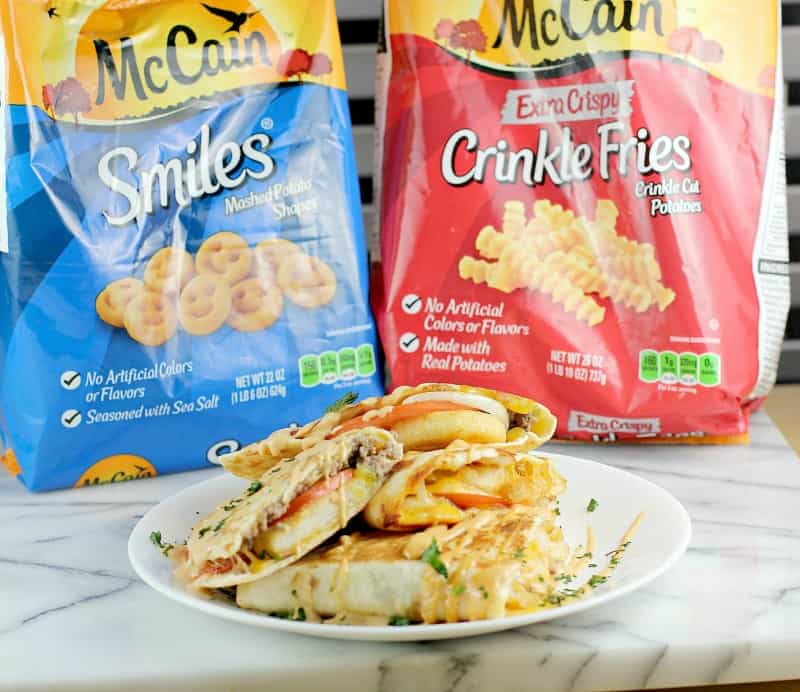 Tips for Making Cheeseburger Quesadilla
The tips for making this easy party food are thusly:
This is a loaded quesadilla, but we still want to go not too too overboard with toppings because that would be crazy and hard to flip.
Layer the cheese first, middle, and last, because the cheese is the glue and key to life of this recipe.
Pile the filling ingredients on one side of the tortilla in the pan, use thongs to pull the other side of the tortilla over, then rubber spatulas to flip.
To make the tortilla toasty, use cooking spray in a nonstick pan. Butter or olive oil would work as well.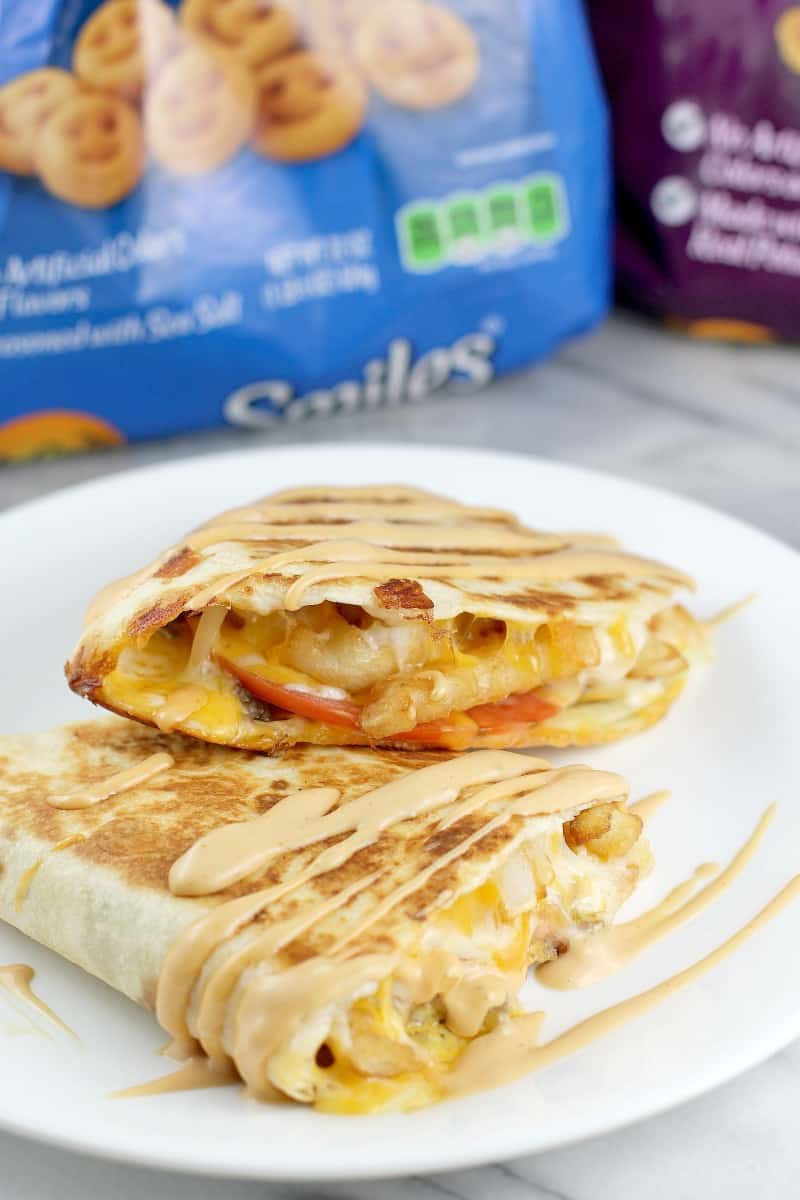 About that burger sauce…
Burger sauce is that creamy, pinkish orange sauce you see a lot at takeout places. To take out all the guesswork, I made my own but you can skip this and purchase if so desired.
Just look in the condiment aisle at Walmart for one of the following: burger sauce, mayochup (I recommend adding a little horseradish to this), secret dipping sauce, or fry sauce.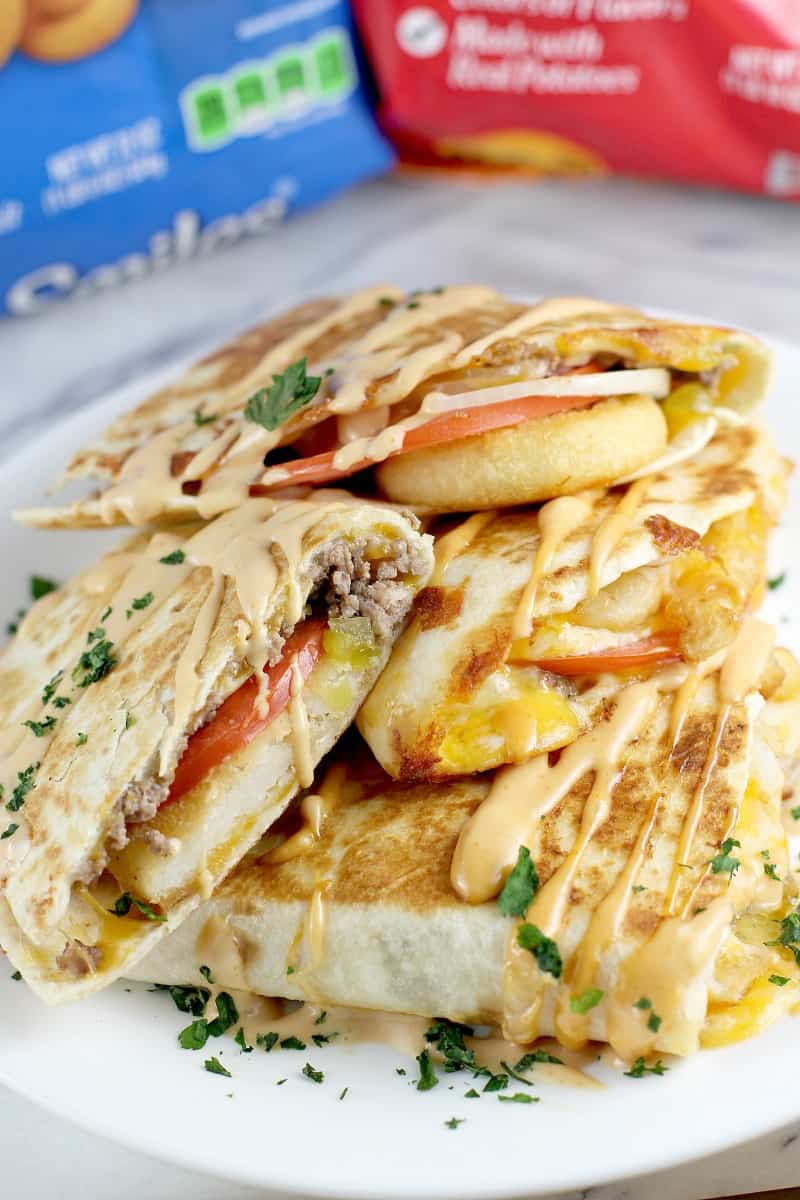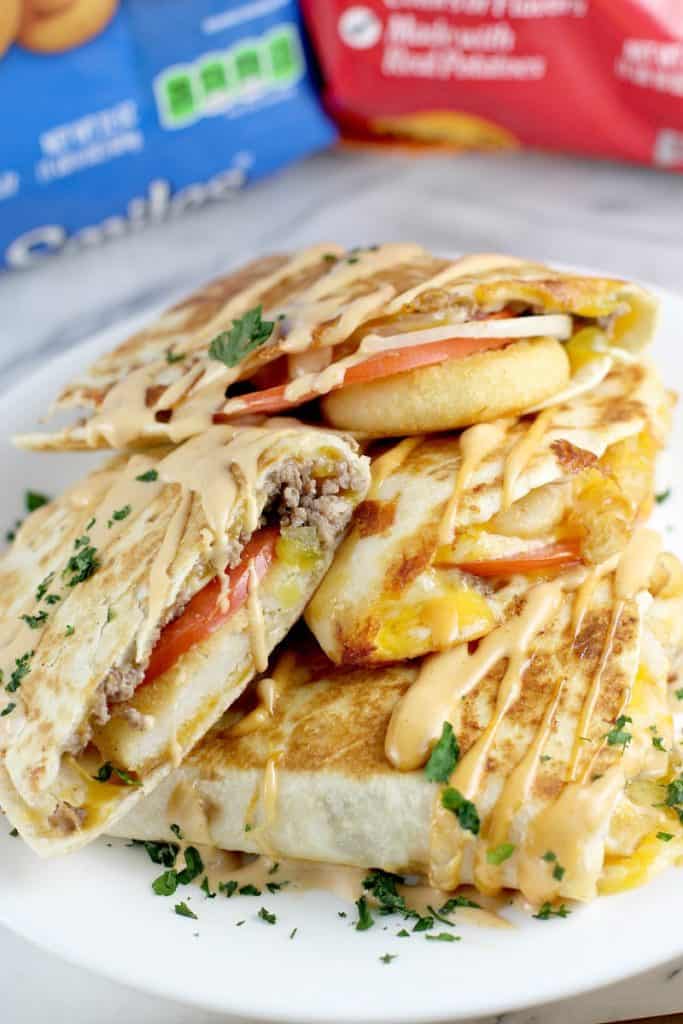 Honestly, though, making your own takes literally hot minute and uses ingredients you probably already have on hand:
mayonnaise
ketchup
mustard
Worcestershire sauce
prepared horseradish
There are two ways to serve the burger sauce with the quesadillas. One is to drizzle it over like I did for these photos.
The other (and probably the way that will work better while game-watching) is to keep the sauce on the side for dipping the quesadilla.
Either way, this flavor combination is so winning.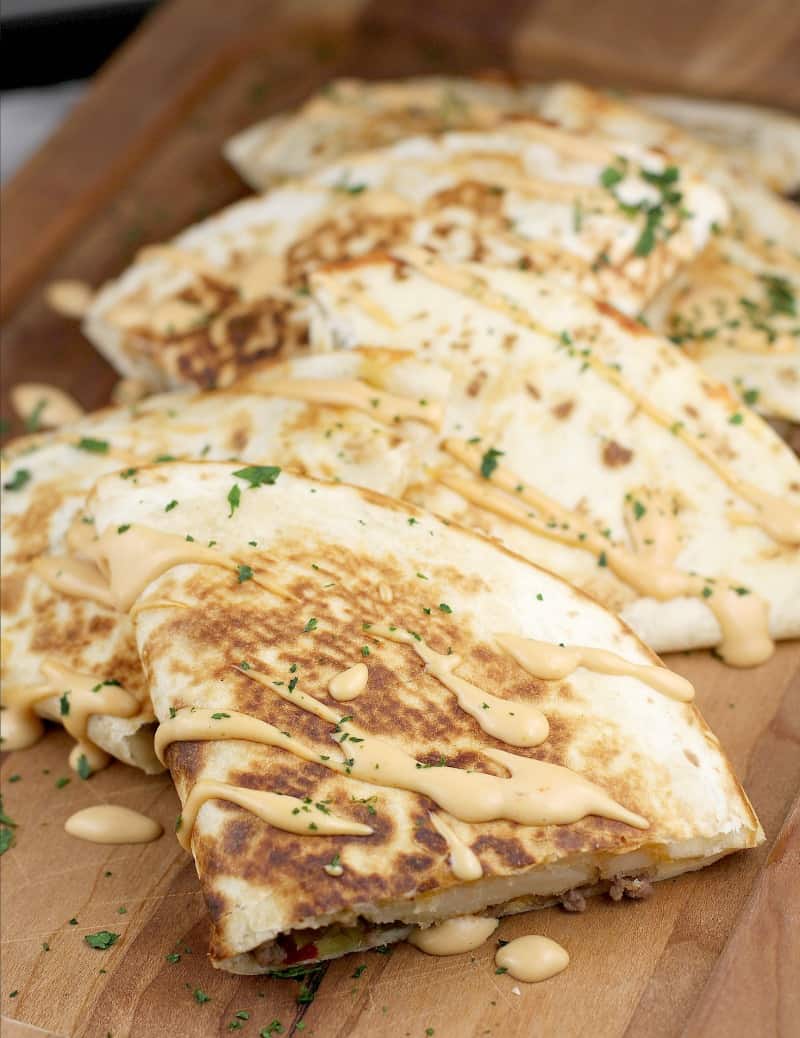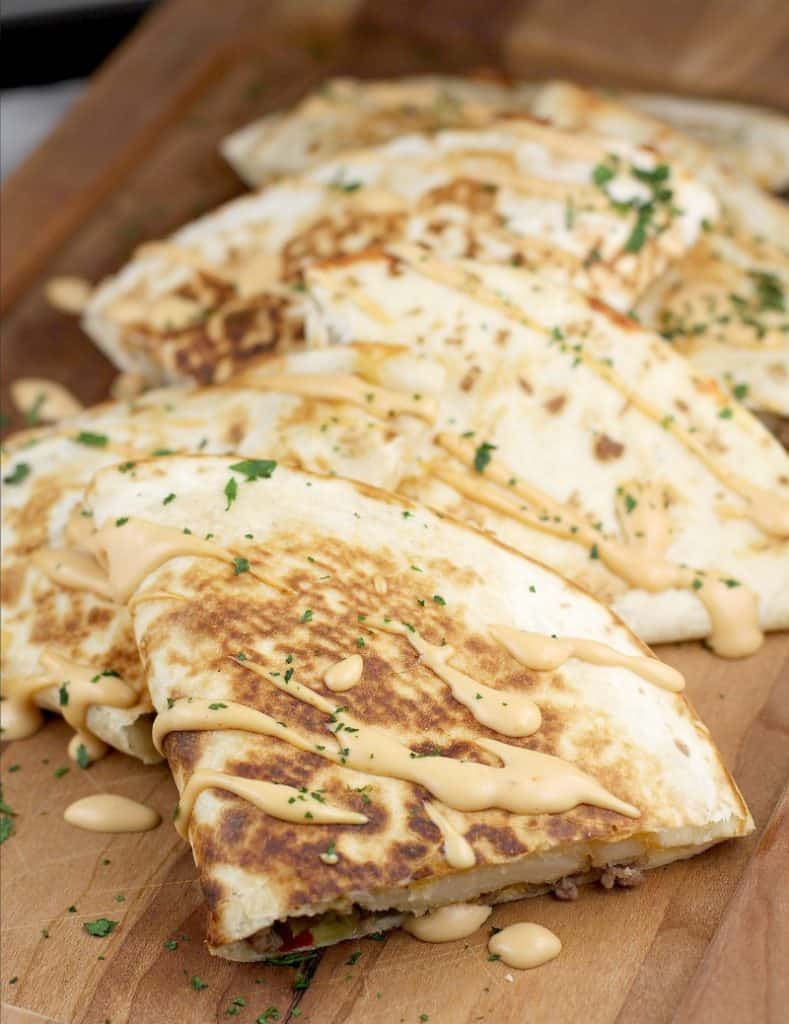 So that's it folks. A fun recipe idea, gameday perfect. Delicious grub and easy to up a bunch of it. Cheeseburger and Fries Quesadilla!
For more fun recipe ideas, check these out: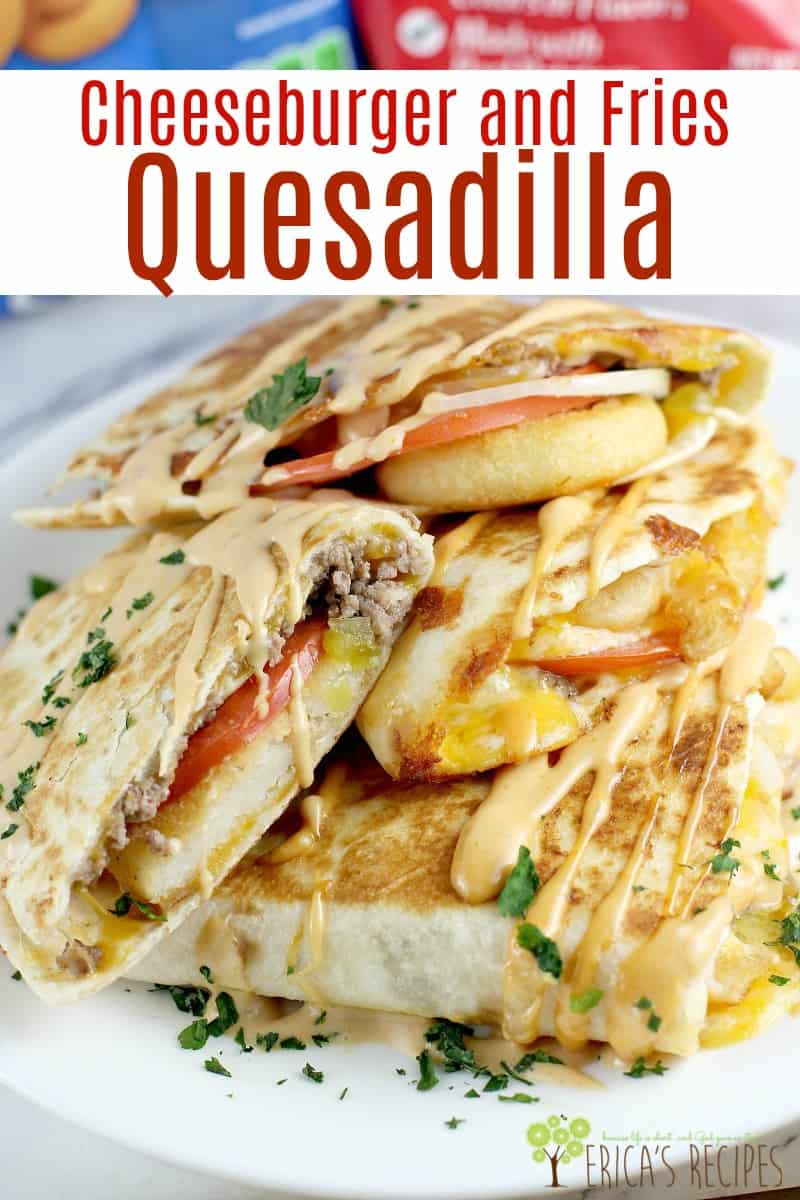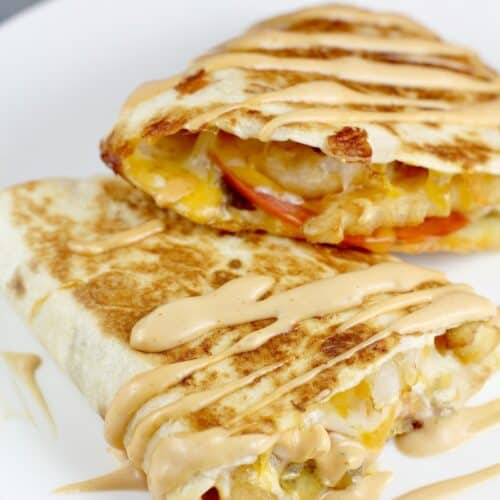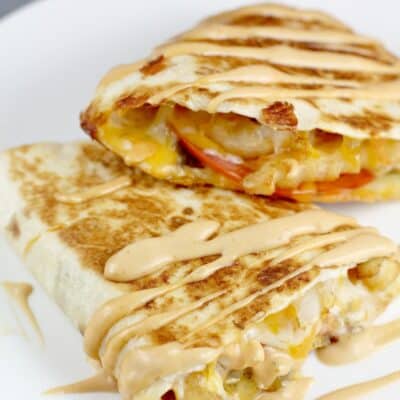 Cheeseburger and Fries Quesadilla
Ground beef, pickle, onion, tomato, french fries and plenty of cheese served in a toasty quesadilla tortilla and finished with homemade burger sauce.
Ingredients
1

lb

ground beef

cooked, crumbled, and fat drained

1

Tbsp

mayonnaise

1

Tbsp

sour cream

½

tsp

kosher salt

½

tsp

garlic powder

couple pinches cracked black pepper

½

cup

burger pickles

roughly chopped

2

tomatoes

thinly sliced

1

yellow onion

thinly sliced

McCain Smiles Mashed Potato Shapes or McCain Extra Crispy Crinkle Fries

cooked according to package directions

2

cups

shredded mozzarella cheese

2

cups

shredded sharp cheddar cheese

6

taco-sized soft flour tortillas

cooking spray
For the Burger Sauce:
½

cup

mayonnaise

3

Tbsp

ketchup

2

tsp

yellow mustard

2

sprinkles Worcestershire sauce

¼

tsp

prepared horseradish
Instructions
Combine the cooked ground beef with the mayonnaise, sour cream, salt, garlic powder, and black pepper. Set aside.

Combine the ingredients for the burger sauce. Set aside.

Heat a large or medium nonstick pan over medium-high heat. Spray well with cooking spray.

Lay a tortilla in the pan. One one half of the tortilla, layer cheese, meat, pickle, fries, more cheese, onion, tomato (2 slices), and more cheese.

Use thongs to fold the side of the tortilla without toppings over onto the toppings forming a half circle quesadilla.

Cook gently until underside is golden and toasty. Carefully flip the tortilla (I find using two rubber spatulas, one on either side, works best) to toast the other side.

Serve tortilla with Burger Sauce. Yields 6 servings.
Notes
Purchased substitutions for the burger sauce include descriptions such as burger sauce, mayochup, fry sauce, or secret dipping sauce.
Nutrition
Calorie count is purely an estimate calculated using an online application to serve as a guide and not to be taken as accurate nutritional information. Percent Daily Values are based on a 2,000 calorie diet.
Tried this recipe?
Leave a comment below and let me know!