Coconut Cod with Pineapple Salsa
Light and crispy coconut crusted cod, topped with a lovely pineapple salsa and served over coconut rice. This inspired Coconut Cod with Pineapple Salsa recipe combines elements into a lovely dinner for all.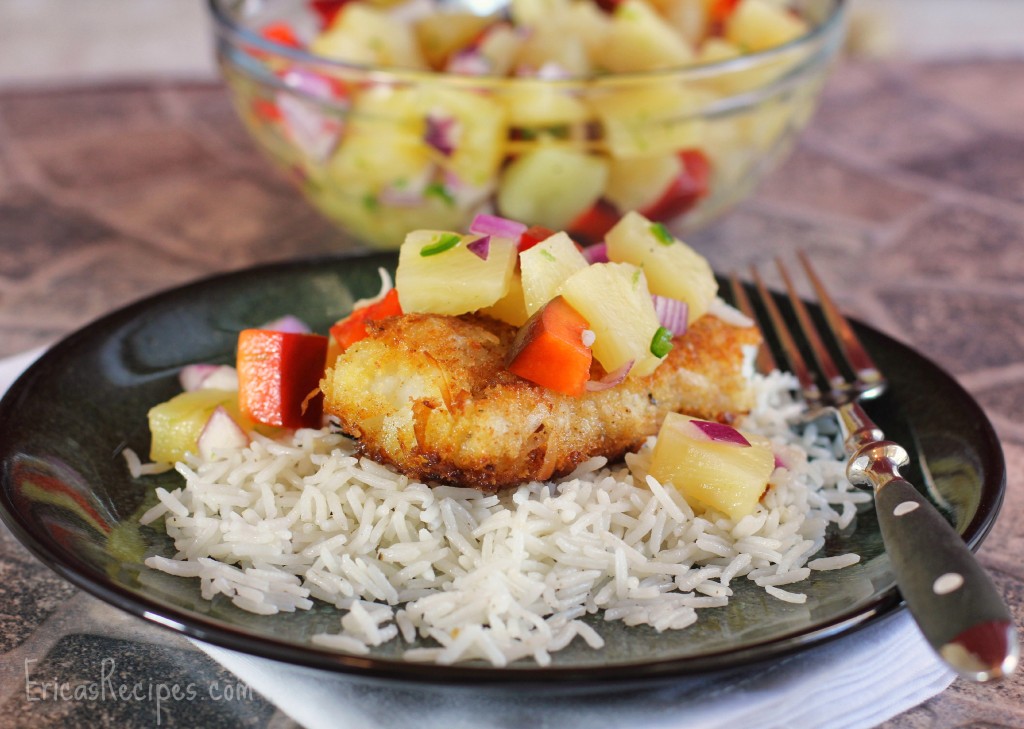 Coconut Cod with Pineapple Salsa
My daughter and I have a serious thing for coconut shrimp. When we go to a restaurant, if coconut shrimp is on the menu, there is no question we will order it. With regular frequency we go to a particular local place just for the purpose of coconut shrimp …and they serve theirs with a raspberry sauce YUM!! Coconut shrimp makes us giddy, and we bond over it.
On the other hand, having grown up in near Boston, I also have a thing for cod. In fact, I think it just may be my favorite fish. So it is no small point of pride that I have passed this love on to my daughter …she loves it too. And in this recipe, I put them together for our Lenten Friday night fish dinner!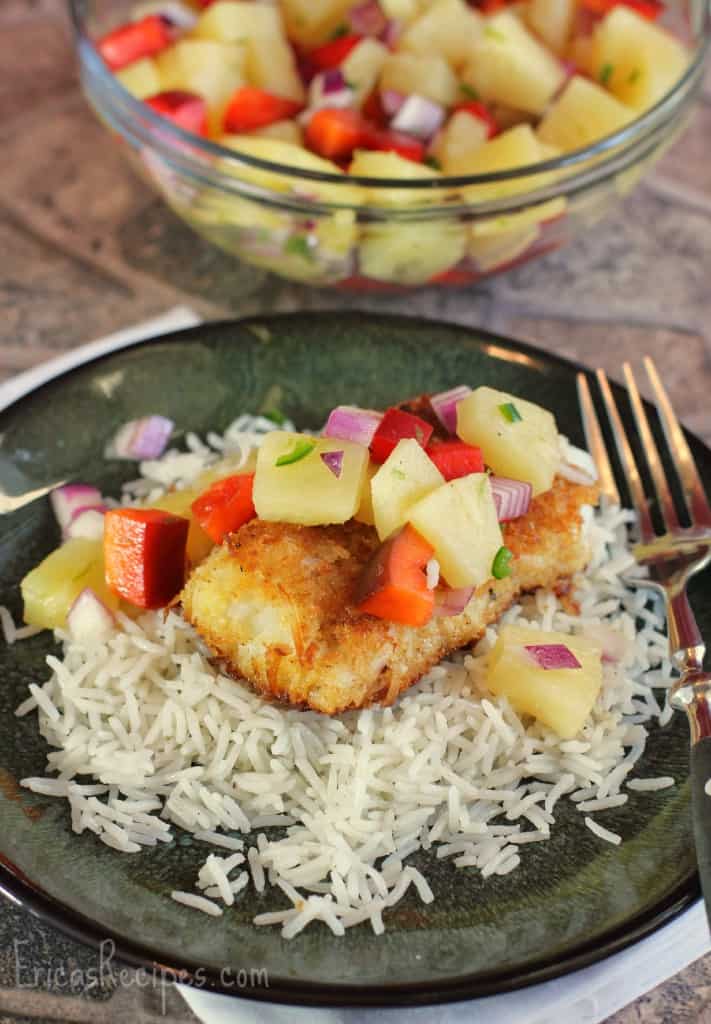 Reasons to love Coconut Cod:
Cod is, by default, delicious.
Crunchy crispy fried cod is even tastier.
Sweet coconut flakes make a ridiculously tasty coating on our already delectable cod.
Combining with the sweet and juicy pineapple in the Pineapple Salsa with our crispy coconut cod sends the flavor over the moon.
It may look a bit involved from the recipe directions, but this dish is quite easy to prepare. First, you make the salsa, which can be made in advance. Next, basmati rice is cooked with creamy coconut milk.  Then the fish is coated and cooked, and, like all seafood, it cooks quickly.
So, let's review…
Steps for making Coconut Cod with Pineapple Salsa (over coconut rice)
Make salsa.
Make rice.
Cook the fish.
See? EASY. The only trick to this recipe is to not burn the coconut, which is why I just cook the crust golden on the stovetop, and finish the fish in the oven. We really loved this and I can already envision so many occasions when I will made it again.
So that's it kids. A fun spin on a classic, Coconut Cod with Pineapple Salsa is easy to make, kids LOVE it, and grown-ups will love it too.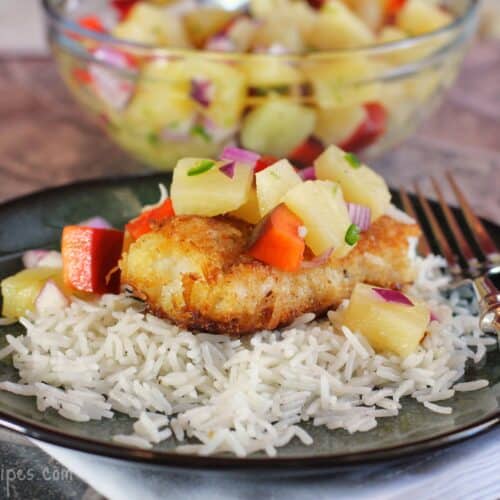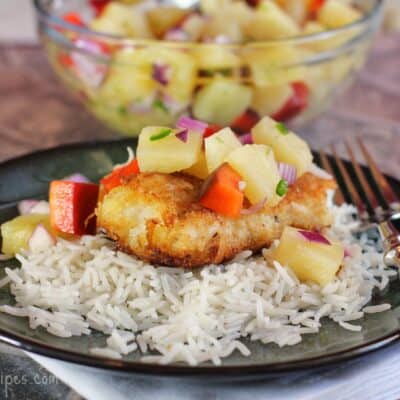 Coconut Cod with Pineapple Salsa
Light and crispy coconut crusted cod, topped with a lovely pineapple salsa and served over coconut rice.
Ingredients
1

cup

basmati rice

1

5.46 oz can coconut milk

1 to 1-1/4

lb

fresh cod

cut into 4 portions

Old Bay seasoning

1

egg

½

cup

panko breadcrumbs

¼

cup

shredded coconut

2

Tbs

extra virgin olive oil

2

Tbs

unsalted butter
Pineapple Salsa
1

20 oz can pineapple tidbits, drained

¼

cup

red onion

finely diced

½

large red bell pepper

seeded, ribs removed, and diced

1-2

serrano pepper

seeded, ribs removed, and very finely diced

juice of 1/2 lime

zest of 1/2 lime

1

Tbs

orange juice

1

tsp

extra virgin olive oil

pinch

kosher salt

pinch

fresh cracked pepper
Instructions
Heat oven to 400F.

Add enough water to the coconut milk to make 2 cups total liquid. Add to a medium saucepan and bring to a boil. Add the rice, stir, cover, and reduce heat to low. Cook 15-18 minutes until all the liquid is absorbed. Fluff with a fork and add salt and pepper to taste (pinch of pepper should do it, but this will definitely need salt ..like half a teaspoon at least). Set aside.

Toss all salsa ingredients together and chill until ready to serve.

Take the cod pieces and season with salt, pepper, and Old Bay. In a small bowl, combine the egg with 1 tablespoon water to make an egg wash. Separately, combine the panko breadcrumbs and shredded coconut on a large plate.

In a large, nonstick saute pan, heat the olive oil and butter on medium-high heat until the butter starts to bubble. One by one, dip a piece of cod in the egg, drain off excess, then put it in the panko-coconut mixture to coat pressing the crumbs in to coat evenly. Add the fish to the heated pan. Cook until golden on one side, flip, and repeat on the other side. Transfer to a bake sheet sprayed with cooking spray.

Put bake sheet with the fish into the oven to finish cooking until they flake easily with a fork (4-5 minutes). If your fish is thin, this may not be necessary - they'll cook through on the stove top. But if the fish is an inch thick or more, finish it off in the oven. Serve over a bed of rice topped with Pineapple Salsa. Yields: 4 servings.
Calorie count is purely an estimate calculated using an online application to serve as a guide and not to be taken as accurate nutritional information. Percent Daily Values are based on a 2,000 calorie diet.
Tried this recipe?
Leave a comment below and let me know!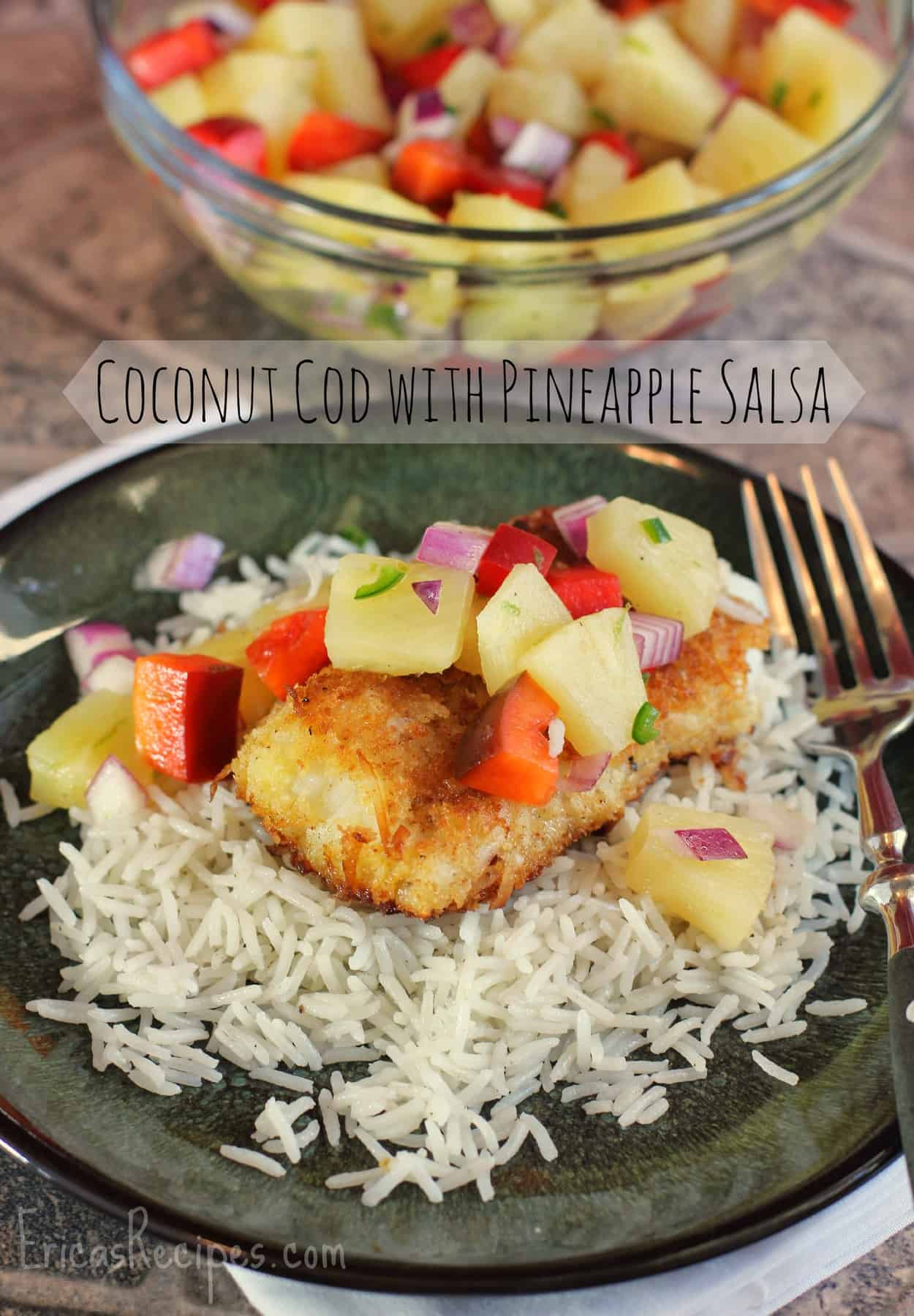 If this recipe looks good, check out these other seafood ideas