Inspired by German buffet food at Disney's Epcot park, this simple but elegant German Baked Cod in Mustard Cream is a must-try recipe. Perfect for entertaining, this cod recipe is SO EASY to make, add it to your repertoire of no-brainer-but-special dinner recipes.
We are on a German food kick as of late, pretty much because we went to Disney Epcot a couple weeks ago, ate in "Germany", and my German husband has been begging for these foods ever since. In fact, Christmas will be a virtual Bavarian buffet if the current plan holds. Don't you love when you go somewhere and have such a great meal that it inspires you in this way?? So let's embrace this uber simple, ridiculously delicious, baked cod as the end-all, be-all of cod-dom.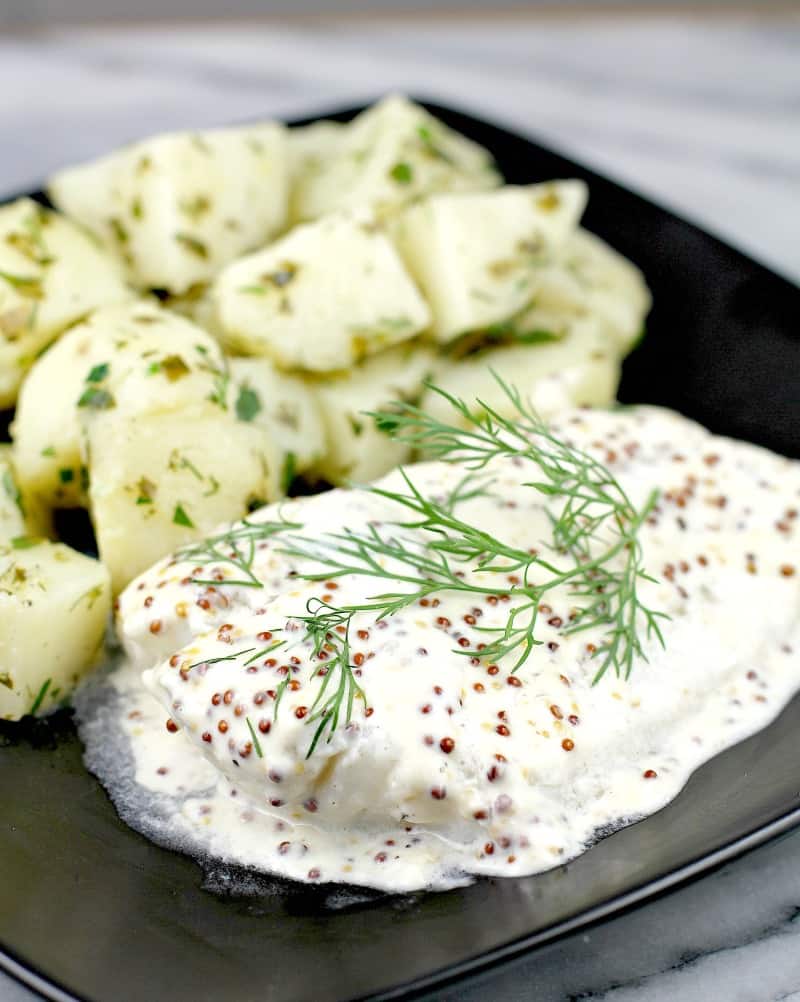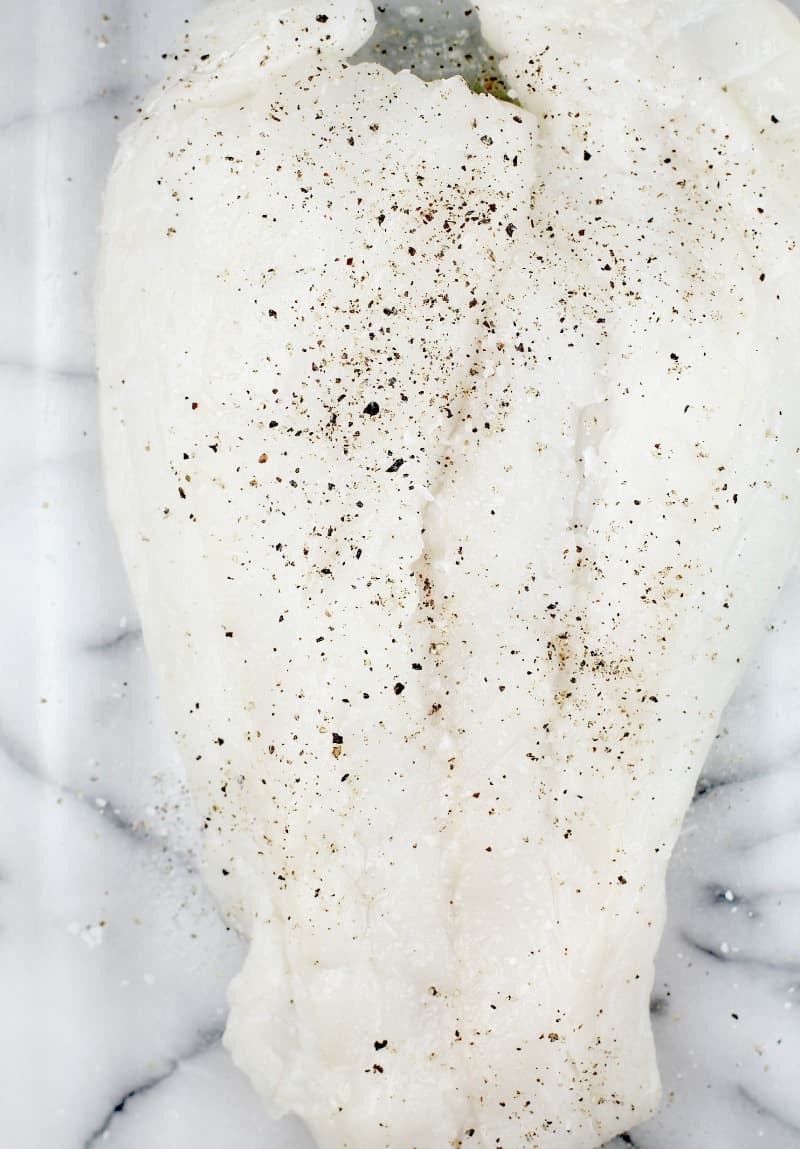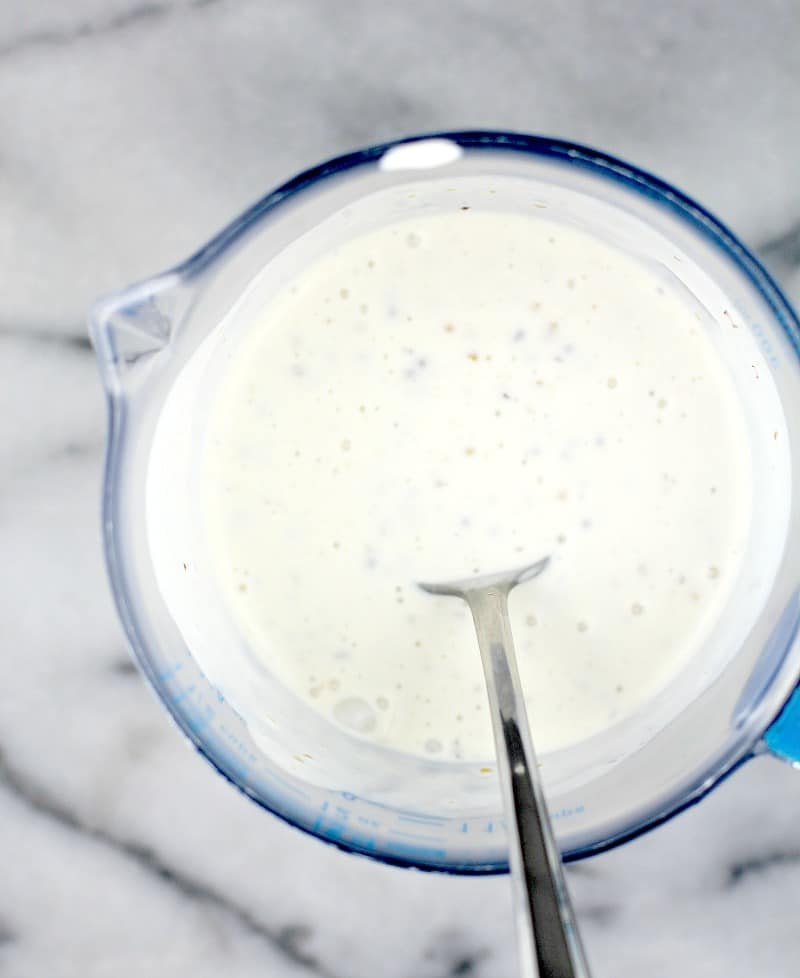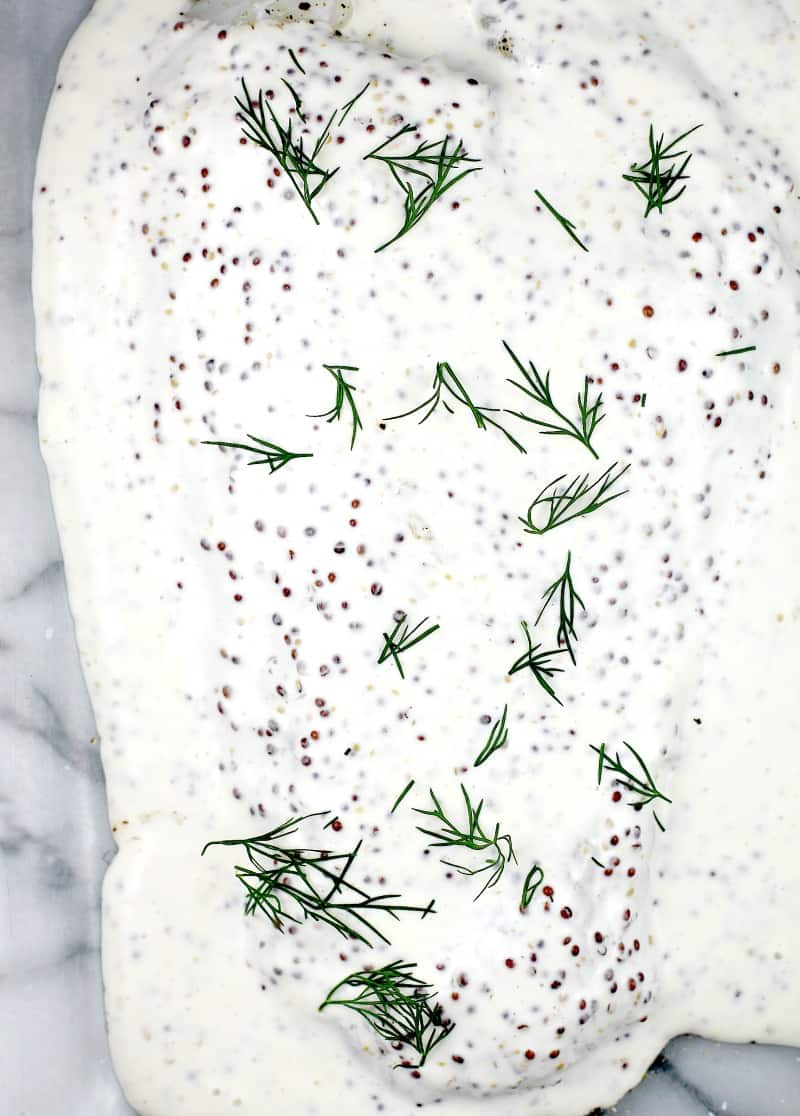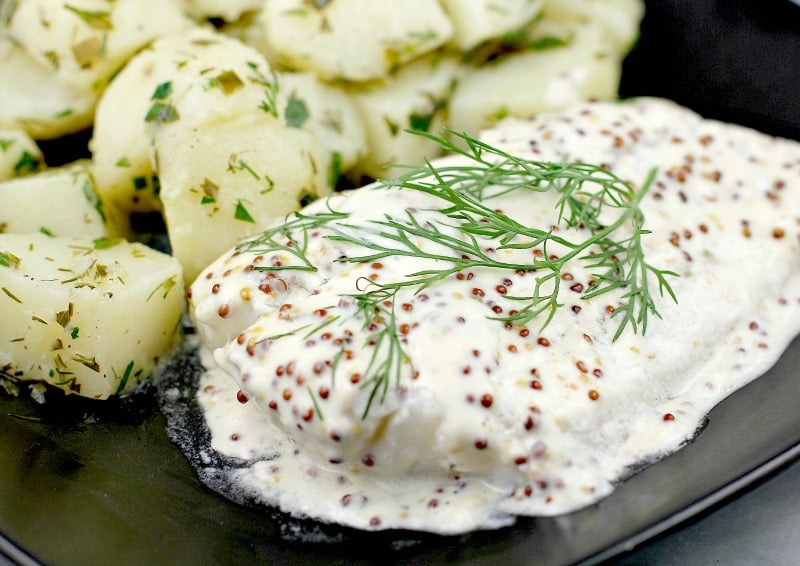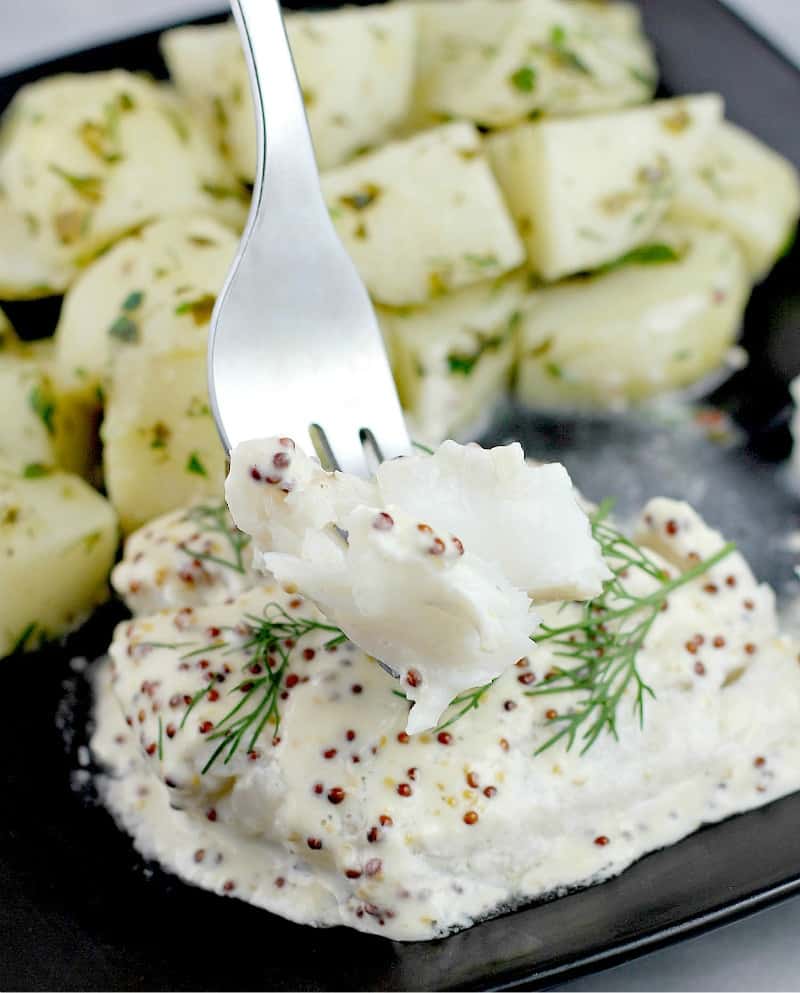 German Baked Cod
This German Baked Cod in Mustard Cream dish is specifically inspired by an item my daughter and I honed in on at that Epcot dinner – flaky, white cod fish, baked in a creamy mustard sauce. When one thinks of German food, does fish come to mind? I lived in Germany when I was a kid …I don't remember eating any fish there. BUT, out of allll the food to choose from in that buffet – pretzel bread sticks with cheddar-beer sauce, ridiculously cheesy macaroni and cheese, amazing desserts and sweets – it was a simple baked cod that won my heart. And now, we have it at home, easy peasy. And I do kinda have to trust Disney that they try to keep things authentic, so we'll go with that.
This German recipe for fish could not be any easier to prepare and it is absolutely delicious …provided the fish is fresh and well seasoned to begin so take care with the salt and pepper. To be honest, I am really feeling that pride that goes with recreating a dish or creating a copycat recipe ….and then some. The dill is my extra touch and it just makes it.
This recipe could not be easier: we literally mix cream and whole grain mustard, pour over the fish, tip with a little dill, then bake. THAT'S IT. My husband is not a fan of cod – it's a flaw, but I deal – BUT he has LOVED this every time I have made it. Which brings up a good point … if you are in a situation to feed seafood to people and you're not sure that everyone is on board with seafood, this recipe is THAT ONE you want to make. It will convert people AND it is so easy to make too, so you cannot lose.
So that's it folks, an all-time favorite, EASY baked cod recipe. This is one of those dishes that is contingent on the quality of your ingredients, so do it right and this recipe will never let you down. Delicious seafood, fresh baked cod, prepared simply and perfectly.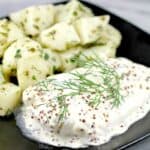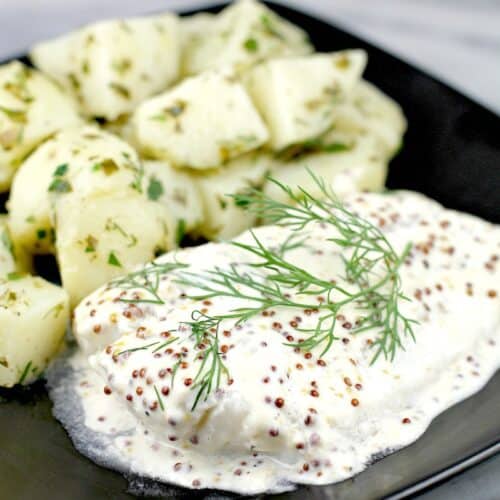 German Baked Cod in Mustard Cream
Perfect for entertaining, this cod recipe is SO EASY to make, add it to your repertoire of no-brainer-but-special dinner recipes.
Ingredients
1 1/2

lb

cod filets

kosher salt

fresh cracked pepper

I prefer mixed peppercorns for this

1/2

cup

heavy cream

2

Tbs

quality whole grain mustard

fresh dill leaves
Instructions
Lay the fish in a 13x9 baking dish. Season with salt and pepper (at least 1/4 t salt). Separately, combine the cream and Dijon. Pour over the fish. Top the fish with small torn dill fronds.

Bake at 350F for 15 minutes until fish flakes easily with a fork. Serves 4.
~✿♥✿~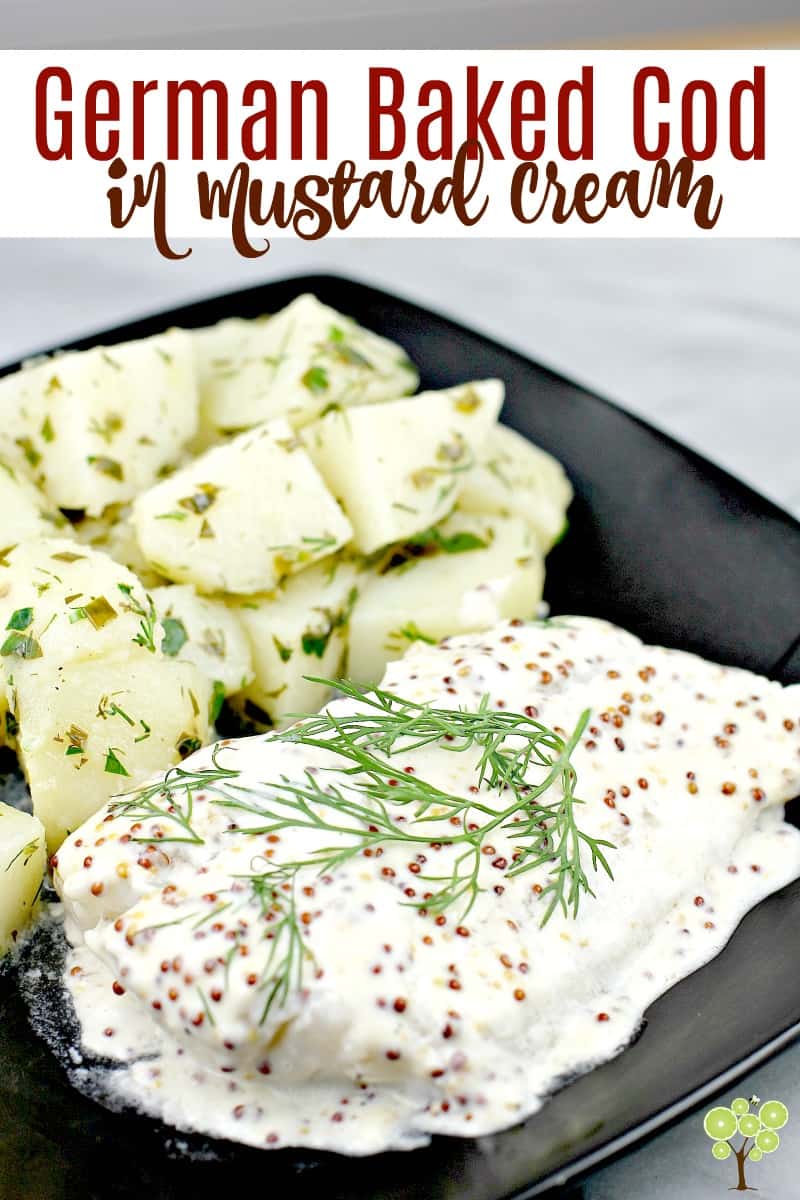 If this baked cod recipe looks good, check out these other weeknight dinner recipes.