Lemon-Dill Salmon over Summer Vegetable Stuffing
And in the random dinner category, we have this little number, Lemon-Dill Salmon over Summer Vegetable Stuffing. Summer vegetables sing in these delicious stuffing, topped with healthy, succulent salmon, and topped with a cool sauce. This recipe is weeknight easy or fancy dinner perfect.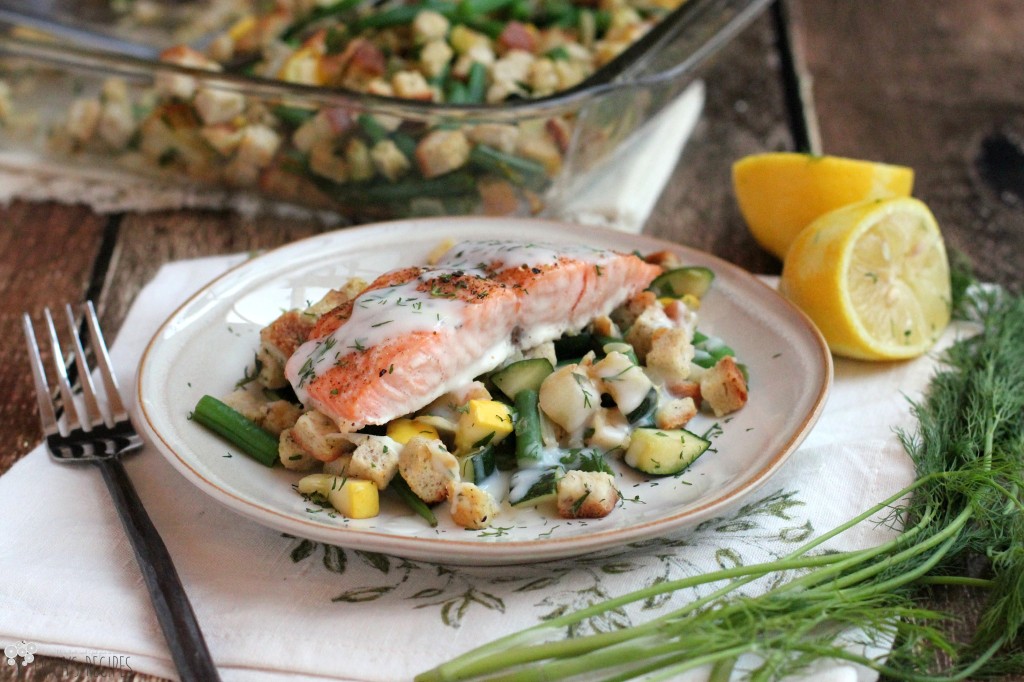 OHHH where to begin this Lemon-Dill Salmon over Summer Vegetable Stuffing was so good. What I wanted was a comfy, homey dinner – the kind that warms your soul, right? What I did not want was a heavy, over-buttered, I'm-gonna-hate-myself-when-I-step-on-the-scale-in-the-morning kindof meal. …And I wanted stuffing. And I wanted summer veggies to make it different. And I wanted salmon to make it more different. And I wanted gravy. And… And…
To me, salmon is comfort food, so it's no shock I used salmon. But I wanted to make salmon even more comforting. I wanted it to give me a hug. So I put a light lemon-dill sauce on it. This sauce was adapted from my recipe here, and it's fast and easy and perfect for any fish. Yes, there's butter and flour in it, but you only need a little drizzle so it's all good in the end. And for this dinner, it was my answer for gravy.
I don't know what the stuffing is about. …Maybe I'm kinda sorta ready for fall, but not ready enough to fully commit and make something with pumpkin. Also, don't you always feel guilty for eating stuffing? Well, maybe not always (and I will make my Best Stuffing Ever for Thanksgiving), but you have to admit – nutritionally, there ain't much there. So, I tried to fix that and made a stuffing with no butter and I added veggies. This stuff is so good! I kept it light and fluffy (can one call stuffing fluffy?), so it really really works with the salmon and lemon-dill sauce. They need each other. And altogether, this fabulous Lemon-Dill Salmon over Summer Vegetable Stuffing meal made me feel like a creative rockstar and I was sooooo happy my family ate it all up yum.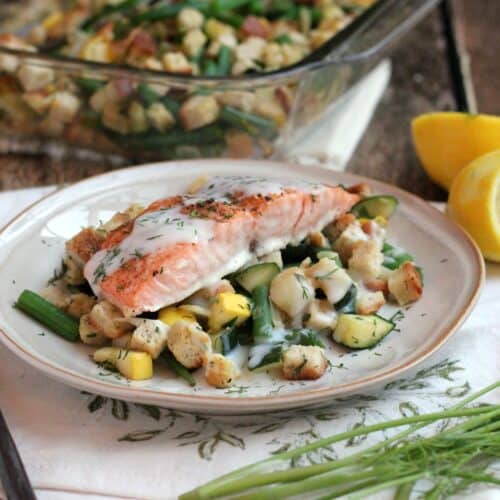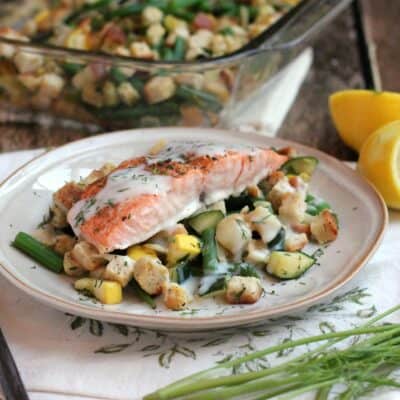 Lemon-Dill Salmon over Summer Vegetable Stuffing
Ingredients
For the stuffing
8

oz

green beans

1

medium onion

diced

2

medium yellow squash

diced

1

large zucchini

diced

1

t

kosher salt

6

oz

cubed herb stuffing

such as Pepperidge Farm cubed stuffing made from white bread

1

egg

lightly beaten

¼

c

vegetable or Chicken Stock
cooking spray

preferably olive oil
For the fish
1-1/2

lb

salmon

with the skin, cut into 6 (4 oz) portions

Old Bay seasoning
For the Lemon-Dill Sauce
1

T

unsalted butter

¾

c

milk

I use 1%

½

t

kosher salt

2

t

fresh dill

½

t

fresh lemon juice

¼

t

fresh lemon zest
Instructions
Heat oven to 350F.

Bring a medium pot of water to a boil. Add the green beans and blanch 1 minute. Transfer green beans immediately to an ice bath to stop the cooking. Drain.

Heat 1 T olive oil in a large nonstick saucepan on high heat. Once hot, add the onion and saute 1 minute to brown. Add the zucchini and yellow squash, and saute, tossing occasionally, 2 minutes to lightly brown (you just want them lightly browned; they will finish cooking in the oven with the stuffing). Transfer veggies to a large mixing bowl. Add salt, pepper, stuffing, and blanched green beans.

In a small bowl, combine the egg and vegetable stock. Pour over the vegetables and stuffing and toss to combine all the ingredients. Transfer to a 13x9 baking dish sprayed with cooking spray. Cover dish tightly with foil. Bake at 350F for 40-45 minutes until heated through and the veggies are cooked but not too soft.

While the stuffing is cooking, prepare the fish. Line a bake sheet with foil for easy clean-up. Lay the fish on the foil. Season well with salt, pepper, and Old Bay. Bake at 350F for 15 minutes or just until fish flakes easily with a fork.

To make the Lemon-Dill Sauce, heat the butter in a small saucepan over medium heat. Add the flour and whisk until smooth and bubbly. Cook 2 minutes to cook the flour. Slowly whisk in the milk and cook, stirring constantly, 5 minutes or until slightly thickened. Remove from the heat and add salt, dill, lemon juice, and zest. Taste for seasoning.

To serve, put a couple large spoonfuls of stuffing on the plate. Lay a piece of salmon over (I remove the salmon skin at this point - I keep it on for cooking because it keeps the fish from drying out). Spoon sauce over and garnish with a pinch of fresh dill. Yield: 6 servings.
Calorie count is purely an estimate calculated using an online application to serve as a guide and not to be taken as accurate nutritional information. Percent Daily Values are based on a 2,000 calorie diet.
Tried this recipe?
Leave a comment below and let me know!