Pumpkin-Chia Protein Bars
Well I am sure jumping on a couple bandwagons with this Pumpkin-Chia Protein Bars recipe. Pumpkin. Chia seeds. Gluten-free baking. Sometimes a girl's just gotta follow a trend and see what all the fuss is about…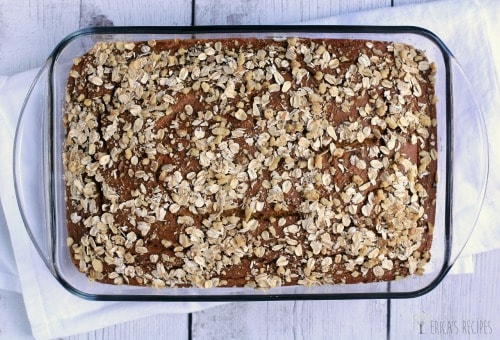 Have you heard of chia seeds? All the cool kids are eating them… I'm cool. I don't care what my daughter says, I am cool. …What turned me on about chia seeds is that, supposedly, they're a low calorie food with omega-3 fatty acids, carbohydrates, protein, fiber, antioxidants, and calcium – so, trendy or not, I'm interested. I have been working so hard at triathlon lately, but I'm having a very hard time with eating properly so I can get leaner when I am hungry ALL the friggin time. So I am going to experiment with these little seeds a bit and see where they take me. The clincher is they don't have to be ground up like flax for your body to absorb the good stuff. So unlike flax, you can just sprinkle them on stuff and throw them in stuff. You know, one less thing. I'm down with that. And now my grocery store sells them. Boom.
So what else is going on here… Pumpkin! Of course! It's pumpkin season, so I'm on top of that. There's all healthy ingredients – in fact, I sweetened with only some brown sugar, honey, and molasses, and I used oat flour which is naturally sweet anyway. No other sugar needed! When I make these, I freeze them after they have cooled. Then I give one a quick zap in the microwave, usually as a preworkout snack. And here's the skinny, per bar: 106 calories, 2g fat (0 sat'd), 3g fiber, 16g carbs, only 5g sugar!, 6g protein, 25% vitamin A!!!, 6% calcium! and 8% iron! All in one little snack bar that tastes like I'm totally cheating.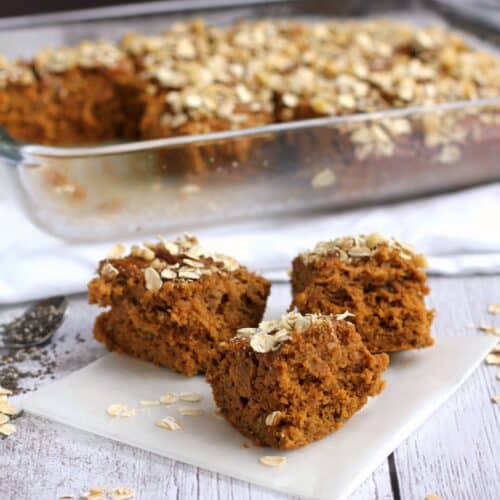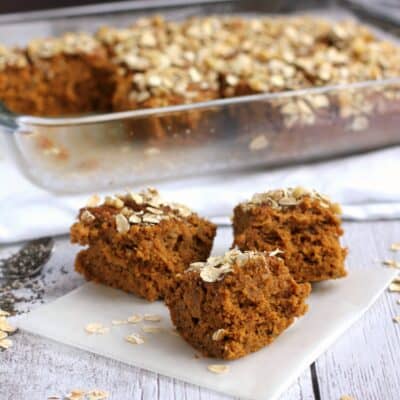 Pumpkin-Chia Protein Bars
Ingredients
3 

T

honey

1

T

unsulphured molasses

½

c

unsweetened applesauce

2

t

ground cinnamon

1

t

ground ginger

½

t

ground clove

1

t

kosher salt

4

large egg whites

2

T

chia seeds

½

cup

almond milk

I use unsweetened

1

15 oz can pumpkin

2

c

oat flour

1

t

baking powder

1

t

baking soda

2

scoops vanilla whey protein

to make this dairy free, substitute a soy or other plant-based protein powder

¼

c 

rolled oats

¼

c

chopped walnuts
cooking spray

preferably olive oil
Instructions
Heat the oven to 350F.

In a large bowl, combine the first 13 ingredients (through pumpkin). Whisk in the flour, baking powder, baking soda, and protein powder. Spread in a 13x9 baking dish sprayed with cooking spray.

In a small bowl, combine the walnuts and oats. Sprinkle the walnut-oat mixture over top of the brownie batter.

Bake at 350F for 35 minutes or until set (be sure to check for doneness in the center! - this batter can trick you and look set, but then be raw in the center when you cut it). Yield: 24 bars.
Calorie count is purely an estimate calculated using an online application to serve as a guide and not to be taken as accurate nutritional information. Percent Daily Values are based on a 2,000 calorie diet.
Tried this recipe?
Leave a comment below and let me know!