Christmas Croissant Breakfast Casserole
Christmas Croissant Breakfast Casserole is a vegetarian breakfast casserole assembled in advance so all you have to do is bake in the morning. With mushrooms, red bell pepper, poblano pepper, and three cheeses, this decadent croissant egg bake will become a family favorite Christmas breakfast casserole for all.
This website uses affiliate links which may earn a commission at no additional cost to you. As an Amazon Associate I earn from qualifying purchases.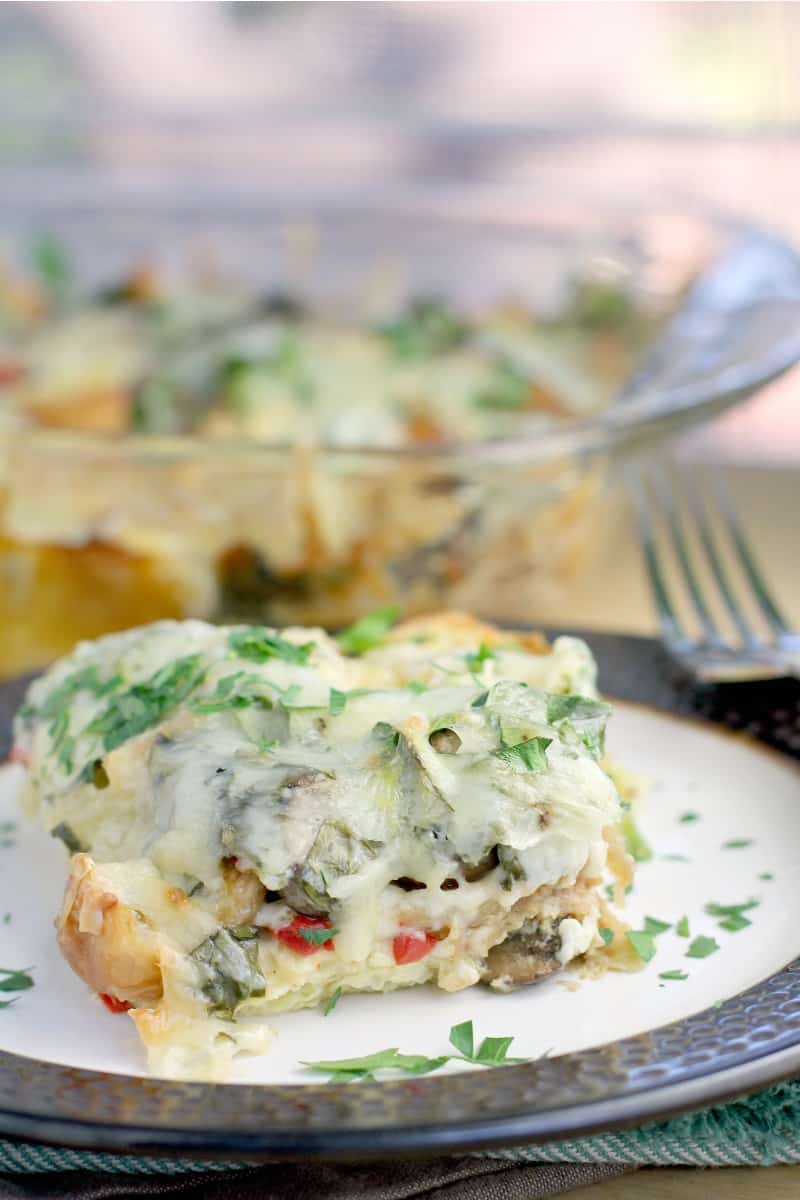 A make-ahead, vegetarian breakfast casserole
So, this post is almost feeling like a drive-by, because I am just throwing this Christmas Croissant Breakfast Casserole recipe out into the world with no story, no hook. But it is such a really delicious recipe, and I have now made this three years in a row, so it is ready for the world.
I love that this croissant casserole is vegetarian. It does not need meat and is super satisfying as is, but you could always add meat if you'd like.
I just think that on a big holiday when you are going to be shelling out shloads of food all day, keeping breakfast lighter without the meat is the way to go.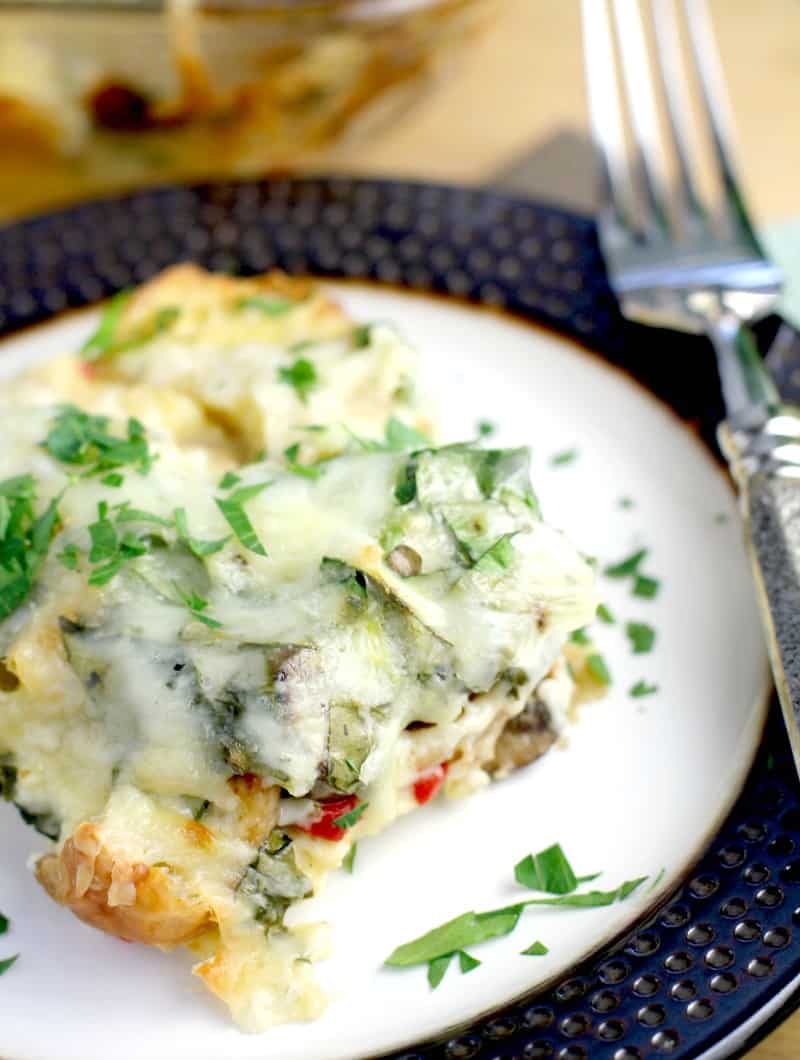 This recipe is rich enough. And I LOVE that I used poblano pepper and green onion for a teensy bit of zip every couple bites.
Poblano peppers especially are SO dang tasty and they really make this casserole perfect. THE answer for "what do I make them for holiday breakfast?".
What I love most about holiday traditions like this breakfast is the expectation. My family expects this casserole now, and looks forward to it every year.
I also make Christmas Soup and Christmas Cranberry BBQ Crockpot Meatballs on Christmas eve (crock-pot recipes, both) and those are also now solid traditions expected by my family.
And ALL these recipes are EASY. Because I have enough going on around then, you know?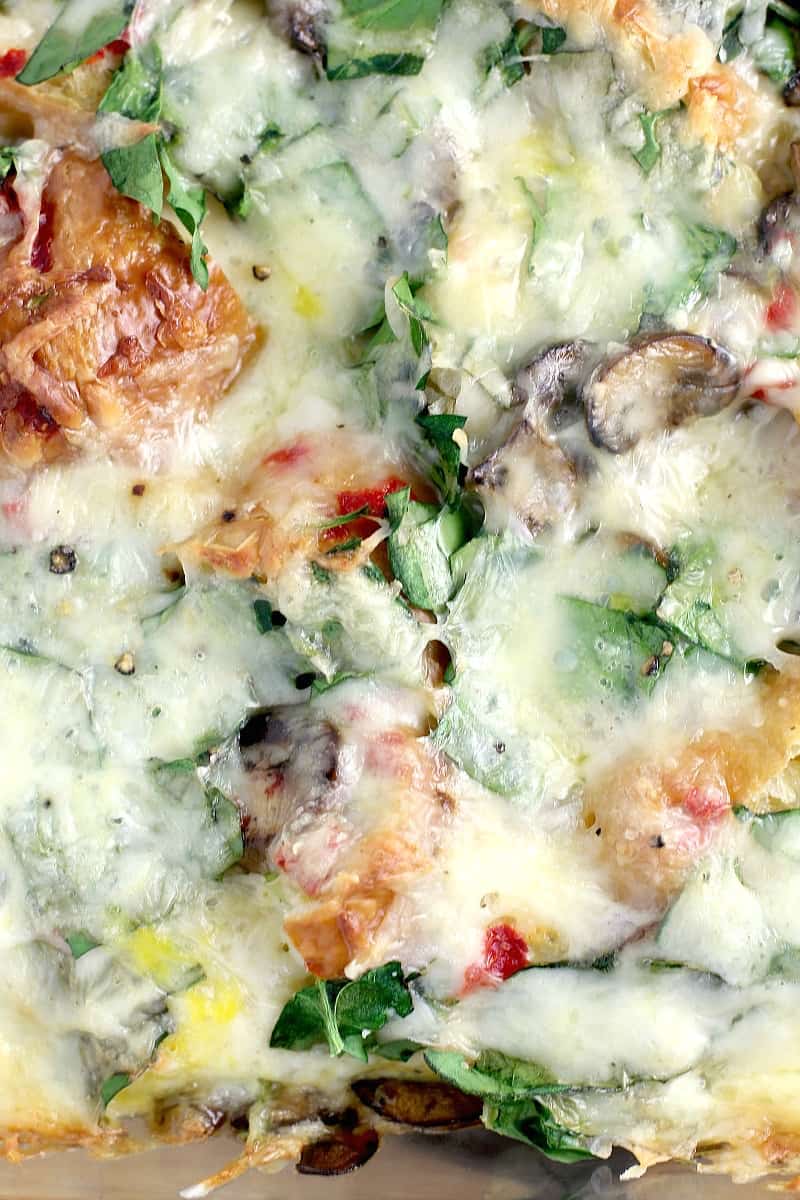 Here are the ingredients
Peppers. We use a red bell pepper and poblano pepper. These are roasted first to bring out all their flavor.
Mushrooms. By using mushrooms, this croissant casserole does not need meat, though you can add meat if desired.
Butter. Unsalted butter is used to saute the mushrooms.
Croissants. Three to four big ones, available in the bakery section at the grocery store, do the trick.
Green onion and parsley. For a bit of onion and herb.
Cheeses: white cheddar, Swiss, and parmesan cheeses. Opt for a nice sharp white cheddar.
Wet ingredients: eggs, cream, and milk. These will be absorbed by the croissant and form the custard-like texture to this recipe.
Seasonings: Salt and pepper.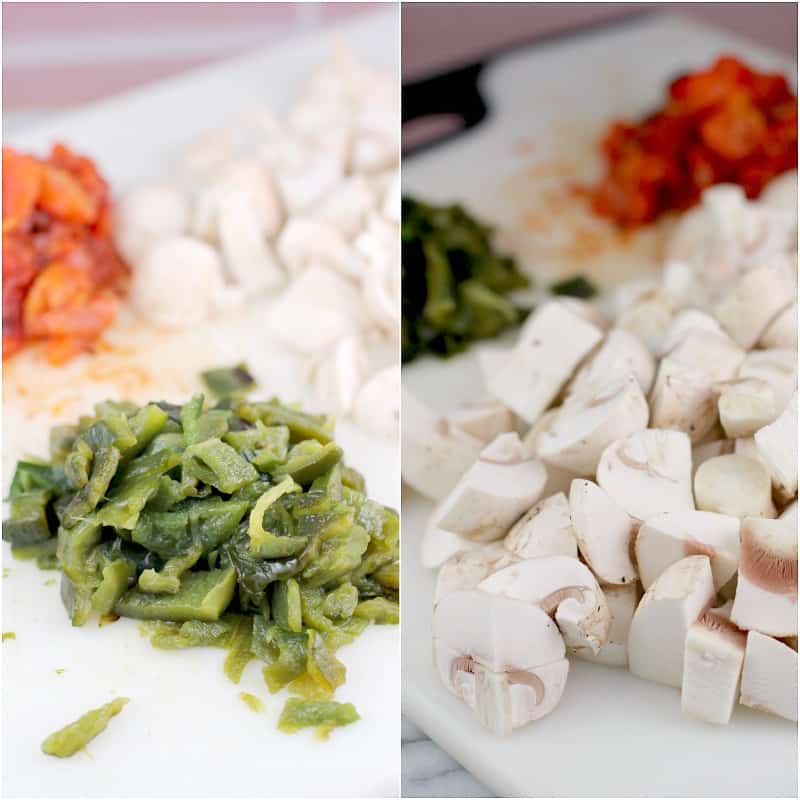 How to prepare this croissant egg bake
Why Christmas specifically for this egg casserole? Because look at it! Bits of red and green pepper, green onion and parsley – it is a festive casserole!
But of course this dreamy dish is not limited to the holidays. Because it is so easy to make and because the ingredients are not necessarily seasonal (meaning, they are available year-round in the US), it is a perfect brunch or pot-luck idea any time of year.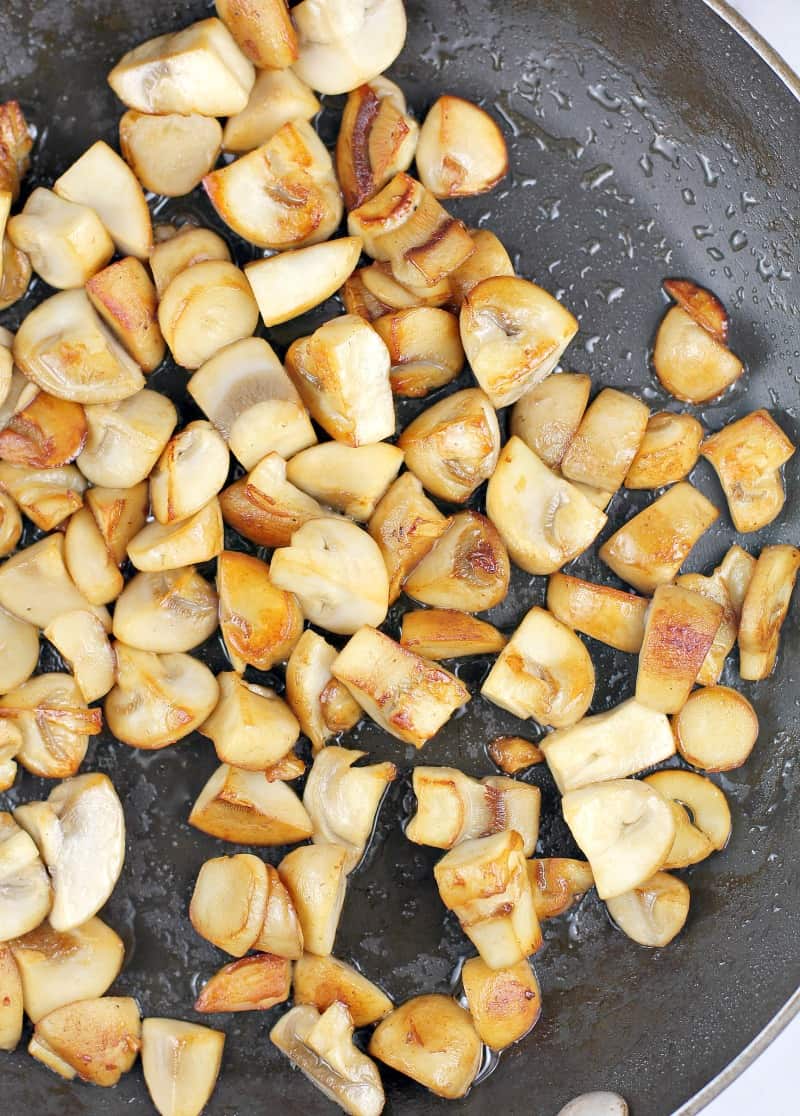 First, we roast our peppers under the oven broiler. Once black and blistered, let them steam in a resealable bag, then remove the skins once cool enough to handle.
Next, we brown the mushrooms in butter.
Put the peppers, mushrooms, onion, parsley, and bite-sized pieces of croissant in a casserole or bake dish and top with the cheeses.
Combine the egg, milk, and cream and pour over top.
Refrigerate over night to allow the flavors to meld and for the croissant to take up the egg-milk/cream and because custard-like.
Bake and serve.
Easy as that. AND you can even do this 2 days in advance if desired and make life even easier.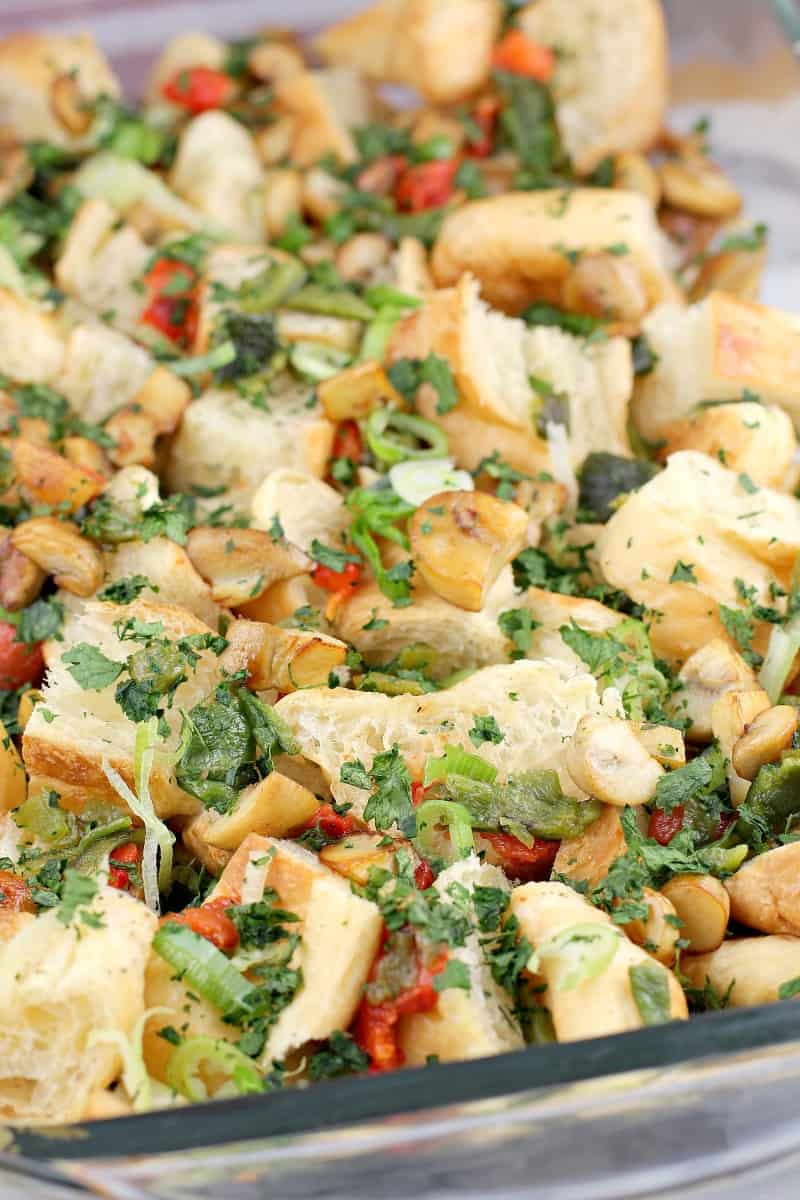 Helpful tips and FAQs
I say in the instructions to refrigerate overnight, but this croissant breakfast casserole can be assembled even further in advance. It does need a good bit of refrigeration time because that is when the bread of the croissants will soak up the milk, cream, and egg; however, it can go longer at this stage.
I use a 13×9 bake dish, but a good size casserole dish will work as well. This recipe makes a decent amount, which is why it is such a great recipe for the holidays, a brunch, or pot-luck. As long as the ingredients fit in the dish prior to adding the milk, cream, and egg, you are good. It will swell as it refrigerates as the croissant absorb the liquid, but not overly so.
As tempting as it is to dig right in to this delicious breakfast DON'T or you will totally scorch your mouth. Trust me, I know.
First thing Christmas morning, I get this casserole out of the refrigerator and set it on the counter before I even make coffee and we open gifts. Then I throw it in the oven once heated. We don't do a formal sit-down breakfast, so I just like to get it out and cooked so people can eat at will.
I've mentioned repeatedly that this vegetarian breakfast casserole is assembled in advance, but can it be baked in advance? Yes. The texture is lovely and custard-like, and, therefore, not dry. So, a little gentle warming in the oven or zap in the microwave to reheat does the trick no worries.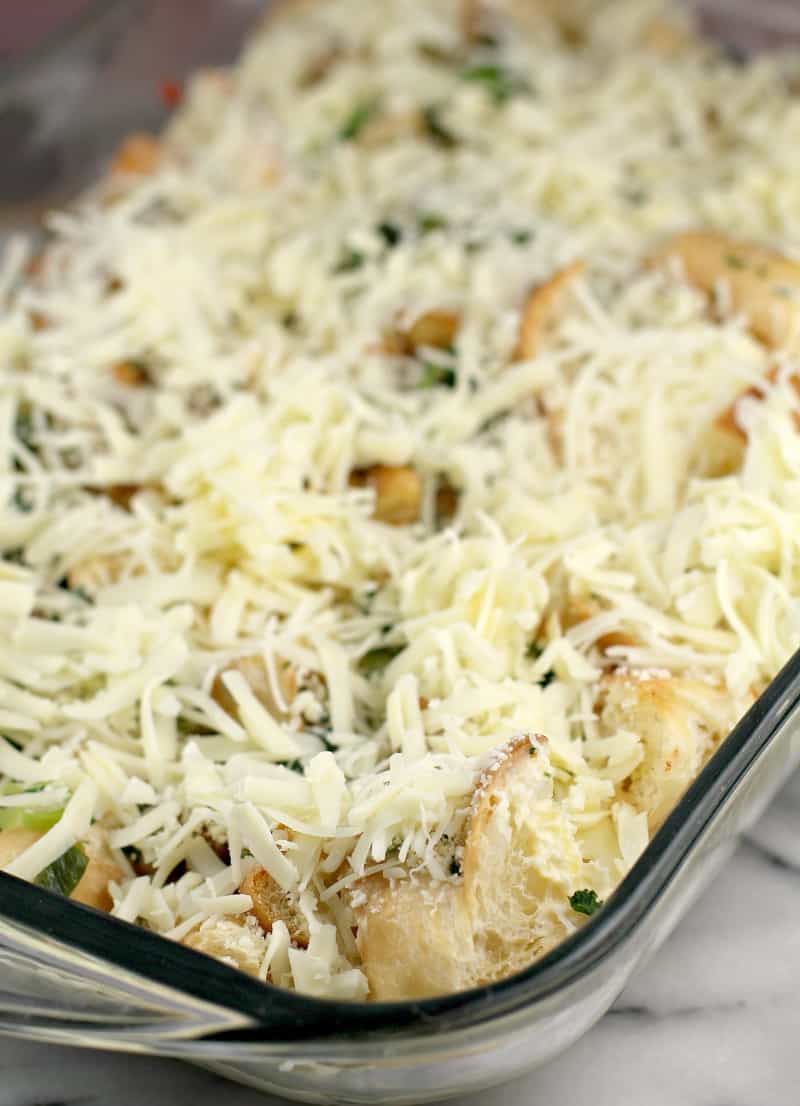 About the croissants and substitutions
So, I know I am oddly unspecific about the quantity of croissants to use in this croissant breakfast casserole. I pick up 3 or 4 big ones (or half a dozen small ones) in the bakery section of my grocery store, and just use enough until, when mixed with the peppers, mushrooms, green onion, and parsley, it all fills my standard 13×9 bake dish.
This year, when I make this croissant egg bake again, I will weigh how much I use and update this post. But until then, just do as I say above and don't over think it because there is no magic amount.
Now, in the case that croissants are not available, what would be good alternatives? Brioche or other egg bread would work well in this recipe – that would be my first suggestion. Otherwise, I would try a good Mountain bread or French baguette.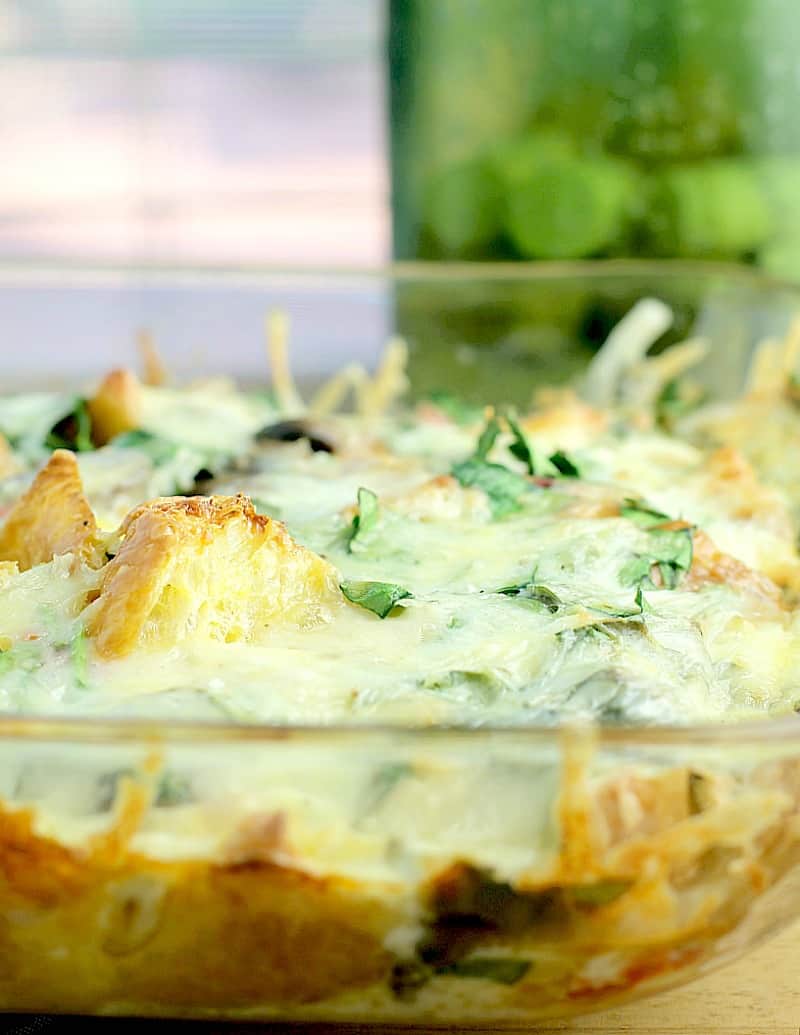 Suggestions for meat additions
Now, I firmly believe that this glorious holiday breakfast dish is perfect as is. That said, when I publish vegetarian recipes I am often asked for suggestions by people who would still like to include meat. No problem!
So, my suggestions of proteins that would make happy happy additions to this holiday croissant breakfast casserole are thusly:
Crumbled bacon. Kinda obvious, but bacon is an easy, crowd-pleasing go-to meat addition for pretty much anything.
Diced ham. Like bacon, ham is salty and would be a good option. And ham is already cooked. Pick up diced ham to keep preparation even easier.
Cooked and crumbled bulk sausage. Hot or mild, bulk breakfast sausage would be very good in this croissant egg bake.
Chorizo. There are two kinds of chorizo – Mexican and Spanish – and they are both delicious. If opting for Mexican chorizo, cook and crumble in a skillet, then drain the fat well as you can. If opting for Spanish chorizo, which is already cooked, dice and give a quick saute in with the mushrooms to brown a bit and proceed with assembling the casserole.
Chicken… ehh. Chicken is inherently bland and the flavors in this casserole are delicate so chicken would not be a go-to protein addition for me. That said, maybe leftover rotisserie or other well-seasoned and tender chicken could be a good addition.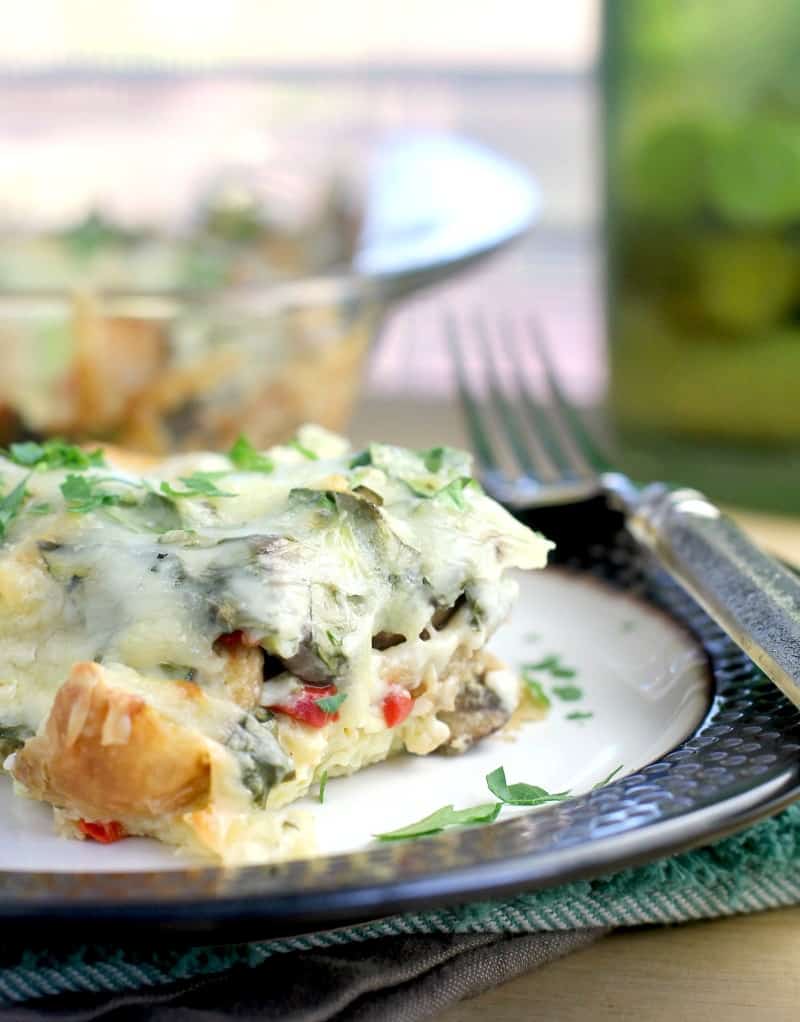 Additional ingredient suggestions
Other vegetarian additions could be spinach, black beans, cooked diced potato – or even sweet potato – caramelized onion, jalapeno, green bell pepper.
I have done none of these additions and am totally just brain-storming out ideas, but I get that people may want to change this recipe up for their particular crowd.
So that's it folks. MAKE this Christmas Croissant Breakfast Casserole recipe. It is easy but fancy, pretty and festive. All the feelz for your holiday breakfast to share with those you love.
More brunch recipe ideas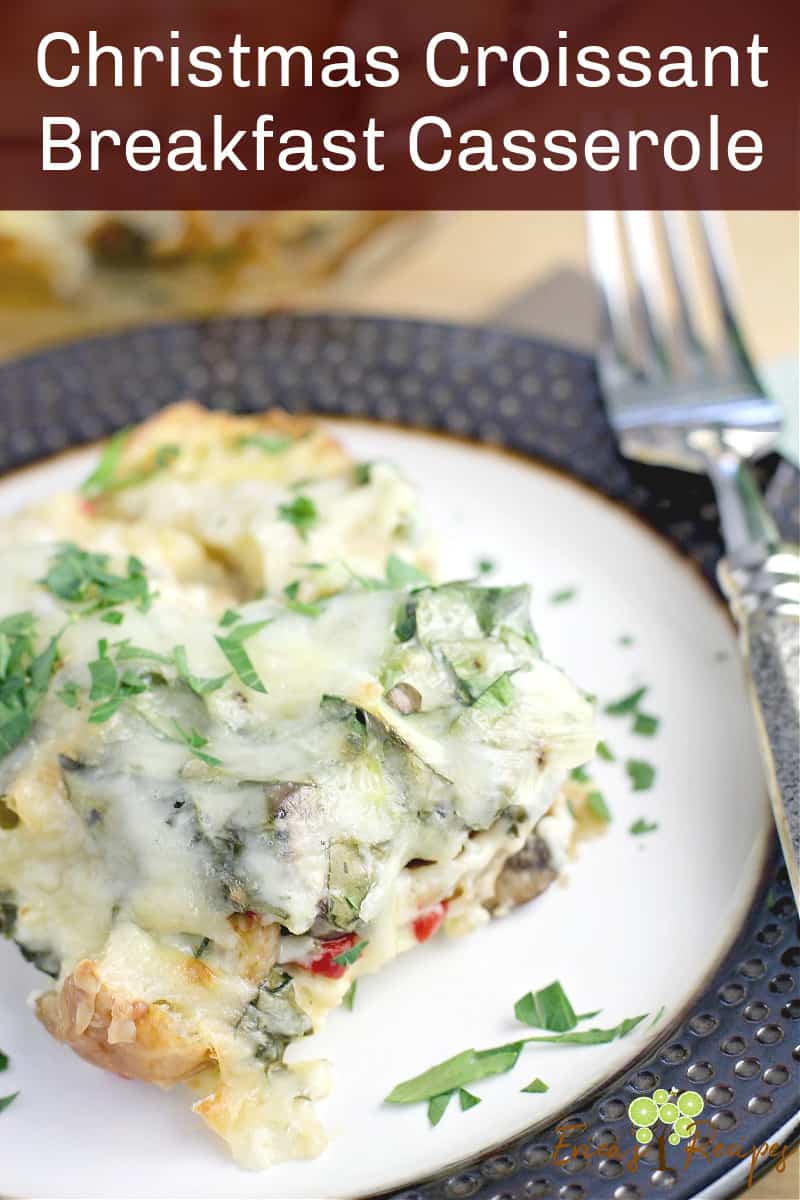 Also check out another holiday favorite, the Best Stuffing Ever.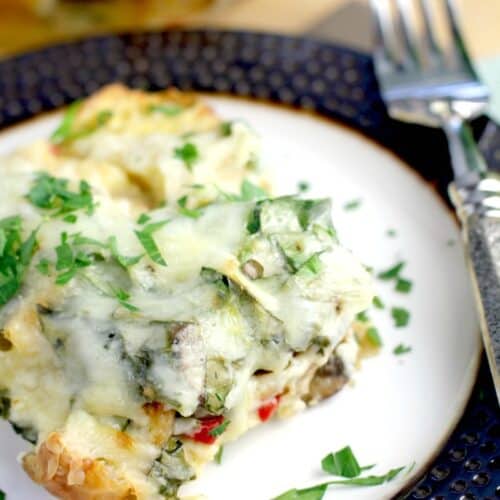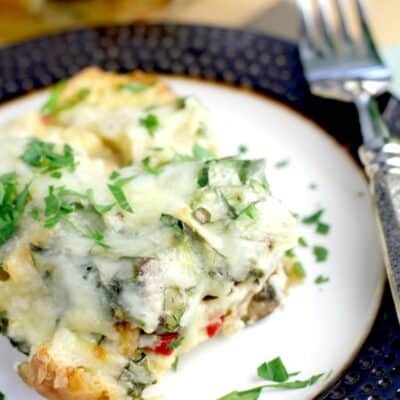 Christmas Croissant Breakfast Casserole
Christmas Croissant Breakfast Casserole is a vegetarian croissant egg bake assembled in advance and baked the next day.
Ingredients
1

red bell pepper

1

large poblano pepper

8

oz

mushrooms, chopped

2

Tbs

unsalted butter

3-4

large croissants, roughly chopped

¼

cup

green onion

2

Tbs

flat-leaf parsley

1

cup

shredded white cheddar cheese

½

cup

shredded Swiss cheese

¼

cup

shredded parmesan

5

eggs, lightly beaten

1

cup

cream

1

cup

milk

1

tsp

kosher salt

couple pinches fresh cracked pepper
Instructions
Under the oven broiler, roast the poblano and red bell peppers, turning every 4-5 minutes, until skins are blackened and blistered all over. Move the blackened peppers to a ziploc bag to allow to steam. Once cool enough to handle, remove and discard the skins and seeds. Chop and set aside.

In a medium skillet, melt the butter. Add the mushrooms and cook, tossing regularly, until nicely browned.

In a 13×9 baking dish, toss together the poblano pepper, red bell pepper, mushrooms, croissant pieces, green onion, and parsley. Top with the cheeses.

Combine the eggs, cream, milk, salt, and pepper. Pour over the casserole. Cover with plastic wrap and put in the fridge to set overnight.

Bake casserole at 350°F for 45 minutes or until center is set. Allow to cool 10 minutes before serving. Yields 8 servings.
Nutrition
Calories:
511
kcal
(26%)
|
Carbohydrates:
18
g
(6%)
|
Protein:
24
g
(48%)
|
Fat:
37
g
(57%)
|
Saturated Fat:
21
g
(131%)
|
Polyunsaturated Fat:
2
g
|
Monounsaturated Fat:
8
g
|
Cholesterol:
222
mg
(74%)
|
Sodium:
905
mg
(39%)
|
Potassium:
386
mg
(11%)
|
Fiber:
2
g
(8%)
|
Sugar:
7
g
(8%)
Calorie count is purely an estimate calculated using an online application to serve as a guide and not to be taken as accurate nutritional information. Percent Daily Values are based on a 2,000 calorie diet.
Tried this recipe?
Leave a comment below and let me know!