Shrimp Chalupas with Roast Poblano Sauce
Healthy Mexican? Yes. It is so easy to make Mexican food healthy! Just skip the cheese and go for these incredible Shrimp Chalupas with Roast Poblano Sauce with fresh flavors of cilantro, lime, poblanos peppers, and such. This easy Shrimp Chalupa dinner recipe does all that and more with succulent shrimp and a light and creamy sauce made with roasted poblano peppers. There is just so much in this recipe to love.
This website uses affiliate links which may earn a commission at no additional cost to you. As an Amazon Associate I earn from qualifying purchases.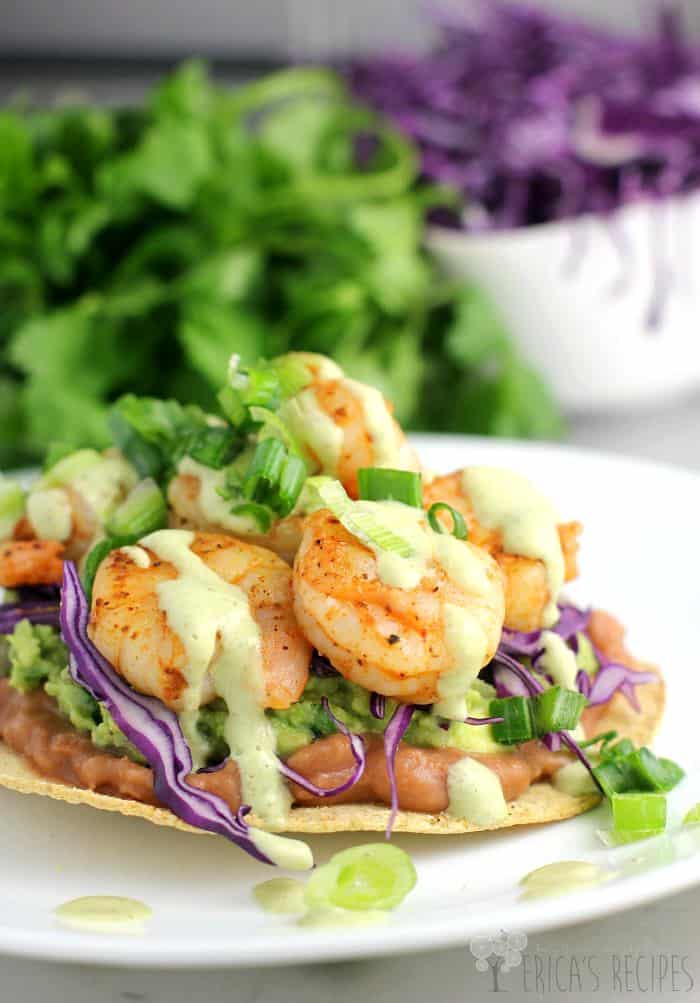 So these are happening folks. Chalupas. Creamy sauce. Awesome ingredients. Flavor flavor flavor. And it is all wholesome. Mexican dishes like this are like the easiest to do this to, because with such great flavor …which Mexican foods totally have, the grease and grime are just not needed.
We can have our Mexican. And eat it too. Complete with creamy sauce. ?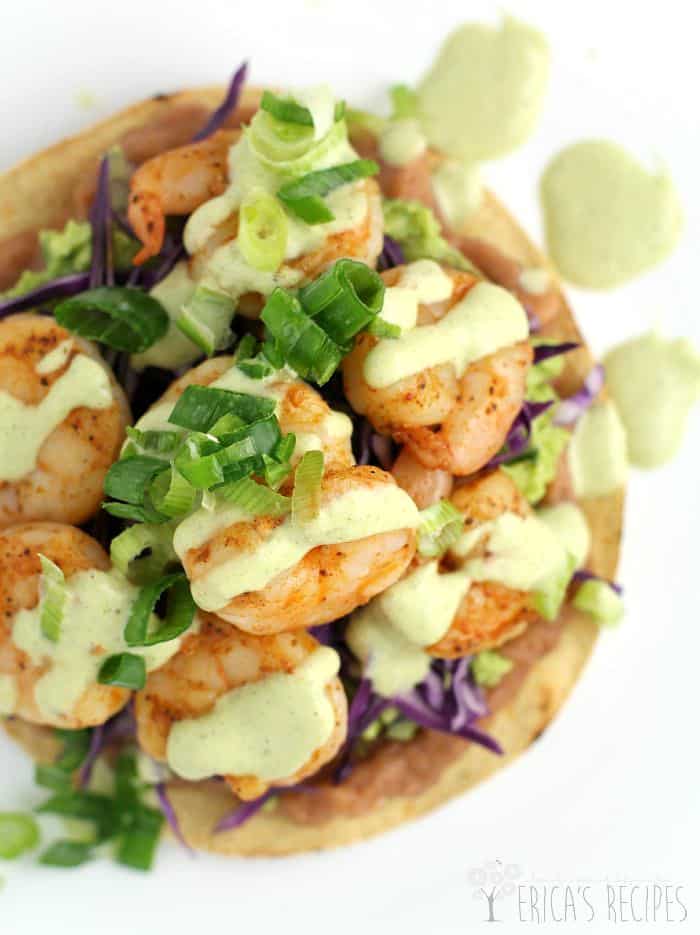 So what I did here is pretty straight forward. Roast peppers. Make sauce. Make guac. Cook shrimp. Then assemble. Completely easy, and all the components can be made in advance. What I love about this recipe is the way the flavors come together and be sooooo so good. And the layers of textures – crunchy, creamy, crunchy, shrimp, and more creamy crunchy. Fun food yayyy – just be sure to have napkins ready and eat over a plate because chalupas are like that. But they still have to happen.
Which brings up another point, the chalupa shells themselves. Look in the Mexican section of the grocery store for shells that are BAKED. Not fried. No lard or oil. Ecetera. The ingredient listing on mine was "Corn meal. Water". That is all. This is kinda key because in the taco shells and tortillas and such is where so much of the hidden unhealthy-ness of Mexican food comes from. That and gobs of oil and cheese. None of which is necessary. ?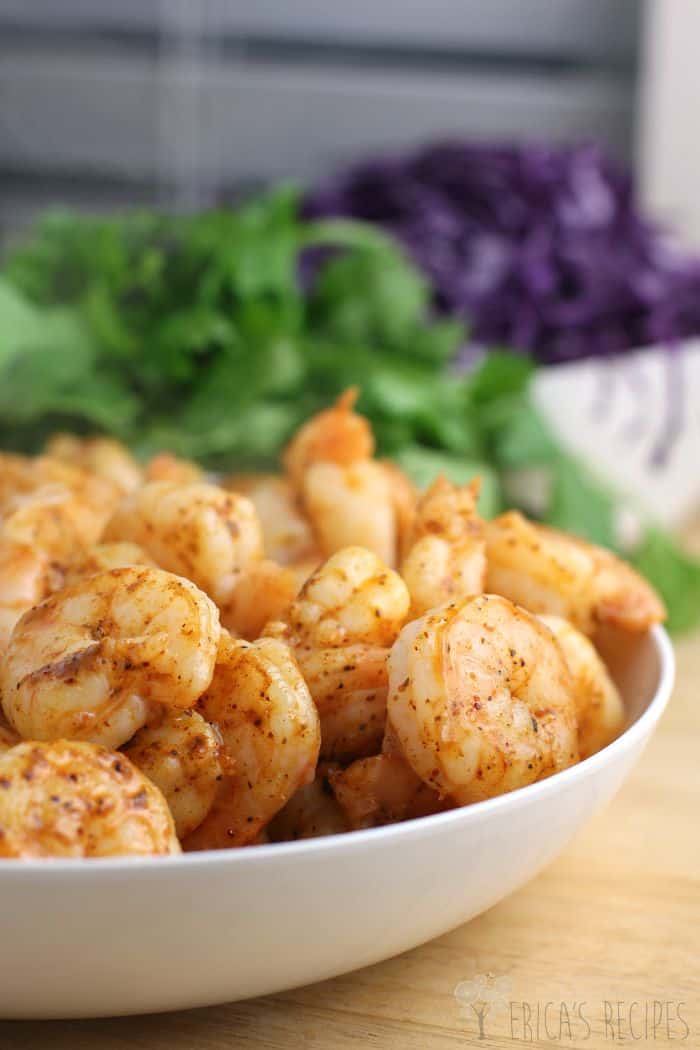 And the sauce! Good glory the sauce. This Roast Poblano Sauce is completely reminiscent of what you get in restaurants, but with like a teensy fraction of the calories. Creamy and flavorful – because poblano peppers are so tasty – with a definite kick (and if you are shy about the kick, just use 1 pepper then ?). But, this sauce is everything to this dish.
So this is it kids …a straight forward Shrimp Chalupa dinner idea, with pretty colors, and wholesome ingredients. Perfect for a weeknight or just because. And absolutely delicious.​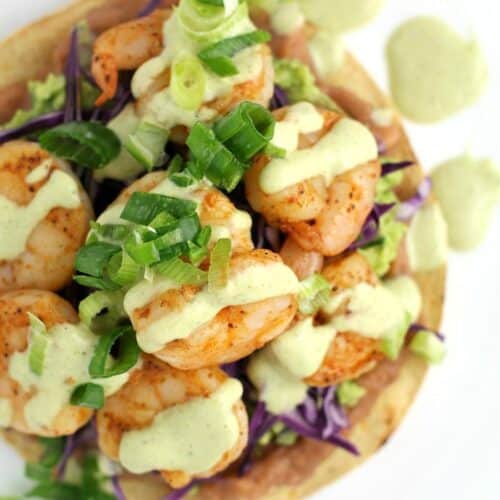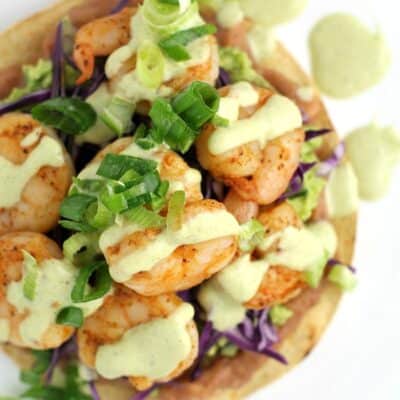 Shrimp Chalupas with Roast Poblano Sauce
A healthy recipe with succulent shrimp, cilantro, lime, poblanos peppers, and creamy sauce made with roasted poblano peppers.
Ingredients
2

poblano peppers

½

cup

reduced fat sour cream

¼

cup

low-fat buttermilk

1

batch

Guacamole

2

Tbs

finely diced red onion

1-1/2

lbs

shrimp

peeled and deveined

2

tsp

extra virgin olive oil

1

can

Wood Chunks" class="wprm-recipe-ingredient-link" target="_blank">refried beans

1-1/2

cups

finely shredded red cabbage

½

cup

thinly sliced green onion
Instructions
Heat the oven broiler. Roast the poblano peppers, 4-5 minutes per side, until skin is all blistered and peppers are soft. Transfer to a ziploc bag and let them steam. Once cool enough to handle, peel and remove seeds. Blend the peppers with the sour cream, buttermilk, and a pinch of salt and pepper. Set aside.

Once the Guacamole is prepared, stir in the red onion. Cover with plastic wrap, directly on the guac to prevent browning, and set aside.

In a bowl, season the shrimp well with Old Bay, salt, pepper, chili powder, and smoked paprika (~1/4 tsp each with a bit more Old Bay and chili powder). Heat a large, nonstick skillet on high heat. Add the olive oil and shrimp and cook, tossing occasionally, until shrimp are just cooked through (~3 minutes). Remove from the heat.

To assemble the chalupa, spread a layer of refried beans on a chalupa shell, then a layer of Guacamole. Top with red cabbage, 5-6 shrimp, a drizzle of Roast Poblano Sauce, and a sprinkling of green onion. Serve immediately. Yields 4 servings.
Calorie count is purely an estimate calculated using an online application to serve as a guide and not to be taken as accurate nutritional information. Percent Daily Values are based on a 2,000 calorie diet.
Tried this recipe?
Leave a comment below and let me know!
~✿♥✿~​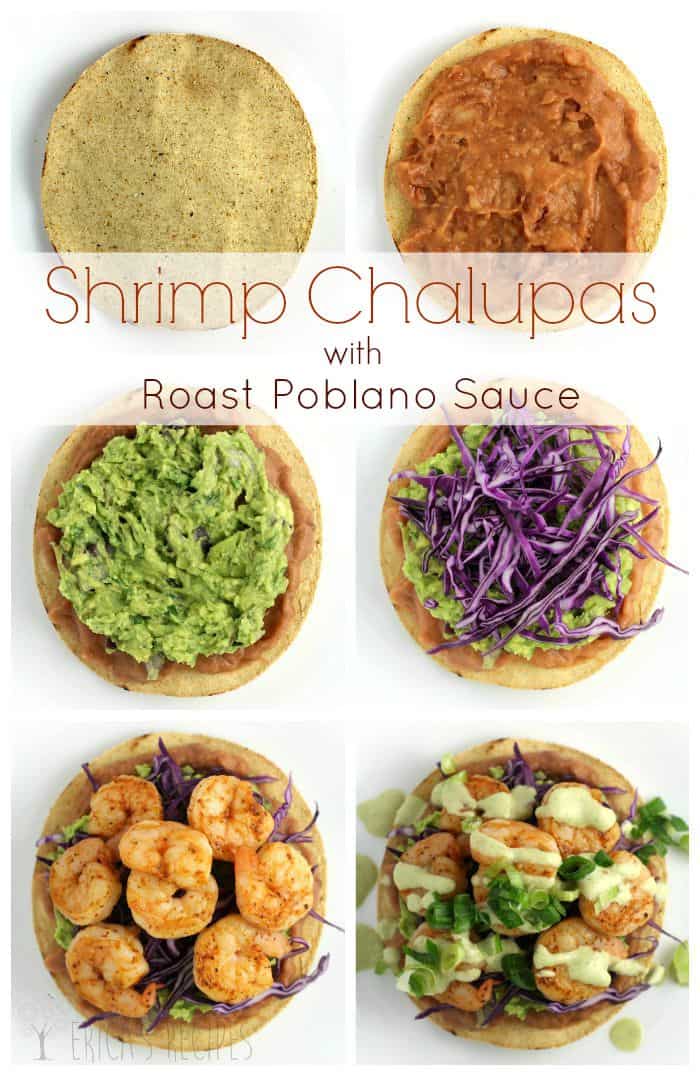 ​​​​​​​​​​​​​​​​​​​​​​