Mexican Eggs Benedict is a fancy fun breakfast using toasty tortillas, guacamole, leftover meat, homemade ranchero sauce, and a perfectly poached egg. Brighten up your morning with this incredibly tasty Mexican style eggs benedict.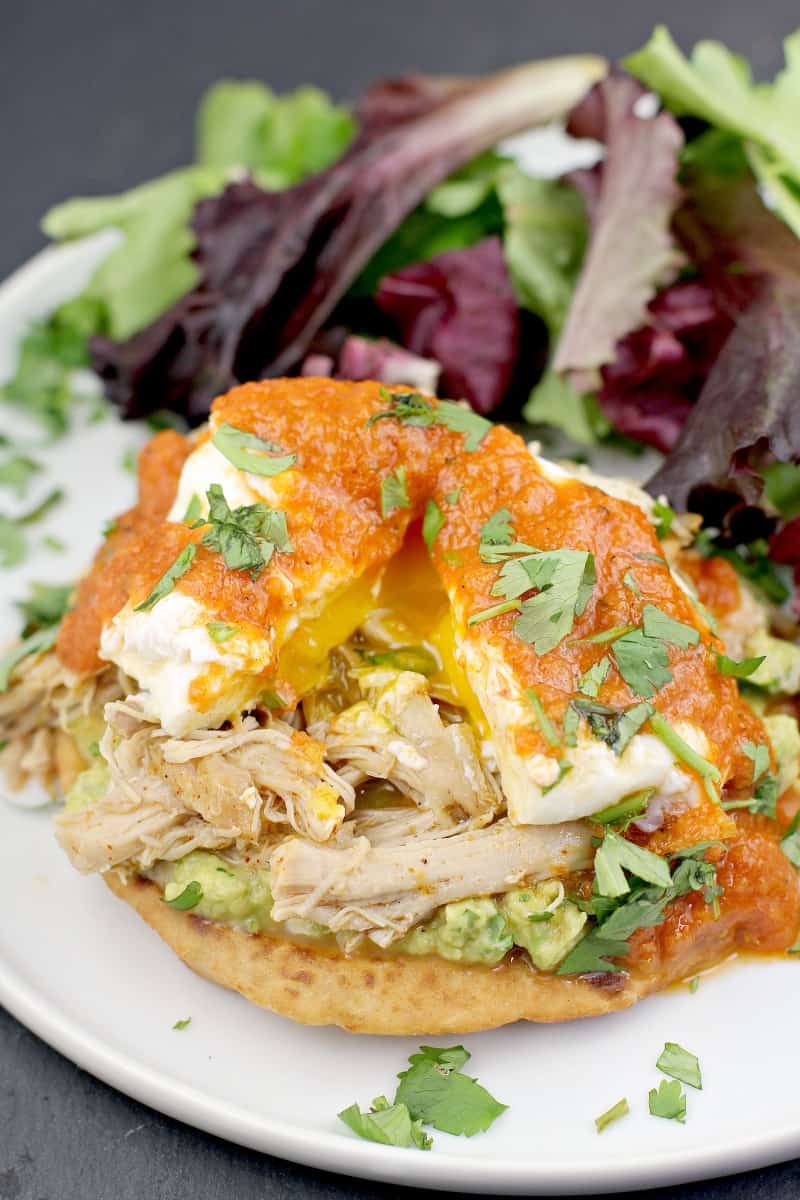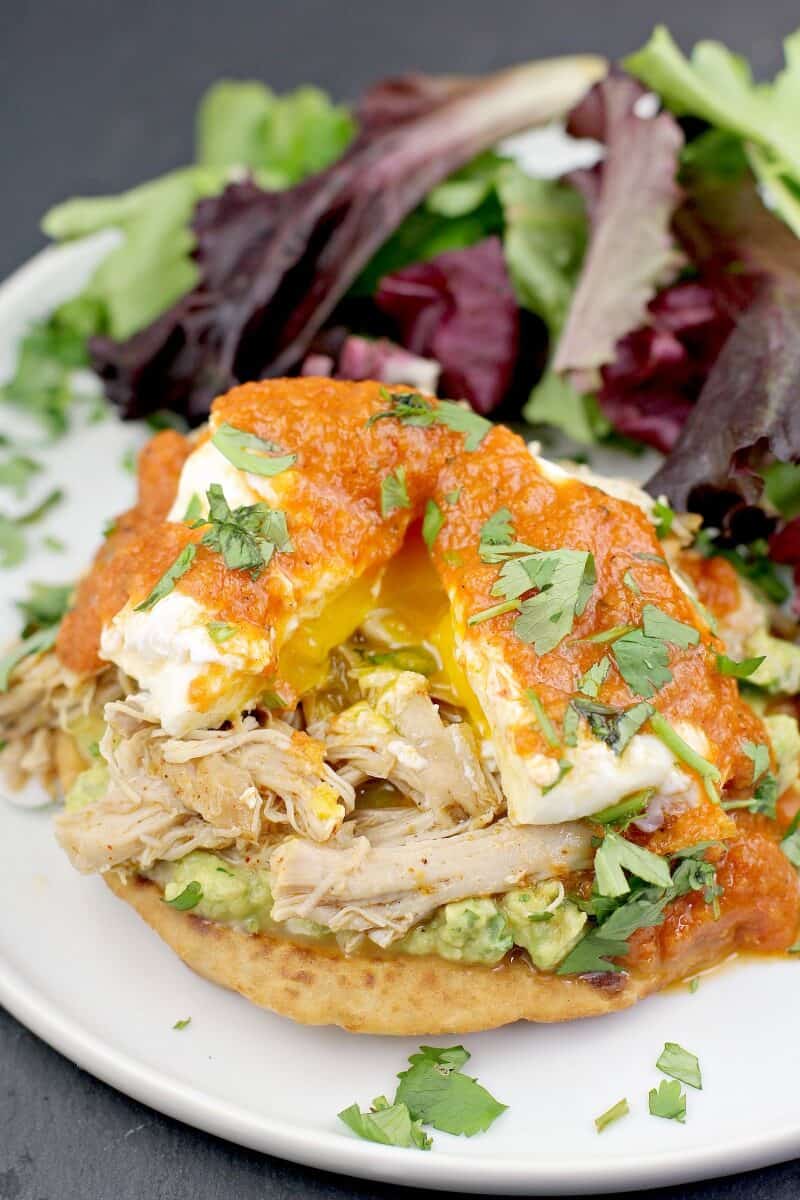 What makes this recipe special
What makes this recipe so delicious is the combination of flavors from creamy guacamole, tender meat (especially if you use my carnitas chicken), insanely good ranchero sauce, and a perfect runny poached egg.
These flavors combine so well and make every bite of this Mexican style eggs benedict dreamy. THAT is why you must make this recipe.
Plus, this is a spectacular way to use leftover meat.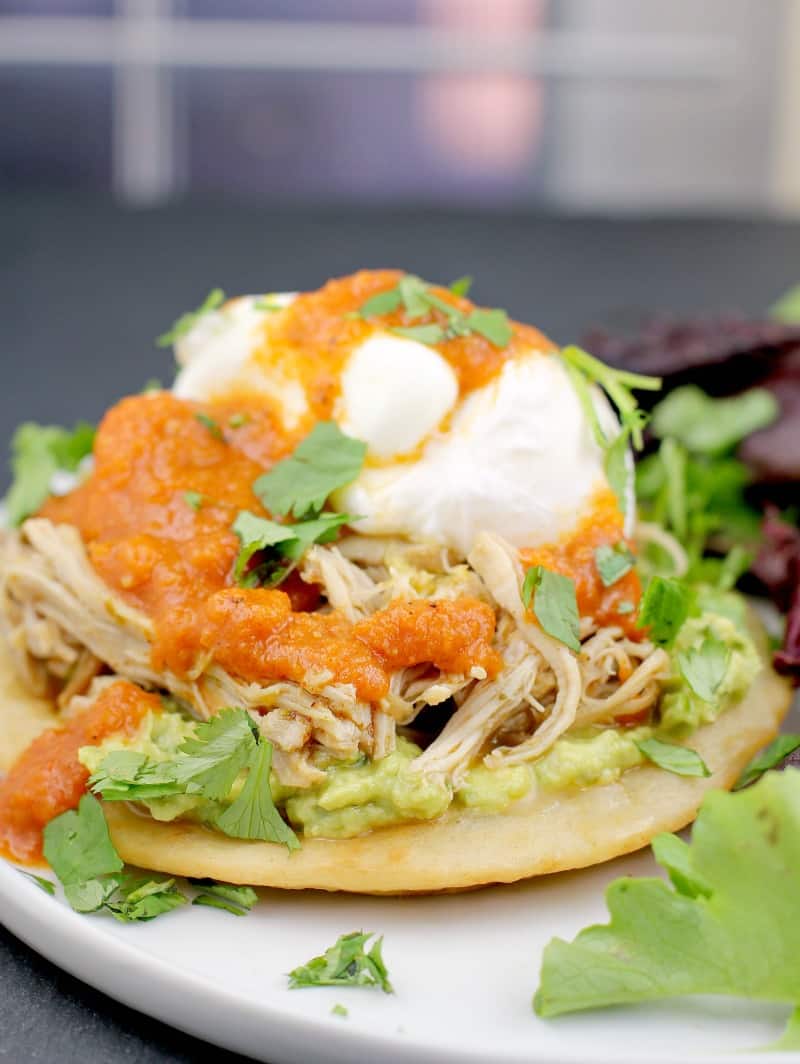 Ingredients that you need
Vegetable oil. We are going to fry up our tortillas and make them crispy awesome.
Street taco flour tortillas. These are little tortillas, and the bag is labelled "street tacos". I can find them at both my grocery store and Walmart. If not available, you can opt for corn tortillas, but I would not use large flour tortillas. English muffins are of course another option.
Kosher salt.
White vinegar. Adding vinegar increases the acidity of the water having and additive effect to get the egg to hold together. You may substitute lemon juice.
Eggs. Big cold ones.

Guacamole

. You will want 2 avocados worth of guac.

Carnitas Chicken

. I used my tender, flavorful, carnitas chicken because the citrus notes completely go with the lime in the guacamole, but honestly any protein of choice can work here. See my alternative suggestions below.

Huevos Ranchero Sauce

. This sauce is sooooo good dear Lord, and, importantly, much easier to make than hollandaise. It can also be made well in advance.
Cilantro and fresh sliced jalapeno, for garnish.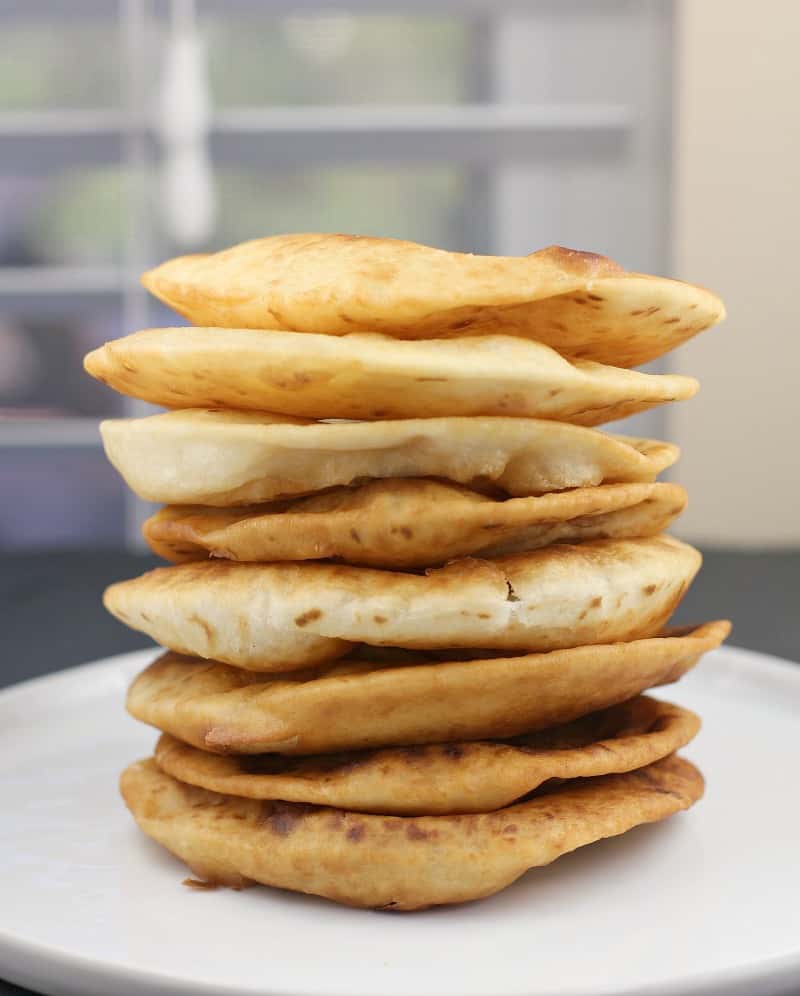 Note that in my photos I completely spaced and forgot the jalapeno [face palm]. So do as I say, not as I do, and throw some jalapeno up on there.
How to make Mexican Eggs Benedict
First things first, and that is the tortillas. We are going to fry them up and make them crispy toasty.
Next, we poach our eggs. We bring water to a simmer and add salt and vinegar. Make a little whirlpool (I use the end of a wooden spoon), put the egg in the middle, and 5 minutes later we have a perfectly poached egg.
Now, chances are that you do not want to cook one egg at a time if you are cooking for more than just a couple other people. So, if that is the case, you can poach several eggs at once simply by spacing them apart in the water. HOWEVER, if you do this, do not stir the water. Just leave it be still.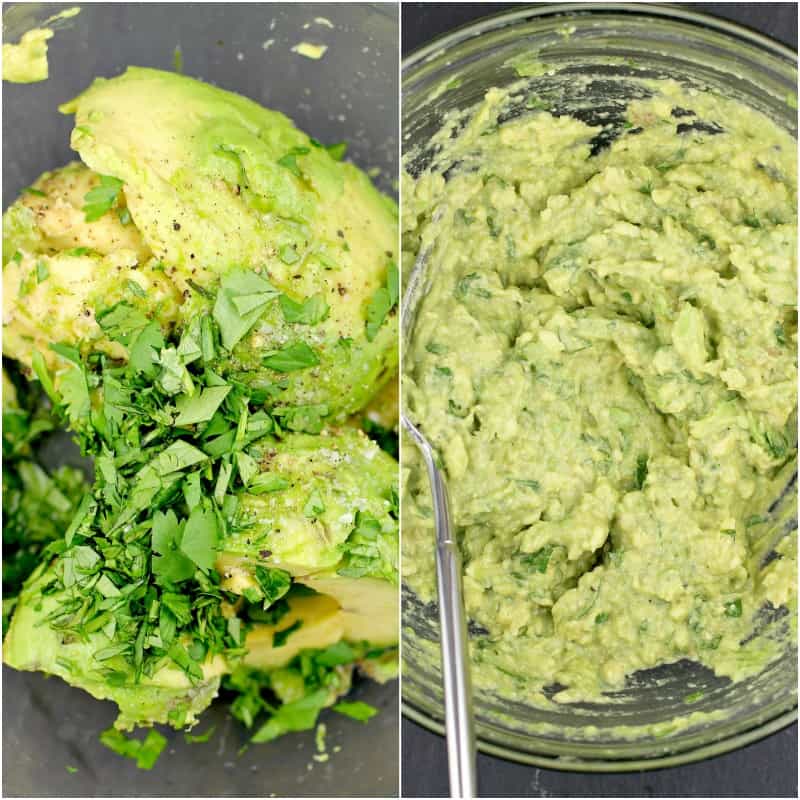 Suggestions for meat
Got leftover meat to use up? This Mexican Eggs Benedict recipe has got you. Here are suggestions for meat additions to your heart's content. Some vegetarian suggestions are included as well.
taco meat
pulled pork
breakfast bulk sausage, cooked and crumbled
breakfast sausage patties
chicken breast
black beans or black beans in sauce
grilled shrimp
vegetarian breakfast sausage patties
tofu

Sofritas

cooked and crumbled Mexican chorizo sausage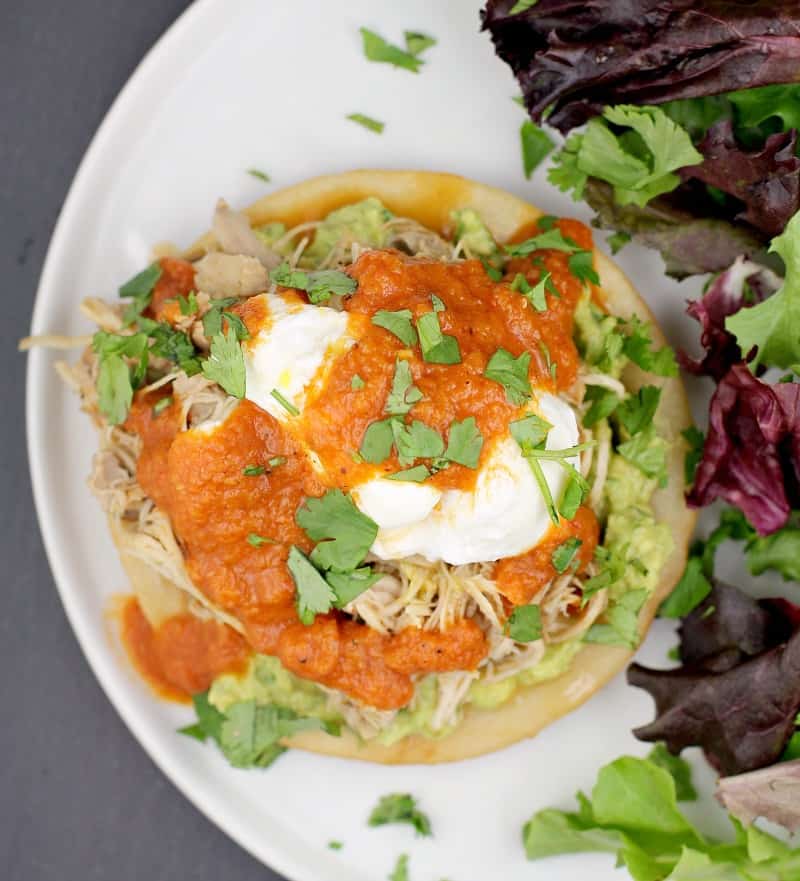 Tips
Full disclosure… this was the very first time in my life that I have poached an egg. The first one I did, came out just a touch overdone, but I had dilly-dallied getting it out of the pot so I know I screwed up there. The second one was perfect. So, don't dilly-dally.
We food bloggers love to always say that a recipe can be made in advance, but Mexican Eggs Benedict is not that type of recipe. If toasted too far in advance, the tortillas will not stay crispy. Guacamole turns brown. Meat and the ranchero sauce give off juices that will soak into the tortilla softening it. So, once assembled, this dish needs to be served immediately.
That said, my Huevos Ranchero Sauce can be made several days in advance. Simply reheat on low on the stove-top or in the microwave.
As mentioned about, you can poach multiple eggs at a time, but if you do then do not make that whirlpool in the water. Leave it still and simply space your eggs apart.
If you don't feel up for frying the flour tortillas, or if you want to make this recipe gluten-free, simply purchase flat chalupa/tostata shells in the International foods aisle at the grocery store.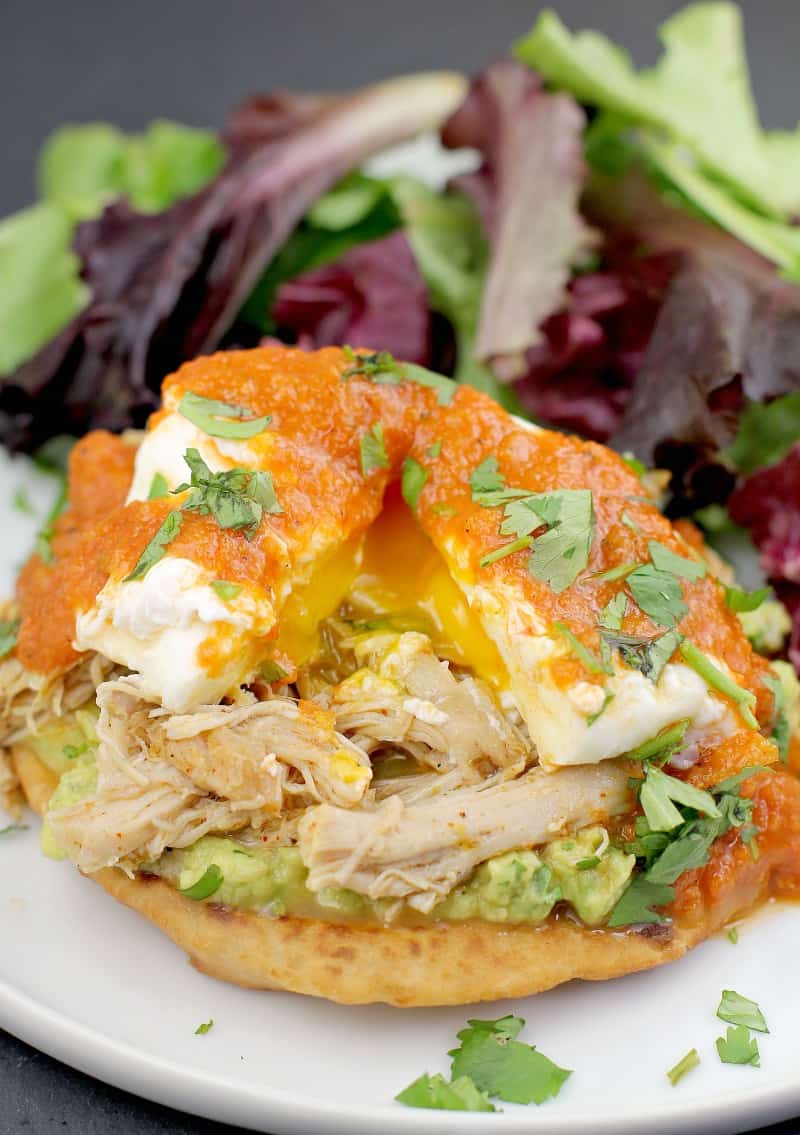 More Mexican-inspired breakfast recipes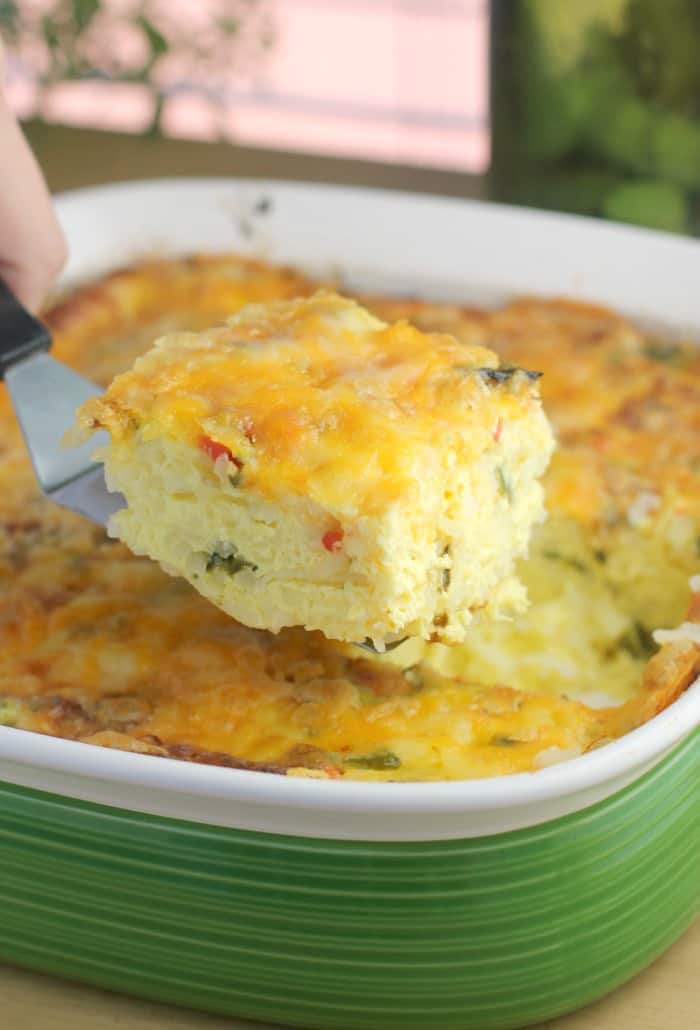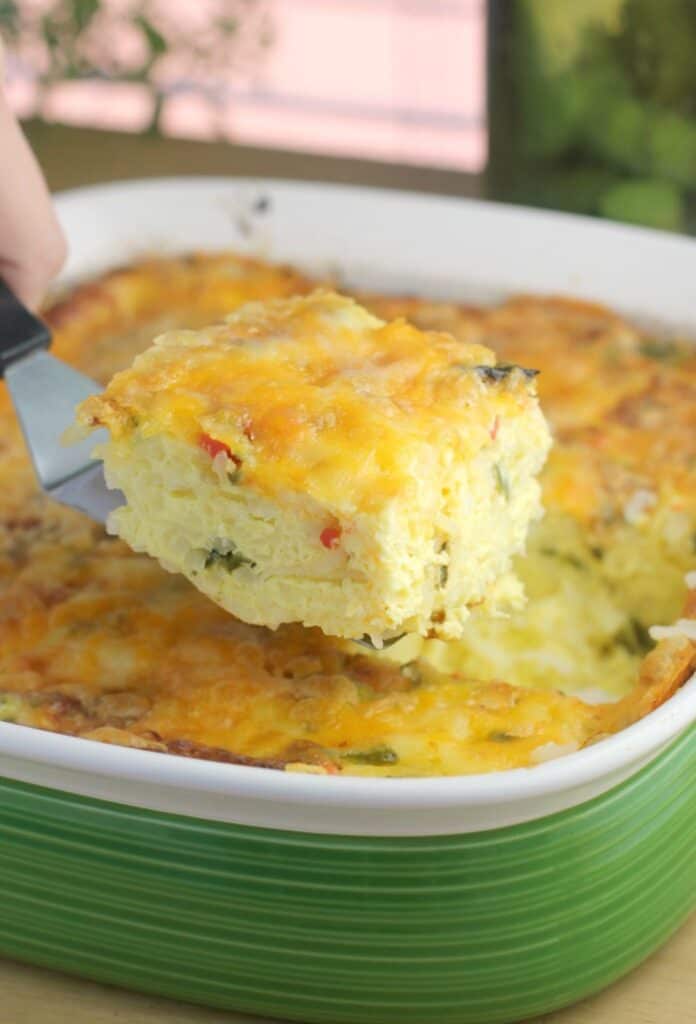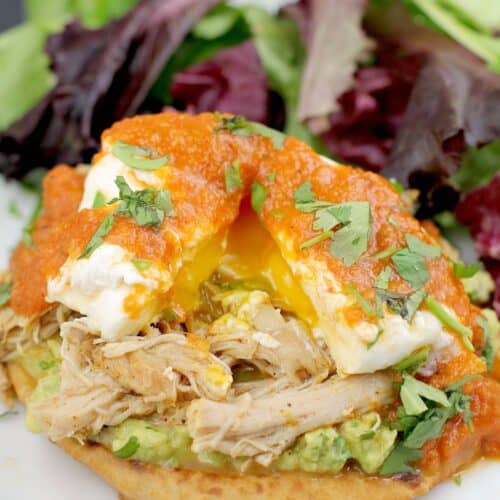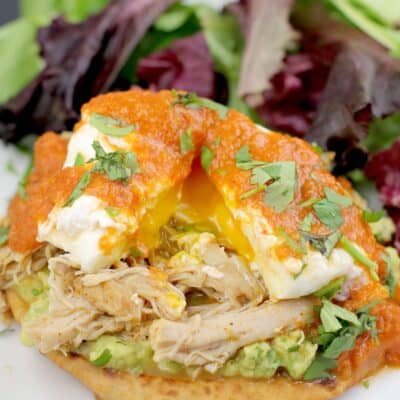 Mexican Eggs Benedict
Mexican Eggs Benedict is a fancy fun breakfast using toasty tortillas, guacamole, leftover meat, homemade ranchero sauce, and a perfectly poached egg. Brighten up your morning with this incredibly tasty Mexican style eggs benedict.
Ingredients
½

cup

vegetable oil for frying

6

street taco flour tortillas

1

tsp

kosher salt

2

tsp

white vinegar

6

large cold eggs

1 ½

cups

Guacamole

double batch

1 ½

cups

Carnitas Chicken

or other meat of choice such as chorizo, pulled pork, or leftover taco meat, heated

1 ½

cups

Huevos Ranchero Sauce

heated

garnish: chopped cilantro and fresh sliced jalapeno
Instructions
Heat the oil in a medium skillet. One by one, add a tortilla and cook until very golden on the bottom, flip, and repeat for the other side. Use kitchen tongs to pop a hole and release air if they puff too much.

Heat ~3-inches water in a pot to a simmer. Add the salt and vinegar.

Crack an egg into a small bowl. Use the end of a wooden spoon to stir the water in the pot to make a gentle whirlpool (stress gentle, we don't want a tsunami). Gently pour the egg into the center of the whirlpool. Turn off the heat, place on the lid of the pot, and cook 5 minutes. Immediately remove the egg with a slotted spoon.

While egg is poaching (no peeking!), take a toasted tortilla and spread a layer of guacamole, then chicken. Top with the poached egg and ranchero sauce. Garnish with cilantro and jalapeno.
Notes
If desired, more than one egg can be poached at a time. In this case, do not make the whirlpool. Simply space eggs apart from each other and proceed.
Nutrition
Calories:
741
kcal
(37%)
|
Carbohydrates:
27
g
(9%)
|
Protein:
40
g
(80%)
|
Fat:
35
g
(54%)
|
Saturated Fat:
13
g
(81%)
|
Polyunsaturated Fat:
6
g
|
Monounsaturated Fat:
12
g
|
Cholesterol:
304
mg
(101%)
|
Sodium:
603
mg
(26%)
|
Potassium:
656
mg
(19%)
|
Fiber:
10
g
(42%)
|
Sugar:
3
g
(3%)
|
Vitamin C:
32
mg
(39%)
|
Calcium:
170
mg
(17%)
|
Iron:
2
mg
(11%)
Calorie count is purely an estimate calculated using an online application to serve as a guide and not to be taken as accurate nutritional information. Percent Daily Values are based on a 2,000 calorie diet.
Tried this recipe?
Leave a comment below and let me know!
For more details and tips to poach an egg, see Alton Brown's recipe here.