Golden Zucchini Wrapped Cod over Garlic Cilantro Rice
Light and healthy cod, wrapped in beautiful golden zucchini from the farmer's market, served over fragrant and flavorful garlic and cilantro brown rice. This perfect summer Zucchini Wrapped Cod dinner is easy enough for a weeknight and elegant enough for a special occasion.
This website uses affiliate links which may earn a commission at no additional cost to you. As an Amazon Associate I earn from qualifying purchases.
OK folks. It is time to talk triathlon again. Eight weeks. That is how long I have until my next race, the Hutchinson Island Half Iron. This will be my third triathlon at the half iron distance (1.2 mile swim, 56 mile bike, and 13.1 mile run) this year – or ever, actually – and I am really excited for this one. Not freaking out …I am actually excited! And that feeling feels awesome.
For us, summer is drawing to a close. So strange to say that given the weather and that where I live is tropical …but school starts in a week. So there you go. Last fall-winter-spring overwhelmed me. By May, I was overstressed and just over everything. That is not me and I did not like who I was becoming because of it.
Then summer saved me.
Once school ended – along with a number of extracurriculars – and the dust settled, I was able to make this my summer of zen. Walking the beach and yoga have worked wonders. I have never focused so hard on relaxing. …But another thing I did was actually keep up with training for my next race. And that, my friends, is a feeling that does wonders for me.
…besides, it gets me outside for a daily dose of this…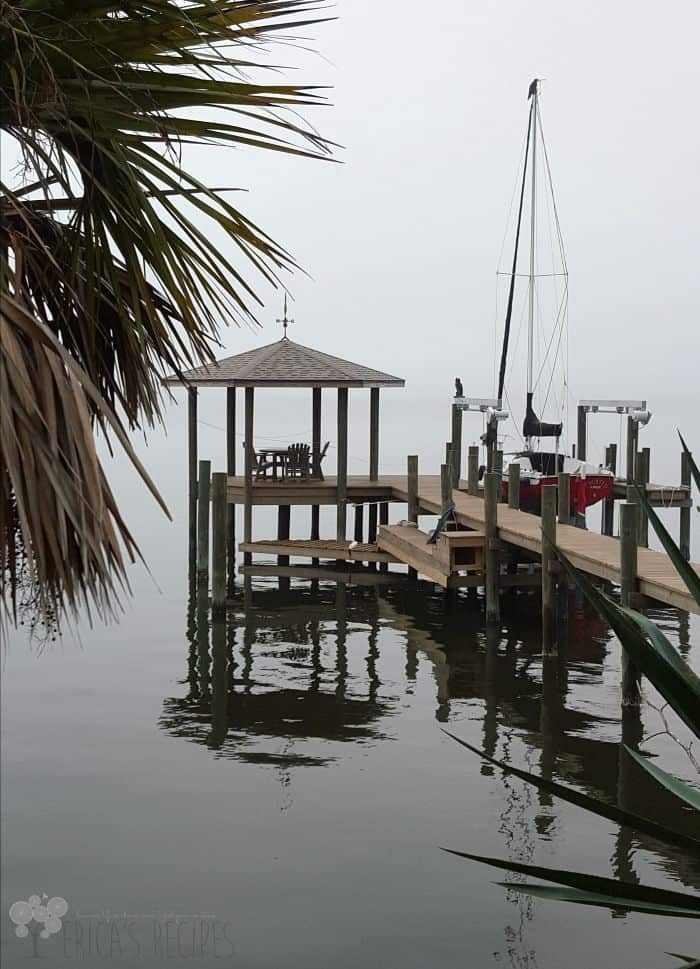 …even if most of it happens before the sun is even up.
And of course, eating properly is so important to me. So it is from this happy place that this nutritious meal comes.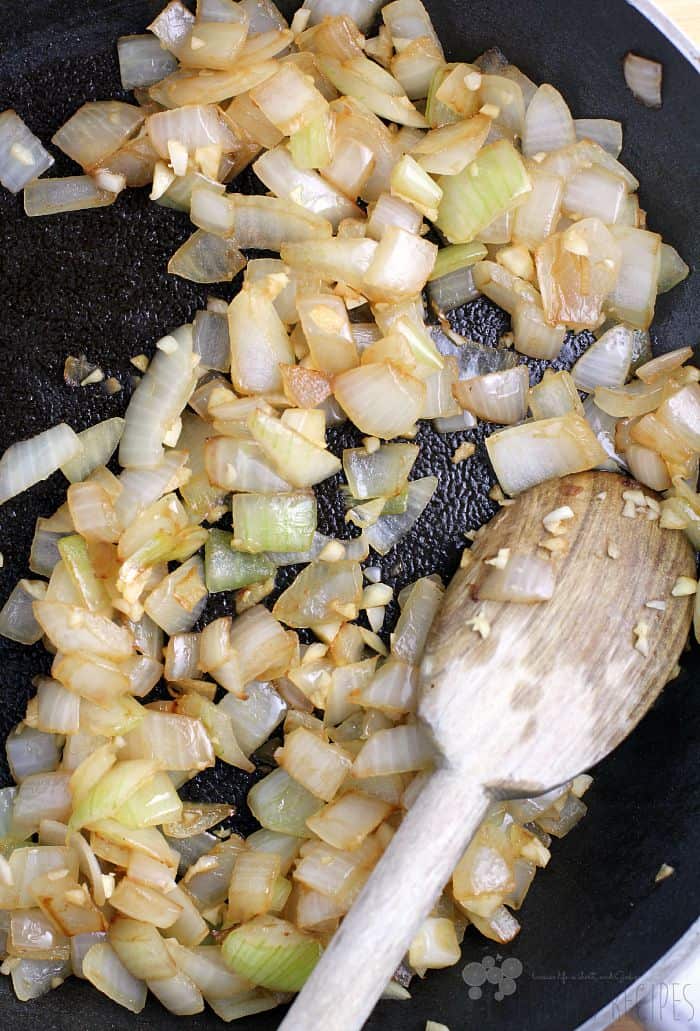 Why wrap fish with zucchini? I have no answer other than I just thought it would be cool. …it was delicious. Light cod, my favorite white fish, just a smidge of light mayonnaise, and the zucchini, come together into an unexpectedly delicious combination. Then sit that atop fragrant, garlicky rice, and this meal is just divine.
Golden yellow zucchini are a sweet farmer's market find. I have used them before, such as in the Farmer's Tart, and they are yummm. I have seen recipes where fish are wrapped in zucchini and cooked stove-top, but when I have tried there has always been one problem. …the zucchini slips right off when you go to turn the fish. There is no recovering from that. …So, in this recipe I solved this little problem by first browning one side of the zucchini slices to get that color and soften them a bit, thennnn wrap the fish and bake to delicious donesness. This tactic worked perfectly.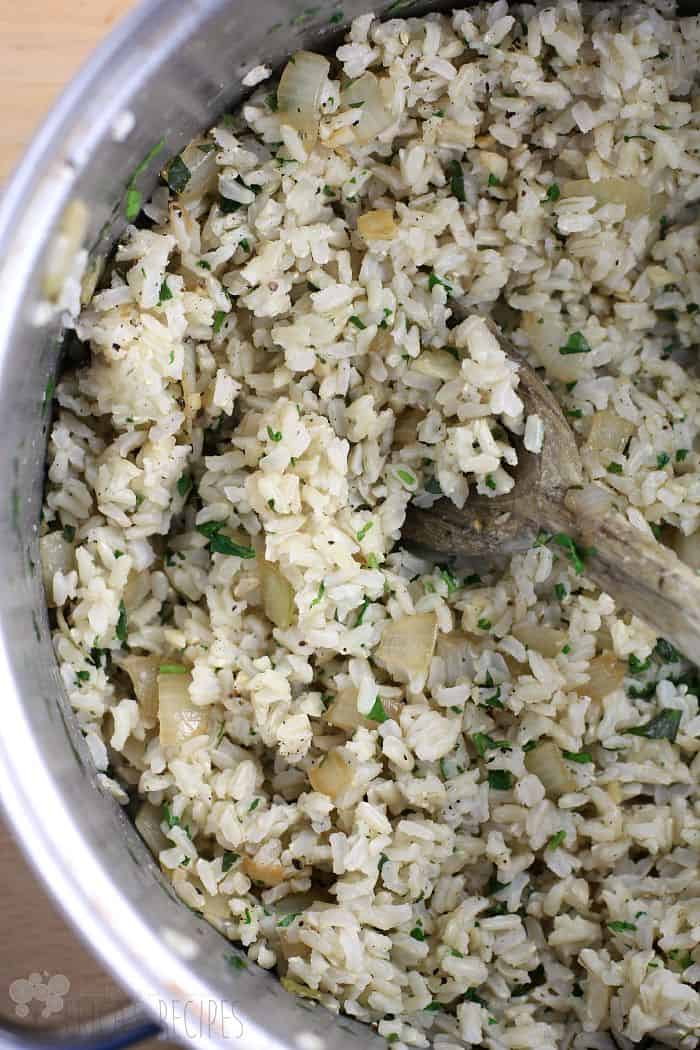 Because I need carbohydrate to replace my glycogen stores depleted from exercise, I put this fish over brown rice. I wanted the rice to be awesome though – not just brown rice. So garlic. Because garlic. And cilantro because I love cilantro. Not everyone loves cilantro though, I get it. So if you are once of thooose people with that genetic what-not and cilantro tastes like soap to you, then just use parsley. Easy peazy.
Now, for a recipe like this, you want your zucchini slices uberrrr thin. As Montey Python would say, wah-fer theen. Well, even using a mandolin, mine were not so thin. Which is another reason my recipe is so awesommmmeee. Because by cooking the zucchini just a skosh, it is softened so it can be wrapped easily around the fish. The problem is solved, and the recipe is now approachable for those of us in the general population.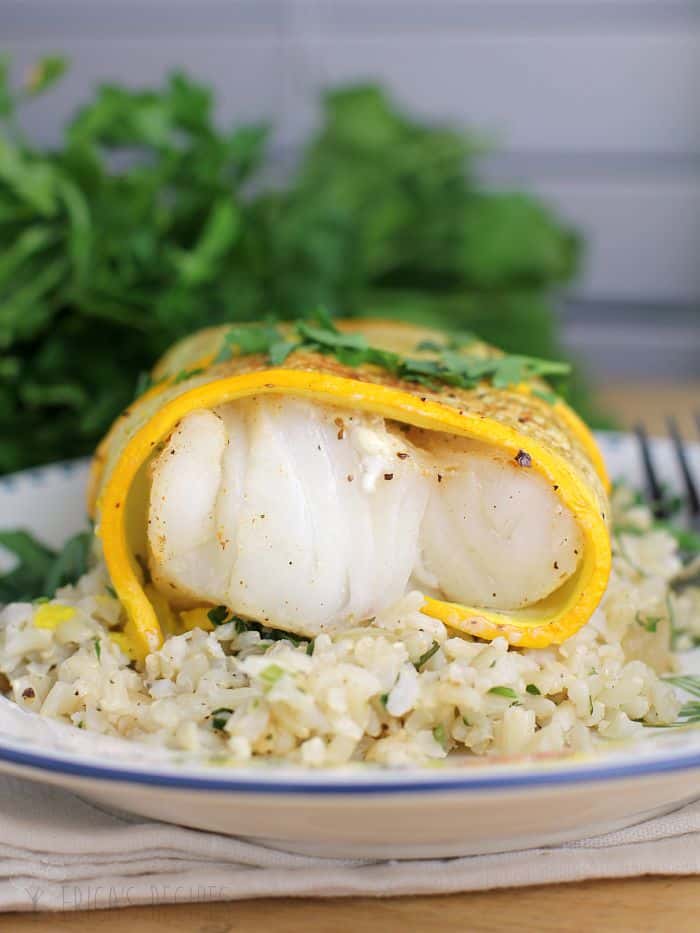 So, here it is kids. Healthy, quick, and easy. And stupendously tasty. This dinner symbolizes a lot for me and where I am right now – ocean, sun, health and well-being, and working out like a beast.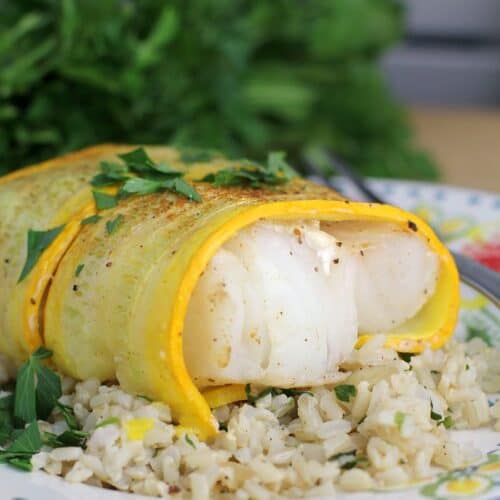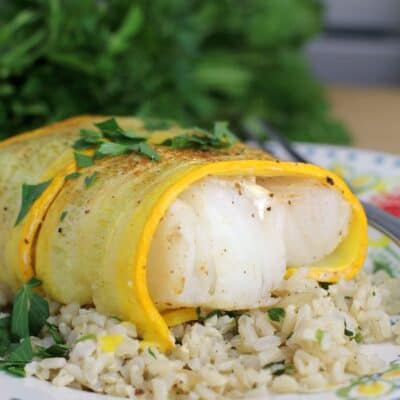 Golden Zucchini Wrapped Cod over Garlic Cilantro Rice
Light and healthy cod, wrapped in beautiful golden zucchini from the farmer's market, served over fragrant and flavorful garlic and cilantro brown rice.
Ingredients
1-1/5 to 1-3/4

lb

cod

cut into 4 filet portions

1

large golden zucchini

or substitute traditional zucchini, sliced as thin as you can lengthwise (using a mandolin helps)

2

tsp

extra virgin olive oil

For the Garlic Cilantro Rice

2

cups

brown rice

2

tsp

extra virgin olive oil

1

yellow onion

diced

2

large cloves garlic

finely chopped

½

c

chopped cilantro

1

tsp

kosher salt

plus more to season to taste

¼ to ½

tsp

fresh cracked pepper

to taste
Instructions
Cook the brown rice according to package directions. …or, for a fool-proof method, see my directions for Perfect Brown Rice.

While the rice is cooking, heat 2 teaspoons olive oil in a medium nonstick skillet on high heat. Add the onions and reduce heat to medium-high. Saute the onions gently until they are lightly browned. Add the garlic and continue to cook, until the onions are well browned. Watch the heat, reducing if necessary, so the garlic does not burn. Add to the rice once the rice is finished.

Heat the oven to 400°F. Season the fish with salt and pepper. Schmere the fish lightly with the mayonnaise.

Heat a large skillet on high heat with the remaining 2 teaspoons olive oil. Working in batches, add the zucchini slices to brown one side only and soften. Remove zucchini and let sit until cool enough to handle.

Wrap each piece of cod in zucchini, browned sides out from the fish. Dust the tops with Old Bay seasoning. Bake at 400°F for 20 minutes, depending on the thickness of fish, until the cod flakes easily with a fork. Serve immediately over the Garlic Cilantro Rice.
Calorie count is purely an estimate calculated using an online application to serve as a guide and not to be taken as accurate nutritional information. Percent Daily Values are based on a 2,000 calorie diet.
Tried this recipe?
Leave a comment below and let me know!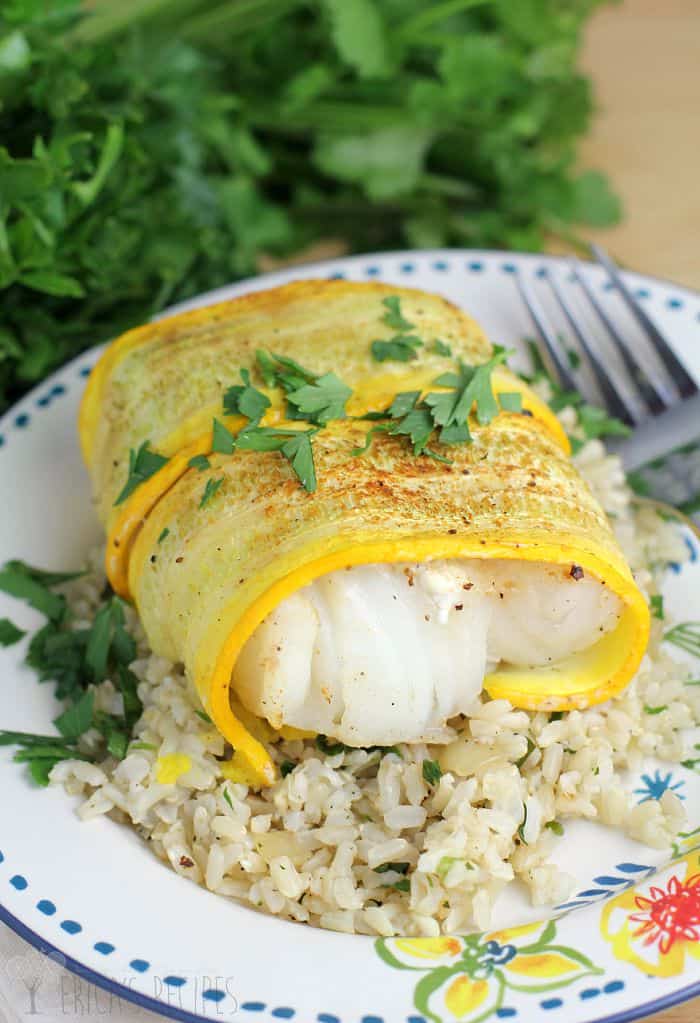 ​​​​​​​​​​​​​​​​​​​​​​​​​​