White Wine Mac and Cheese
White Wine Mac and Cheese is elegant and romantic with flavors of crisp white wine and thyme to cut the heavier sharp white cheddar cheese. Finished with a touch of bacon in the crunchy topping, this recipe for wine macaroni and cheese for two has flavors that blend so perfectly, you may never go back to regular mac and cheese again.
Whether it is Valentine's Day, an anniversary, or just a date night, this dreamy dinner will get you all the points. This recipe is intended to be prepared for and shared with someone special. ❤
Why this recipe works
This recipe was originally published just two months after I went public with this website in 2013. Read that: I was a newbie. So green. But THIS was a fantastic recipe.
I have published some epic macaroni and cheeses since then, white wine mac and cheese is actually my favorite of them all. The acidity of the white wine is a foil for the creamy silky white cheddar cheese, and the combination in a macaroni and cheese is incredible.
This recipe is also the first mac and cheese I ever came up with completely on my own, completely on the fly, just making the recipe up as I went. Which is quite literally how this hobby of mine has evolved – from altering and "adapting" recipes, to making them straight up my own. So this one means a lot to me.
More mac and cheese recipes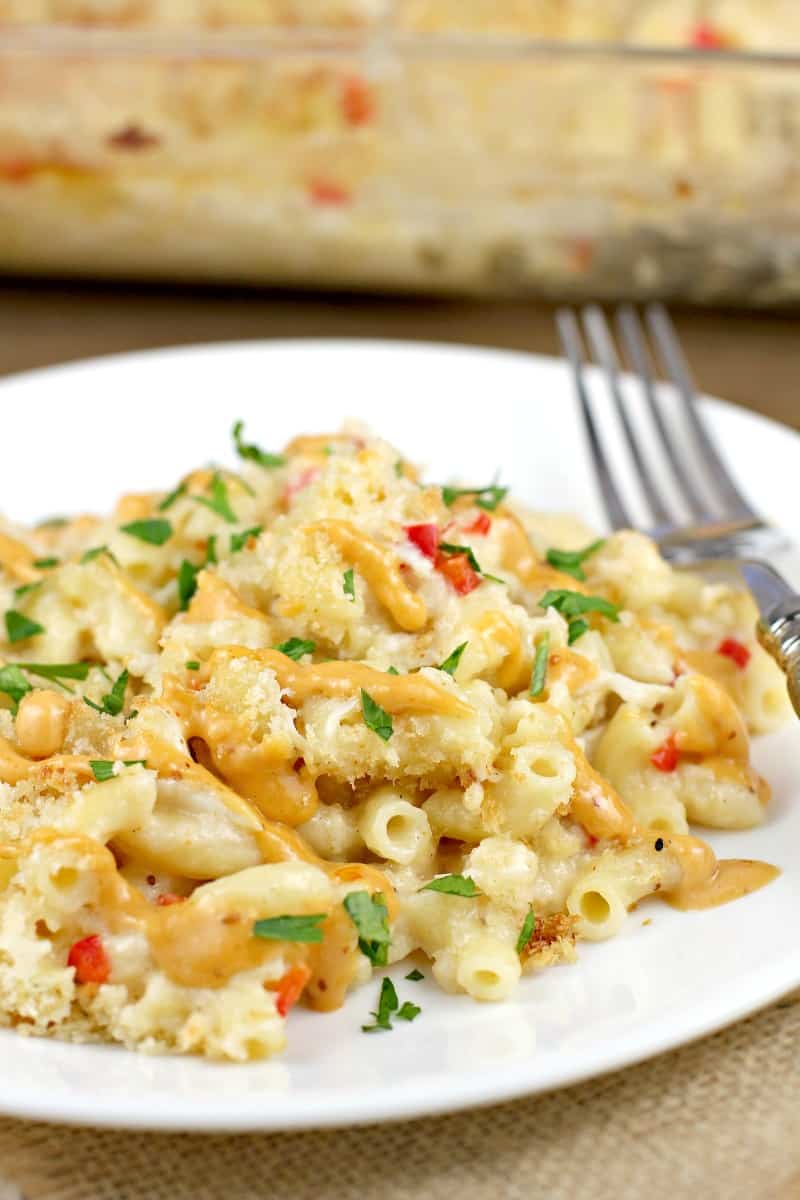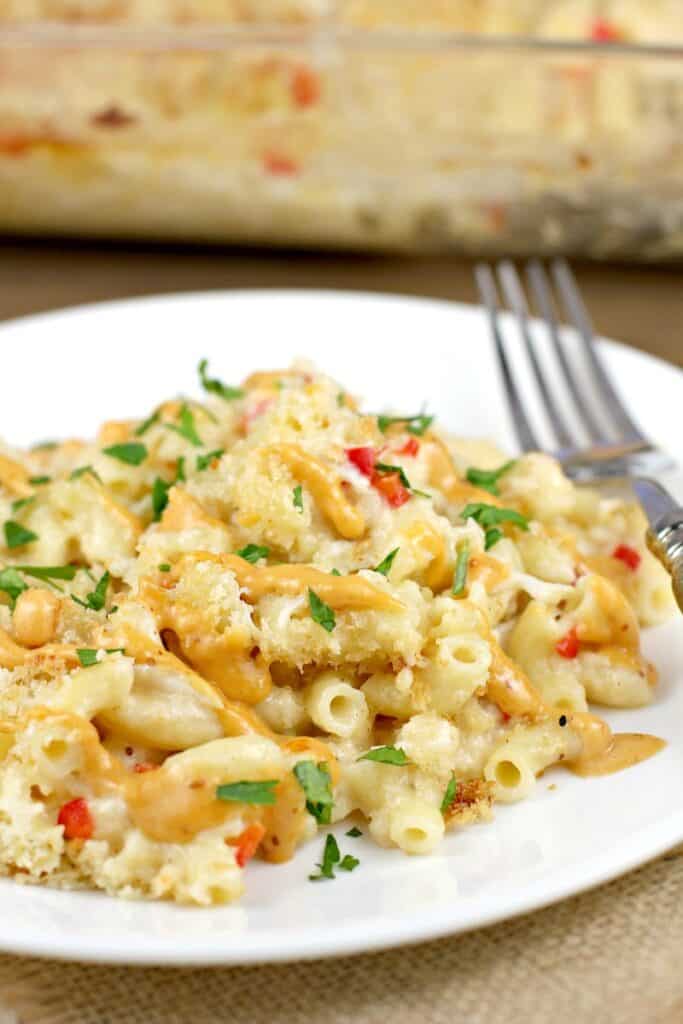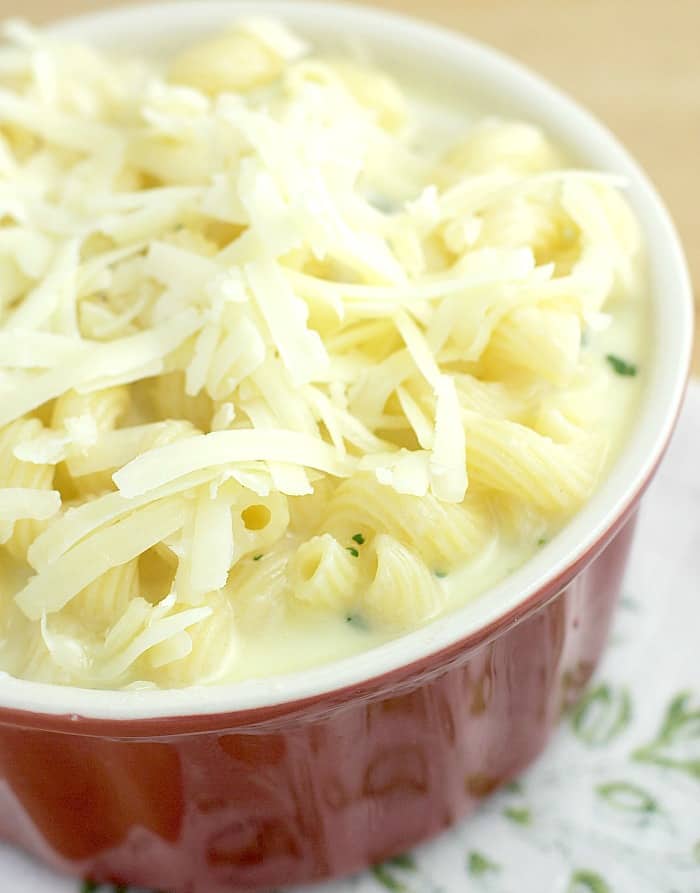 The ingredients
I have talked already a ton that this is a recipe for mac and cheese with wine, but there are other key ingredients here too.
Corkscrew shaped pasta. You can use your favorite pasta shape, but I like corkscrews in this one.
Unsalted butter and all-purpose flour to make a roux, the base for the cheese sauce.
Fresh thyme leaves.
Dry white wine. By dry, I mean any wine that is not sweet. So, no dessert wines, Riesling or Moscato. Yes to chardonnay, sauvignon, or Pinot Grigio. I am a Pinot girl, so that is what I use.
Milk.
Vermont white sharp cheddar
Seasonings: kosher salt and fresh cracked pepper
Dijon mustard.
Crunchy topping: panko breadcrumbs, extra virgin olive oil, and bacon.
We only need a single slice of bacon, so I tend to either buy a box of precooked bacon or real bacon crumbles instead of opening a fresh new package of bacon. Or when you cook up a bunch of bacon, set one aside to save for this recipe.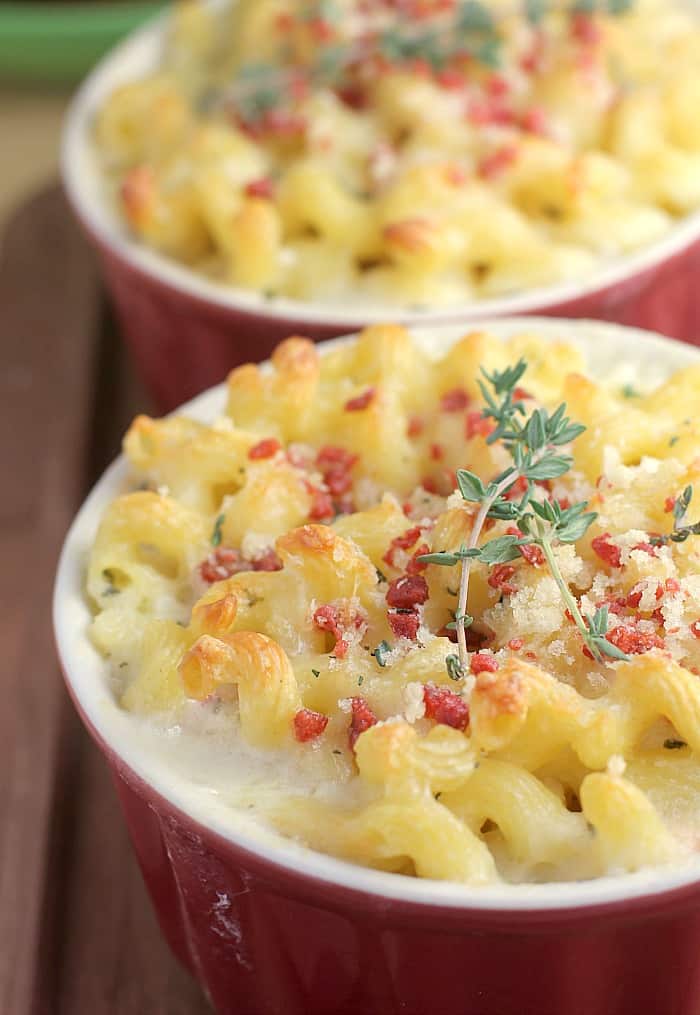 How to make white wine mac and cheese
So, this recipe is very similar to traditional mac and cheese. We are just making a couple small modifications.
As with any and all mac and cheeses, start by heating up your oven and bringing a pot of water to a rolling boil. Add the pasta to the water and get your cook time off the package directions for al dente.
While our pasta is cooking, we make a standard roux with the flour and butter, then whisk in the liquid to make a béchamel sauce. For this recipe, we are substituting some of the milk with wine.
Then we add the white cheddar cheese, Dijon mustard, salt, and pepper to transform our béchamel into a luscious cheese sauce. The sauce can be made while the pasta is cooking.
Mix the pasta with the cheese sauce and pour into your vessel of choice. Since I intended this to be a romantic mac and cheese for two, I used two 14 ounce ramekins. Alternatively, a 2-quart casserole dish could be used.
Next we top with the rest of our cheese, then our crunchy topping of bacon and breadcrumbs, and bake until golden and bubbly.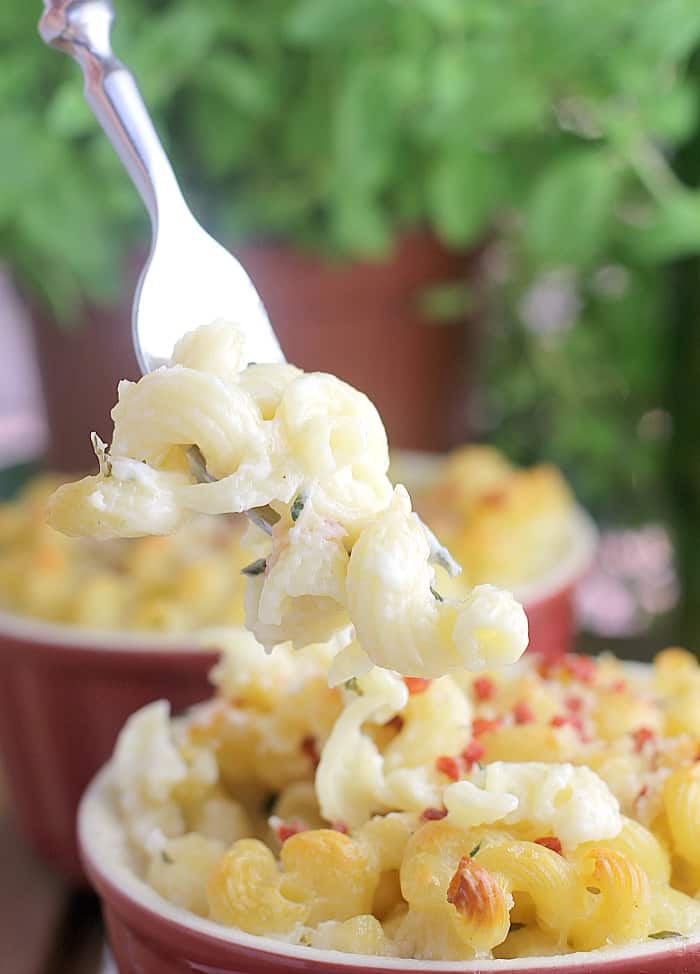 Tips
The key to creamy mac and cheese is to not allow the béchamel sauce to thicken too much. I would rather have the cheese not completely melted into the sauce than risk overcooking the sauce and getting it too thick prior to baking.
Be sure to follow the package directions for cooking pasta to al dente. "al dente" means "to the tooth", which means that the pasta will retain some texture. Once added to the cheese sauce, the pasta will cook more and get softer, but by cooking al dente we ensure that we will not end up with mushy pasta.
Do not rinse the pasta with water after draining. This is only done when we are preparing pasta for pasta salad or other cold dish.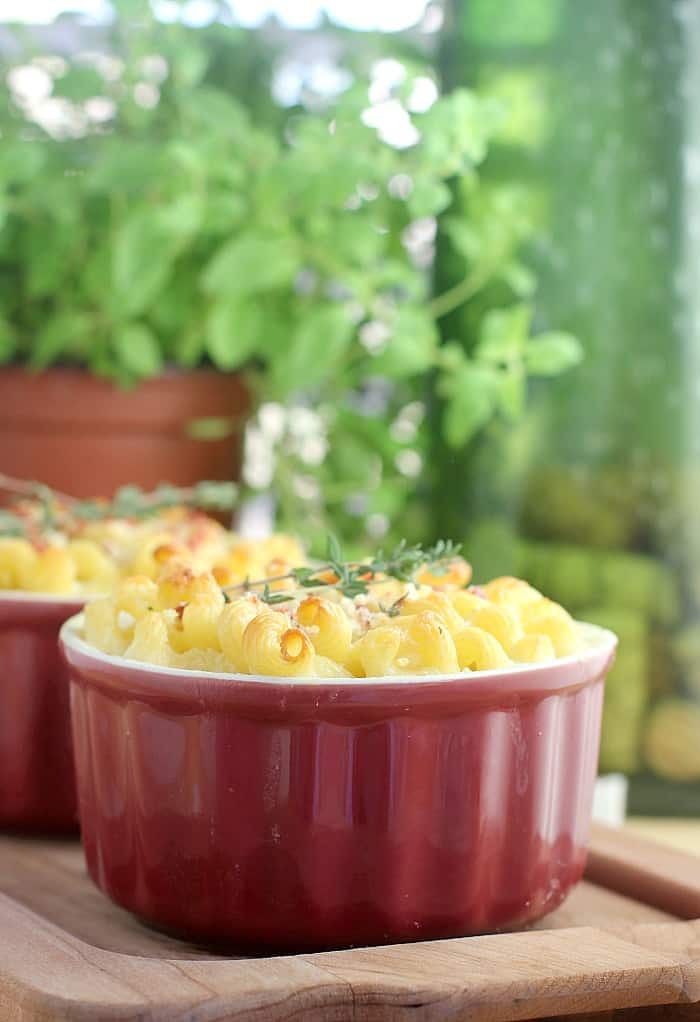 If this recipe looks good, check out my Basic Creamy Macaroni and Cheese recipe as the essential guide for all things Mac and Cheese.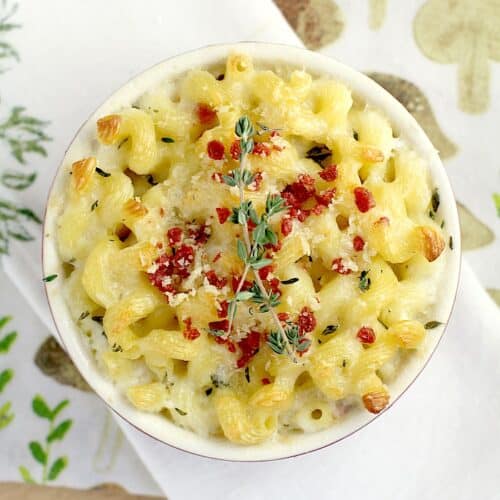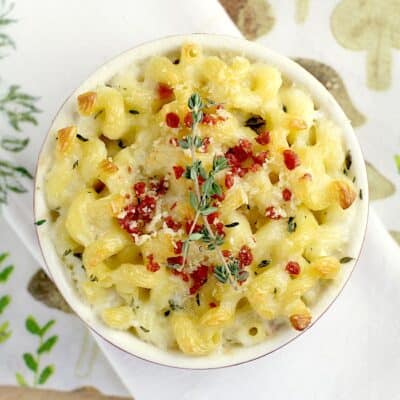 White Wine Macaroni and Cheese
White Wine Mac and Cheese is elegant and romantic with flavors of crisp white wine and thyme to cut the heavier sharp white cheddar cheese. With just a touch of bacon in the crunchy topping, the ingredients in this wine macaroni and cheese blend so perfectly, they may convince you to never go back to traditional mac and cheese again.
Instructions
Bring a large pot of water to a boil. Cook the pasta to al dente according to package directions.

While pasta is cooking, heat a medium saucepan with the butter and flour, whisking until smooth. When it starts to bubble a little, cook 1 minute. Add the thyme and cook another 30 seconds. Slowly add the wine and milk, whisking constantly. Cook, stirring, ~2 minutes until just a little thickened.

Remove from the heat and add 2 cups of the cheese, salt, pepper, and mustard. Stir until smooth.

When the pasta is done, drain and add to the cheese sauce. Ladle into 2 (14 oz) ramekins to serve 2 as a main course. Alternatively, use a small casserole dish to serve 4 as a side dish. Top with the remaining cheese.

In a small bowl, combine the panko breadcrumbs, bacon, and olive oil, and top the mac and cheese. Bake at 350°F for 20 minutes until very bubbly and golden on top.
Notes
This recipe makes mac and cheese for two as a main dish or four as a side dish.
Nutrition
Calories:
1232
kcal
(62%)
|
Carbohydrates:
80
g
(27%)
|
Protein:
61
g
(122%)
|
Fat:
79
g
(122%)
|
Saturated Fat:
10
g
(63%)
|
Polyunsaturated Fat:
1
g
|
Monounsaturated Fat:
5
g
|
Cholesterol:
229
mg
(76%)
|
Sodium:
1842
mg
(80%)
|
Potassium:
294
mg
(8%)
|
Fiber:
3
g
(13%)
|
Sugar:
13
g
(14%)
|
Calcium:
3410
mg
(341%)
|
Iron:
3
mg
(17%)
Calorie count is purely an estimate calculated using an online application to serve as a guide and not to be taken as accurate nutritional information. Percent Daily Values are based on a 2,000 calorie diet.
Tried this recipe?
Leave a comment below and let me know!