This is an elegant, romantic, Wine and Thyme Macaroni and Cheese with flavors of crisp white wine and thyme to cut the heavier sharp white cheddar cheese. And just a touch of bacon in the crunchy topping to perfect it all. The ingredients in this dinner blend so perfectly, they may convince you to never go back to traditional mac n cheese again. ..Just maybe.
So whether it is Valentine's Day, an anniversary, or just a date night, this dreamy dinner will get you all the points. ?❤?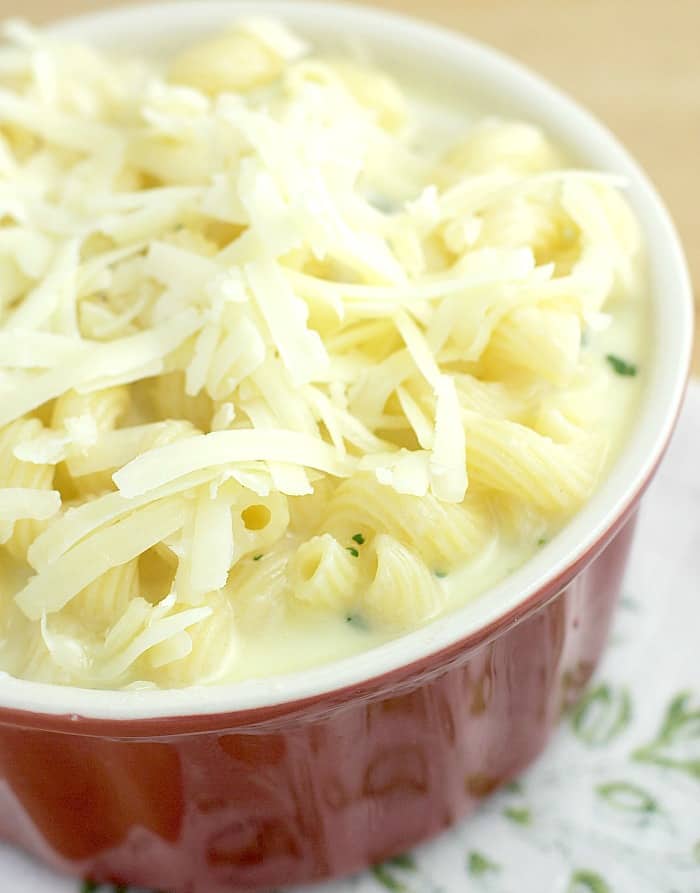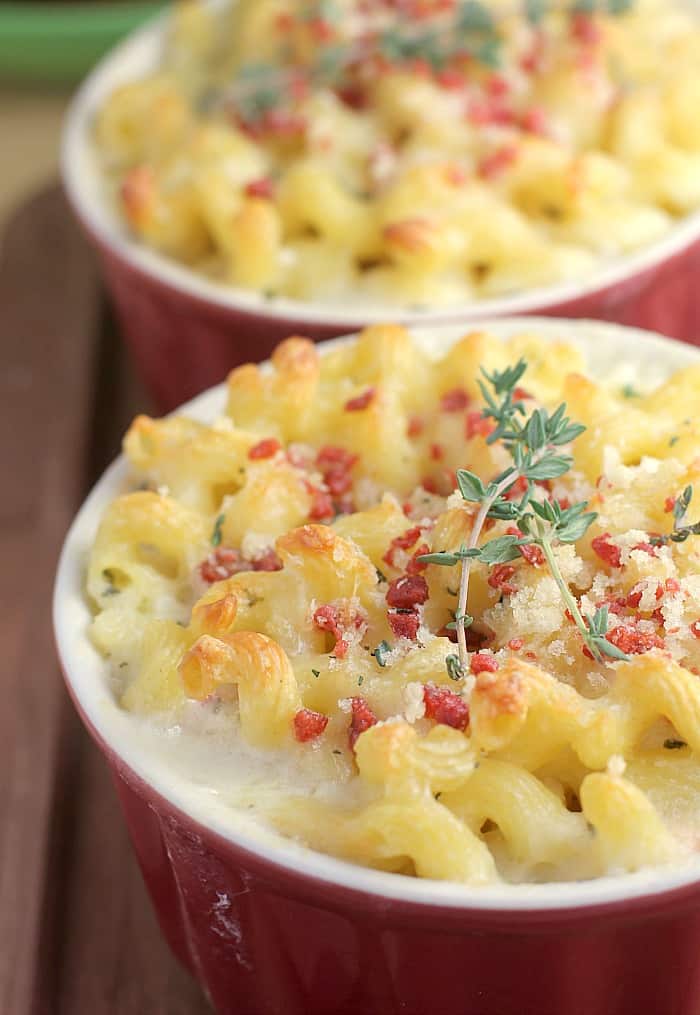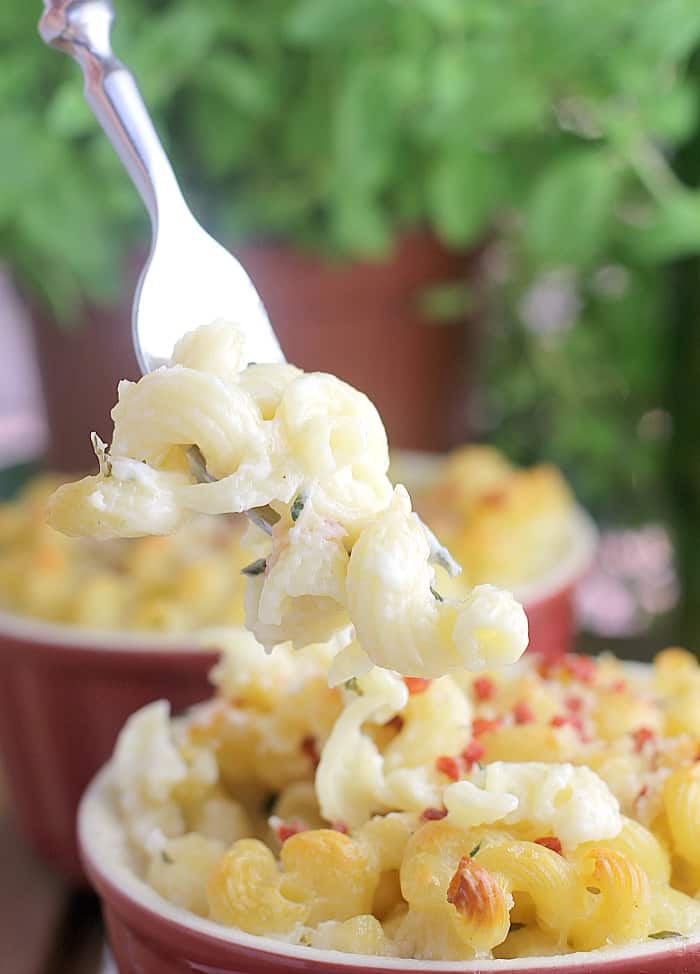 This recipe was originally published just two months after I went public with this website in 2013. Read that: I was a newbie. So green. That was the stupid time too when I would rush home from work with the kids, whip up something, snap photos, and get it all up on this blog ev-er-y night. Oyyy.
So, fast-forward to today, Valentine's Day 2017, I am home sick from work and decided to give this old recipe some love again. Because what was here (in both the writing and photos) did not do this lovely recipe any justice.
In fact, for giggles, here is the entirety of the original post:
"Well, I wasn't going to cook tonight. But then I cooked anyway. The idea of making something like this occurred to me this afternoon, and when I realized I already had everything I needed…..this happened :D! It got 6 thumbs (collectively) up from my family."
…and that was it. That was all I had to say about it.
Yeahhhh. Really draws you in, doesn't it.
……cringe…….
Alright, so let's rectify this. THIS is a fantastic recipe. I have published some man 'n cheeses thus far – c'mon, guys, name them off with me ? … Traditional Macaroni and Cheese, Jalapeno and Chorizo Mac n Cheese, Portobello, Spinach, and Smoked Gouda Mac and Cheese, and the biggest recipe on my entire site …Garlic, Bacon, and Beer Macaroni and Cheese.
Those are my little cheesy Mac collection, but this Wine and Thyme one is actually my favorite of them all. See, this recipe is the first mac'n cheese I ever came up with completely on my own, completely on the fly, just making the recipe up as I went.
Which is quite literally how this hobby of mine has evolved …from altering and "adapting" recipes, to making them all straight up my own. So this one means a lot to me.
But there it was …Just sitting here, all by its lonesome in the back of my blog denied the attention it deserved because the post sucked.
So, this problem is now solved, and this amazing recipe will finally get its due …while I promote the helloutta it. Finally with a decent PIN.
So what I did here (and back then because I have made no change to the recipe itself), was make a standard bechamel and added cheese and Dijon just like I always do. But I used Vermont sharp white cheddar and subbed some of the milk for wine …makes perfect sense, yes? Of course. Then I added a bit of bacon in the topping – just a bit. And when I made it today, I used bacon bits because I'm vegetarian now. And it ROCKED SOLID just as much …bacon, or kinda-not-bacon bacon …your choice.
So that is it folks. I give you (again) an adored recipe and original creation of which I am very proud. Intented to be prepared for and shared with someone special.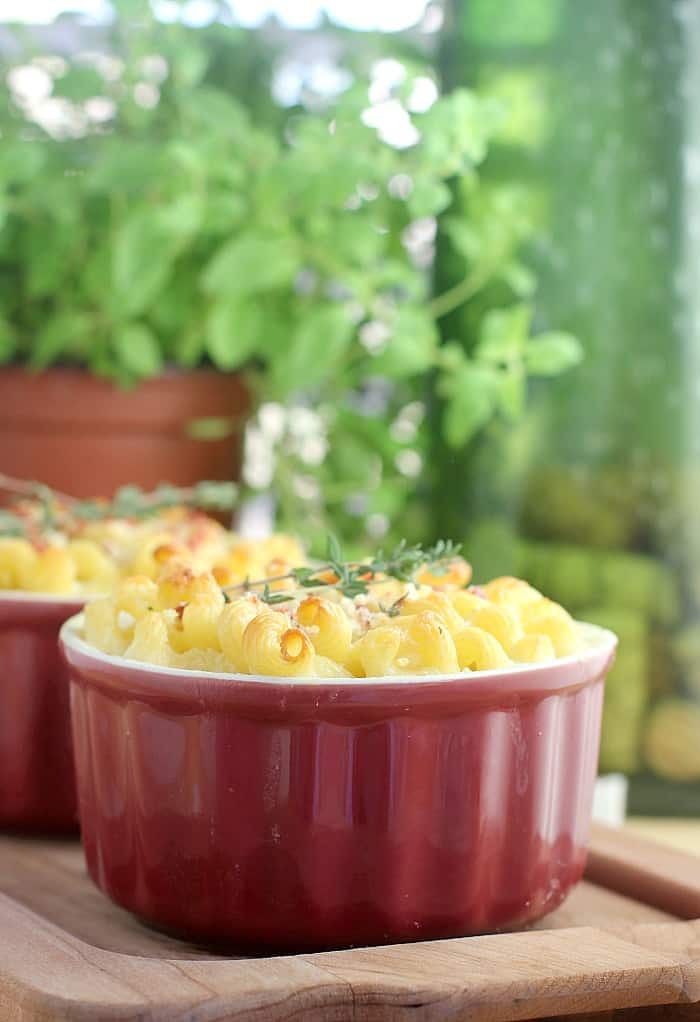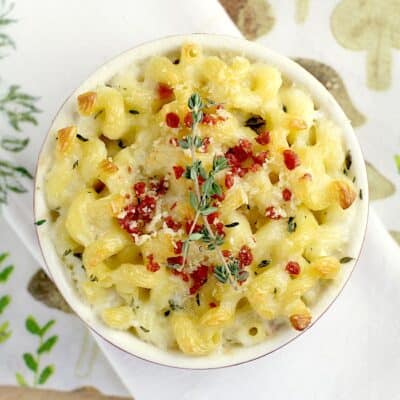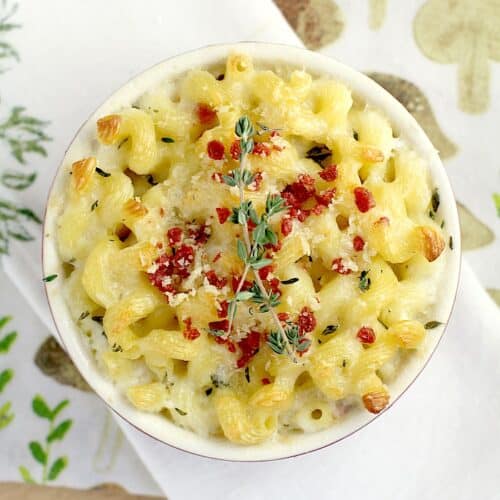 Wine and Thyme Macaroni and Cheese
Ingredients
6

oz

corkscrew shaped pasta

2

Tbs

unsalted butter

2

Tbs

all-purpose flour

1

tsp

fresh thyme leaves

1/4

cup

dry white wine

1-1/2

cups

milk

2-1/2

cups

shredded Vermont white sharp cheddar

divided

1

tsp

kosher salt

+ more to salt the pasta water

pinch

fresh cracked pepper

1/2

tsp

Dijon mustard

1

Tbs

plain panko breadcrumbs

1/2

tsp

extra virgin olive oil

1

slice

bacon

cooked and crumbled or 2 tsp bacon flavored bits (the latter is a vegetarian option)
Instructions
Preheat oven to 350F.

Bring a large pot of water to a boil. Add a handful of salt, and cook the pasta to al dente according to package directions.

While pasta is cooking, heat a medium saucepan with the butter and flour, whisking until smooth. When it starts to bubble a little, cook 1 minute. Add the thyme and cook another 30 seconds. Slowly add the wine and milk, whisking constantly. Cook, stirring, ~2 minutes until just a little thickened.

Remove from the heat and add 2 cups of the cheese, salt, pepper, and mustard. Stir until smooth.

When the pasta is done, drain and add to the cheese sauce. Ladle into 2 (14 oz) ramekins (which is what I did in the photo) to serve 2 as a main course. Alternatively, use a small casserole dish to serve 4 as a side dish. Top with the remaining cheese.

In a small bowl, combine the panko breadcrumbs, bacon, and olive oil, and top the mac 'n cheese. Bake at 350F for 20-25 minutes until very bubbly and golden on top. Serves 2 as a main course or 4 as a side dish.
~✿♥✿~
Leave me a comment! Otherwise, I'm just talking to myself here. …What is a date night meal you have made to woo someone?