Basic Creamy Macaroni and Cheese
This Basic Creamy Macaroni and Cheese is the best for a dependable homemade mac and cheese recipe. Make this classic macaroni and cheese for a family-favorite dinner or use this recipe as a foundation with unlimited variations. This post is complete with all the tips for perfect, dreamy creamy mac and cheese every time.
My recipe for a basic, creamy macaroni and cheese is the culmination of years of trial and error. I tried so many macaroni and cheese recipes – omg so many. We are talking every cheese, every topping, different proportions. I wanted to proclaim to the world with full confidence that I, Erica, make a really damn good classic macaroni and cheese. One that my kids love and will grow to make for their own kids. This is that recipe.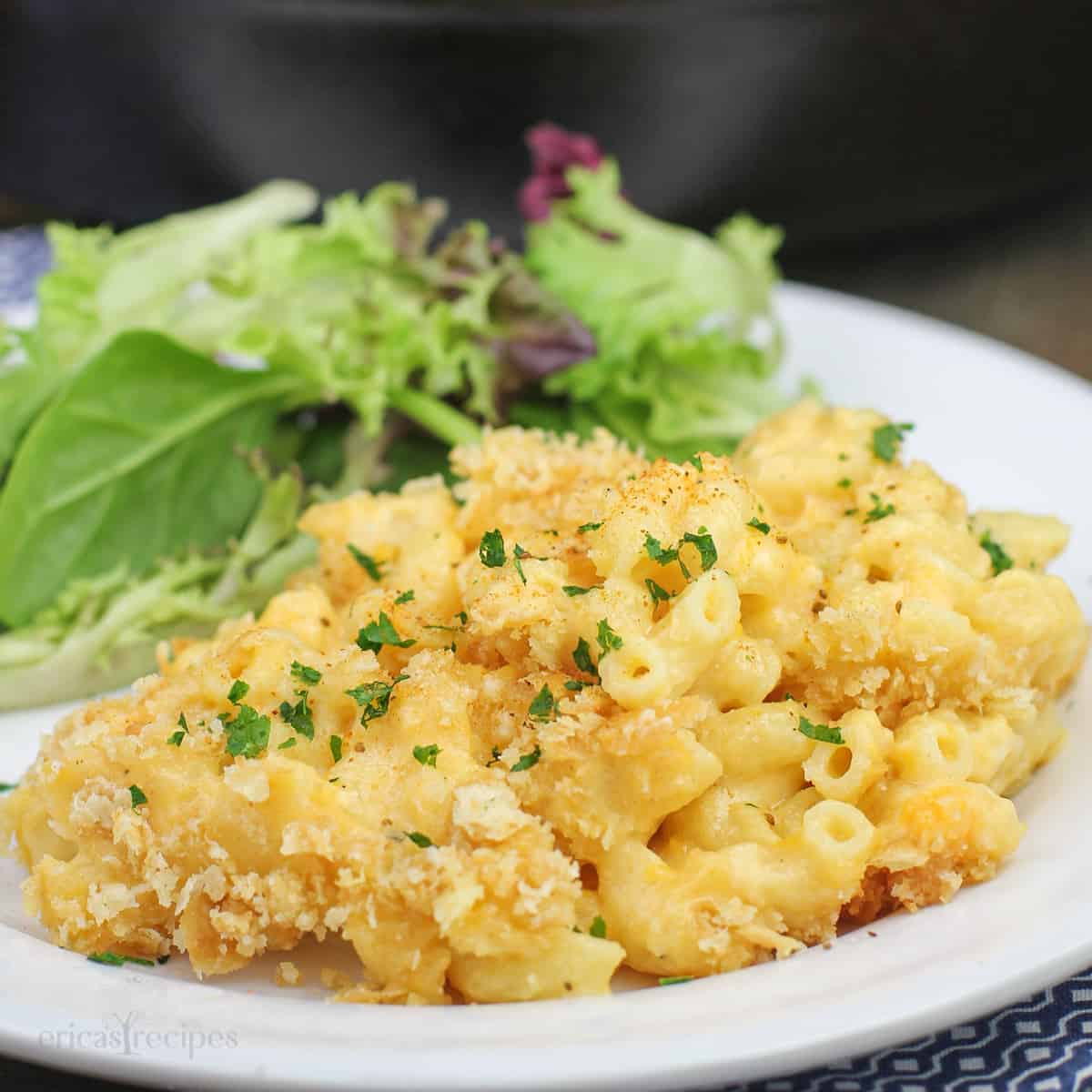 Why this recipe works
This basic recipe for a classic, creamy macaroni and cheese works because it checks all the requirements for a truly good cheesy mac. This incudes to following:
Standard ingredients, with nothing fancy. Unless you consider Dijon mustard fancy, which I do not.
Beautifully creamy cheesy. Not stiff, greasy, or glue-like in consistency.
Buttery crunchy topping for taste and texture.
As loved as homemade macaroni and cheese is, it can often be greasy and have a sauce that is too gooey – as in, the consistency of actual glue. Lord no, that is not what we want. We want actual creamy delicious mac that isn't one texture or one note in flavor. Try this recipe and you will taste the difference.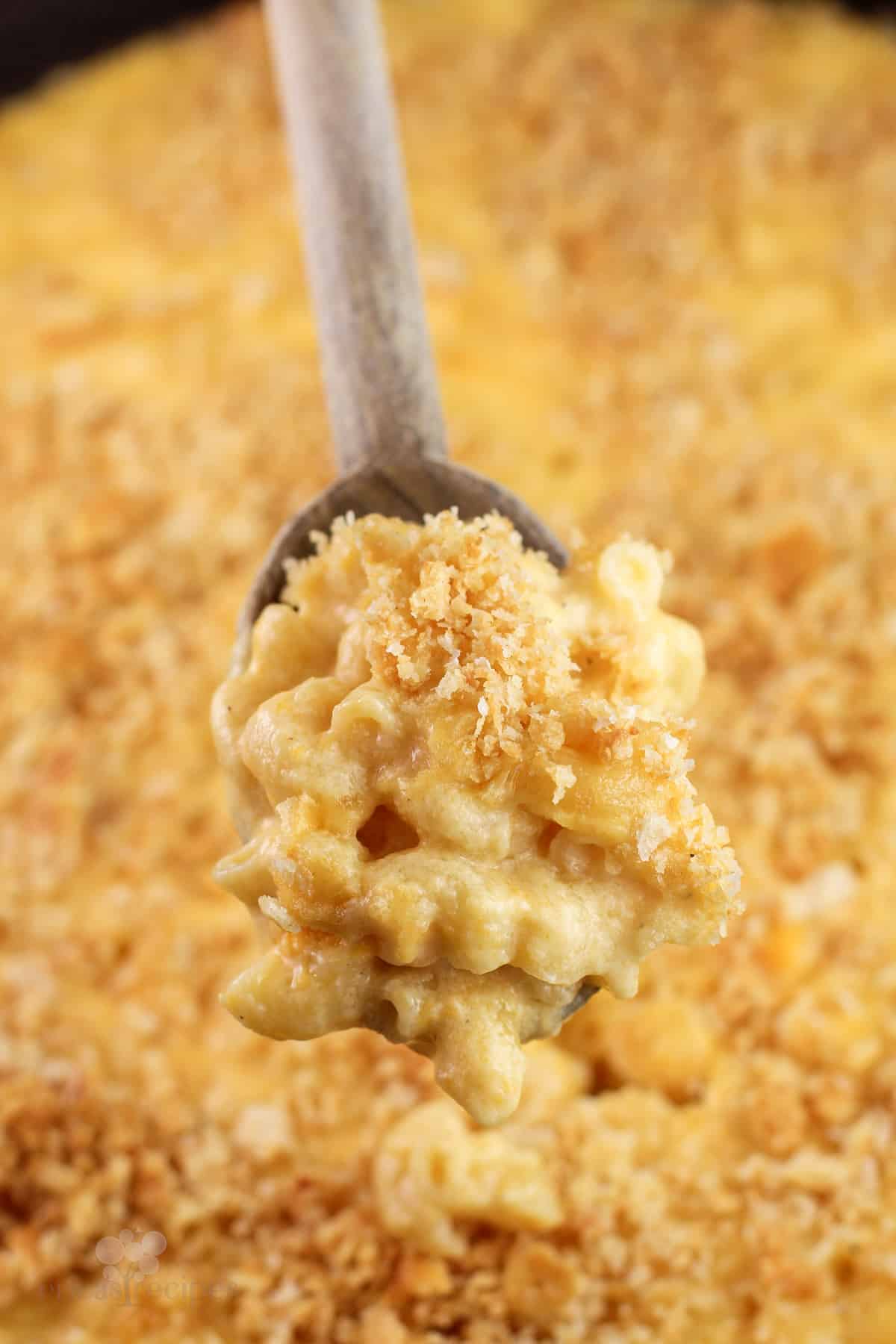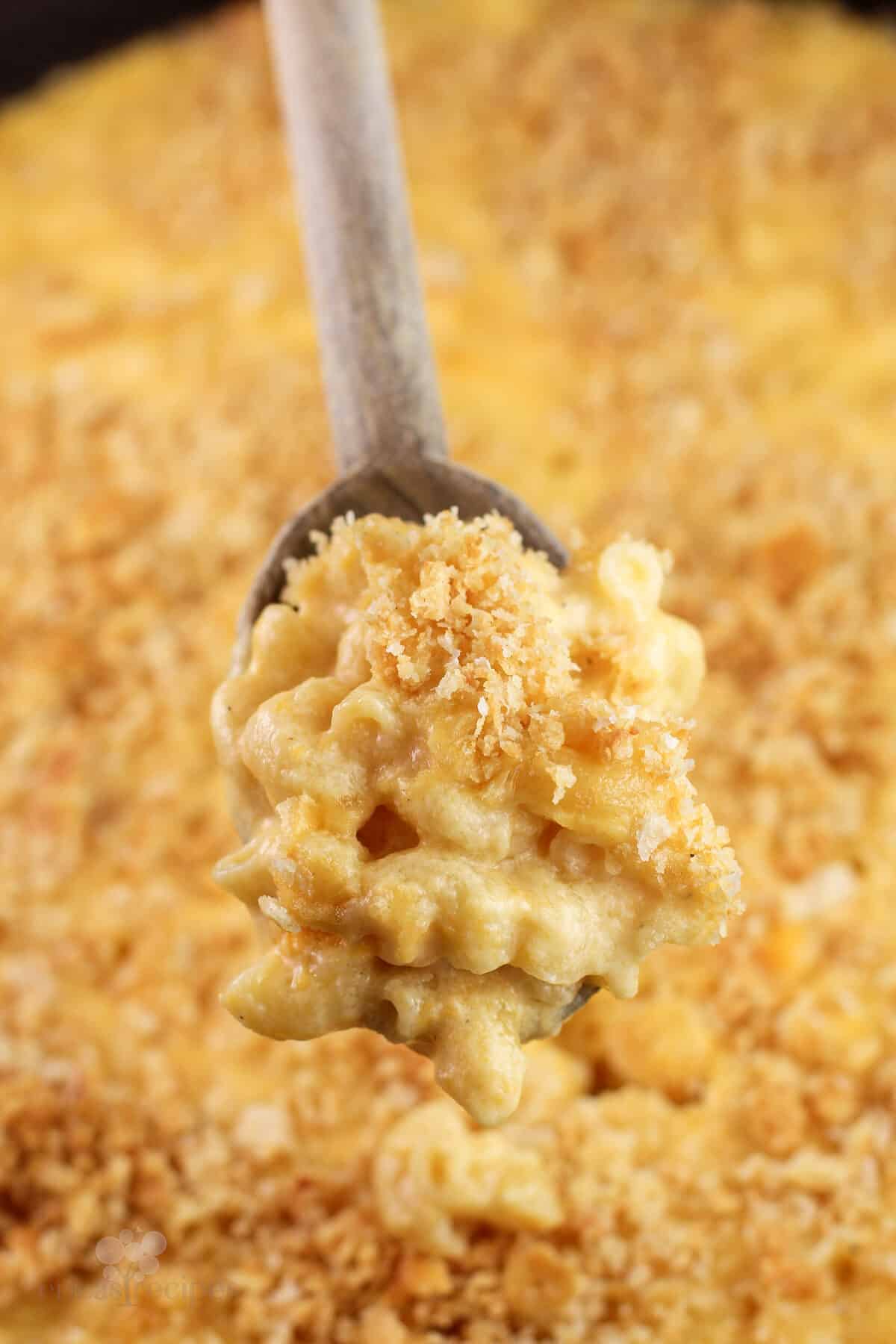 Where did mac and cheese originate from
Baked creamy cheesy pasta dishes originated from Northern Europe, probably Italy. Thomas Jefferson is credited to have brought macaroni and cheese to America and even served it at a state dinner in 1802, according to the Smithsonian. When traveling to France, he fell in love with cheesy pastas, bought pasta machines, and that is reportedly how we got pasta in America.
But it was Jefferson's chef and slave, James Hemmings, that did us the solid. When Jefferson traveled to Europe, he brought Hemmings with him. Hemmings trained there and then put his own spin on macaroni and cheese that, thank God, Jefferson loved because here we are with our beloved comfort food today.
In 1937, and during the Great Depression, Kraft introduced the boxed mac and cheese and that's when I think we can declare that cheesy mac became the official comfort food of America.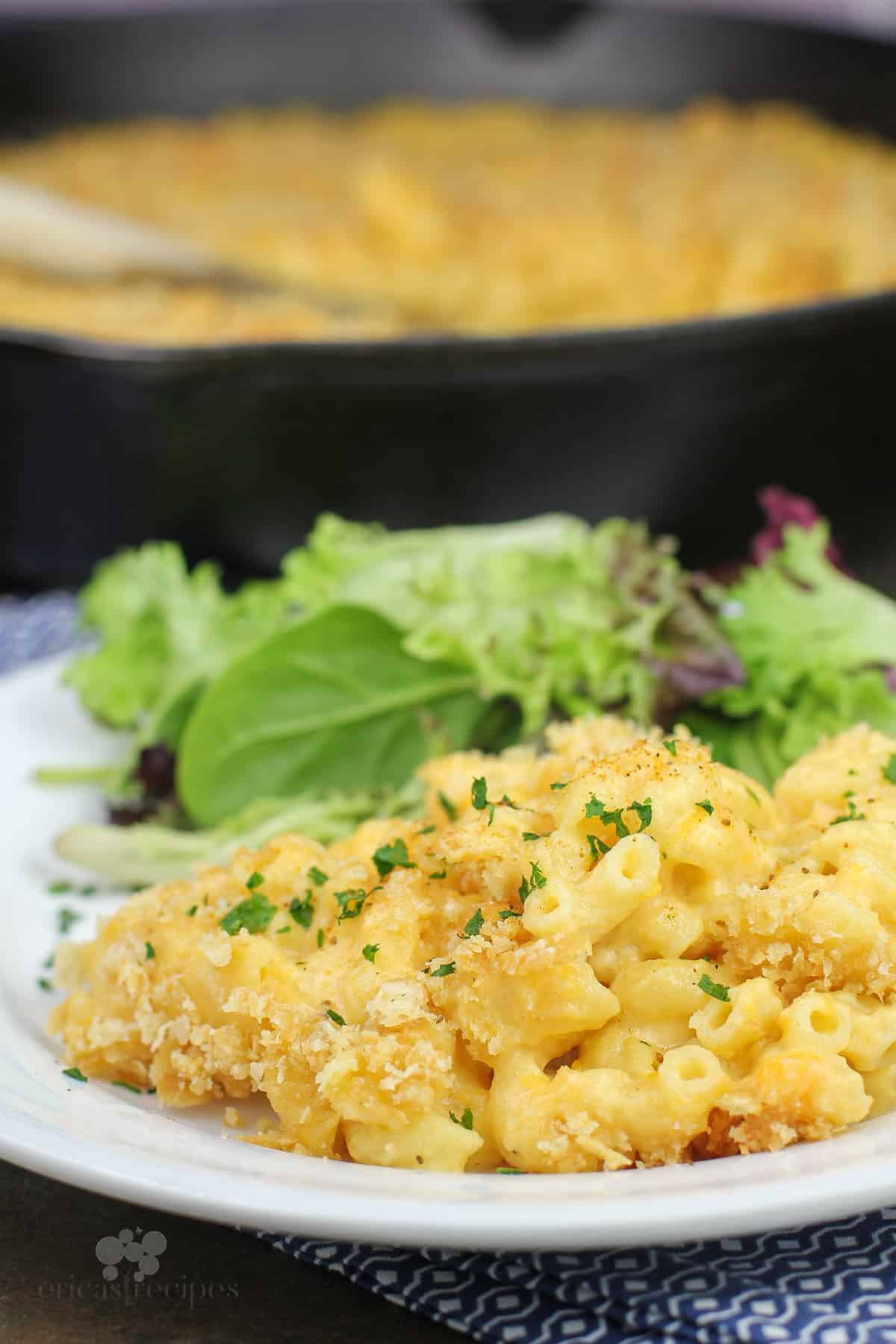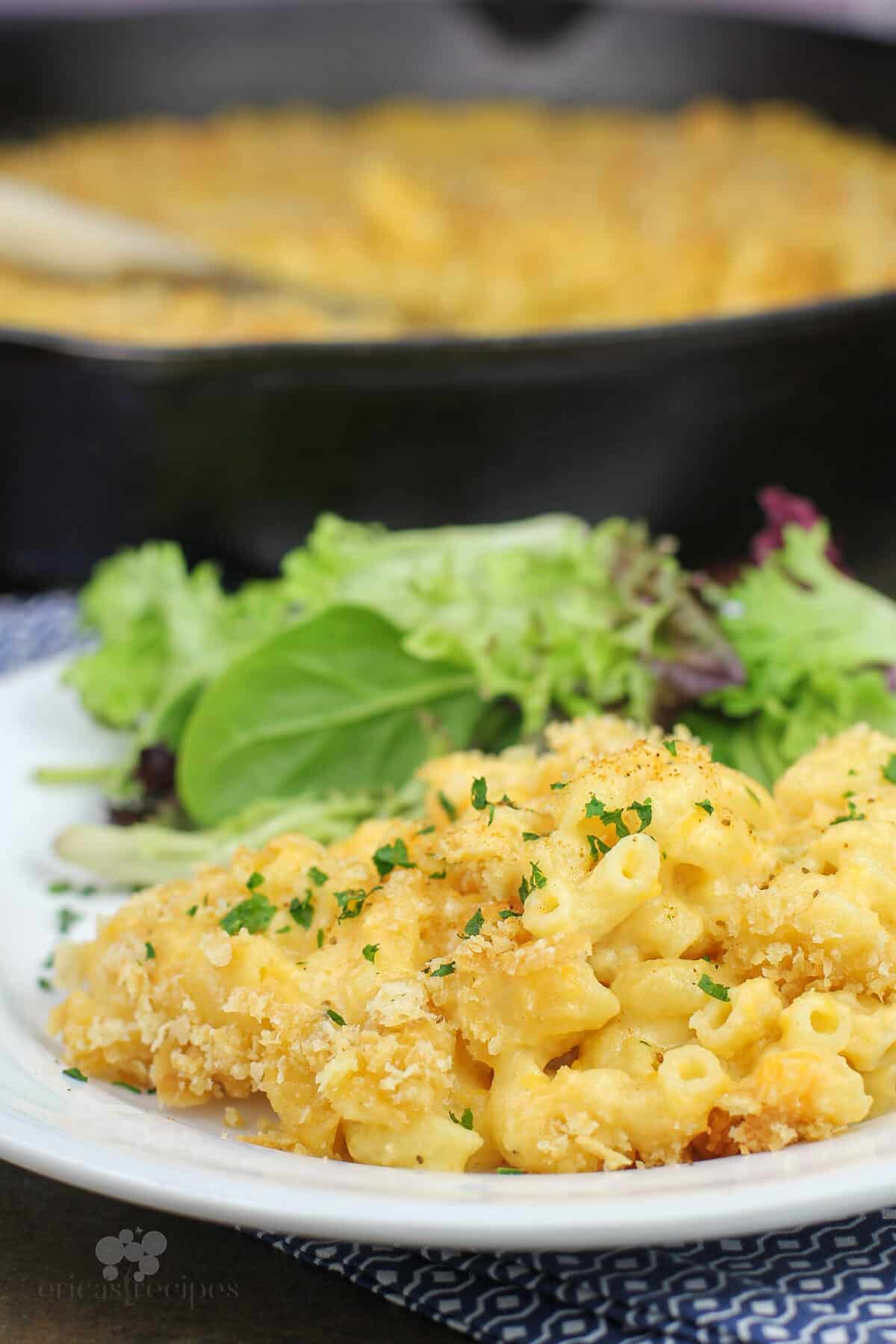 The basic mac n cheese formula
When making any macaroni and cheese, I follow my basic formula and build from there by changing up the cheeses and ad-ins. This mac and cheese formula is as follows, and every one of my macaroni and cheese recipes is built around it.
8 ounces pasta.
2 Tbsp butter and 2 Tbsp all-purpose flour to make a roux.
2-1/2 cups liquid (some combination of milk, cream, half-and-half, wine, stock, etc.) get added to the roux.
Flavor enhancers: Dijon mustard, kosher salt, and a little black pepper.
Cheeses: 1 cup (4 ounces) per cup of liquid added.
Crunchy topping: 1 Tbsp butter or olive oil, 1/2 cup crackers or panko breadcrumbs, 1/4 cup parmesan.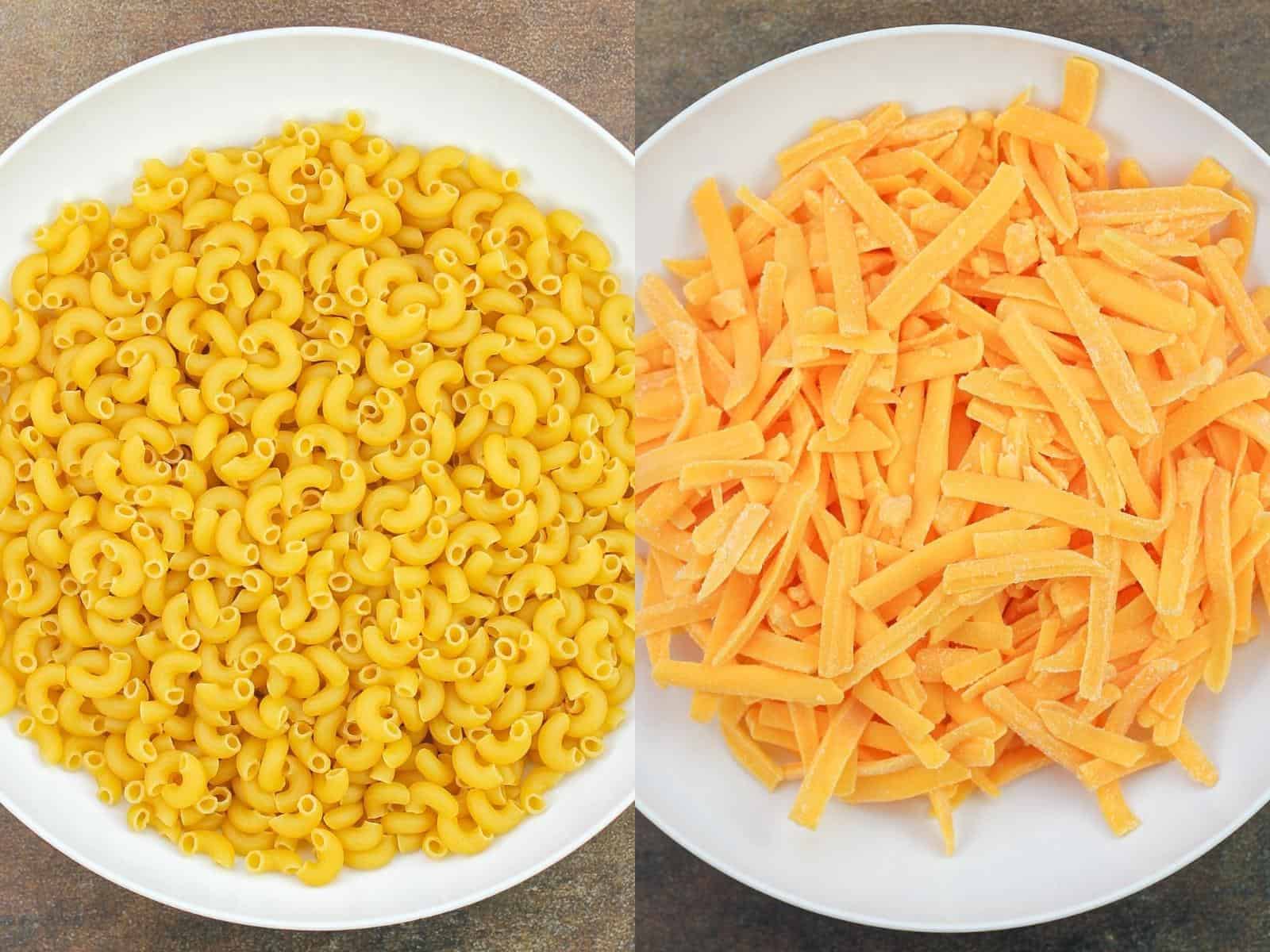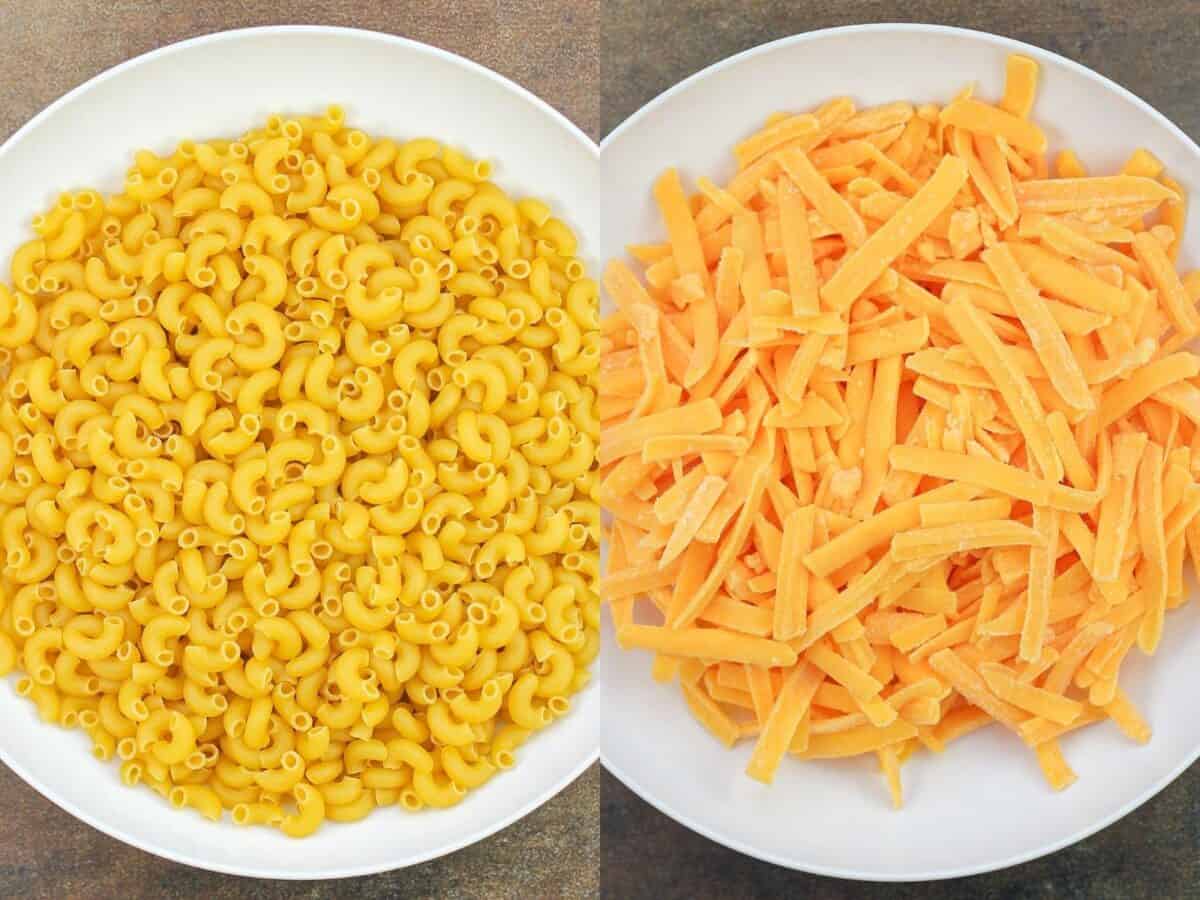 Simple macaroni and cheese ingredients
When I say standard ingredients, I do mean easy-to-find basics that we can get in pretty much any grocery store in the US.
Elbow macaroni are classic, but you can use whatever pasta shape you like.
Unsalted butter is for the roux as the base for the cheese sauce and in the buttery topping.
All-purpose flour combines with the butter in the roux to thicken the cheese sauce.
Milk is works perfectly well in mac and cheese. No heavy cream or half and half needed.
Sharp cheddar cheese is best bought as a brick and shredded at home to avoid the anti-caking ingredients added to packaged shredded cheeses. That said, usually I end up just buying shredded cheese (preferably large shreds). Be sure to use

sharp

cheddar cheese.
White American cheese is a secret ingredient! Processed cheeses have stabilizers added, and just 2 slices helps our sauce stay creamy and not become separated and greasy. Get the individually-wrapped white American singles. If not available, use regular American slices or an ounce of Velveeta.
Dijon mustard brings a hint of tangy flavor that brings our mac and cheese to life.
Seasonings: kosher salt and fresh cracked pepper are flavor enhancers.
Buttery crackers and parmesan cheese combine with a little butter for our crunchy topping. Use fresh parmesan cheese.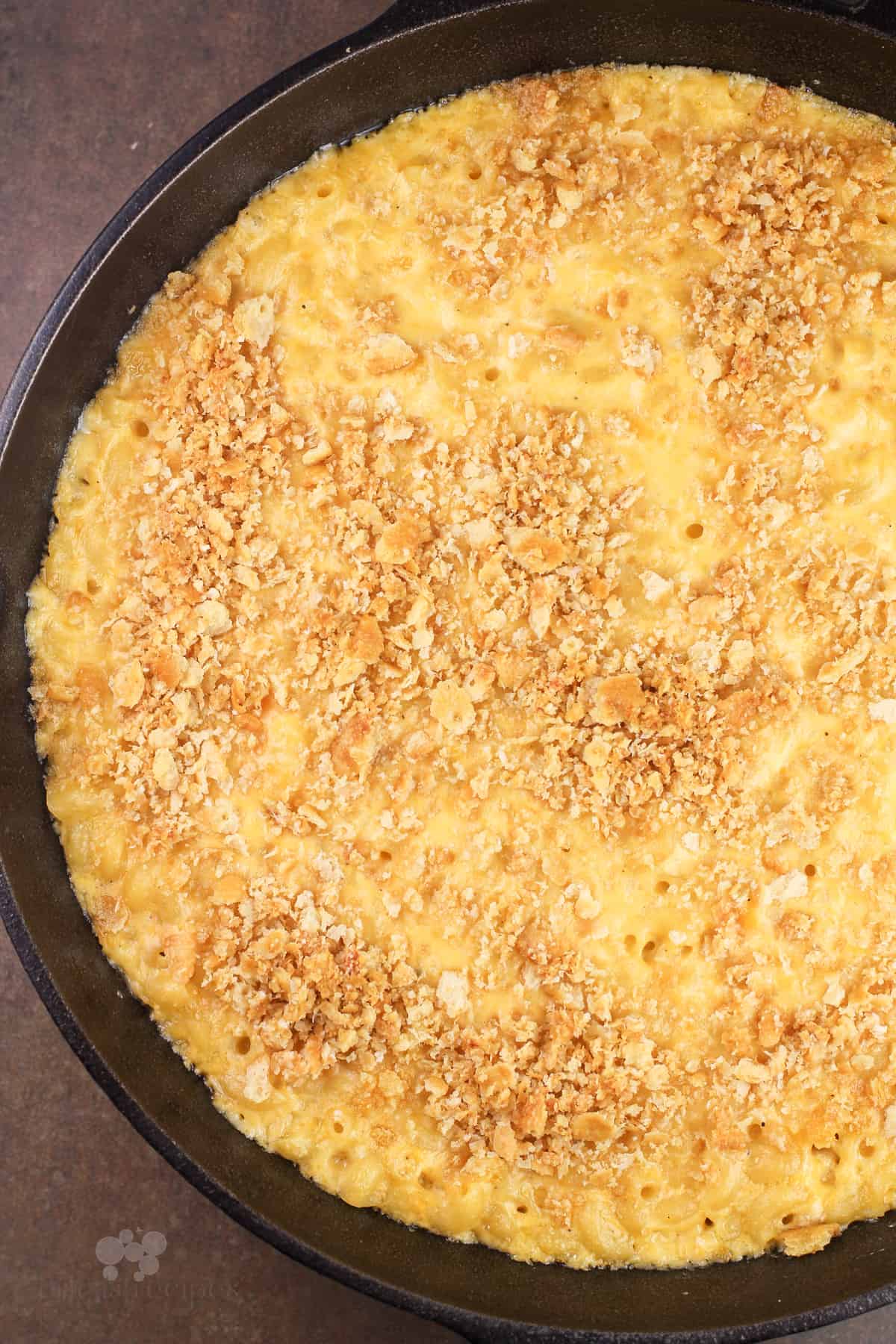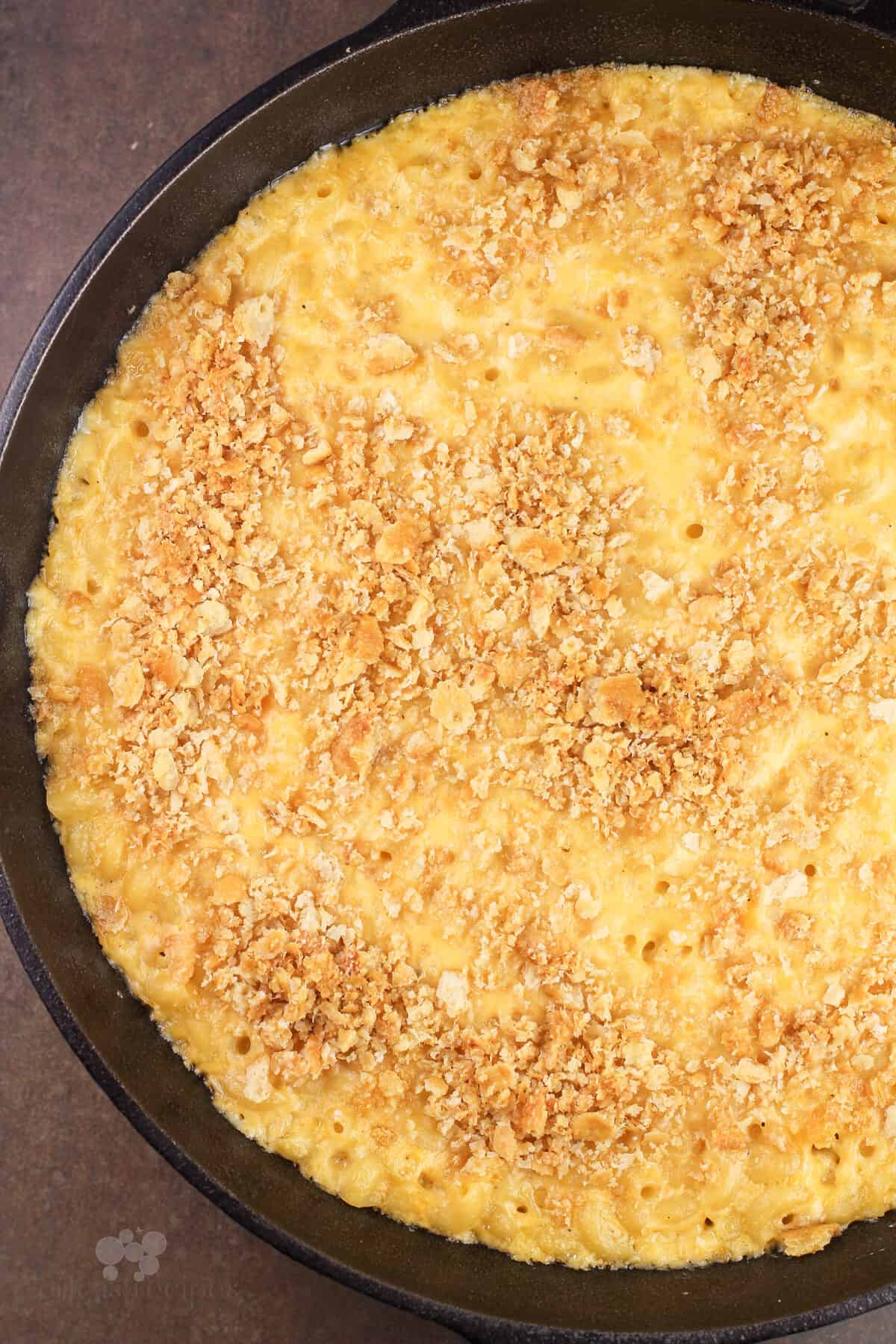 What kind of milk to use for creamy mac and cheese
There is some flexibility here, because I find whole milk and 2% milk to work equally well. Milk with 1% milk is okay if that is what is available, but it will be a little less creamy so if using 1% milk (or even 2%), it's a good idea to give a splash of half and half for good measure. I do not recommend skim milk, which yields a dry, bland mac and cheese.
How to make creamy mac and cheese
No matter what kind of mac and cheese I'm making, the flow for making it is always the same:
Bring a pot of water to a boil and heat up the oven.
Get the pasta into the boiling water, and while that is cooking make the sauce.
Make a roux with flour and butter, then whisk in the milk.
Whisk and whisk (I usually turn up the heat at this point to speed things along) until the milk starts to steam. At this point the milk comes off the heat.
Add the remaining ingredients to the sauce and stir until the cheese is mostly melted.
Add the pasta to the sauce and put in my bake dish.
Top with topping and bake.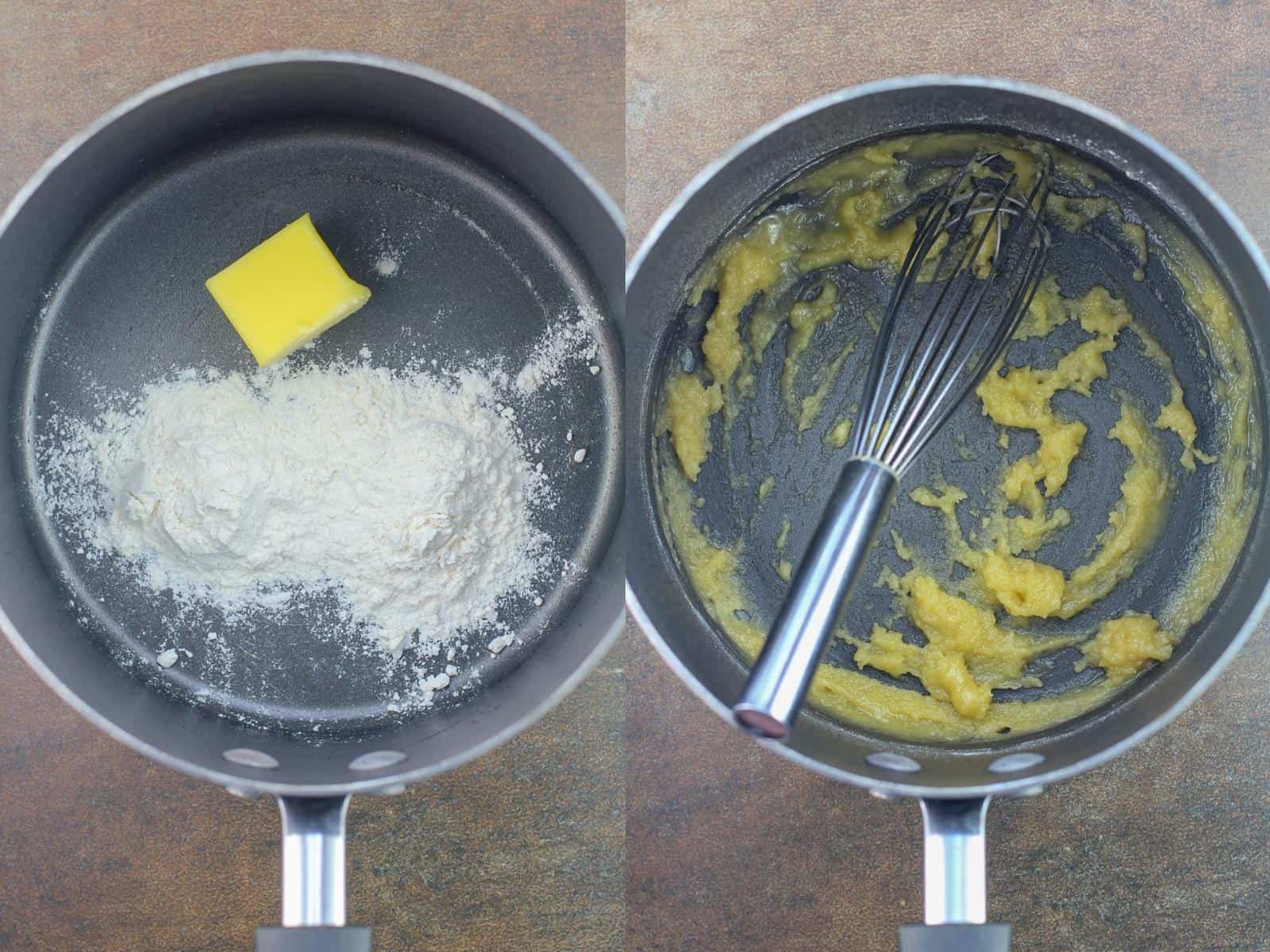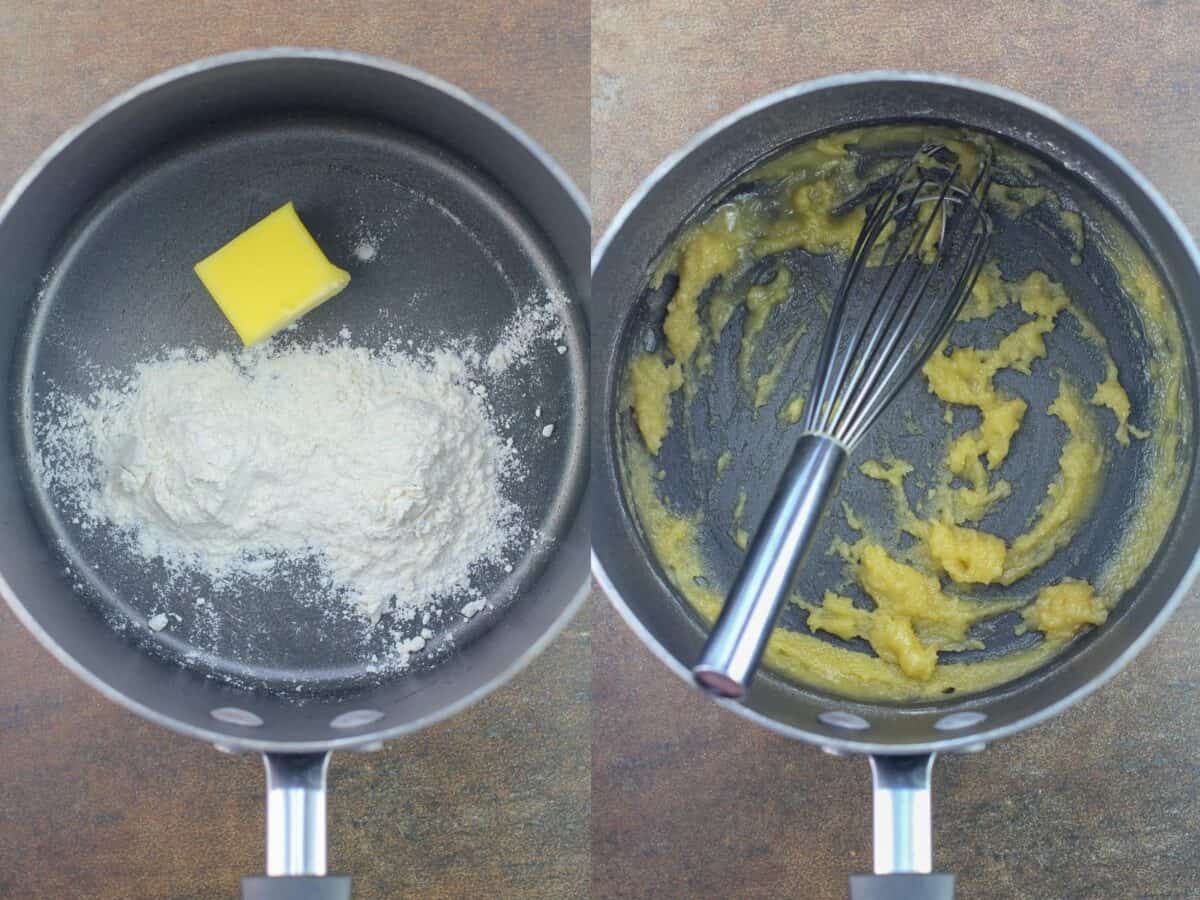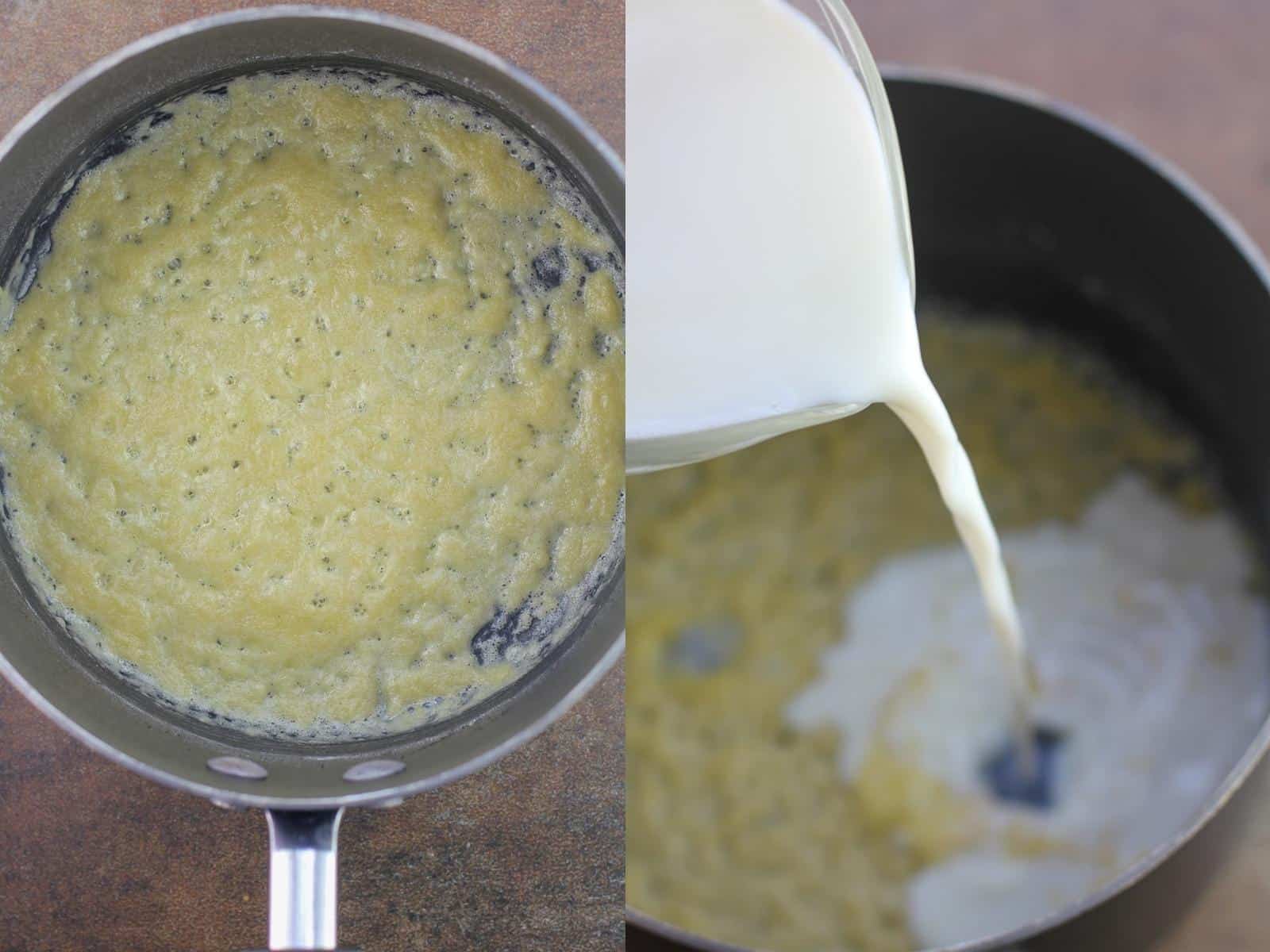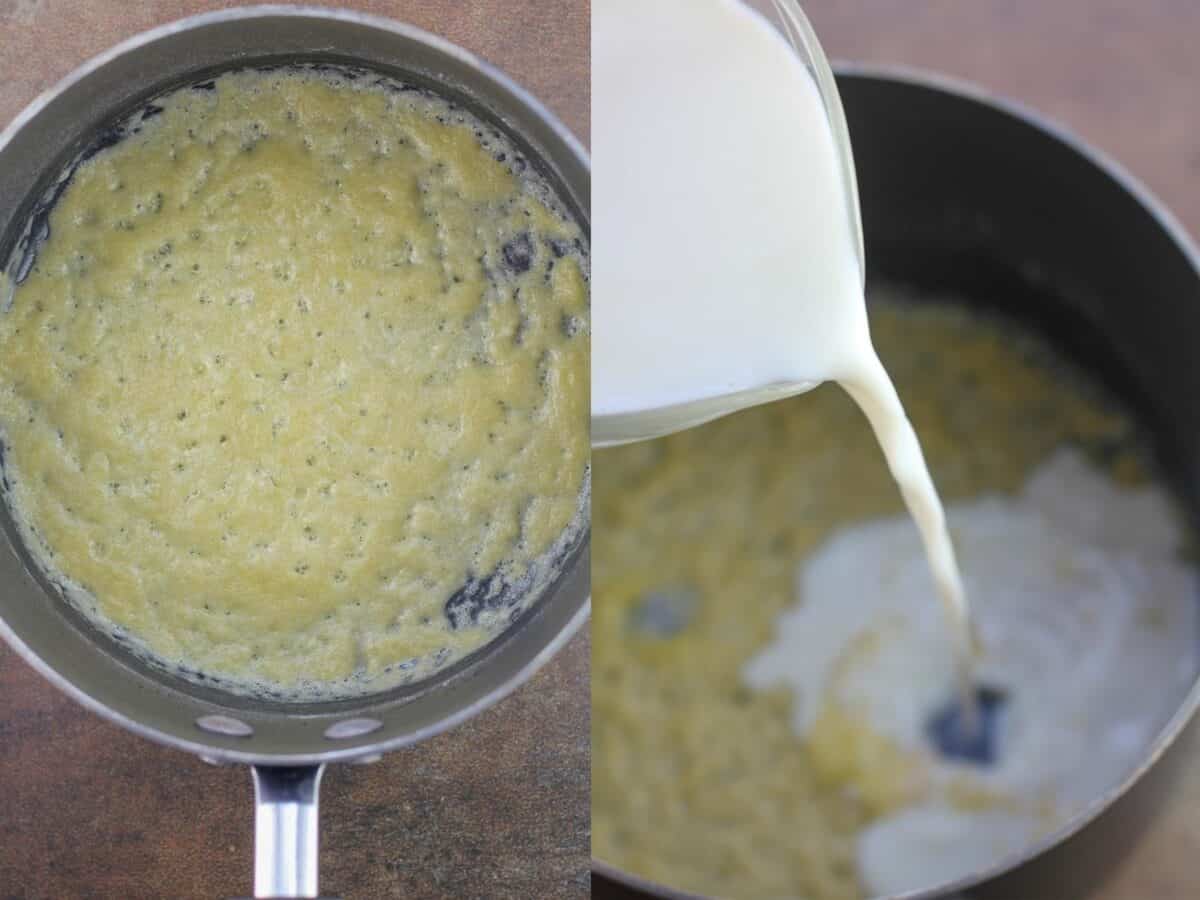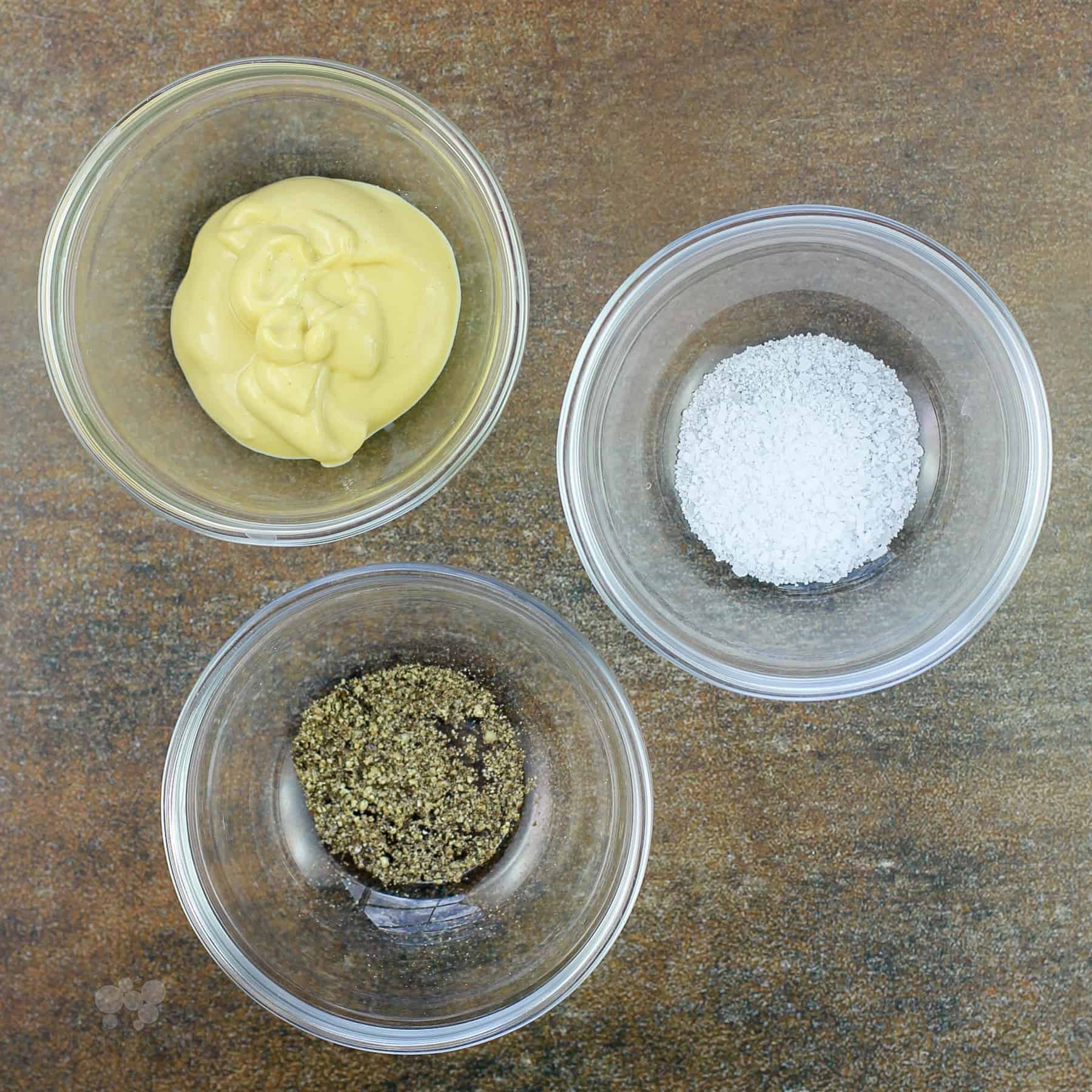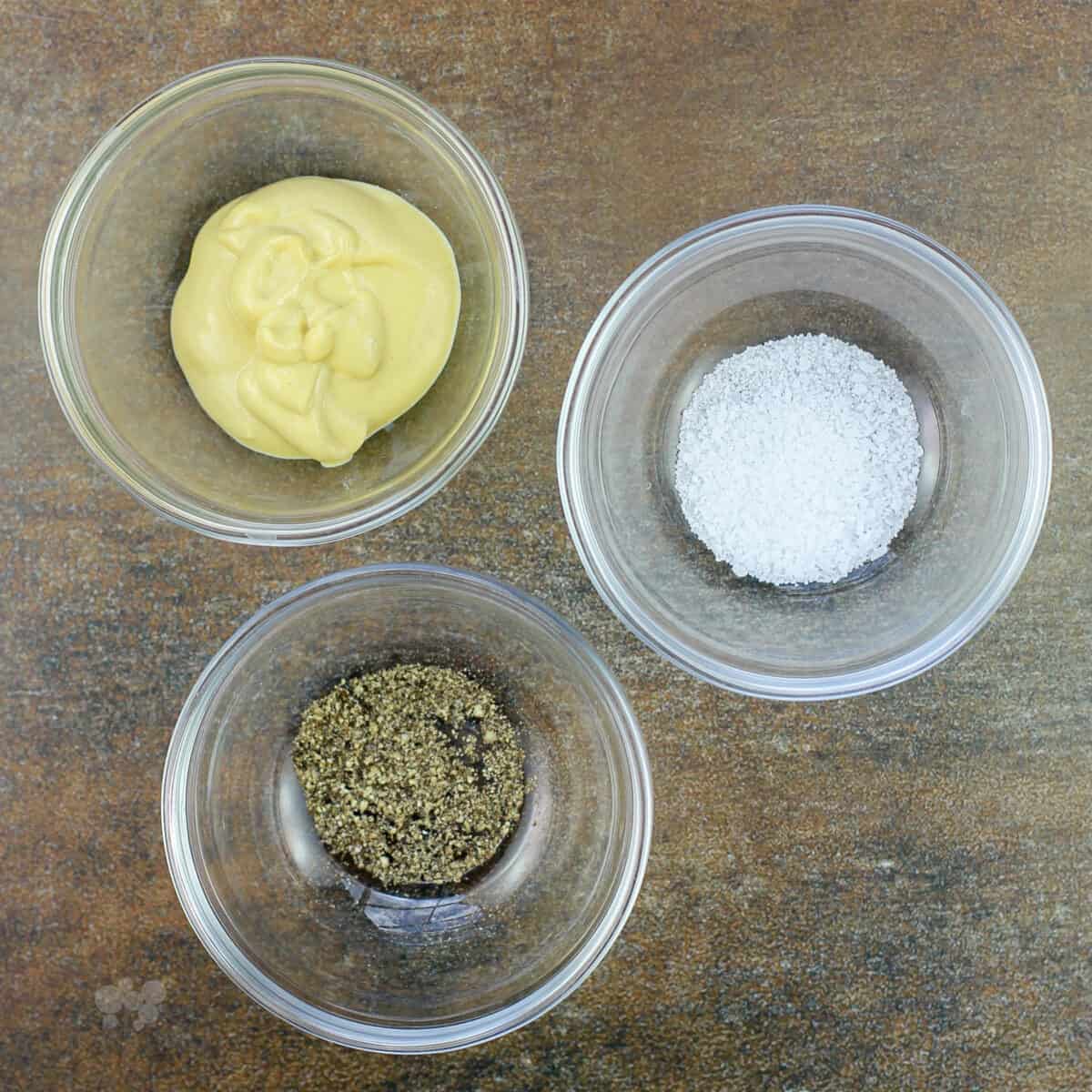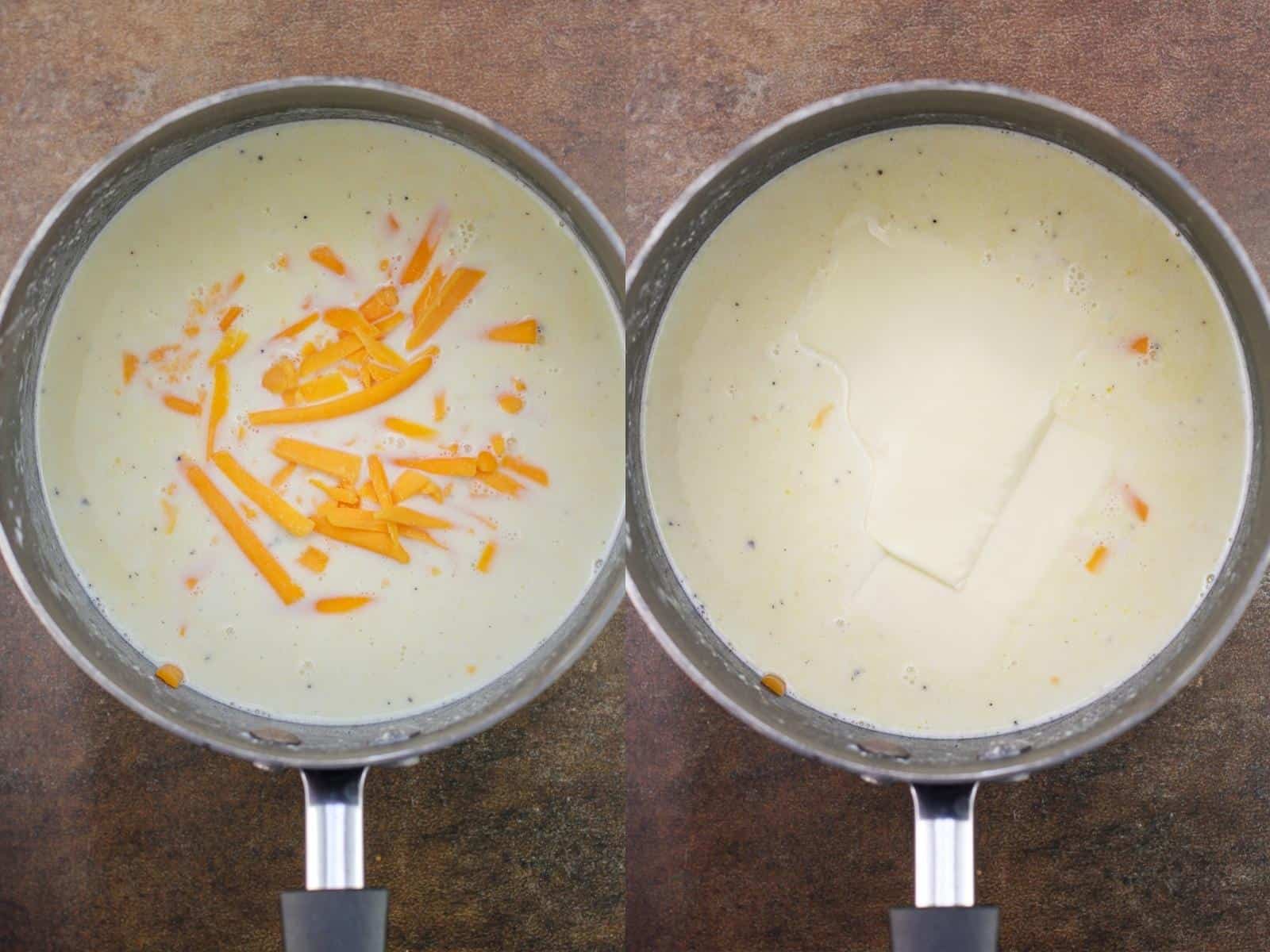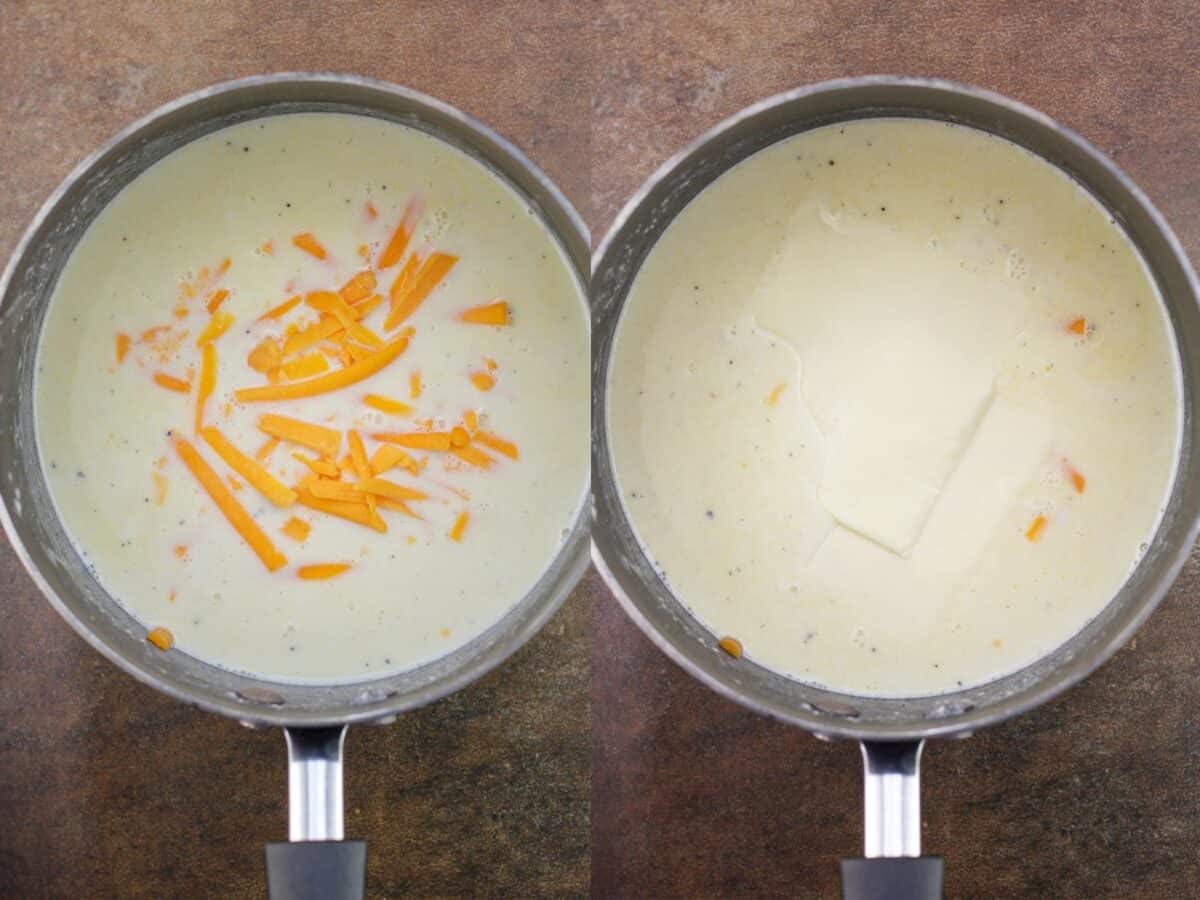 TIP: When I say "get the cheese mostly melted", I mean that melting the cheeses completely is not necessary. They will finish melting once the hot pasta is added. It is far more important to get the sauce off the heat and keep it from getting thick, because the pasta will thicken the sauce more as it bakes. This is a big trick to getting creamy macaroni and cheese.
TIP: If your sauce gets too thicken (i.e. thicker than the consistency of buttermilk), no worries! Simply add a splash more milk or a bit of half-and-half.
TIP: Taste your sauce for seasoning. You definitely want to taste the salt to ensure you have enough there to season the pasta as well.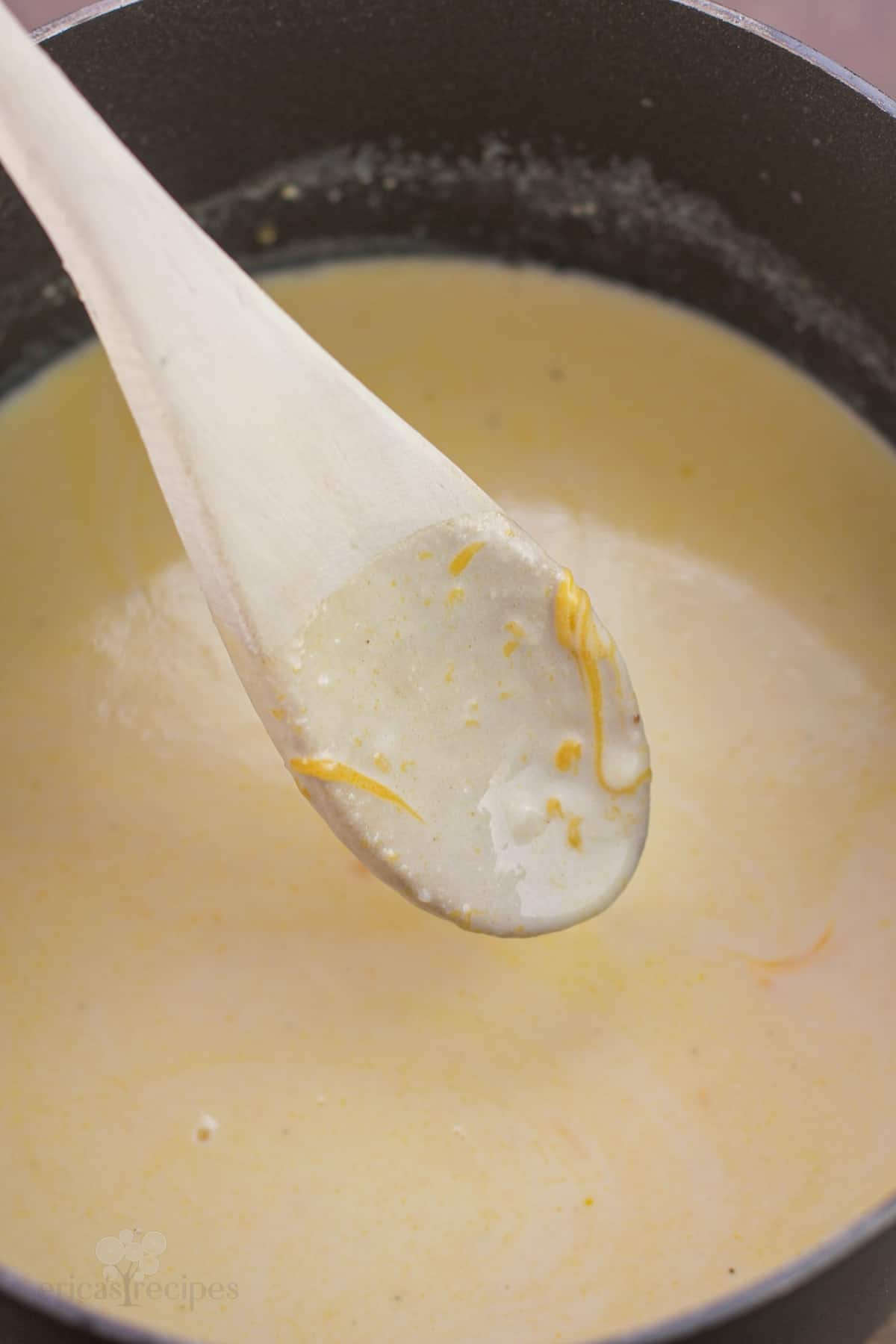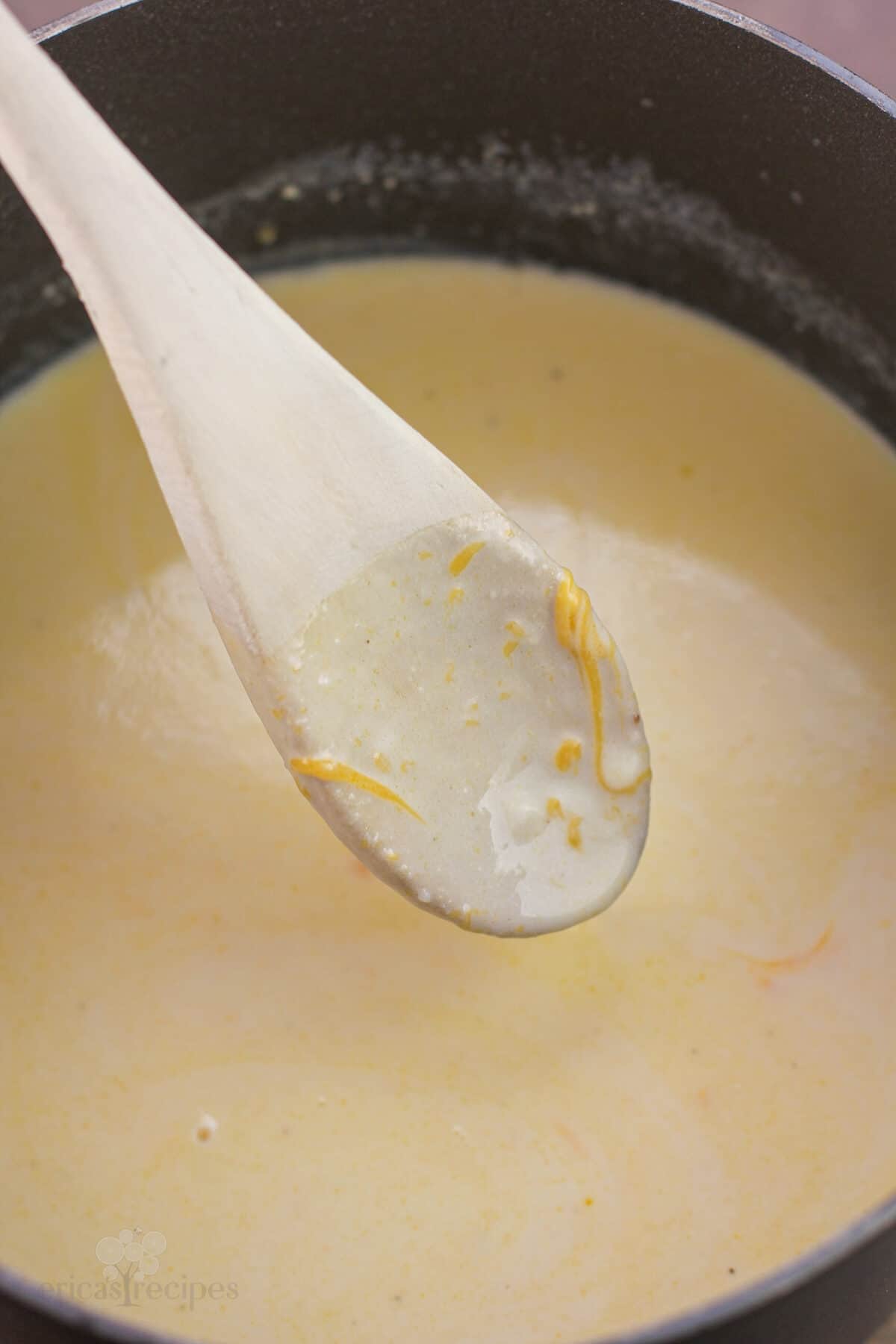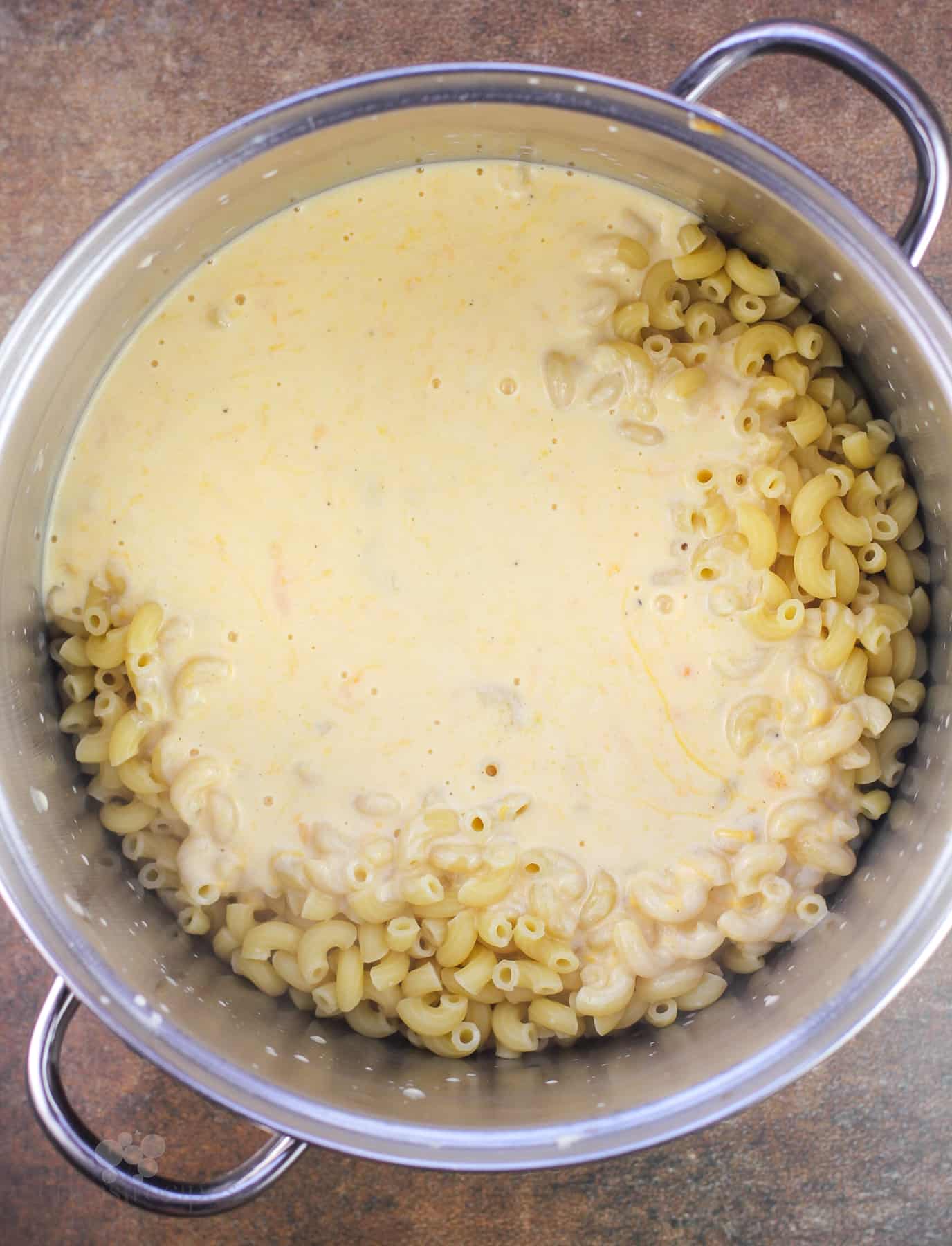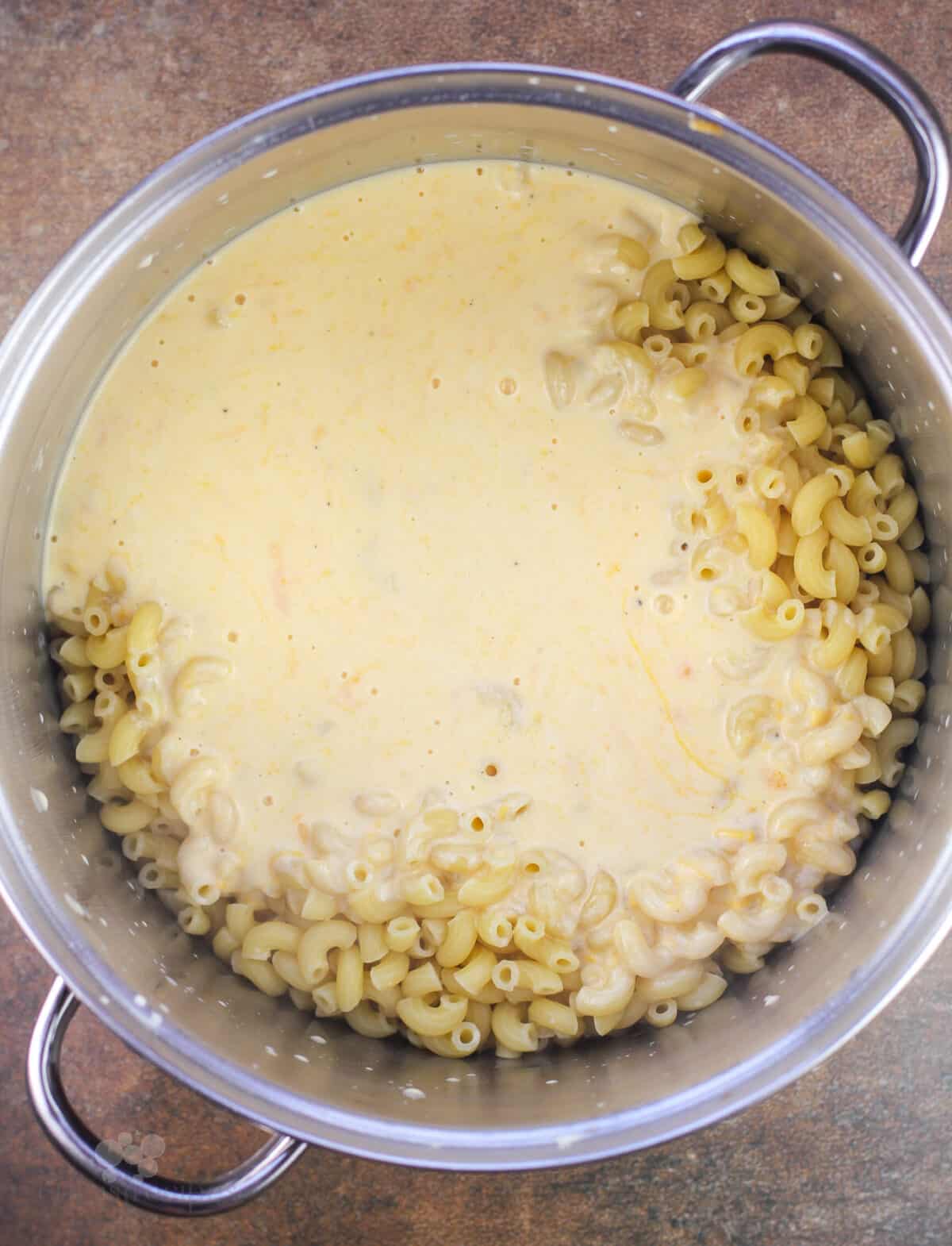 Best cheeses for macaroni and cheese
If you browse my mac and cheese recipes, you'll see that I vary the cheeses I use often. Generally, stick to 1 cup (4 ounces) cheese per cup of milk added to the cream sauce. See the section above for more suggestions.
In this basic macaroni and cheese, I use sharp cheddar cheese as the main ingredient, some white American cheese for flavor and sauce stabilizer, and parmesan cheese in the topping. This is my go-to line-up of cheeses, but when I want to change things up, I grab any of the following:
Sharp cheddar
Gruyere
Fontina
mozzarella
pepperjack
Monterey Jack
smoked Gouda
Parmigiano-Reggiano
Add-ins and variations
Change up your pasta shapes
Little shells, egg noodles, Cavatappi, and penne are all great pasta shapes for homemade mac and cheese. Using a different pasta shape is also a great way to get your family more interested because of the visual change.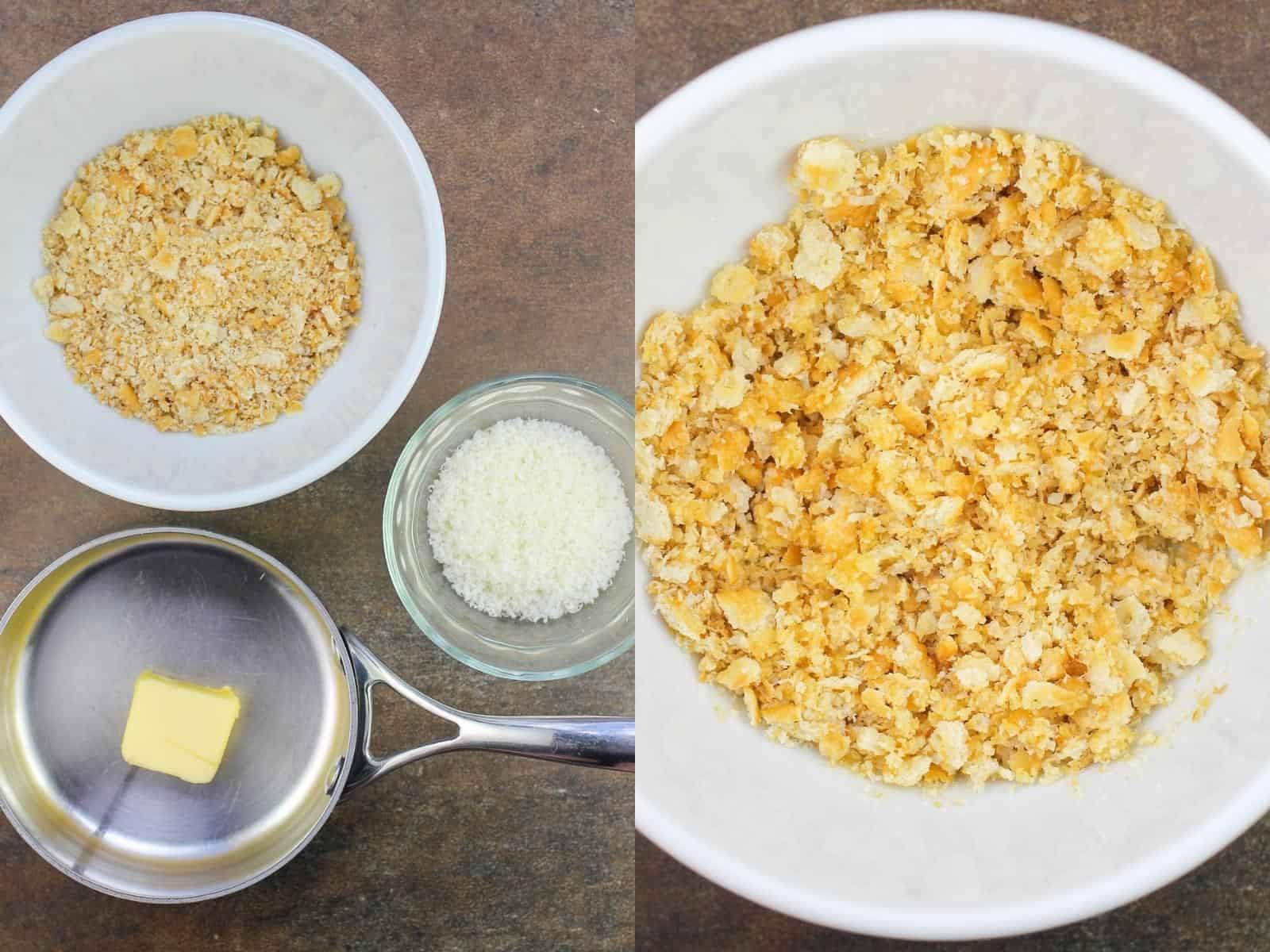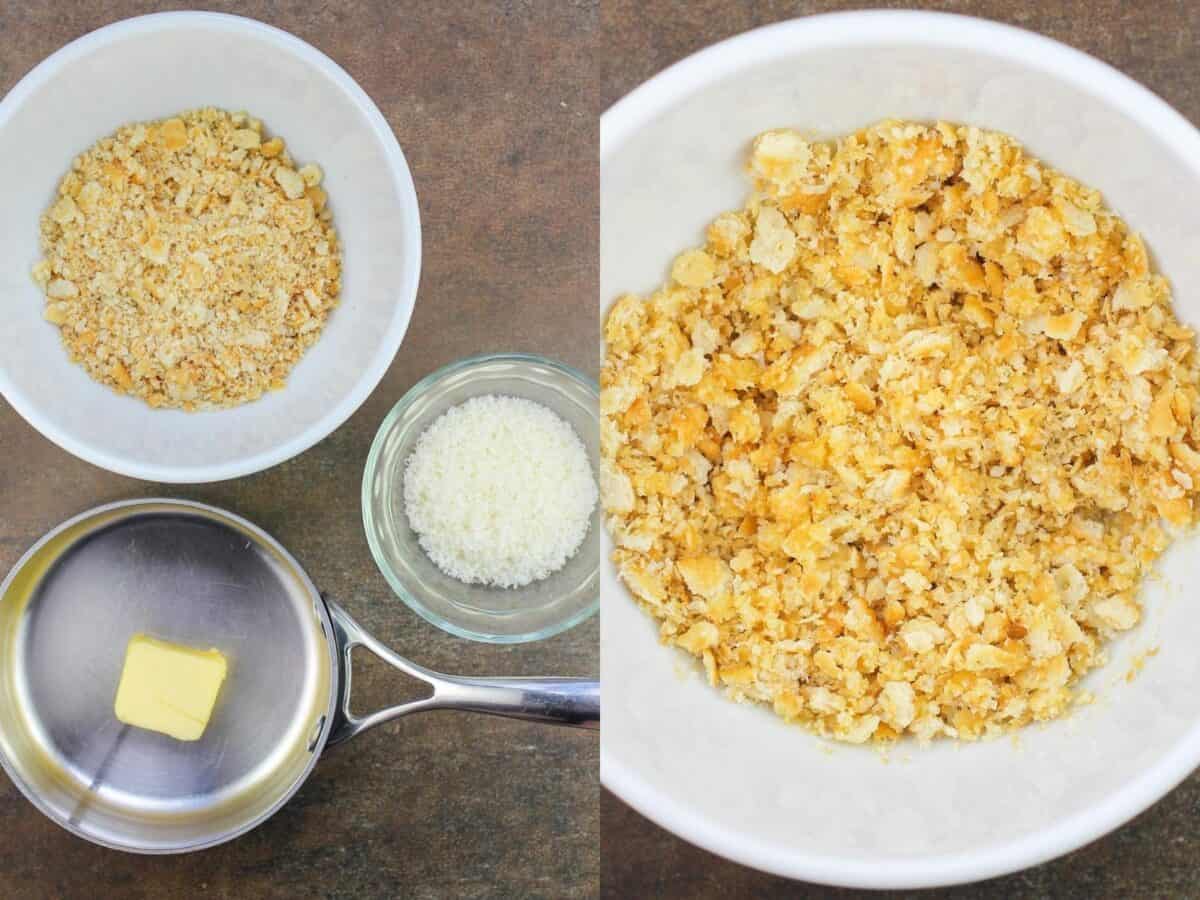 Topping variations
Following the same formula of [butter or olive oil, crackers or panko, and parmesan], you can add bacon, herbs, seasonings (Old Bay seafood seasoning is excellent). You can use corn flakes in place of crackers/panko. You can also finish with a drizzle of something creamy that complements your ingredients such as ranch, BBQ sauce, olive oil, buffalo sauce, or seafood remoulade.
Many classic, especially southern classic, macaroni and cheese recipes top with more cheese and don't include any crunch. That's easy enough to do and it that's your thing, then do that. Since simple macaroni and cheese is very soft – completely so – I appreciate a bit of crunch and texture from a topping.
Meats to add to mac and cheese
When adding meat to mac and cheese to make it a more substantial main course, there are no limits and I think I've tried them all. Here are some suggestions (and a recipe to go with).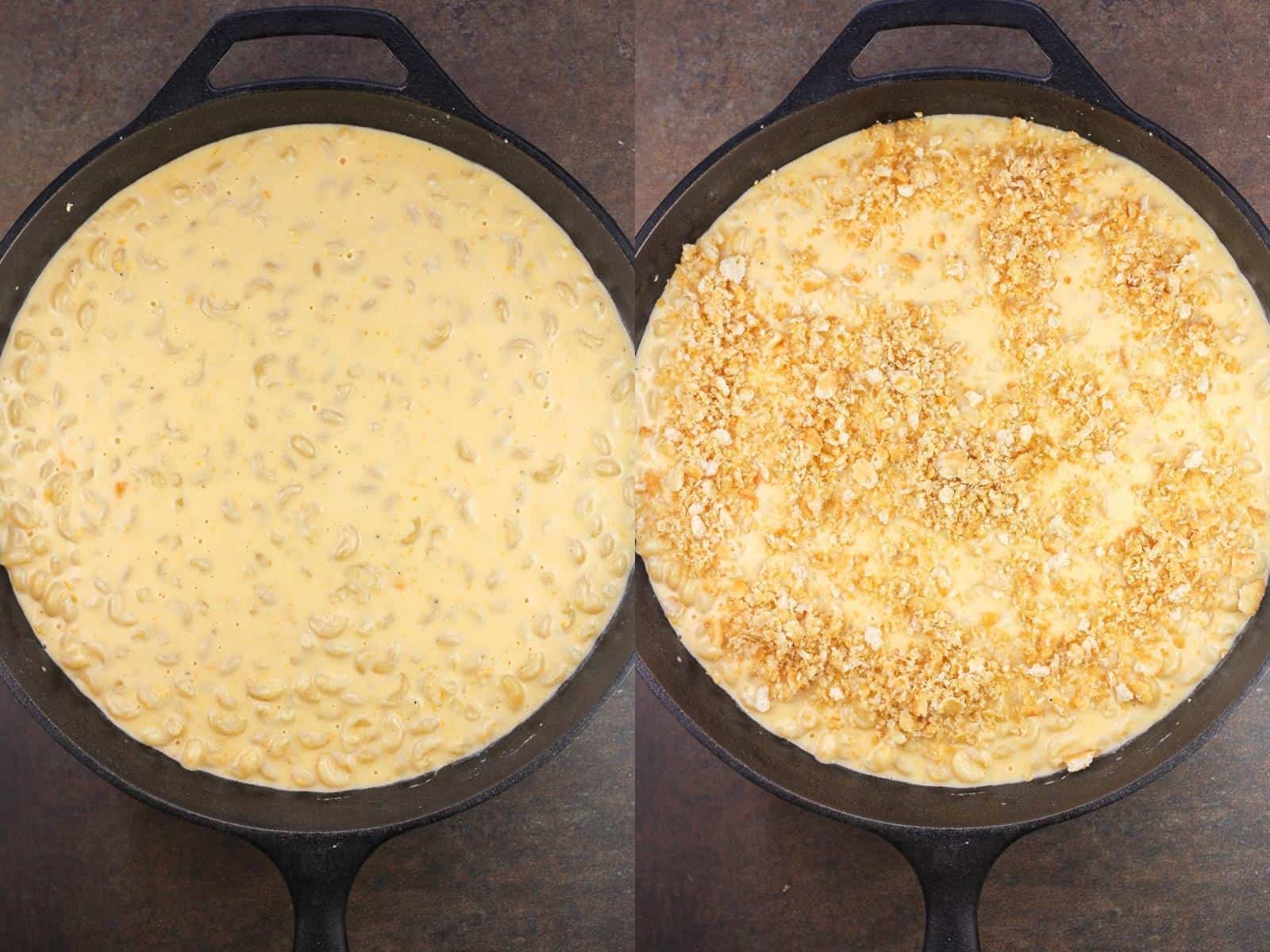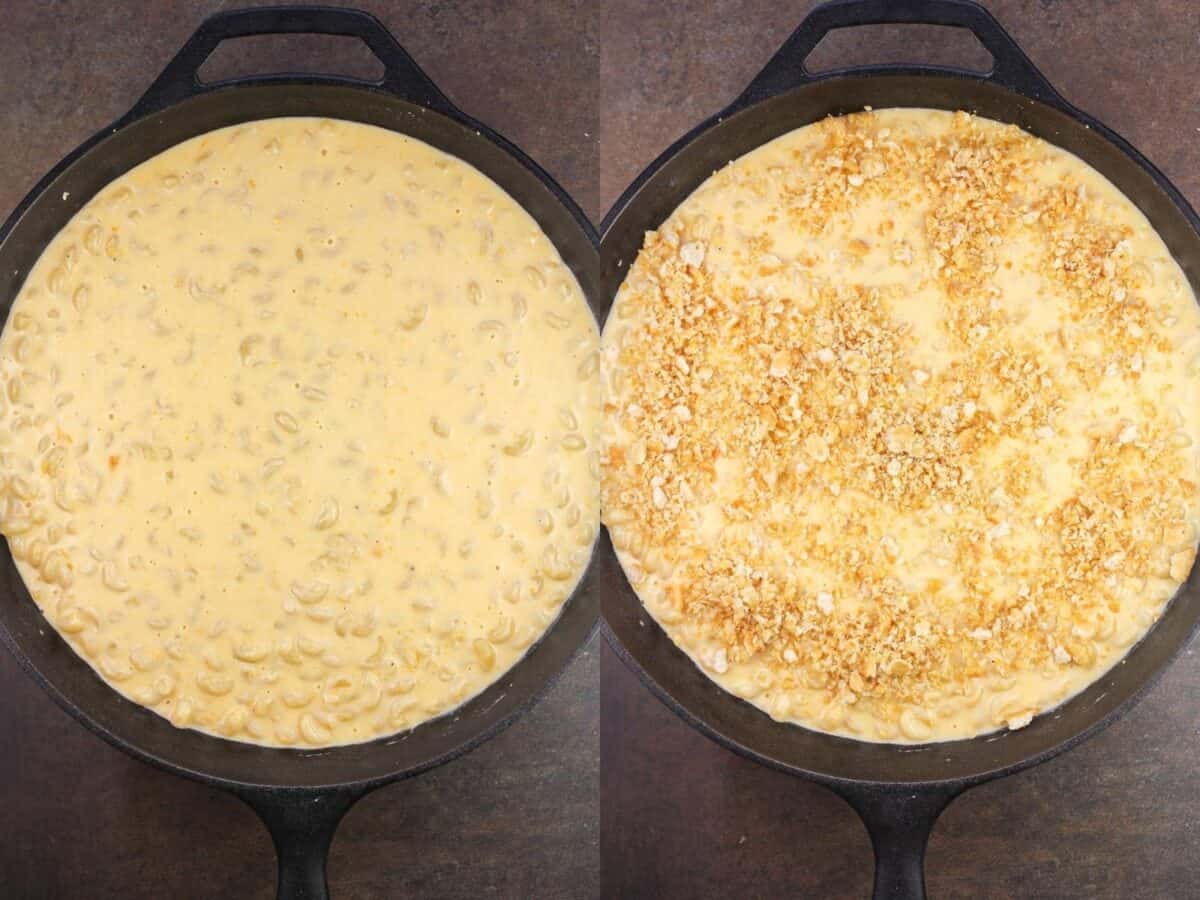 Other ad-ins
No need to add meat when we can keep it vegetarian too. Portobello, Spinach, and Smoked Gouda Macaroni and Cheese, White Wine Mac and Cheese, and Easy Broccoli Pesto Cavatappi are fantastic as vegetarian dinners. Suggestions for ad-ins include:
jalapeno or roasted poblano peppers
roasted bell peppers
fresh herbs
wine
pesto
broccoli
mushrooms
sun-dried tomato
peas
onion
How to store mac n cheese
This one is easy and we don't have to overthink it because we have two options. Either cover your bake dish with foil or plastic wrap and put in the refrigerator, or transfer to a plastic container with a tight-fitting lid and store in the refrigerator.
Making mac and cheese ahead of time
This is always the conundrum. You have an amazing classic mac and cheese that you want to share with others, but creamy mac and cheese doesn't have great staying power since the sauce will seize up as it cools and separate as it reheats.
The solution is to add more liquid to the sauce, such as 1/4 cup half-and-half, to counter the moisture loss from cooling and reheating. I do not recommend using cream because it will separate upon reheating into an oil slick. Make this recipe, adding 1/4 cup half-and-half as additional liquid, and bake. Cover until ready to serve, then warm gently in the oven. Alternatively, reheat individual portions in a microwave.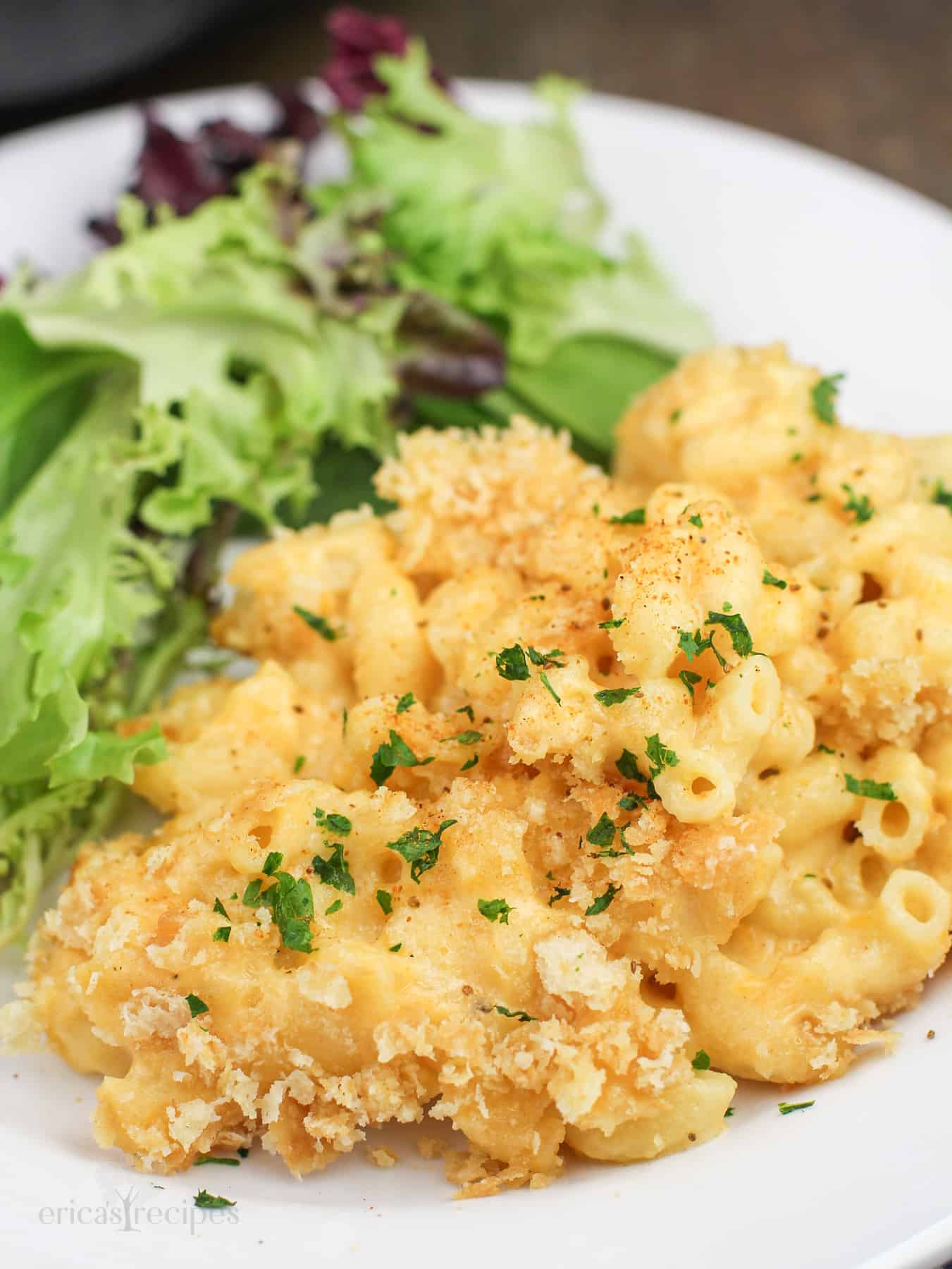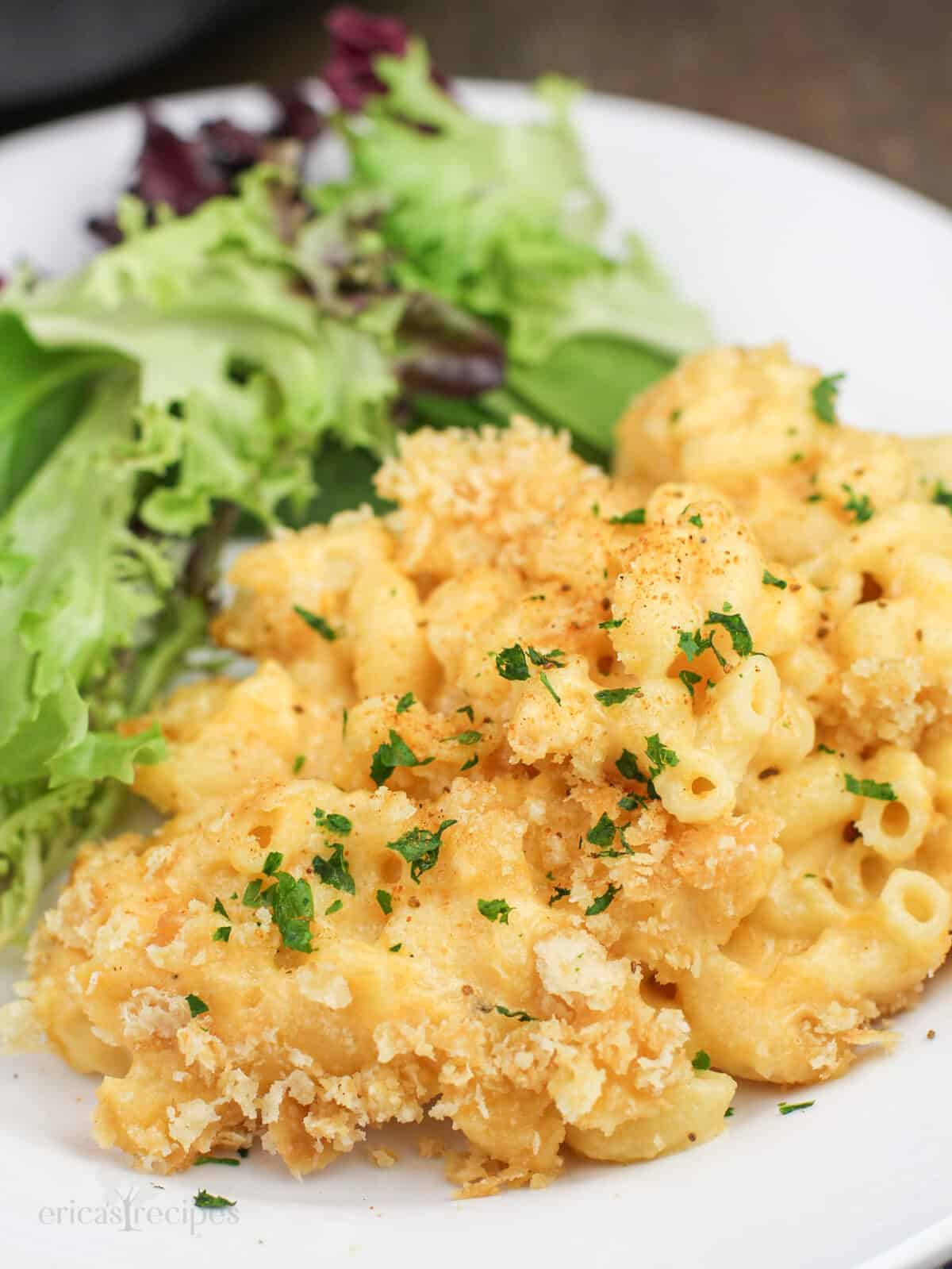 Freezing macaroni and cheese
Macaroni and cheese can be frozen prior to and after cooking. I recommend (as described above for making mac and cheese ahead of time) including an additional bit of liquid (1/4 cup half-and-half) in the sauce to compensate for moisture loss and ensure we still have creamy macaroni and cheese after freezing.
To freeze mac and cheese
Divide the casserole into 4 meatloaf-sized aluminum tins, place a layer of plastic wrap directly on the surface of the mac and cheese for a good seal, and cover tightly with foil. This provides a double barrier against moisture loss and prevents the absorption of aromas from other items in the freezer.
To heat frozen mac and cheese
To reheat: bring the tin out of the freezer and set either in the refrigerator or on the counter top to thaw. If the mac and cheese is not yet cooked, uncover and bake at 350°F until bubbly and golden. If mac and cheese was baked prior to freezing, then reheat in a 350°F oven until just warmed through or reheat individual portions on a microwave-safe plate or bowl in the microwave.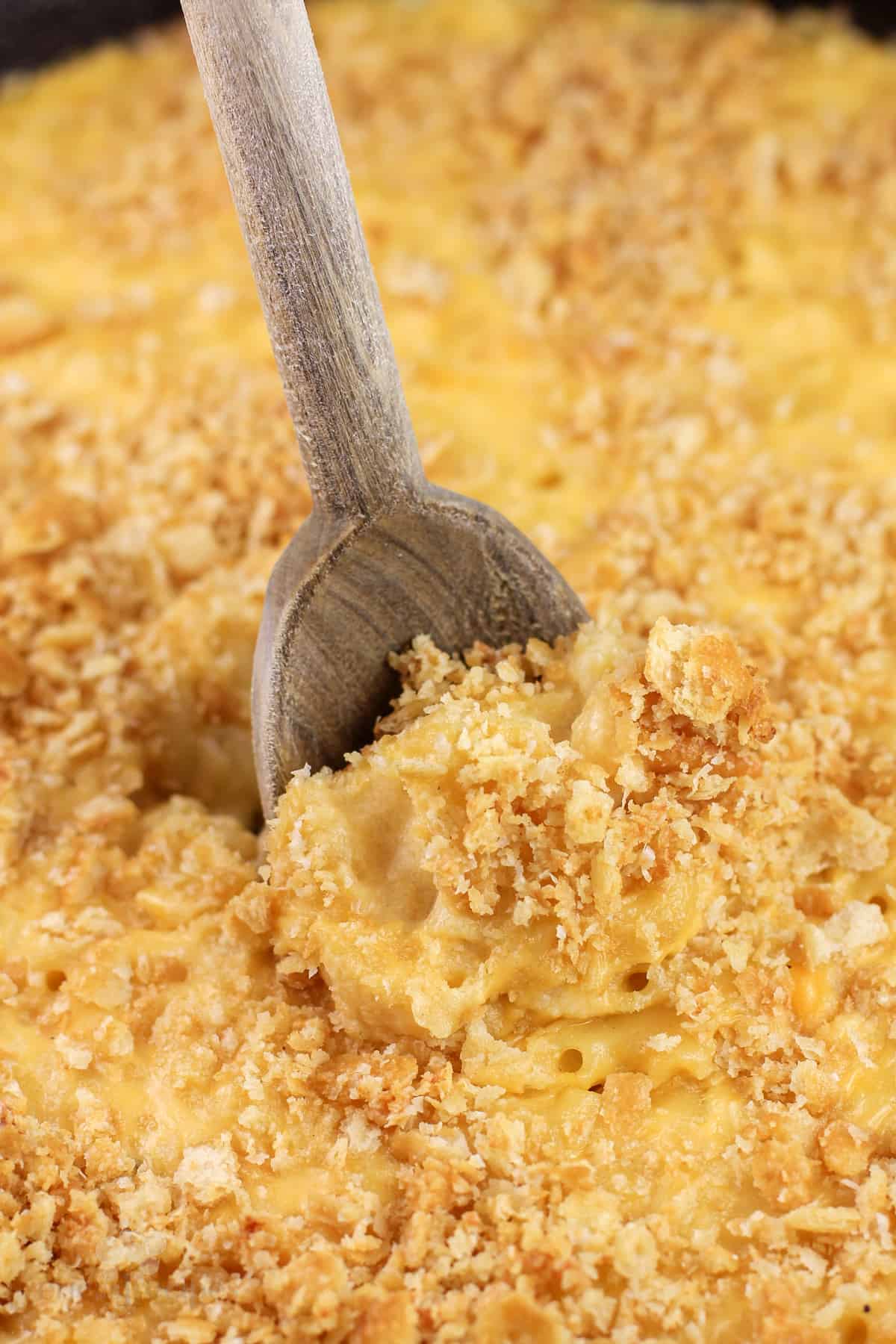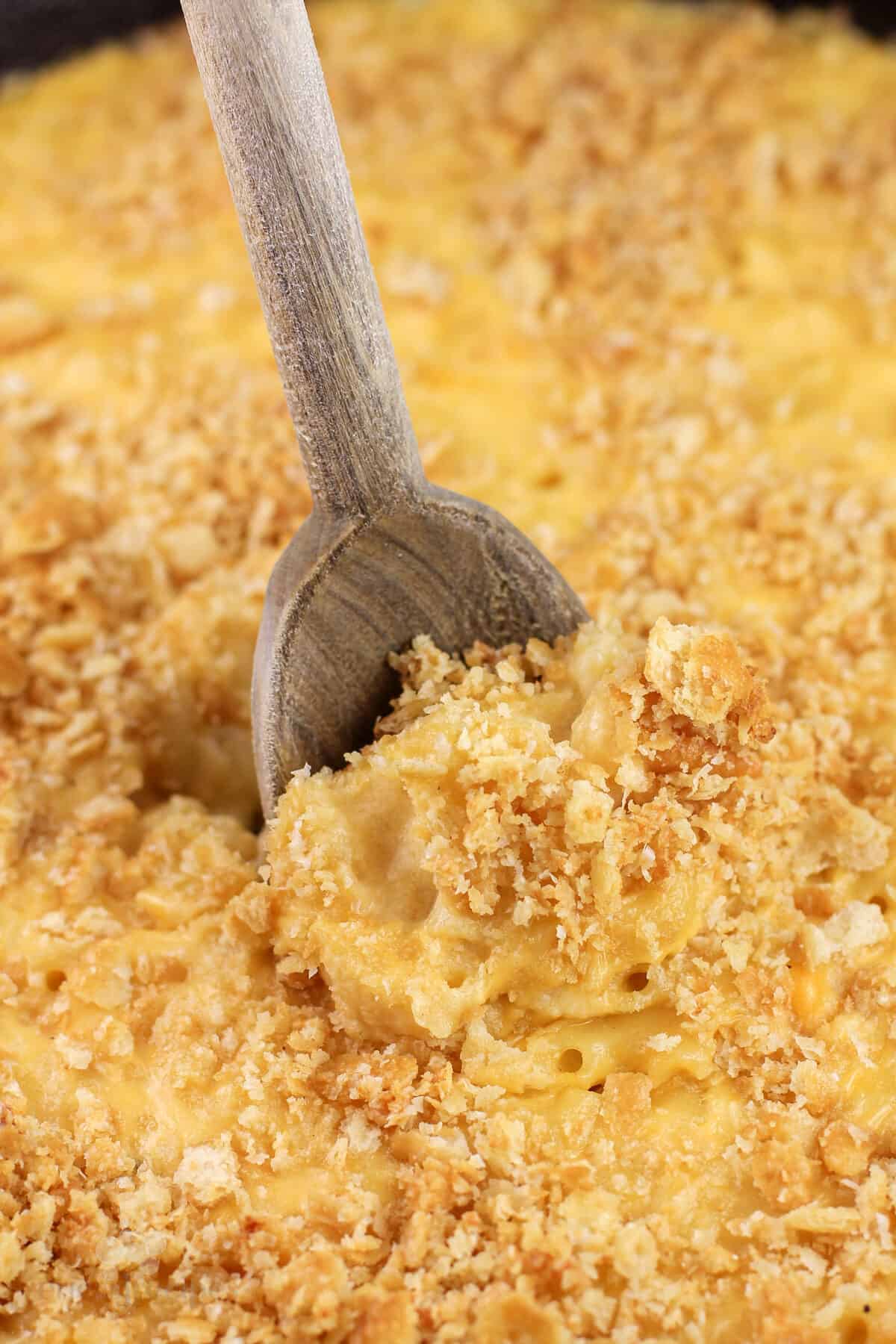 FAQs
What is classic macaroni and cheese?
Macaroni and cheese will vary with the region and generation of chef cooking it, but essentially modern mac and cheese is macaroni pasta baked in a rich bechamel sauce with cheddar cheese. It may be topped with a crunchy crumb topping or just more cheese.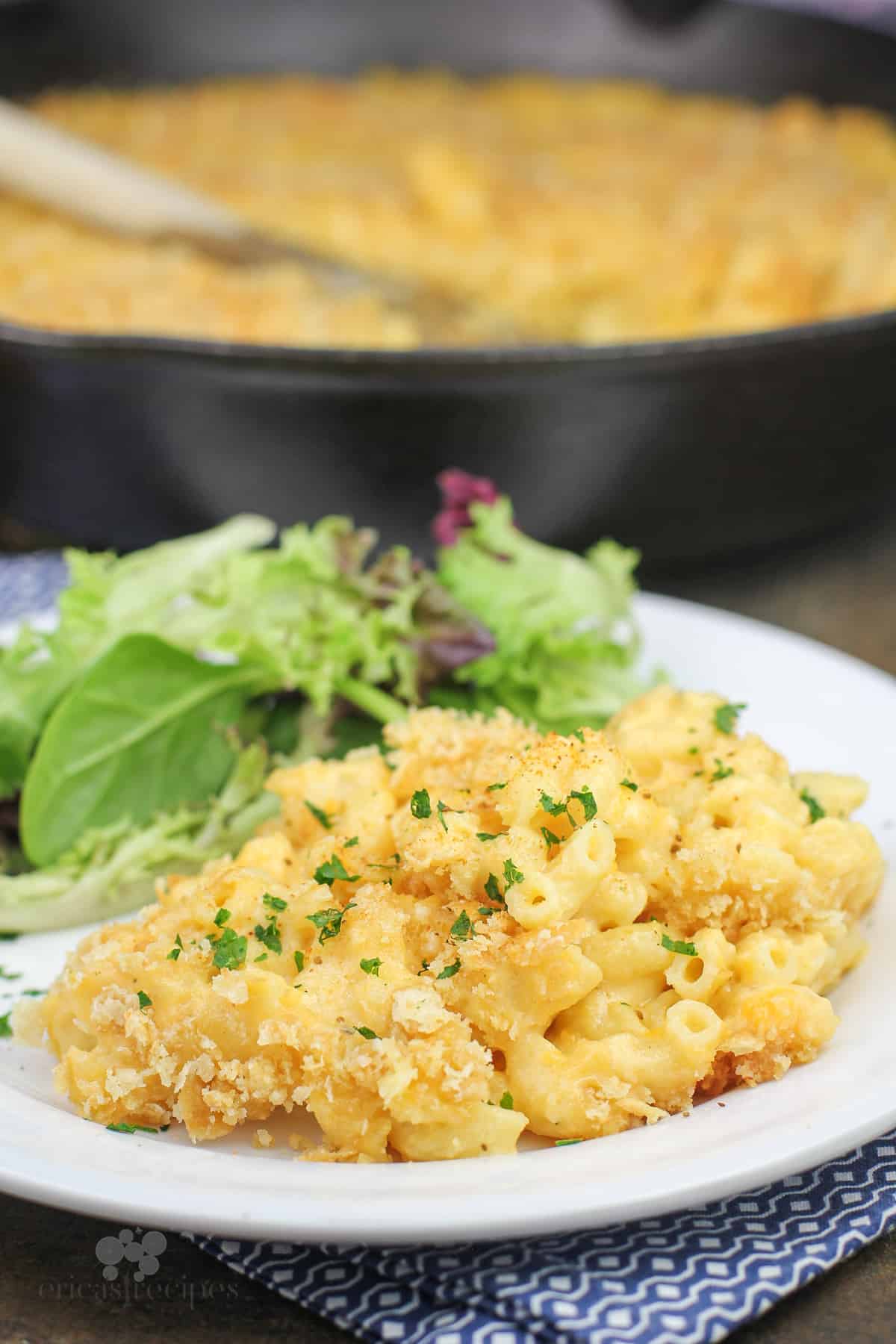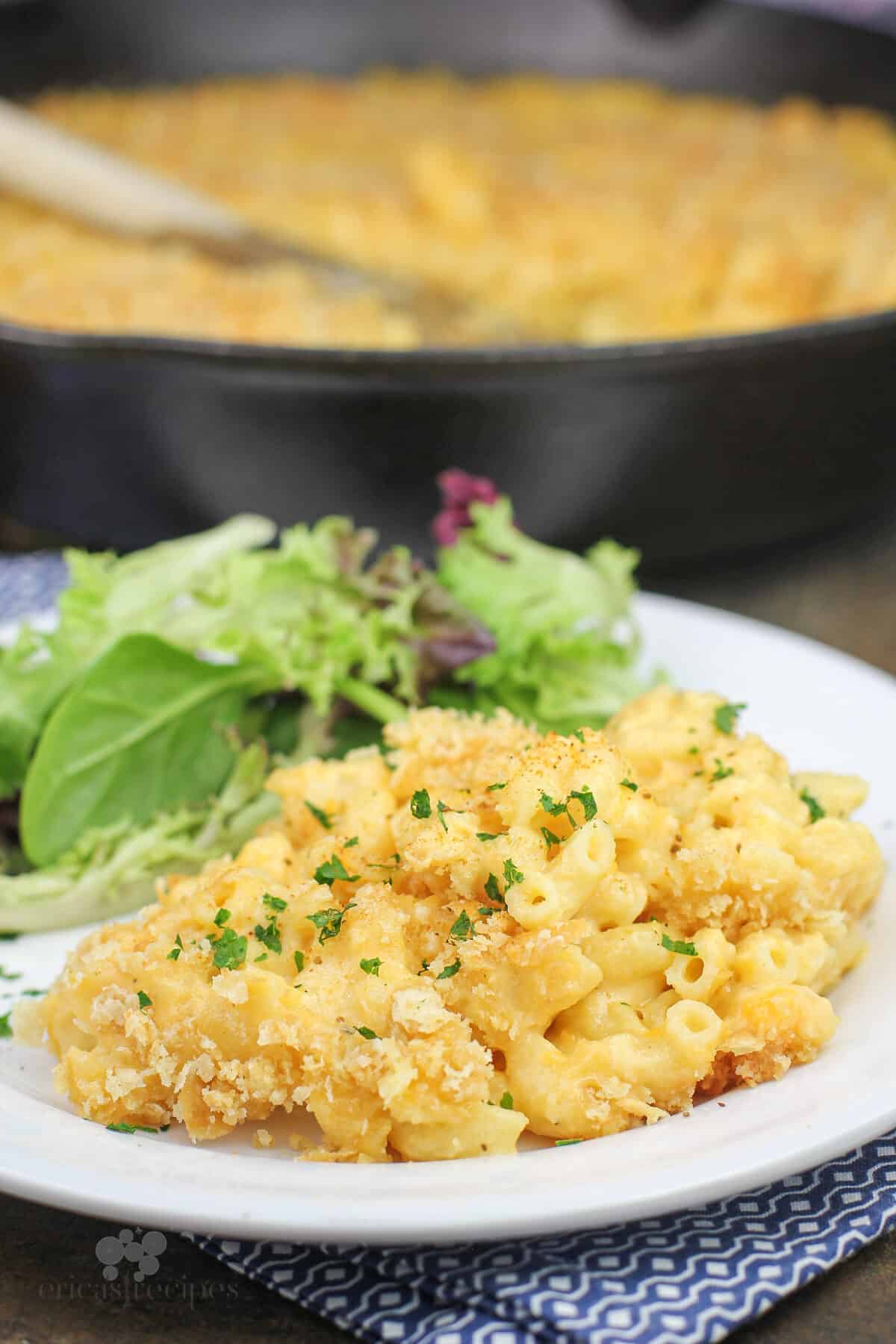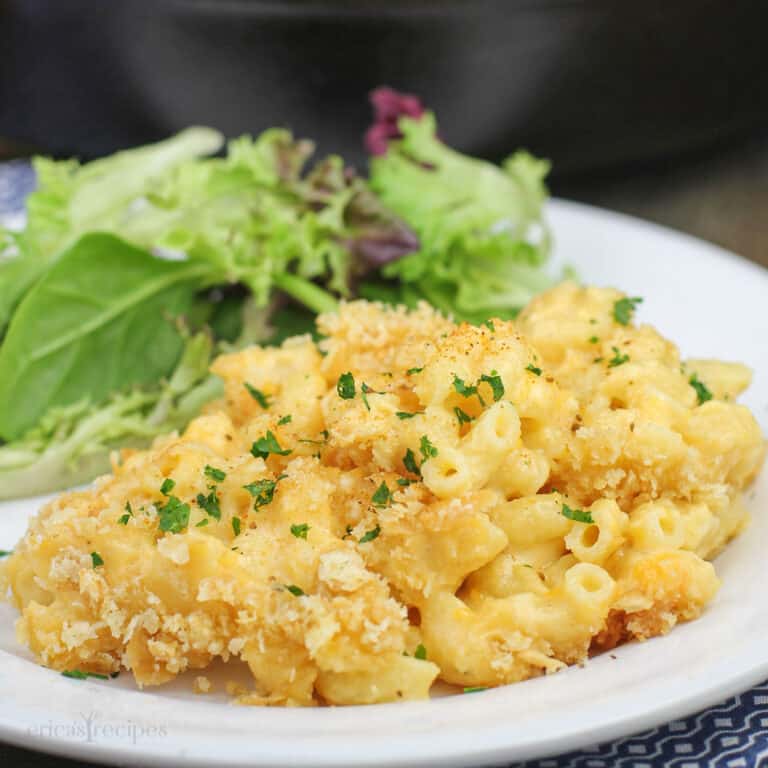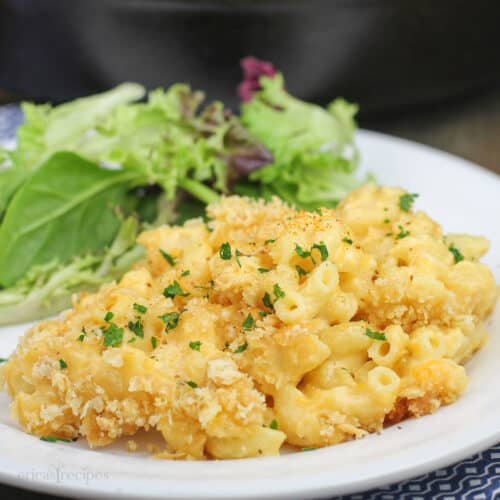 Macaroni and Cheese 
Basic Creamy Macaroni and Cheese is the best homemade mac and cheese recipe. Make this classic for a family-favorite dinner or as a foundation with unlimited variations.
Instructions
Bring a large pot of water to a boil.

Cook the macaroni in the water to al dente according to package directions.

In the meantime, melt 2 Tablespoons butter over medium heat. Whisk in the flour until smooth and bubbly. Cook 1 minute.

Add the milk and whisk constantly until smooth. Increase heat to high and cook, whisking constantly, until the milk starts to steam (~2 minutes). Remove from the heat.

Add the cheeses, mustard, salt, and pepper. Stir until cheese is almost melted (*see Notes). Add the drained macaroni. Transfer to greased 2-qt baking dish.

Melt remaining 1 Tablespoon butter and toss with the crushed crackers and parmesan. Sprinkle the buttered crumbs mixture over the macaroni.

Bake, uncovered, at 350°F for 15-20 minutes until bubbly and golden brown on top.
Notes
When adding the cheese to the sauce, stir until the cheese is mostly melted, but the mixture does not need to be completely smooth. Visible bits of cheese are a perfectly good thing.
Nutrition
Calories:
462
kcal
(23%)
|
Carbohydrates:
40
g
(13%)
|
Protein:
18
g
(36%)
|
Fat:
23
g
(35%)
|
Saturated Fat:
14
g
(88%)
|
Monounsaturated Fat:
2
g
|
Cholesterol:
65
mg
(22%)
|
Sodium:
541
mg
(24%)
|
Potassium:
264
mg
(8%)
|
Fiber:
2
g
(8%)
|
Sugar:
5
g
(6%)
Calorie count is purely an estimate calculated using an online application to serve as a guide and not to be taken as accurate nutritional information. Percent Daily Values are based on a 2,000 calorie diet.
Tried this recipe?
Leave a comment below and let me know!