Cauliflower and Kale Gratin (Gluten-Free)
Cauliflower and Kale Gratin is a beautiful and decadent gluten-free gratin. Plenty of veggies and cheese for a side dish worthy of any table, but with a couple smart swaps to keep this recipe gluten-free.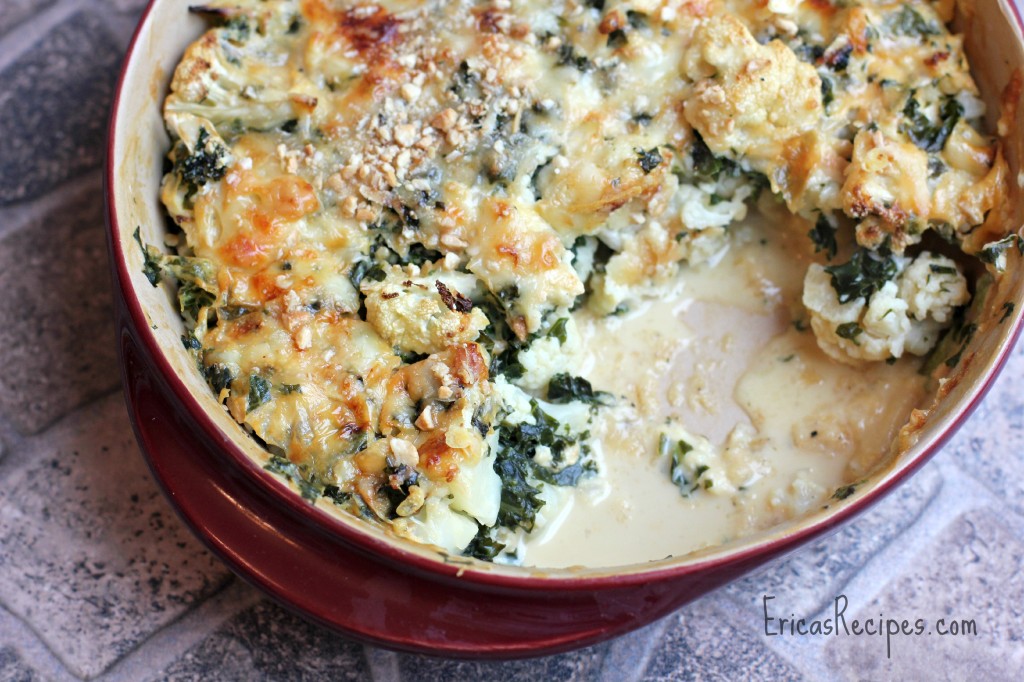 Do I care about avoiding gluten? Nope. Not at all. There's a lot of things I avoid, but gluten just isn't one of them. But I know many people do either by choice or because they have to, and, hence, this recipe. Because no matter what, everyone still needs to eat well.
I love gratins. I love anything baked in cream and cheese …duh. And I do make a killer gratin. But at 40+, I can't eat like I used to. Yep, I said it. I can't. And I don't eat near enough veggies…never have (I hear my mom in my head right now). In my more recent forays into veggie territory though, I am liking them more and more. It's all in the preparation I think. But can a gratin actually be healthy and still be a great gratin? Ahhh, there was the real challenge…
A serving of this gratin is only 233 calories. And, more importantly, it provides over 100% the daily requirement for vitamin A, over 150% vitamin C, and over 50% calcium. And now that I've just polished off half of what is pictured above, I can confidently say that cauliflower and kale are awesome in this lightened-up and gluten-free gratin. I am full and happy. So while I set out to develop a vogue recipe and appeal to a trend, I ended up with a beautiful dish that I truly love for myself and my family too!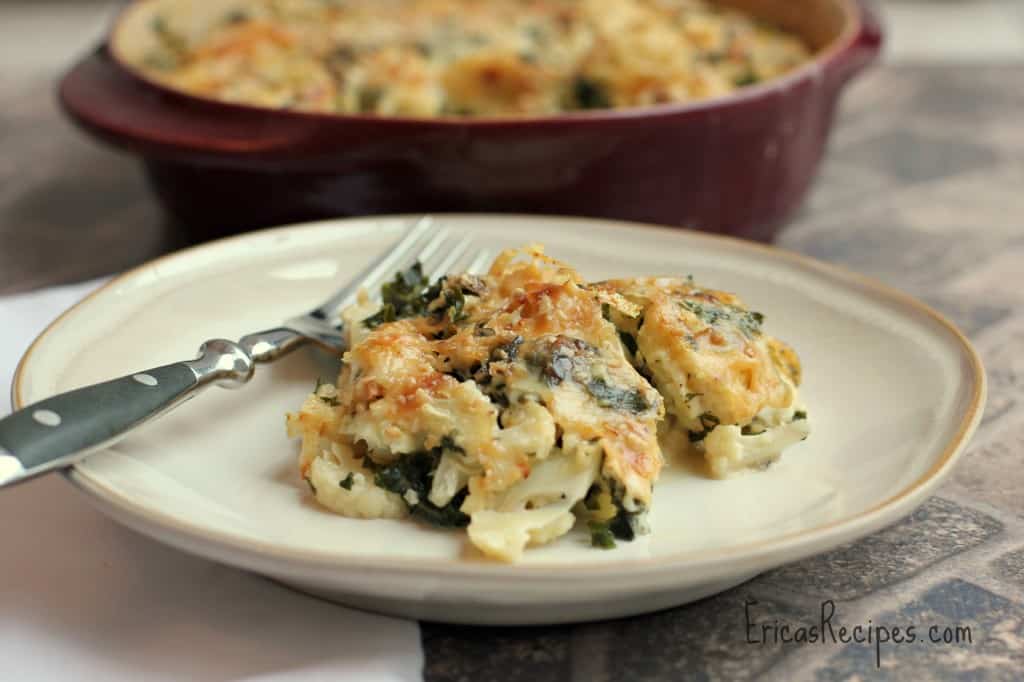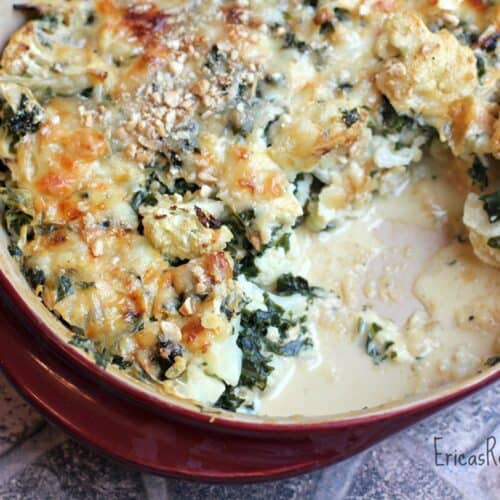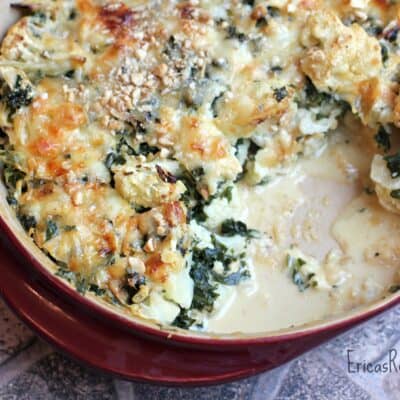 Cauliflower and Kale Gratin (Gluten-Free)
Ingredients
3

c

packed chopped kale, leaves only

¼

c

water

1

clove

garlic

minced

1

head cauliflower

cut into small florets

1-1/2

T

100% pure cornstarch

¾

c

low-fat evaporated milk

1

c

2% Vermont white cheddar cheese

¼

c

freshly shredded Parmigiano-Reggiano

½

t

kosher salt

pinch

nutmeg

pinch

fresh cracked pepper

1

T

finely ground cashews

olive oil cooking spray

or olive oil in a mister
Instructions
Preheat oven to 375F.

Heat the olive oil in a large, nonstick skillet on high heat. Add the kale (leaves only, no woody stems) and saute 1 minute. Add the water and cook, stirring until the water has evaporated and the kale is nice and wilted. Add the garlic and saute briefly until garlic is lightly browned and kale is just slightly charred. Remove to a cutting board and chop finely.

In a bowl, combine the evaporated milk, cornstarch, salt, pepper, and nutmeg.

In another bowl, toss together the cauliflower and finely chopped kale. Transfer to a baking dish sprayed with olive oil. Pour the milk-cornstarch mixture over the veggies. Top with the cheeses. Lastly, top with a very light layer of cashews.

Take a piece of foil large enough to cover the casserole and spray one side with cooking spray. Put the foil over the casserole, oil-sprayed side down, and wrap to cover the gratin. Bake 30 minutes at 375F. Remove the foil and continue baking another 20-30 minutes until the cauliflower is tender and the top of the gratin is bubbly and lightly browned. If there is excess liquid at this point, simply spoon or siphon it off. Let stand 10 minutes before serving. Yield: 4 servings.
Calorie count is purely an estimate calculated using an online application to serve as a guide and not to be taken as accurate nutritional information. Percent Daily Values are based on a 2,000 calorie diet.
Tried this recipe?
Leave a comment below and let me know!
~✿♥✿~