Haddock Baked in Lobster Sauce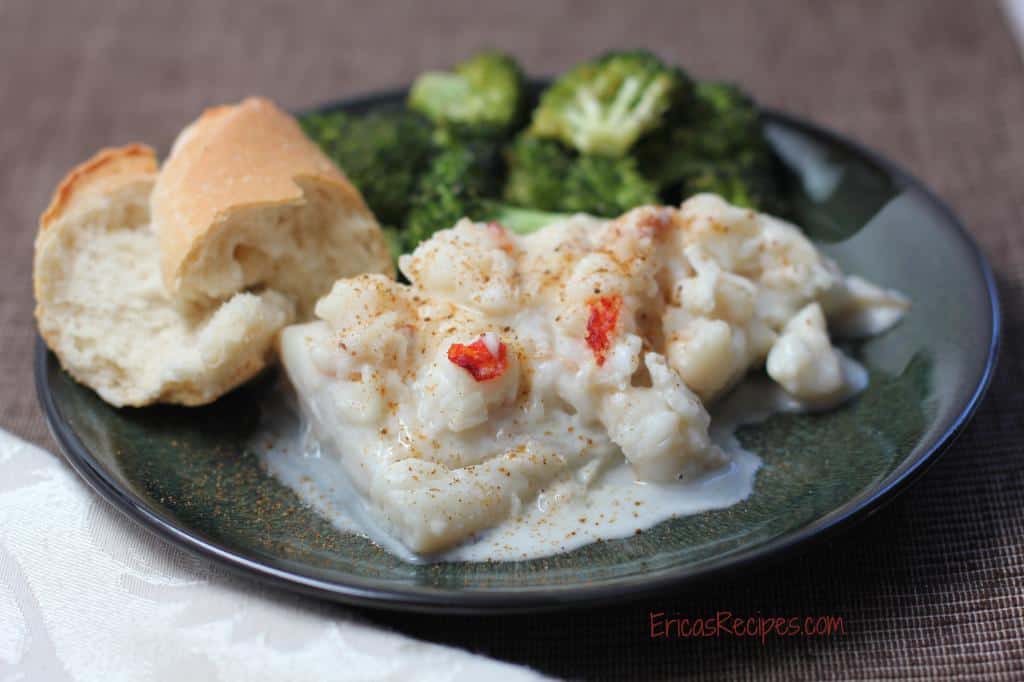 Here's a date-night dish if there ever was one. On the other hand, I've made this on regular weeknights too. It looks snazzy, but this recipe is just a quick bechamel, add cheese and the lobster, then bake over the fish. This is a very traditional New England way to cook seafood. In fact, it's also versatile because the haddock can be substituted with any firm white fish (such as cod), and the lobster can be substituted with more affordable options like rock shrimp or crab. Regardless, this dish is delicious and special, but completely approachable.
Haddock Baked in Lobster Sauce
3 T unsalted butter
3 T all-purpose flour
1/2 c milk
1/2 c half and half
3/4 c shredded sharp Vermont white cheddar cheese
6 oz cooked lobster meat, chopped
1/2 t kosher salt
pinch fresh cracked pepper
1/4 c dry sherry
1 1/2 lb haddock
Old Bay seasoning
Melt butter in saucepan. Add flour and cook 2 minutes, stirring often, to make a roux. Whisk in the milk and cream, and cook, stirring constantly, a couple minutes until just slightly thickened. Remove from heat. Add the cheese, and stir until cheese is melted and sauce is smooth. Add the lobster, sherry, salt, and pepper.
Place the fish skin side down in a 9×13″ baking dish. Pour the lobster sauce over. Bake at 350 uncovered for 25 min or until fish flakes easily. Serve with a little Old Bay dusted on top. Serves 4-6.

~✿♥✿~