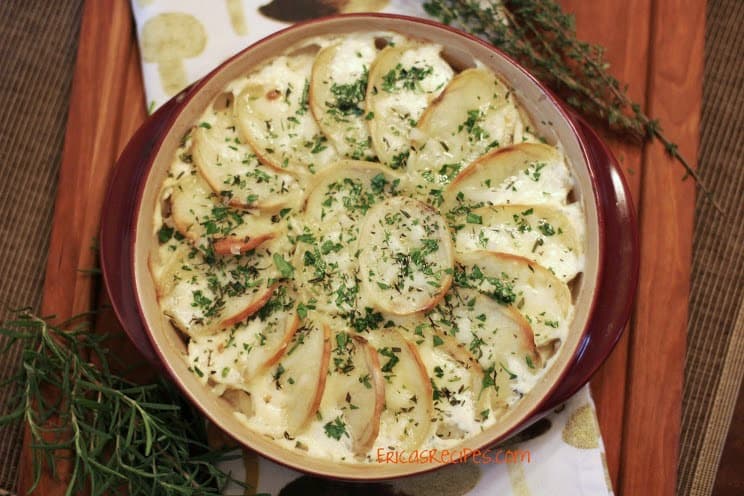 The other day, as an homage to Bastille Day in France, I attempted to make a potato gratin. While it was absolutely beautiful in the photo, it was a complete fail. For multiple reasons. Too soupy, too herby (I had thrown my whole herb garden at it), too bland (I had completely forgotten salt) – just disappointing. As anyone who cooks knows, especially if you make up recipes like I do, failures happen. So, a couple days later, I tried again and fixed what was wrong originally. And I am very VERY happy with the result. This gratin is beyond good – just the right balance flavors! And gorgeous 🙂
Herbed Potato Gratin
1 T unsalted butter
1 T flour
1-½ c half and half
1 clove garlic, finely chopped
1/2 t fresh rosemary, minced
1 T fresh parsley, minced
1/2 t fresh thyme, minced
kosher salt
freshly ground black pepper
2 russet potatoes, peeled and cut into 1/8-inch thick slices
2 T finely diced onion
½ c shredded Swiss cheese
butter or cooking spray
Preheat the oven to 375.
In a small saucepan, heat the butter and flour, whisking until smooth. Cook the flour over medium heat 1 minute. Whisk in the half and half until smooth. Add a pinch of salt and pepper. Remove from the heat and set aside.
Place a third of the potatoes in a casserole dish (buttered or sprayed with cooking spray). Season the potatoes with a pinch each salt and pepper. Top with half the onion and a third of the herbs and a third of the cheese. Sprinkle on half the chopped garlic. Repeat, layering potato, salt, pepper, remainder of the onion and garlic, and another third each of the herbs and cheese. Finish with the remainder of the potatoes and a last pinch of salt.
Pour the prepared half and half over the potatoes, using a rubber spatula to be sure to get it all out of the saucepan. Bake, uncovered, for 50-60 min until the potatoes are cooked through. Sprinkle on the remainder of the cheese and herbs. Serve once the cheese on top has melted.
~✿♥✿~