Air Fryer Brussel Sprouts
Air fryer brussel sprouts with parmesan are perfectly tender and so flavorful. Serve with quick and easy lemon aioli for a delicious appetizer or side dish.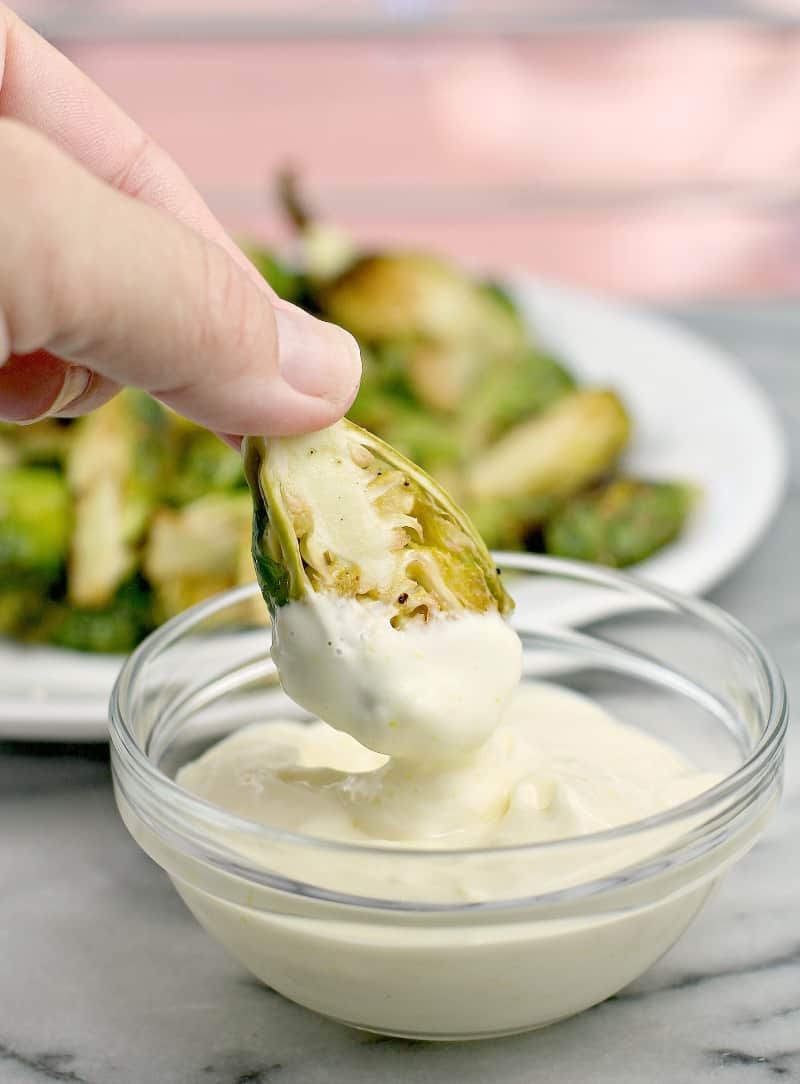 If you love brussels sprouts and if you have an air fryer, you have GOT to make this Air fryer brussel sprouts with parmesan recipe.
These are the quickest best yummiest tender crispy lovely little veggie sprouts with a lemony mayo dip ever.
Yum yum yum! Which is really weird for me to say since I'm actually not all that big a fan of veggies.
So when I find a veggie recipe that I love, you can take it to the bank.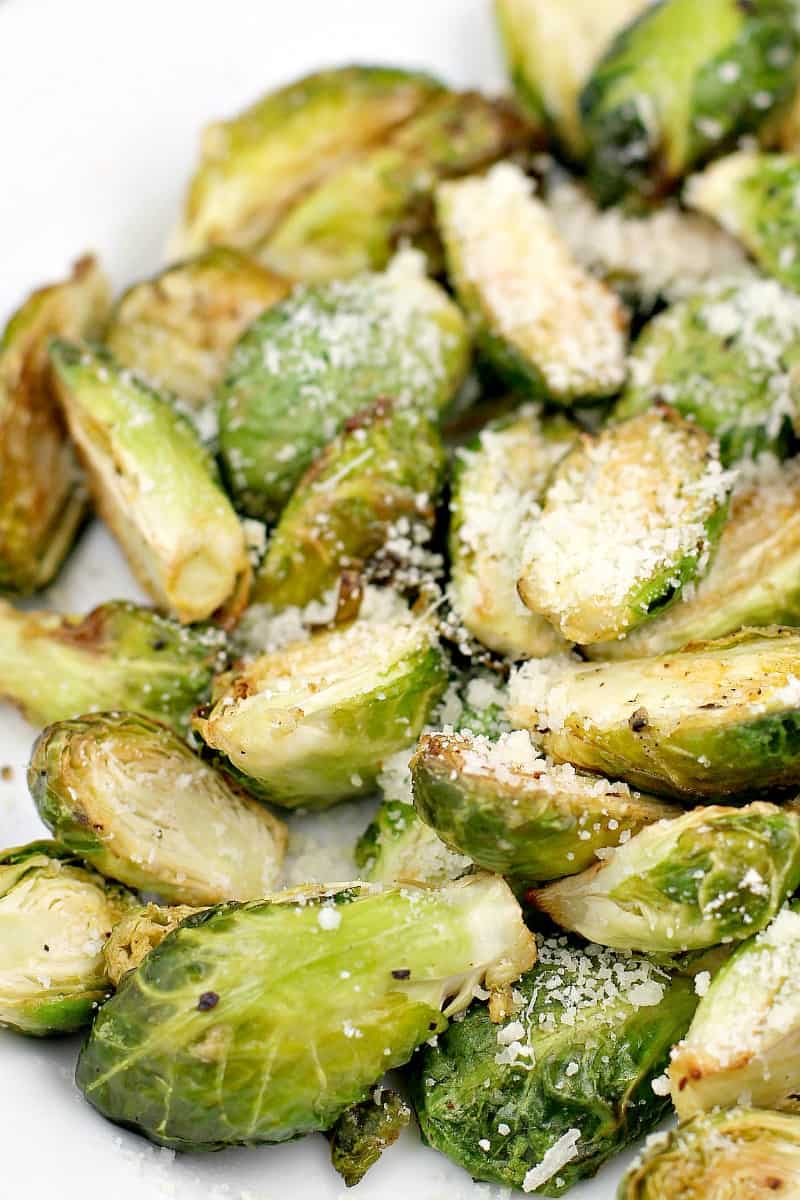 What are brussel sprouts exactly
Brussel sprouts, or actually Brussels sprouts to be completely correct, are fun little cabbages. Popular in Brussels, Belgium (surprise), they grow on thick stocks and are pretty easy to grow in your own garden.
So, since they are little cabbage buds, you cook them like cabbage. In other words, you don't want to steam them or overcook them because, just like regular cabbage, they will get wilty and even slimy.
Therefore, the best ways to cook brussel sprouts are traditionally either by roasting in the oven or sauteing in a pan, often with bacon.
Enter our air fryer and new bestie kitchen toy, which makes serving up these little green beauties fast, perfect, and delicious.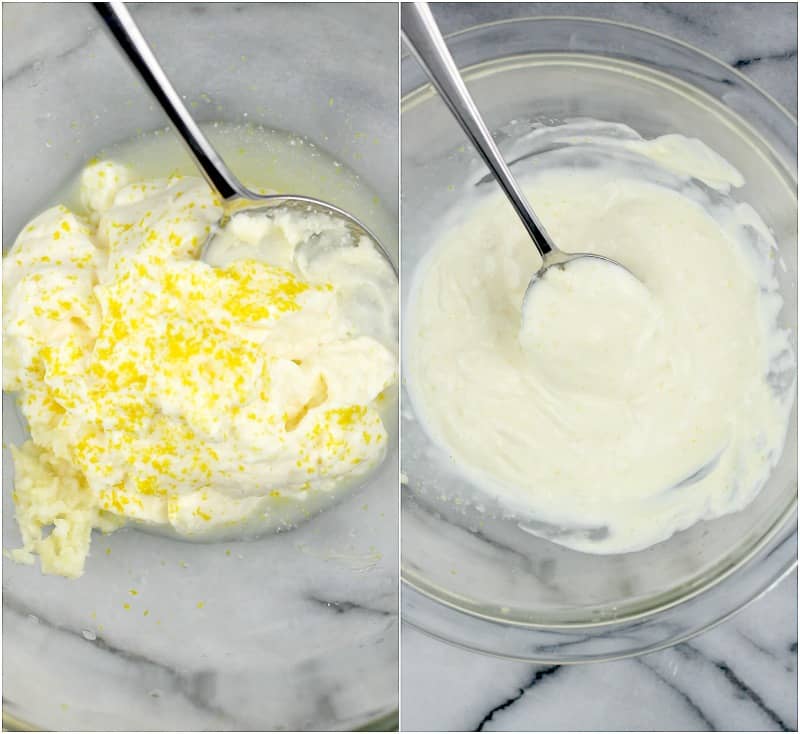 How to make air fry brussel sprouts
Like most vegetables, roasting or air fryer-ing in a tangly, lemony, Dijon mustardy mixture wins the day.
So, for this recipe, we do the following:
Make our super quick lemon aioli. An aioli is a flavored mayonnaise, so I cut the corner of making from scratch and used purchased mayonnaise.
Make our vinaigrette. With olive oil, lemon, garlic, and Dijon mustard bring all the yum.
Prepare the sprouts and toss in the vinaigrette. Prepping brussel sprouts is easy: trim just the little bit off the tough ends and remove the outer leaf or two.
Cook in the air fryer. Give the basket a shake midway, and your sprouts are done in 12-14 minutes.
Without heating up the oven (and our houses), we have tender (but not soft) perfect brussel sprouts with the right amount of crispy edges on the leaves.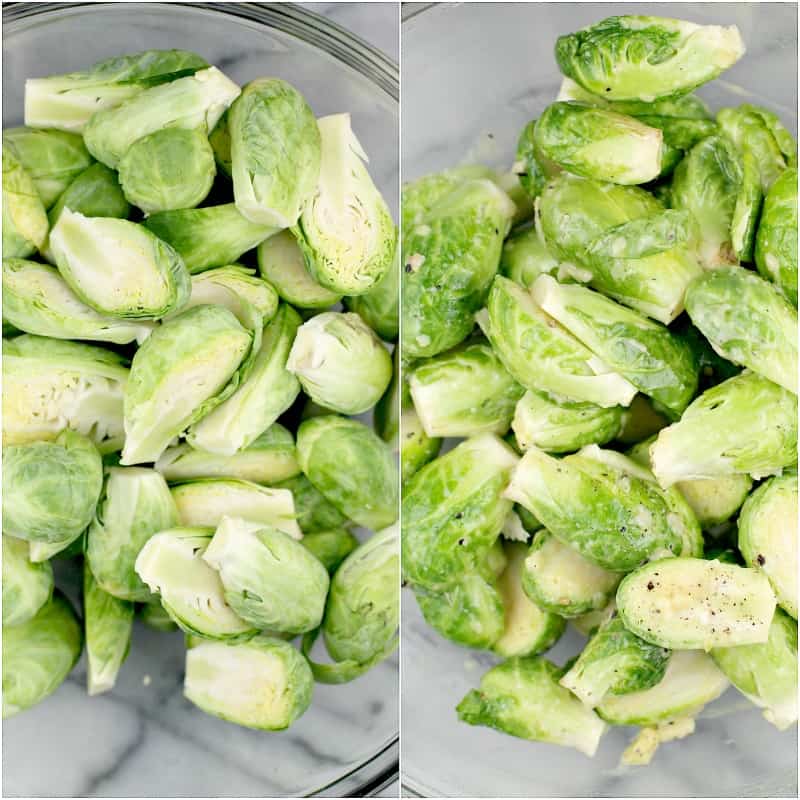 If you need an easy, beginner, fool-proof air fryer recipe to get acquainted, check out my Greek-Style Air Fryer Chicken Wings.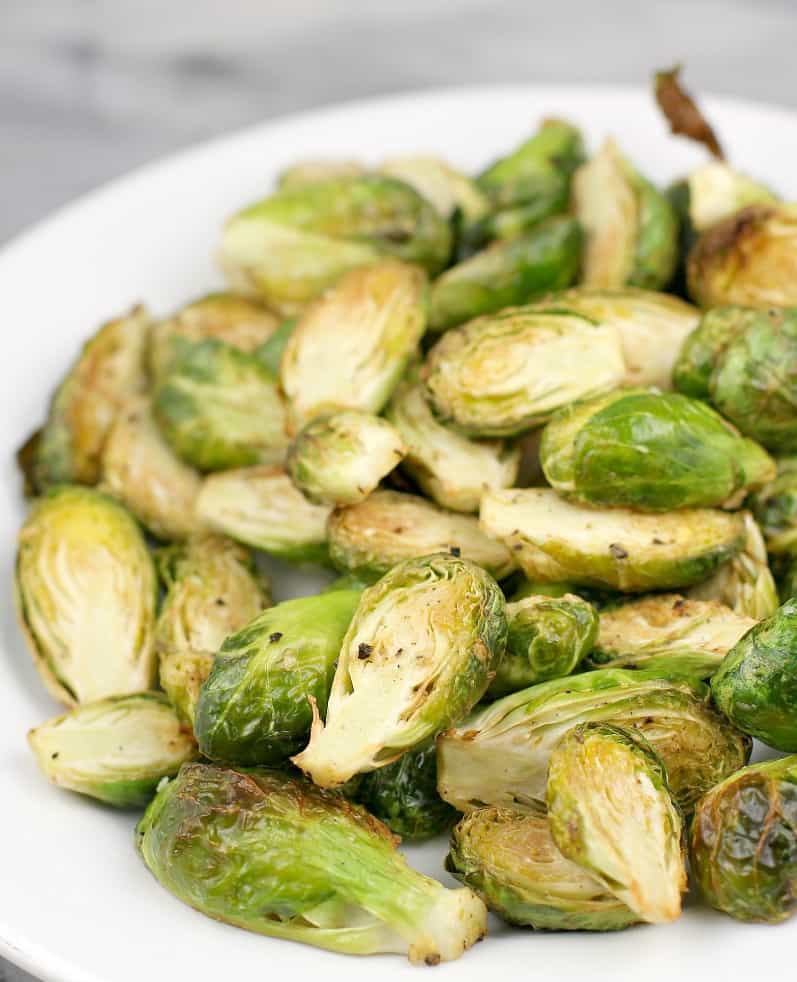 Can you make this recipe in advance?
Kinda. You can make the lemon aioli in advance, and I actually recommend that you make it at least 30 minutes or more so the flavors have time to blend.
But I do not recommend making the brussels sprouts in advance because you really want to serve them straight away and enjoy the freshly cooked texture. We don't want slimy sprouts.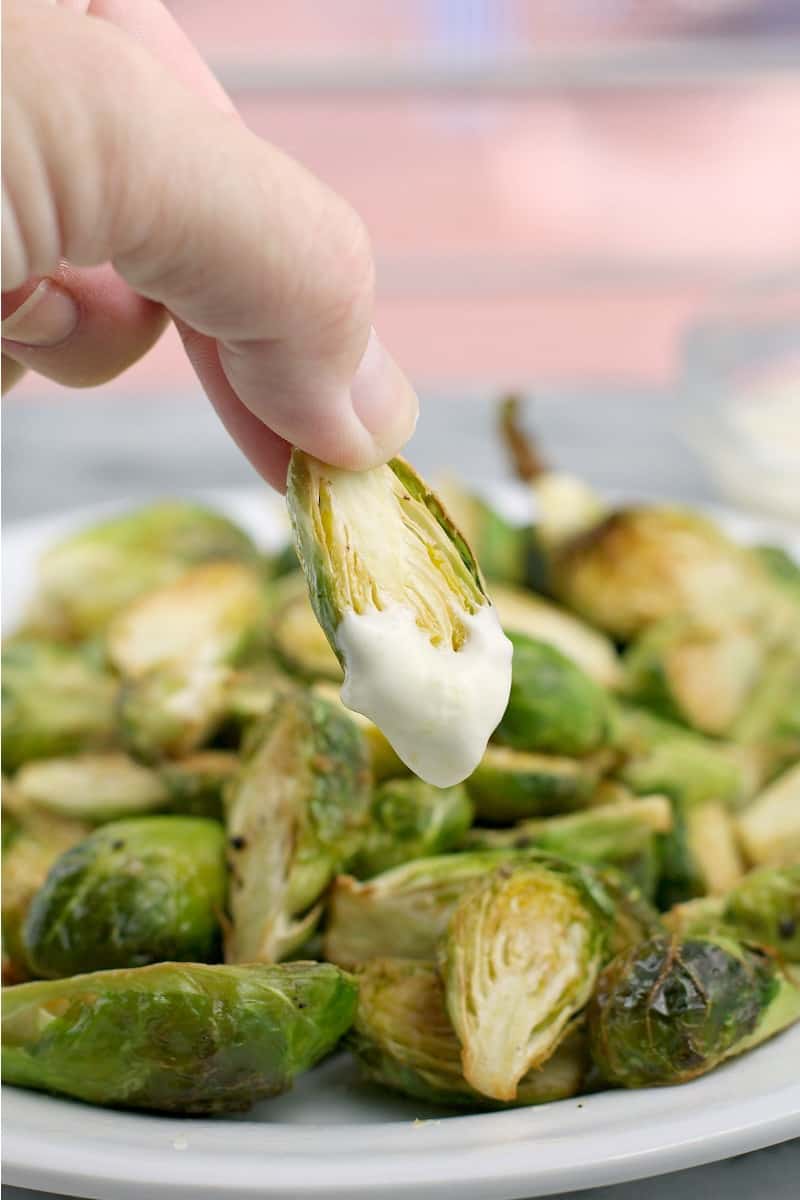 Will this cooking method work with other vegetables?
Yes! Use this vinaigrette with asparagus, cauliflower, broccoli, or green beans, and air fry away.
Note that cooking times will vary, depending on the vegetable and how you like them cooked. I abhor soggy veggies and prefer them to retain texture, but this is me. You may like them more tender.
So I recommend to get your veggies of choice (wonderfully coated in vinaigrette) cooking in the air fryer, then check at 5 minutes (it's good to give the basket a shake anyway at this point), then you can see how they are cooking.
Cook another 5 minutes, and judge again. Repeat until desired doneness. Figure that asparagus will cook more quickly, broccoli will take longer, and green beans and cauliflower are probably somewhere in-between. Experiment!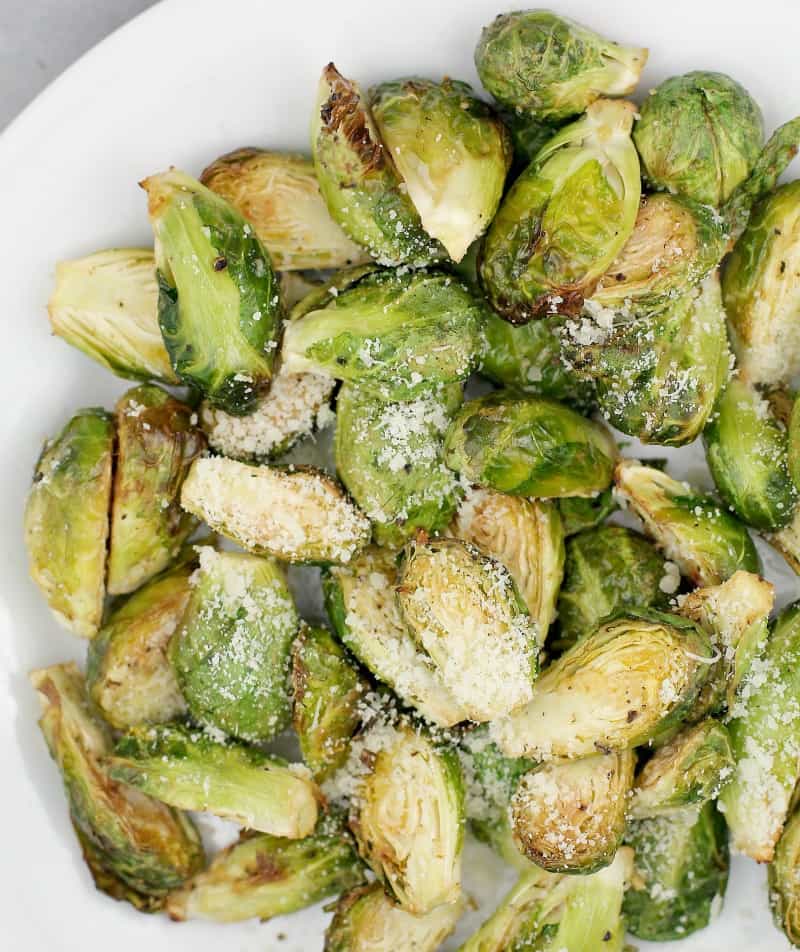 Last Tips
Any variant of parmesan cheese that meets your fancy (or you have on hand) will work. Shaved, shredded, grated. Just be sure it is fresh Parmigiano-Reggiano cheese.
It takes like 5 minutes, but it is worth it to trim off a little bit of the end of the sprouts. This is the part that will be a little brown when you purchase them.
Also remove the outer leaves, just a leaf or 2. They are softer and kinda broken in, and will fall off anyway when you toss in the vinaigrette. We want the nice, tender inner protected leaves.
Always preheat your air fryer before adding your food to cook.
Rather than using the timer on the air fryer, I put the time to the max time allowed, then use my oven kitchen timer. If the timer on the air fryer goes off, it shuts off and we don't want that until we know we are done cooking.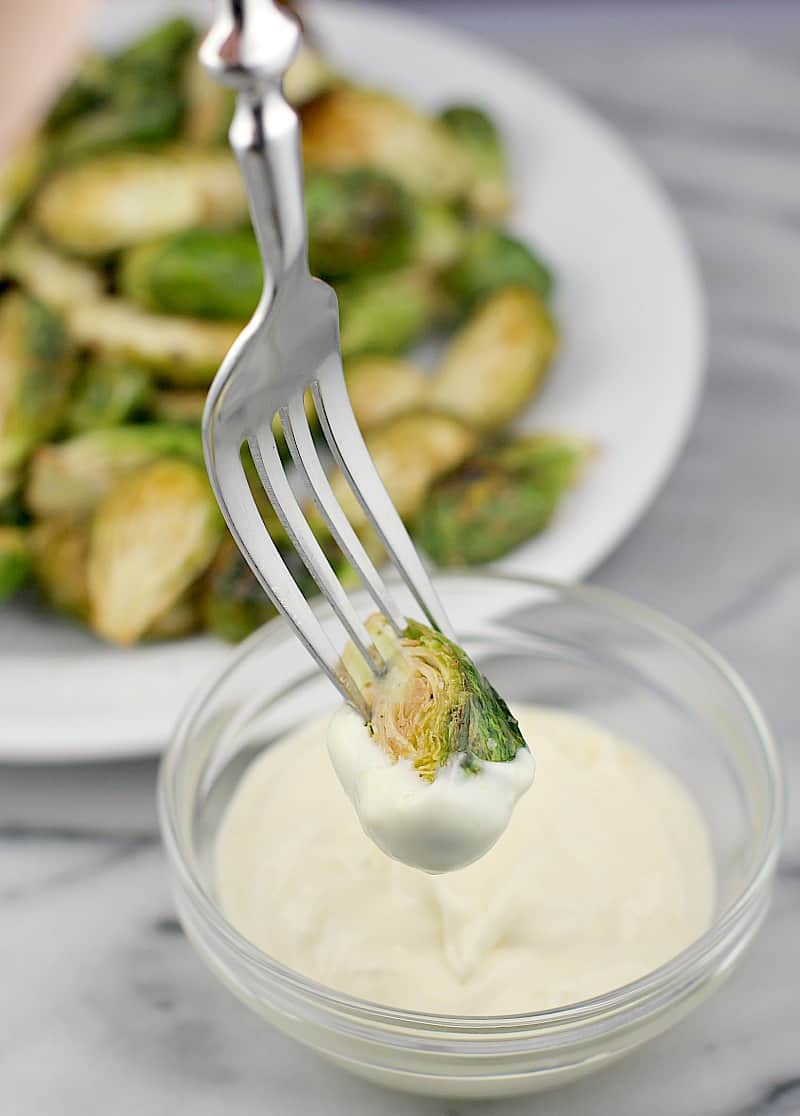 Looking for more easy vegetable dishes?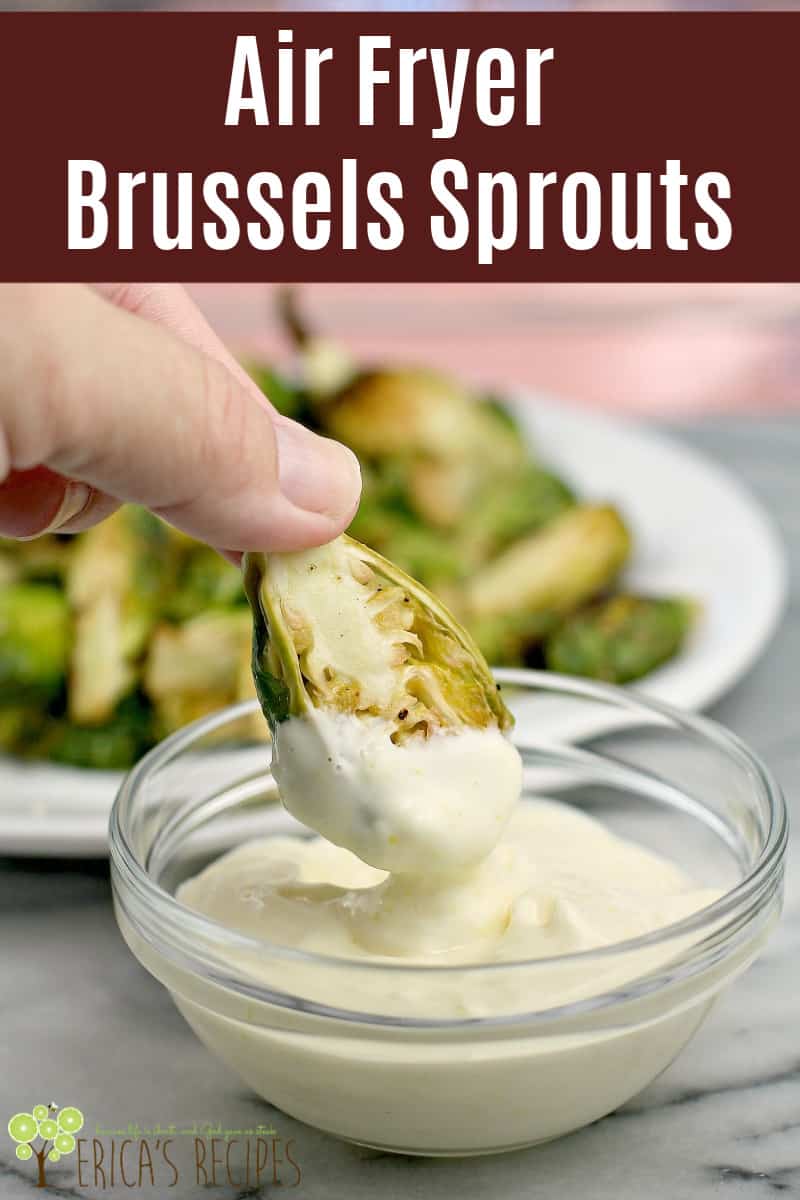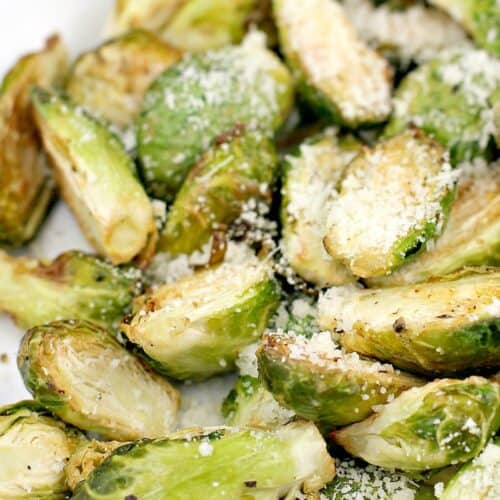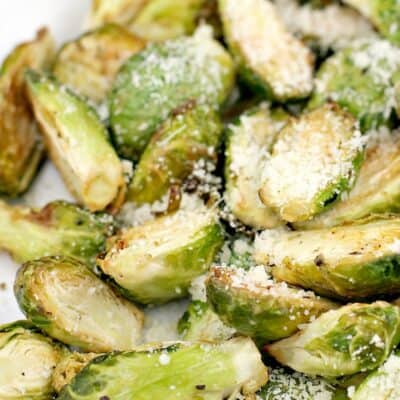 Air Fryer Brussel Sprouts
Air fryer brussel sprouts with parmesan are perfectly tender and so flavorful. Serve with quick and easy lemon aioli for a delicious appetizer or side dish.
Ingredients
For the Lemon Aioli
½

cup

mayonnaise

juice of half a lemon

zest of a lemon

1

small clove garlic

minced

pinch

kosher salt
For the Brussels Sprouts
1

lb

brussels sprouts

tough ends trimmed and tough outer leaves removed

1

Tbsp

extra virgin olive oil

juice of 1/2 a lemon

1

tsp

Dijon mustard

1

small clove garlic

minced

pinch

kosher salt

pinch

fresh cracked pepper

garnish: freshly grated parmesan cheese

see Notes
Instructions
For the Lemon Aioli
Combine the ingredients for the aioli in a small dish. Refrigerate until ready to serve (at least 30 minutes).
For the Brussels Sprouts
Heat up the air fryer to 320°F.

In a medium bowl, combine the olive oil, lemon juice, Dijon, garlic, salt, and pepper to make a vinaigrette.

Add the sprouts to the vinaigrette and toss to coat.

Transfer the sprouts to the air fryer basket and cook 12-14 minutes (giving the basket a shake midway) until brussels sprouts are al dente tender and edges are crispy.

Top with parmesan cheese. Serve with lemon aioli for dipping.
Notes
Fresh shaved parmesan cheese is also great for this recipe.
Nutrition
Calorie count is purely an estimate calculated using an online application to serve as a guide and not to be taken as accurate nutritional information. Percent Daily Values are based on a 2,000 calorie diet.
Tried this recipe?
Leave a comment below and let me know!