Broccoli-Stuffed Portabello Mushrooms with Dijon-Cheddar Sauce
Light and healthy, these vegetarian Broccoli-Stuffed Portabello Mushrooms with Dijon-Cheddar Sauce will satisfy your comfort food craving but not break the calorie bank. So delicious, your whole family will love them.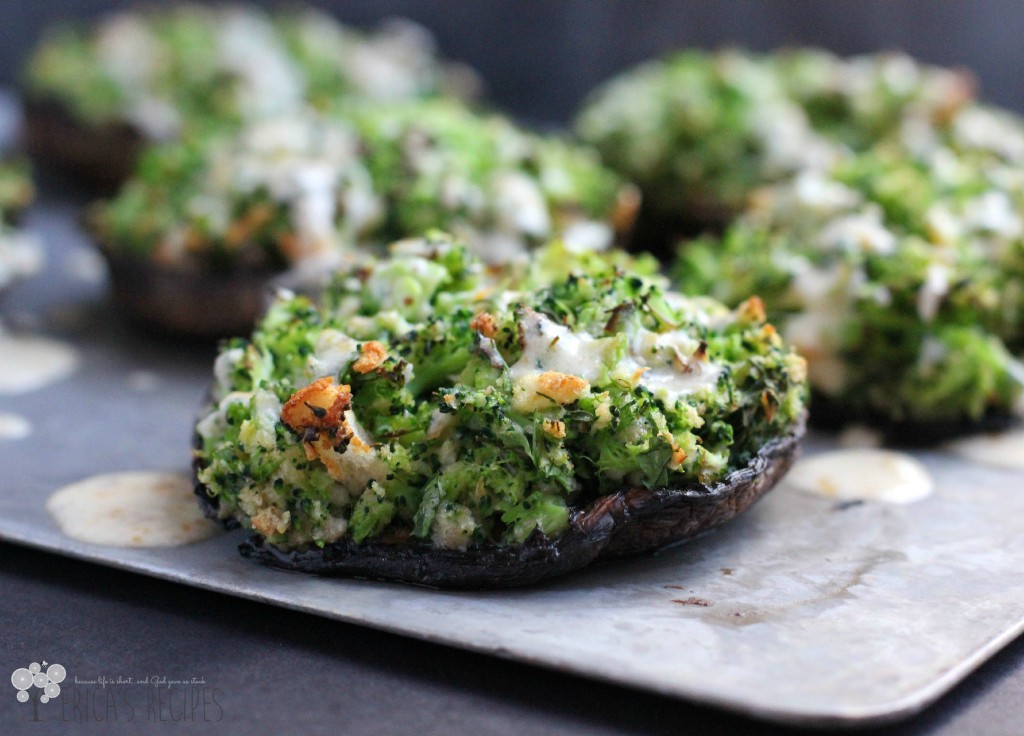 Since my daughter and I, for the most part, have given up eating land animals for a while, I am now faced with the challenge each evening of preparing dinners that meet the different dietary needs and desires of four people. A couple considerations: 1) I am not about to cook multiple meals – ain't gonna happen; 2) we can't afford to eat seafood every night; and 3) my husband does very well eating a couple vegetarian dinners a week without complaint (which I truly appreciate), but if I removed meat entirely he would not be happy. So, beautiful, healthy, giant stuffed shrooms were my solution one night …paired with a nice, lean grilled Top sirloin steak. …Yep, I know how to keep mah man happy.
I wanted a new vegetarian dish …a broccoli-cheese something, a stuffed portabello something. I loooove stuffed mushrooms, as evidenced here, and I wanted THAT in the form of dinner. I had also used broccoli as a stuffing in healthy Potato Skins – broccoli makes a fabulous stuffing! – so that was the clear path to take. Then adding a drizzle of light cheddar cheese sauce was just logical.
These broccoli-stuffed caps were soooo good – they really really were. It's amazing how when I eat something like these, I don't even think about the fact that it's vegetarian. Portabellos check that box for me. These stuffed shrooms even reheated really well the next day with a quick zap in the microwave. And only 195 calories per cap!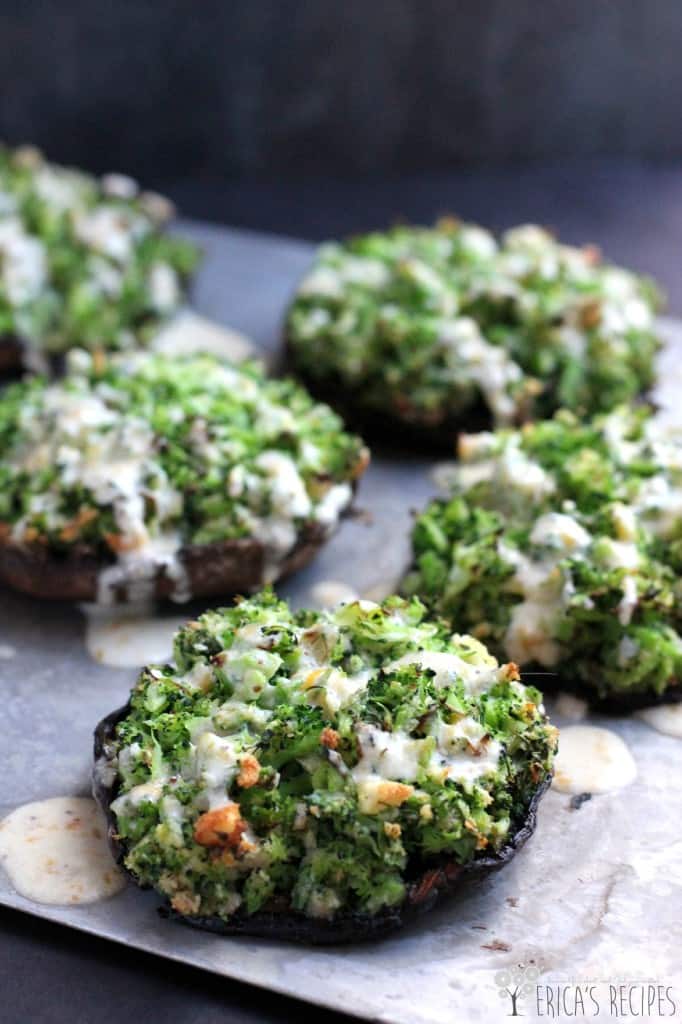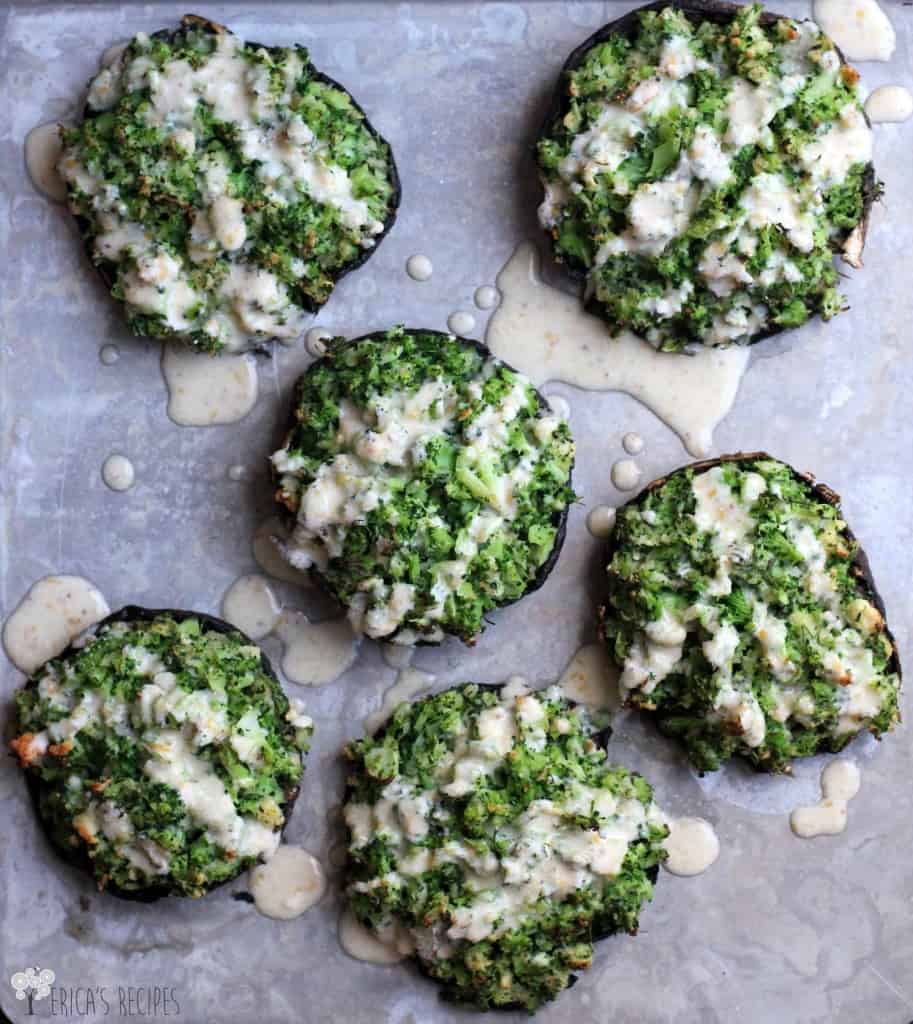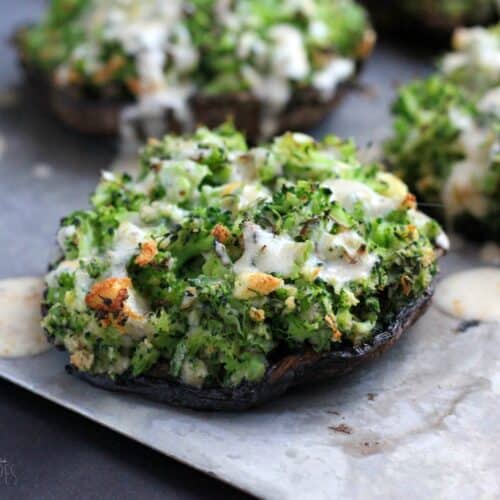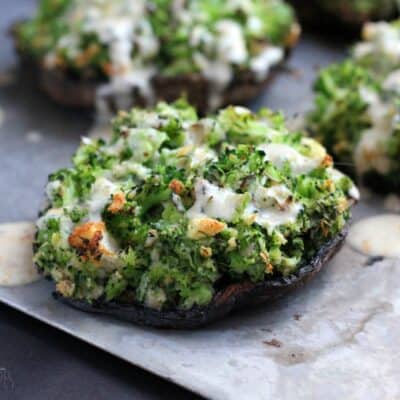 Broccoli-Stuffed Portabello Mushrooms with Dijon-Cheddar Sauce
Ingredients
6

large portabello mushroom caps

olive oil cooking spray or olive oil in a mister

10

oz

fresh broccoli florets

1

cup

fresh bread crumbs made from day-old bread

2

Tbsp

fresh Italian parsley

chopped

1

Tbsp

fresh thyme leaves

chopped

1

egg

lightly beaten

½

+ 1/4 t kosher salt

divided

pinch

fresh cracked pepper

2

tsp

unsalted butter

2

tsp

all-purpose flour

1

cup

milk

not skim

1

cup

shredded sharp cheddar cheese

1

tsp

country-style Dijon mustard
Instructions
Heat oven to 400F. Bring a large pot of water to a boil.

Prepare the mushrooms: wipe off any dirt with a lightly damp paper towel. Remove the stems and discard (these can be saved, diced, and added to the stuffing, but mine were tough so I didn't save them). Using a spoon, gently scrape off the gills on the underside of the mushroom caps. Spray both sides with olive oil and place upside down on a bake sheet.

Blanch the broccoli in the boiling water 2 minutes. Transfer to a ice bath to stop the cooking. Drain. Chop finely (this can be accomplished easily with a mini chopper or by pulsing in a food processor).

In a large bowl, combine the chopped broccoli, bread crumbs, parsley, thyme, egg, 1/2 t salt, and pepper. Distribute the stuffing into the mushrooms. Bake at 400F for 15 minutes or until mushrooms are cooked through and juicy and the stuffing is lightly browned.

While the mushrooms are cooking, prepare the cheese sauce. In a medium saucepan over medium-high heat, whisk the butter and flour until smooth and bubbly. Cook an additional minute to cook the flour. Whisking constantly, slowly add in the milk. Cook, stirring constantly, until thickened enough to coat the back of a wooden spoon. Remove from the heat and whisk in the cheese, Dijon, and 1/4 t salt until smooth.

Serve the stuffed mushrooms with sauce drizzled over. Yield: 3 servings as a main course; 6 as a side.
Notes
You can easily double this recipe if needed to serve more people, but I would not bother doubling the Dijon-Cheddar Sauce - it makes enough as written. We only used about half of it for our mushrooms, then my daughter and I found the rest of the sauce worked awesome as an impromptu fondue for crusty bread.
Calorie count is purely an estimate calculated using an online application to serve as a guide and not to be taken as accurate nutritional information. Percent Daily Values are based on a 2,000 calorie diet.
Tried this recipe?
Leave a comment below and let me know!