Low Carb Chicken Tamale Casserole | Gluten-free (Keto Variation)
This Low Carb Chicken Tamale Casserole recipe is an easy Mexican chicken casserole perfect for using leftover chicken or turkey. Cheesy chicken and enchilada sauce over a green chile biscuit layer made with almond flour. Make this low carb casserole for your family!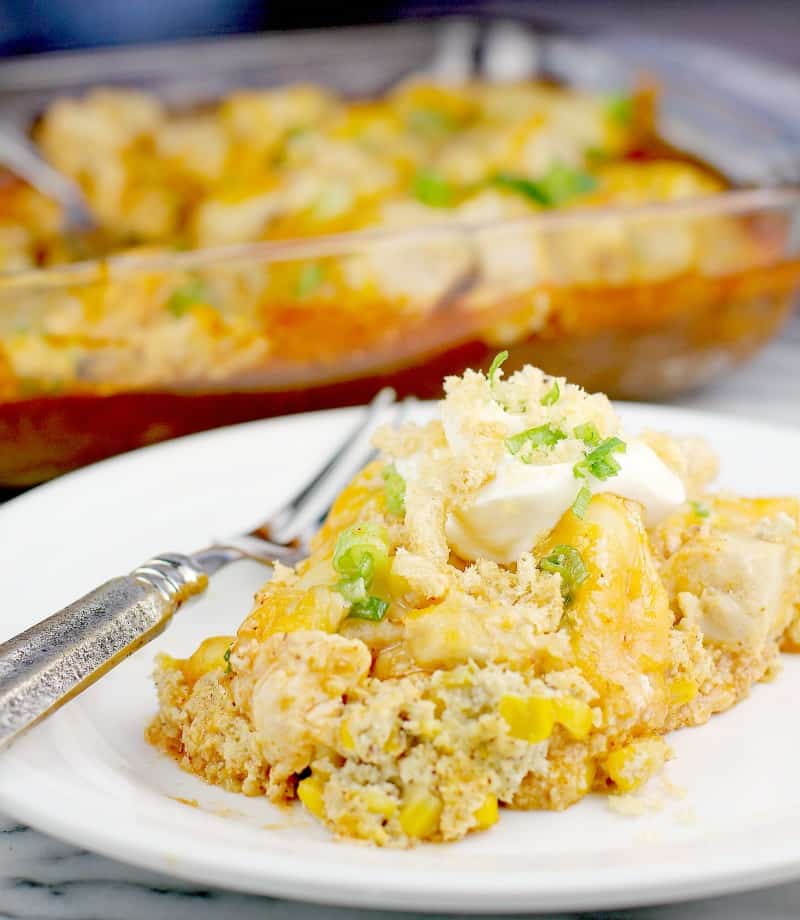 Look no further for your next low carb dinner! My Mexican chicken casserole recipe is ready in minutes, kid-approved, and is cheesy delicious.
Seems like so many people have to avoid things and have food issues – whether out of medical necessity or personal choice. I have friends and family that have had to forego gluten, corn, dairy, and soy.
All of it. It is a nightmare to adjust to this new way of life, and I get it.
This casserole recipe is low carb and gluten-free. It can be made lower carb and corn free (see below). It can be made soy-free if you are careful with your enchilada purchase or make your own. …Dairy? Uhhh, yeah that one we got. Lots. [shrugs]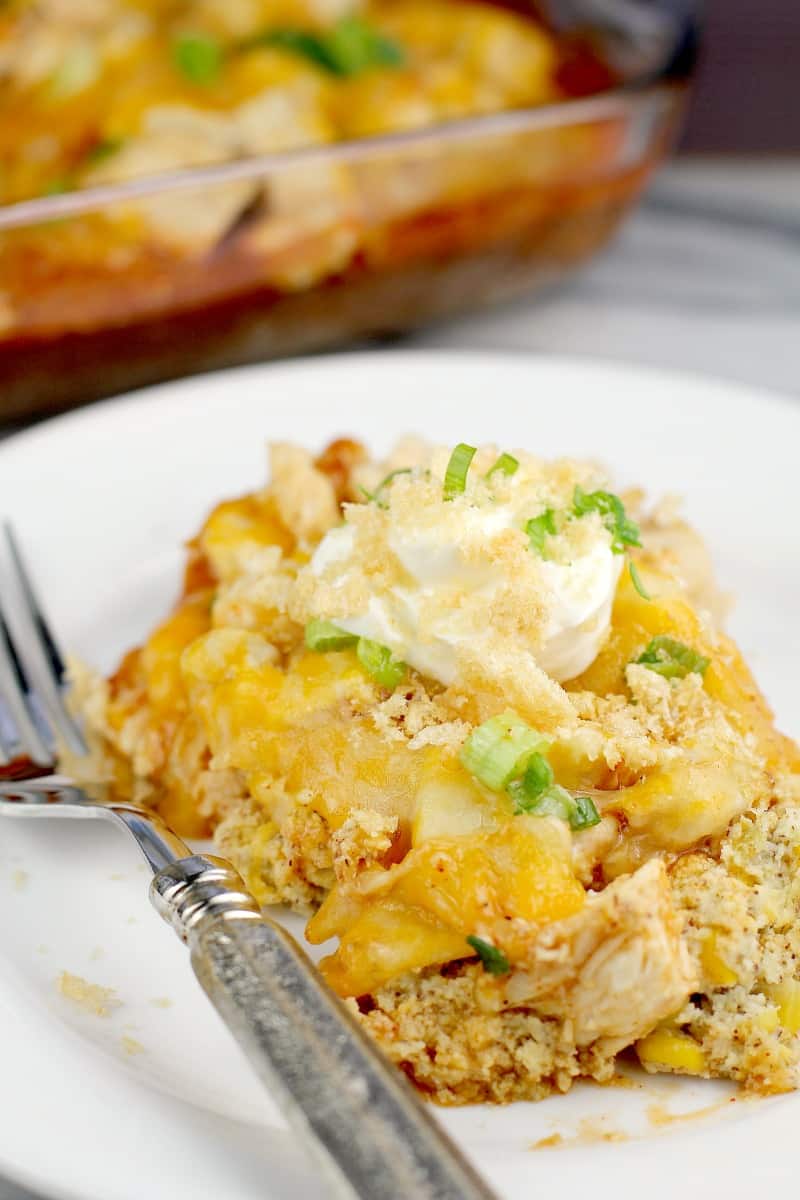 How is this Mexican chicken casserole low carb?
This recipe uses my low carb biscuit batter in place of cornbread.
We also use crushed pork rind (chicharones) instead of crushed tortilla chips for crunch on top.
I used canned enchilada sauce that showed 5g carbs per serving on the label. Double check your sauce doesn't have added sugar.
This handy casserole is low carb because unlike in my original Turkey Tamale Casserole, which uses a box of Jiffy cornbread mix, this recipe uses variation of my Low Carb Cheddar Bay Biscuit batter.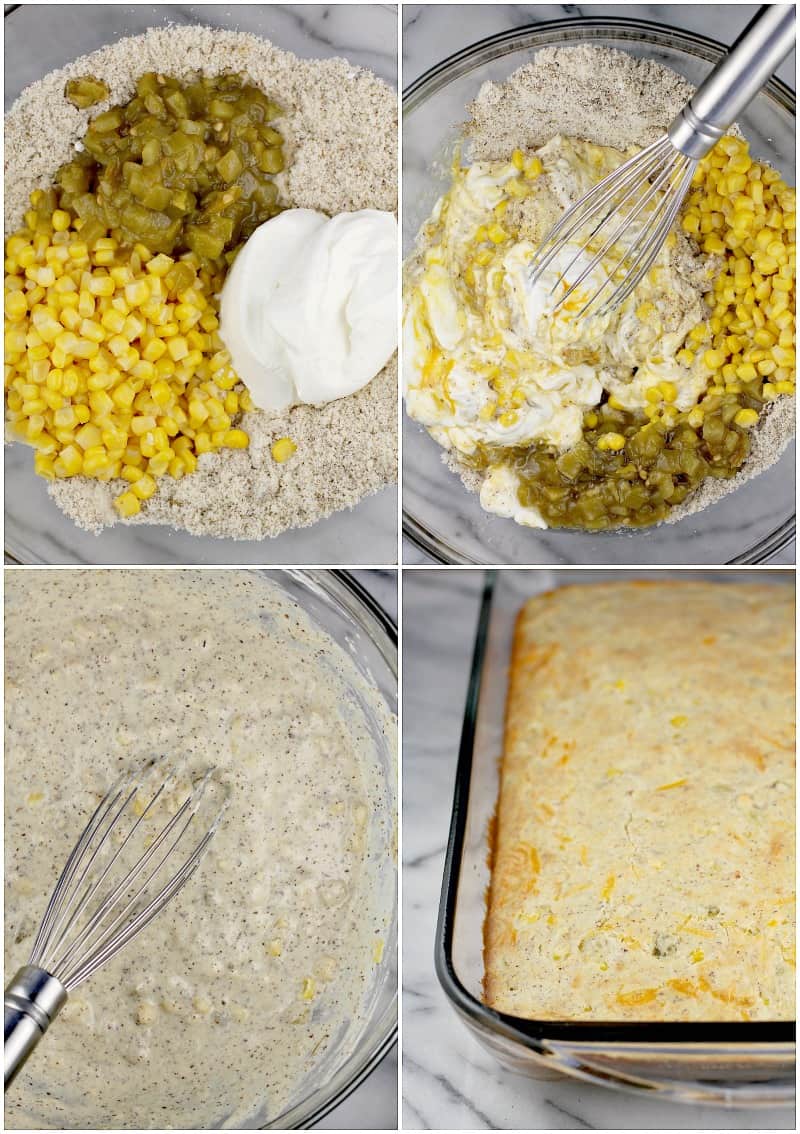 My low carb biscuits are magical. With cheddar cheese and Old Bay, they are reminiscent of Red Lobster biscuits. The thing about these biscuits though, is that by using almond flour, they have an almost cornbread-like texture.
So, putting 2 and 2 together, I thought "Hey!" That could maybe work in my tamale casserole recipe to make a low carb version.
And as such, this low carb chicken recipe was born.
Can I use turkey in this recipe?
YES! If fact I encourage you to stock these ingredients for the holidays to use up leftover turkey. This recipe is perfect for that.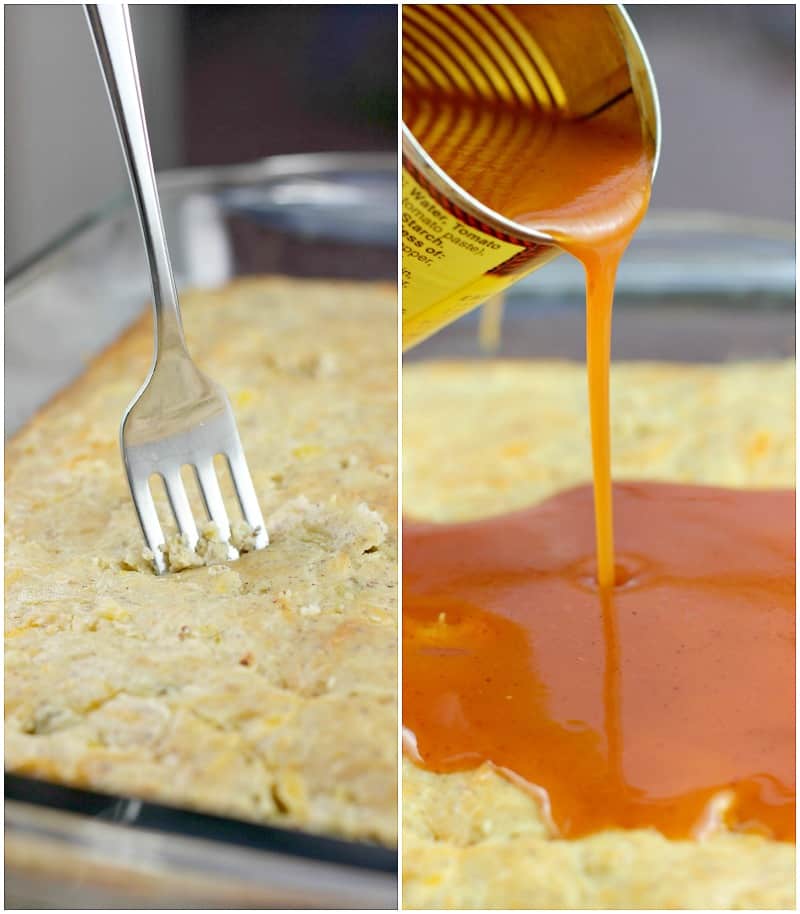 Is this Mexican chicken casserole recipe spicy?
Nope. Not unless you want it to be. In which case, add hot sauce. But as written this is not a spicy recipe because canned green chilies (I used Hatch chilies) are mild, not spicy.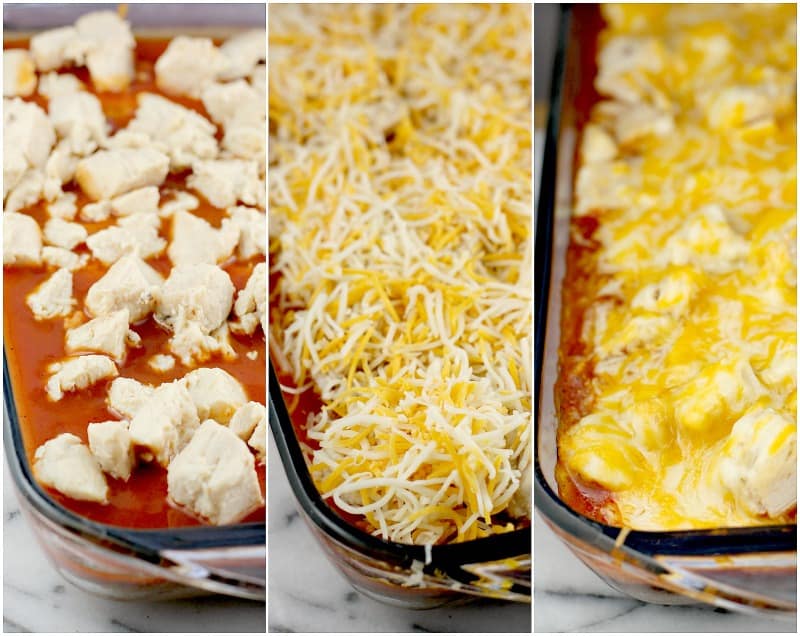 Does this casserole reheat well?
Yes it does! So if you are only serving a couple people, make it one, eat twice. Or enjoy leftovers for lunch the next day. Just heat in the microwave.
We reheat this low carb chicken casserole the same as any regular casserole.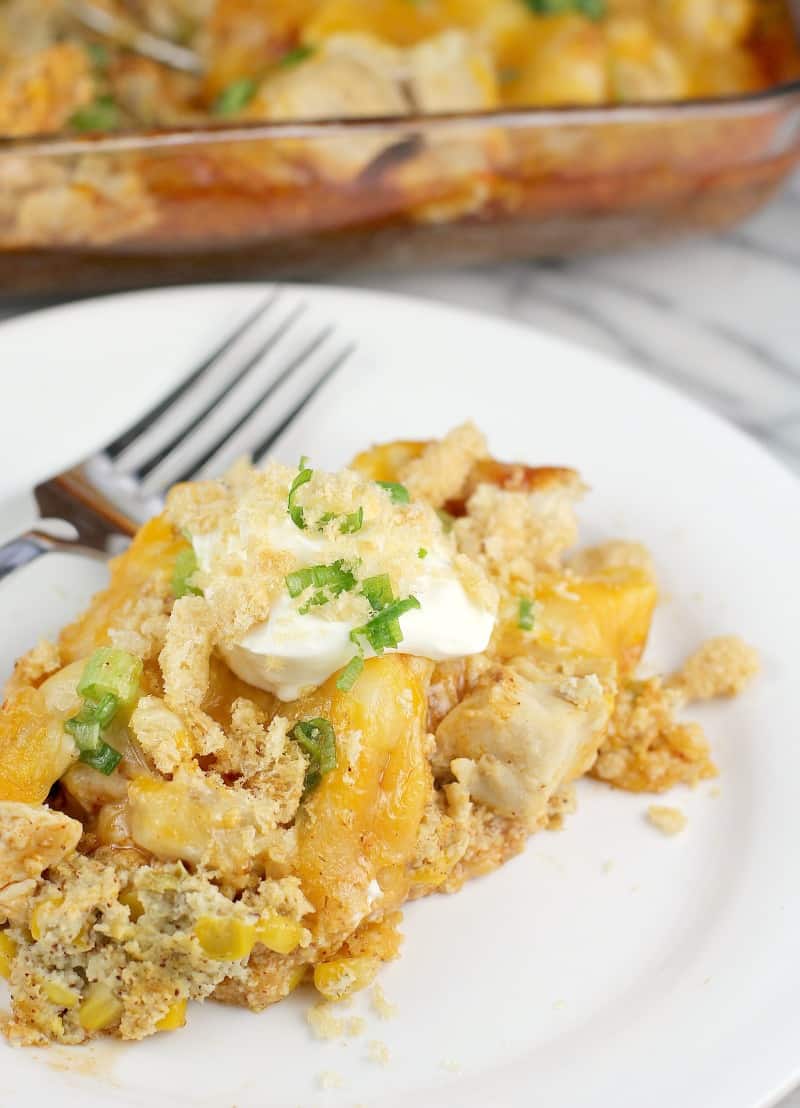 What is the keto variation?
This is pretty obvious and I realize I'm not being all that clever, but I just literally tell you in the recipe instructions to omit the corn if you want to bring the carb count down further.
Low carbers generally want carbs under 100g or even 50g a day. Strict keto-ers keep them under 20g a day. So by omitting the corn, we knock the carbs down from 17g to 12g.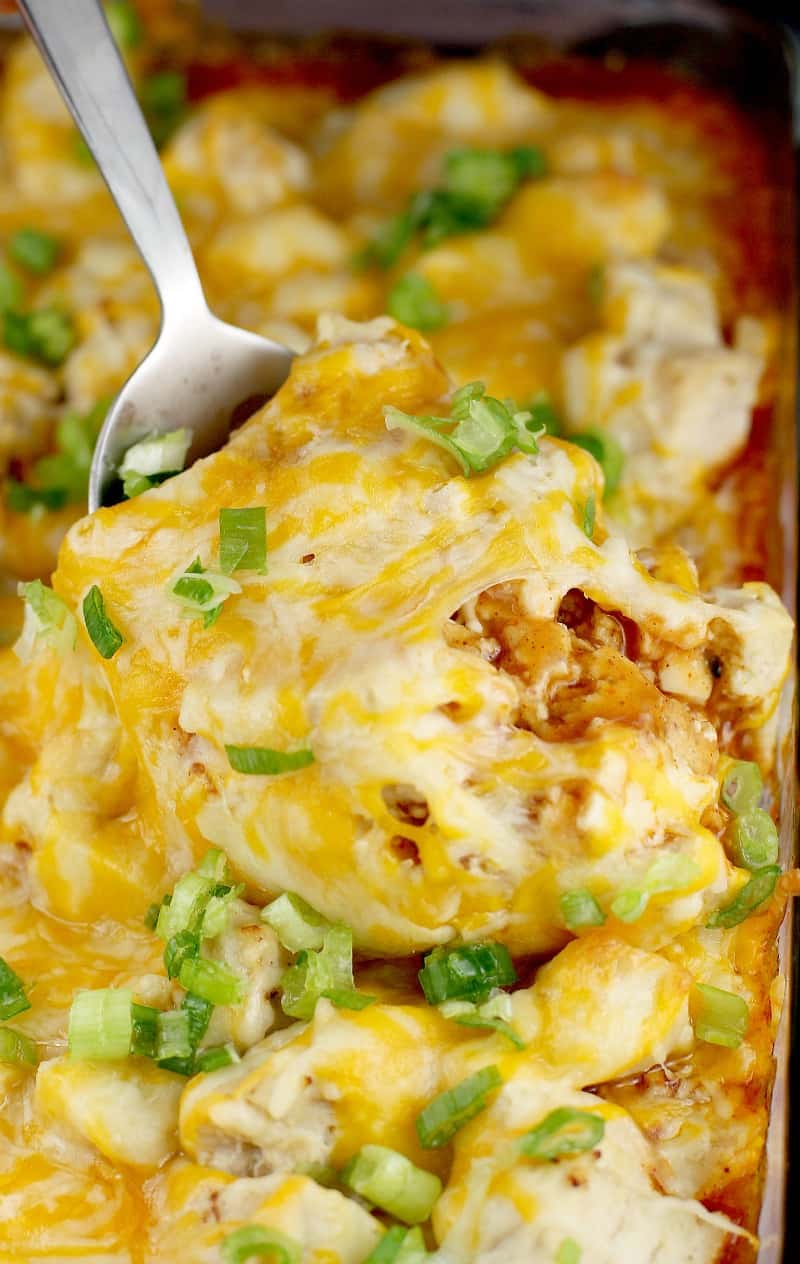 What should I serve with my low carb chicken casserole?
To keep your dinner low carb, I recommend serving this dinner with simple side salad greens and oil and vinegar. The only carbs there are fiber, which don't count.
Another option especially if you are not such a fan of salad (like me) is to roast broccoli or asparagus. But yeah, something definitely green to go with this one.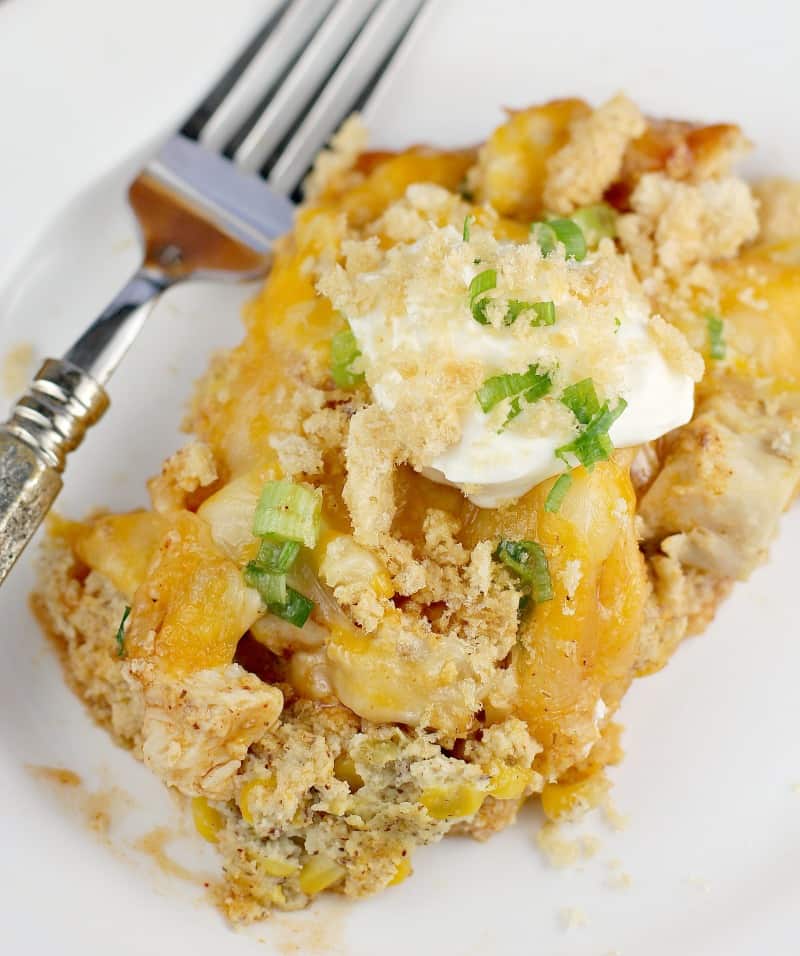 Want More Low Carb Chicken Recipes?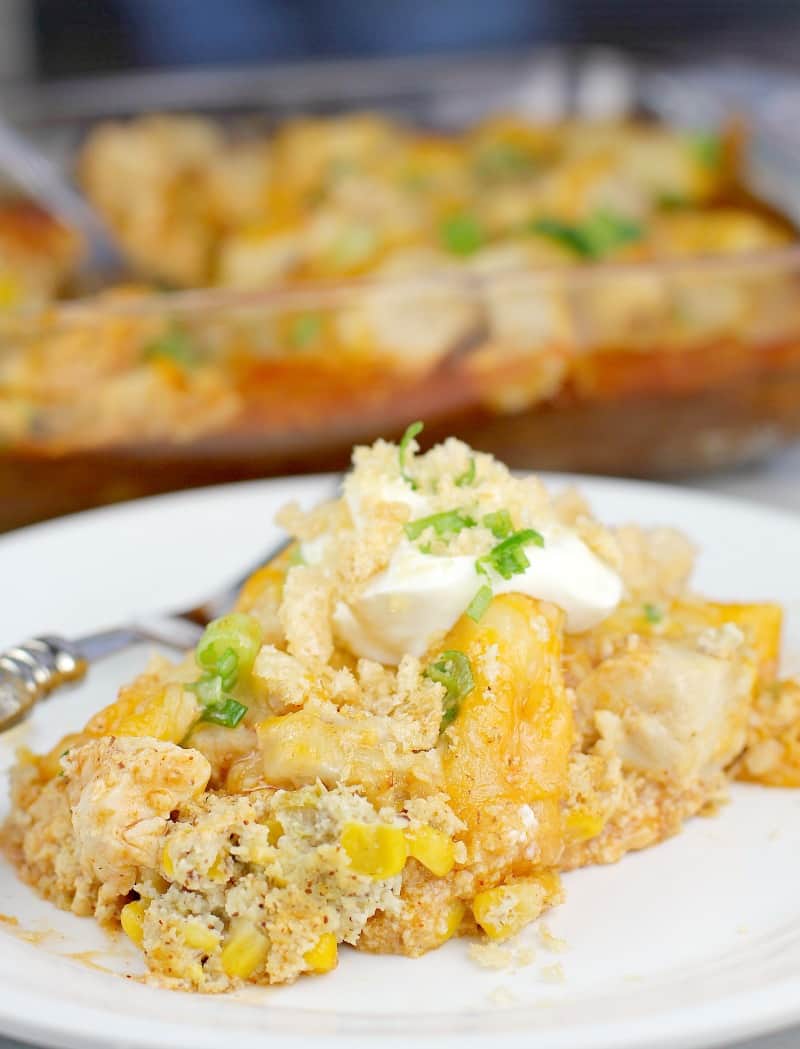 So that's it folks! A low carb chicken casserole because we all need cheesy satisfying meals like this.
Click the P for Pinterest at the bottom of this post to save this recipe. If you make it, post on Instagram and tag @ericasrecipes.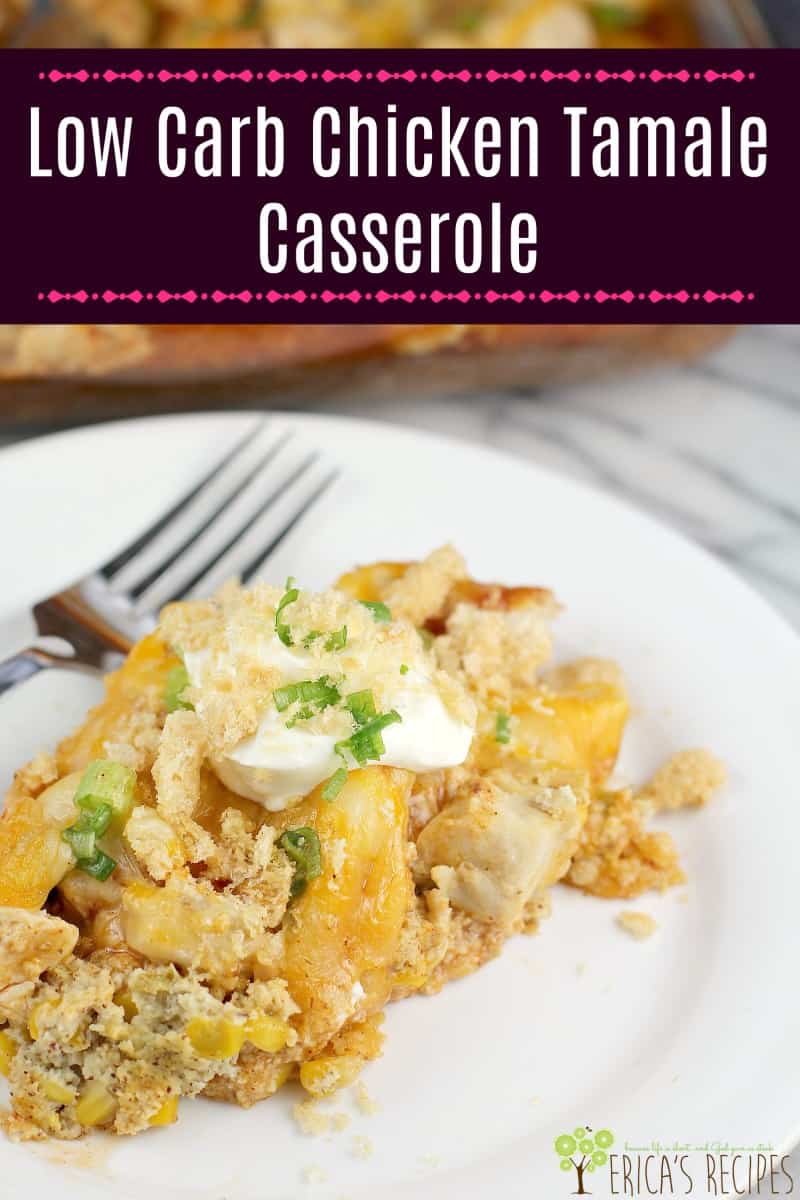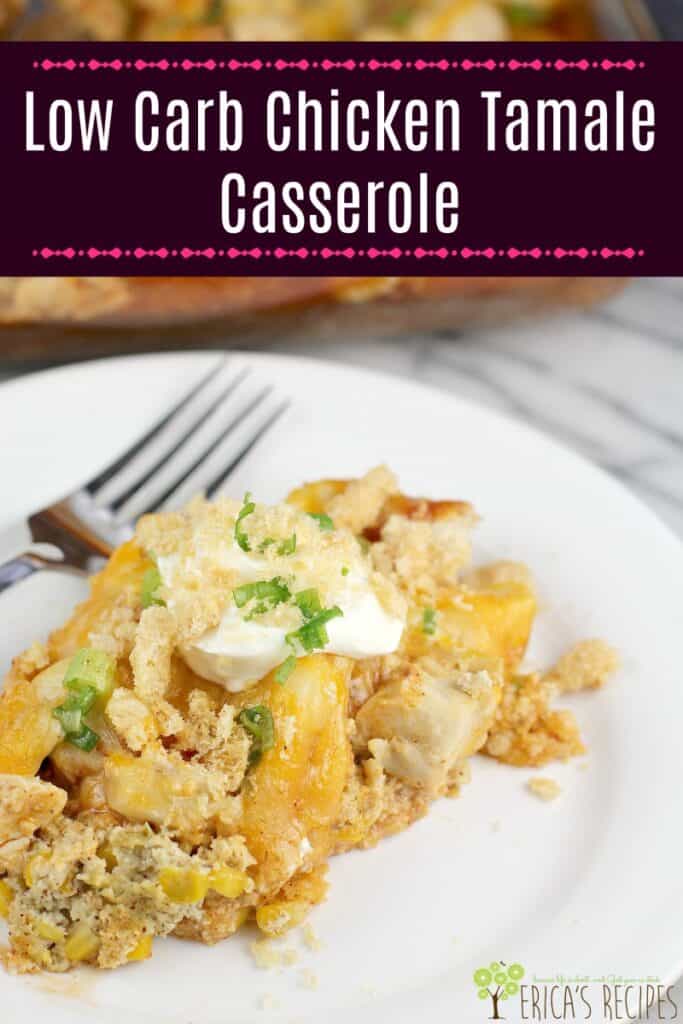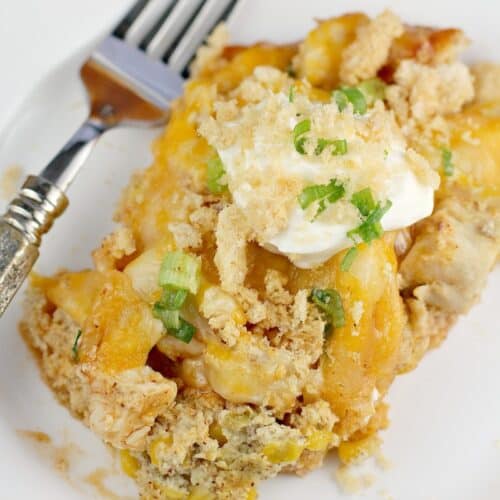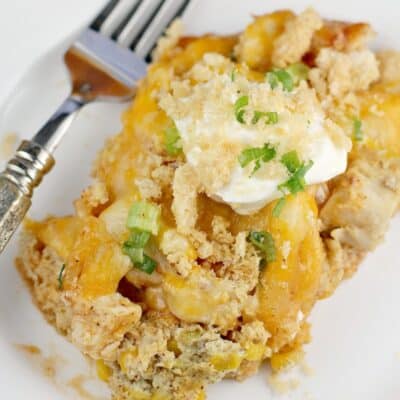 Low Carb Chicken Tamale Casserole
Cheesy chicken and enchilada sauce over a green chile biscuit layer made with almond flour.
Ingredients
For the Biscuit Layer
1-½

cups

almond flour

1

Tbsp

baking powder

¼

tsp

kosher salt

1

tsp

cumin

2

cups

shredded cheese mix such as cheddar-jack or Mexican blend

divided

4

oz

canned chopped green chilies

1

cup

corn

OMIT if KETO

½

cup

sour cream

2

eggs

2

Tbsp

unsalted butter

melted
For the Tamale Casserole
1

cup

enchilada sauce

12

oz

diced chicken or turkey meat

garnish: chopped green onion, sour cream, and crushed pork rind
Instructions
Make the Biscuit Layer
In a large mixing bowl, whisk together the almond flour, baking powder, salt, and cumin.

Whisk in the green chilies, corn, sour cream, eggs, and 1/2 cup cheese.

Pour into a 11×9 casserole dish. Bake at 400F for 20 minutes or until golden and set in the center.
Assemble the Tamale Casserole
Use a fork to prick the biscuit layer all over. Pour the enchilada sauce evenly over top.

Layer the turkey and cheese onto the enchilada sauce.

Bake at 400F until meat is heated through and cheese is melted.

Serve topped with green onion, sour cream, and crushed pork rinds.
Notes
As written, this recipe is 422 calories per serving with 17g carbs. If you want to reduce the carbs further (such as for keto), omit the corn. Then the recipe is 397 calories per serving with 12g carbs.
This is a perfect leftover turkey recipe!
Nutrition
Calorie count is purely an estimate calculated using an online application to serve as a guide and not to be taken as accurate nutritional information. Percent Daily Values are based on a 2,000 calorie diet.
Tried this recipe?
Leave a comment below and let me know!
~✿♥✿~