Crespelle Prosciutto E Formaggio
Crepes with prosciutto wrapped mozzarella and parmesan cheeses and a sweet drizzle of balsamic glaze. Crespelle prosciutto e formaggio makes for a deliciously easy yet impressive and versatile appetizer, brunch, lunch, or dinner recipe.
Crespelle prosciutto e formaggio, or crepes with prosciutto and cheese, is a perfect way to make your next party, brunch, luncheon, or Italian night dinner extra special. My Savory Crepes can be made in advance, then I provide all the pictures and instruction for you to prepare this quick recipe in no time with no stress.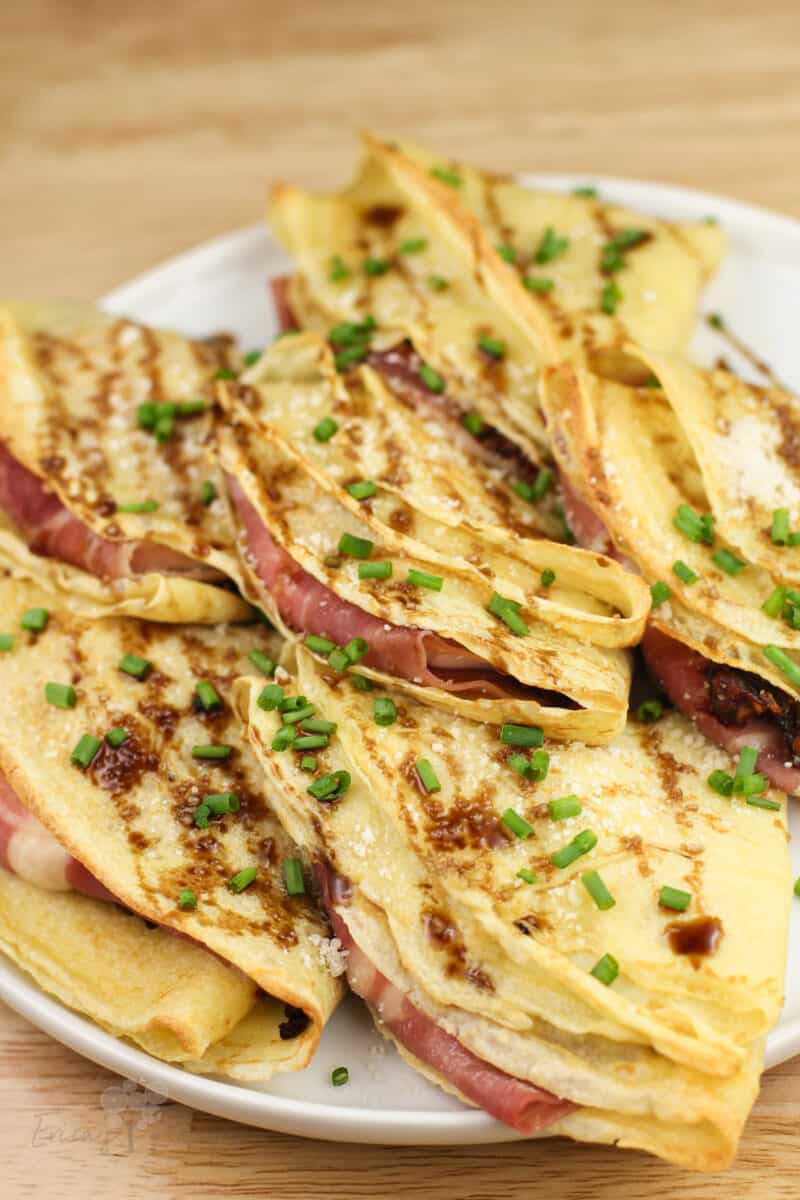 What are crespelle prosciutto e formaggio?
"Crespelle prosciutto e formaggio" translates to crepes with prosciutto and cheese. Crepes are fancy thin pancakes (for lack of a better word other than "crepe"), prosciutto is traditional dry-cured Italian ham, and in this instance cheese is fresh mozzarella.
I am a big big big fan of all things stuck in Savory Crepes. I like sweet, dessert crepes too, but crazy creative savory crepes are my thing. This recipe in particular works because it is so ridiculously easy.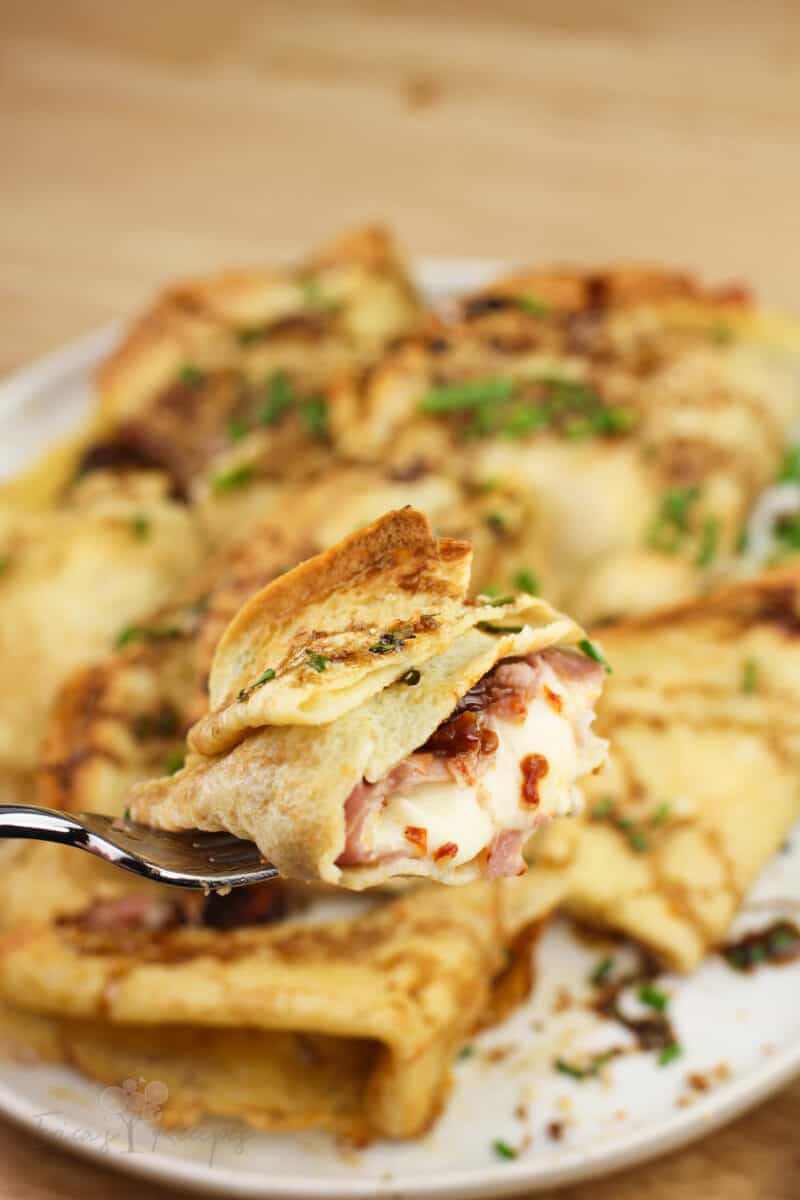 Make the crepes ahead – even as much as a day in advance. So that helps a bunch. Then we just stick a piece of prosciutto wrapped mozzarella in each crepe, top with a little sun-dried tomato for sex appeal (because honestly, who does not love luscious sun-dried tomato), and heat in the oven.
Finish with a little drizzle of store-bought balsamic glaze and a sprinkling of chives and parmesan and we are done!
The versatility of this recipe (like, how it can be served for brunch or dinner or as an appetizer or whenever!) comes in because it is so simple, AND the reason it can be so simple is because we are using simple – but fancy – ingredients.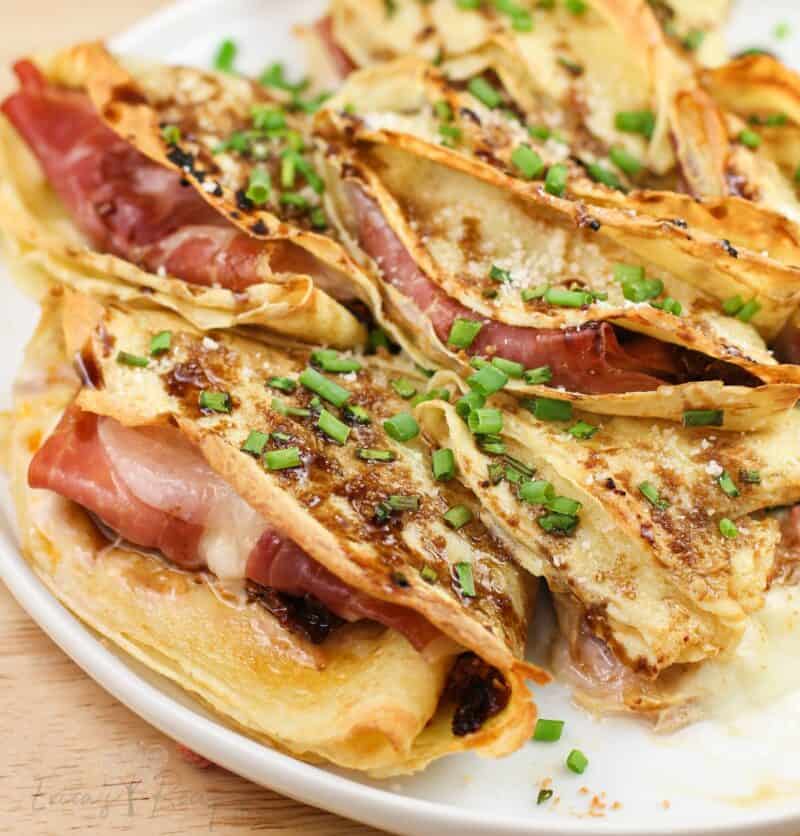 Fancy, because they just are. Crepes, by definition, are fancy. Simple, because we just buy the rest of the ingredients as they are and don't have to do anything to them.
And flavor! These components shine together with a classic combination of prosciutto wrapped mozzarella, dressed up in a delicate crepe.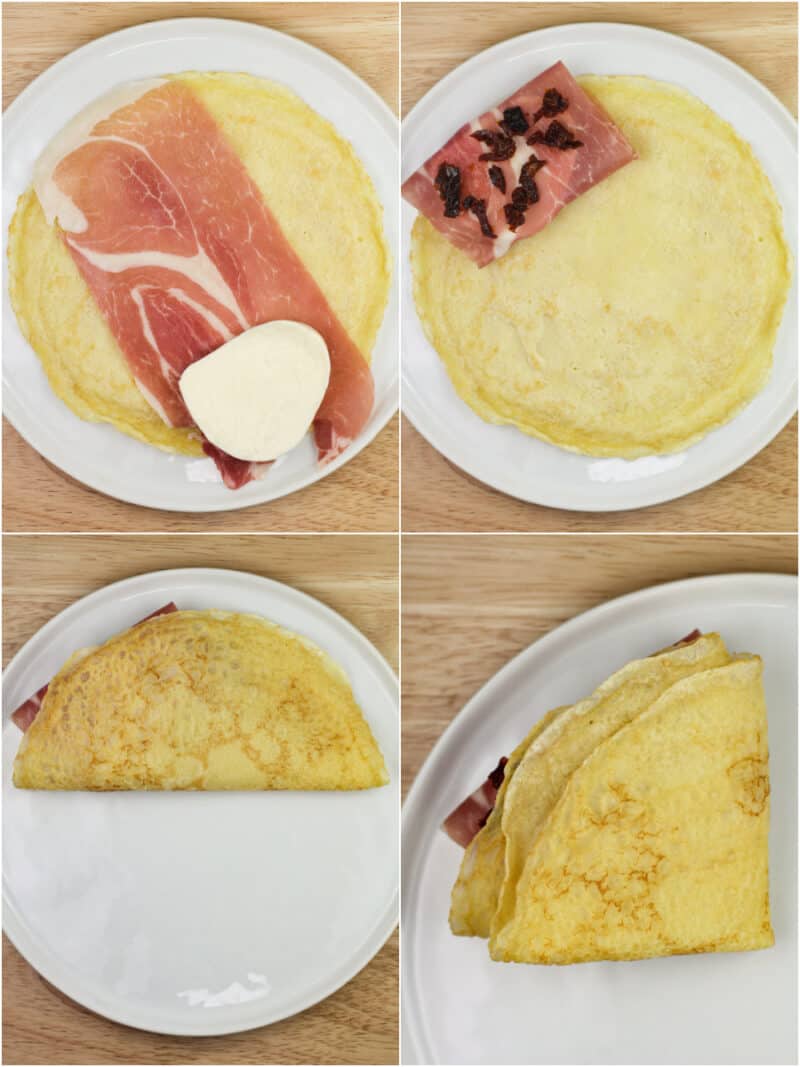 Ingredients
Savory Crepes. My recipe is very easy, uses no special equipment, and makes the right size crepe for this recipe. However, you can always purchase crepes if desired, just make sure they are not sweet crepes, with sugar added.
Prosciutto. Find prosciutto in the deli section at the grocery store. You do not have to spring for the super expensive prosciutto for this recipe. I used presliced, middle-of-the-road priced prosciutto and was happy. Regardless, always get it sliced very thin.
Fresh mozzarella. My grocery store has a little Italian section with fresh pastas and such on the end of an aisle, and fresh mozzarella is there. Otherwise, look for it in the specialy cheese section. I buy my fresh mozzarella presliced, which makes life easier because fresh mozzarella is soft and a total pain to slice at home.
Sun-dried tomato. I go through JARS of sun-dried tomato. I love it so much and add it to everything. Get the sun-dried tomato in oil, not dry. I get it in the produce section.
Balsamic glaze. This is reduced balsamic vinegar with sugar added to make a thick syrup, similar to molasses in consistency. Find it right with the balsamic vinegars.
Parmesan cheese. Officially, it is called Parmigiano-Reggiano, and you want it freshly grated.
Fresh snipped chives. Or basil or flat-leaf parsley or whatever pretty herb suits your taste.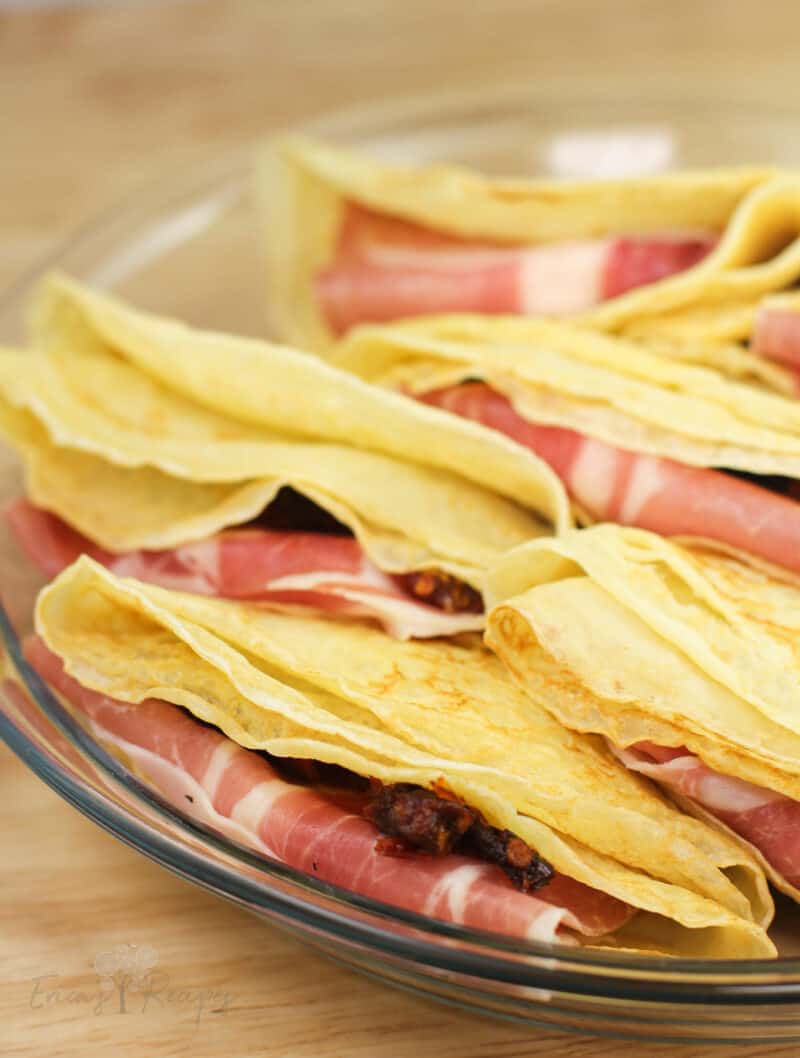 FAQs
Can crepes with prosciutto wrapped mozzarella be assembled in advance?
Yes. the crepes can be made a day in advance. The crepes with the prosciutto wrapped mozzarella and sun-dried tomato can be assembled in advance (up to 4 hours, kept covered and refrigerated), then simply heat in the oven.
What are substitutions for prosciutto?
Prosciutto is a fancy ingredient, so if shopping in a, say for example, rural area, maybe it isn't available. In that case, use deli ham. No worries.
What are substitutions for fresh mozzarella?
I feel like fresh mozzarella is less of a challenge, but if not available, I would grab another cheese that melts nicely. Swiss, brie, white cheddar, Fontina are examples that come to mind.
When are these crepes done cooking?
So, the answer to this question is up to you. These crespelle don't actually even need cooking and can be served at room temperature if you like. I like them just heated through, maybe a few minutes past that. One thing though is that fresh mozzarella does not get gooey melty like, say, pizza mozzarella. So don't cook the crap of them hoping for oozing cheese. Just warm them though and a couple minutes more if you like.
What are variations for crespelle prosciutto e formaggio?
I am totally loving the idea of ham, Monterey jack, and pickled jalapenos with a drizzle of queso. Talk about fusion YUM. Roast beef, bell pepper, and provolone. Really any nice quality, thin sliced meat, yummy cheese, and a little something extra (salsa, tapenade, pesto, etc).
More recipes you might like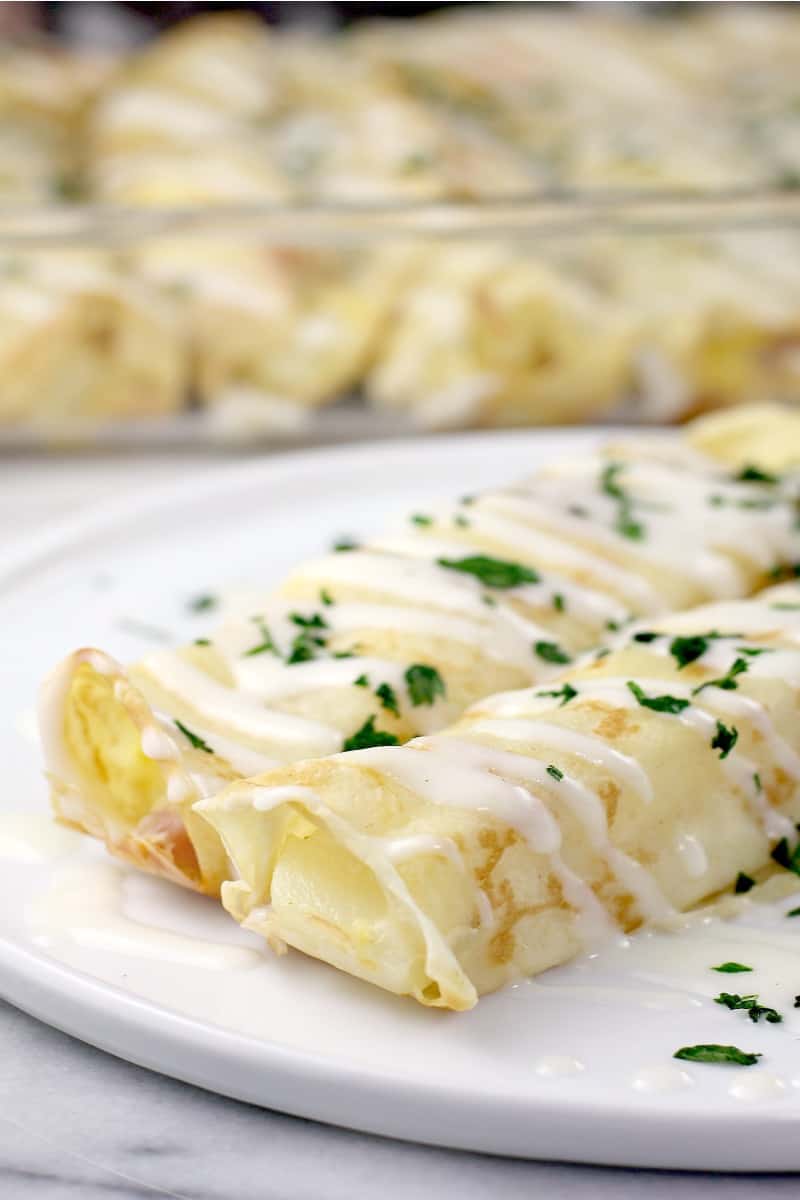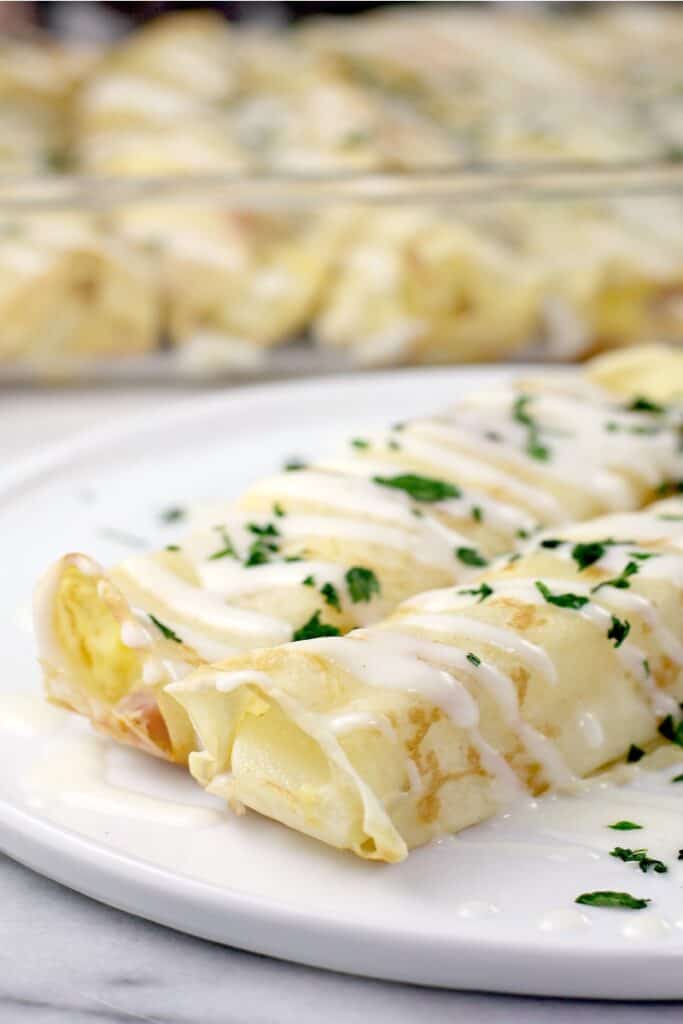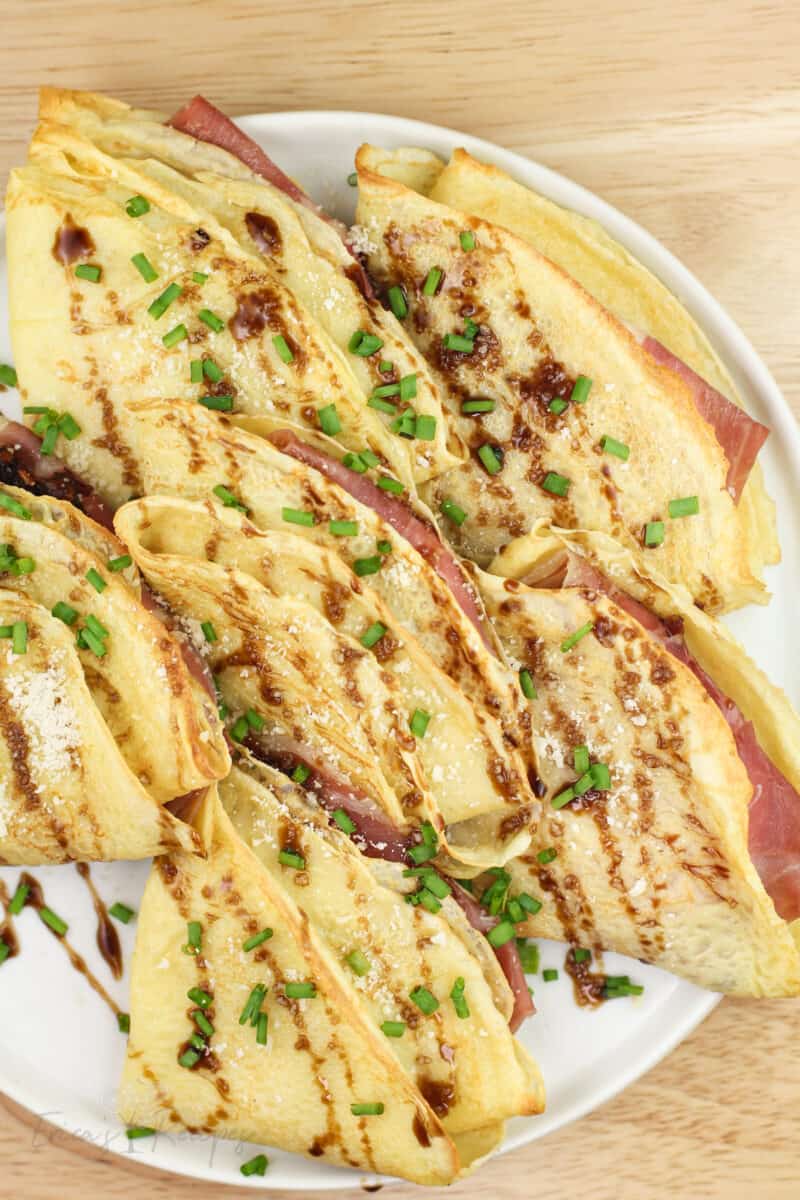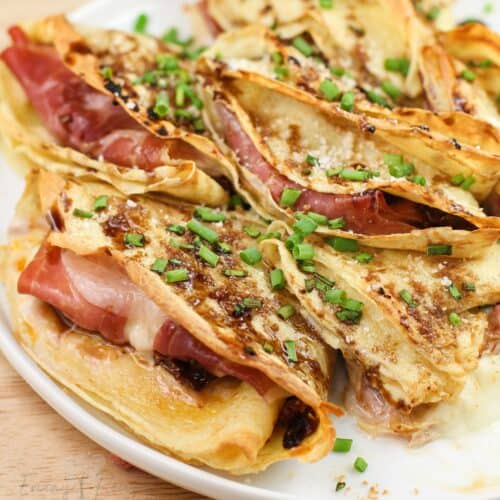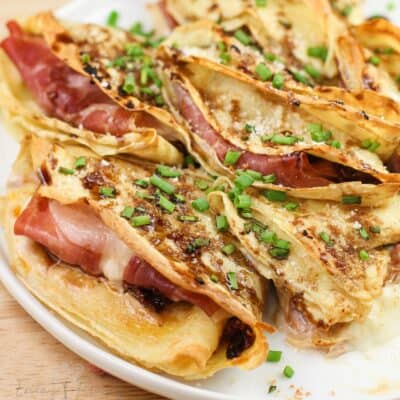 Crespelle Prosciutto e Formaggio
Crepes with prosciutto wrapped mozzarella, baked until perfect, and finished with parmesan and a sweet drizzle of balsamic glaze. Crespelle prosciutto e formaggio makes for a deliciously easy yet impressive and versatile appetizer, brunch, or dinner recipe.
Ingredients
12

Savory Crepes

recipe link below

12

thin slices

prosciutto

1

(12 oz)

pkg sliced fresh mozzarella

½

cup

sun-dried tomato in oil

chopped

2-3

Tbsp

balsamic glaze syrup

2

Tbsp

freshly grated parmesan cheese

2-3

Tbsp

fresh snipped chives
Instructions
Lay a crepe on a plate or clean surface. Wrap a slice of mozzarella with a piece of prosciutto and place on a side of the crepe. Top with a scant tablespoon of chopped sun-dried tomato.

Orient the crepe in front of you so that the prosciutto wrapped mozzarella with sun-dried is in the upper left ¼ of the crepe (meaning, if the crepe were a clock, the prosciutto would be at 10-12 o'clock).

Fold the bottom half of the crepe up (i.e. fold 6 up to 12 o'clock).

Fold the right half over the left. (so, fold 3 to 9 o'clock) This will leave the crepe folded in quarters with the prosciutto/mozzarella tucked in.

Transfer the folded crepe to a bake dish. Repeat with the remaining crepes, prosciutto, mozzarella, and sun-dried tomatoes. Place each in the bake dish, overlapping if needed or to be fancy.

Bake at 350°F for 15-20 minutes until heated through and crepe edges are crispy. Remove from the oven.

Drizzle balsamic glaze lightly over crepes. Sprinkle over parmesan and chives. Serve.
Nutrition
Serving:
2
crepes
|
Calories:
670
kcal
(34%)
|
Carbohydrates:
166
g
(55%)
|
Protein:
38
g
(76%)
|
Fat:
48
g
(74%)
|
Saturated Fat:
16
g
(100%)
|
Monounsaturated Fat:
2
g
|
Cholesterol:
166
mg
(55%)
|
Sodium:
1584
mg
(69%)
|
Potassium:
299
mg
(9%)
|
Fiber:
1
g
(4%)
|
Sugar:
8
g
(9%)
Calorie count is purely an estimate calculated using an online application to serve as a guide and not to be taken as accurate nutritional information. Percent Daily Values are based on a 2,000 calorie diet.
Tried this recipe?
Leave a comment below and let me know!