Cheesy Sweet Potato Tater Tot Casserole
Cheesy Sweet Potato Tater Tot Casserole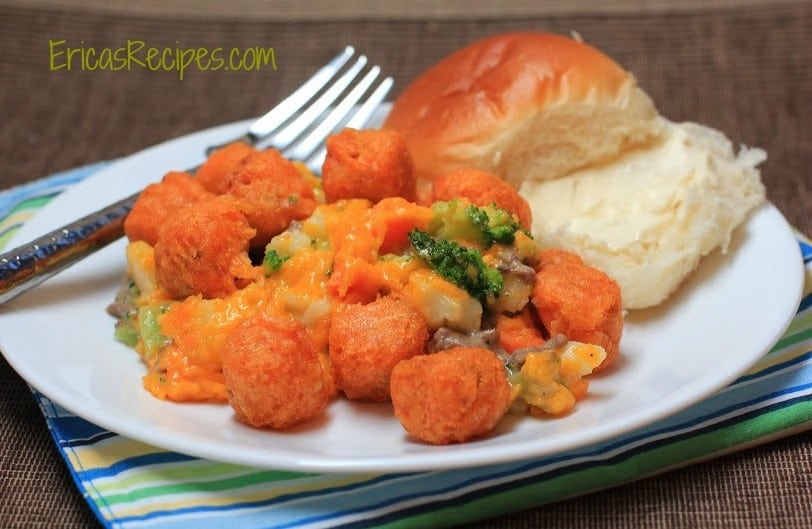 This meal is not glamorous. These ingredients are not all wholesome. But there are veggies and kids will eat it. And it takes just minutes to put together. Recipes like this are necessary in life.
Cheesy Sweet Potato Tater Tot Casserole
1 lb lean ground beef
1 (10 3/4 oz) can condensed cream of chicken soup
1/2 t kosher salt
1/4 t fresh cracked pepper
1 t Old Bay seasoning
1 (12 oz) bag frozen broccoli, cauliflower, and carrot mix
2 cups shredded sharp cheddar cheese
1 (20 oz) bag frozen sweet potato tater tots (Alexia brand calls them "puffs" which is stupid but they are yummy)
cooking spray
In a large nonstick saucepan, brown the beef until no longer pink. Remove from the heat and drain off the juice. To the cooked meat add the soup, salt, pepper, and Old Bay. Spread the meat-soup mixture in a 2 qt baking dish sprayed with cooking spray.
On a cutting board, chop the veggies down a bit to bite-sized pieces for kiddies. Layer over the meat. Next layer the cheese and then top with the tater tots. Spray the taters tots on top with cooking spray. Bake at 425F for 35-40 minutes until everything is bubbly and the potatoes are toasty. Serves a family (4-8 depending on how big your kids are).
~✿♥✿~