Turkey Zucchini Meatballs
Turkey Zucchini Meatballs are healthy, versatile, DELICIOUS, and perfect for meal prep. Bake in the oven for easy preparation with minimal cleanup and make a batch to enjoy as a tasty protein-rich nibble during the week. The key to these being the BEST is using zucchini for juicy, tender, turkey meatballs Every Time. And for those of you that care, these healthy turkey meatballs are gluten-free, keto, low carb, and dairy-free.
This website uses affiliate links which may earn a commission at no additional cost to you. As an Amazon Associate I earn from qualifying purchases.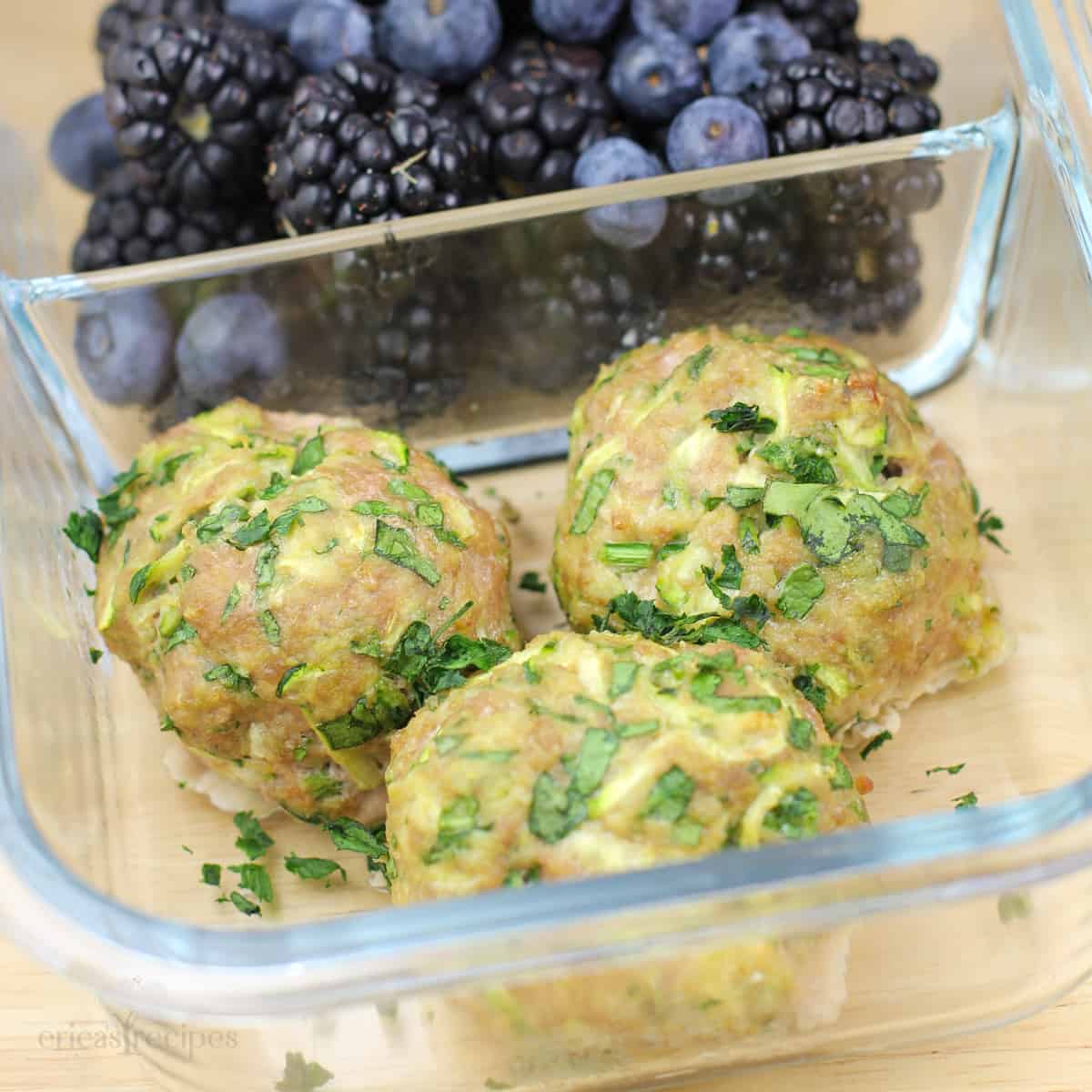 Why this recipe works
Before I came up with this recipe, every time I ever made turkey meatballs they were dense as hell. I tried and tried, because I really wanted a reliable, ride-or-die meatball recipe with turkey for meal prepping my lunches for the workweek.
Enter zucchini. I think it was after a couple glasses of wine and me stewing over yet another dense batch when it came to me: zucchini. Shredded zucchini was the solution to add moisture and bulking filling fiber and air – literally space to keep the meat from compacting so much on itself as it cooks. And here we are!
This recipe works because it is quick to prepare. Also, I avoid a mess by baking the meatballs in the oven, and they check all kinds of nutritional boxes as bonus. They pack 25 grams of protein. They are rich in vitamin A (85% RDA) and vitamin C (40% RDA) especially, but have calcium (9% RDA) and iron (12% RDA) too.
Light, delicious, and tender, I LOVE this recipe. In fact, I have been making these weekly because they are so versatile and easy to change up so I never get bored.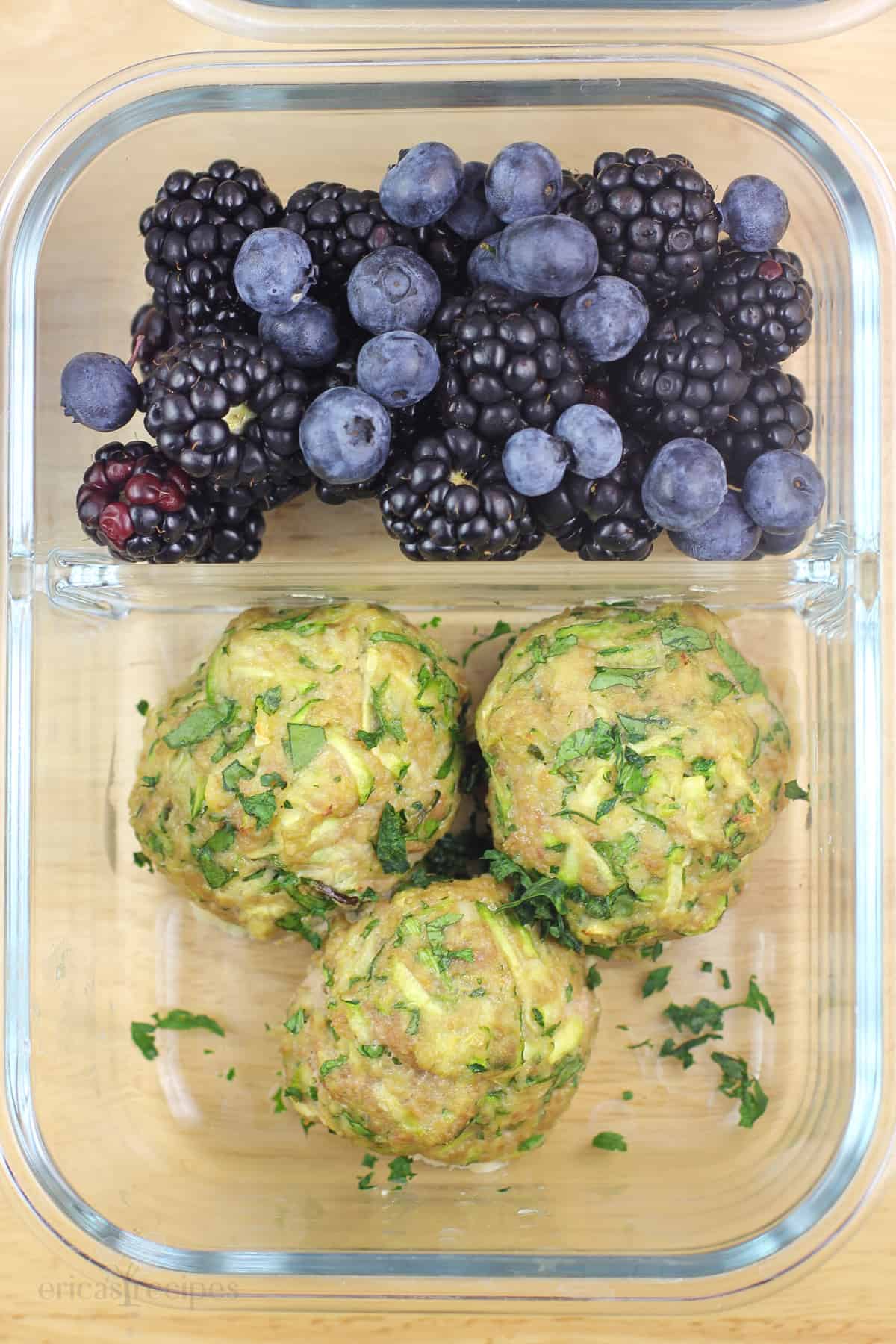 About the ingredients
The following ingredients are NOT optional: turkey, zucchini, egg. The following ingredients are optional: everything else.
The turkey and zucchini are the foundation for this recipe. The egg serves as a binder to keep the meatballs from falling apart.
The rest of the ingredients lend flavor, so they can all be changed. There are also times when I have not had spinach on hand and the meatballs were still tasty, so I put spinach in the optional column as well.
These are low carb, keto turkey meatballs… accidentally. I don't intentionally do low carb or keto, but I do try to avoid things like white bread and pasta nowadays to reduce inflammation. So I used almond flour instead of breadcrumbs, but you can totally use plain breadcrumbs or panko crumbs in place of the almond flour if you so desire.
Extra note: Almond flour is rich in vitamin E, fiber, and magnesium for yet another nutritional bonus.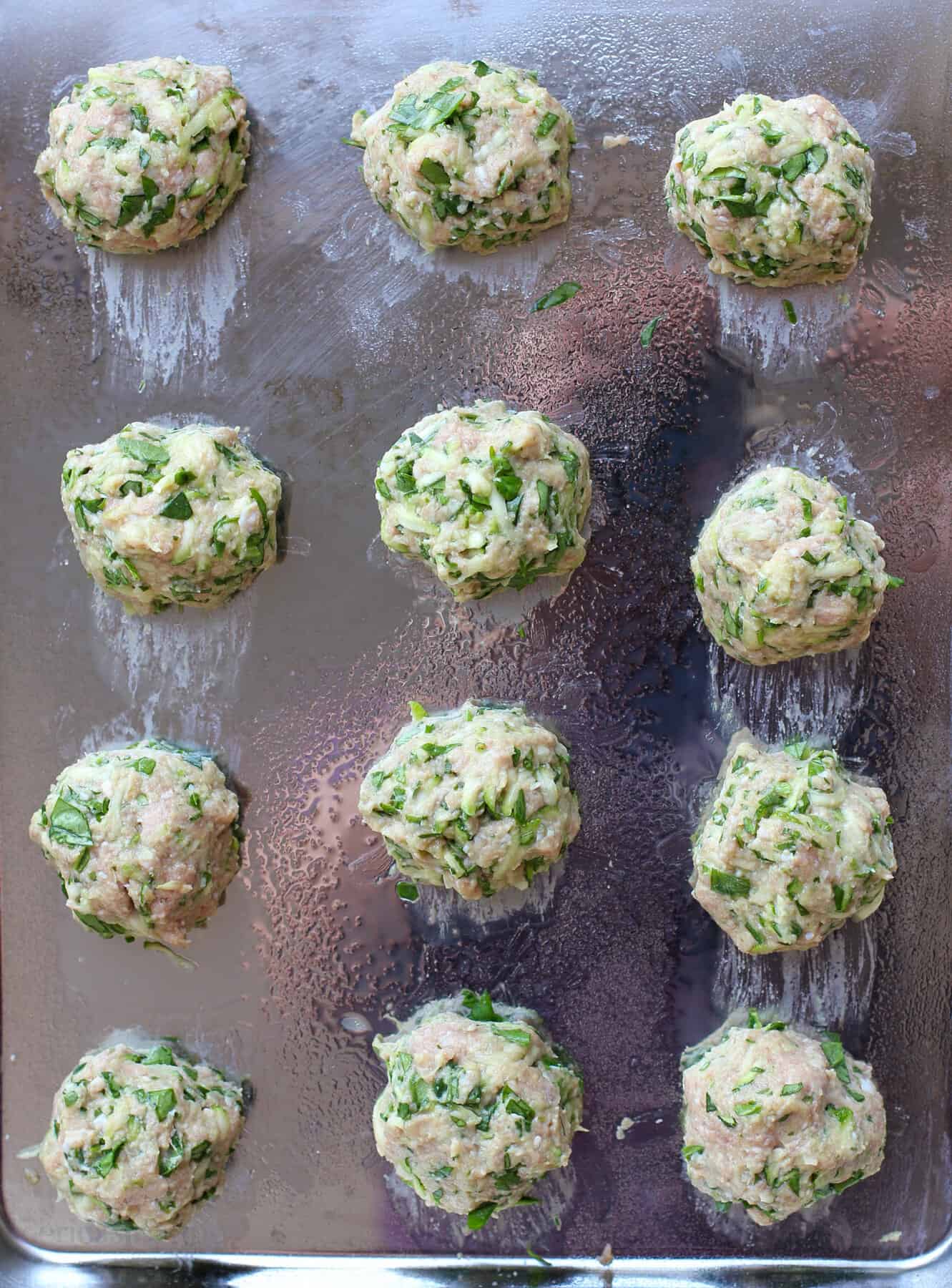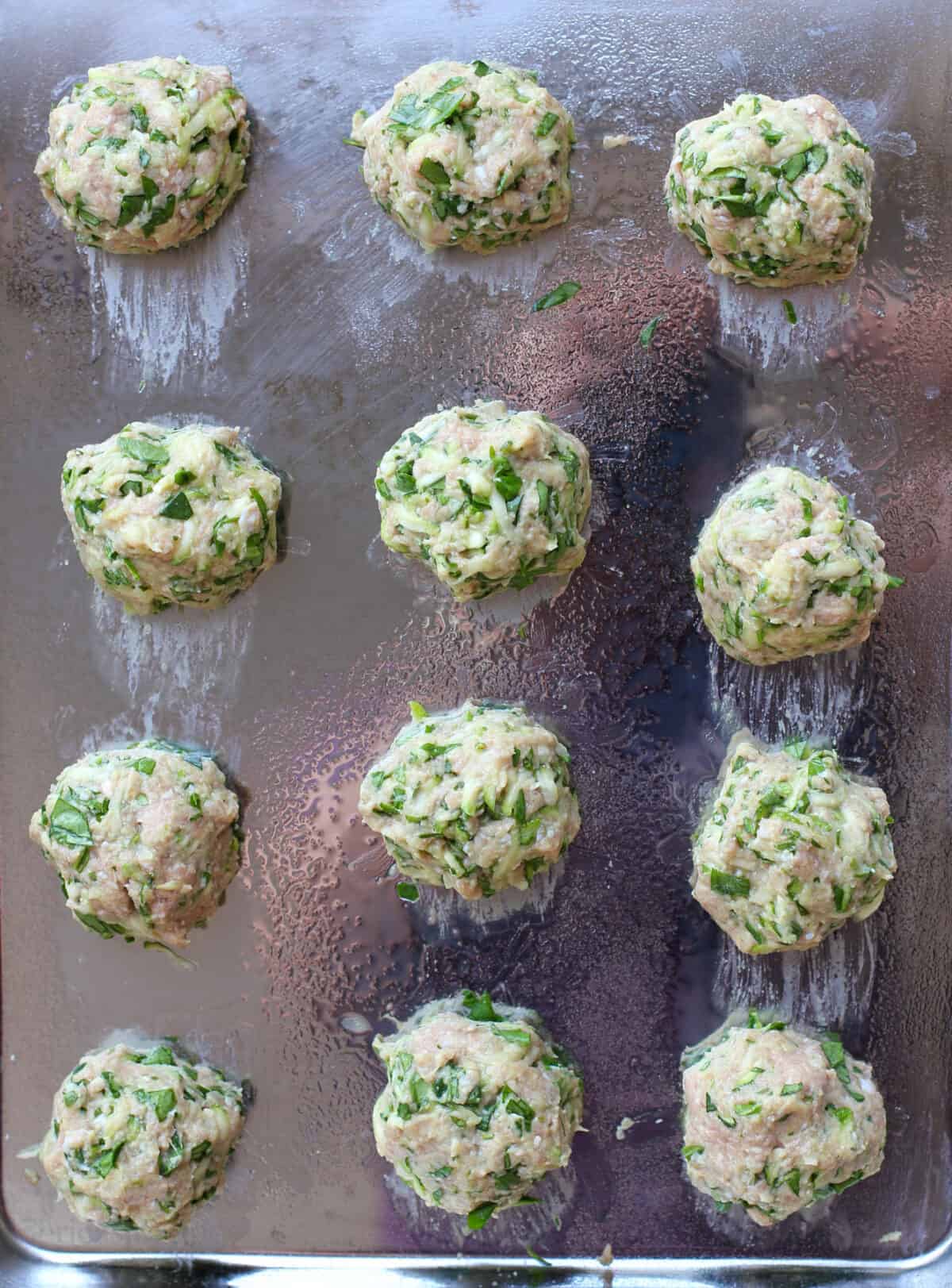 Meal Prep Suggestions
The best thing about my turkey meatballs are how I have found countless ways to change them up so I don't get bored with them. Here are my favorites:
Meatballs marinara: serve turkey zucchini meatballs with pasta tossed in marinara sauce (use chickpea pasta for extra protein!) and vegetables. You can also top with a freshly grated parmesan cheese.
Buffalo meatballs: distribute meatballs with cooked brown rice and veggies in meal-prep containers. Combine 1/2 cup Frank's buffalo wing sauce, 1 Tbsp white vinegar, 1 tsp Worcestershire sauce, and 1 Tbsp plain Greek yogurt. Drizzle over the meatballs, rice, and veggies.
Teriyaki meatballs: put meatballs, cooked brown rice, and cooked veggies in containers. Drizzle over teriyaki sauce (preferably with no sugar added).
Plain! We love these meatballs plain, or with a little Dijon mustard or honey mustard. I'll keep them on hand to pop 1 or 2 in the microwave when I know I need more protein.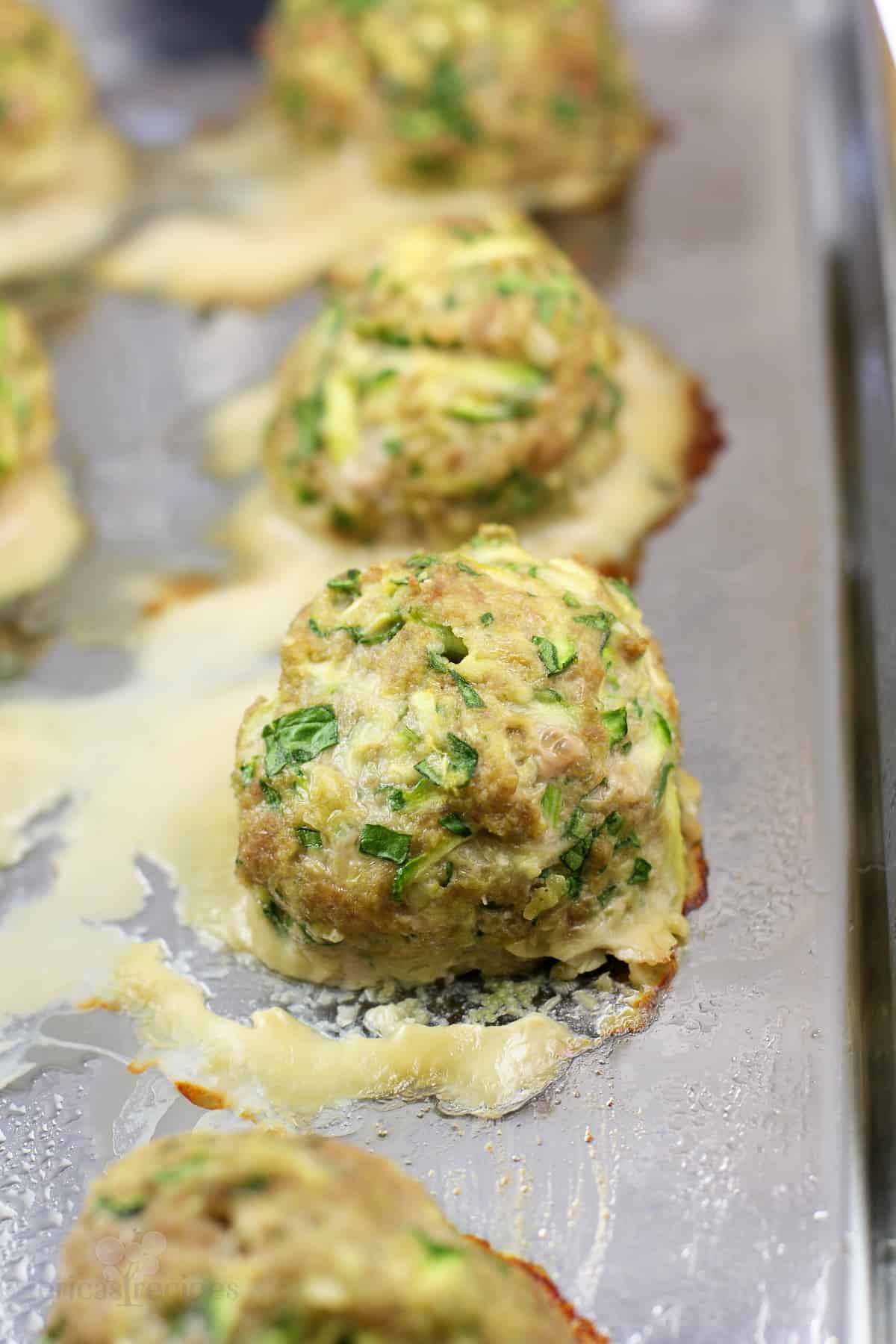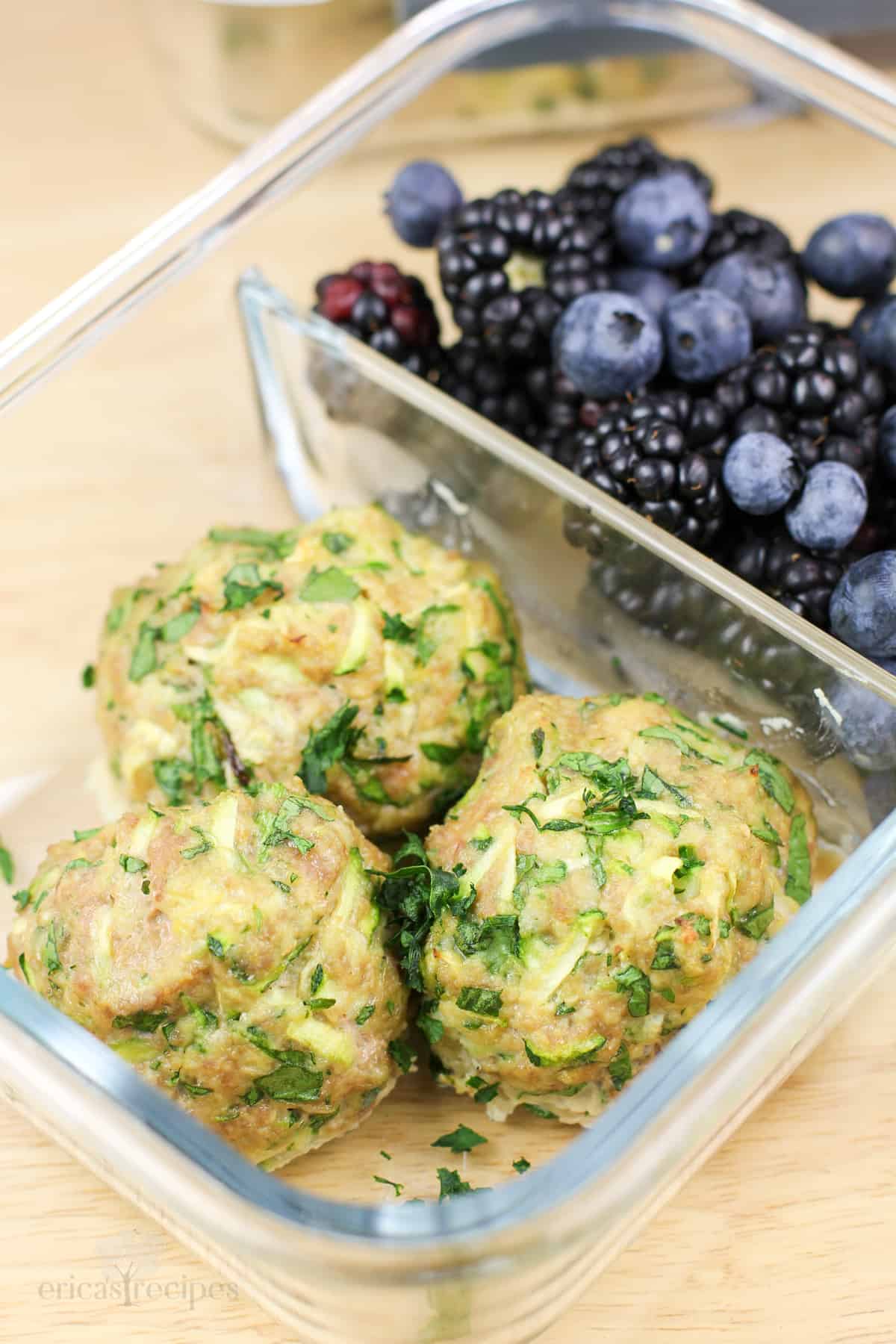 FAQs
Can these meatballs be frozen?
Yes they can be frozen, but I recommend doing so once they are cooked. Store in an airtight container for up to 1 month.
Can breadcrumbs be used instead of almond flour?
Yes, plain breadcrumbs or plain panko breadcrumbs are substitutes for the almond flour. Gluten-free panko crumbs tend to just dissolve, so I do not recommend those.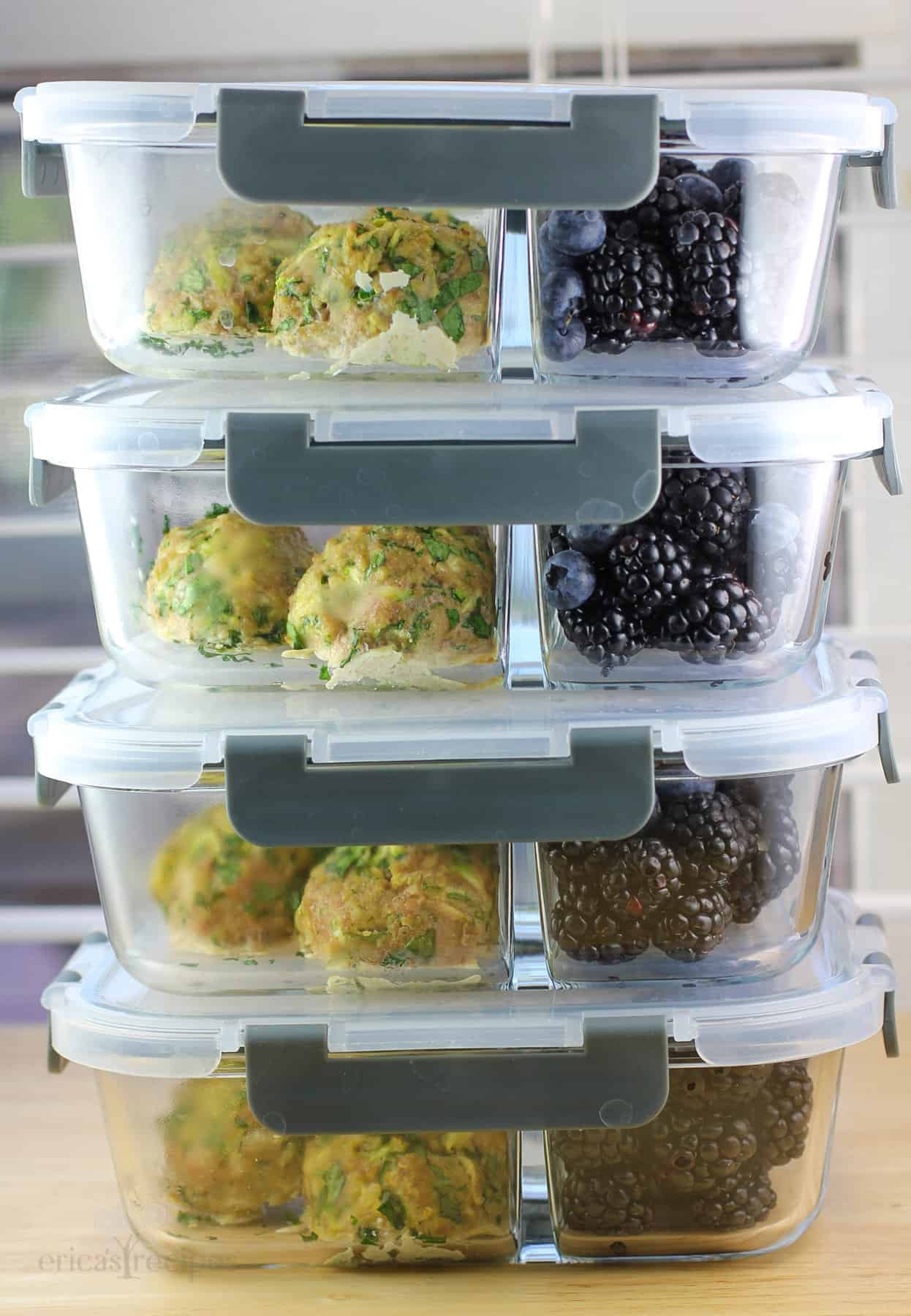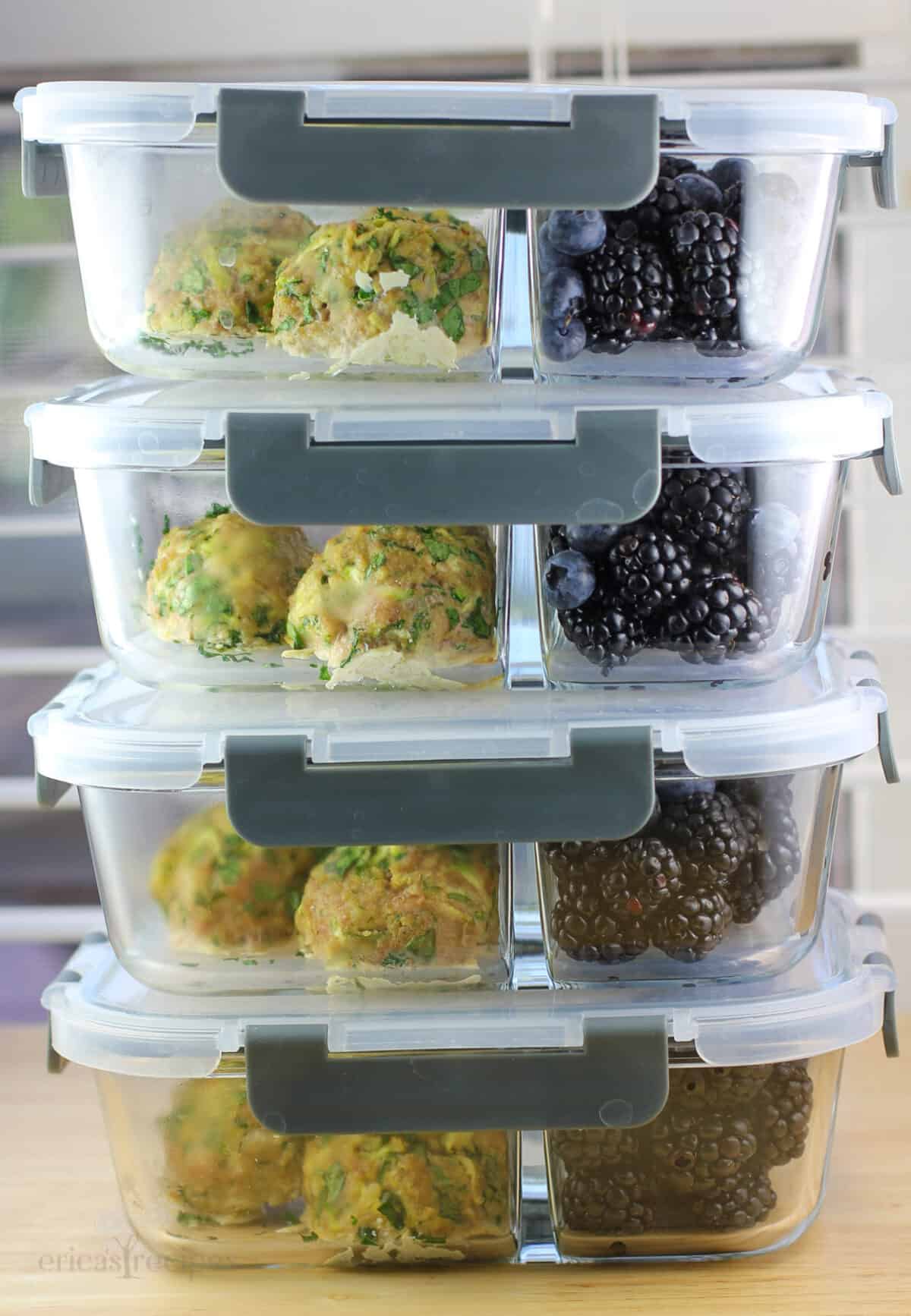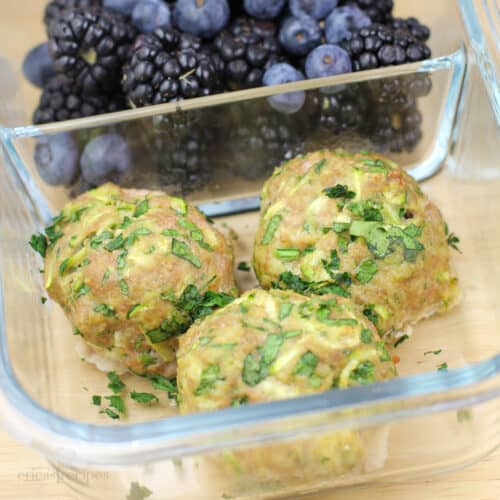 Turkey Zucchini Meatballs
Turkey Zucchini Meatballs are healthy, versatile, delicious, and perfect for meal prep. Bake in the oven for easy preparation with minimal cleanup and make a batch to enjoy as a protein-rich nibble during the week.
Instructions
Put all the ingredients in a large mixing bowl. Using your hands, lightly toss and mix together taking care not to overmix.

Roll the meat mixture into 12 meatballs and place on rimmed bake sheet sprayed lightly with cooking spray.

Bake 20 minutes or until internal temperature is 165℉-170℉.
Notes
Note that because there is so much zucchini and spinach, and because almond flour is the binder, the meatball mixture is quite soft. This is expected, and they firm up to tender perfection as they cook.
Nutrition
Calories:
238
kcal
(12%)
|
Carbohydrates:
7
g
(2%)
|
Protein:
25
g
(50%)
|
Fat:
11
g
(17%)
|
Saturated Fat:
3
g
(19%)
|
Cholesterol:
80
mg
(27%)
|
Sodium:
438
mg
(19%)
|
Potassium:
385
mg
(11%)
|
Fiber:
2
g
(8%)
|
Sugar:
4
g
(4%)
Calorie count is purely an estimate calculated using an online application to serve as a guide and not to be taken as accurate nutritional information. Percent Daily Values are based on a 2,000 calorie diet.
Tried this recipe?
Leave a comment below and let me know!