Mexican Summer Squash Scampi
Mexican Summer Squash Scampi. Enjoy the last of the season's zucchini and summer squash bounty with this easy, healthy, vegetarian spin on scampi pasta.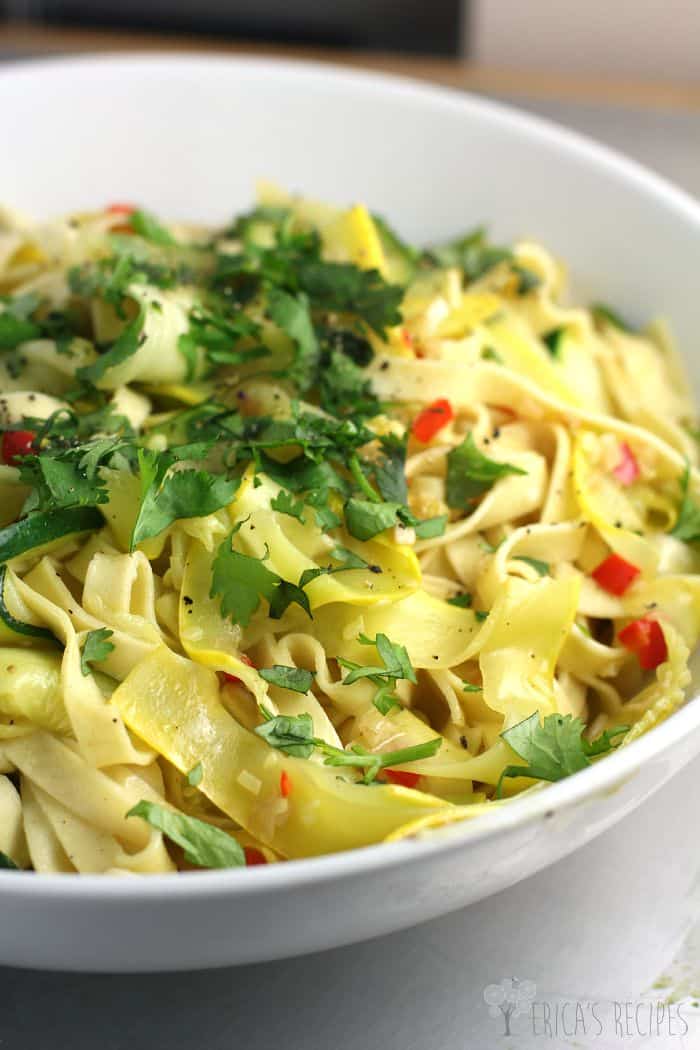 So it is triathlon time! And another big one too. This Sunday will be my third triathlon this year at the half ironman distance, and I will be doing the Hutchinson Island Half Ironman ….1.1 mi ocean swim, 56 mi bike, and a half marathon 13.1 mi run. Yup, a half ironman, in Florida, in September …sighhh. This is gonna suck. But in a good way.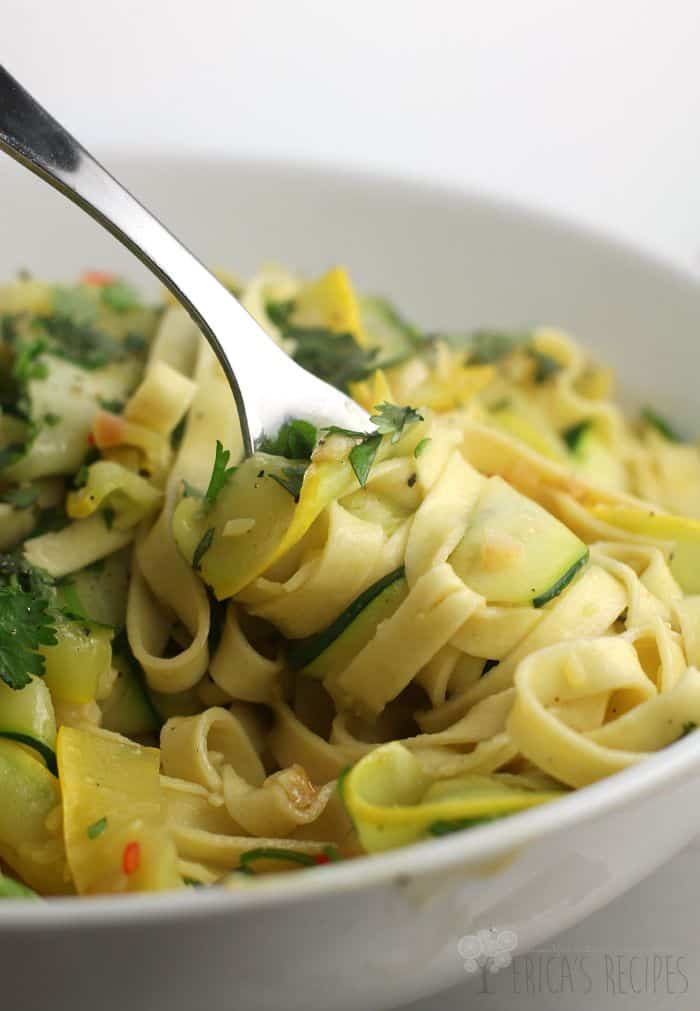 Anywayy, this means this week is "carb loading" week. Because it takes days to do this. In distance racing, the body burns primarily glycogen in the first hour, which is stored in the muscles and liver. Then once the glycogen stores deplete, the body feeds off what-ev-er it can to get the carbohydrates it needs, and if this is not managed, you will "bonk" …or basically pass out or "hit the wall" in the race. This is why we supply energy during the race, and in a half ironman, I use sports drinks and energy gels to do this. But one key to a successful race like this is to start the race with the glycogen "tank" topped off to begin with.
So how does one exactly carb load… Well, it is not done the night before a race. Ideally, it is done in the days leading up to. Little by little. So, this week, I am eating like this: breakfast is an egg and half a slice of cheddar on wheat toast (made in my badass new bread machine!) and a grapefruit; first snack is Greek yogurt (Pumpkin Spice is out now BTW!) and some wheat toast with Earth Balance butter; lunch is a chicken and rice bowl (with a grilled skinless chicken thigh, jasmine rice, chopped tomato, half an avocado, cilantro, and a fresh squeeze of lime) and a nectarine; snack 2 is more buttered toast; and dinner is something like this…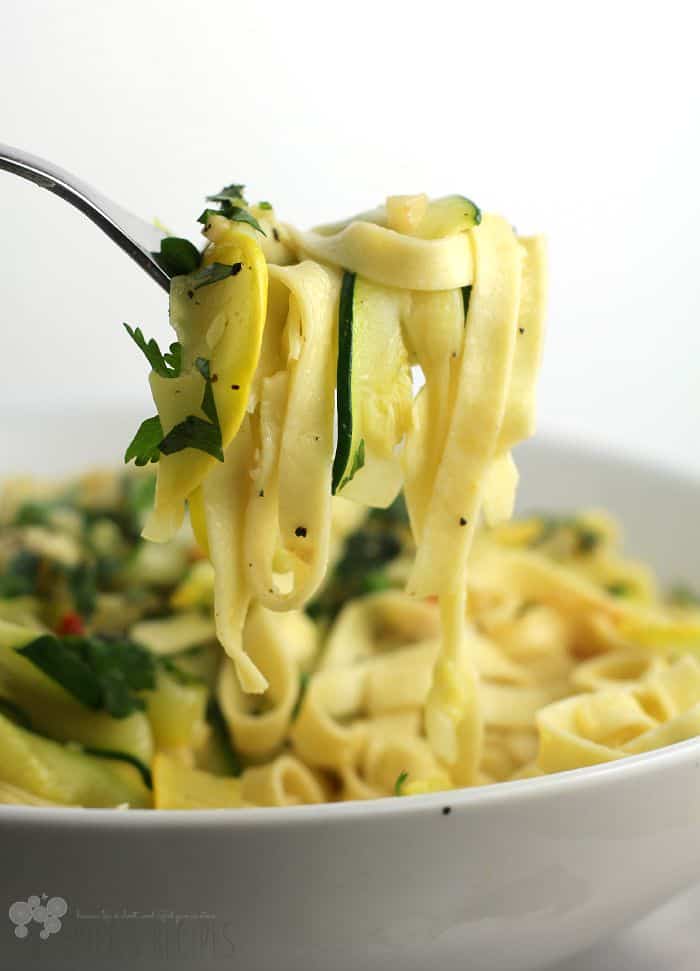 This. Pasta. This is just an easy Mexican twist on shrimp scampi. Without the shrimp. Clearly. But with plenty of garlic and fresh lemon like traditional scampi, and also delicious zucchini and yellow squash, and jalapeno, and cilantro. And butter. Because butter is amazing. This dinner is soooo tasty! Easy for a weeknight, and no special tools required other than a mandolin, vegetable peeler, or even just a knife to make the squash "fettucine". This reheats reallly well too. So make it then take the next couple nights off.
So that's it kids! Try this Mexican Summer Squash Scampi recipe to help you get to the starting line. Or as a new idea for your meatless dinner nights. Or even as a yummy side dish. Or as lunches for the workweek. So many possibilities. Because lemon, butter, and garlic never go wrong.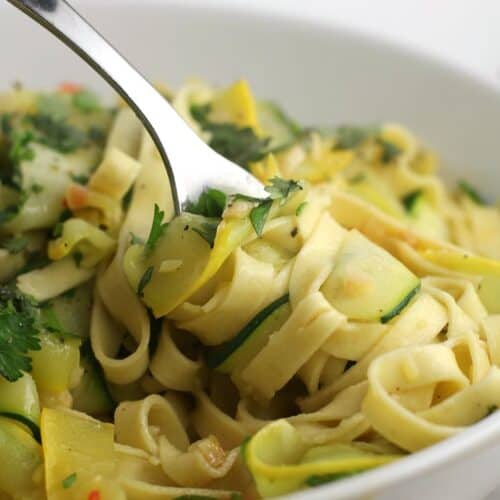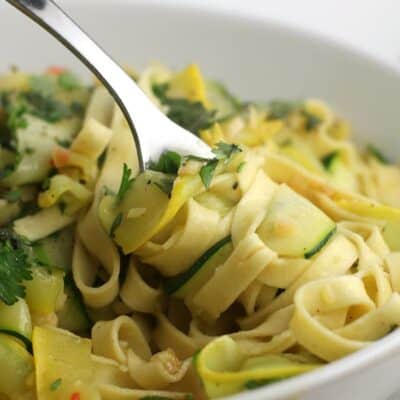 Mexican Summer Squash Scampi
Enjoy the last of the season's zucchini and summer squash bounty with this easy, healthy, vegetarian spin on scampi pasta
Ingredients
½

Tbs

extra virgin olive oil

2

Tbs

unsalted butter

1

jalapeno

preferably red for the color, seeded and finely diced

2-3

large cloves garlic

chopped

1

medium zucchini

1

medium yellow squash

1

package fresh fettuccine

¼

cup

cilantro

chopped

squeeze of fresh lemon juice

kosher salt

fresh cracked pepper
Instructions
Cut off the ends of each squash. Cut each squash into quarters lengthwise. Using a mandolin, slice the zucchini and yellow squash quarters into long ribbons.

Heat the olive oil and butter in a large skillet on high heat. Add a palmful of kosher salt to the pasta water.

Add the pasta to the water and cook according to package directions (cooking time will be short, ~3 minutes).

While pasta is cooking, add the garlic and jalapeno to the oil and butter. Cook briefly until garlic is golden. Add the zucchini and squash ribbons and cook, tossing occasionally, until tender.

Add the cooked pasta, drained, to the vegetables and toss. Season well with salt and pepper. Toss in the cilantro and a little squeeze of fresh lemon. Serve immediately. Yields 4 servings as a side; 2 as a main dish.
Notes
As an alternative to using the mandolin to slice the zucchini and squash, a vegetable peeler can be used but this is much easier with a mandolin. If neither option works for you, simply slice the squashes crosswise in thin rounds.
Calorie count is purely an estimate calculated using an online application to serve as a guide and not to be taken as accurate nutritional information. Percent Daily Values are based on a 2,000 calorie diet.
Tried this recipe?
Leave a comment below and let me know!