Zucchini Spaghetti with Lemony Kale Pesto
By adding some traditional spaghetti pasta with zucchini "zoodles", we can much more effectively sneak these healthy veggies into our kids! Zucchini Spaghetti with Lemony Kale Pesto goes even further by using a kale-based pesto to pack in the extra punch of vitamins.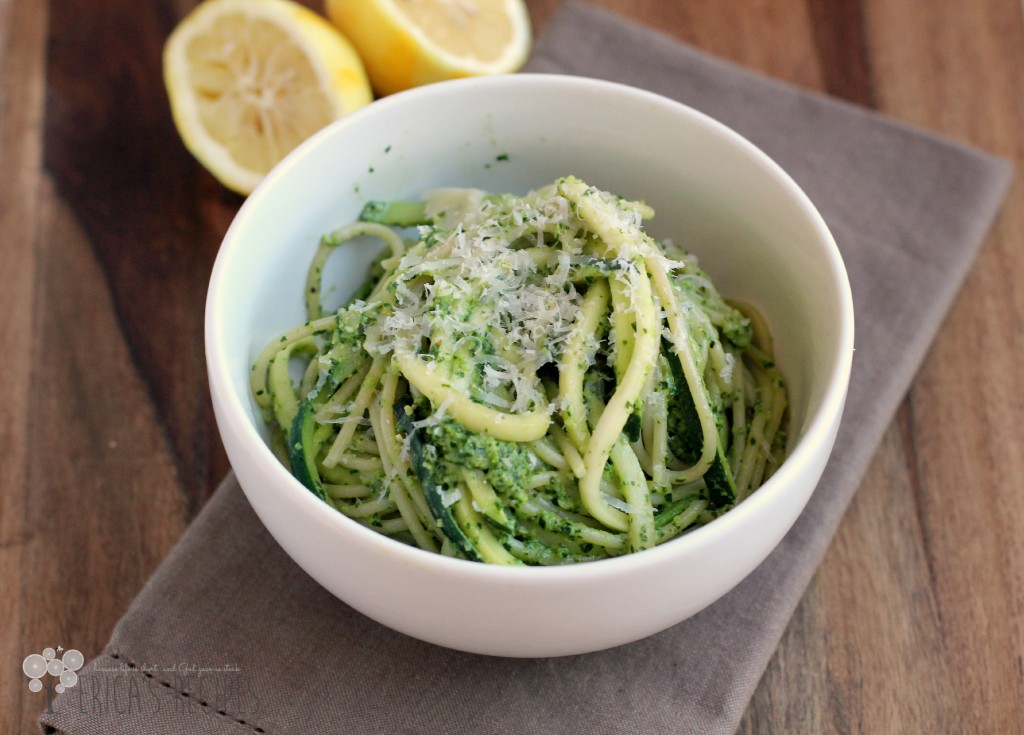 YAY triathlon this coming Sunday! I am excited about this one – last year, I had such a good time with this tri that my times were terrible. I was too busy enjoying the beautiful views on the bike over the intercoastal to realize how slow I was going. I also didn't have my Garmin yet.
Oh well, the Indialantic Boardwalk sprint distance triathlon was a fun and very well-run tri. This is also the only tri I've done with a run into the water from a beach to start the swim. As we said in the Army, hooah.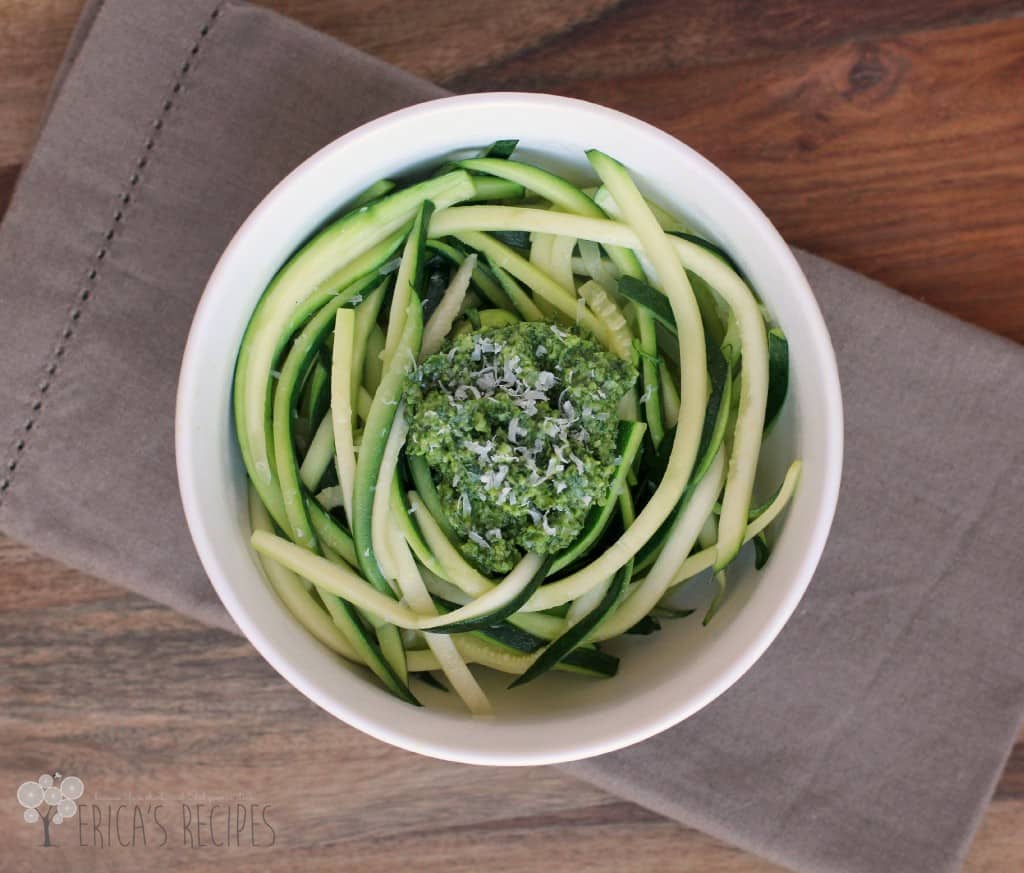 Sooooo of course I am in tri-prep mode …and I'll be trying to make up for this weekend's family Disney getaway extravaganza at the same time. Carbs, I need those, but I also need calcium, alkalizing veggies, and healthy fats. Hence, this absolutely perfect meal.
I have made pestos with basil, arugula and spinach, and cilantro, but this is my first kale pesto. When I threw it all in the food processor, I honestly didn't think bitter kale could do it, but good glory was I wrong! I'm here to tell you that kale, in a pesto, is excellent. Absolutely excellent.
I added about half as much olive oil as I "should" since while I want those glorious healthy fats, I don't want that many of them. I always do this with pestos, so if you want a looser pesto, simply add more olive oil.
Another note about this Zucchini Spaghetti with Lemony Kale Pesto recipe – I included pasta because if I used zucchini alone, I would not meet my nutritional goals and, besides, I would be hitting the fridge an hour later hungry again.
But if you want to omit the pasta and just have zucchini, knock yourself out, as I did here….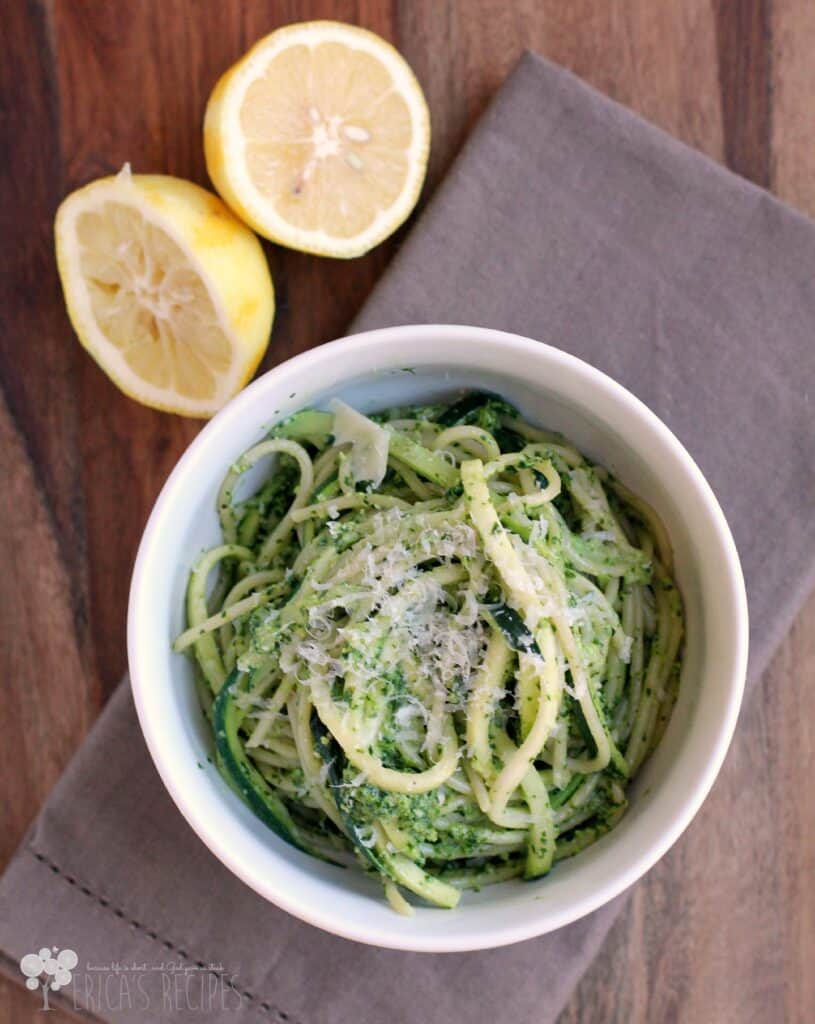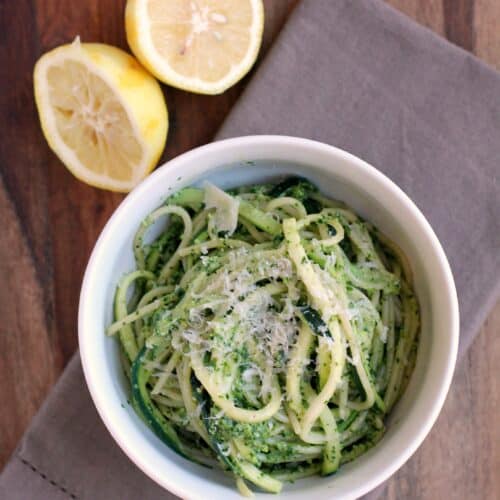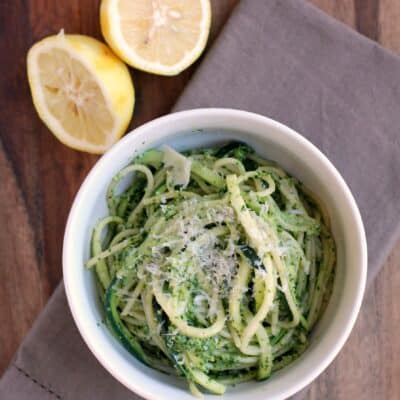 Zucchini Spaghetti with Lemony Kale Pesto
Ingredients
⅓

c

plus 1 T extra virgin olive oil

divided

3

c

packed kale leaves

2

large cloves garlic

½

t

fresh lemon zest

½

t

kosher salt

good pinch fresh cracked pepper

½

c

walnut halves

½

c

freshly shredded Parmigiano-Reggiano cheese

3

large zucchini

juice of half a lemon

½

lb

thin spaghetti
Instructions
In a food processor, process the kale, garlic, lemon zest, 1/2 t salt, pinch pepper, walnuts, and cheese briefly. Through the shoot on top with the motor running, slowly add the 1/3 c olive oil. If you want a looser pesto, add more oil at this point to your desired consistency.

Using a mandolin with the medium julienne cutter in - or just use the large holes on a cheese grater - lay a zucchini flat on it and push to make the long "spaghetti" of zucchini. Repeat until you feel that you are hitting the seeds (you'll feel it), then rotate a 1/4 turn and repeat. Keep repeating with all the zucchini.

In a large nonstick skillet, heat the 1 tablespoon olive oil on medium-high heat. Add the zucchini strings with a pinch of salt and heat, tossing occasionally, until the zucchini just starts to soften. The zucchini will keep cooking a bit once taken off the heat, so take them off the heat immediately once they soften. We don't want mush 🙂 Take the half lemon, and squeeze over a little juice on the zucchini at this point.

Cook the spaghetti to al dente according to package directions in heavily salted water. Add to the cooked zucchini. Add the kale pesto and work it all together. Serve topped with additional parmigiano cheese. Yield: 4 servings.
Calorie count is purely an estimate calculated using an online application to serve as a guide and not to be taken as accurate nutritional information. Percent Daily Values are based on a 2,000 calorie diet.
Tried this recipe?
Leave a comment below and let me know!
~✿♥✿~