Big Green Egg Pizza Margherita
Big Green Egg pizza is amazing, and grilled margherita pizza on the Big Green Egg (or any grill) is the best of them all. Crispy homemade crust, rich sauce, loads of cheese, fresh tomato, basil, and a balsamic glaze drizzle. This pizza is outstanding!
In this recipe, you will find all the instructions your need to make a beautiful Pizza Margherita on your Big Green Egg or grill. I will walk you through the ingredients, give you links to my own homemade pizza dough and pizza sauce, and of course there are the photos to get your mouth watering. So let's do this! And get making our toasty, smoky, cheese, perfect Big Green Egg Pizza Margherita.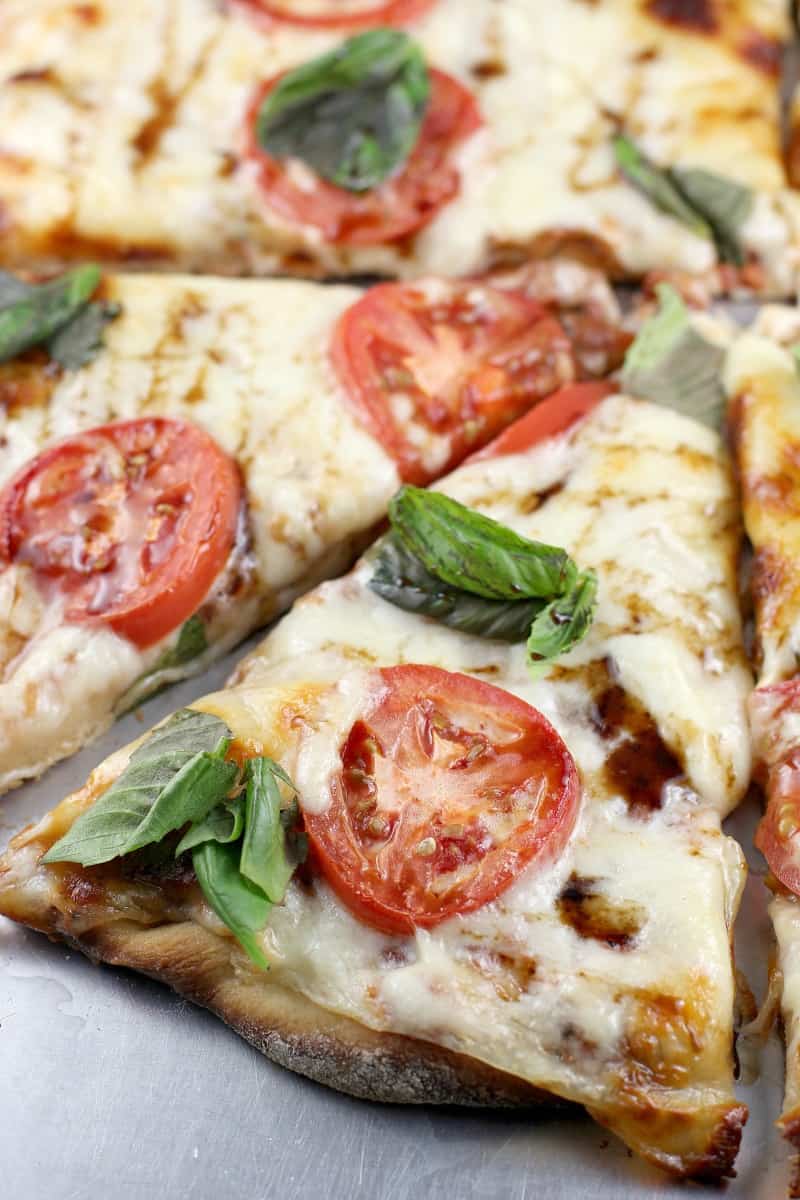 Fundamentals of Big Green Egg pizza
The basics of making pizza on a Big Green Egg ceramic cooker are essentially the same as any grill or oven. The biggest factor by far is to get the pizza stone fully and thoroughly heated through first. This is the first rule of making pizza – be it on a grill, Egg, or in an oven.
The reason this is so key is because that is how we get the crust underneath all the toppings cooked through – and even crispy – before we completely scorch the toppings.
If we do not cook in a hot oven on a HOT pizza stone, that is when we end up with beautiful looking pizza… with soggy raw crust in the middle. No bueno.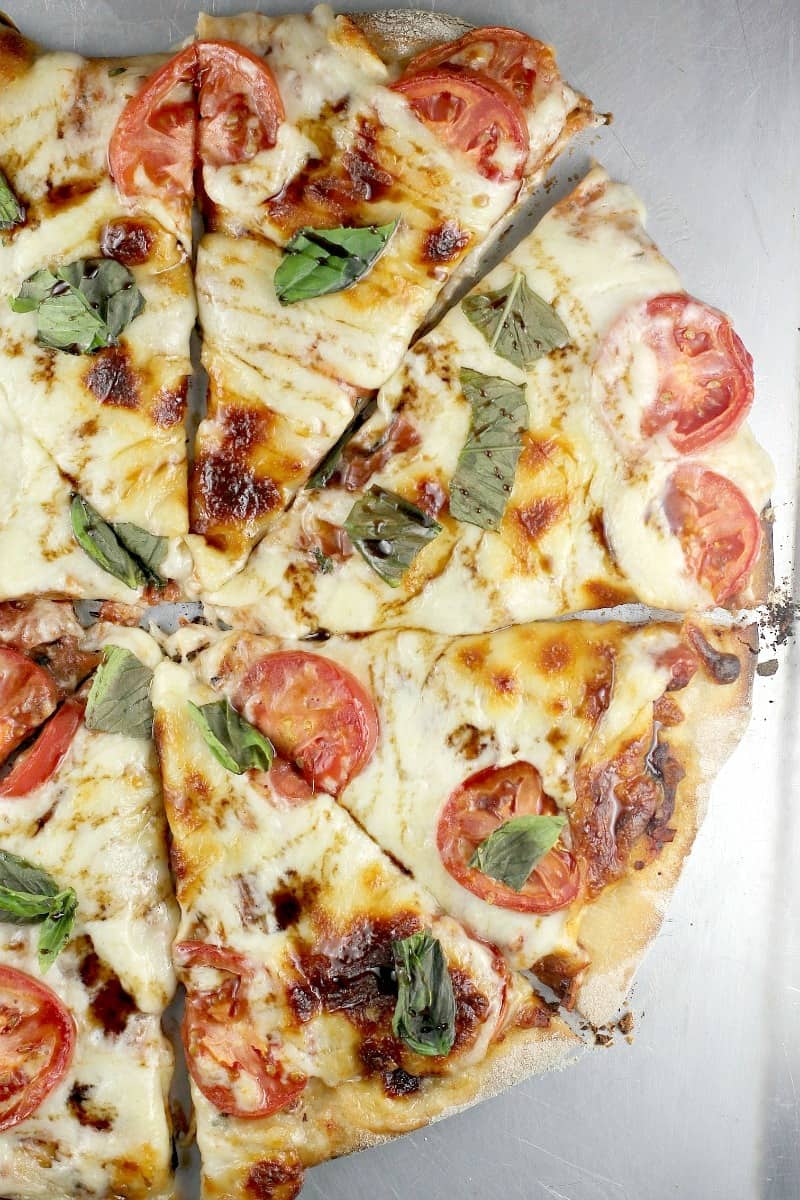 In a Big Green Egg specifically, we heat the pizza stone by indirect heat. On the Egg there are 2 ways to do this: 1) use the convEGGtor and 2) half moon baking stones (which together make a full circle).
Both serve to make a layer of ceramic on which we place the pizza stone. They conduct heat directly into the pizza stone to get it nice and HOT. They also serve to shield the pizza from scorch from the super hot coals beneath.
And this is precisely how we get cooked pizza dough topped with perfectly cooked toppings.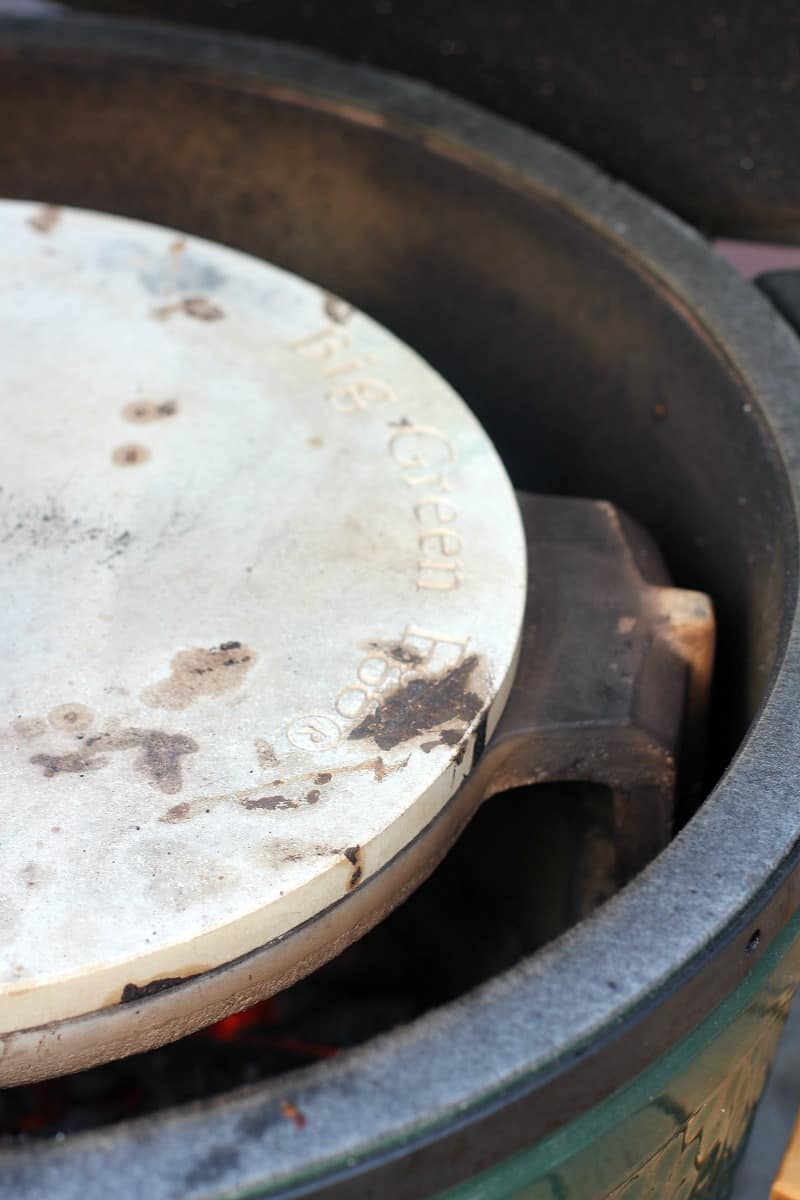 Why this pizza margherita is special
I have made margherita pizza a zillion times over and the reason I love this one the most is: I used 2 variations of mozzarella: shredded and fresh, I used my Homemade Pizza Sauce, my Sam Adams Beer Pizza Dough, fresh basil (to be honest, it was from my garden so it was extra special), and that sweet drizzle of concentrated balsamic vinegar "glaze" to finish.
Now, do you have to make my pizza sauce and pizza dough to have yourself a yummy grilled margherita pizza? Well, no. But you should! My sauce has such rich flavor from red wine, and my dough is tried and true, hoppy flavor, and I adore it.
But, yeah. You can do what you want. Even if you [sighhhh] buy sauce and dough. (kidding/not kidding)
Margherita pizza is seen in many variations – with ricotta, no sauce, etc, etc. I like this grilled pizza margherita version with pizza sauce because it just makes this grilled pizza feel complete to me. And the full flavor of the pizza sauce balances with the smoky grill flavor we get in the Big Green Egg.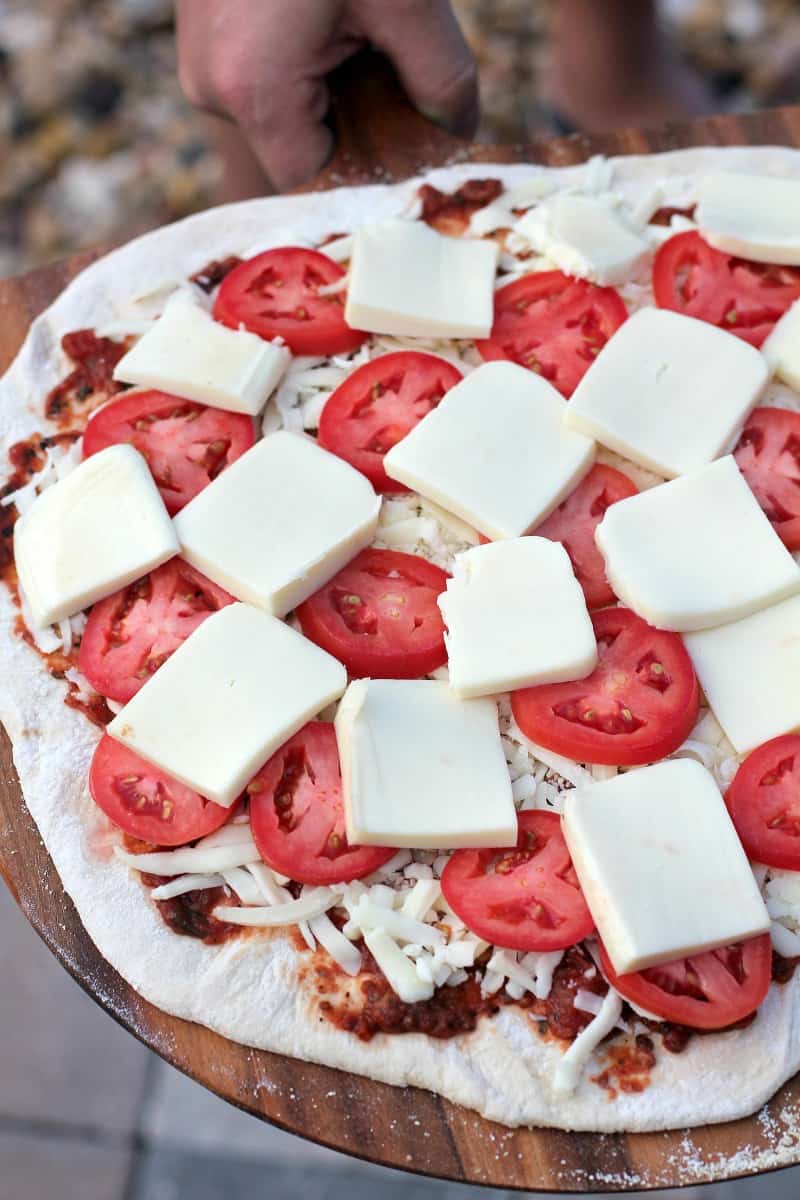 The ingredients
Corn meal. In order to slide the assembled pizza onto the pizza stone in the grill, a thin layer of corn meal prevents the dough sticking to our paddle.
Sam Adams Beer Pizza Dough. Just half the recipe, and I always make a second pizza with the rest but the dough can be frozen. If you do not or cannot make my recipe, fresh pizza dough is available in the bakery section of most grocery stores anymore.
Homemade Pizza Sauce. Or you can substitute store-bought.
Cheeses. Shredded mozzarella cheese and sliced fresh mozzarella. For the shredded mozzarella, it is important to use thick shred mozzarella or to buy a bloc and shred yourself. Shredded cheese has anti-caking additives that keep the cheese from melting well, and this is worse with finely shredded cheeses.
Roma tomatoes. Any beautiful ripe tomatoes will do.
Fresh basil leaves. If fresh basil is not available, a substitute would be fresh oregano leaves. If that is not available, then a light sprinkling of dried Italian seasoning or oregano can be substituted.
Balsamic glaze. This is a sweet reduction of balsamic vinegar, and you find it in the same section of the grocery store as vinegars and oils. I keep a bottle in the pantry for recipes like this and also for a lot of random things that just benefit from this finishing touch. It has a long shelf life. If not available, you can make you own; there are a lot of recipes online.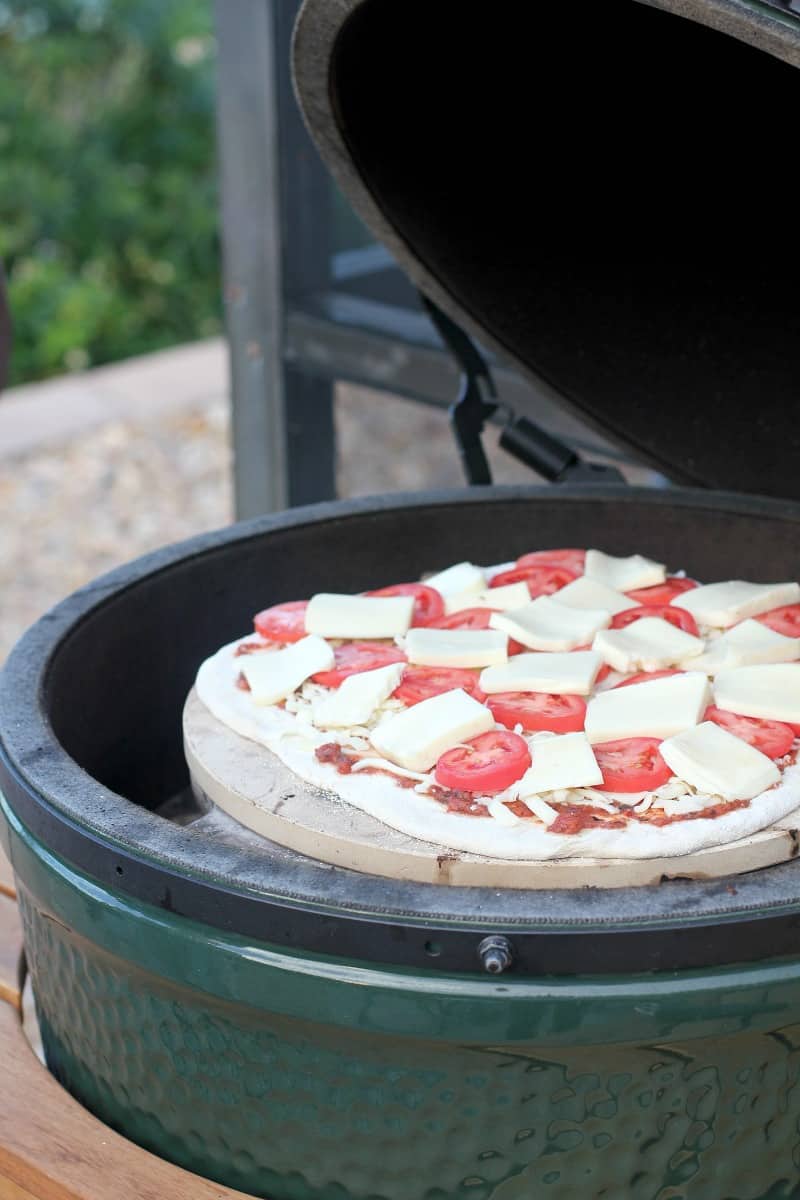 The instructions
First, we get our Big Green Egg fired up to a robust 450°F.
We set up the Egg for pizza cooking with either the Big Green Egg convEGGtor or 2 Big Green Egg half moon baking stones on a grill grate. Add the pizza stone on top and heat thoroughly.
Next, assemble the grilled pizza margherita on a pizza paddle.
Transfer the pizza onto the hot pizza stone and bake 10-15 minutes.
Drizzle with balsamic glaze, slice, and serve.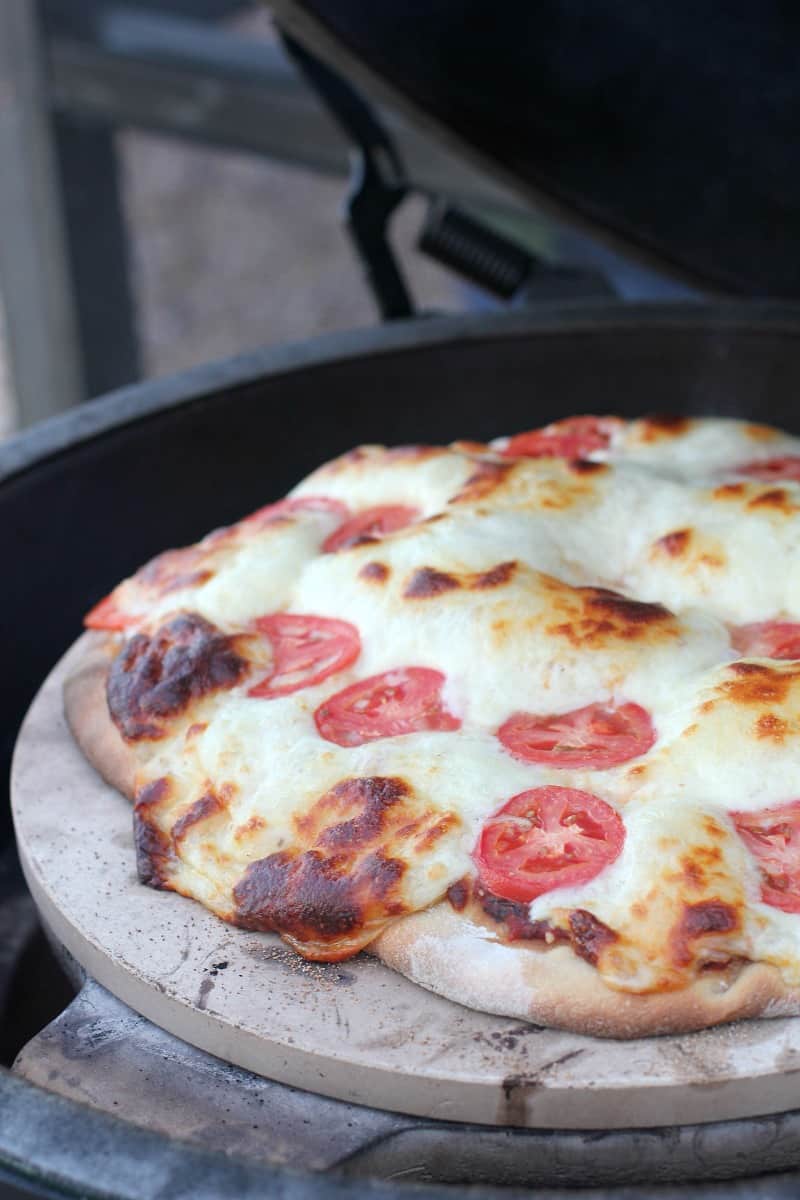 Tips
Lift the pizza up with tongs or a spatula to check for doneness underneath. It may look done on top, but that is only half the story.
Having a well heated pizza stone is key to ANY home cooked pizza be it on a grill or in the oven. Always heat the stone for 10-15 minutes AFTER the grill or oven is at target temperature to make sure it is heated through.
That little layer of corn meal on the paddle is life or death to get the big green egg pizza safely onto the grill. Do not forget that step!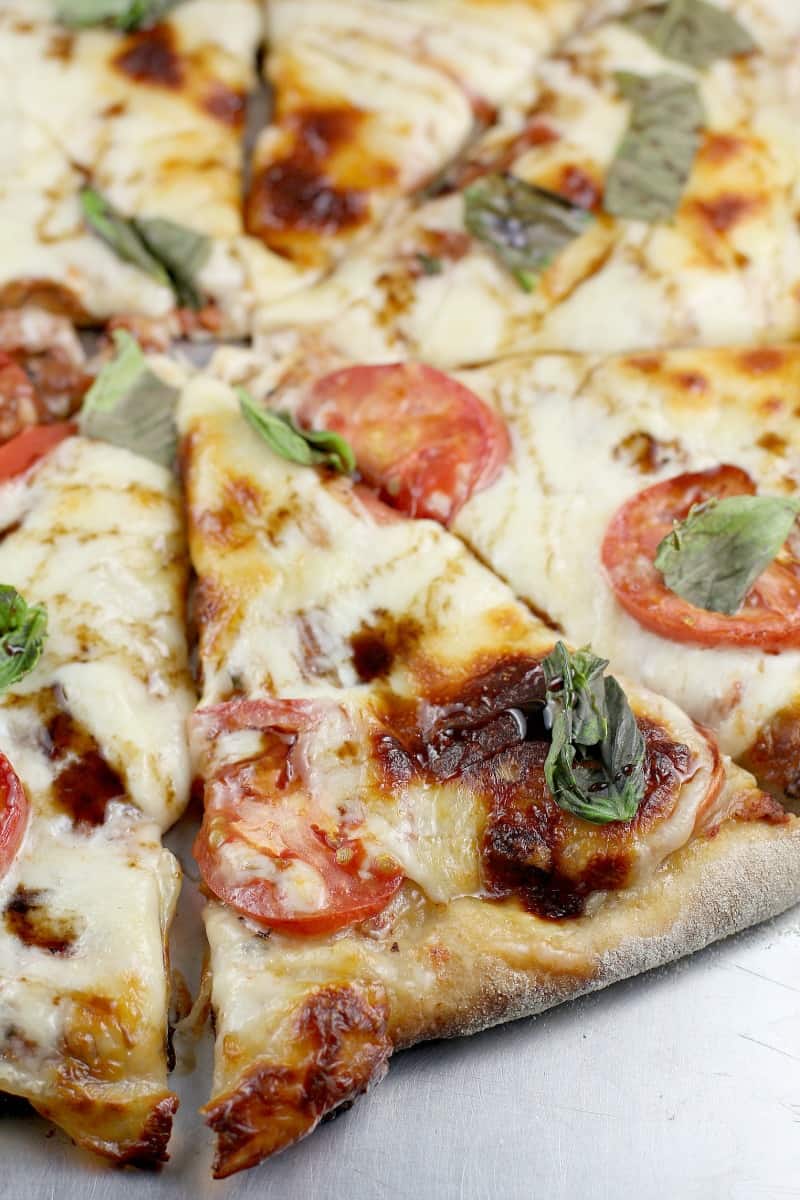 More pizza recipes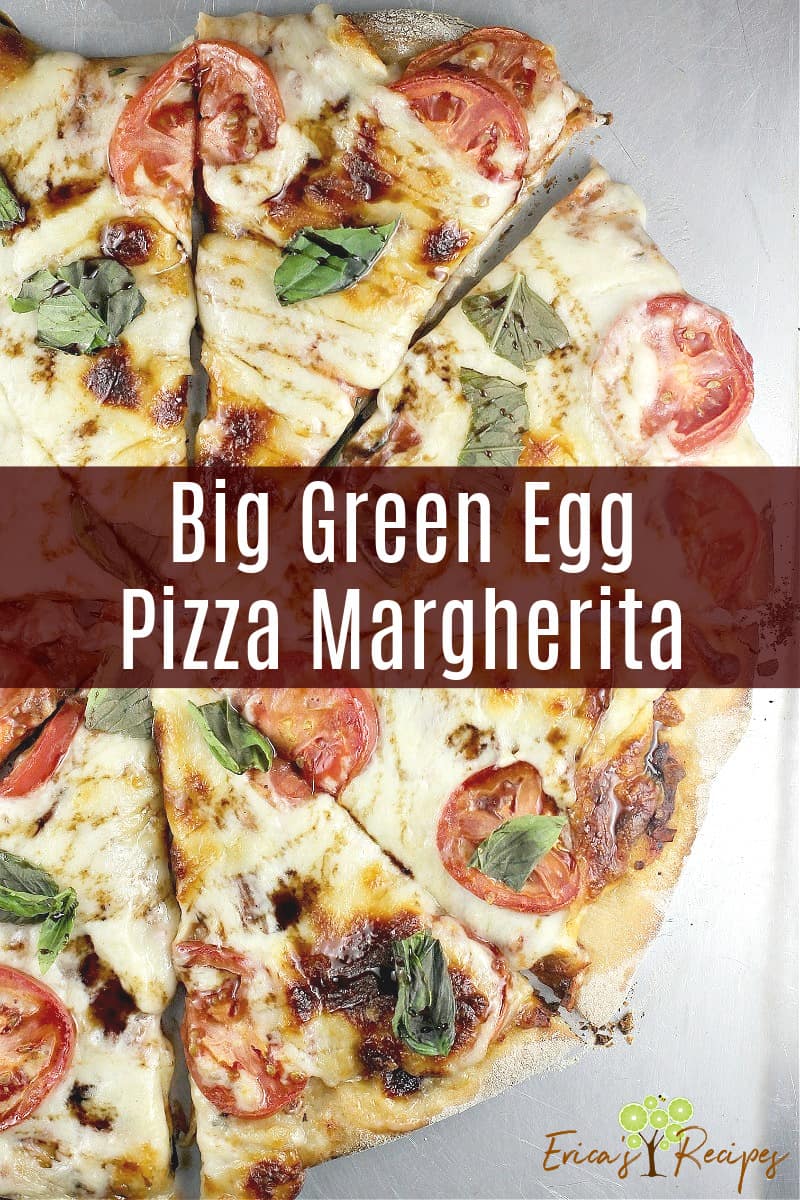 This recipe uses my Sam Adams Pizza Dough made with beer and my Homemade Pizza Sauce with wine and garlic.
For the ultimate in Big Green Egg cooking, see my Smoked Over-The-Top Chili recipe.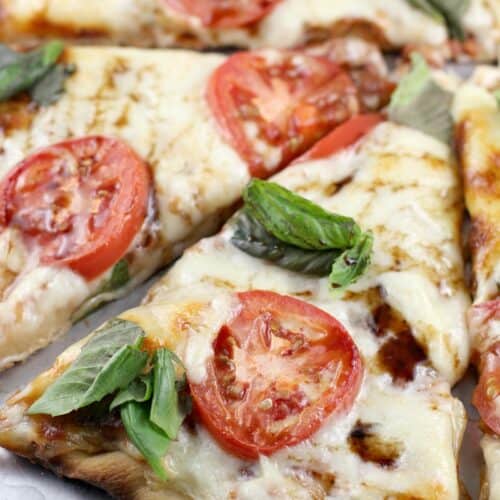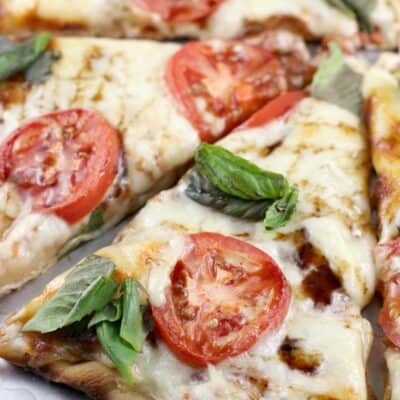 Big Green Egg Pizza Margherita
Big Green Egg pizza margherita has a crispy homemade crust, loads of cheese, fresh tomato, basil, and a sweet balsamic glaze drizzle.
Ingredients
corn meal

for dusting

½

Sam Adams Beer Pizza Dough recipe

or pizza dough for 1 large pizza

½

cup

Homemade Pizza Sauce

8

oz

shredded mozzarella cheese

preferably thick shred

3

large Roma tomatoes

sliced

8

oz

fresh mozzarella cheese

sliced

¼

cup

fresh basil leaves

torn into bite-sized pieces

2-3

Tbsp

purchased balsamic glaze see Notes
Instructions
Fill the firebox of the Big Green Egg with charcoal to just under the fire ring and light. Get to a steady temperature of 450°F.

Set up the Egg for indirect cooking such as using the Big Green Egg convEGGtor (legs down) alone or 2 half moon baking stones on a grill grate. Place the pizza stone on top. Allow to heat 10-15 minutes.

On a pizza paddle (or bake sheet), spread a fine layer of corn meal.

Roll out the pizza dough to desired size and thickness and transfer to the pizza paddle.

On the dough, layer the pizza sauce, shredded cheese, tomato, and fresh mozzarella.

Gently shake the assembled pizza onto the preheated pizza stone. Bake 10-15 minutes until cheese is melty, toasty on top, and crust is crispy and cooked through.

Slice pizza into 8 slices. Drizzle balsamic glaze over. Serve.
Notes
Balsamic glaze is a sweet reduction of balsamic vinegar, found in the same section of the grocery store as vinegars and oils.
If using a regular grill, simply place your pizza stone on the grill grate to heat and proceed.
Nutrition
Calorie count is purely an estimate calculated using an online application to serve as a guide and not to be taken as accurate nutritional information. Percent Daily Values are based on a 2,000 calorie diet.
Tried this recipe?
Leave a comment below and let me know!