Creamy Poblano Mac and Cheese
Poblano Mac and Cheese is dreamy, creamy delicious with roasted poblano peppers, onion, and loads of cheese. Topped with a cheesy buttery cracker topping, serve this poblano pepper macaroni and cheese as a vegetarian main dish or a yummy side course. Layers of flavor and texture highlight this incredible poblano pepper mac!
This website uses affiliate links which may earn a commission at no additional cost to you. As an Amazon Associate I earn from qualifying purchases.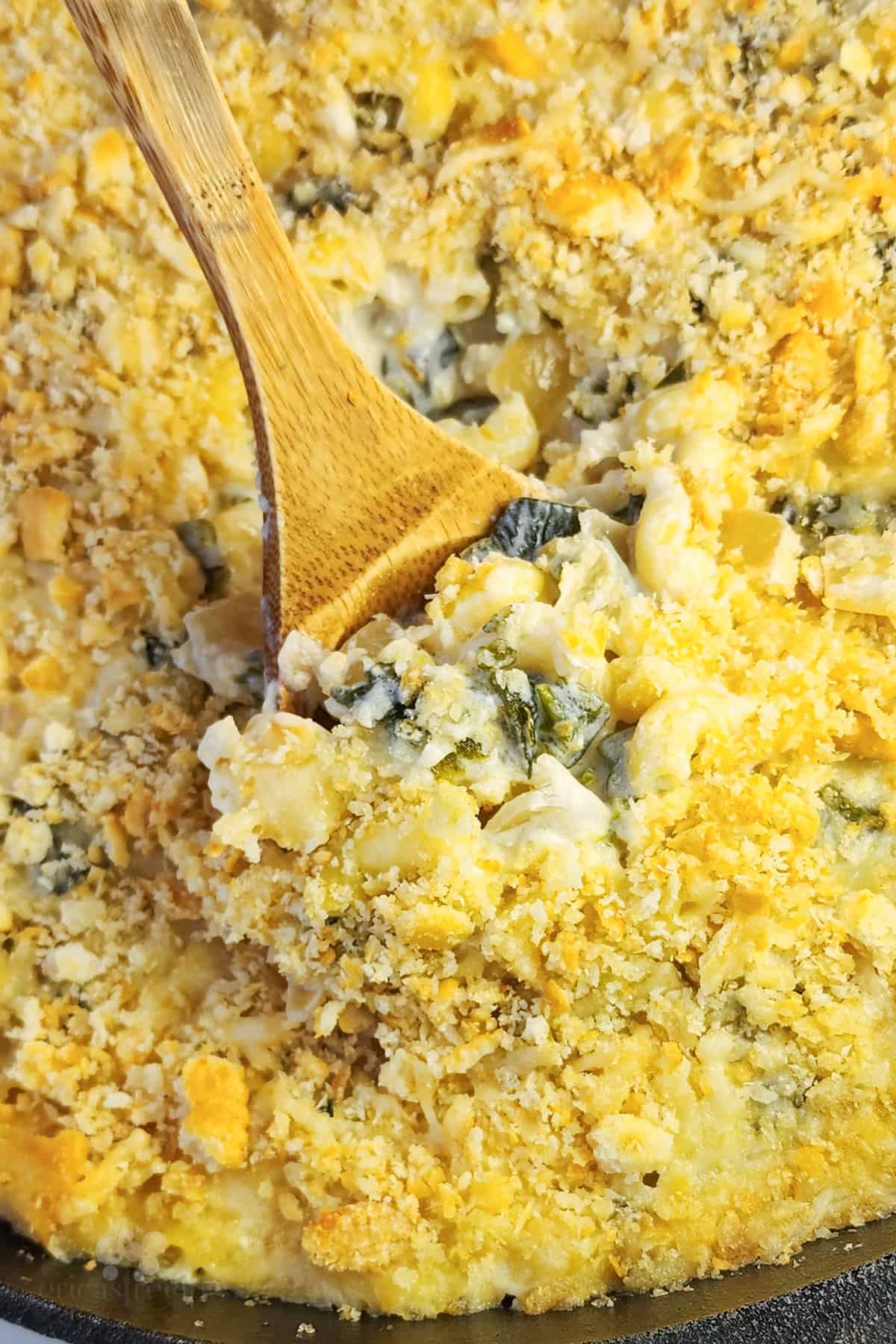 Why this recipe works
Just like my love of pizza, my love of macaroni and cheese runs deep. I have some clever tasty mac and cheese recipes on this blog of mine and so I'm super choosy when adding a new mac to my collection.
Well this creamy glorious poblano macaroni and cheese with onion, garlic, and roasted poblano peppers is so worthy. It is flavorful, luscious, and balanced. With a bit of bite from onion and wine, a hint of heat from mild poblano peppers, comforting pasta, crunchy topping, and a cheese sauce to die for, this is the mac of my dreams.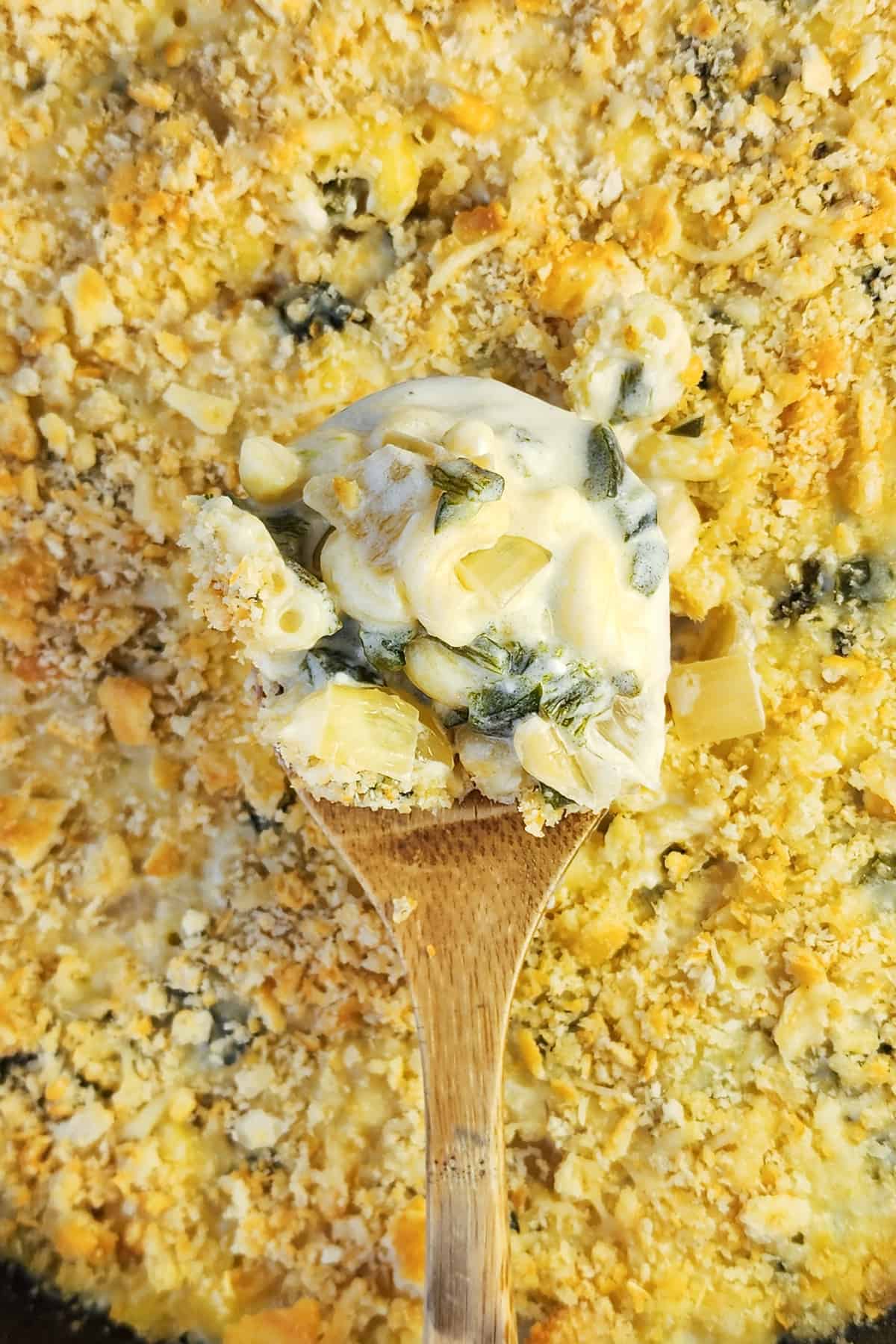 Suggested additions
As a base recipe, this one has so many possibilities. Here are suggestions if you're looking to add to this recipe and make it even more awesome.
Cooked and crumbed sausage.
Bacon.
Chorizo – either Spanish or Mexican would be delicious.
More peppers! Cubanelle, red bell pepper, banana peppers, jalapeno, sweet peppers, etc.
The cream cheese can be replaced with silken tofu (use an immersion blender) and the pasta with chickpea pasta for a vegetarian main dish with more protein.
The sky is the limit on veggies. Add to your hearts content, though I do recommend roasting them first.
How to prepare poblano mac and cheese
This recipe, like all my macaroni and cheese recipes, is based on my Basic Creamy Macaroni and Cheese which is my opus, my modus operandi. So for all the deets, check out that recipe and then you will be a mac master too. A key for this recipe is to assemble all the ingredients first because all the prep for each element is done while another element is cooking.
Roast the peppers
Poblano macaroni and cheese builds on my basic mac with a couple extra steps to brings the goods, starting first with my favorite pepper – poblanos. Roast these delectables under your oven broiler, then stick in a Ziploc bag to steam. Once they cool at bit, the skins come right off. Remove the seeds and set them off to the side.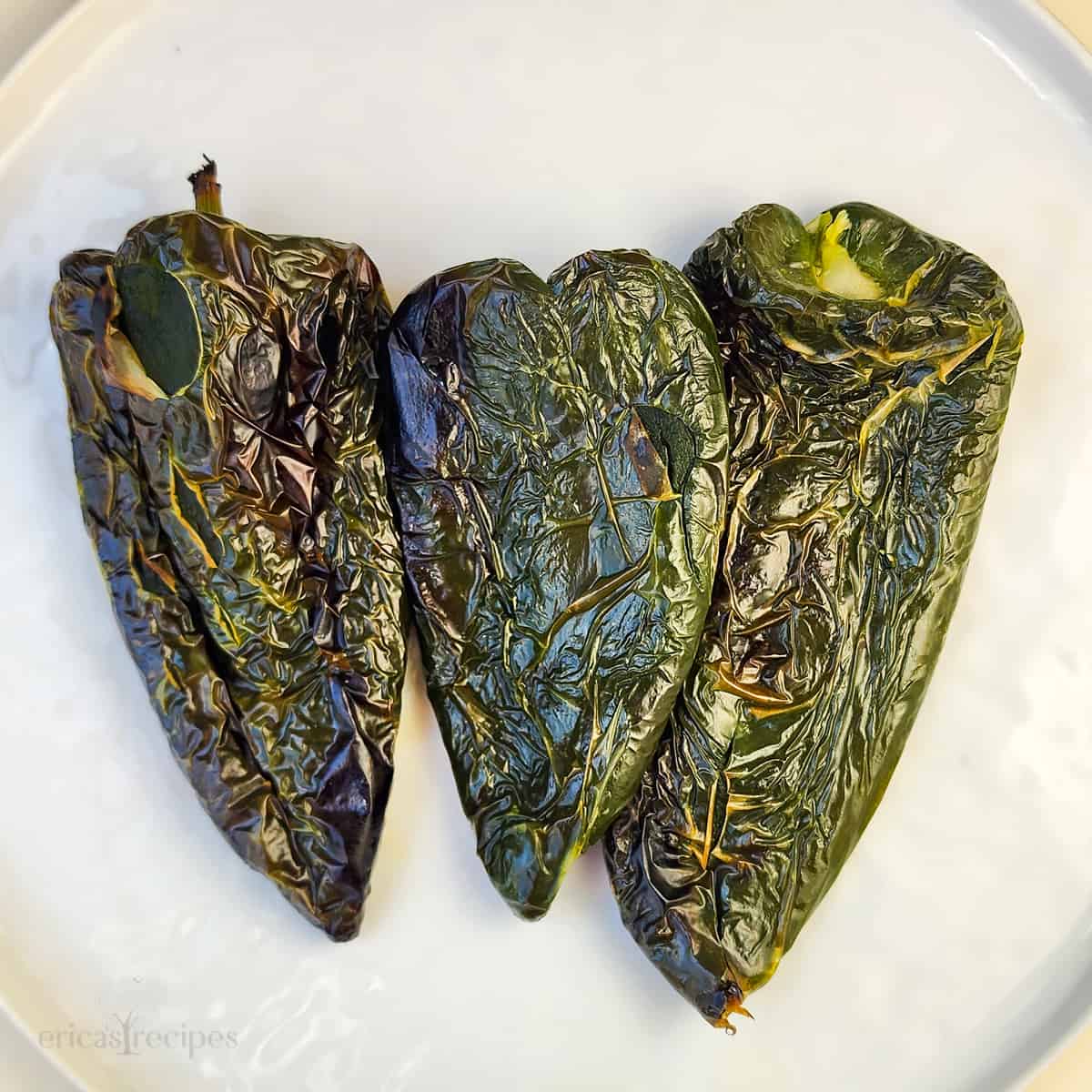 Prepare the onion
As delicious as poblano peppers are, onion is a big part of this recipe too. So we sauté diced onion with garlic in butter until lightly browned. Then add wine and simmer until most of the liquid boils off. This brings flavor, boils off the alcohol, and leaves us with tender SAVORY DELICIOUS onion to totally enhance our mac.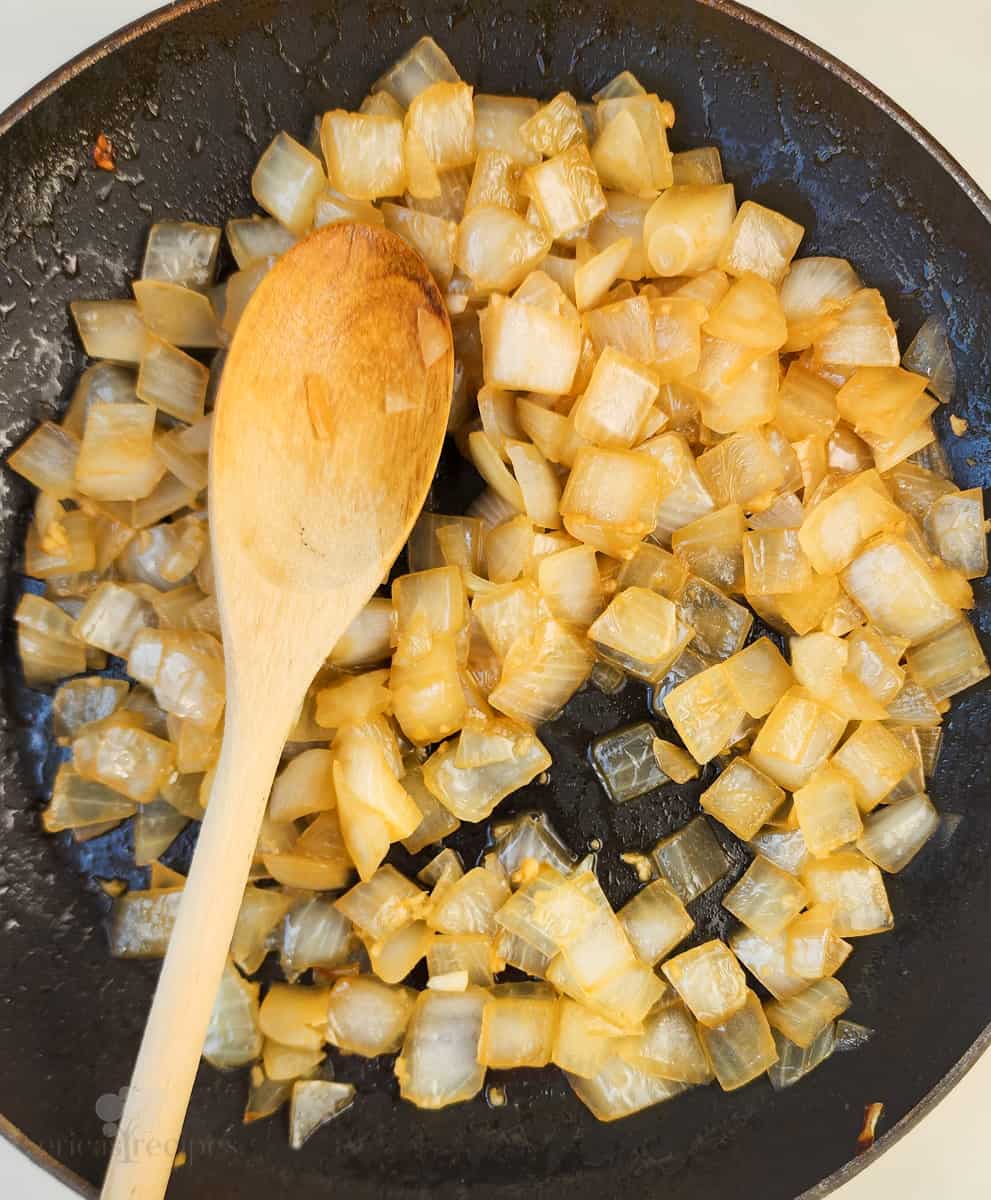 Mix the topping
While the onion is cooking and peppers are roasting/cooling, we can quickly throw together the ingredients for the cracker topping in a bowl.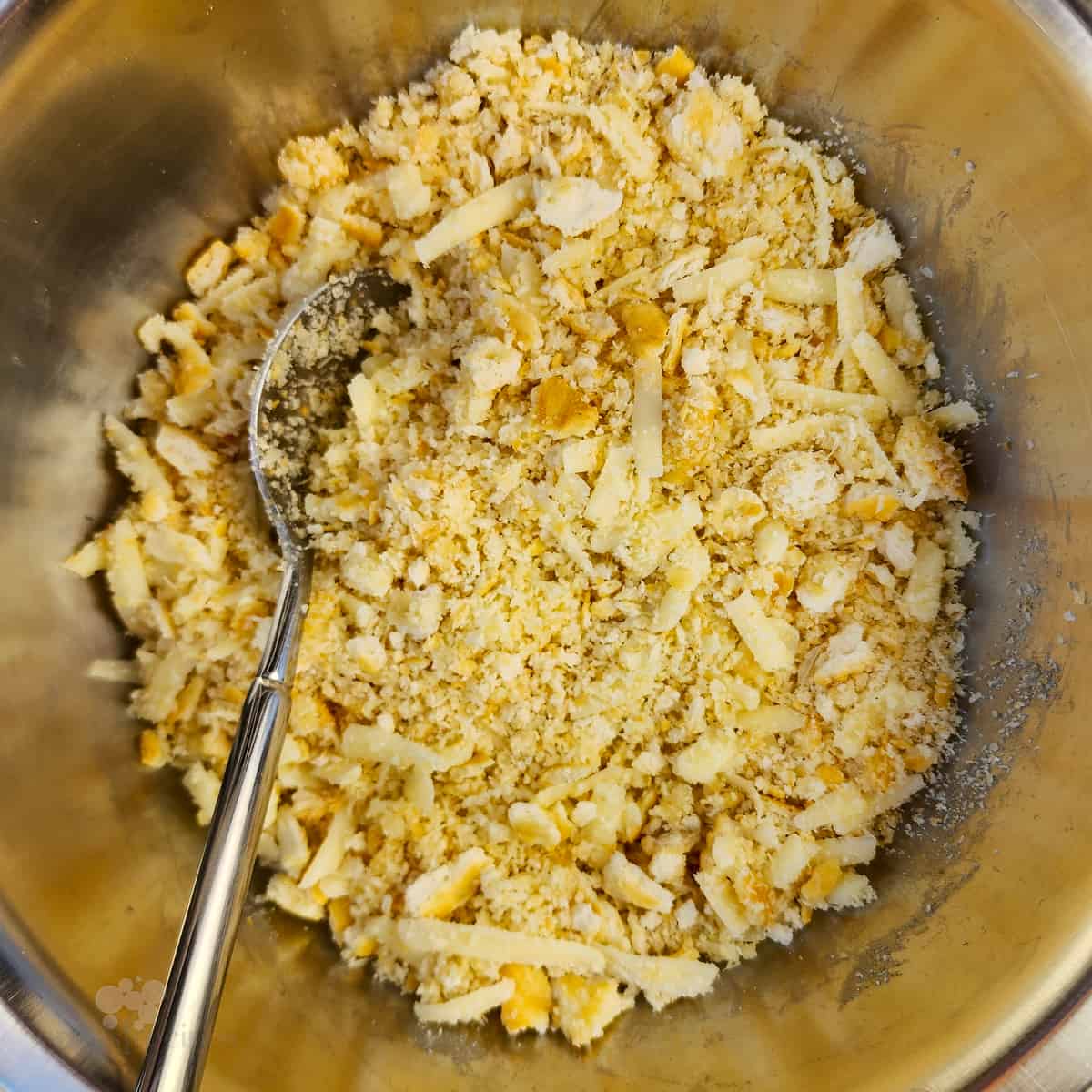 Cook the pasta and make the sauce
Put the macaroni into the boiling water to cook and while that's happening, we make the sauce. Heat the butter and flour to make a roux, whisk in the milk until very warm, then add the cheeses. Little bits of cream cheese will still be visible once melted into the sauce, but they go away once baked.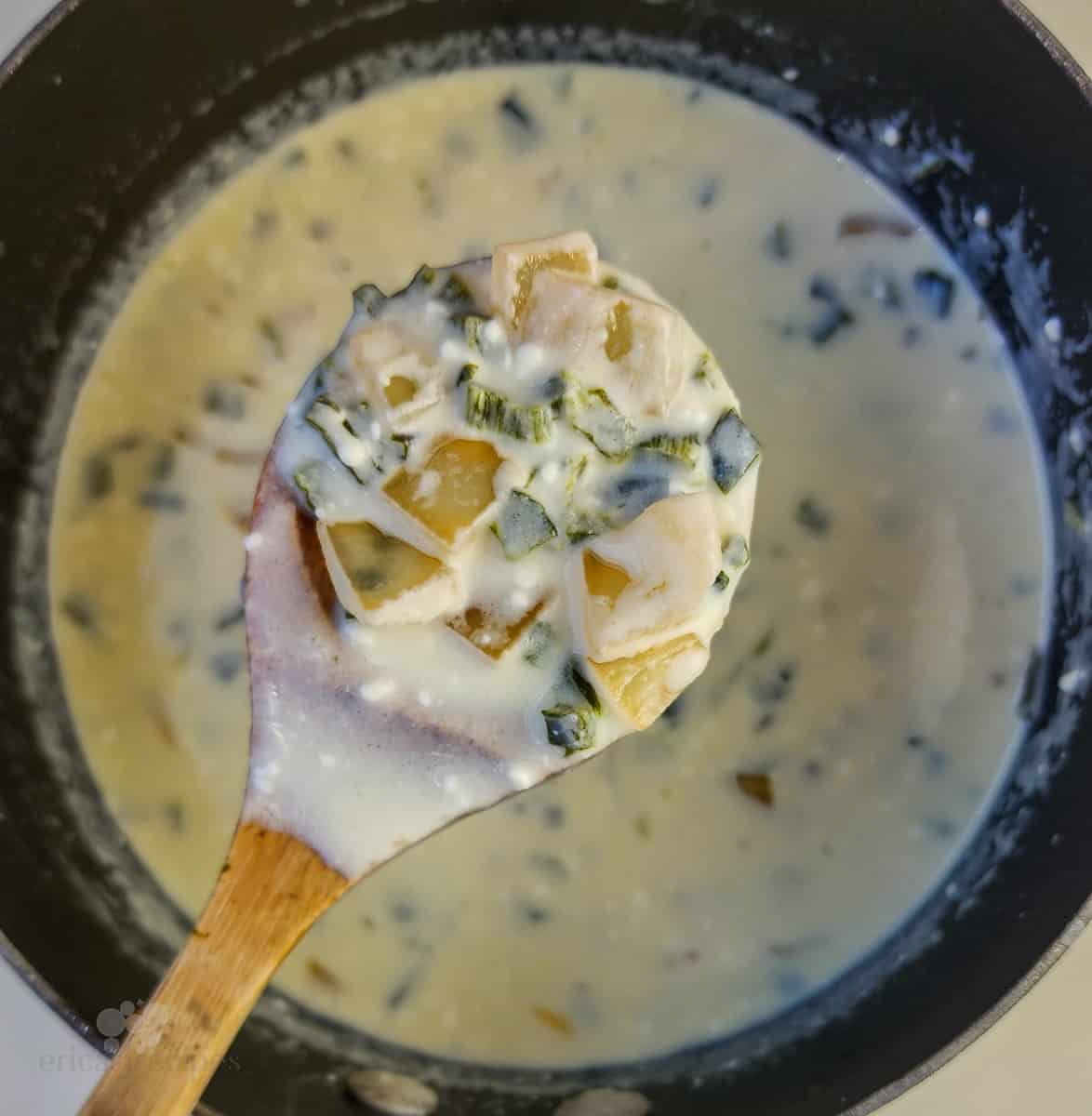 Assemble poblano mac and cheese and bake
After the sauce is made, taste for seasoning and add the poblano peppers, onion, and cooked/drained pasta. Pour it all into your casserole dish, top with the cracker mixture, and bake. Everything is already cooked, so we are just baking to thicken it all up by allowing the pasta to absorb sauce until all is bubbly and the topping is golden brown.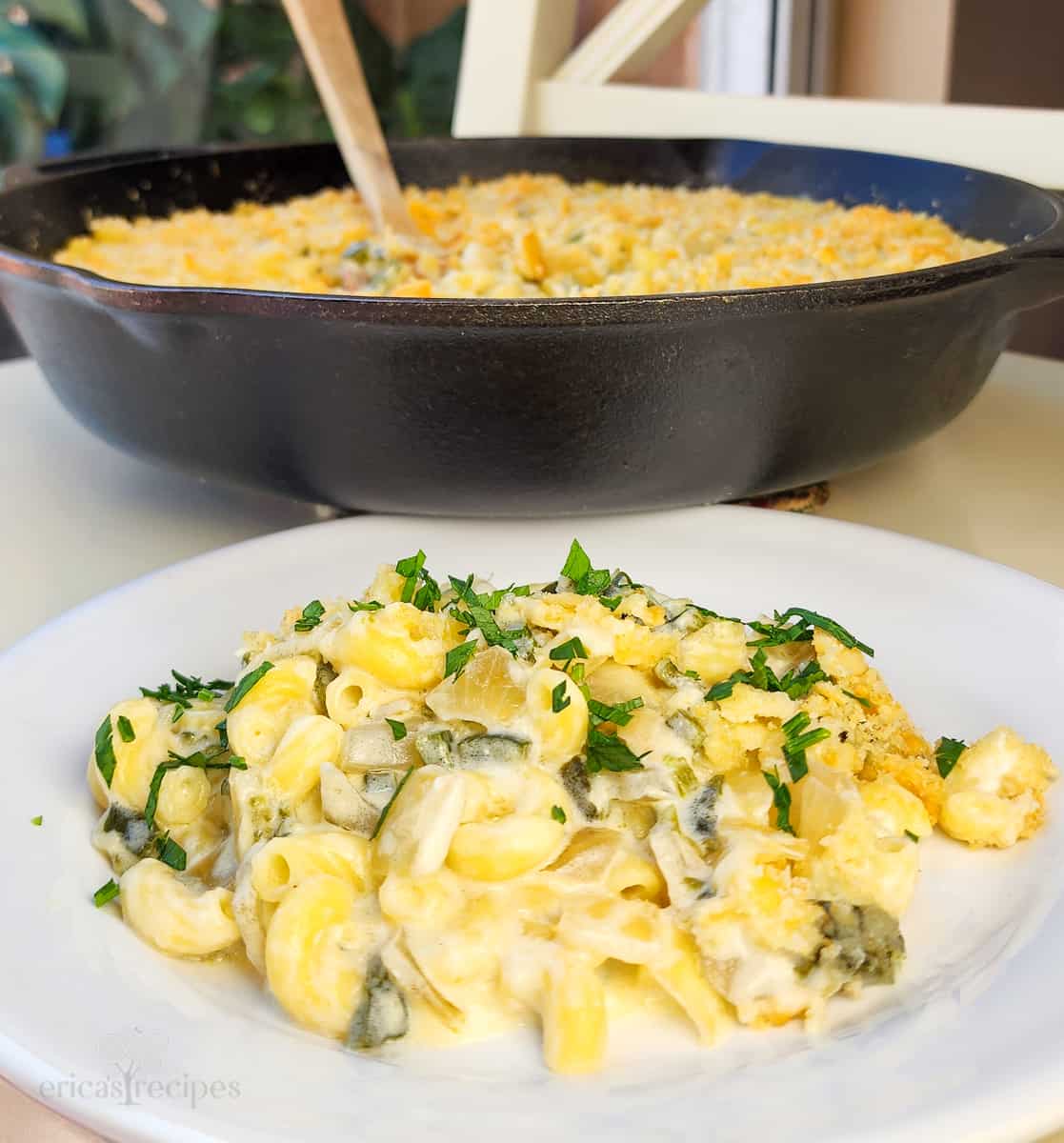 FAQs
What is a substitute for the wine?
In this recipe, the alcohol from the wine is cooked off, but if desired, replace the wine with reduced sodium chicken or vegetable stock.
Can this recipe be prepared in advance?
Yes, but with all mac and cheese recipes, I recommend adding an additional 1/4 cup milk to keep it creamy.
What is a substitute for poblano peppers?
This recipe celebrates poblano peppers which are, in fact, my favorite peppers. However, if you would like to use a different pepper then I recommend bell peppers or cubanelle peppers. If you'd like a mac and cheese with jalapenos peppers, check out my Jalapeno and Chorizo Macaroni and Cheese.
Can meat be added?
Of course! Cooked and crumbled sausage would be great, also bacon or shredded chicken. No other alterations to the recipe are needed if meat is added.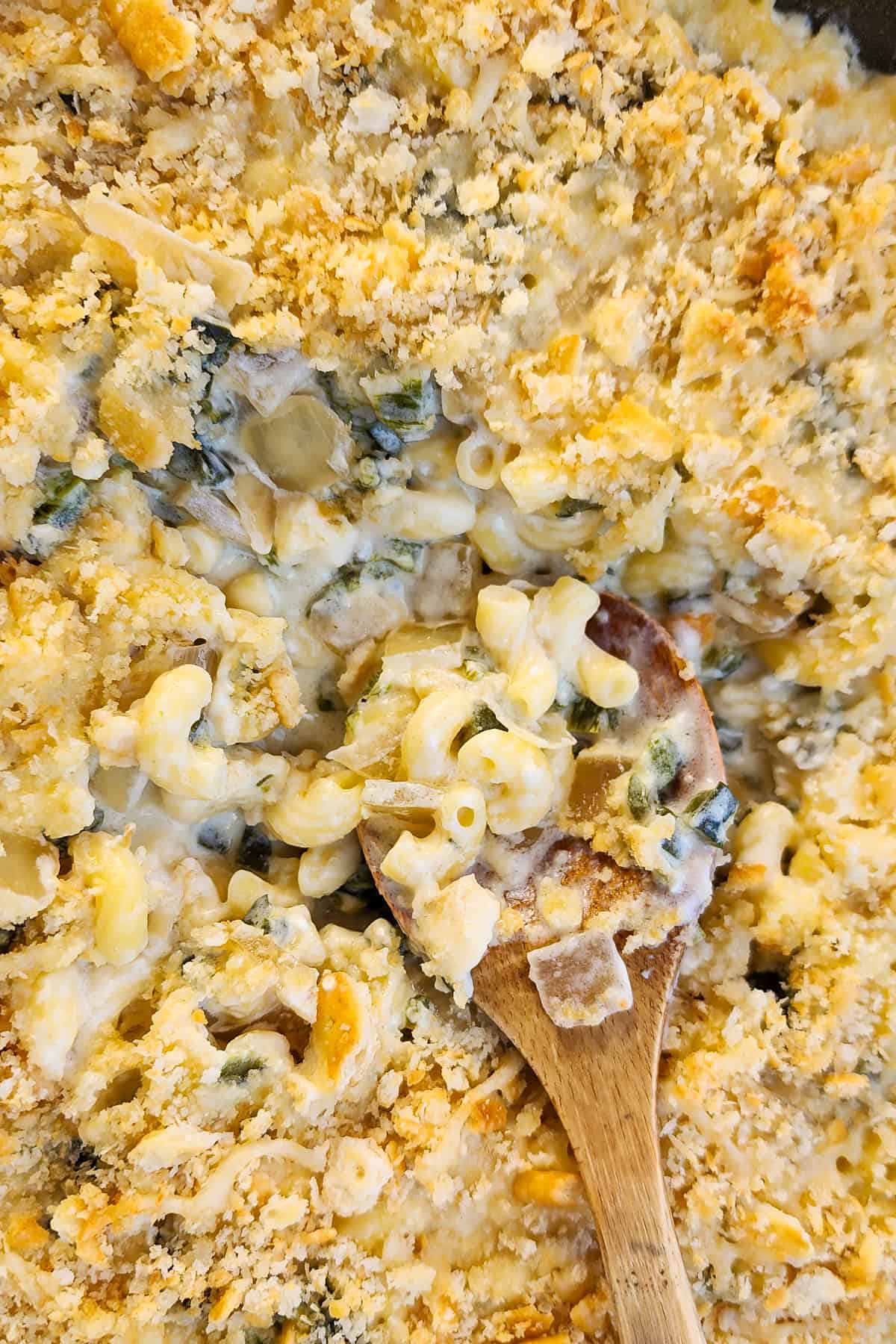 Also check out my Garlic, Bacon, and Beer Mac and Cheese for the most epic mac ever.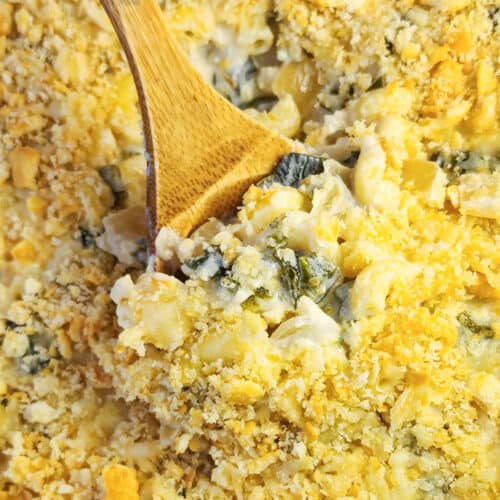 Creamy Poblano Mac and Cheese
Poblano Mac and Cheese is dreamy, creamy delicious with roasted poblano peppers, onion, and loads of cheese.
Instructions
Roast the poblano peppers
Roast the peppers under the oven broiler, rotating every 5 minutes, until skins are blackened all over and peppers are softened.

Transfer to a resealable bag and seal. Let the peppers steam in the bag until cool enough to handle. Remove skins and seeds. Dice and set aside.
Prepare the onion
While peppers are cooking, heat 1 tablespoon butter in a medium skillet over high heat. Add the onion and garlic and sauté, tossing regularly, until onions are soft and lightly golden.

Add the wine and cook until most of the liquid is gone. Remove from the heat and set aside.
Prepare the topping
Combine the Ritz crackers, panko breadcrumbs, parmesan, and 1/2 cup shredded Vermont white sharp cheddar cheese with 1 tablespoon melted butter in a medium bowl. Set aside.
Cook the pasta and make the sauce
Bring a large pot of water to a boil. Heat oven to 350℉ degrees.

Add the macaroni and set time to cook to al dente according to package directions.

In a medium saucepan over medium heat, heat the remaining 2 tablespoons butter. Whisk in the flour and heat until mixture starts to bubble. Reduce heat and cook roux 2 minutes.

Whisk in the milk and heat, stirring constantly, until milk starts to steam. Add the cream cheese and remaining white cheddar cheese, stirring until smooth.
Assemble casserole and bake
Add salt to the sauce and taste for seasoning. Add the onion mixture, poblano peppers, and cooked macaroni.

Pour into a 13×9 bake dish. Top with prepared cracker mixture.

Bake at 350℉ degrees for 15 minutes or until bubbly and golden on top.
Notes
In place of the wine, low sodium vegetable or chicken stock may be substituted.
Nutrition
Calories:
503
kcal
(25%)
|
Carbohydrates:
32
g
(11%)
|
Protein:
20
g
(40%)
|
Fat:
32
g
(49%)
|
Saturated Fat:
18
g
(113%)
|
Monounsaturated Fat:
2
g
|
Cholesterol:
87
mg
(29%)
|
Sodium:
654
mg
(28%)
|
Potassium:
357
mg
(10%)
|
Fiber:
2
g
(8%)
|
Sugar:
8
g
(9%)
Calorie count is purely an estimate calculated using an online application to serve as a guide and not to be taken as accurate nutritional information. Percent Daily Values are based on a 2,000 calorie diet.
Tried this recipe?
Leave a comment below and let me know!