Juicy Smoked Pulled Pork on the Big Green Egg
This smoked pulled pork is slow cooked in the Big Green Egg with the right combination of prep, smoke, cook, and finish for you to perfect your skills and become a juicy pulled pork BBQ guru. I lay it all out: how to prep and cook the pork as well as my tips to make slow cooking on the Big Green Egg even easier.
This website uses affiliate links which may earn a commission at no additional cost to you. As an Amazon Associate I earn from qualifying purchases.
Pulled pork is so versatile in so many recipes. I have dozens of recipes using pulled pork, but my favorites are Whiskey Pulled Pork and Waffles, Pulled Pork and Apple Pizza, and BBQ Pulled Pork Stuffed Shells. Those recipes right there exemplify just how flexible pulled pork is.
Most of the time, I am just whipping up some Boston butt pork to have on hand. And by "whipping up', I mean breaking out the slow cooker, rubbing on my pork rub, adding a splash of cola or root beer then just let'r rip tater chip.
But to be honest, nothing beats taking the time to smoke up a juicy pork butt. To cook a proper pork complete with bark and smoke ring and all the yum yummy love you can give, whilst hanging out with friends and family sipping a cool drink. And it is a labor of love to be sure, but oh how good it is when it comes out just right.
Why this recipe works
We have tried smoking pork all sorts of ways and variations, and this recipe here is The One. I lay out all the steps below in the recipe card, but there are TWO key steps that perfect this pork recipe:
Wrap the meat partway through cooking to trap in all the juice and keep the meat tender.
Cook to an internal temperature of 205F.
Now on the interwebs, you will find argument after argument about whether to wrap or not, and whether to pull the meat off at 195F or 200F or 205F. As far as wrapping goes, all I can say is before we started wrapping, our meat was drying right the hell out. And as far as temperature is concerned… yeah, your pork will be perfectly tasty at 195F. But when you give it a little more love and let get it to 205F, your meat will have better shred and texture.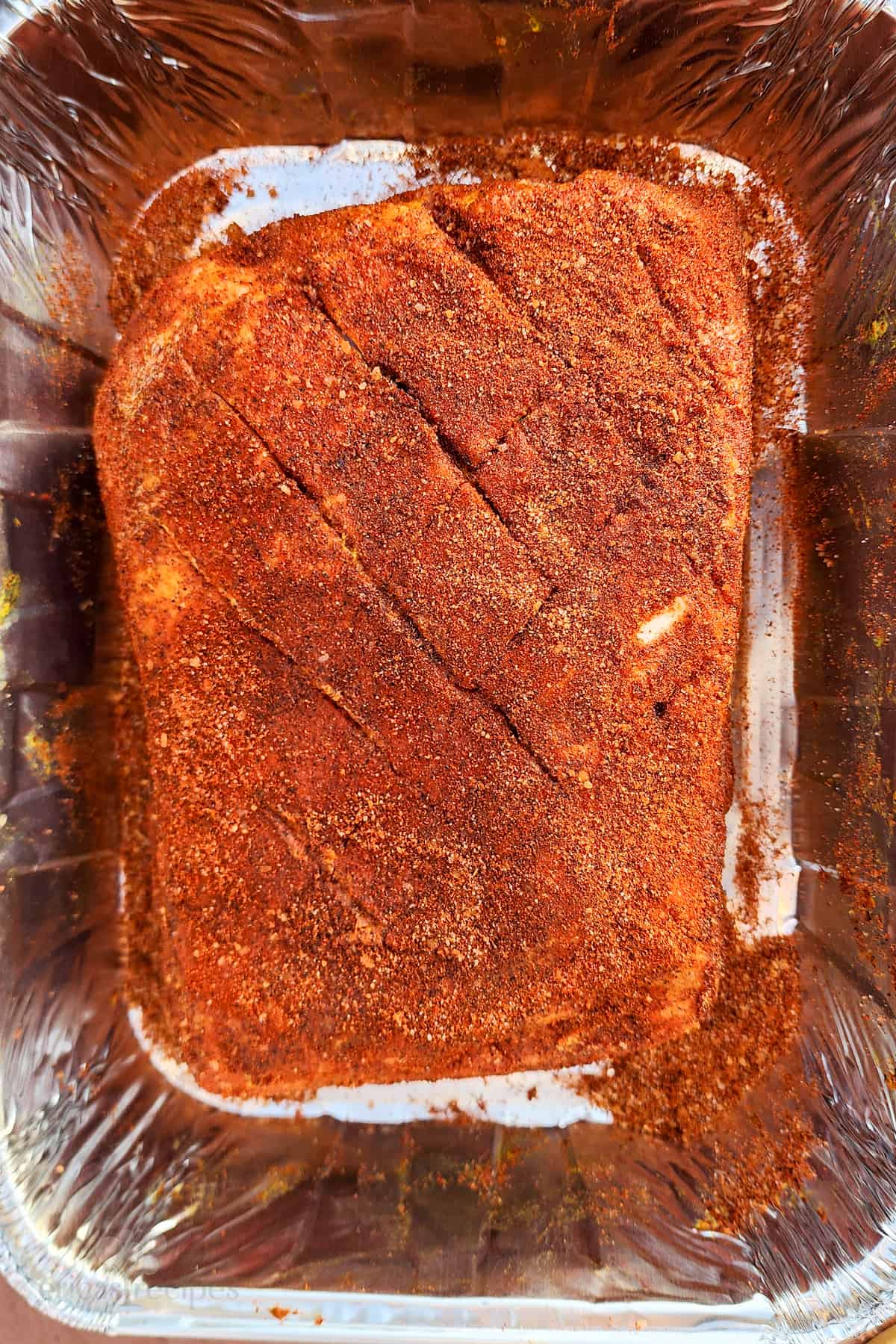 Ingredients
I only use THREE ingredients when I make pulled pork on the BGE:
Boston butt pork roast
yellow mustard
Pork Grill Rub seasoning
apple juice
Okay, so to be fair, yes, my Pork Grill Rub seasoning blend has a number of ingredients, but it is far and away my favorite with its delicious balance of smoky-salty-sweetness. But whether you use my seasoning blend or buy one, be sure to have enough to coat the entire surface of the roast well and completely. The rub not only flavors the meat, it also creates a barrier to hold in moisture while smoking and keep the meat tender juicy.
What wood is best for smoking pulled pork
Generally speaking, pork pairs best with fruity wood, such as apple or cherry. This is especially true for Boston butt pork. Apple and cherry are mild but because there is plenty of time for their flavor to penetrate the meat. In addition, I add a bit of hickory for an extra punch of flavor. Regardless of your wood choice, have plenty on hand because we want that smoke rolling for the first few hours.
Whereas electric smokers or grill smoker boxes use wood chips, Big Green Egg uses wood chunks. Keep a small hatchet handy to knock the bark off before adding the chunks to the firebox. There could be chemicals lurking in the bark you don't want to get into your food.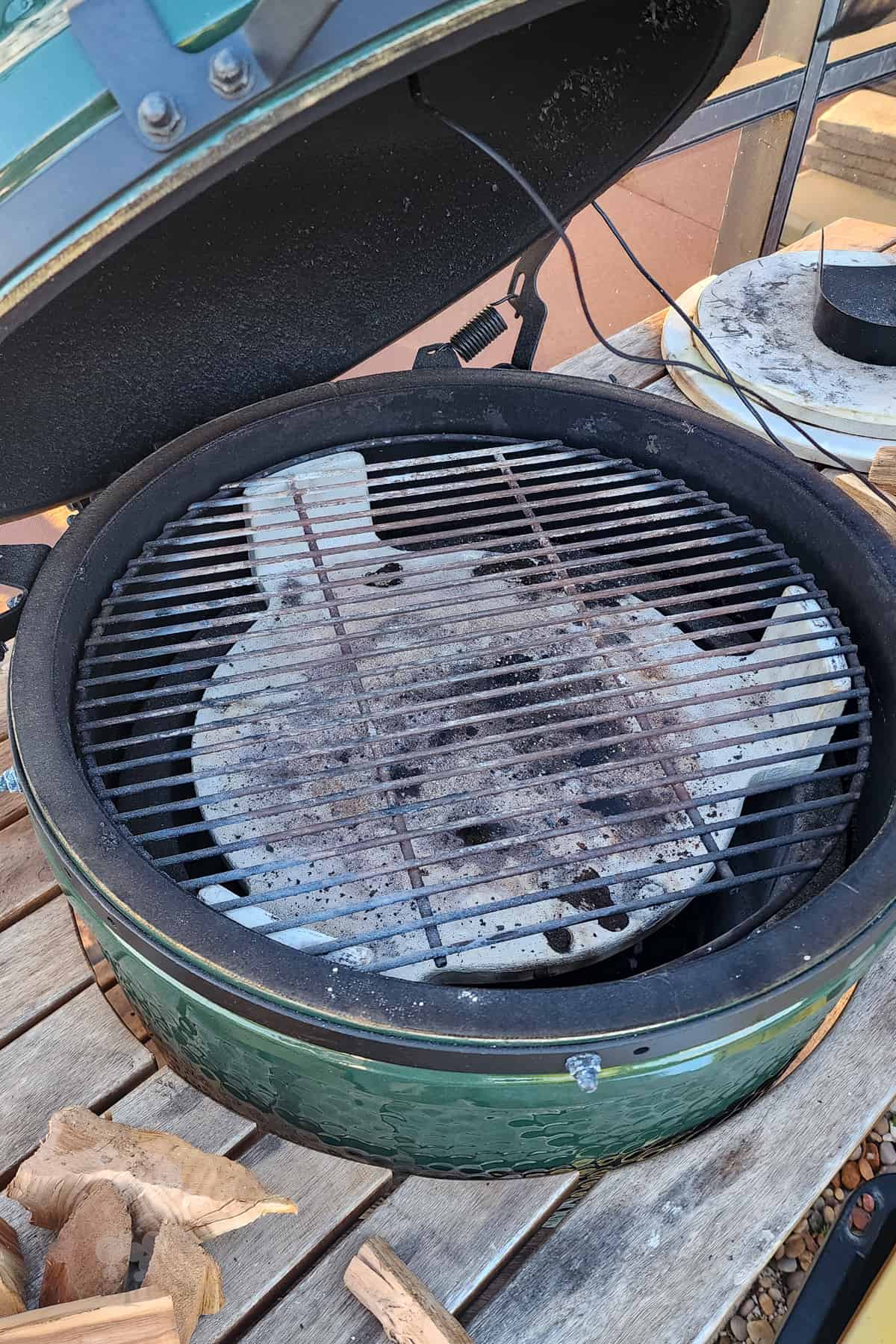 How to cook juicy pulled pork on the Big Green Egg
I lay out detailed directions in the recipe card, but in a nutshell, we do the following:
Prepare the pork by cutting off the fat cap, scoring, and coating with mustard and dry rub.
Smoke the pork for 5 hours.
Wrap the pork in foil with a splash apple juice and cook to an internal temperature of 205F (~4-6 hours).
Rest the meat an hour.
Break it up and enjoy.
We cut the fat cap off because it is just going to render (i.e. melt) off anyway in the smoker. And it will take seasoning as it goes. Also, the flavor is from the fat in and around the muscle, not the fat cap. Then scoring that side of the meat helps tenderize and facilitate penetration of the smoke into the meat.
But the key is that smoke>wrap>cook. Meat can only take up so much smoke. So we impart that smoke flavor, then wrap to save the juices leaving us with juicy tender delicious pulled pork.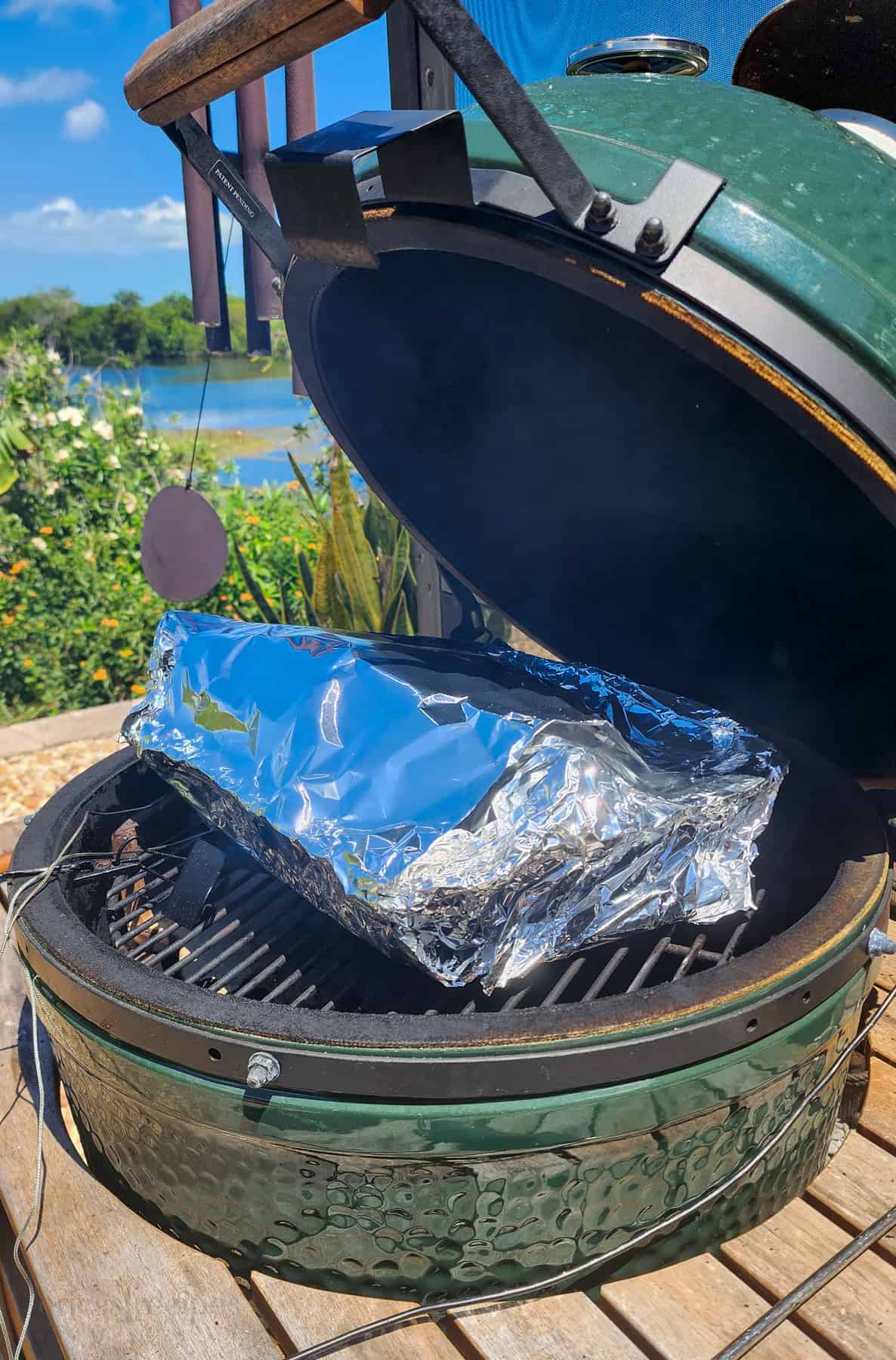 Recommended accessories
The Big Green Egg is an investment. There are less and more expensive options out there. We prefer the Egg since it uses lump charcoal to cook. Whether we are smoking or not, whatever we cook gets amazing flavor because of the lump.
If you plan on or have invested in purchasing an Egg, you will want to procure some essentials to get the most out of it. For pulled pork specifically, this means the following:
The above are pretty well required for smoking pulled pork on the Big Green Egg. But the last thing I want to recommend is a temperature controller which is totally optional but makes this much easier. A temperature controller is a contraption that controls the temp of the Egg so you don't have to babysit it as much. They even have Bluetooth so you can monitor from your phone. There are two variations that I know of: one that controls airflow into the bottom intake vent (such as an Egg Genius), and one that controls airflow out the top vent (a Smobot). We own both, and we prefer the Smobot.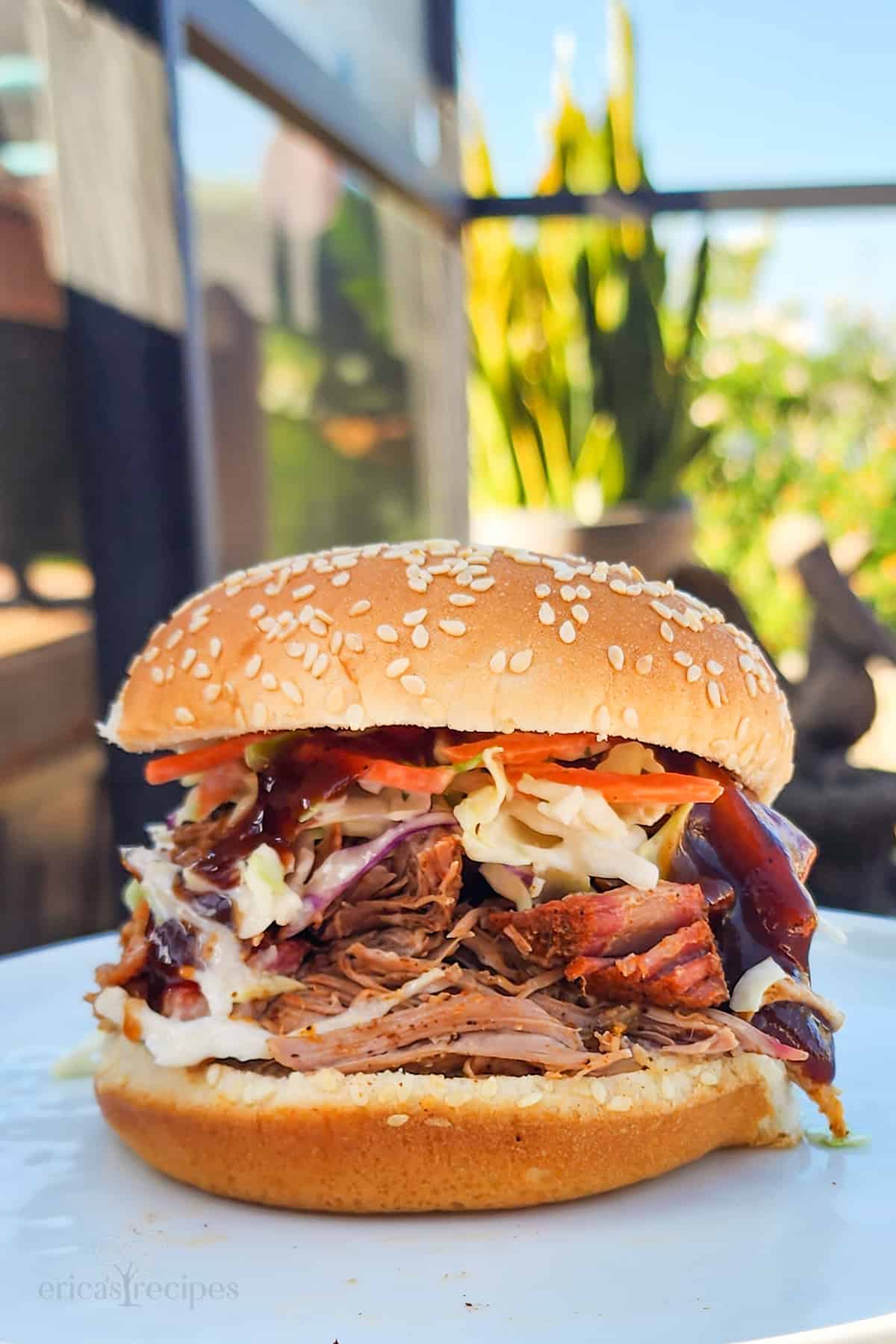 If you have a Big Green Egg, try Smoked Over the Top Chili for the best chili of your life.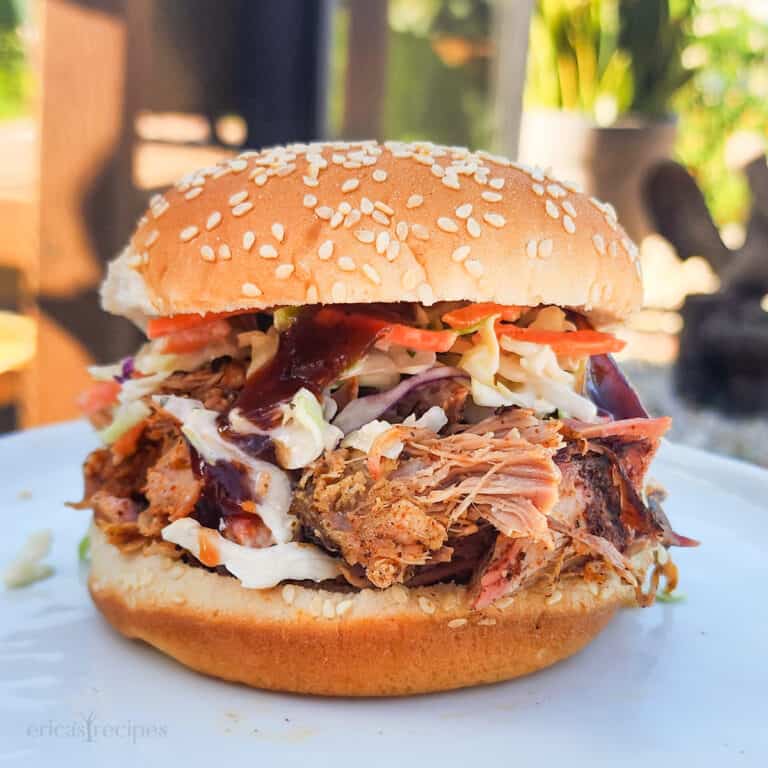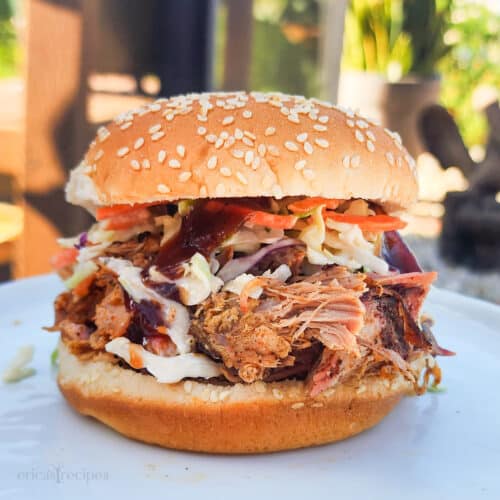 Juicy Big Green Egg Pulled Pork
This recipe for juicy smoked pulled pork is slow cooked in the Big Green Egg for tender flavorful pulled pork.
Ingredients
7 to 10

lb

Boston butt pork roast

yellow mustard

¼

cup

apple juice
Instructions
Prepare the pork
Cut off the thickness of the fat cap leaving a thin layer.

Score the fat cap side of the pork.

Coat the meat evenly with mustard, then cover very well with the seasoning. Be sure to get the sides of the roast well coated as well.
Prepare the Big Green Egg
Fire up the lump charcoal in the firebox and bring the Big Green Egg up to 250℉.

Add the wood (*see Notes) to the charcoal, place in the plate setter (legs pointing up), place a drip pan on the plate setter, then place in the grill grate onto the legs of the plate setter.
Smoke the pork
Put the pork, fat side up, on the grill grate and smoke 5 hours. Add more wood as necessary to keep the smoking going.

Smoke 5 hours, adding more wood as necessary.
Wrap and finish cooking
Transfer the pork to an aluminum or grill proof pan (*see Notes), add the apple juice, and cover pan tightly with foil.

Cook until pork reaches 205℉ internal temperature (approx. 4 to 6 hours)

Remove pan from the Egg and let the pork rest (still in foil) for an hour.

Shred meat and serve.
Notes
Be sure to knock any bark off the wood chunks as they can contain chemicals.
When transferring the pork to the pan and wrapping with foil, this is where you would insert your smart thermometer if using one. Insert into the meat and wrap the foil around to accommodate the wire. Still try to get the foil on tightly to keep in all the moisture.
Nutrition
Calories:
397
kcal
(20%)
|
Carbohydrates:
152
g
(51%)
|
Protein:
57
g
(114%)
|
Fat:
18
g
(28%)
|
Saturated Fat:
5
g
(31%)
|
Cholesterol:
152
mg
(51%)
|
Sodium:
1091
mg
(47%)
|
Potassium:
5
mg
|
Sugar:
9
g
(10%)
Calorie count is purely an estimate calculated using an online application to serve as a guide and not to be taken as accurate nutritional information. Percent Daily Values are based on a 2,000 calorie diet.
Tried this recipe?
Leave a comment below and let me know!