Easy Broccoli Pesto Cavatappi
Easy Broccoli Pesto Cavatappi has broccoli and cheese in a fulfilling cavatappi pasta casserole. Let this spin on macaroni and cheese make your night special no matter the day of the week.
Hola! Folks, we have got ourselves a winner here with this Easy Broccoli Pesto Cavatappi. Macaroni and cheese you can feel better about, just by changing out some ingredients and adding a green vegetable. Not that this isn't still totally a creamy, dreamy, cheesy pasta dish. It is …which makes it awesome. But by adding better quality ingredients, and a ton of broccoli, the same-old-same-old is born again.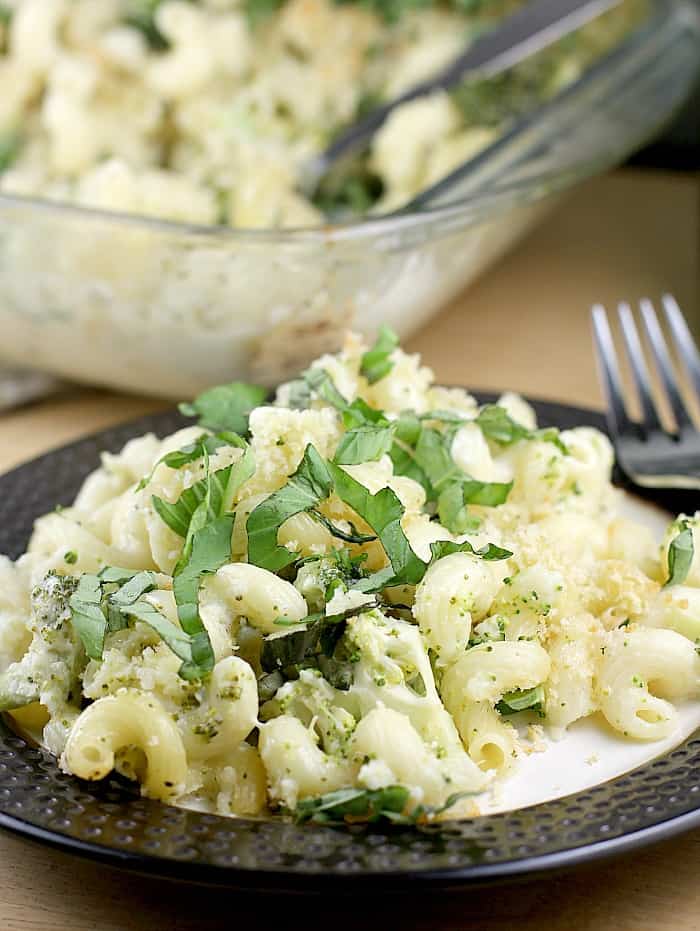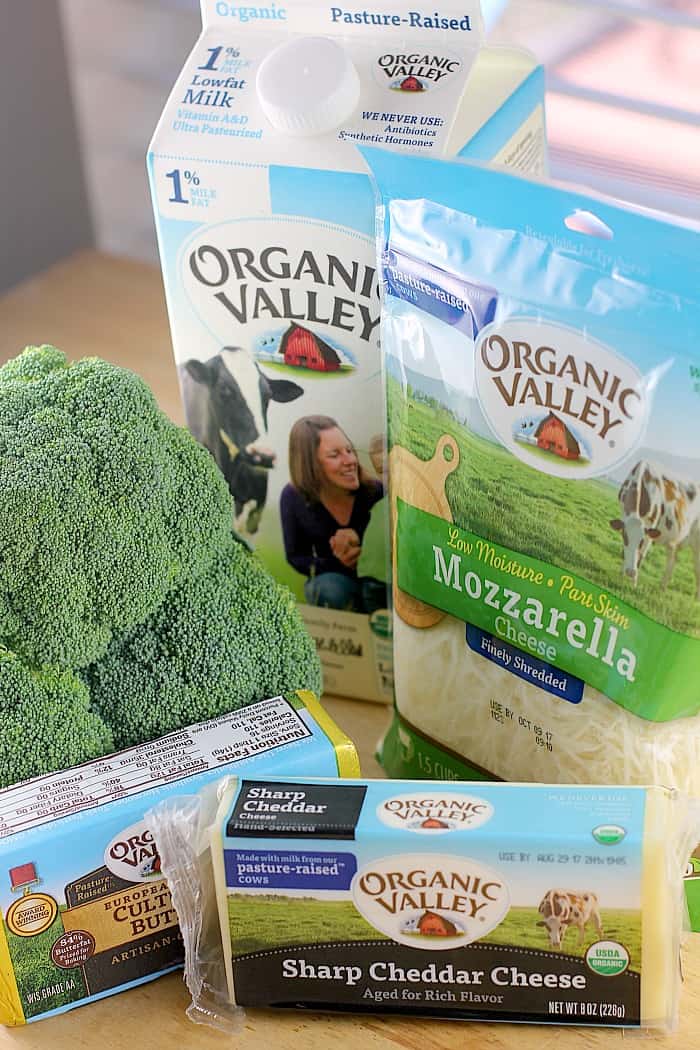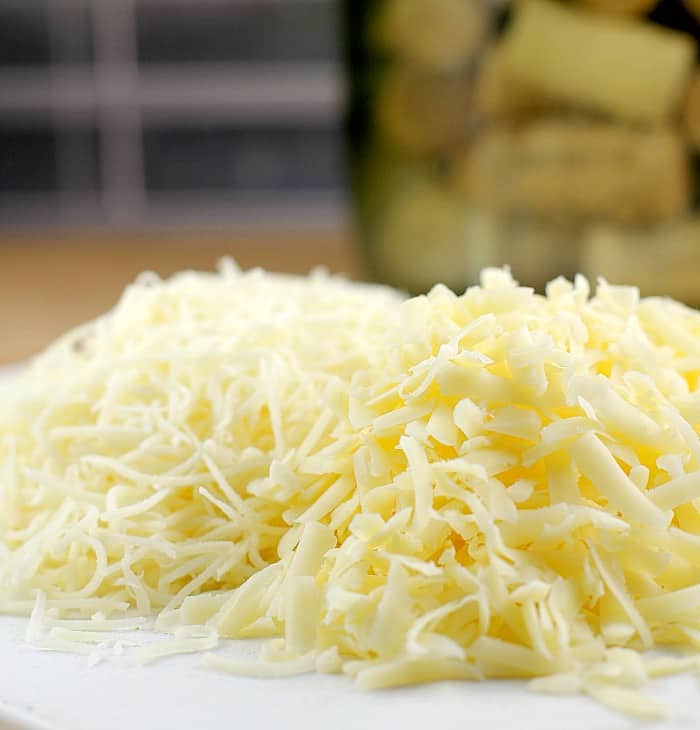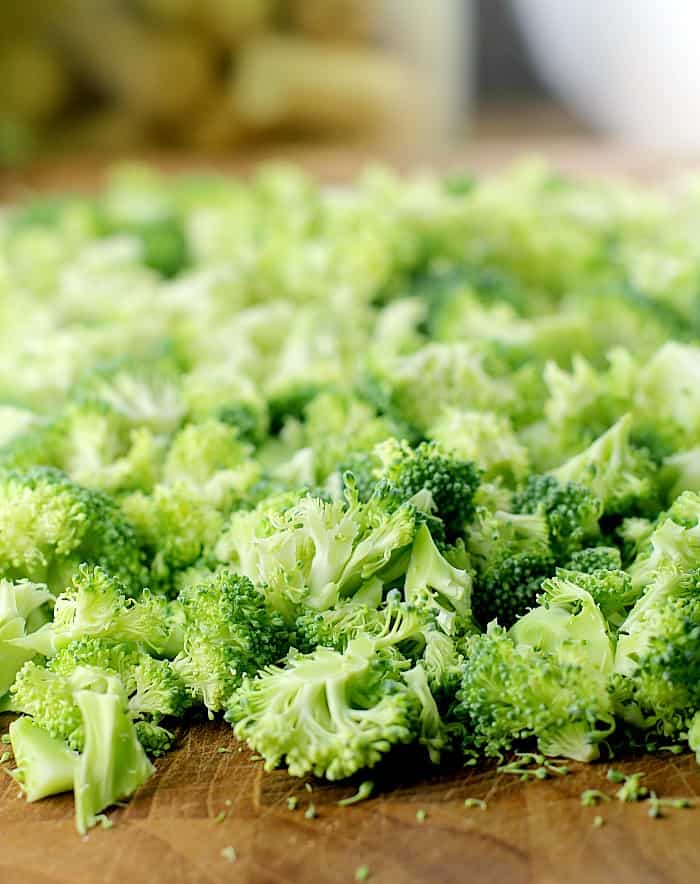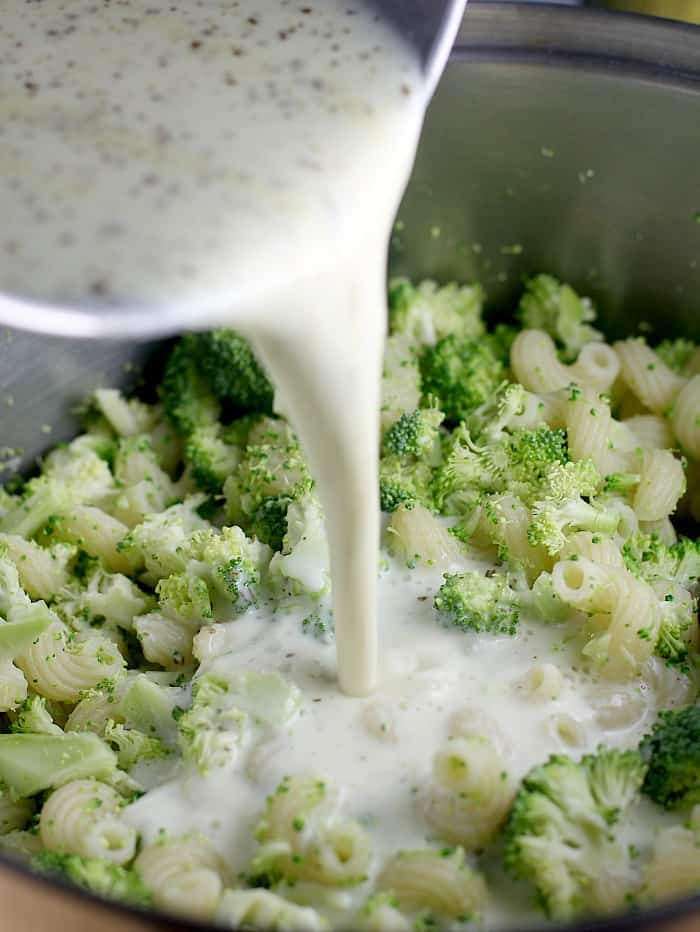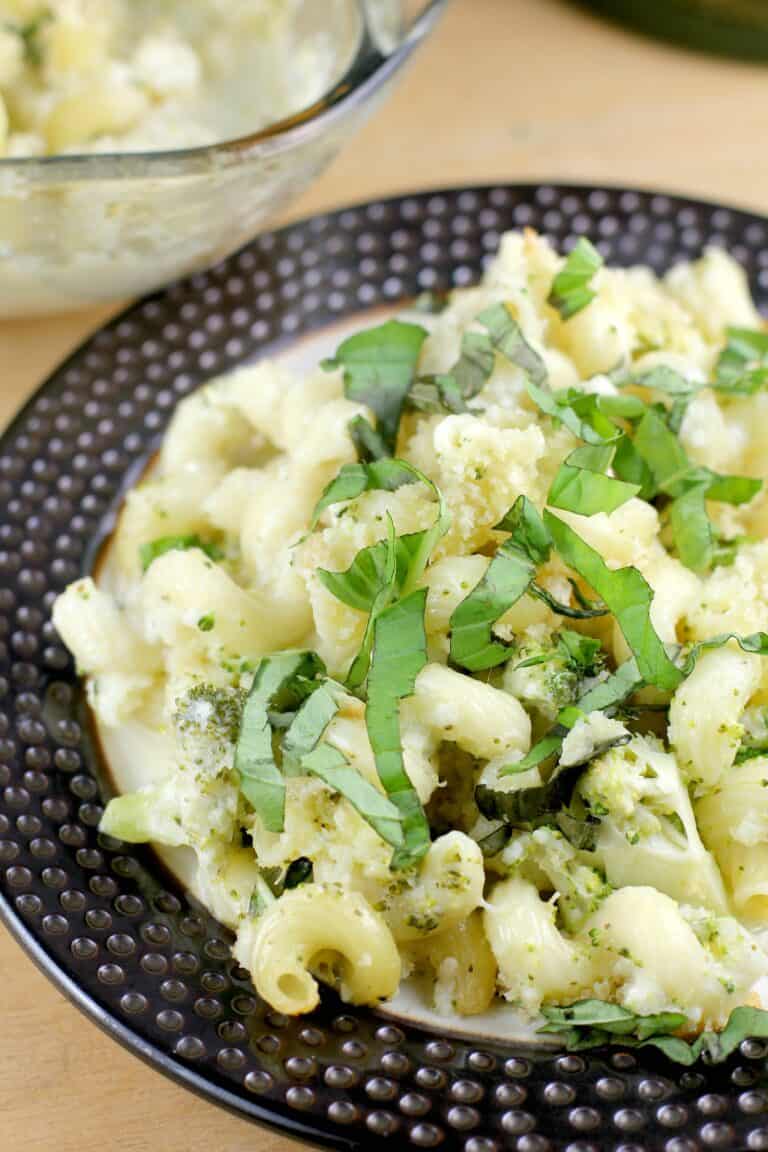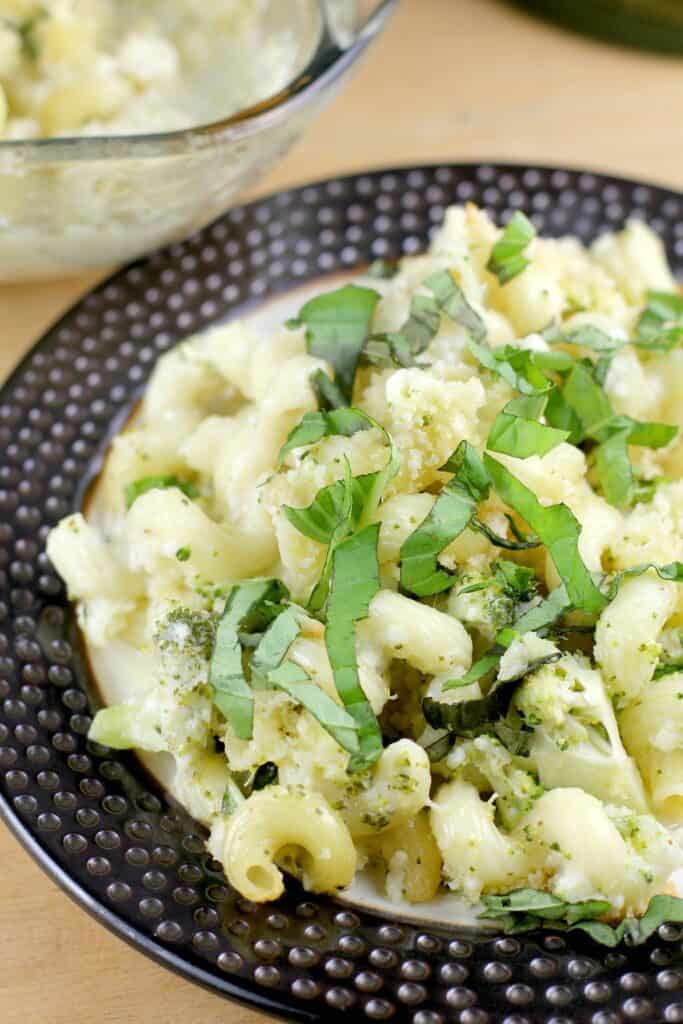 So, for this recipe I am working with Organic Valley which carries a full line of organic cheeses including shreds, string, blocks, slices, snack sticks, cream cheese, and crumbles. Whew. All Organic Valley cheeses are produced without the use of antibiotics, synthetic hormones, toxic pesticides or GMOs, and most of their cheeses are also vegetarian friendly (talking about that whole rennet thing). So, I happily incorporated FOUR Organic Valley products here because they all taste so good – butter (umm, yeah), milk, mozzarella cheese, and sharp white cheddar cheese. And here's a neat factoid – Organic Valley's Master Cheesemaker is a woman and she was the first woman to get that title.
And Organic Valley cheese is from Wisconsin. So that kinda seals the deal.
Now, I mentioned about better ingredients, and in addition to the Organic Valley products, I used organic broccoli, organic fresh basil, high quality pasta, and the best pesto I could find at Publix. So, we are not just using better-for-us stuff, but we are also using better tasting stuff to send this dish over the moon with wonderfully good flavor.
Anyway, what did I do for the Easy Broccoli Pesto Cavatappi recipe …this is easy easy: First, we make a standard white bechamel with the butter, flour, and milk. Then we cheese it all up with a ton of mozzarella and sharp cheddar. Add a little Dijon, pesto, salt, and pepper, then our cheese sauce is ready to toss with some fancy fancy pasta and glorious broccoli. And we bake. One thing I loved most about this dish is that I did not cook or even blanch the broccoli prior to assembling this casserole. This allowed the broccoli to cook, but retain a bit of crunch and make each bite interesting and not all just mush. And one less thing to do too, you know? You know. We are so on the same page.
So that's it folks! Give this Easy Broccoli Pesto Cavatappi recipe a try and feel so good about it. Delicious comfort, great ingredients, and a bunch of broccoli vitamins and minerals. PIN to save the recipe and enjoy!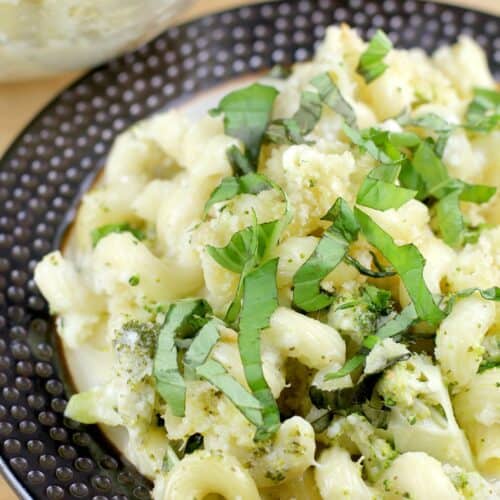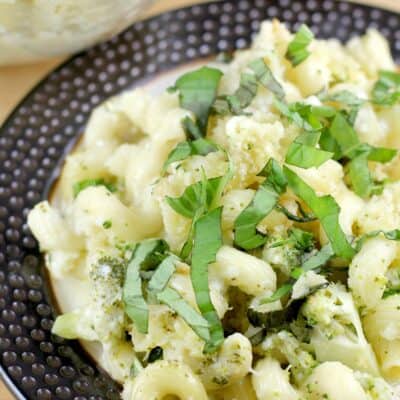 Easy Broccoli Pesto Cavatappi
Broccoli and cheese, in a fulfilling cavatappi pasta casserole. Let this spin on macaroni and cheese make your night special no matter the day of the week.
Ingredients
2

Tbs

Organic Valley Butter

2

Tbs

all-purpose flour

4

cups

Organic Valley 1% Milk

1

tsp

Dijon mustard

¼

cup

prepared pesto

1

pkg

1-1/2 cups Organic Valley Shredded Mozzarella Cheese

1

8 oz block Organic Valley Sharp Cheddar Cheese, shredded

1

tsp

kosher salt

¼

tsp

fresh cracked pepper

16

oz

cavatappi pasta

broccoli florets from 3 heads of broccoli

the generic bunch size at the grocery store

½

cup

panko breadcrumbs

garnish: fresh organic basil leaves

chiffonade
Instructions
Heat the oven to 350 F.

Bring a pot of water to a boil. Cook the pasta to al dente according to package directions.

Meanwhile, in a medium saucepan, prepare a roux with the butter and flour. Add the milk slowly, whisking, and heat on medium/medium-high, stirring, until very warm but not thickened. Turn off the heat. Add the cheeses, Dijon, salt, pepper, and pesto, and whisk until almost smooth.

Chop the broccoli florets to small bite-sized pieces. Like, toddler small.

Drain the pasta. Add the cheese sauce. Add the broccoli. Pour all into a 13x9 bake dish. Top with a mixture of the panko and olive oil. Cover tightly with foil.

Bake at 350° F for 25 minutes. Remove the foil to uncover and bake 10 minutes further until golden on top and bubbly. Yields: 8 servings.
Calorie count is purely an estimate calculated using an online application to serve as a guide and not to be taken as accurate nutritional information. Percent Daily Values are based on a 2,000 calorie diet.
Tried this recipe?
Leave a comment below and let me know!