Baked Green Chili Artichoke Dip
Baked Green Chili Artichoke Dip topped with tomatoes and a drizzle of olive oil is the BEST. This hot and creamy baked artichoke dip with mayo and parmesan is perfectly balanced and SO full of flavor. Easy to make with simple, approachable ingredients, this incredible dip tastes luxurious.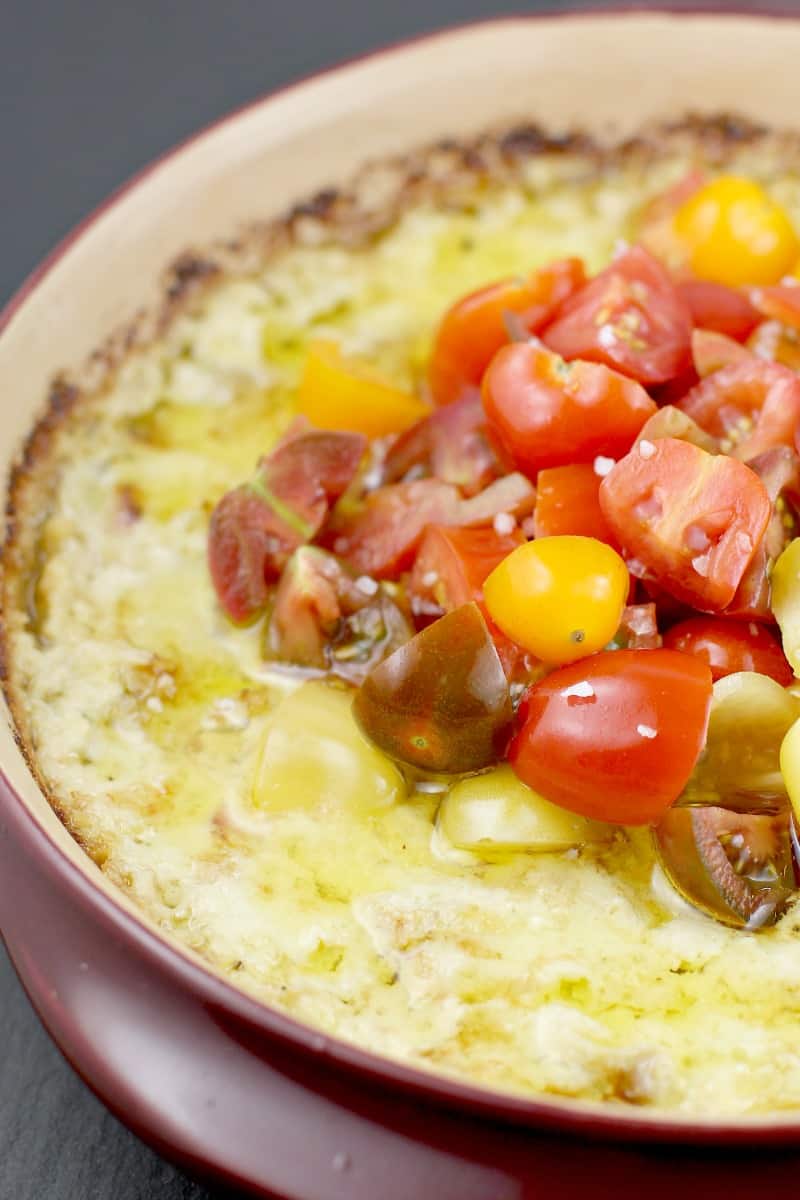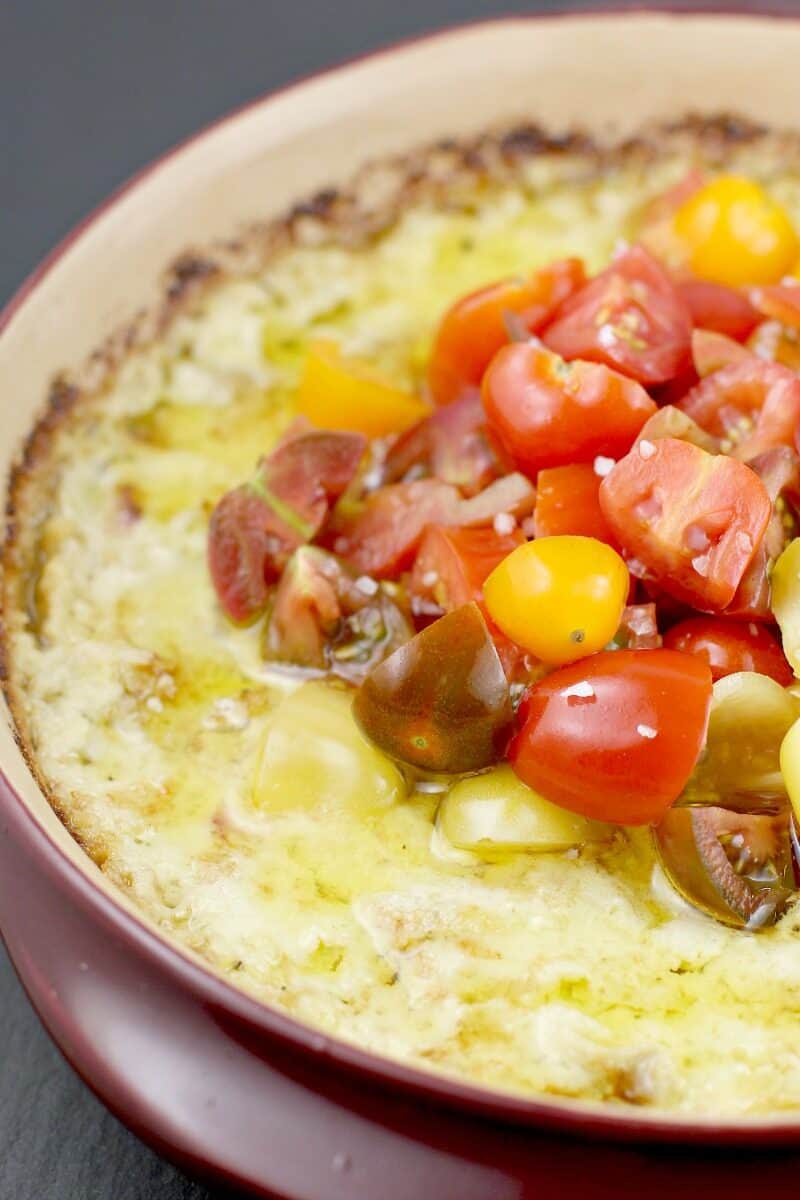 For years, I was on a mission to make a good artichoke dip. And this was back in my early 20s, decades ago, when I was just starting to cook. Every time I went to someone's house, I would try again, bring a new version, and I had literally no clue what I was doing.
Side note, I have always had zero problem using friends, family, co-workers, and complete strangers as guinea pigs for new dishes. But that's just me.
Anyway, these first renditions of baked artichoke dip were not good. They were too bland or too overpowering, too lemony or too garlicky, and so on.
Then I remember THE night I heard my friend say "Oh, Erica finally got it right." Turns out the trick, suggested by a friend, was green chili and I have been adding it ever since.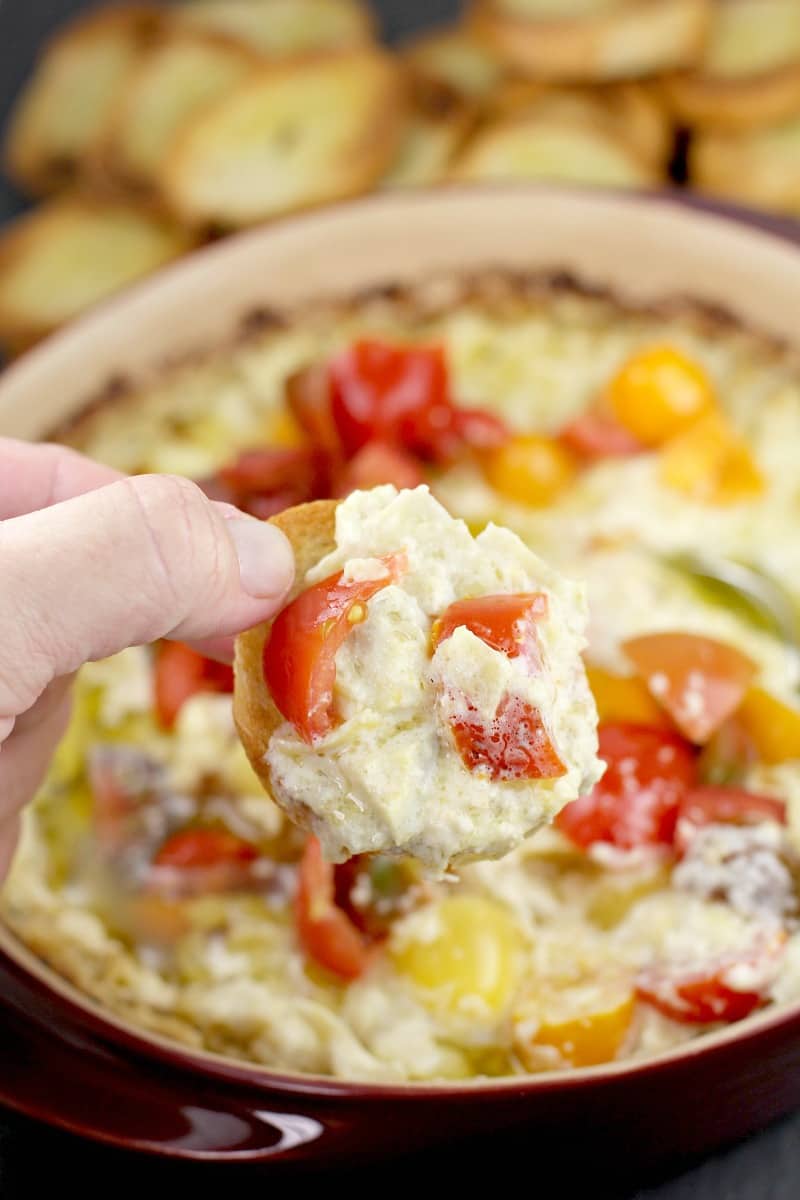 Why this recipe works
Artichokes, in and of themselves, are a bit on the bland side. That is why developing this recipe was a struggle.
I am here to tell you that you cannot just take artichokes, mayo, and parmesan – give it a nuke in the microwave – and call it good. It is bland as all hell.
The key – and why this recipe is spectacular – is adding balancing, complementary components: succulent green chilies, onion and garlic, using fresh parmesan, and topping with tomato (more on that later) and silky olive oil.
These ingredients together are what make this the best baked artichoke dip that ever lived.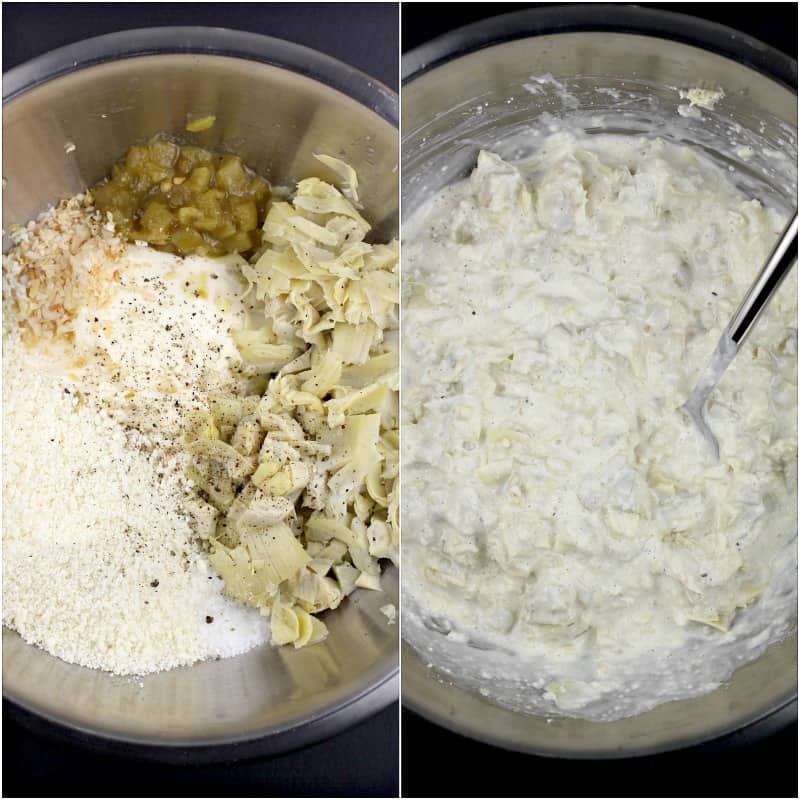 Ingredients for baked artichoke dip
This artichoke with mayo and green chilies is only as good as the ingredients you use. So, use the best quality you can manage and you will be so happy.
For the dip
Artichoke hearts. Several canned varieties are available; opt for one labeled "baby", "tender" or "young". It does not matter if they are quartered or whole since we are going to chop them anyway.
Mayonnaise. This is a rich dip, so use full fat mayonnaise.
Freshly grated parmesan cheese. You can get a block and grate yourself or buy it already grated (I did the latter). Just make sure to use fresh parmesan or Parmigiano-Reggiano from the dairy/cheese section and not the dry stuff in the spaghetti aisle.
Chopped green chilies. Look for the little can in the International Foods section. The can may say "diced" instead of "chopped", either is fine. If the can says "Hatch green chile" that is even better.
Dried minced onion. I used dried because I like the flavor, but fresh onion can be substituted.
Garlic. Use a fresh clove, not purchased garlic that is already chopped or minced which tends to be rancid.
Fresh lemon juice. This is a little less than all the juice from half a lemon.
Kosher salt.
Fresh cracked pepper.
Tomato. I love to use heirloom tomatoes for all their color. On the occasion I took these photos, I used a pint of baby heirloom tomatoes I found at the grocery store. If heirlooms are not available, I tend to use a mix of red and yellow tomatoes. Other substitutes include cherry or grape tomatoes. Really any tomatoes you like.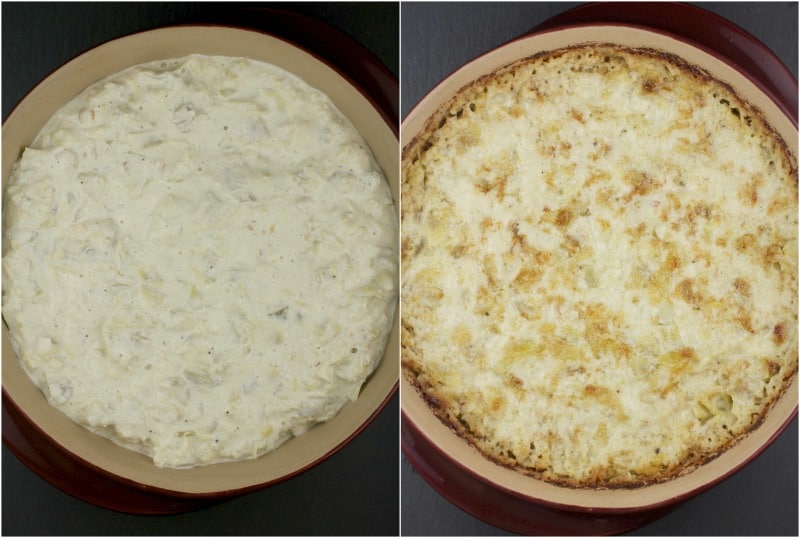 For the crostini
Crostini are crispy fresh toasted slices of skinny baguette. They are completely optional and you can totally substitute any number of chips (see the recipe card for options), but I prefer crostini with my green chili artichoke dip.
Extra virgin olive oil. This is where you want to spring for the best you can. Silky olive oil is used both for the crostini and for a final drizzle over the dip.
Thin baguette. We want nice, thin ~1/4-inch slices.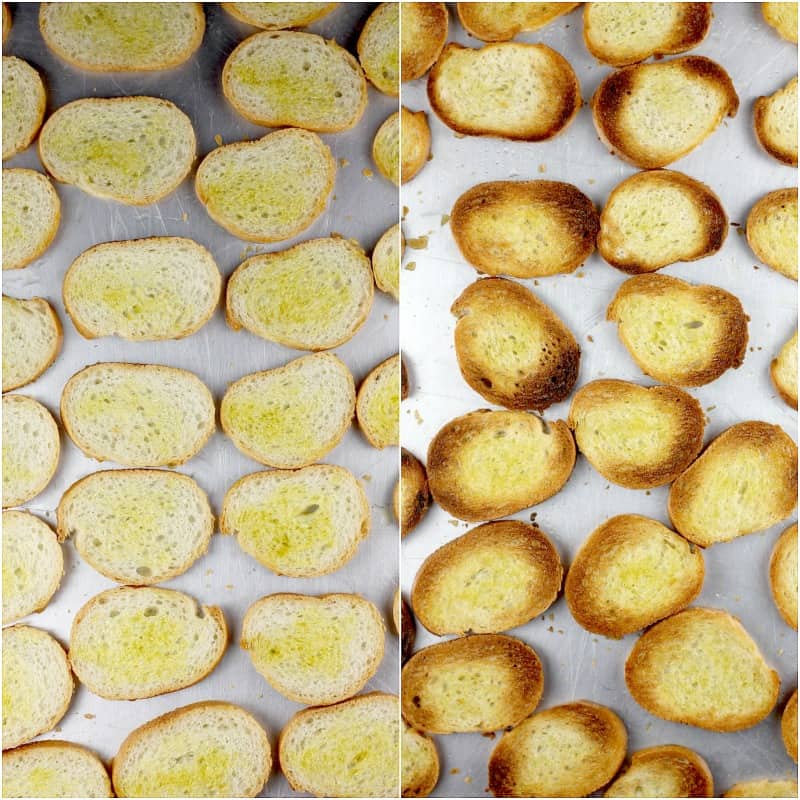 In addition to the green chili, the tomato is are a big part of success of this recipe. Baked artichoke dip with mayo tends to be rich – very rich, in fact – what with the mayonnaise and parmesan.
The acidity of tomatoes and touch of lemon juice are a foil [foodie term] and serve to cut that richness. They brighten up the green chili artichoke dip and make it perfect.
Looking for more dip recipes?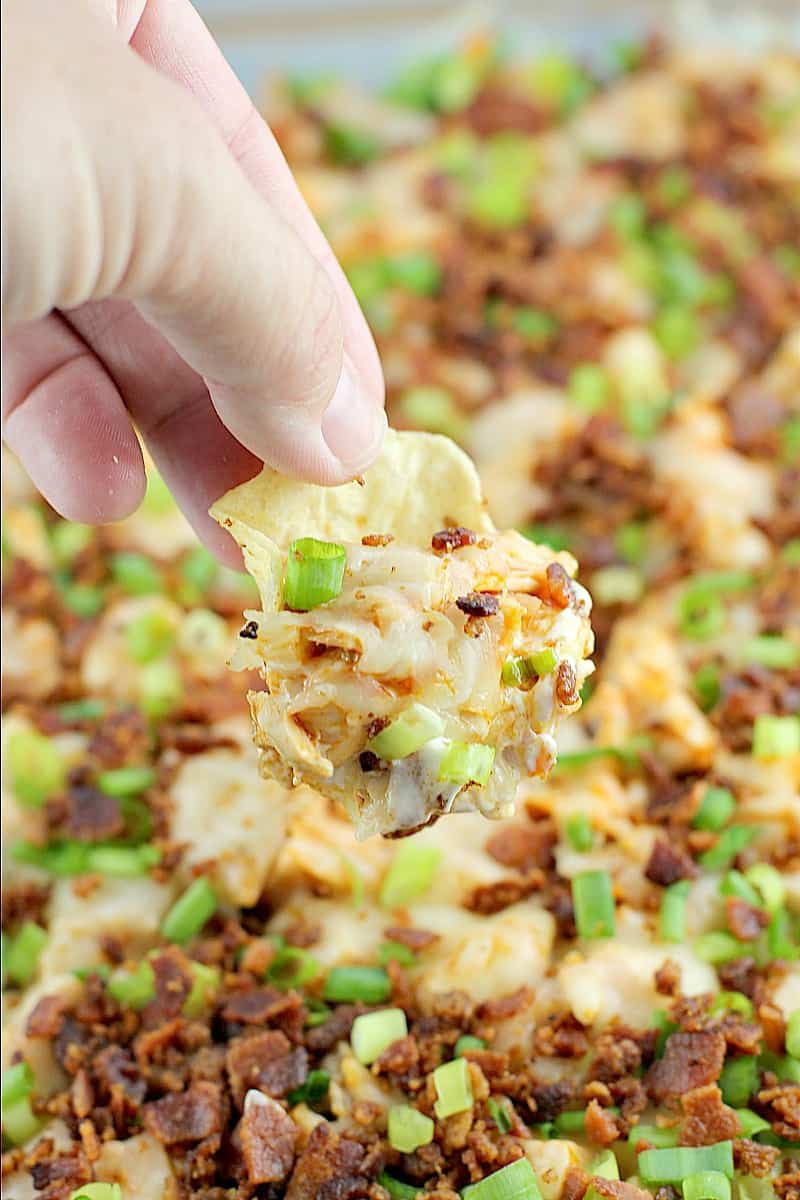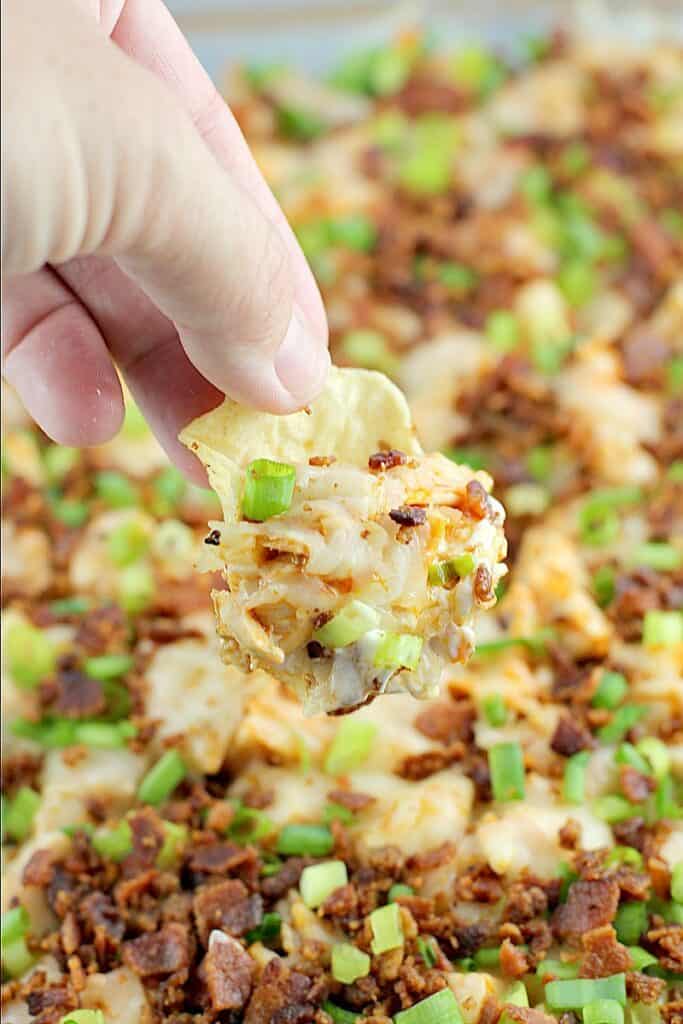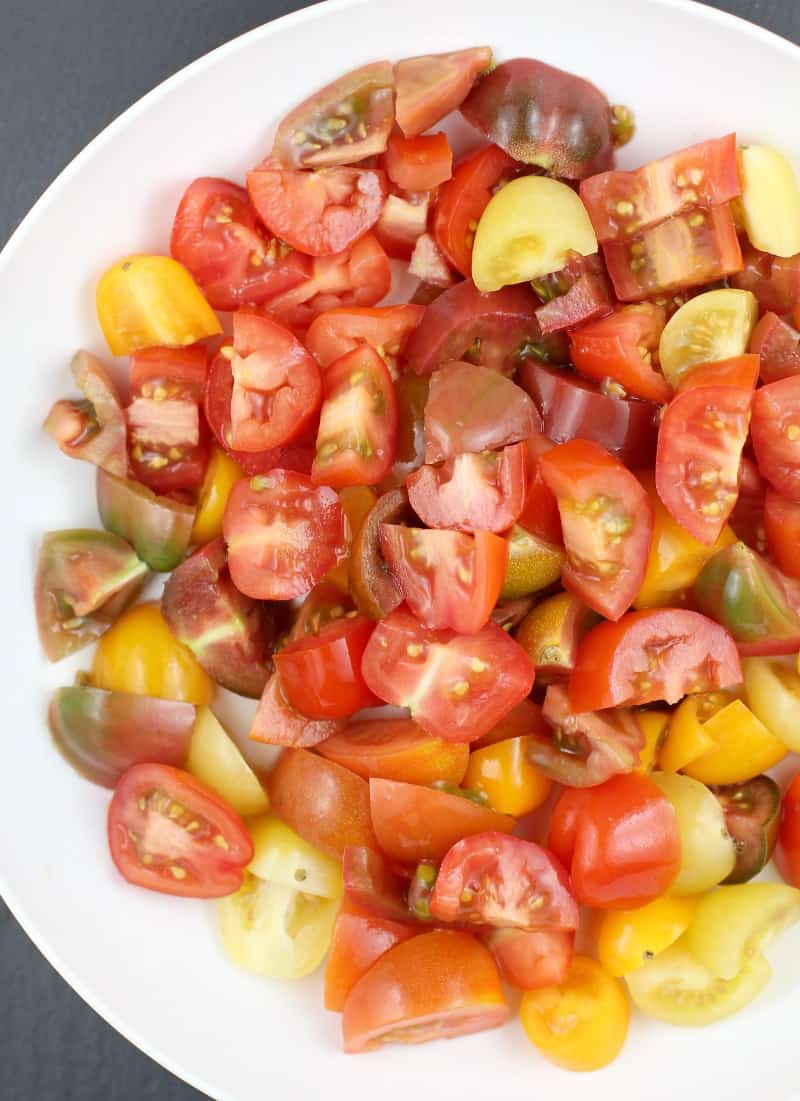 How to make green chili artichoke dip
Hold on, because this is where things get crazy.
We mix the ingredients, put in a dish, and bake. Woooooooo! Exciting stuff.
For the crostini, we slice up our baguette, and brush both sides with olive oil. Do this while the dip is in the oven.
Once the dip comes out, switch oven to broil and get the bread in. Once the crostini are golden toasted, we flip and repeat on the other side.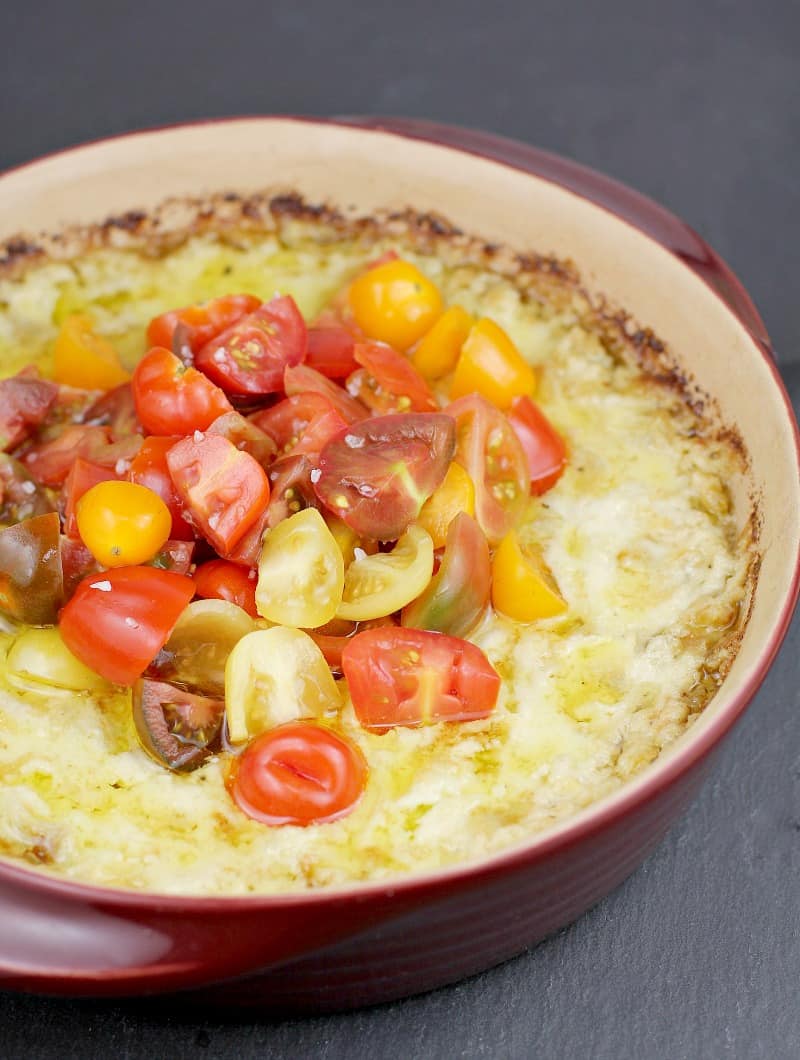 Tips
In a pinch, this recipe can be cooked in the microwave since we are just heating through to melt the cheese and blend flavors. However, in this case there will not be the golden top and toasty edges, so microwave cooking should not be the first choice.
Anytime I top anything with tomatoes, I throw on a pinch of coarse sea salt. I did on the occasion I made this baked artichoke dip recipe for photos, but this is totally optional and I did not even include it in the recipe card.
Again, and I cannot stress this enough, crostini cook FAST under the broiler and will burn if not watched intensely and with undivided attention.
My crostini always tend to cook much faster in the center of the pan, so I end up moving the pan in and out and around to get the ones around the edges to cook while keeping the ones in the center from burning.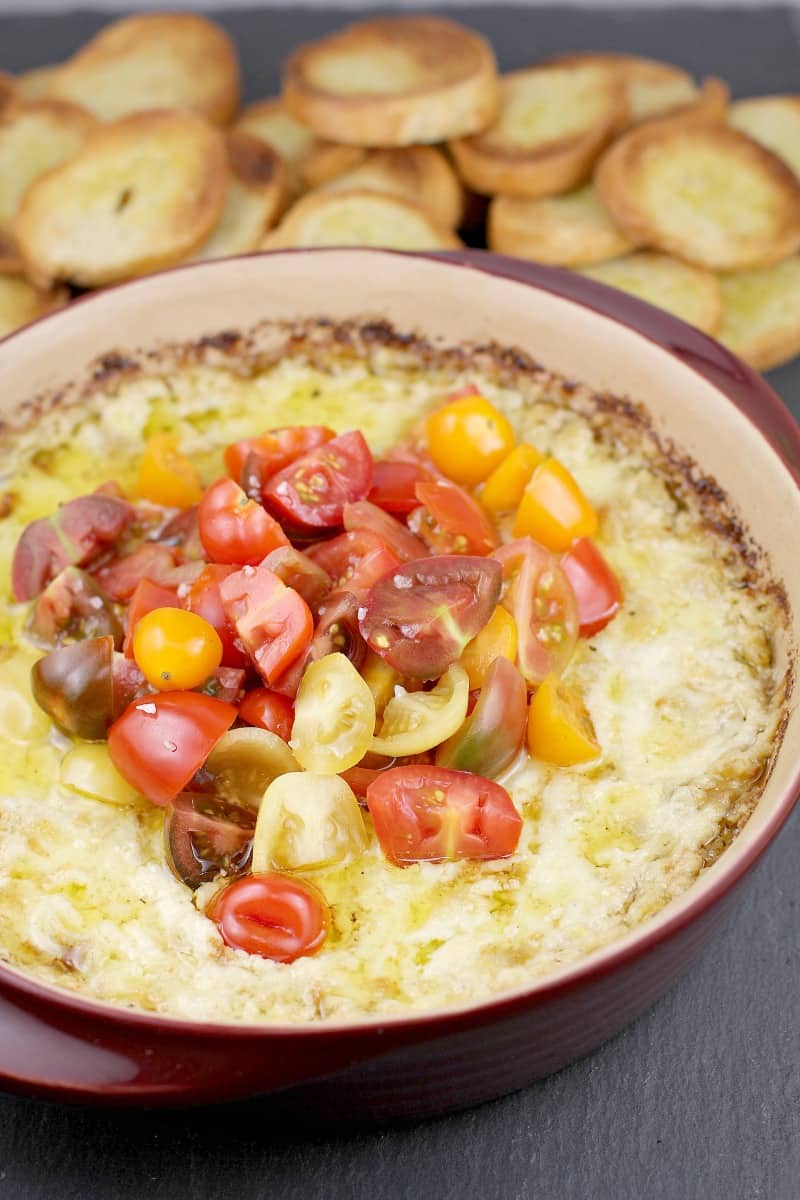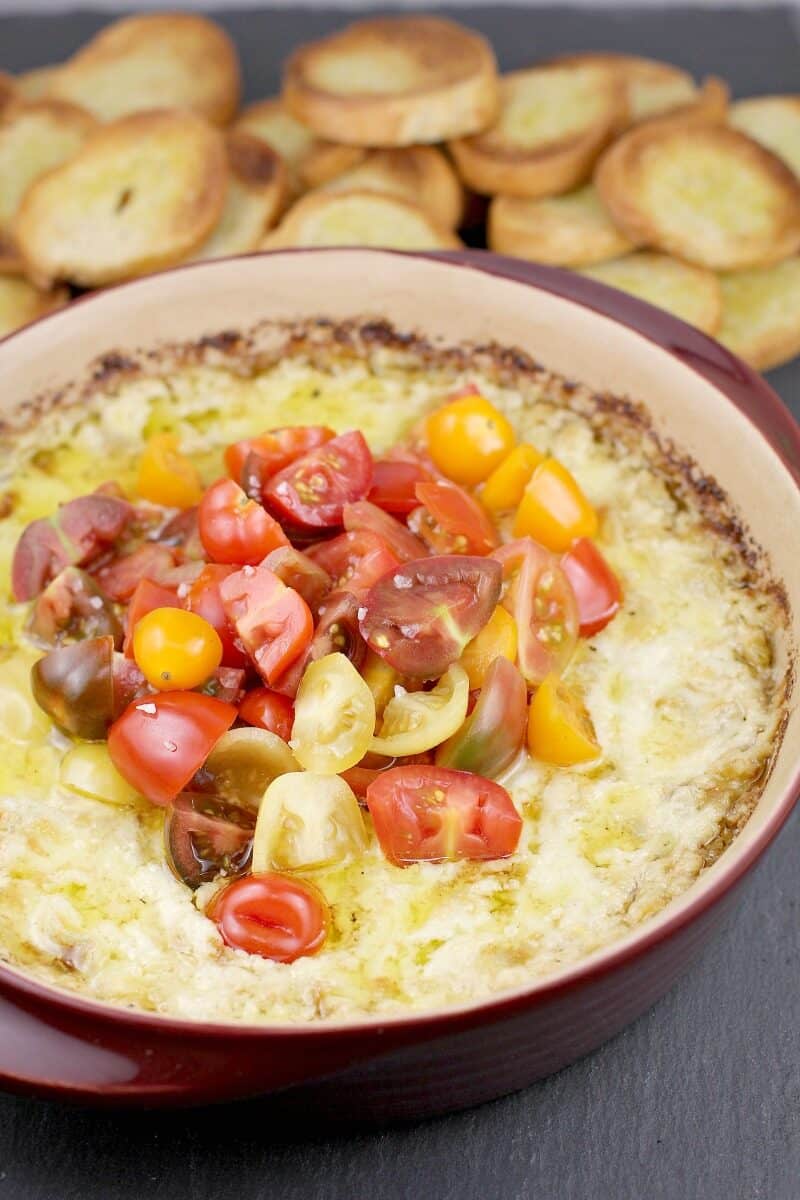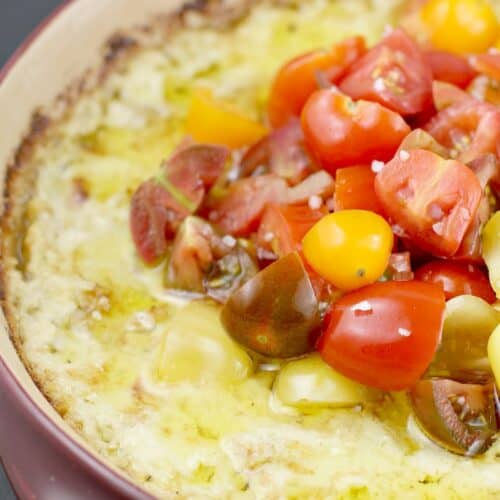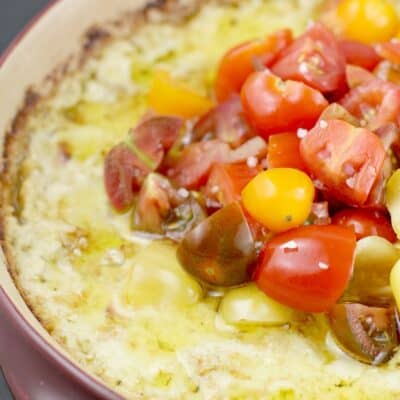 Baked Green Chili Artichoke Dip
Baked Green Chili Artichoke Dip topped with tomatoes and a drizzle of olive oil is the BEST. This hot and creamy baked artichoke dip with mayo and parmesan is perfectly balanced and full of flavor. Easy to make with simple, approachable ingredients, this incredible dip tastes luxurious.
Ingredients
1

(14 oz)

can tender artichoke hearts, chopped

reserve liquid

1

cup

mayonnaise

1

cup

freshly grated parmesan cheese

2

Tbsp

(heaping) chopped green chilies

1

Tbsp

dried minced onion

or 2 Tbsp finely diced white or yellow onion

1

small clove garlic

minced

½

Tbsp

fresh lemon juice

½

tsp

kosher salt

pinch fresh cracked pepper

1

cup

chopped tomato

½

cup

extra virgin olive oil

divided

thin baguette

sliced in ¼-inch slices
Instructions
For the Baked Artichoke Dip
Combine the first 9 ingredients (through pepper). Taste for seasoning. Add reserved artichoke juice to adjust consistency (~2 Tbsp to ¼ cup) and transfer to a small bake dish or pie plate.

Bake at 400°F for 30 minutes or until bubbly, golden on top, and lightly browned around the edges.

Top with tomato and a drizzle of tablespoon of olive oil.
For the Crostini
Brush or spray both sides of the sliced baguette with extra virgin olive oil.

Broil the bread lightly until toasted, flipping once. Crostini cook very quickly, less than a minute per side.
Notes
As an alternative to crostini, this dip can be served with corn chips, corn tortilla chips, bagel chips, wheat crackers, or pita chips.
In my oven, I find I need to move my pan around while crostini cook because the ones in the center cook faster.
Nutrition
Calories:
620
kcal
(31%)
|
Carbohydrates:
29
g
(10%)
|
Protein:
9
g
(18%)
|
Fat:
559
g
(860%)
|
Polyunsaturated Fat:
22
g
|
Monounsaturated Fat:
21
g
|
Cholesterol:
41
mg
(14%)
|
Sodium:
982
mg
(43%)
|
Potassium:
103
mg
(3%)
|
Fiber:
2
g
(8%)
|
Sugar:
1
g
(1%)
|
Vitamin C:
8
mg
(10%)
|
Calcium:
1470
mg
(147%)
|
Iron:
1
mg
(6%)
Calorie count is purely an estimate calculated using an online application to serve as a guide and not to be taken as accurate nutritional information. Percent Daily Values are based on a 2,000 calorie diet.
Tried this recipe?
Leave a comment below and let me know!