Sesame Shrimp | 30 Minute Meal
Tasty little nibbles of easy popcorn shrimp, tossed in a savory simple sesame sauce, and served over perfect oven roasted broccoli. Ready in 30 minutes, this Sesame Shrimp recipe is the weeknight dinner solution. This post was sponsored.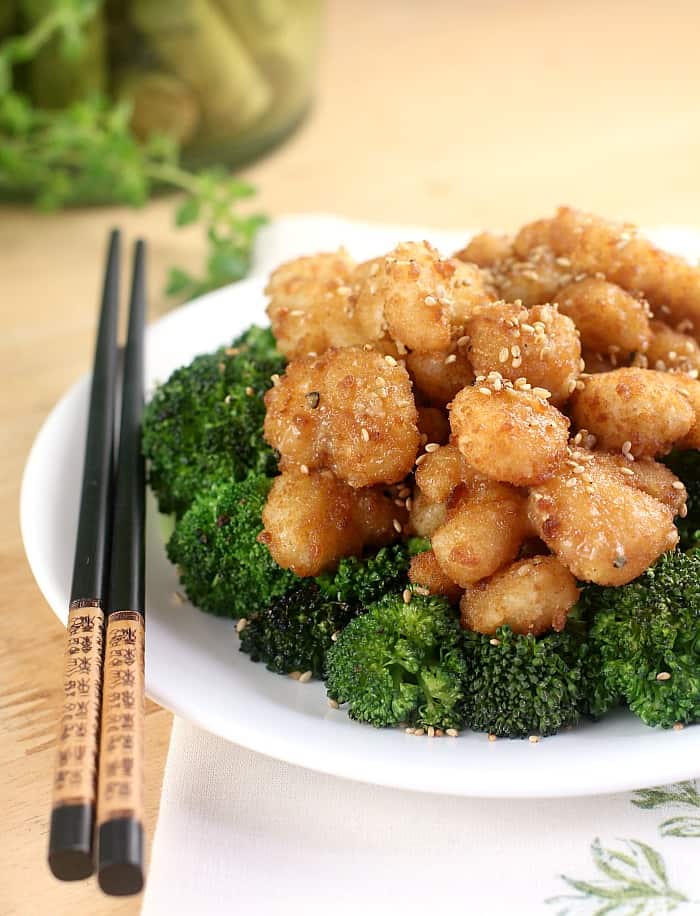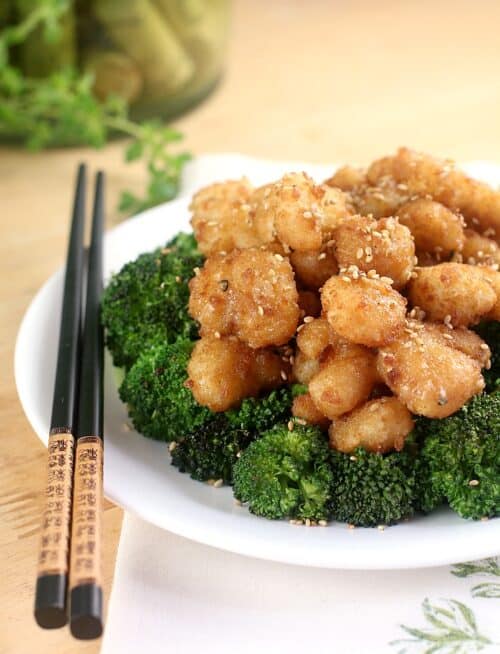 Oh heyyy! Yeah, I have been busy busy this month, holy cow. After taking a year off from sponsored blog work to focus on Ironman training, I started working with brands again. Because food doesn't buy itself. And I really like to cook.
Which brings us to this little recipe because I am working with TWO products here. SeaPak® Popcorn Shrimp and Black Box Pino Grigio wine. This is probably the handiest recipe I have created in a while too. Thirty minutes.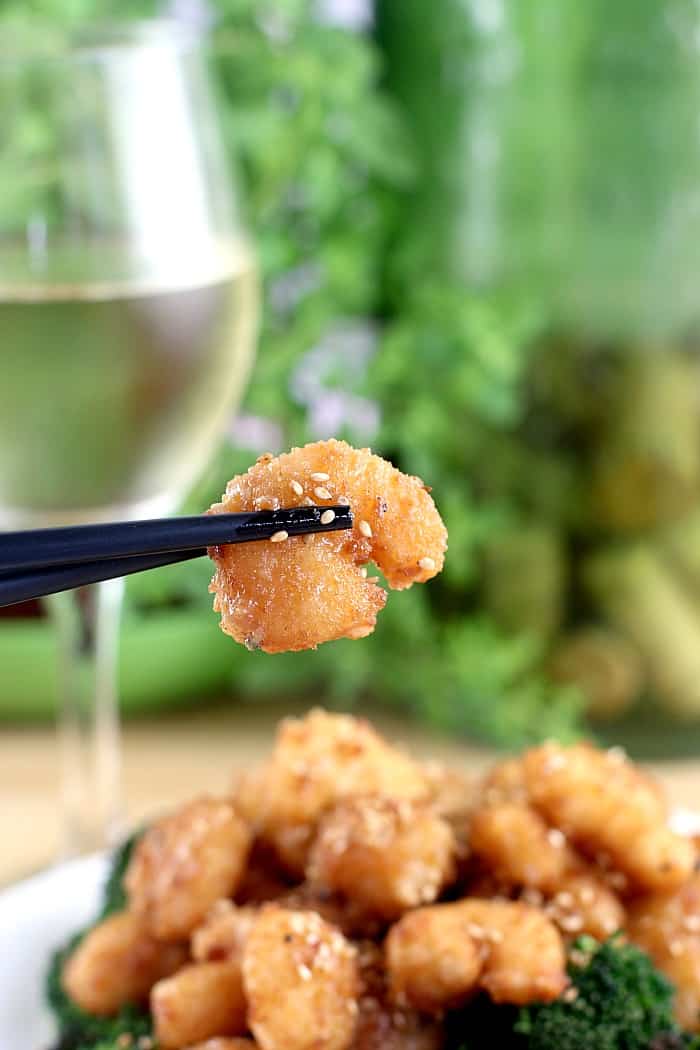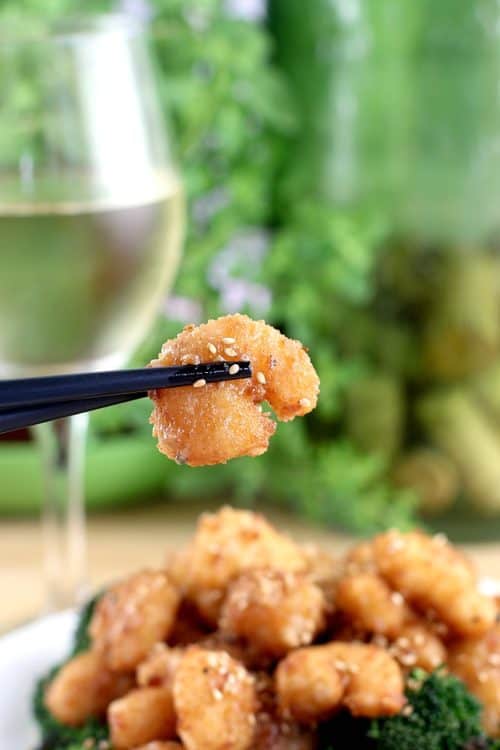 That is all you need, and you have a loved up dinner for your loved ones. Without any stress. Without any fuss.
So first, the SeaPak Shrimp (cuz I have to talk about these products of course ?). I used SeaPak popcorn shrimp before in my Shrimp Po' Boy Pizza, which is a fantastic recipe. Love that one with that spicy remoulade.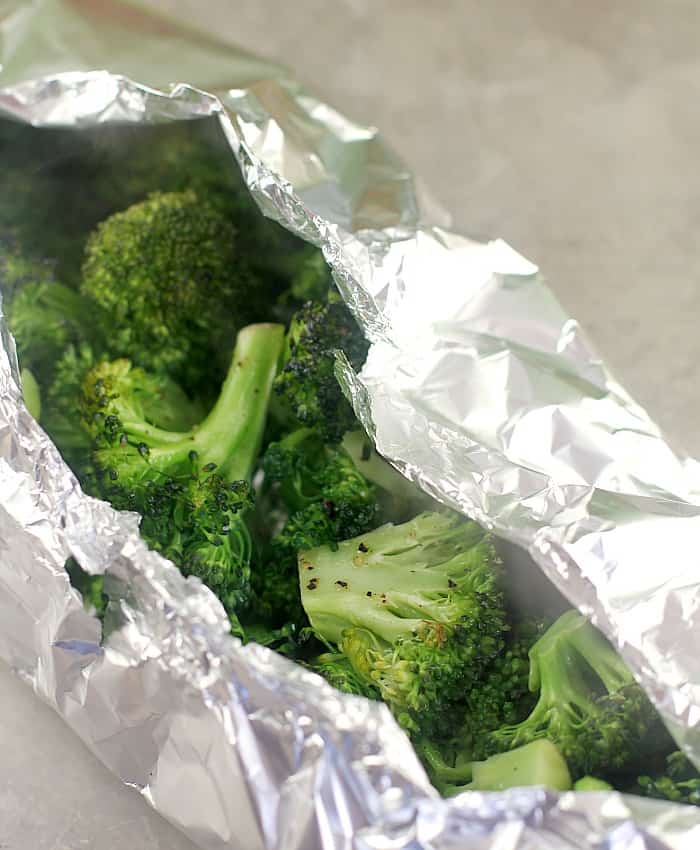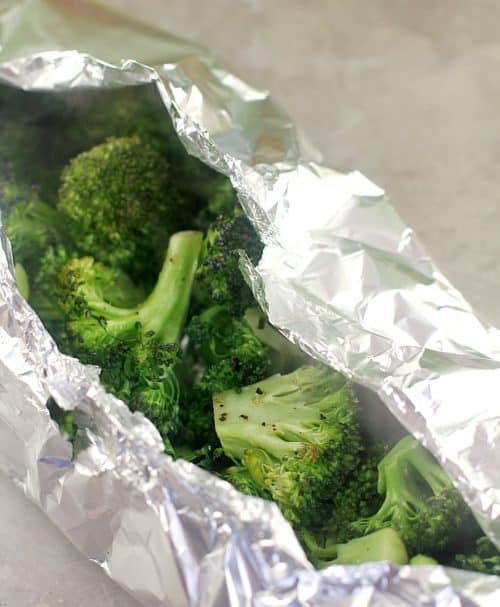 So, with that prior experience, I wanted to use them again. SeaPak has a bunch of options for convenient seafood recipes like mine. In fact, they are putting out a new recipe booklet featuring 40 meal solutions and pairings to give us dinner ideas and a wine to go with. ? Recipes tried and tested for decades.
Then second, the wine. Black Box Pino Grigio. I have shared my love for this wine before with my Grilled Philly Cheesesteak Pizza. Oh how do I love this wine. I used to keep boxed wine in my fridge when I was in grad school, in my 20s, in the 90s, but that stuff was swill.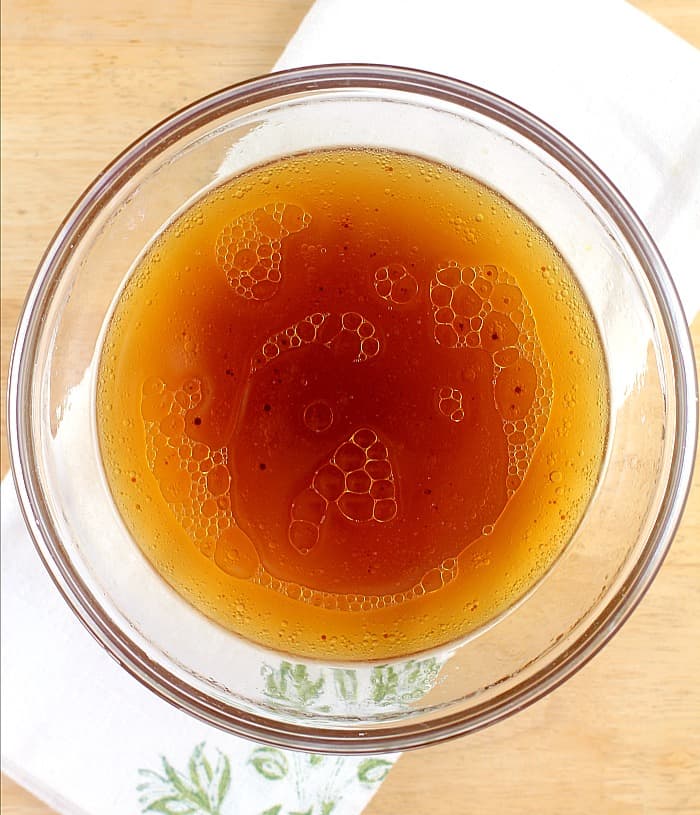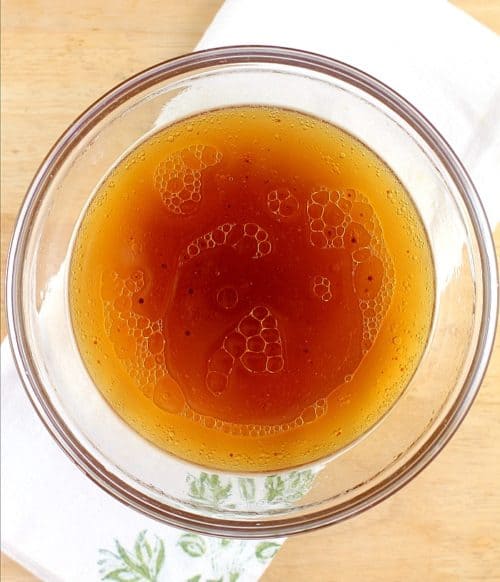 Black Box is yummy. Period.
But more importantly, it is 3-liters of wine with a spout. Yeah. …then add to the math that Black Box is 40% less expensive than buying four bottles of comparable premium wine AND the whole thing is recyclable.
Get Sesame Shrimp dinner on the table, enjoy a glass of wine, and save the planet. All at the same time. Boom.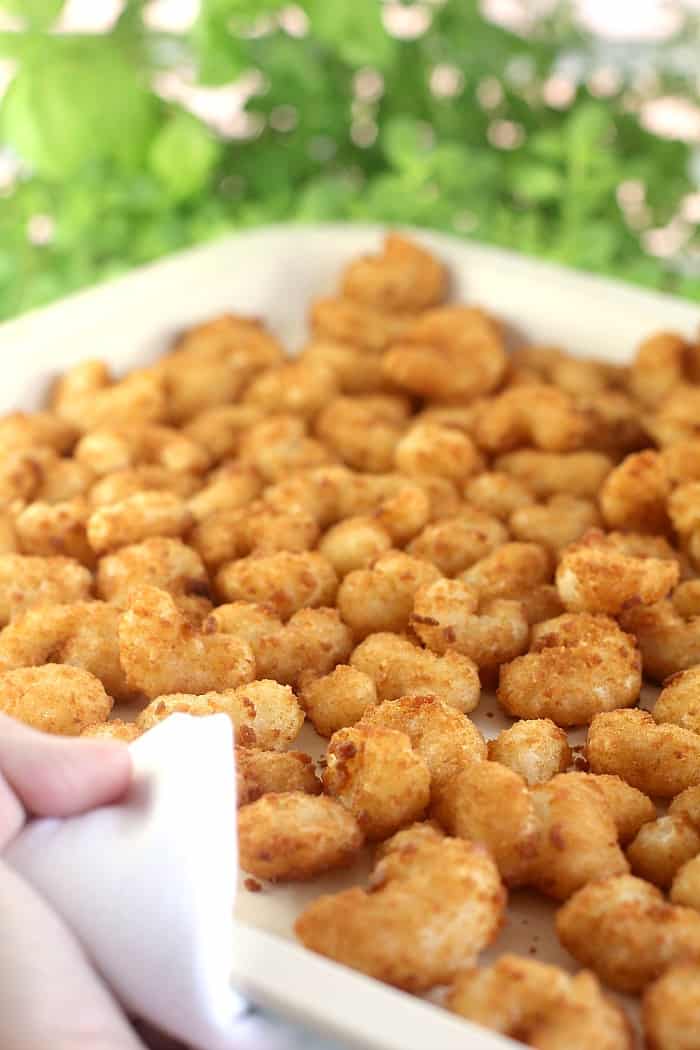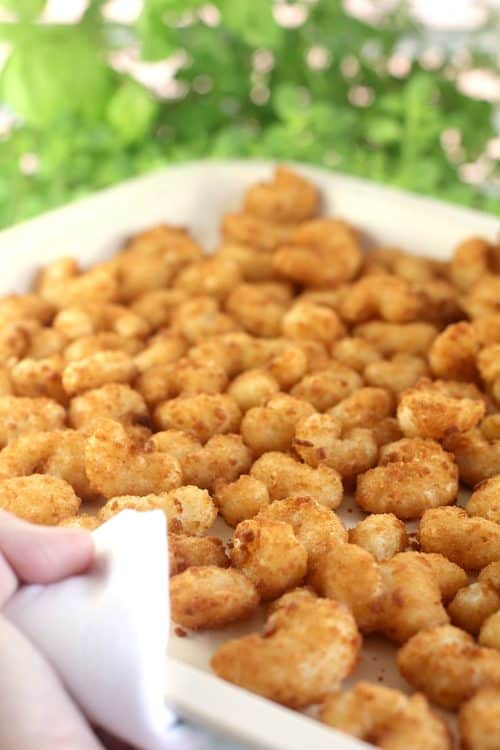 Alright alright, my recipe …What we are doing here is making a basic, Chinese brown sauce, but then sesame-fying it a notch with the chili paste, sesame oil, and sesame seeds.
This recipe is so easy to prepare too – we are basically just combining ingredients, then boiling a bit to thicken. The shrimp take care of themselves in the oven, then they just get tossed in the sauce.
And then I threw in the broccoli for good measure.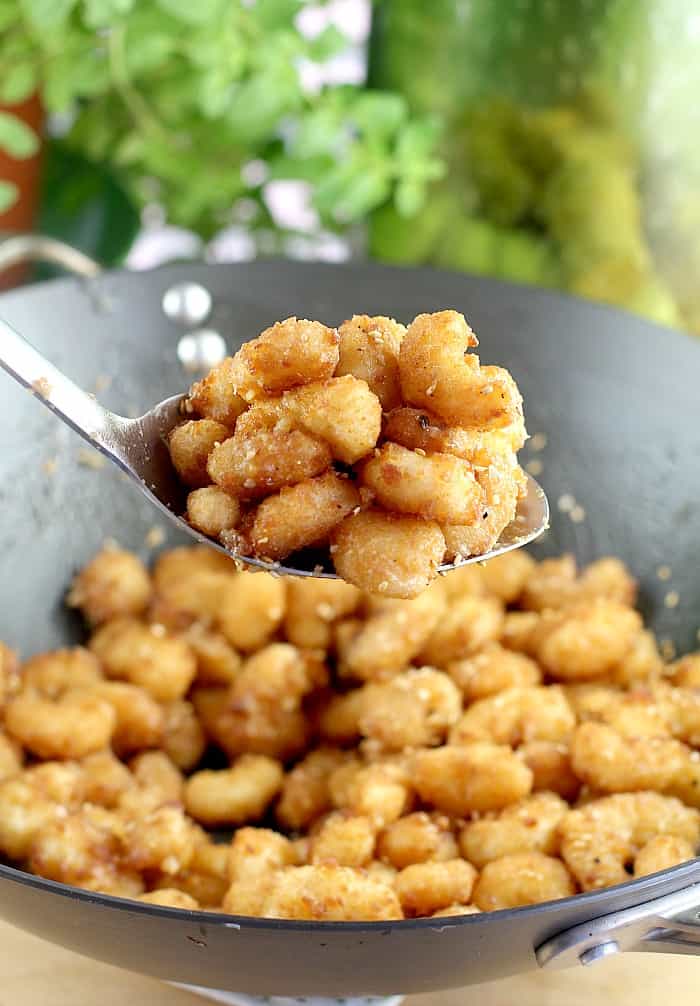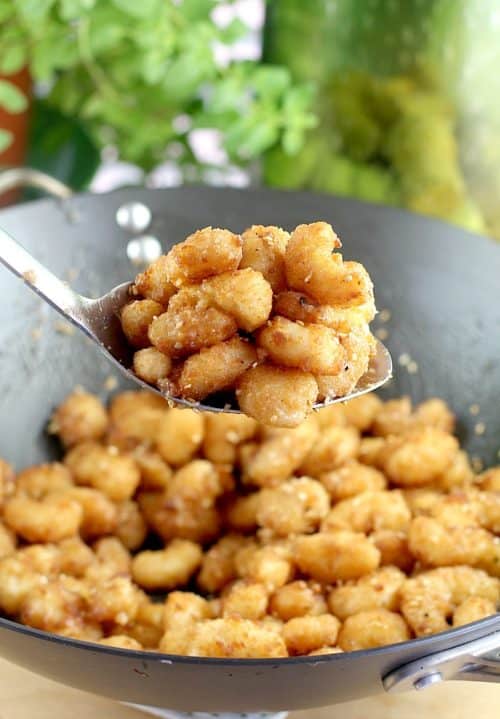 And NOTE: This Sesame Shrimp recipe also makes for a nice, all-around Asian stir-fry sauce that can be made ahead of time too. Up to a week in advance guys. Yup. ?
And also just for the record, I am making no claims that this is anything copycat or just like "take-out" or traditional sticky-anything. This sauce is quite light actually, not overly heavy or sweet.
Which is why I love it so. It is its own thing and makes a beautiful light saucing on the popcorn shrimp. And it is ready so quickly, you won't even know what to do with all that spare time …yeah, I am totally kidding there. You'll figure it out. ?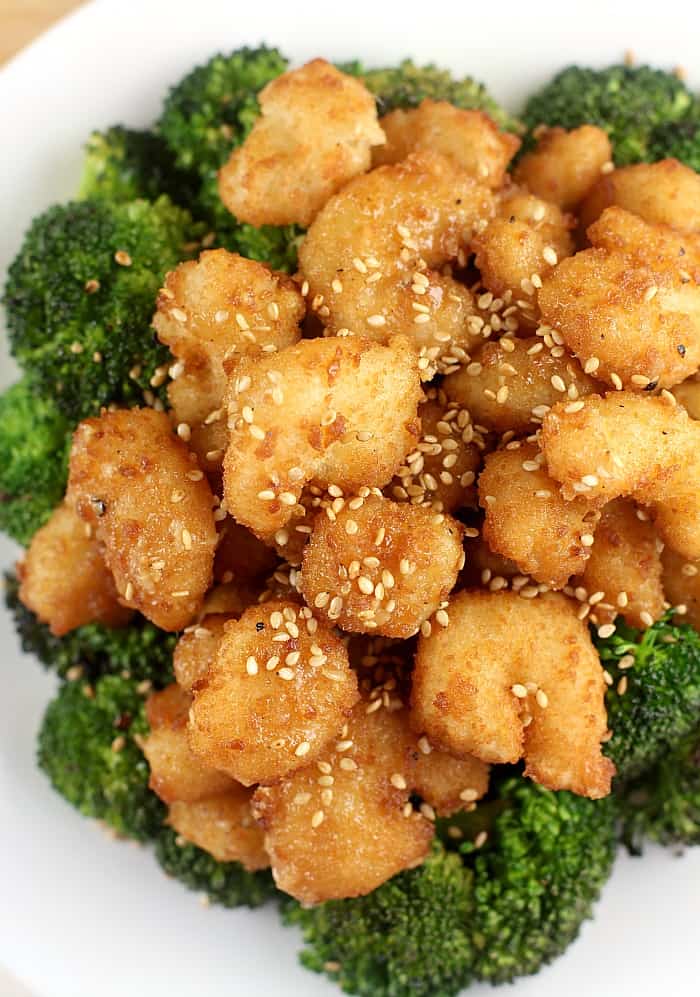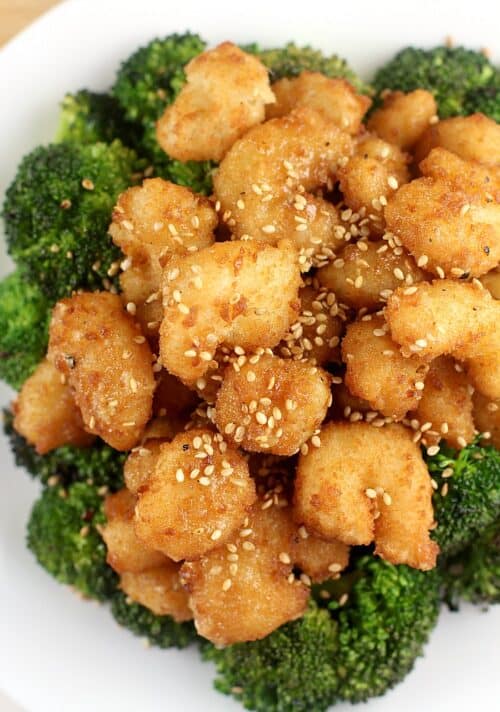 So that's it folks! Here is a stress-free weeknight Sesame Shrimp dinner, with a glass of wine to go with. So just chillll, relax, and enjoy this easy meal ready in minutes.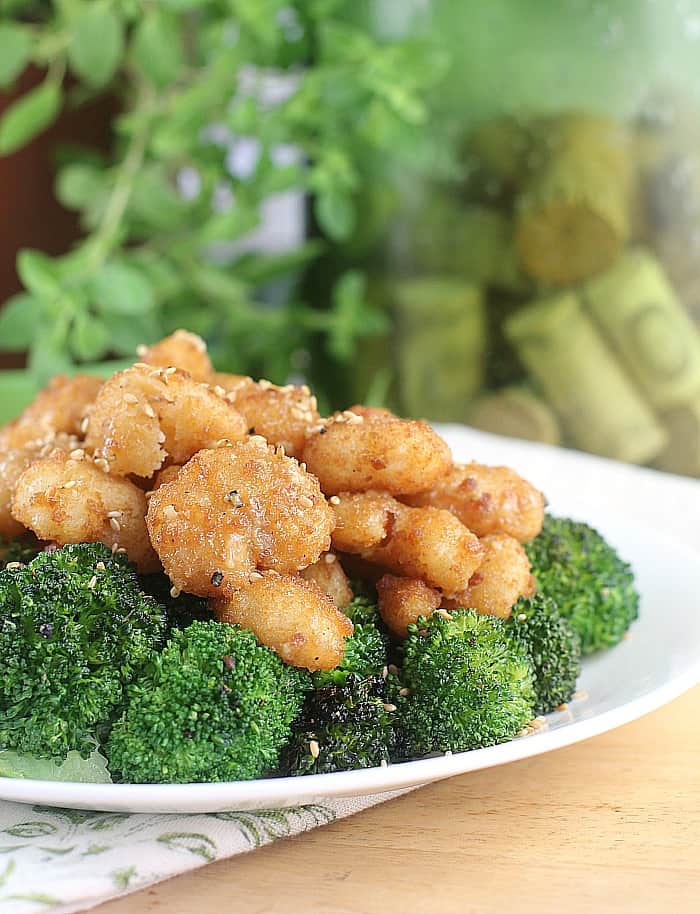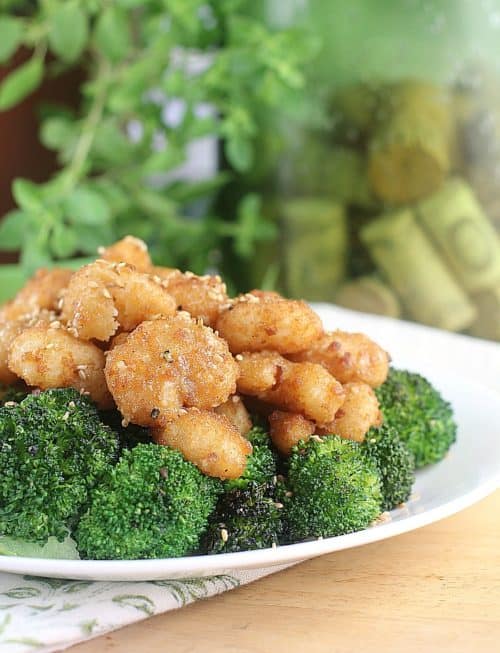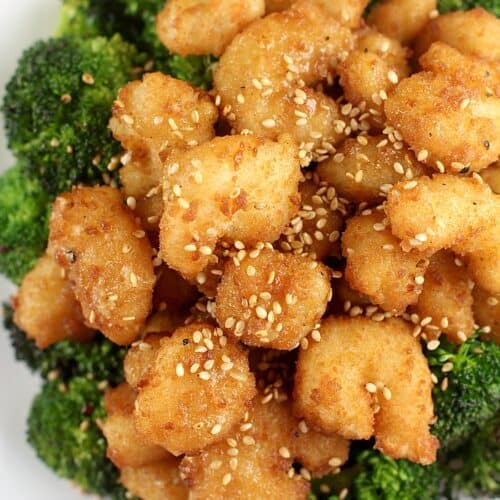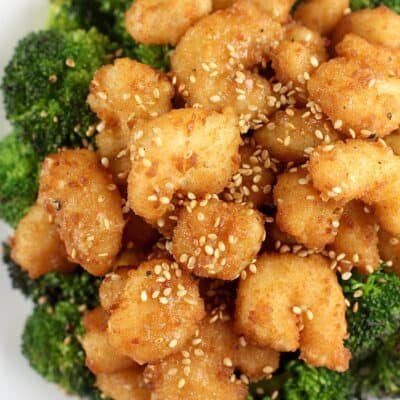 Sesame Shrimp (Ready in 30 minutes)
Tasty little nibbles of easy popcorn shrimp, tossed in a savory simple sesame sauce, and served over perfect oven roasted broccoli.
Ingredients
½

cup

vegetable stock

⅓

cup

white wine

½

tsp

roasted red chili paste

in the Asian foods grocery section

2

Tbs

sesame oil

2

tsp

raw turbinado sugar

2

tsp

reduced sodium soy sauce

couple pinches fresh cracked pepper

1

Tbs

vegetable oil

2

cloves

garlic

minced

1

Tbs

freshly grated ginger

1

tsp

cornstarch dissolved in 2 tsp water

1

30 oz box SeaPak® Popcorn Shrimp

1

Tbs

toasted sesame seeds
For the Oven Roasted Broccoli
2

14 oz bags broccoli florets

extra virgin olive oil

kosher salt

fresh cracked pepper
Instructions
Heat oven to 450F.

For each bag of broccoli, fashion a foil pouch with the broccoli, generous drizzle of olive oil, and a couple pinches each kosher salt and fresh cracked pepper, sealing seams well to keep in the steam while cooking. Add the pouches to the 450F oven for 15 minutes.

Layer the shrimp on a bake sheet pan. Add to the oven when the broccoli hits the 15 minute mark, then cook both 10 minutes to cook the shrimp and finish cooking the broccoli. Remove both from the oven.

While the broccoli and shrimp are cooking, prepare the sauce. Combine the vegetable stock, wine, chili paste, sesame oil, sugar, soy sauce, and pepper in a bowl. Set aside.

Heat a wok on high heat to screaming hot. Add the tablespoon vegetable oil and swirl to coat the sides of the pan. Add the garlic and ginger and saute 30 seconds until fragrant and golden. Add the vegetable stock mixture and bring to a boil. Add the dissolved cornstarch and boil ~5 minutes until thickened enough to coat the back of a wooden spoon. Remove from the heat.

Toss the cooked shrimp in the sauce. Serve over the broccoli. Top with toasted sesame seeds. Yields 5-6 servings.
Nutrition
Calorie count is purely an estimate calculated using an online application to serve as a guide and not to be taken as accurate nutritional information. Percent Daily Values are based on a 2,000 calorie diet.
Tried this recipe?
Leave a comment below and let me know!
​~✿♥✿~​
Leave me a comment! Otherwise, I'm just talking to myself here. What is your go-to, crazy easy weeknight dinner?