Crostini with Sun-Dried Tomato Tapenade and Herbed Goat Cheese
Toasty toast, topped with creamy herbed goat cheese and a DELICIOUS tapenade. This Crostini with Sun-Dried Tomato Tapenade and Herbed Goat Cheese recipe is a lovely, easy, elegant entertaining solution.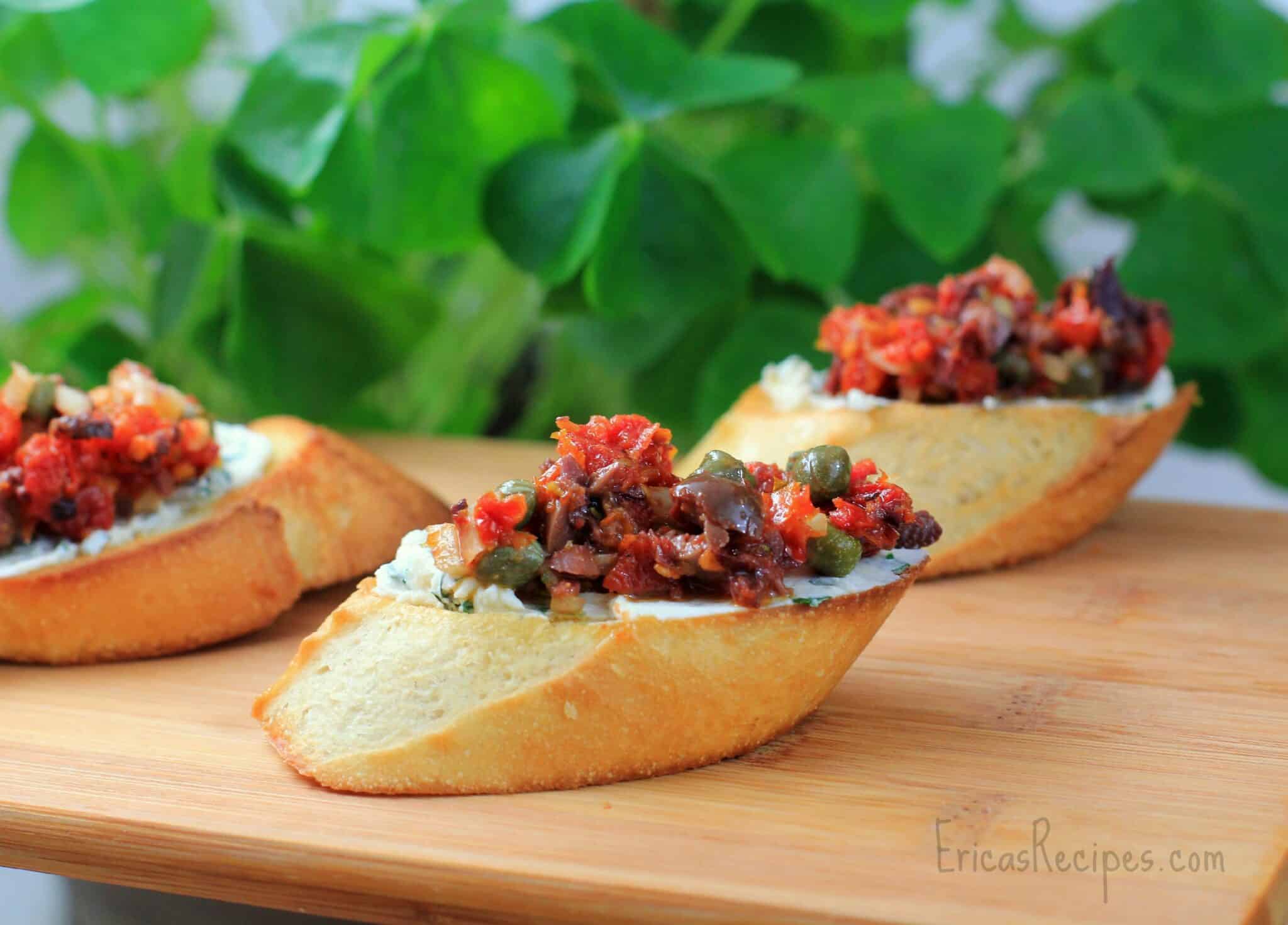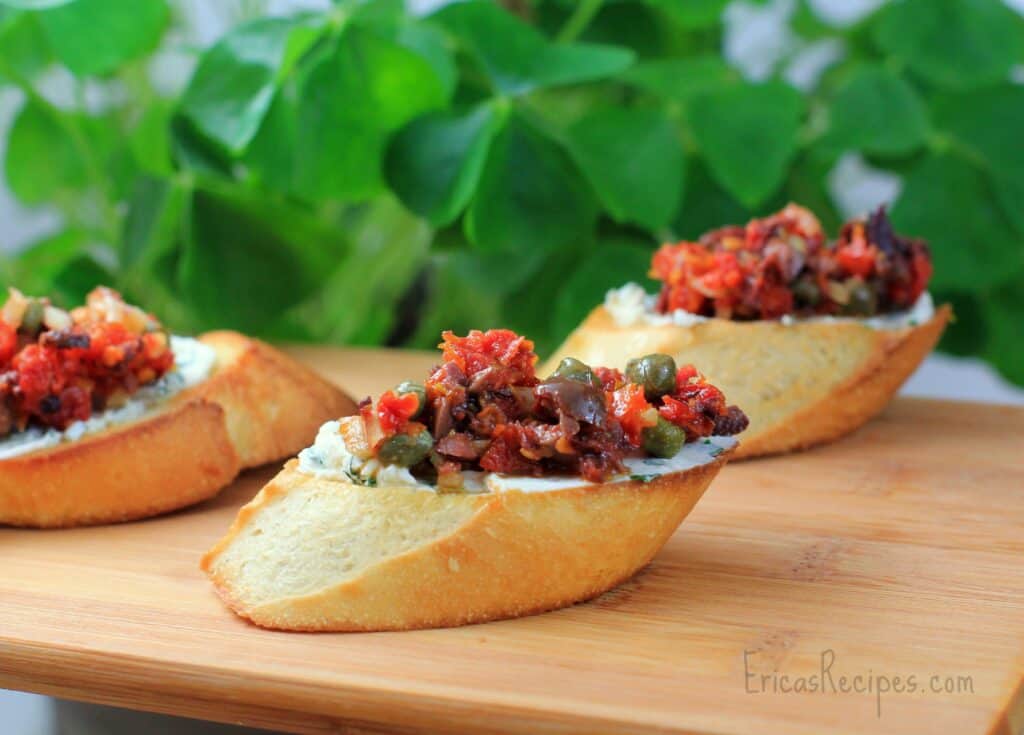 I am generally not picky. Not too picky anyways. I do admit I am particular ..and yes, there is a difference.
My particular-ness is usually about preparing food …yes, salt your pasta water very well; no, do not cut into your meat to see if it's done; yes, use only unsalted butter — things like that. But there are very few foods that I won't eat or that I don't like at all. …Except my list. You have a list don't you? The list of those foods that you do not like but really wish you did? My list is as follows: lamb, eggplant, sashimi, mango, and all stinky cheese.
You read that last one correctly – all stinky cheese. That includes blue, Stilton, brie, and goat cheese. I can hear the gasps already. Trust me, I want to love all these foods. I really really do! And I do on occasion find ways to work with them like in this pretty appetizer here.
So what did I do for this recipe? I simply took some plain, mild goat cheese and added some fresh herbs to brighten it up and cut through the pungency and a touch of oil marinade from the jar of sun-dried tomatoes to calm the flavor down.
Then, with just a thin layer schmered on a toasted crostini and topped with a delicious Sun-Dried Tomato Tapenade, it all came together into a beautiful appetizer I would serve anywhere. So, if you love goat cheese, you will absolutely love this recipe. If you're on the fence about goat cheese, just give it a try. Like me, you may be converted.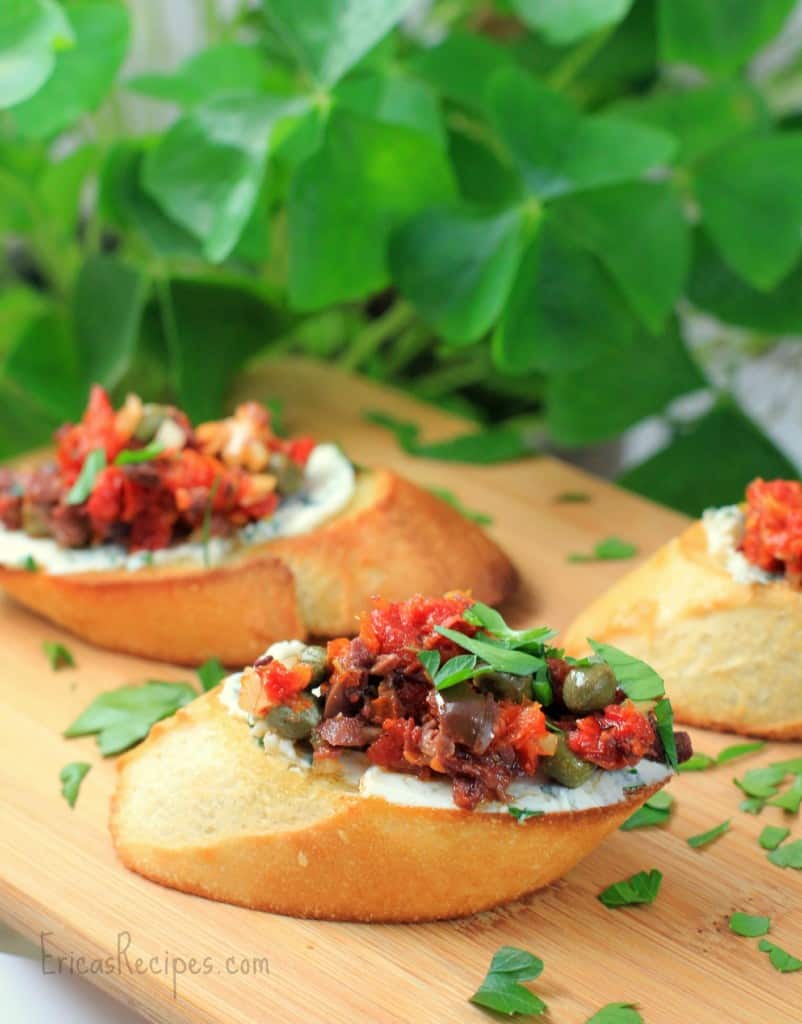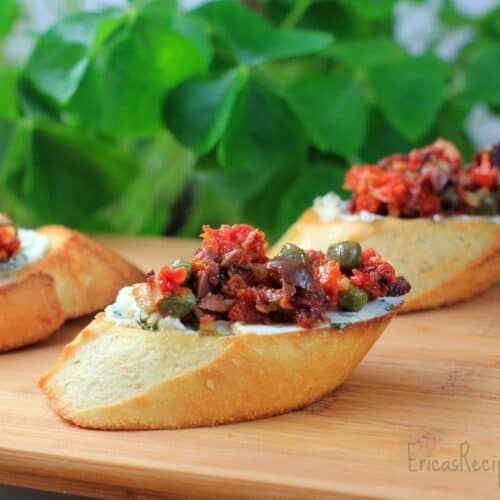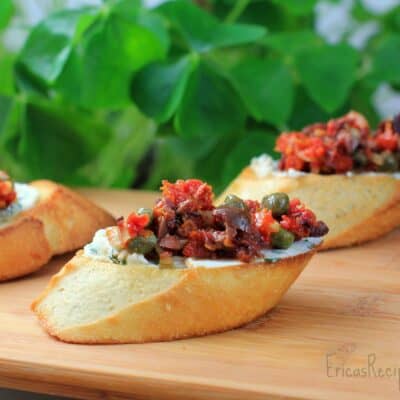 Crostini with Sun-Dried Tomato Tapenade and Herbed Goat Cheese
Ingredients
1

long skinny baguette

sliced into 1-inch slices on a diagonal

4

oz

plain goat cheese

1

T

chopped Italian flat-leaf parsley

1

T

fresh oregano leaves

chopped

½

c

chopped sun-dried tomatoes in oil

plus 1 t reserved oil

¼

c

chopped kalamata olives

2

T

capers

pinch

kosher salt

pinch

fresh cracked pepper

¼

t

fresh lemon zest

1

T

very finely diced onion

½

T

extra virgin olive oil

plus more for brushing the bread
Instructions
Heat the oven broiler. Place the bread slices on a large baking sheet. Brush both sides with olive oil. Toast lightly under the broiler, turning once (watch them, they will cook quickly!)

In a small bowl, combine the goat cheese, parsley, oregano, and 1 t oil from the jar of sun-dried tomatoes. Set aside.

In another small bowl, combine the tomatoes, olives, capers, salt, pepper, lemon zest, onion, and 1 T olive oil.

Take each toasted crostini and spread a thin layer of the goat cheese mixture. Top each with tapenade.
Calorie count is purely an estimate calculated using an online application to serve as a guide and not to be taken as accurate nutritional information. Percent Daily Values are based on a 2,000 calorie diet.
Tried this recipe?
Leave a comment below and let me know!