Garlic Cheese-Stuffed Pretzel Bread Bombs are fun bits of homemade pretzel bread dough stuffed with gooey garlic cheese.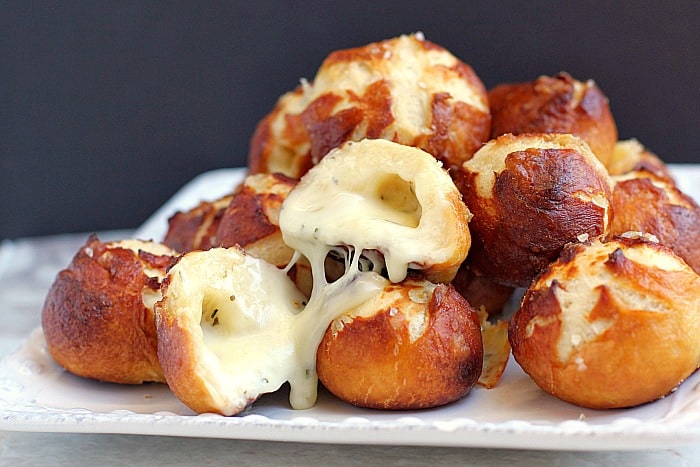 ​Finally! After almost a month hiatus getting​​ this site squared away with new hosting, layout, plug-ins, and my first ever logo (the logo took multiple designers and iterations and I was uber picky …I'm sure you understand​​), we are UP!! So WELCOME to the new and improved Erica's Recipes!​​ Big thank to my IT Department (my husband Joe) for making this happen. And be sure to check out the new Full Recipe Index for a complete listing of our almost 400 recipes!
Over the past couple weeks, I have created over a dozen delicious new recipes which I will ration out to you over the coming weeks. But let's start with the one I am most excited about …Garlic Cheese-Stuffed Pretzel Bread Bombs!
Let's say it again, Garlic Cheese-Stuffed Pretzel Bread Bombs. So what was the inspiration for these cheesy balls of love? …I dunno. I probably saw a picture somewhere. But I knew I wanted my first recipe posted on my new site to be really special. And nothing says special like gooey, cheesy bread balls. ​​The fact that they're made using homemade pretzel bread​​ should ​​scream tasty to you – homemade pretzel bread is just one of the greatest things ever.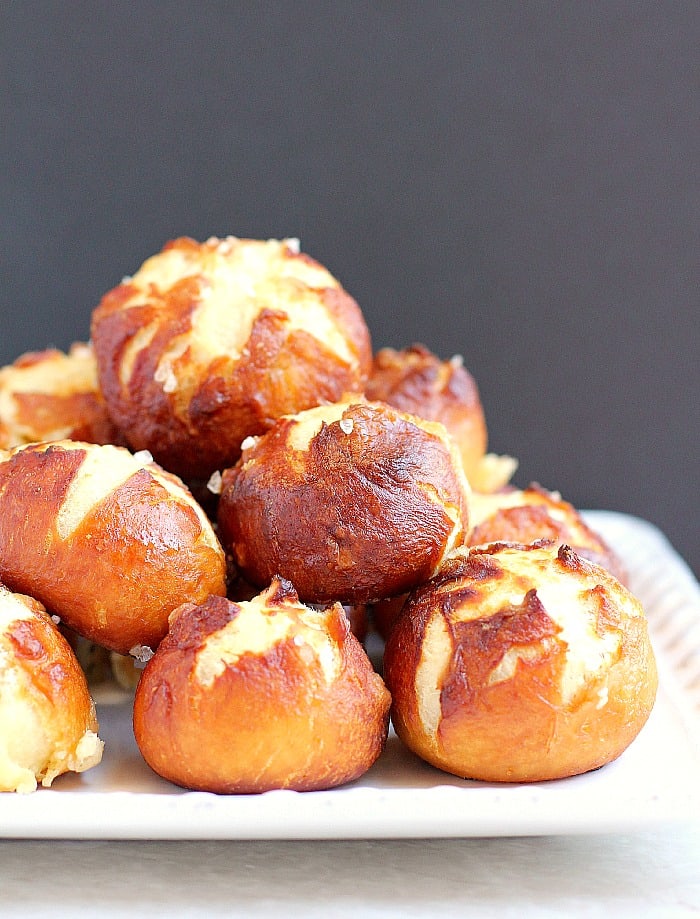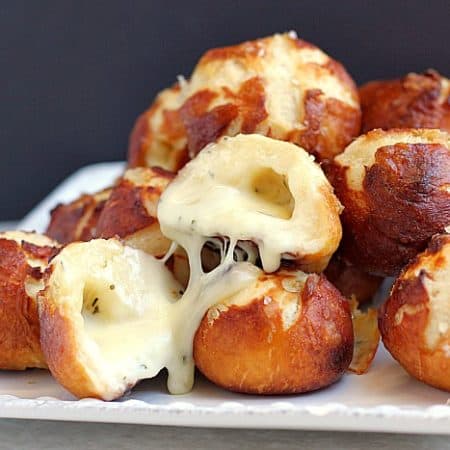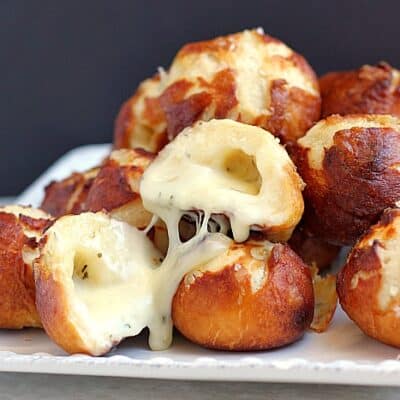 Garlic Cheese-Stuffed Pretzel Bombs
Garlic Cheese-Stuffed Pretzel Bread Bombs are fun bits of homemade pretzel bread dough stuffed with gooey garlic cheese.
Ingredients
1

recipe Pretzel Bread Dough

all-purpose flour

1

egg

garlic and herb cheese

see Notes, cut into 1-inch cubes

1

c

baking soda

course sea salt
Instructions
Once dough has risen, heat the oven to 400F. Half fill a large pot with water and add the baking soda. Bring to a boil.

Turn the risen dough onto a lightly floured board and cut into 32 pieces. Put a cube of cheese on each, and form the dough around the cheese pressing the seams very well to seal the cheese in completely.

Working in batches, boil the dough balls in the poaching liquid 1 minute. Remove from the water to a greased baking sheet (make sure it's greased or the bread will stick when it cooks). Slice a small, shallow "X" on the top of each roll with a sharp knife (be careful to not cut through to the cheese!). Add a little water to the egg to make an egg wash (~2 t). Brush dough balls with the egg wash. Sprinkle tops with sea salt. Bake 15-20 minutes at 400 or until well browned. Yields 32 bites.
Notes
When these cook, cheese will leak out. This is normal and is caused by steam from the cheese. No worries - just scoop it up and go with it! It's all good.
Also, I have made this with a garlic and herbed cheddar and a garlic and pesto Monterey Jack. The jack worked better since it melts more nicely anyway.
Calorie count is purely an estimate calculated using an online application to serve as a guide and not to be taken as accurate nutritional information. Percent Daily Values are based on a 2,000 calorie diet.
Tried this recipe?
Leave a comment below and let me know!
~✿♥✿~