Red Velvet Latte is a decadent mocha latte with an extra touch of vanilla and made beautifully red velvet naturally with beet juice. Enjoy all the taste and joy of a fancy red velvet coffee at home, affordably, in just a minute.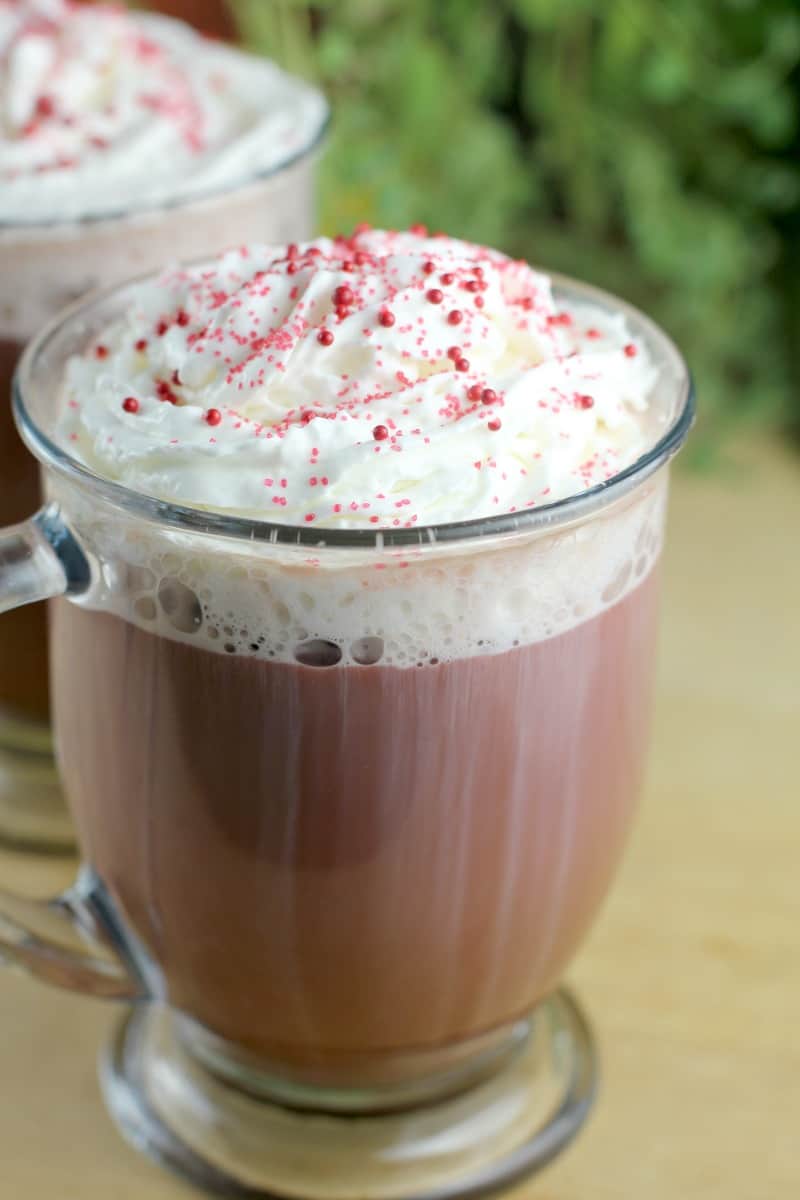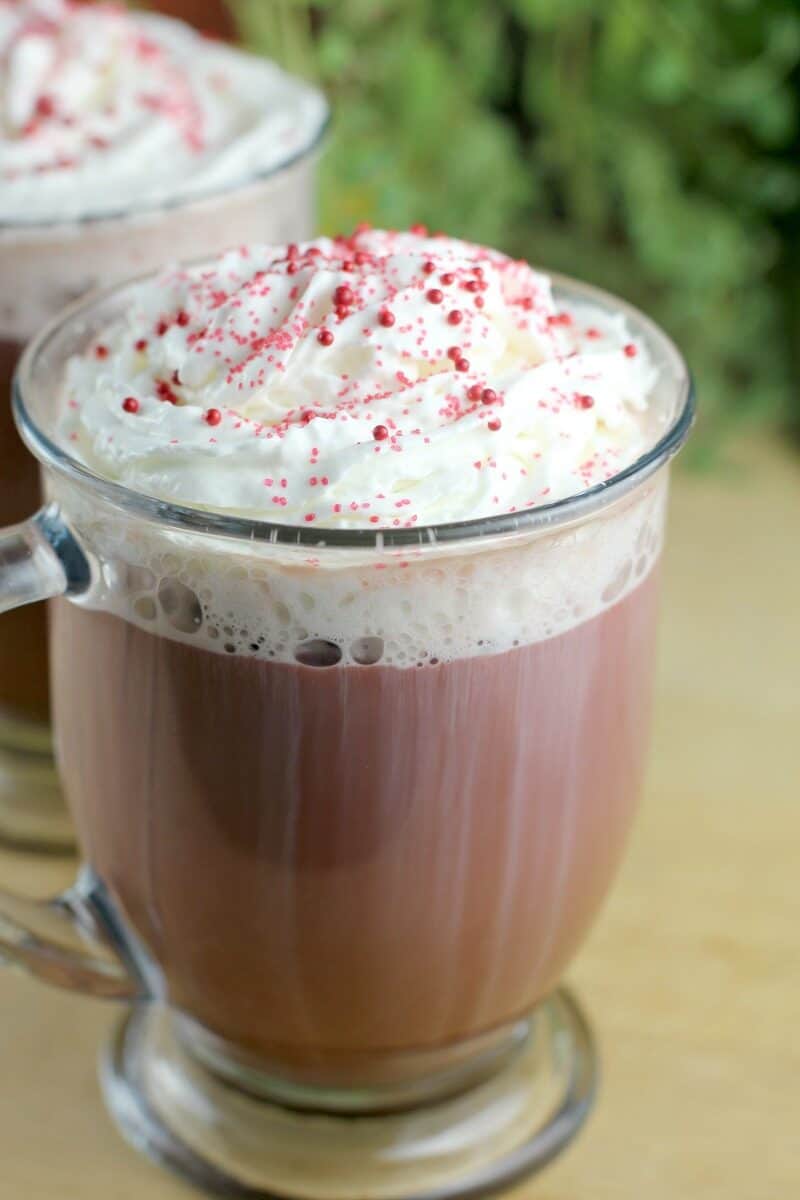 This red velvet coffee would be my second fancy coffee. My first was the Double Chocolate Tiramisu Iced Coffee, which was fabulous. Since that experience, I have been looking for another opportunity to make a fancy coffee. I do not make fancy coffee often – my coffee usually is very non-fancy and just regular, morning black java. But fancy coffee definitely has its place in this world, especially during insanely, ridiculously, omg-how-is-little-league-season-still-not-over-yet busy times. Like now. And this Red Velvet Latte recipe gives you a fancy coffee FAST for much less cost and with better ingredients than at any coffeehouse in the world I would venture to say.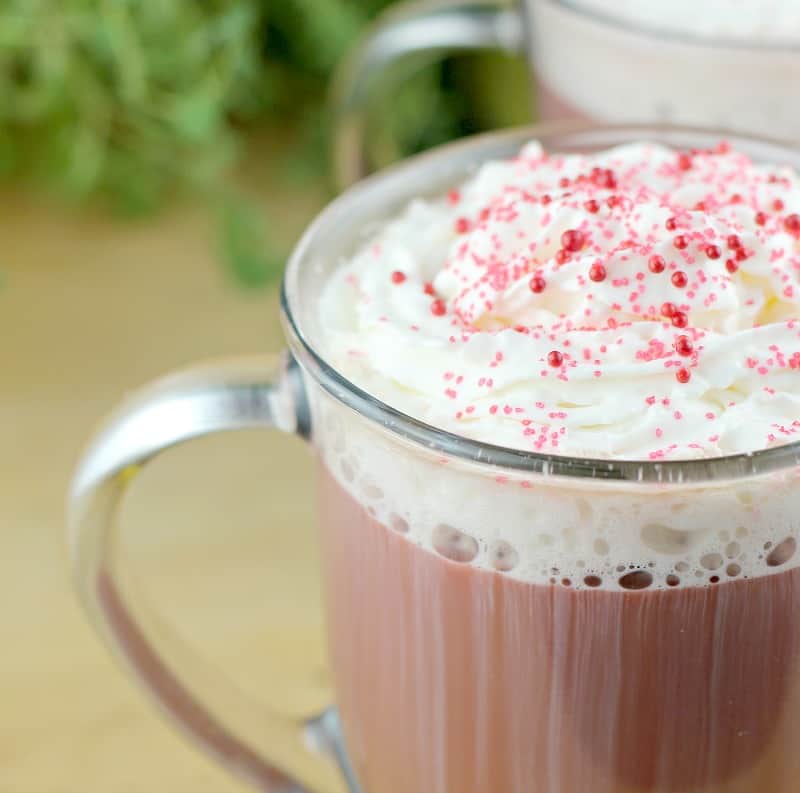 What makes this recipe special
First and forever foremost, is flavor and my red velvet latte is delicious. Creamy steamed milk with a touch of sweetness – YUMMMM.
Second, are the ingredients. Aside from your choice of whipped topping or cream and sugary crystals (both of which are totally optional), everything here is au natural.
The best part is using ruby red beet juice instead of food coloring. I love this trick! Beet juice is so heavily tinted (fun fact: the molecules that give beets their color are called betalains), that beet juice makes a fantastic food coloring.
Check out my Better-Than-Takeout Chinese Spareribs recipe which also uses beet juice for coloring.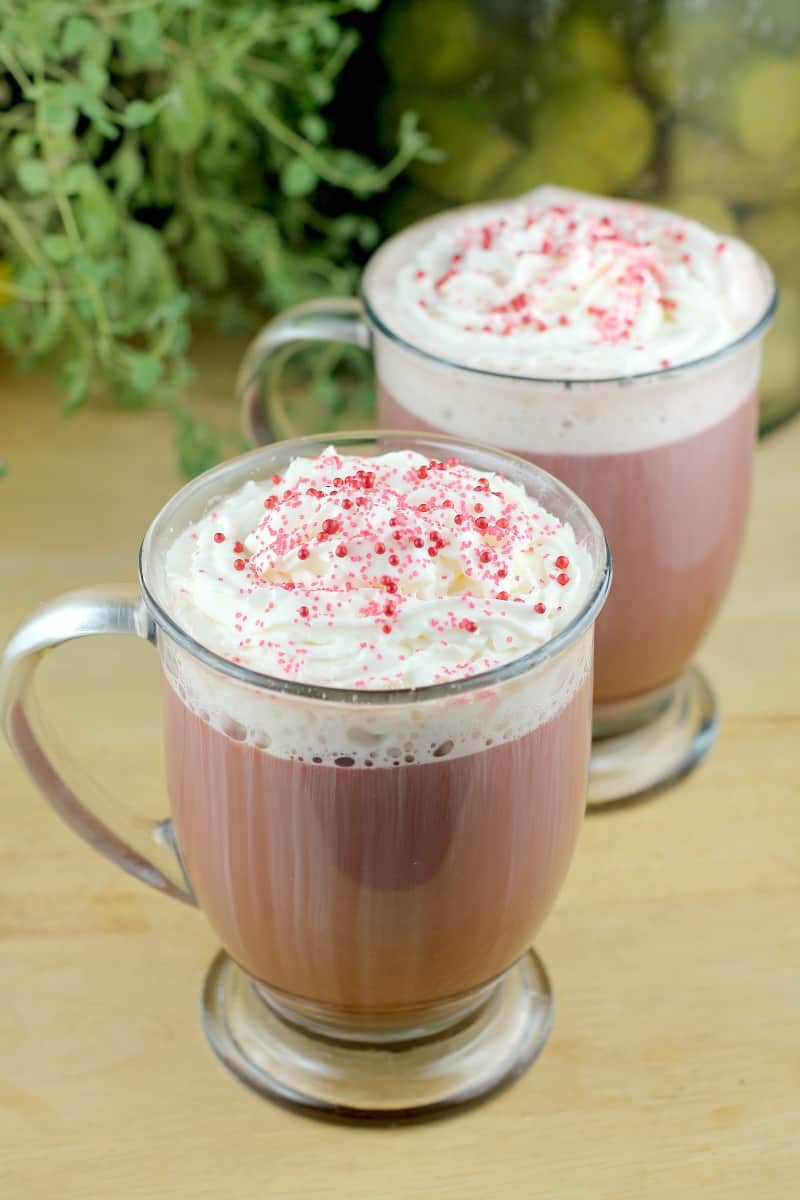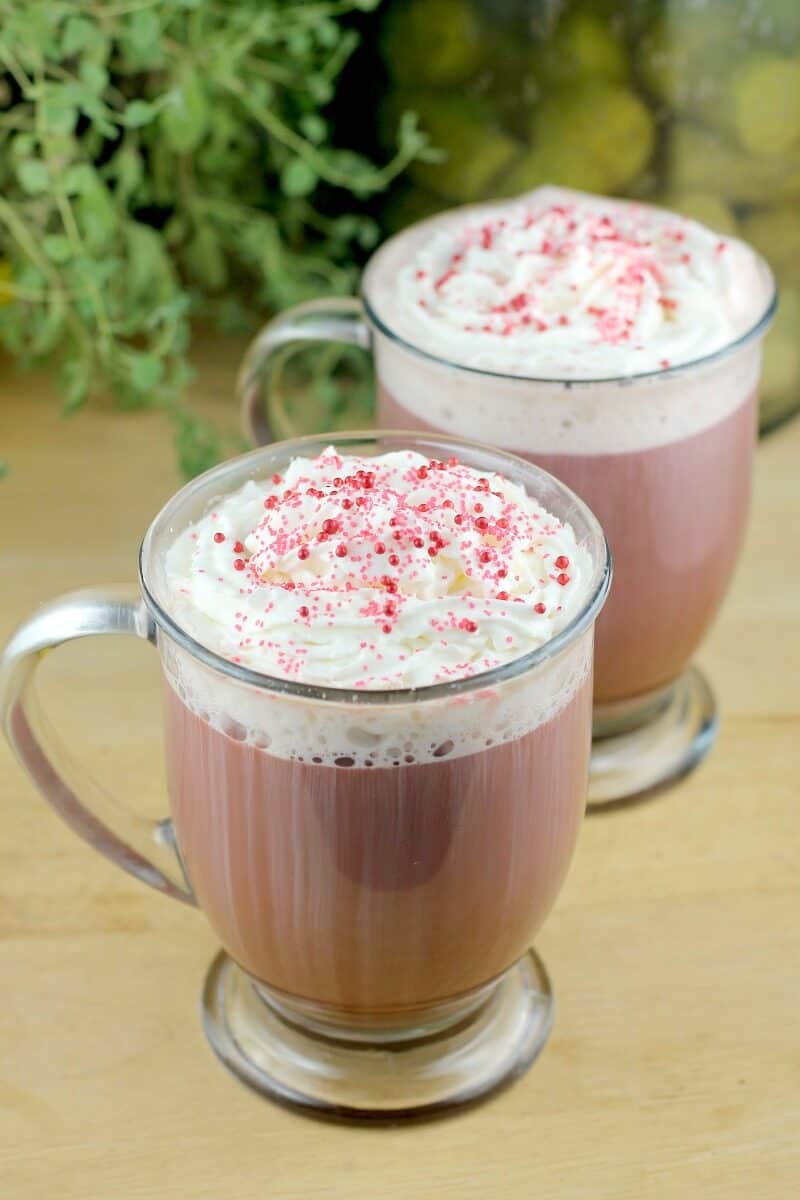 What are the ingredients
The ingredients you need for this luscious red velvet latte are thusly and they are all approachable.
Cocoa powder. Find in the baking aisle of the grocery store.
Pure vanilla extract. Always check labels to make sure you are getting the real thing because in the US there are 5 products where companies will literally screw you if you are not careful: maple syrup, honey, olive oil, parmesan cheese, and vanilla. I'm sure there are more, but those come to mind first.
Beet juice. I get it unrefrigerated in the juice aisle. Refrigerate after opening. If not available, I would think pomegranate juice would work, but I have not tried that myself.
Fresh brewed coffee.
Milk. Add as little or as much as you want your latte to have. I used 2% milk for extra creaminess.
Whipped cream or non-dairy topping of choice. Free reign here.
Red sugar sprinkles. Because who doesn't love sprinkles!
More fancy brunch ideas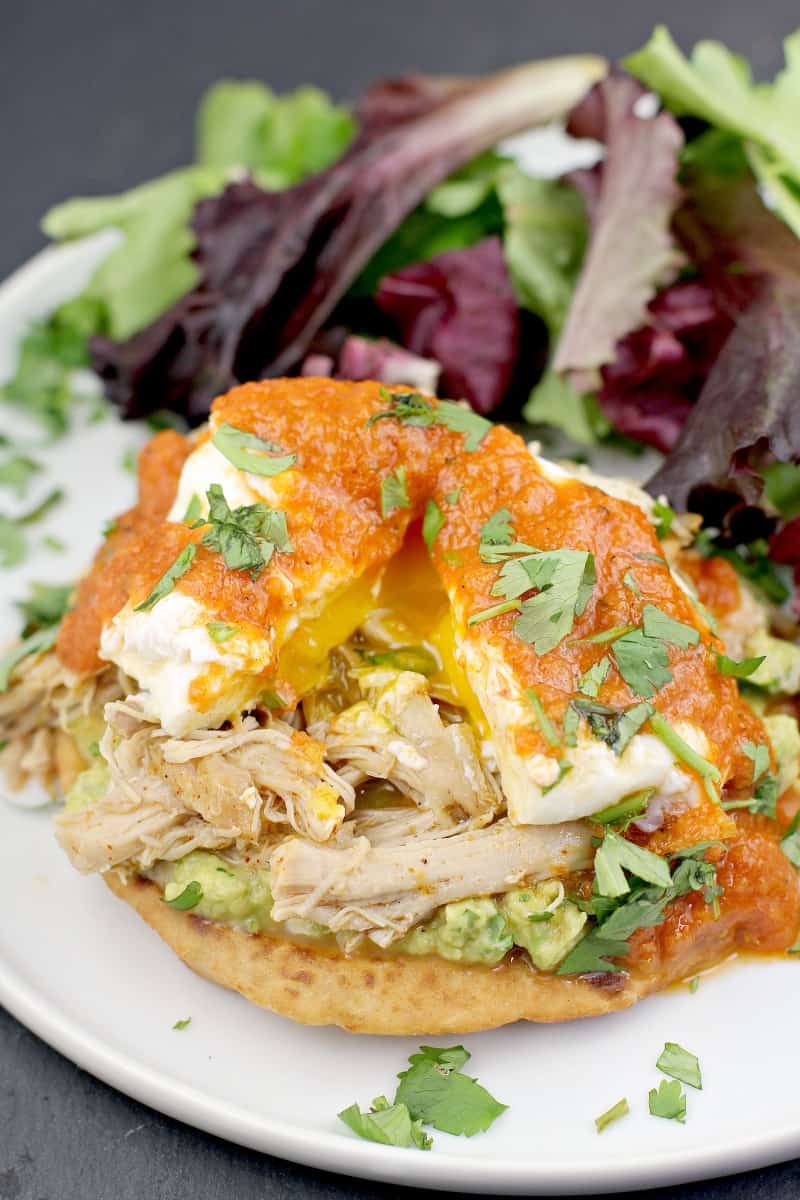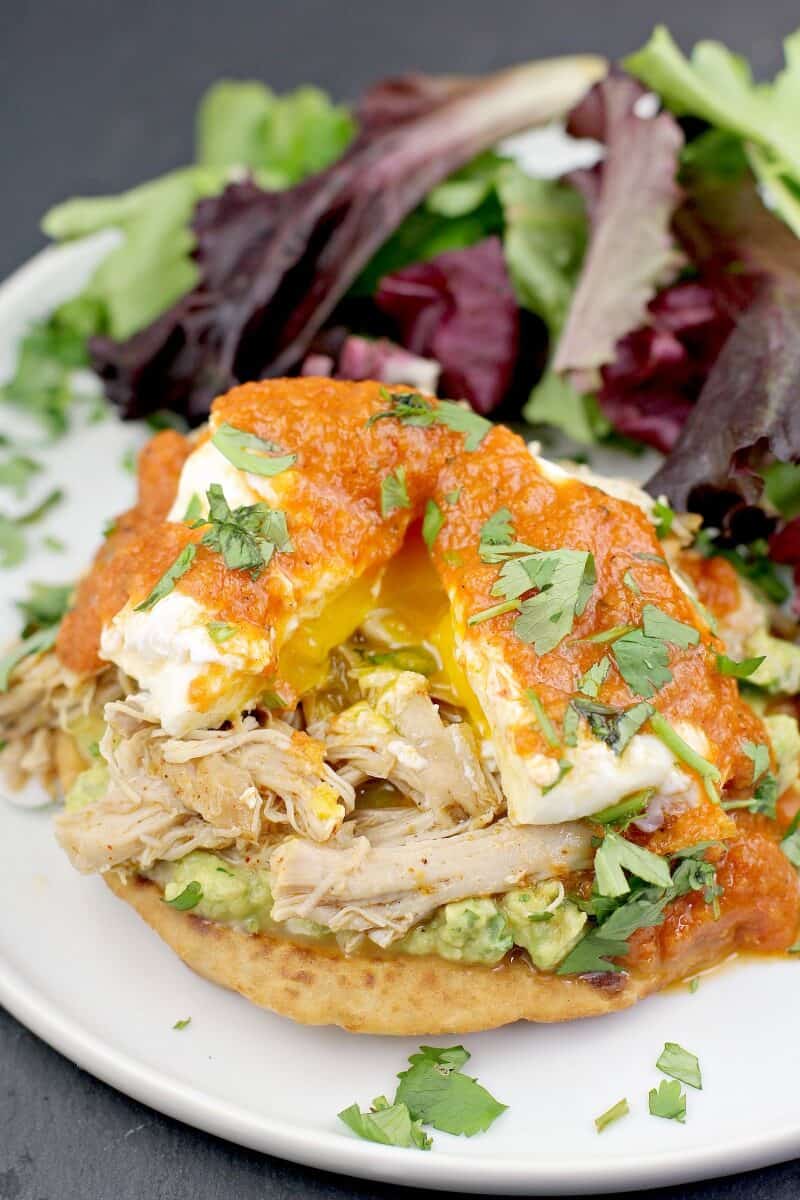 How to make red velvet latte
So what did I do here:
I made some coffee.
While the coffee was brewing, I added 3 simple ingredients into my mug: cocoa powder, vanilla, and beet juice.
I mixed said ingredients.
Next, I poured in the coffee.
I heated some milk to steaming, then spooned some on top of the coffee to let it ooze and mix in on its own.
Finally, I topped with whipped cream and sprinkles.
Simple, yes?!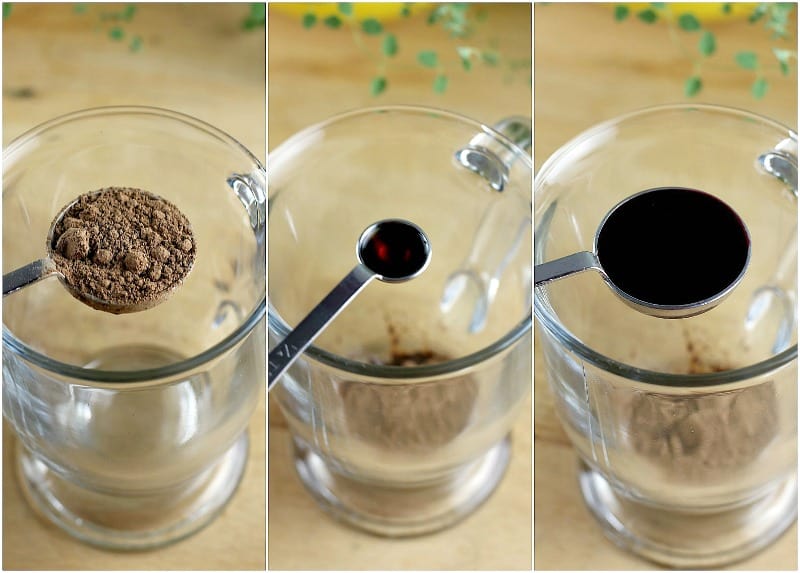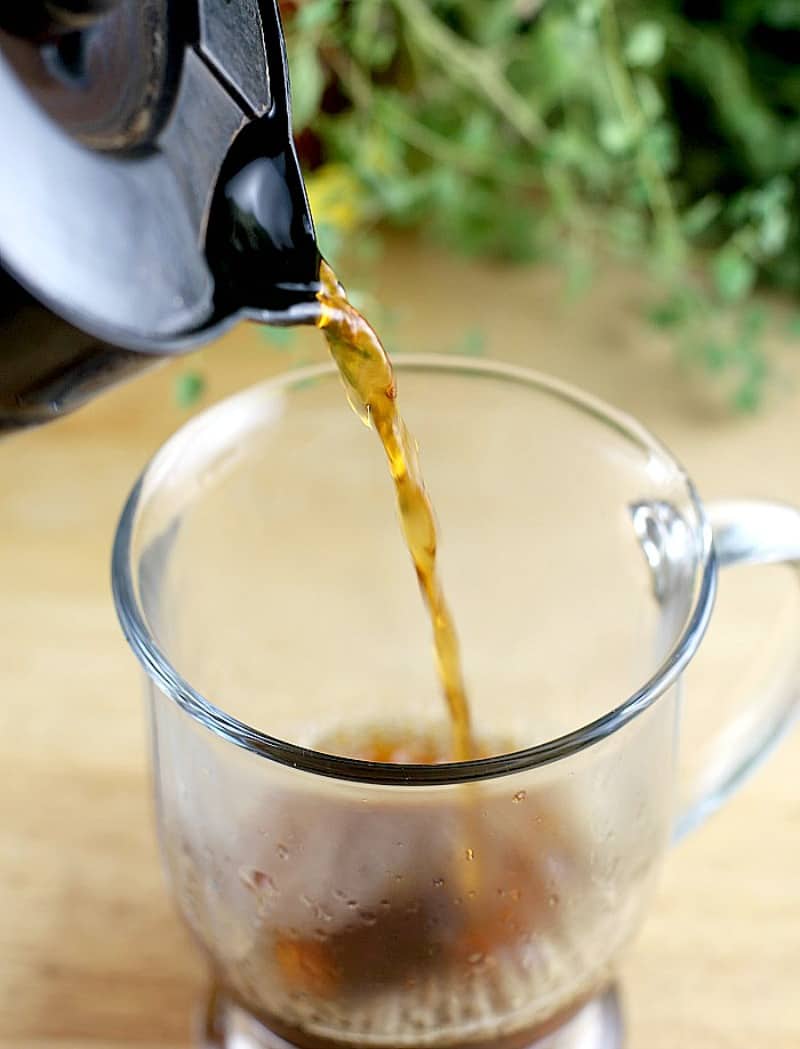 Tips
Freeze leftover beet juice as ice cubes in a tray, then put in a freezer container. Melt individually as needed for a much better red food coloring or just sneak into marinara sauce and such for an extra hit of beet-goodness for your family.
For the whipped cream, you can use it from a can (you know the kind [wink wink]), you can use non-dairy whipped cream (also from the can), or you can actually make yourself whipped cream. OR, you can skip that all together, in which case knock off 25 calories from the calorie count.
This coffee can be made in advance and reheated, but do not add the whipped cream/topping until go-time.
You can skip the beet juice, in which case this would be a regular mocha. No shame – just no longer red velvet.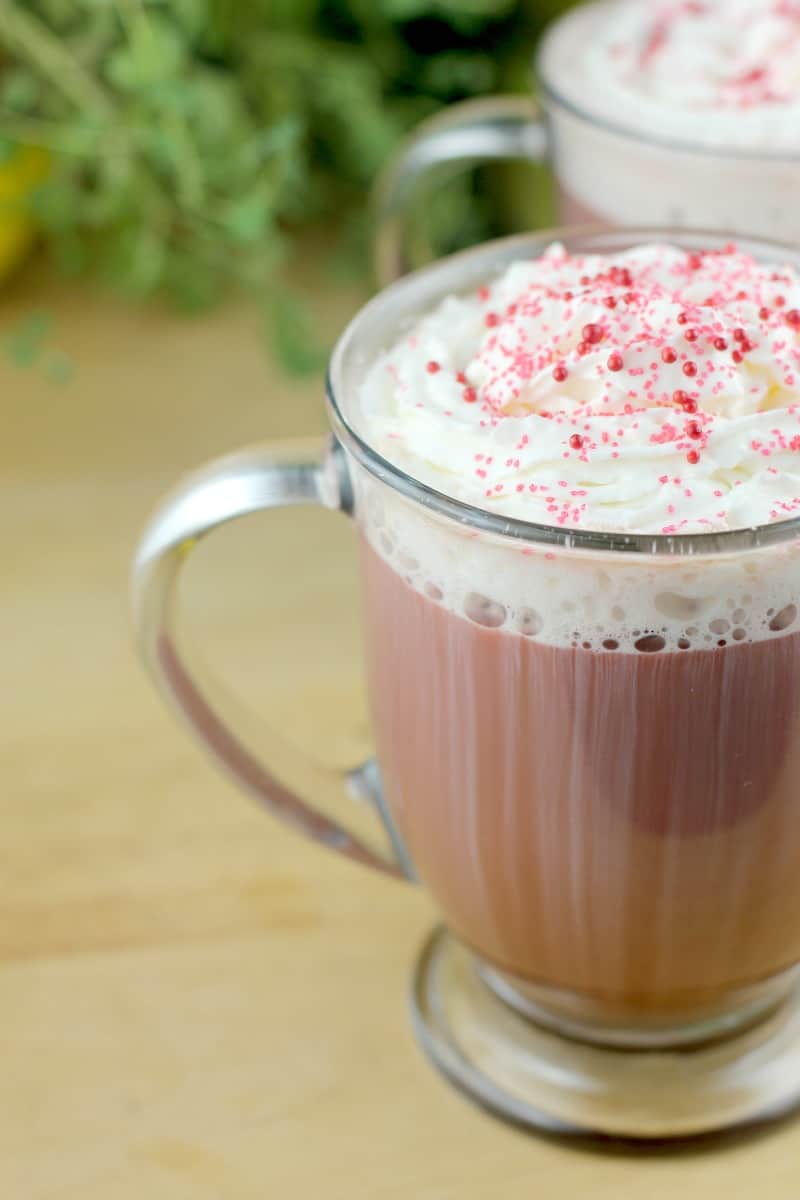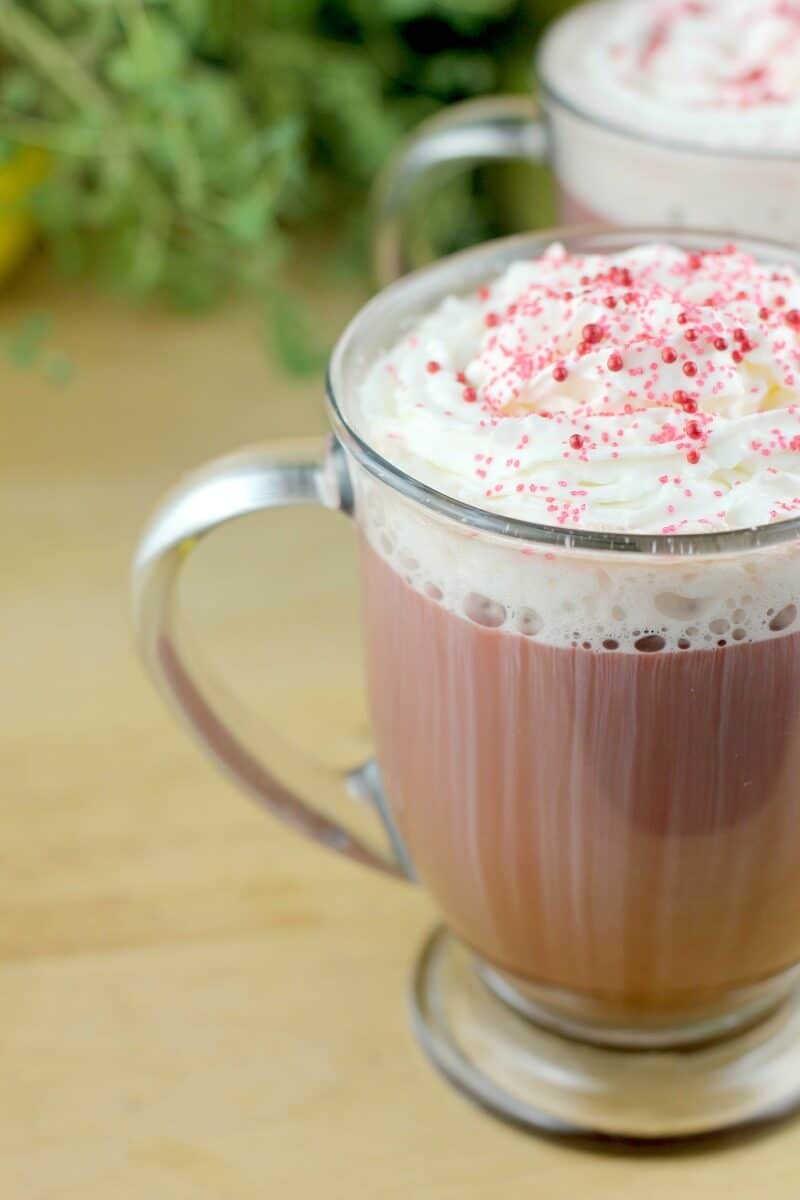 So that's it folks. I usually have to describe more, explain more… but it is just not necessary for this red velvet latte. It is this easy to have a delicious red velvet coffee like this at home, with so little effort yet rivaling anything at a coffeehouse. Trust and make. And enjoy.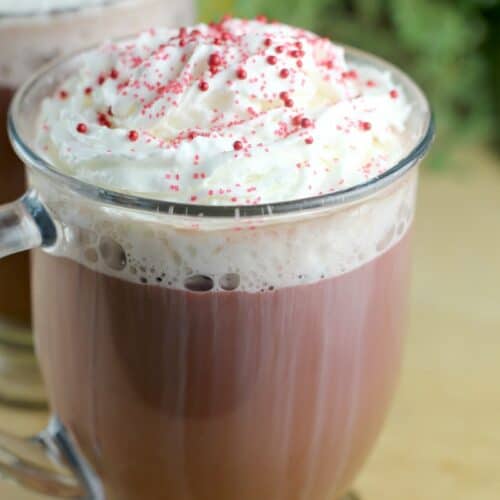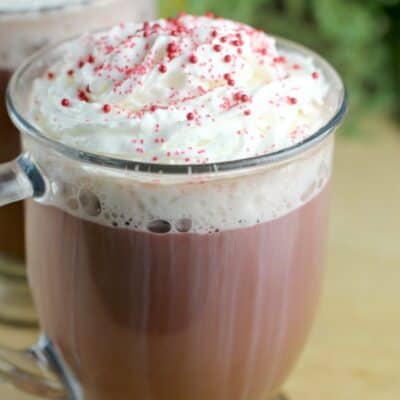 Red Velvet Latte
Red Velvet Latte is a decadent mocha latte with an extra touch of vanilla and made beautifully red velvet naturally with beet juice. Enjoy all the taste and joy of a fancy red velvet coffee at home, affordably, in just a minute.
Ingredients
1

Tbsp

cocoa powder

¼

tsp

pure vanilla extract

1

Tbsp

beet juice

1

cup

fresh brewed coffee

2

Tbsp

milk

whipped cream or non-dairy topping of choice

garnish: red sugar sprinkles
Instructions
In your coffee mug, whisk together the cocoa powder, vanilla, and beet juice. Pour in the hot coffee, and stir to combine ingredients.

Separately, heat milk to steaming hot in a nonstick saucepan. Spoon on top of the prepared coffee.

Top with whipped cream, red sugar sprinkles, or your little sugary touch of choice.
Nutrition
Calories:
41
kcal
(2%)
|
Carbohydrates:
7
g
(2%)
|
Protein:
2
g
(4%)
|
Fat:
3
g
(5%)
|
Saturated Fat:
1
g
(6%)
|
Cholesterol:
6
mg
(2%)
|
Sodium:
22
mg
(1%)
|
Potassium:
380
mg
(11%)
|
Fiber:
2
g
(8%)
|
Sugar:
3
g
(3%)
|
Vitamin C:
1
mg
(1%)
|
Calcium:
290
mg
(29%)
|
Iron:
1
mg
(6%)
Calorie count is purely an estimate calculated using an online application to serve as a guide and not to be taken as accurate nutritional information. Percent Daily Values are based on a 2,000 calorie diet.
Tried this recipe?
Leave a comment below and let me know!