Jalapeno Popper Pizza is loaded with three peppers and three cheeses for a delicious new take on this favorite pizza. If you love stuffed jalapenos, you will love this jalapeno pizza.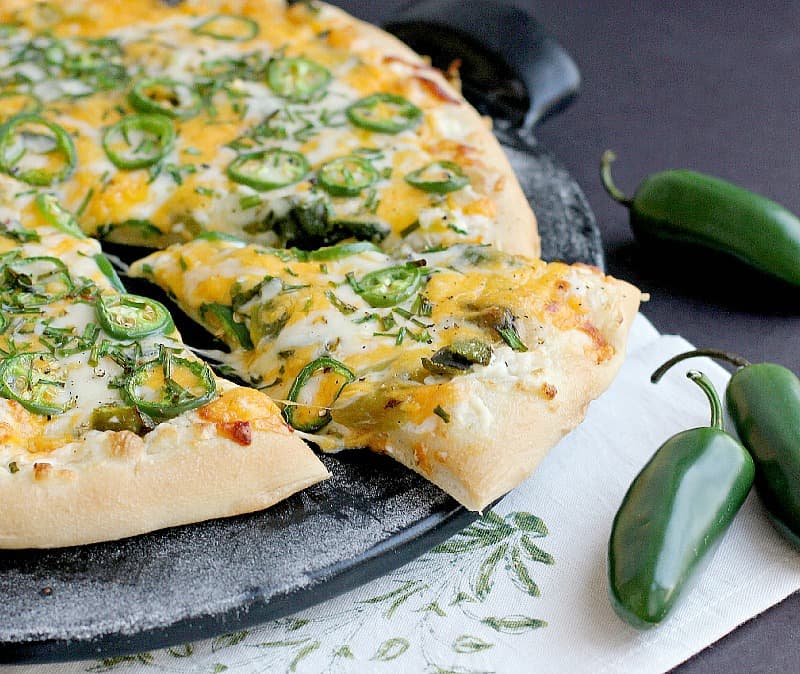 Jalapeño Popper Pizza. Heard of it? Of course you have. So before you say "Erica, jalapeno pizza has so been done before", hear me out…
Poppers pizza is a super fun way to celebrate pizza, my favorite food. Who doesn't love stuffed jalapenos anyway?? Literally no one. Who doesn't love jalapeno cheese dip?? NO ONE. And who does't love jalapenos in general?? …okay not everyone, but LOTS of us do and that's why we're here.
Jalapeno Popper Pizza
This Jalapeno Popper Pizza recipe is for a version of what is essentially creamy jalapeno cheese dip delivered to you on crispy pizza bread. And it is vegetarian.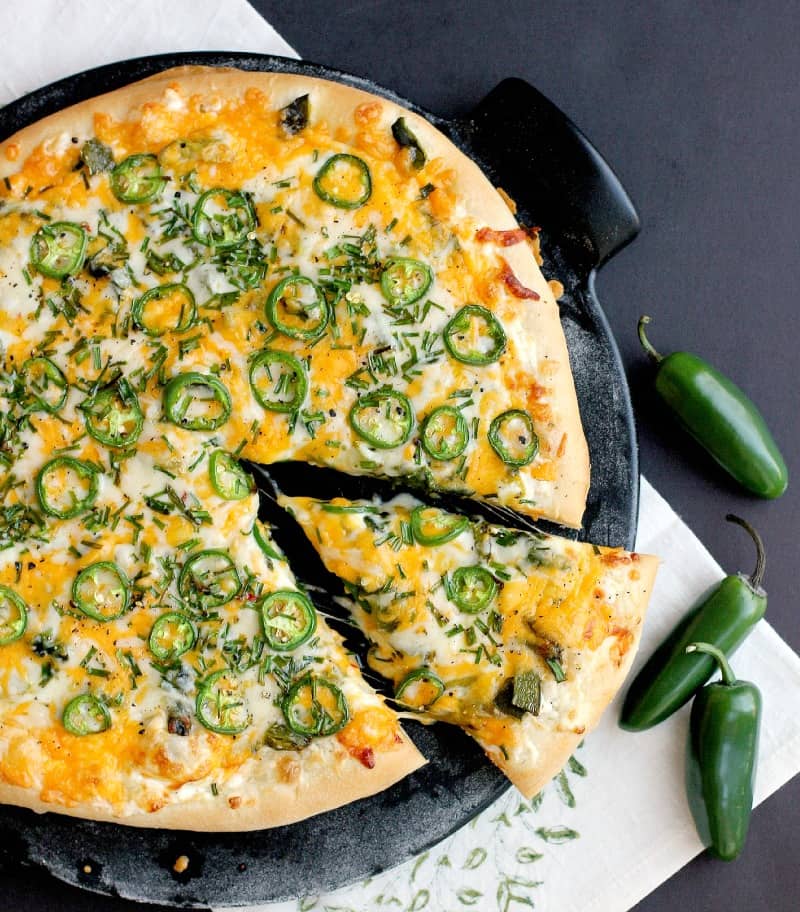 A jalapeno cheese pizza with jalapeno cheese dip properties. YUM.
See, I did not go with the token "loaded" toppings every other "loaded" recipe has. So, no bacon here. That's been done a literal zillion times over, so why bother anymore.
On the other hand, I also didn't go vegan, because while I love my vegan recipes and eat mostly plant-based… Pizza needs cheese. And cheese needs pizza.
And let's be real, most "cheesy" vegan recipes use nutritional yeast which, while I have used it too, has to be used with intentional restraint, or purchased vegan cheese which is flat-out disgusting not gonna lie.
So, instead of any of that, I ditched the bacon (yes, really), didn't go full vegan, didn't try to make my pizza jalapeno something it was never meant to be, and I added oven-roasted poblano and cubanelle peppers with the jalapenos for THREE peppers and loaded up THREE different cheeses. So much love.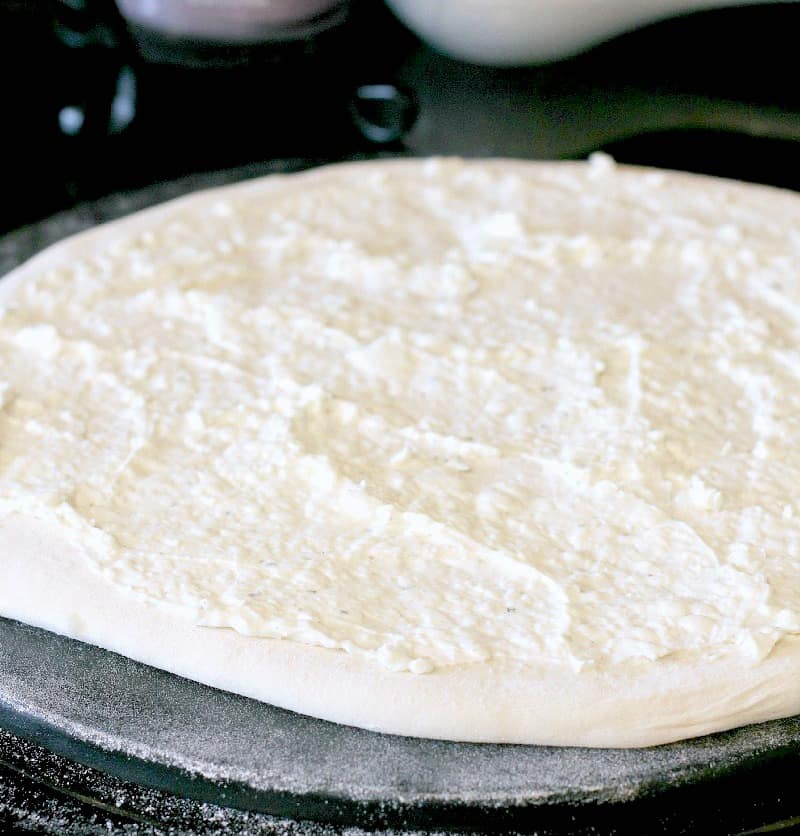 Because making pizza ridiculously cheesy is the way a proper pizza should be.
Scroll down for the full Poppers Pizza recipe card to read, print, or save.
Ingredients for Jalapeno Popper Pizza
Pizza dough
Cubanelle peppers – get BIG ones!
Poblano peppers – also get BIT ones!
Jalapenos
Cream cheese
Ranch dressing
Sharp cheddar cheese
Mozzarella cheese
Pepperjack cheese
Chives
These are the ingredients for my Jalapeno Popper Pizza, and the actual jalapenos on pizza are just the start of it so I want to call attention to a couple of the other things going on.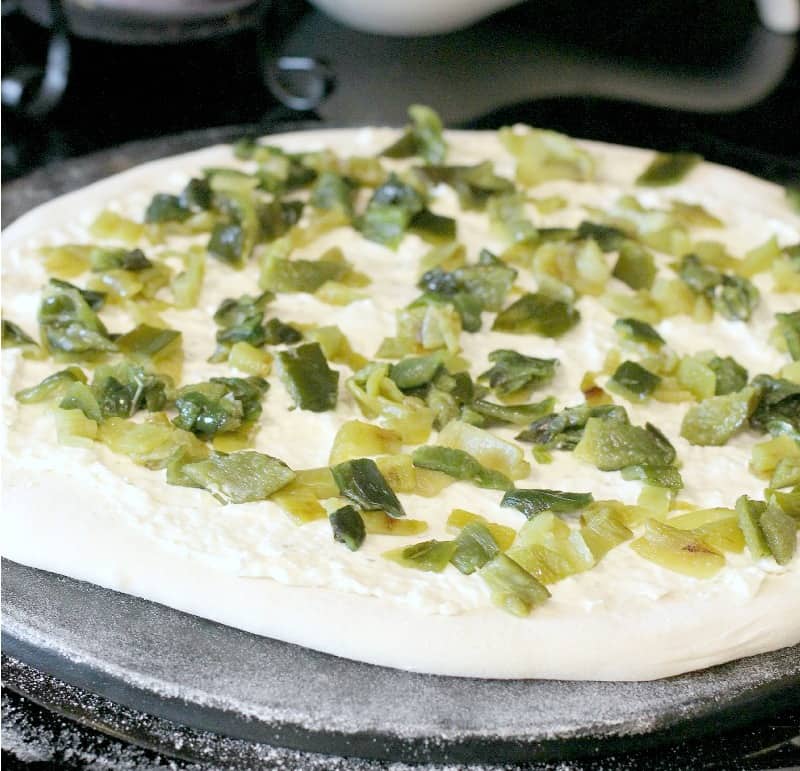 First, is the cream cheese – I did not just spread cream cheese on pizza dough and call it good. Warm cream cheese is actually not that appetizing, BUT when you mix it with ranch salad dressing, things change, and now we have a perfect "pizza sauce" for our jalapeno pizza.
Second, is the peppers. Now, DON'T STRESS about the peppers. If you can't find cubanelle, FINE (sighhhh… Just kidding. Actually your grocery store probably carries them, I see them all the time anymore) just use more poblano and whatever else you can find. Don't make this hard, it's all good.
And then there's the chives – the subtle onion zing from the chives at the end absolutely completes this pizza jalapeño.
The resulting combination with the roasted peppers takes this pizza well beyond the token old traditional.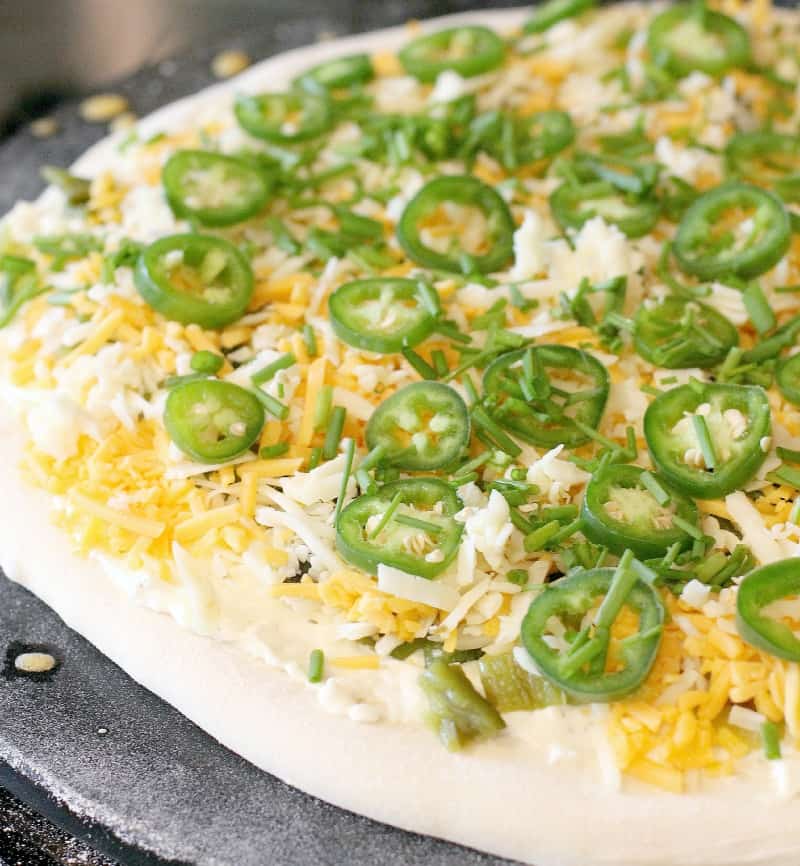 How to Roast Peppers
Roasting peppers is integral to this and many recipes, but it is super easy to do and only takes ~20 minutes.
Heat up the oven broiler.
Put the peppers on the rack under the broiler.
Roast peppers, turning every few minutes, until they are all charred and blistered.
Put the peppers in a resealable bag to steam.
Remove charred skins and seeds, and chop.
Easy! And I do it all the time, roasting peppers. It just makes their flavor that much more magical. This is so key to this recipe.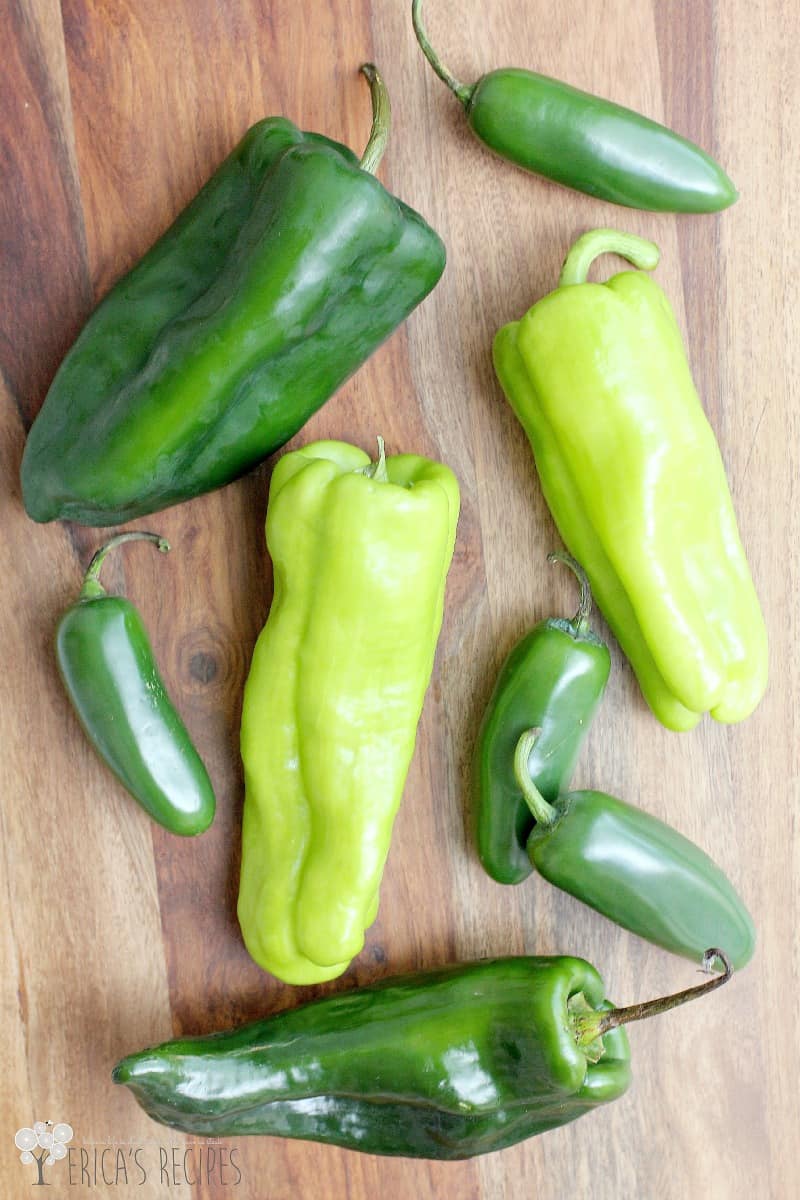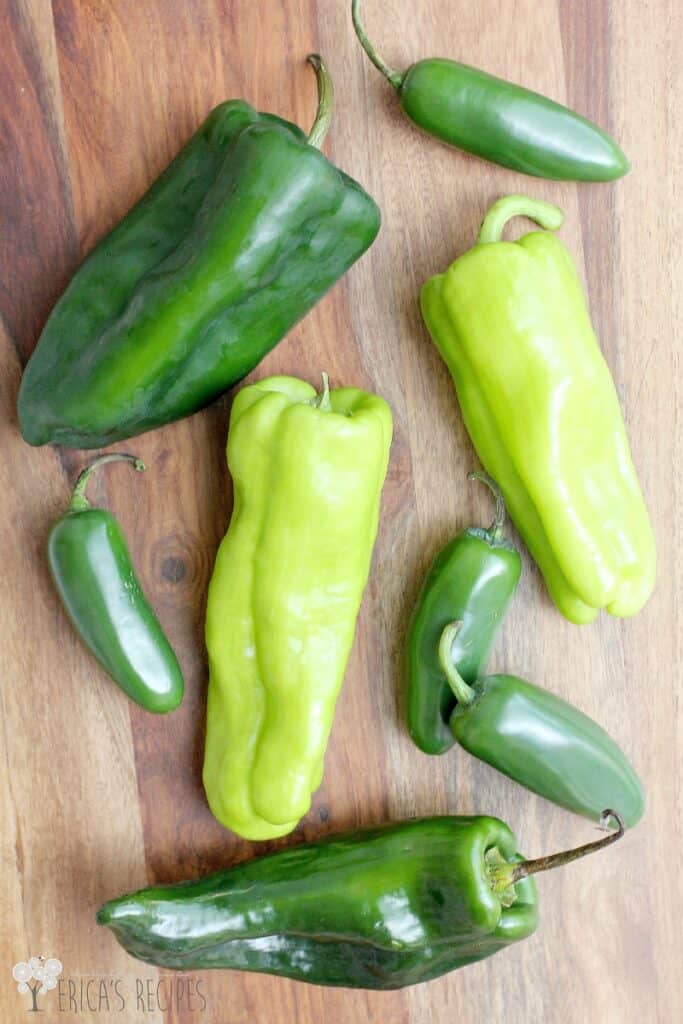 How to Cut Jalapenos
Putting on my mom hat here, because we don't want anyone getting stung making this jalapeno pizza. So here are just a couple reminders on dealing with jalapenos.
Wear gloves if you have them, but this isn't necessary and I never do.
Use a sharp knife to cut off just the jalapeno stems.
If you want diced jalapeno, slice the pepper lengthwise, scoop out the seeds an stems (where most of the capsaicin heat is), and dice or chop.
For this recipe, we are slicing.

If you are worried about heat (depends on the peppers, just remember cheese ), use a paring knife to take off the top of the pepper then scoop out the seeds.
If not worried about heat, just slice.

WASH HANDS. Once done with the peppers, do literally nothing until you wash your hands.
It's easy, there's not that much to cutting jalapenos. Just don't rub your eyes or pick your nose. Or your kids eyes or nose. All of which I've done.
BUT — important point here — all the cheese going on with this pizza substantially diminishes the spice of the peppers. I'm not saying this is a kid-friendly recipe, I'm just saying don't fear it.
Jalapenos, spice aside, are DELICIOUS. Literally on my list of favorite flavors.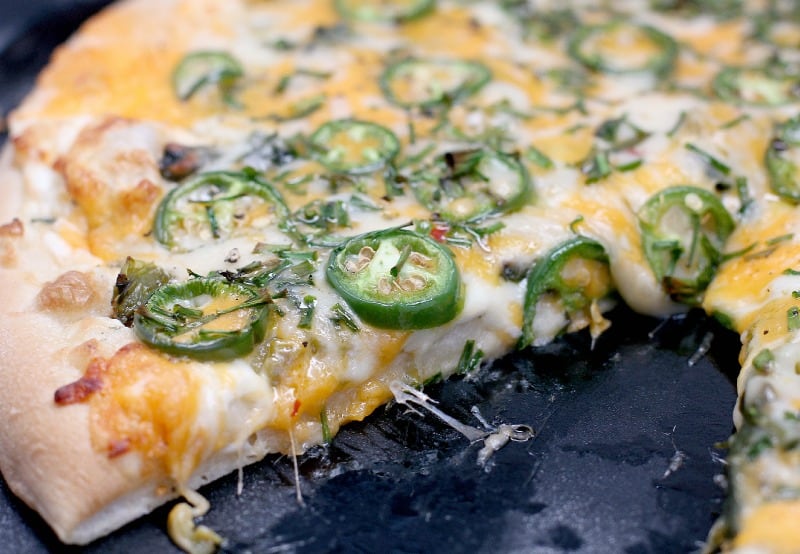 Tips for Making Jalapeno Popper Pizza
Roast the cubanelle and poblano peppers to bring out their flavor. It is well worth the 20 minutes of effort.
Preheat the pizza stone in the oven while the oven is coming to temperature. I do this for every pizza I make, regardless if the dough is fresh or precooked.
Use a pastry dough roller to roll out the pizza dough, like you would dough for pie crust, on a floured surface, then transfer to the preheated pizza stone.
Use fresh jalapenos for this jalapeno pizza recipe. I'm all about using pickled jalapenos in other recipes, but for this one, fresh is best.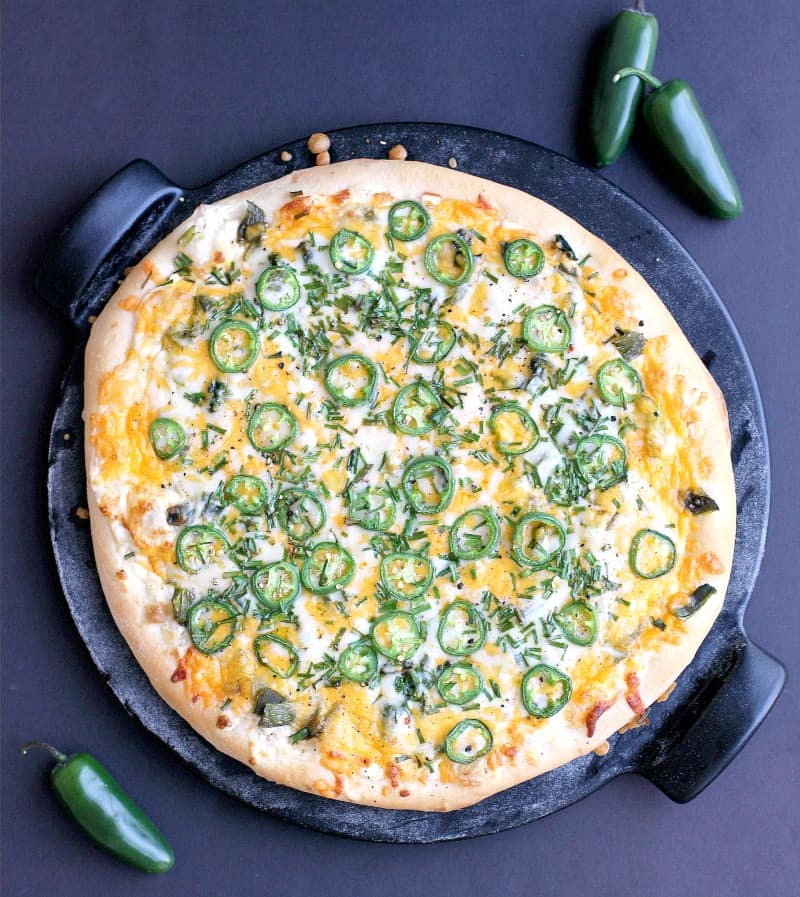 If you love all things Jalapeno Popper, here are some more recipes
So that's it folks. A CRAZY tasty, fun, sorta-gourmet?, DELICIOUS recipe for Jalapeno Popper Pizza. Jalapeno cheese dip on a proper pizza for a perfect add to your homemade pizza night.
This recipe uses my Sam Adams Pizza Dough made with beer. Also check out my Homemade Pizza Sauce with wine and garlic.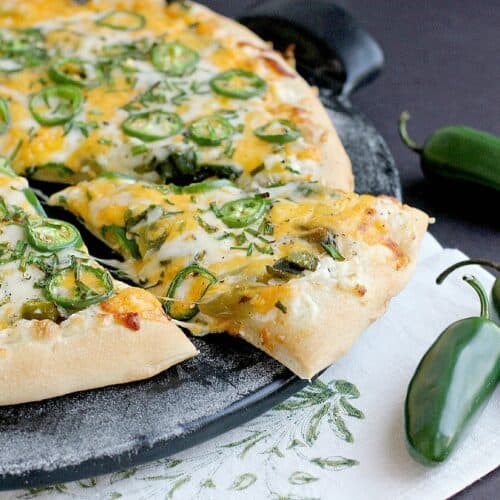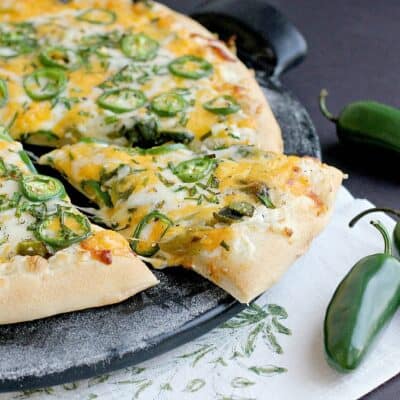 Jalapeno Popper Pizza
Jalapeño Popper Pizza is loaded with three peppers and three cheeses for a new take on this favorite pizza. If you love stuffed jalapenos, you will love THIS jalapeno pizza.
Ingredients
1

prepared pizza dough

2

cubanelle peppers

2

poblano peppers

4

oz

cream cheese

softened

¼

cup

ranch dressing

1

cup

shredded sharp cheddar cheese

1

cup

shredded mozzarella cheese

½

cup

shredded pepperjack cheese

3-4

jalapenos

sliced

¼

cup

fresh chives
Instructions
Heat the oven broiler. Roast the cubanelle and poblano peppers 1-inch from the heat, turning every 3-4 minutes, until skins are all charred. Transfer peppers into a resealable bag, seal, and let the peppers steam 5-10 minutes. Remove the charred skins and seeds. Dice the peppers and set aside.

In a small bowl, combine the cream cheese and ranch dressing. Set aside. Heat oven to 425F with the pizza stone in the oven. Heat an additional 10 minutes to ensure the pizza stone is fully heated.

On a floured surface, roll out the pizza dough to desired size and thickness. Remove the pizza stone from the oven and transfer the dough onto the stone. Spread the cream cheese-ranch mixture.

Layer the roasted peppers and cheeses. Top with the jalapenos, chives, and a couple pinches pepper.

Bake at 425F for 15 minutes or until dough is golden. Yield: 4 servings.
Notes
If you need a pizza dough recipe, check out my Sam Adams Beer Pizza Dough. Otherwise, most grocery stores carry dough in the fresh bakery section.
Nutrition
Calorie count is purely an estimate calculated using an online application to serve as a guide and not to be taken as accurate nutritional information. Percent Daily Values are based on a 2,000 calorie diet.
Tried this recipe?
Leave a comment below and let me know!
~✿♥✿~​