Chili Cheeseburger Pizza has chili-seasoned ground beef, peppers, onions, two cheeses, homemade pizza sauce, homemade whole wheat pizza dough, and crispy fried onions for an irresistible pizza everyone will love. The combination of salty hamburger meat and fried onions and subtle bite of onion and pepper with cheesy yumminess is killer, and I am proudly adding this recipe to my pizza collection.
Pizza is glorious, isn't it? It is simply the perfect food. No matter where I am in life, pizza always makes me happy. And this chili cheeseburger pizza precisely proves my point. Enjoy it with a cold beer and toast to the good times and the bad times because they all make us who we are. [a bit dramatic, but I'm feeling it]
Why this recipe works
This pizza recipe is one of my favorites because it has all the things: salty, chili-seasoned hamburger plus crispy fried onions, peppers and onions (which I love together on pizza), two cheeses, my homemade pizza sauce, AND my own whole wheat pizza dough to round it all out. It comes together quickly, none of the ingredients are challenging in any way, and it really just works so give it a try.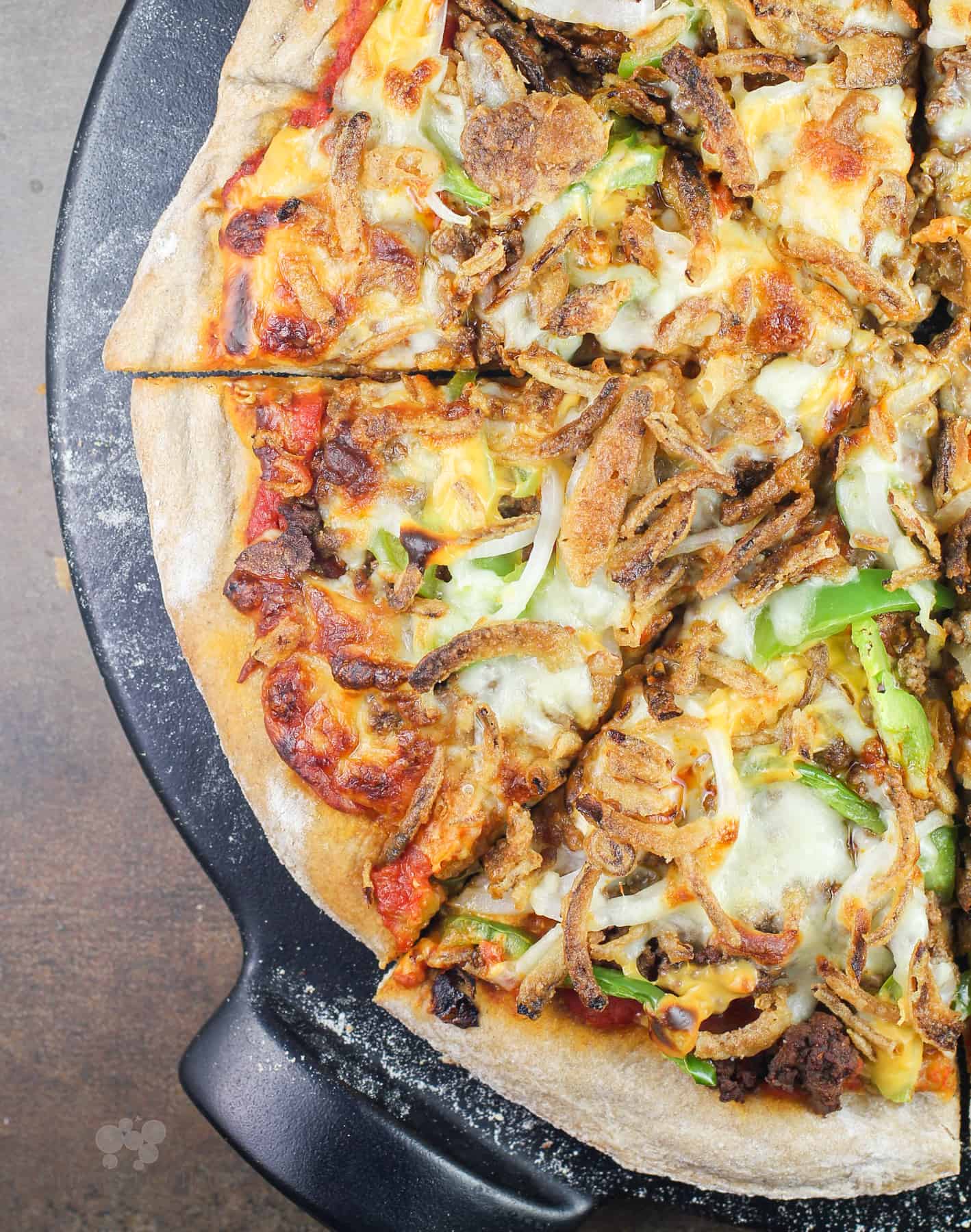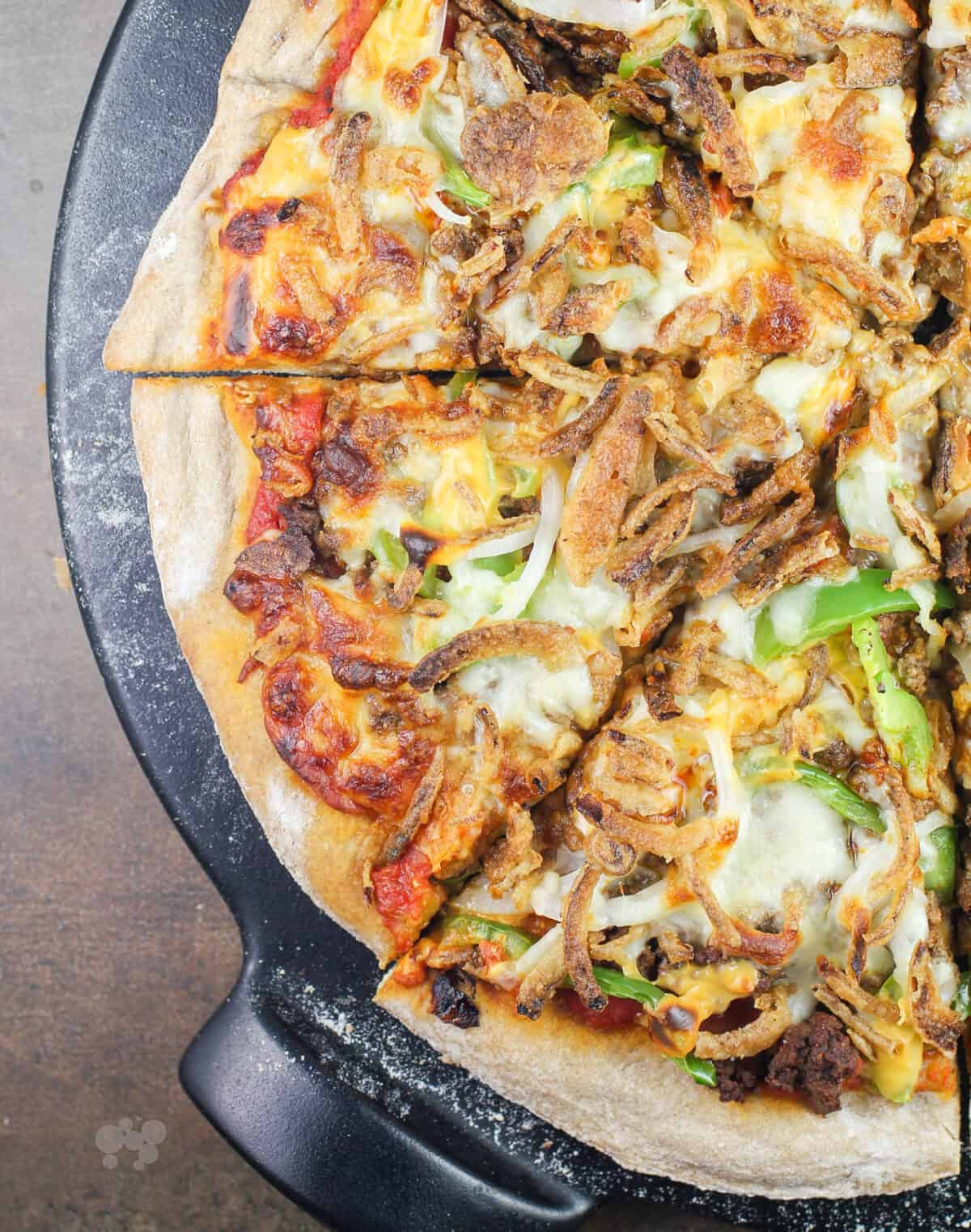 About the ingredients
Pizza dough for a large pizza.
Ground hamburger.
Seasonings: chili powder, kosher salt, and fresh cracked pepper. As a general rule, ground beef needs a lot of seasoning, especially salt. Spicing up the ground hamburger with chili seasoning was a damn good idea if I do say so.
Pizza sauce. I used my own recipe which is very easy to make and so worth it, but you can use store-bought if desired.
Veggies: a small bell pepper and half an onion. White or yellow onion both work equally well.
A couple slices American cheese [whaaaattt?!]. Yeah, American. That's how we get the cheeseburger effect in a pizza (and, btw, not by putting burger sauce on pizza which – I've tried – and it's not tasty). But if you prefer, use 1/2 to 1 cup shredded sharp cheddar cheese instead.
Mozzarella cheese.
Fried onions. The kind you put on green bean casserole. Trust me.
I have made this pizza with both my Sam Adams Dough and this whole wheat dough. I prefer the whole wheat recipe here because I love that nutty, whole wheat flavor with everything else going on here. But this is just my personal preference and you can use whatever dough you like. You can also use a premade pizza crust, as I often to for weeknight pizza when I have less time and don't make dough.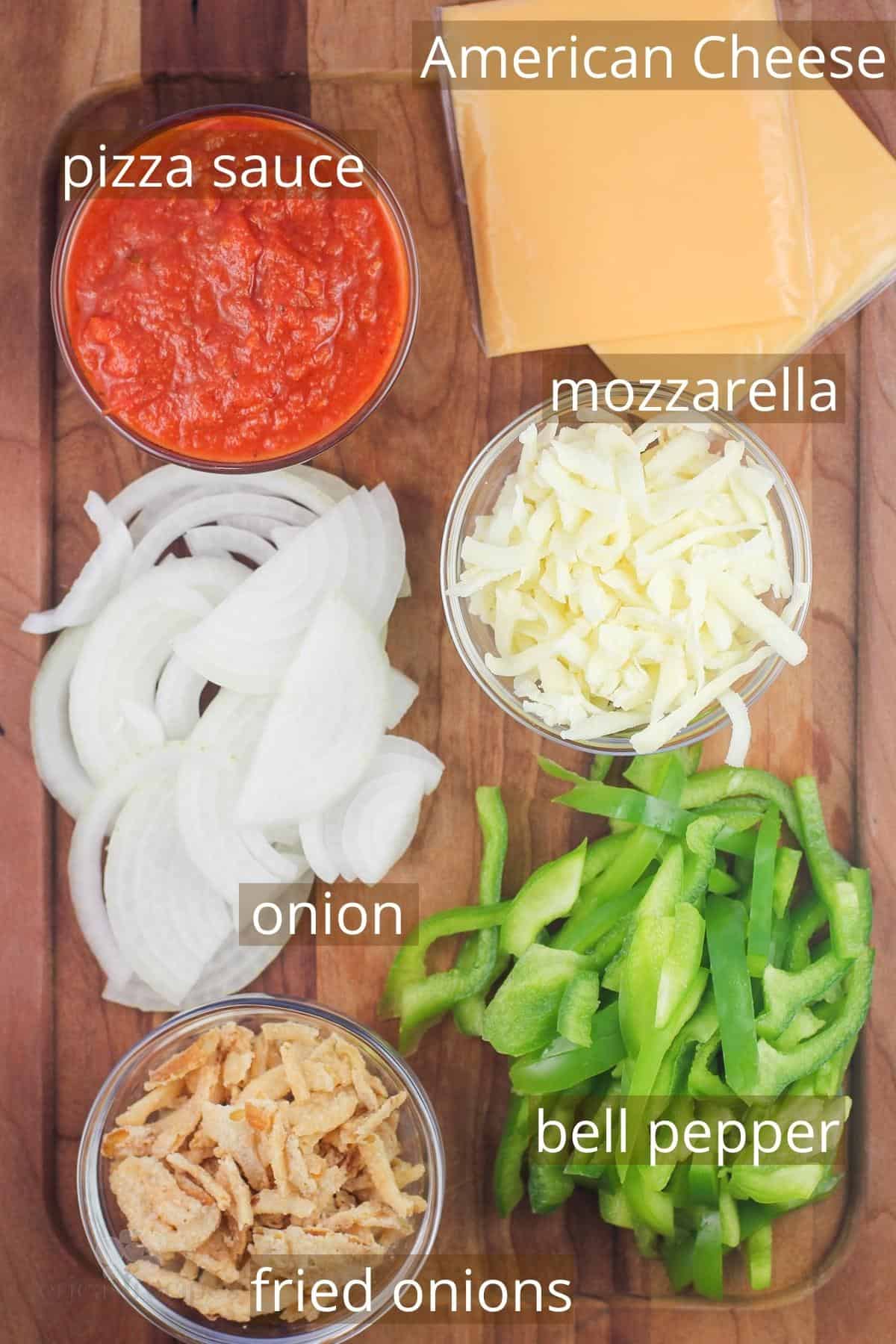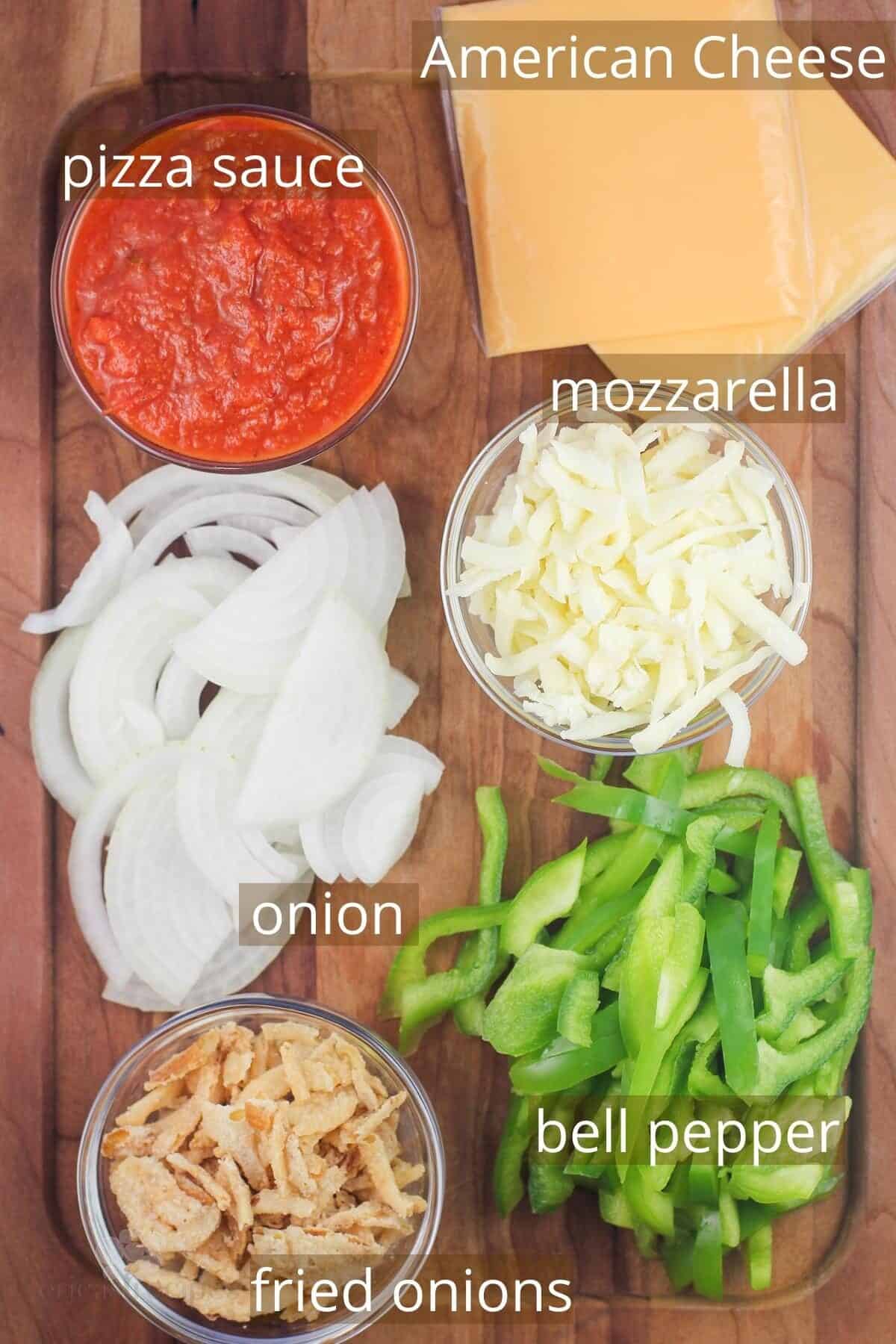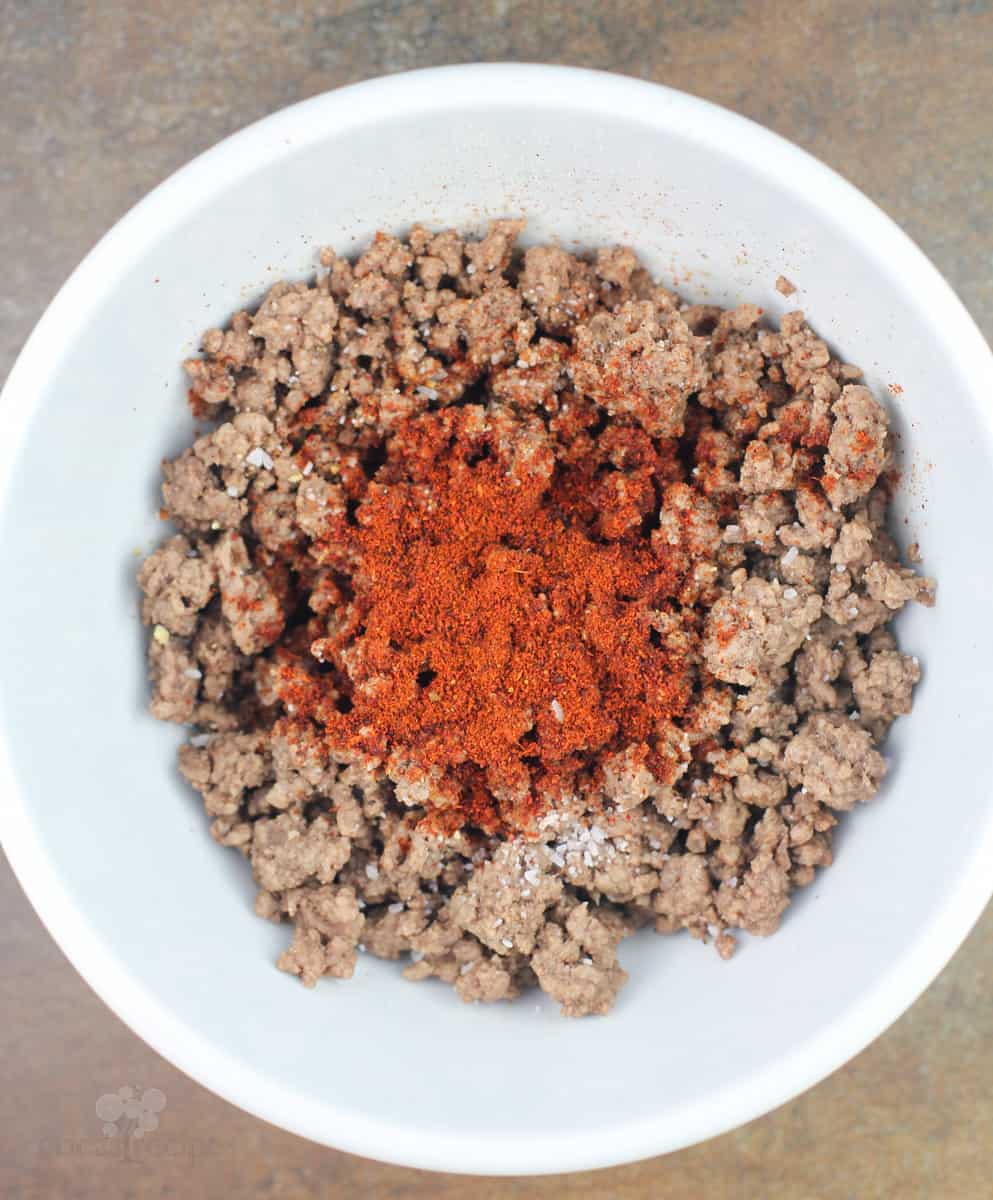 How to make chili cheeseburger pizza
As with all my pizza recipes, we start by heating our oven hot with the pizza stone in there. then we heat a bit more to ensure the stone is thoroughly heated. This is my gospel.
Roll out the dough – my whole wheat dough cooperates well to roll into a nice circle – and lay the dough on the hot pizza stone WITHOUT burning yourself.
Layer the toppings: ground beef, peppers and onions, American cheese (tear into bits and throw them on there), mozzarella cheese, and the fried onions. Pop in the oven to bake for about 10 minutes and enjoy.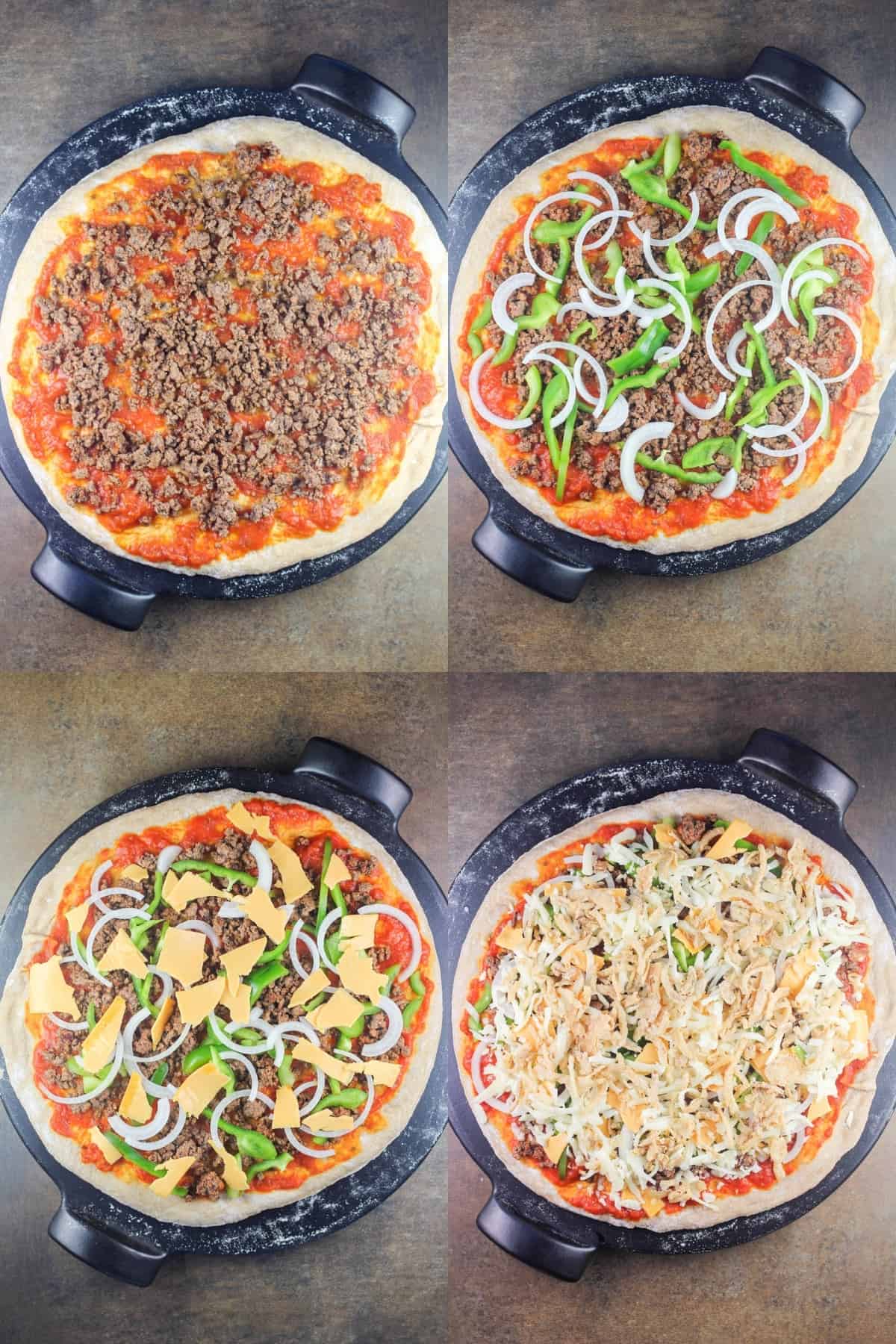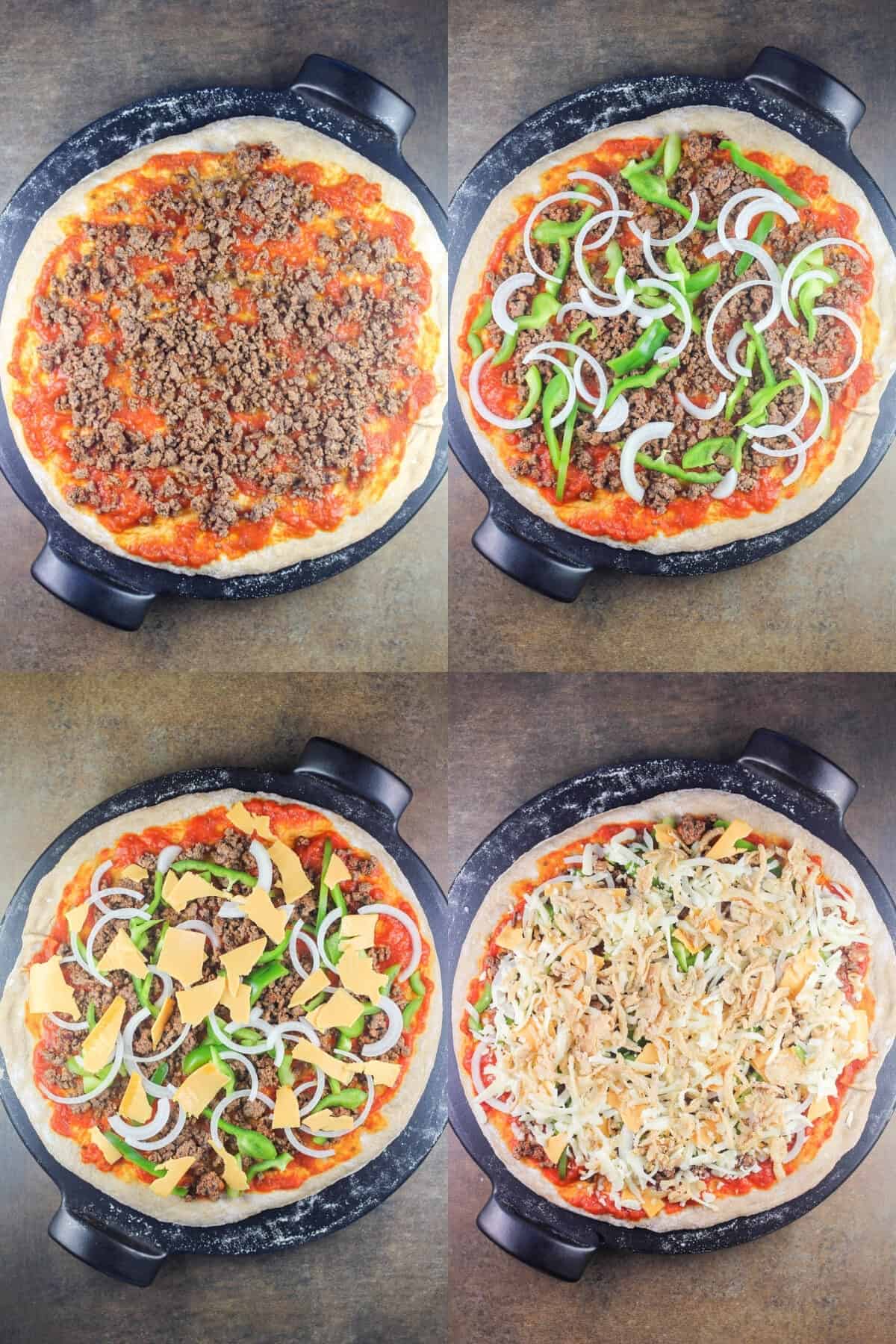 Is a pizza stone required
I find I really benefit from a hot pizza stone especially when I am using scratch pizza dough (as opposed to a precooked crust). The stone cooks the dough from underneath (clearly) to make sure our crust is cooked by the time the top is melty, golden, awesome.
There are other options however. See the FAQs section in the post for my Tomato, Basil, and Boursin Pizza.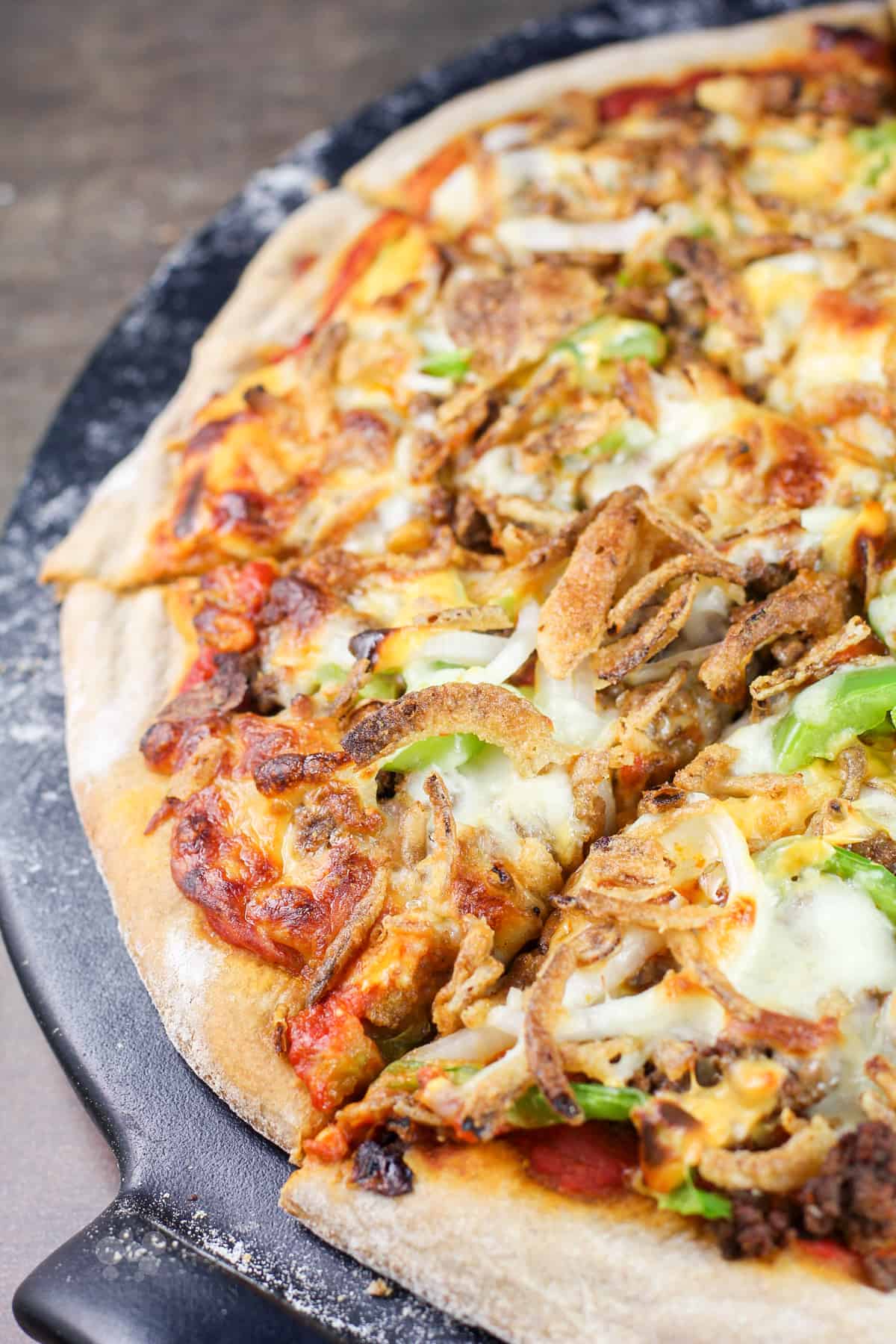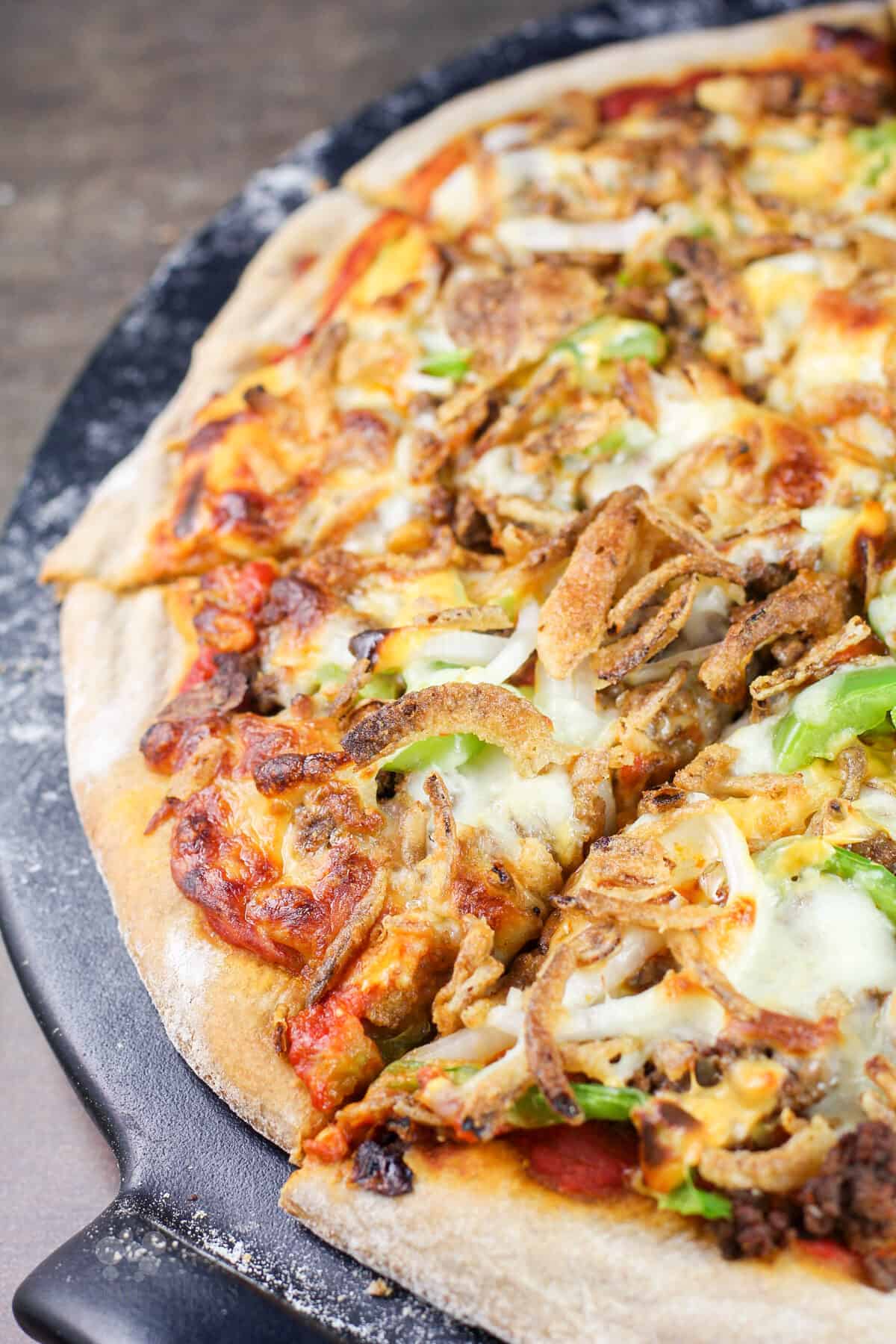 How to reheat leftover pizza
Let's just be honest with ourselves that pizza doesn't reheat very well. The next day, we wake up and grab a slice, pop it in the microwave, and… it's just ehh.
This pizza isn't any different, but one thing I've learned is that it does like the air fryer. So, heat up the air fryer, pop a slice in there, and it is much better reheated that way.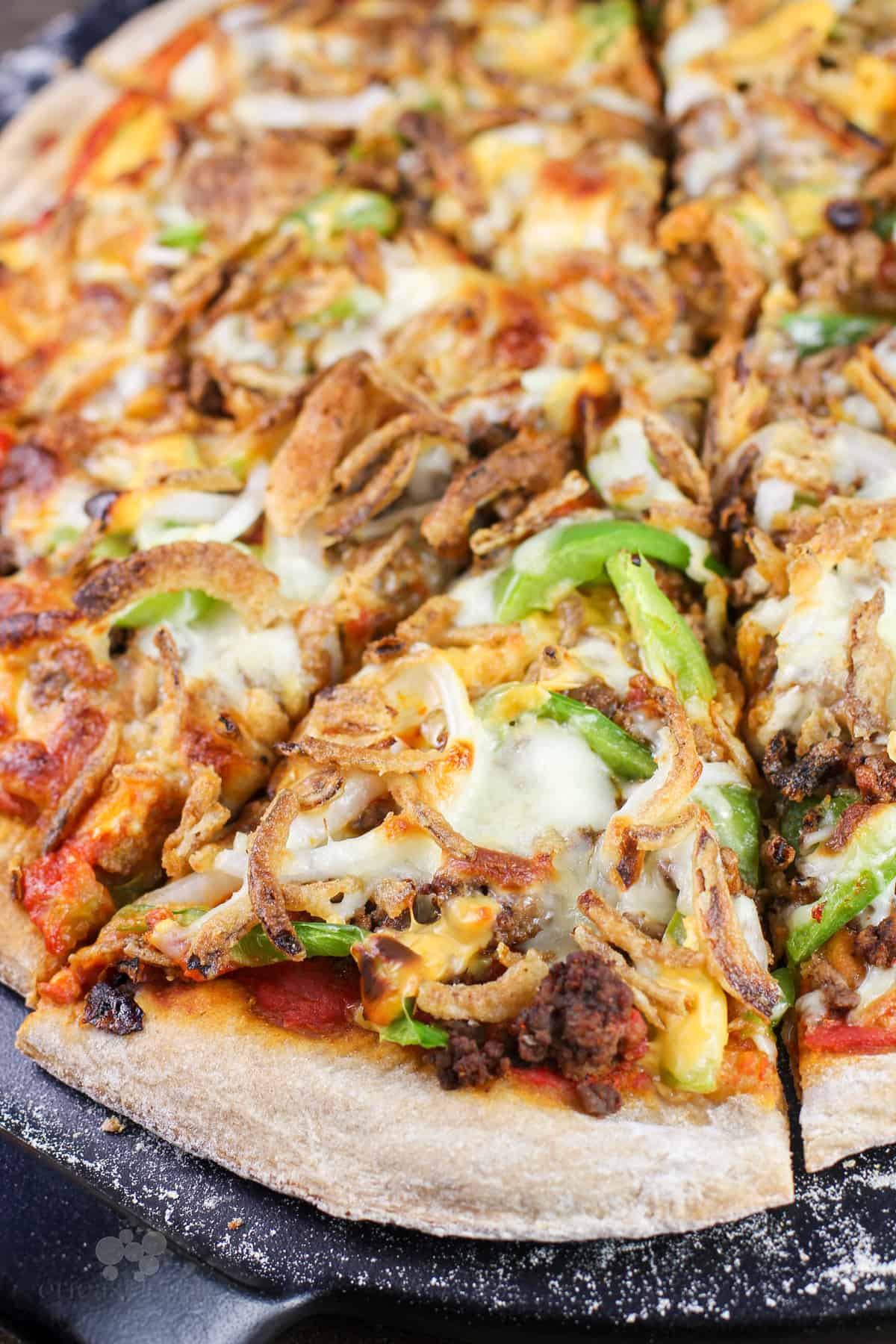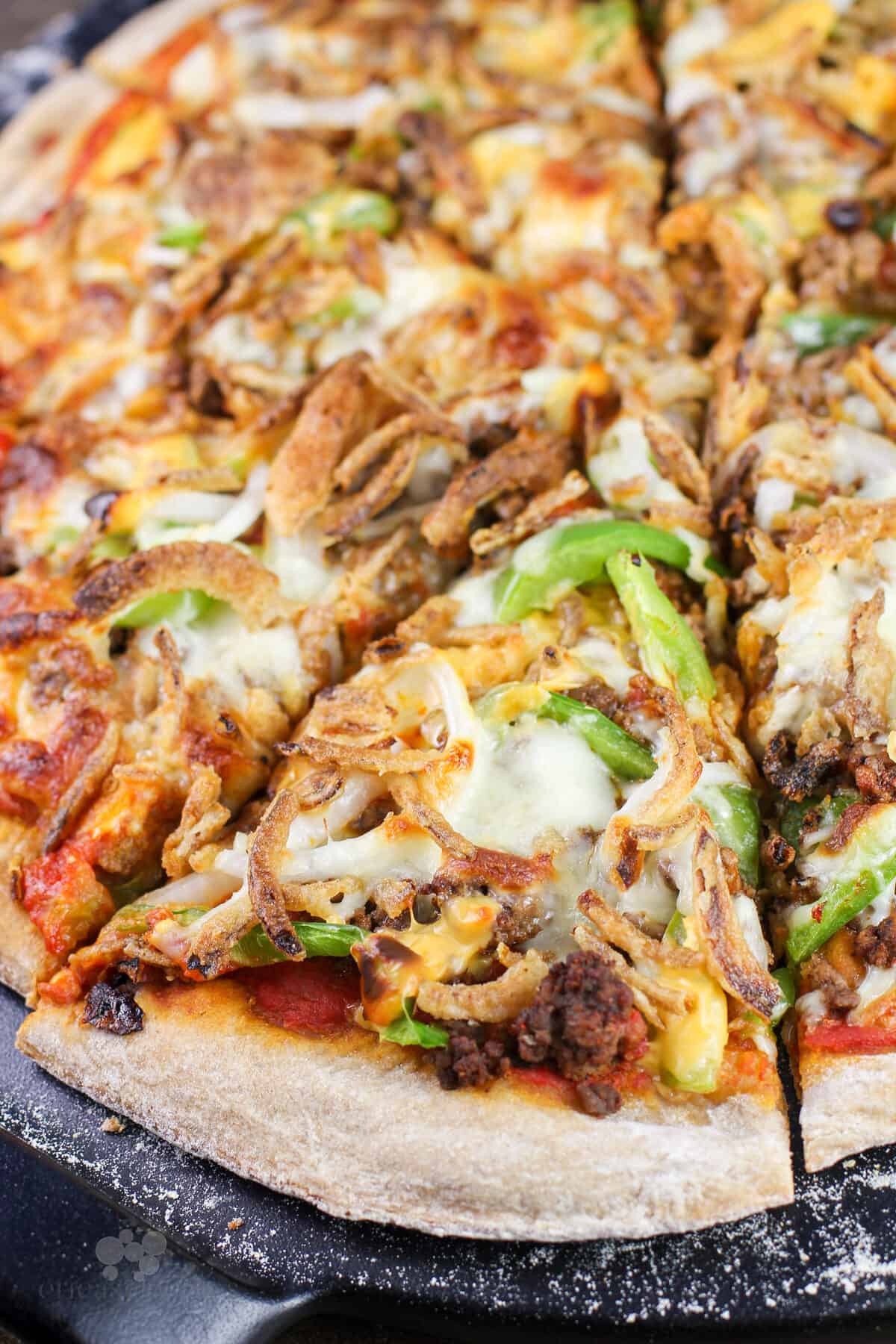 Can you use store-bought sauce and dough?
Sighhhhh, yesss you can. But I so want you to give my pizza sauce and whole wheat dough a try. At the very least, the pizza sauce because it only takes 5 minutes to put together, 25 minutes to simmer, and is so much better than store-bought. It can be made well in advance too.
FAQs
Can precooked pizza crust be used in place of dough?
Yes, a premade pizza crust will work well with these pizza toppings.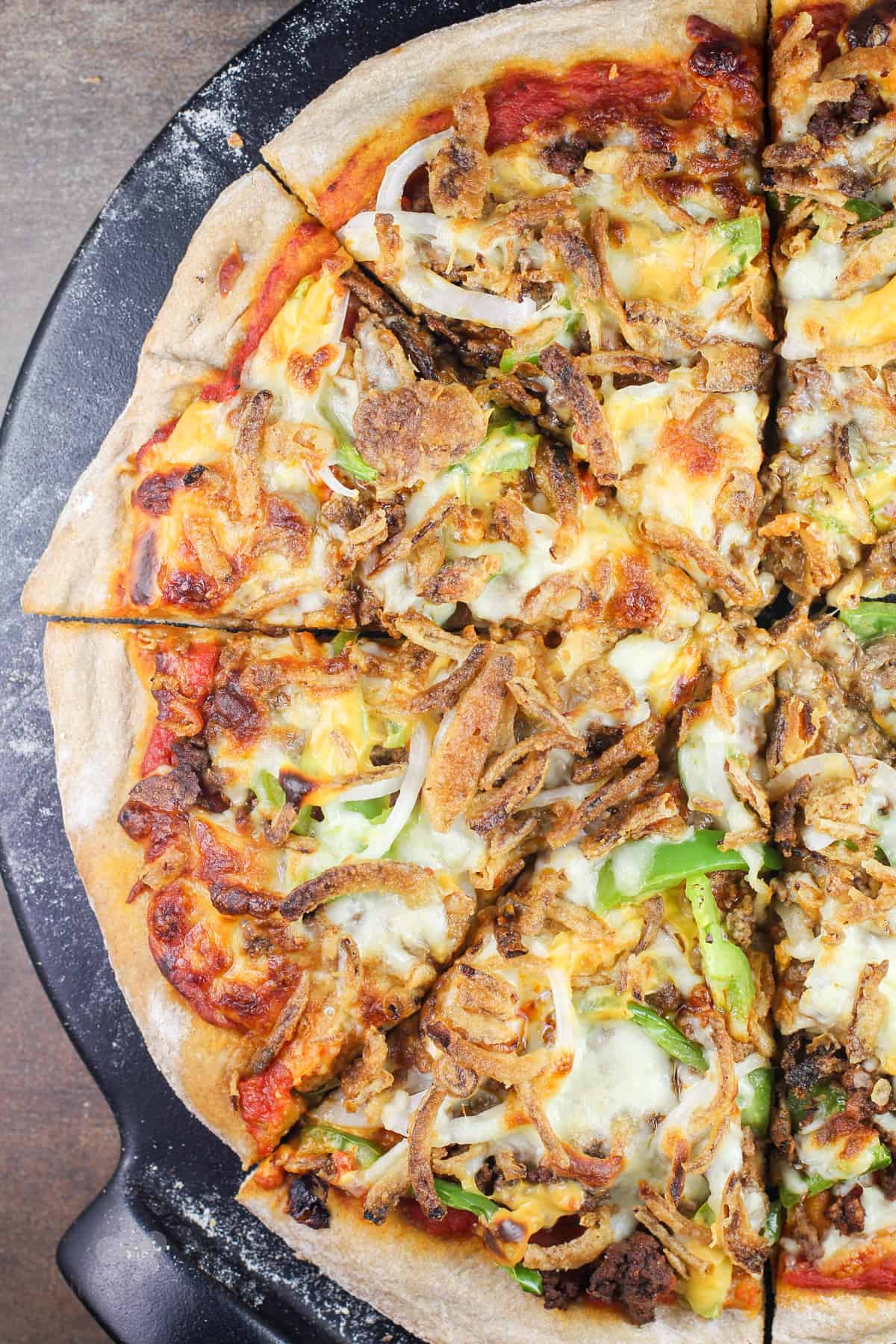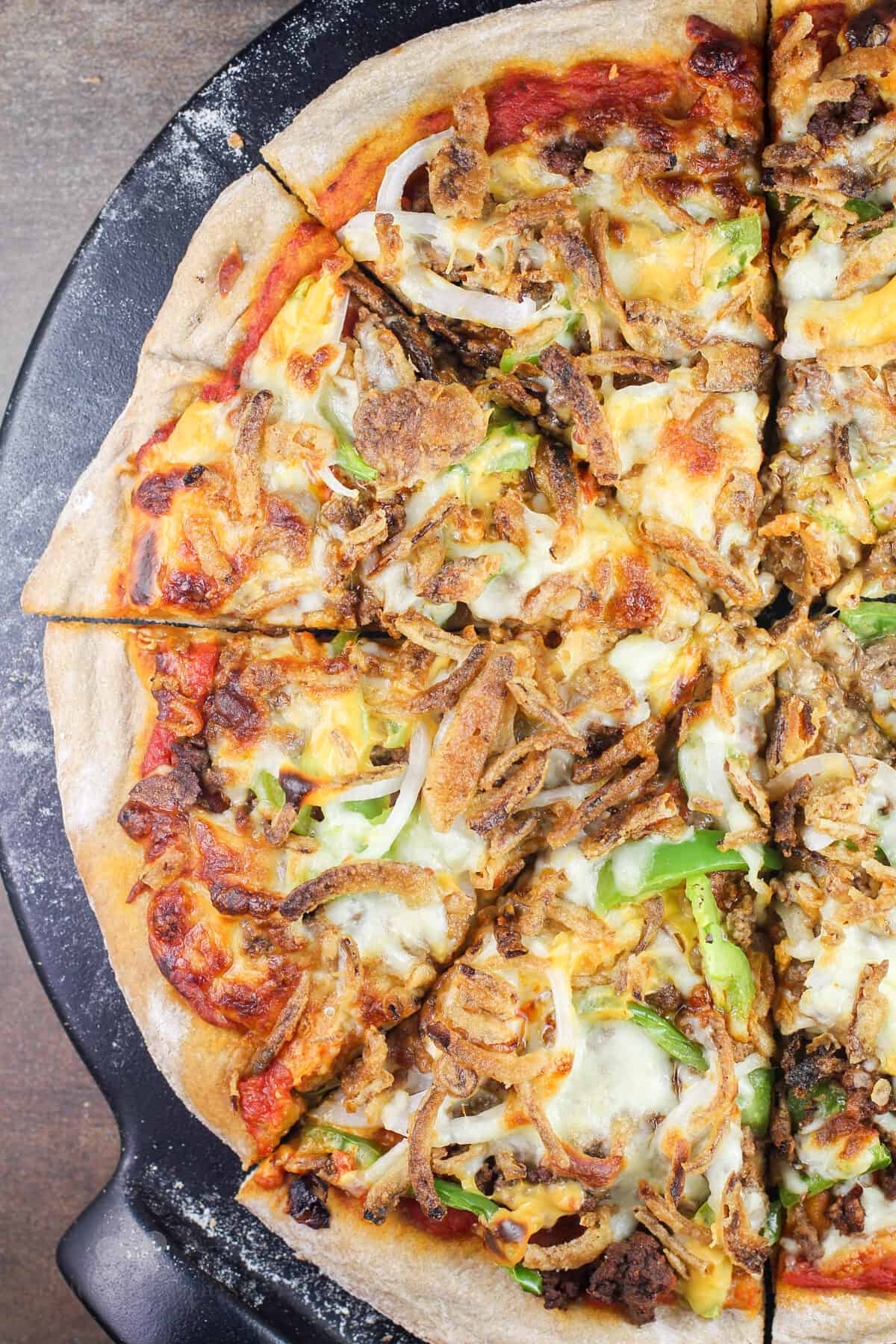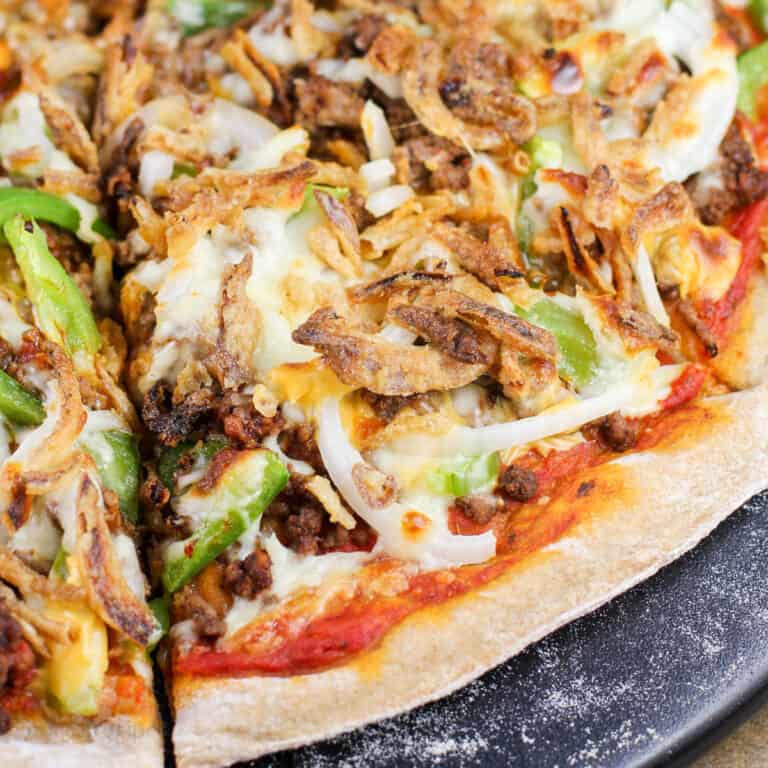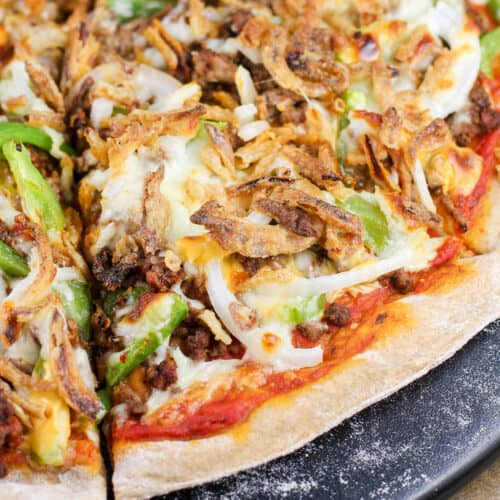 Chili Cheeseburger Pizza
Ingredients
½

lb

lean ground beef

1

Tbsp

chili powder

¼

tsp

kosher salt

pinch

fresh cracked pepper

½

cup

pizza sauce

1

small bell pepper

seeded and sliced

½

small onion

cut into thin slices

2-3

slices

American cheese

torn into pieces

1 ½

cups

shredded mozzarella cheese

⅓

cup

fried onions

such as French's
Instructions
Heat oven to 425°F with the pizza stone in the oven. Continue to heat 10-15 minutes past when the oven reaches temperature to ensure the pizza stone is thoroughly heated.

Meanwhile, in a large nonstick pan, cook the ground beef until no longer pink. Drain any fat or juice. Add the chili powder, salt, and pepper. Remove from the heat and set aside.

On a floured surface, roll out the pizza dough to desired size and thickness. Remove the pizza stone from the oven. Lay the pizza dough on the stone.

Top with toppings in the following order: pizza sauce, ground beef, bell pepper, onion, American cheese, mozzarella, and fried onions.

Put the pizza on the stone stone into the oven and bake 10-15 minutes until crust is golden and the cheeses are bubbly.
Nutrition
Calories:
544
kcal
(27%)
|
Carbohydrates:
55
g
(18%)
|
Protein:
32
g
(64%)
|
Fat:
19
g
(29%)
|
Saturated Fat:
9
g
(56%)
|
Polyunsaturated Fat:
1
g
|
Monounsaturated Fat:
3
g
|
Cholesterol:
76
mg
(25%)
|
Sodium:
1159
mg
(50%)
|
Potassium:
349
mg
(10%)
|
Fiber:
7
g
(29%)
|
Sugar:
9
g
(10%)
Calorie count is purely an estimate calculated using an online application to serve as a guide and not to be taken as accurate nutritional information. Percent Daily Values are based on a 2,000 calorie diet.
Tried this recipe?
Leave a comment below and let me know!