Tender vegetables, baked in dreamy sauce, under a crispy toasty blanket. This lightened-up Italian Veggie Pot Pie spin on the classic recipe will surprise you, it is THAT good. AND with a couple simple swaps, we make this dinner better for us too.
This post was sponsored.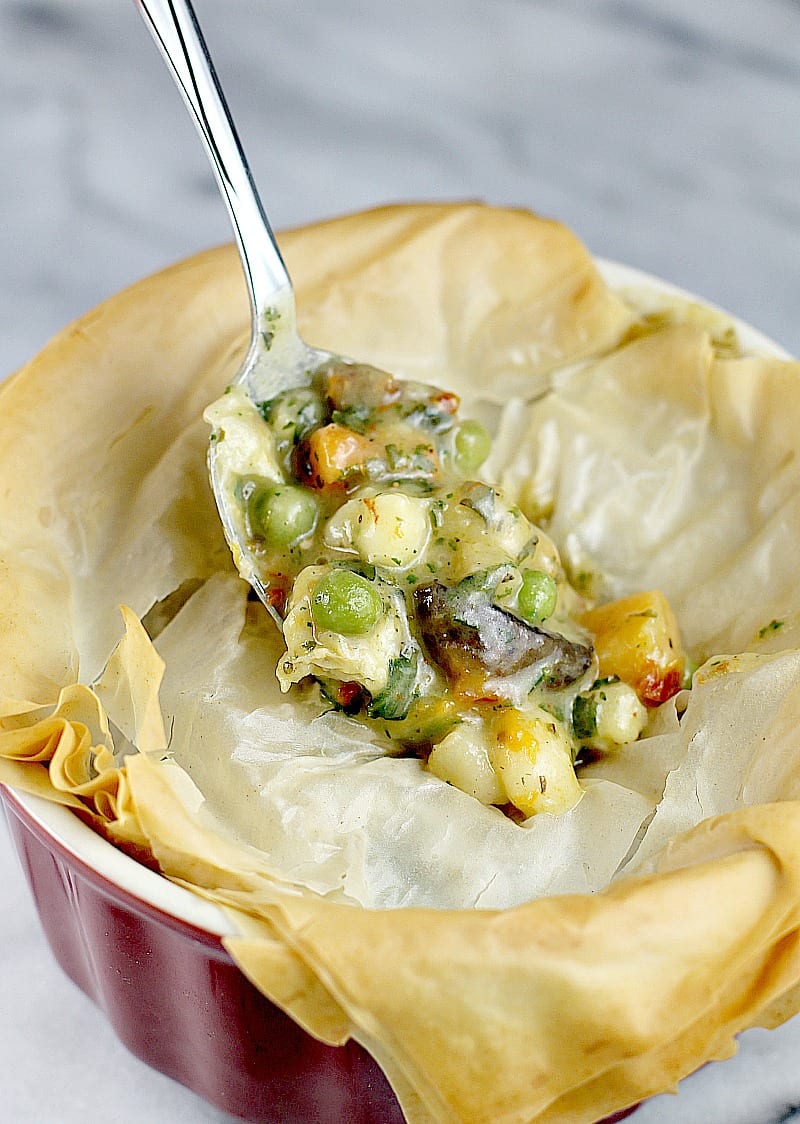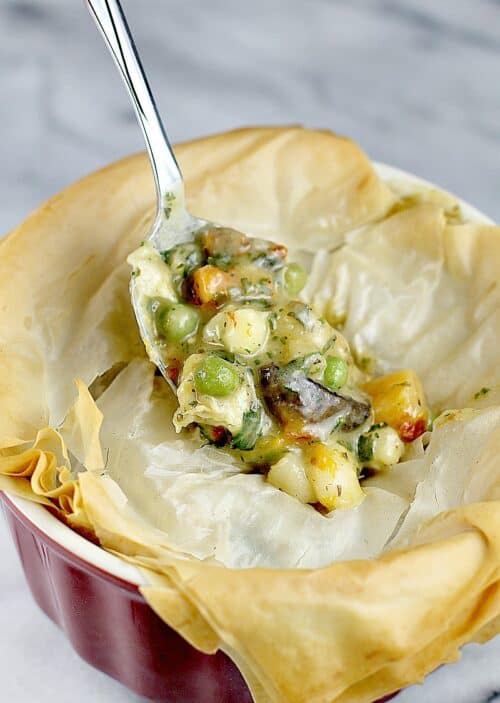 My guilt-free swaps here are thusly …I used no meat, just veggies, simply to reduce calories because meat is more calorie dense and I try to sneak veggie-only meals into my family on a more-often-than-not basis.
The next swap was to use milk rather than cream and good LORD this sauce was good. Cream is not necessary.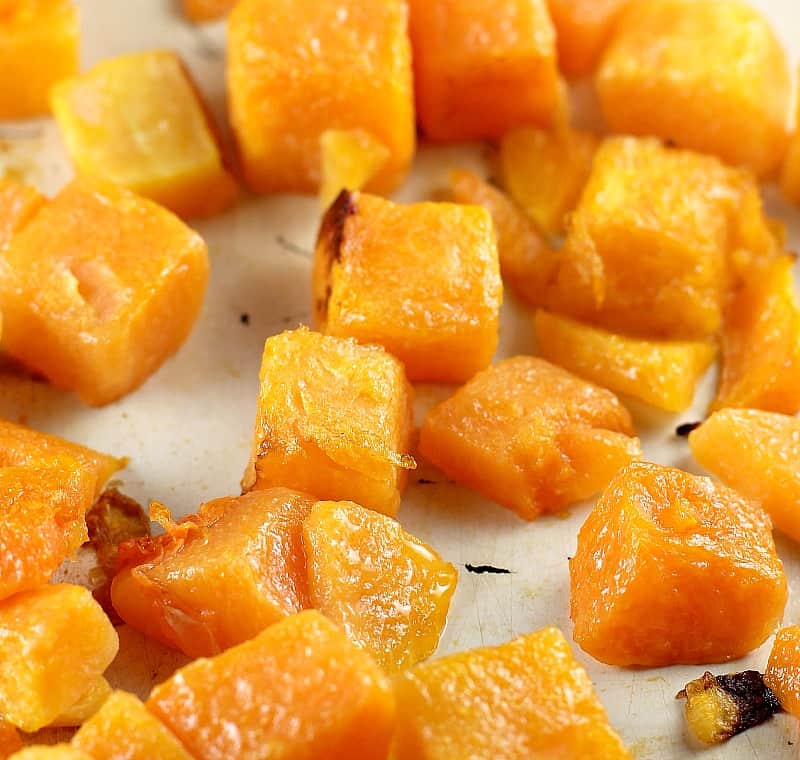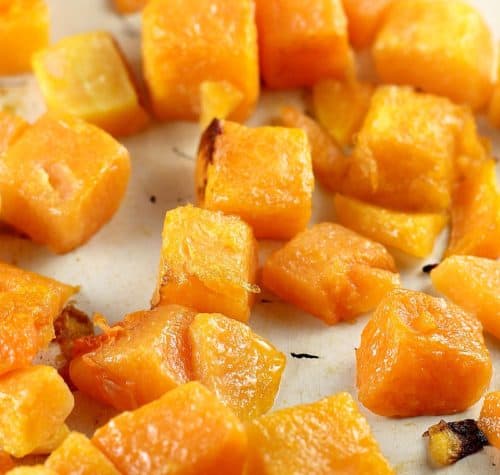 Then, I used the Mazola instead of butter. …My husband's cholesterol is… shall we say.. HIGH, so this is for him.
Yes. I just totally outed him.
And my last swap was to use light phyllo dough for the crust rather than heavy pie crust. Boom.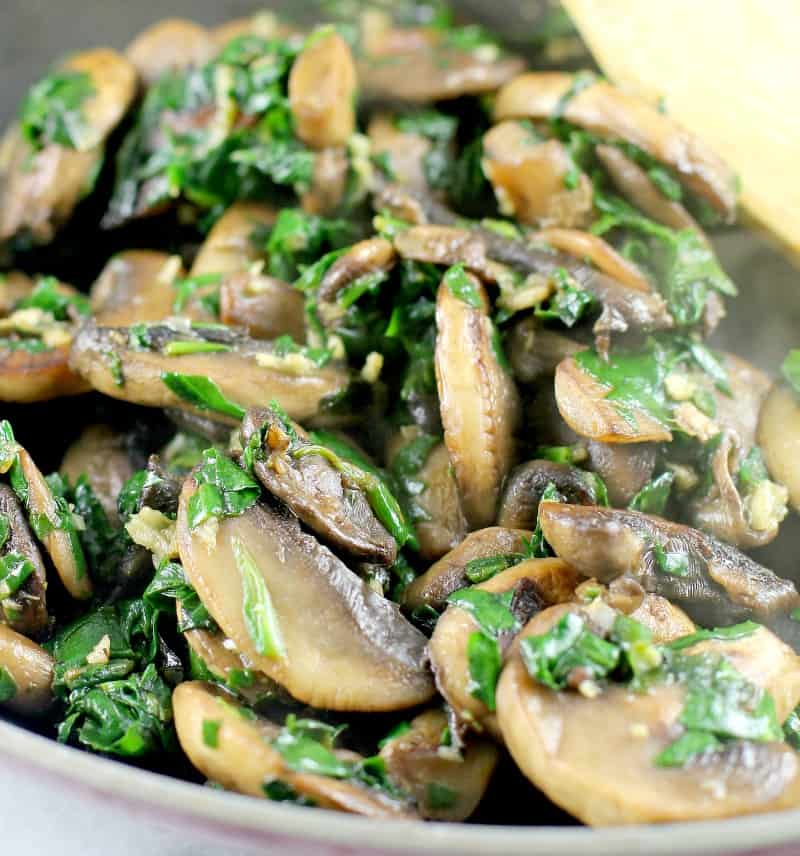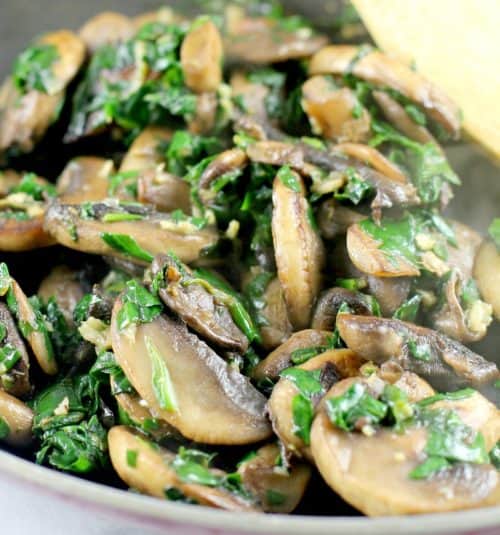 So, a little on the Mazola® Corn Oil, which to be honest I was really surprised how it worked with my Italian Veggie Pot Pie recipe. Mazola is 100% pure oil, has no additives, and neutral taste, which I think contributed to letting my other ingredients shine.
As a corn oil, Mazola is obviously cholesterol free, but also as a corn oil, it has a neutral taste when cooking. This is a key thing because while I have used other types of oils in the past, the experience of creating this recipe reminded me that sometimes, like with recipes where I want veggies to sing in a delicate balance with herbs, sauce, and crust..
…sometimes, we want a lighter tasting, neutral oil to make it happen.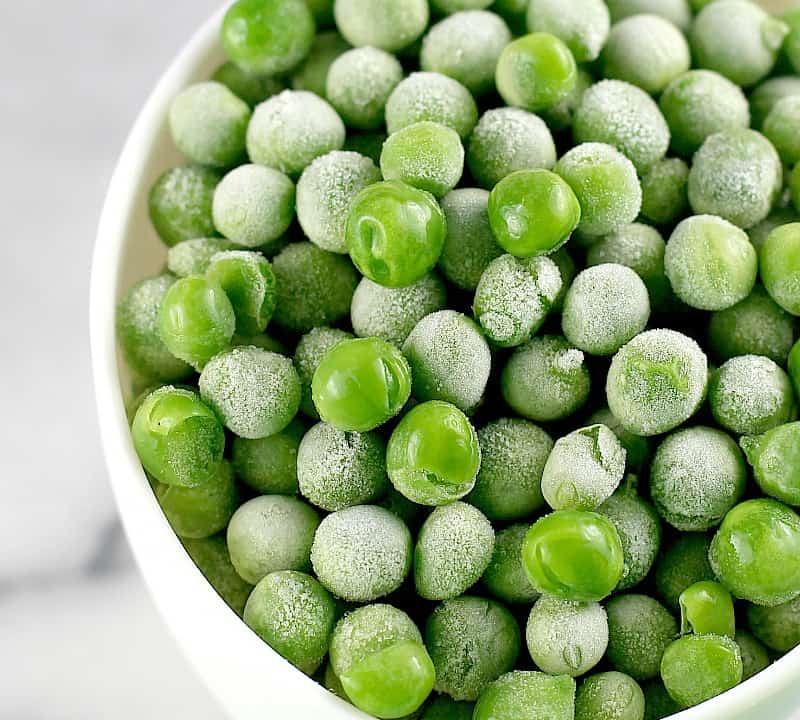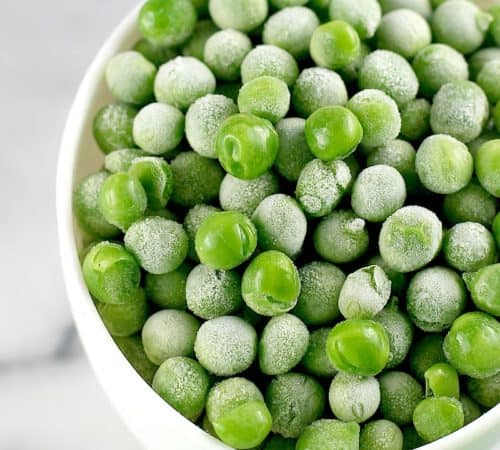 Also, as a side-note and reminder, Mazola is a corn oil and corn oils have a high smoke point (450F degrees even).
So definitely, if you are cooking at a high temperature, use Mazola because others will burn and smoke and change flavor and make your food no bueno.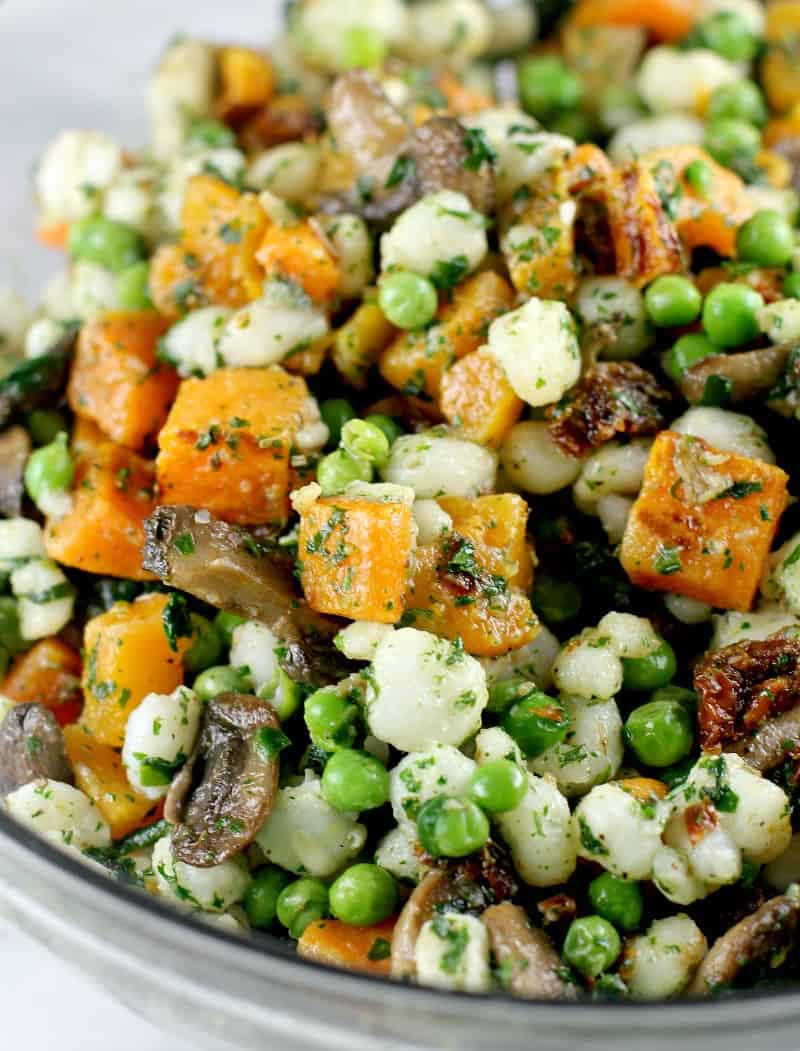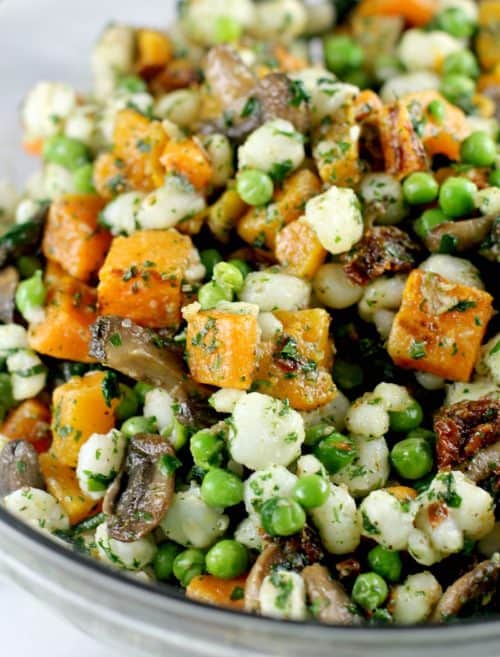 There are two things I wanted especially for this recipe: I wanted it better for my family and easier to make for me. I made it all veggie, but I didn't want it all the token veggies you always see in similar veggie pot pie recipes. So, there are no carrots, no sweet potato, and no regular potato.
Instead, I used mushroom because it creates the umami illusion of eating meat, even though you actually aren't. Butternut squash. Peas. AND hominy. HA! …this was my little trick: I bought already sliced mushrooms, a bag of already diced squash, and can of hominy.
Have you ever tried hominy? It is SUCH a perfect substitute for potato in a dish like this ….Starchy, to help thicken it all up. And tasty, very reminiscent of potato. AND it comes in a can – no prep necessary.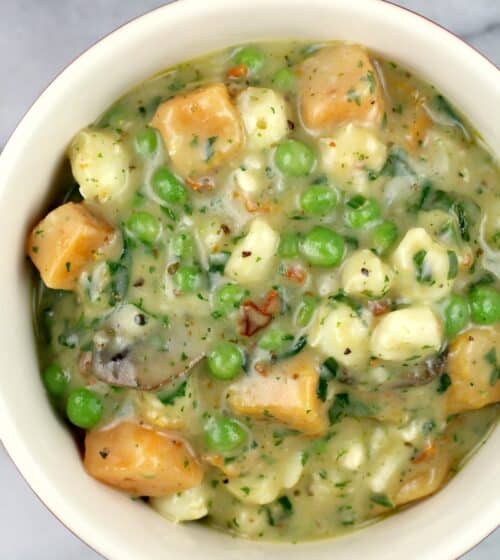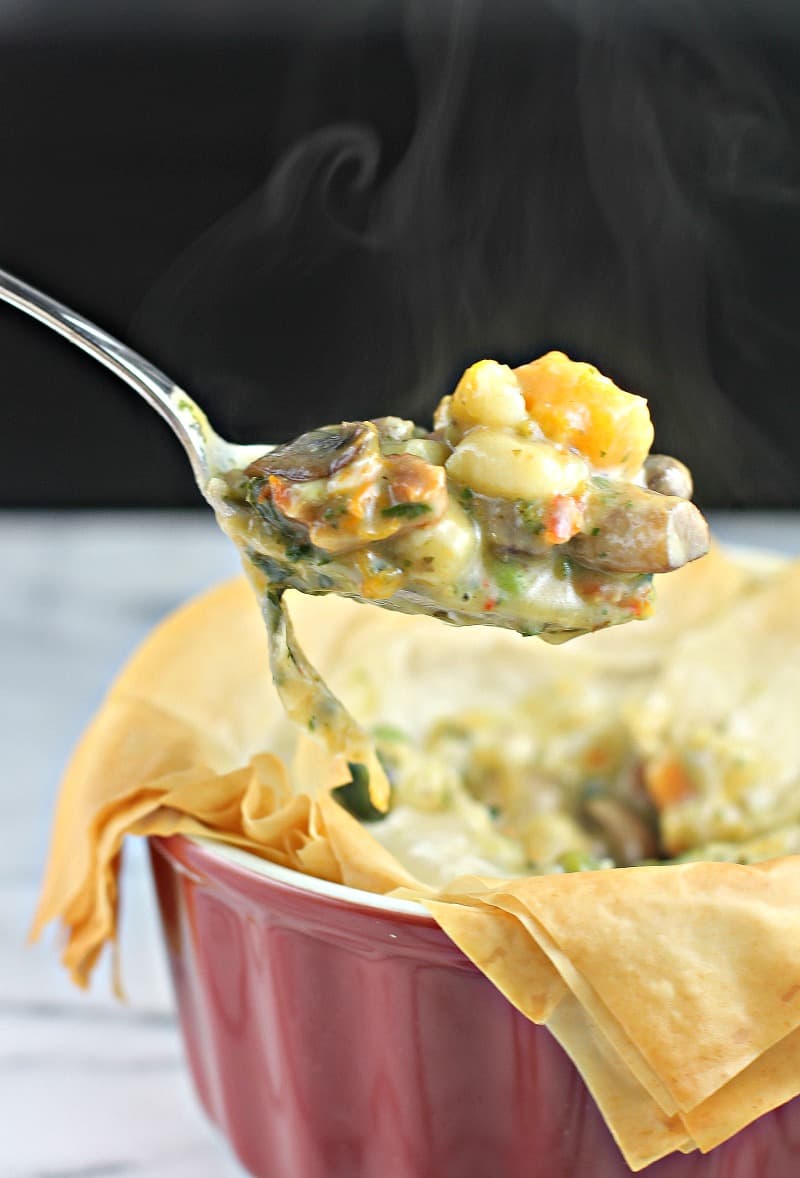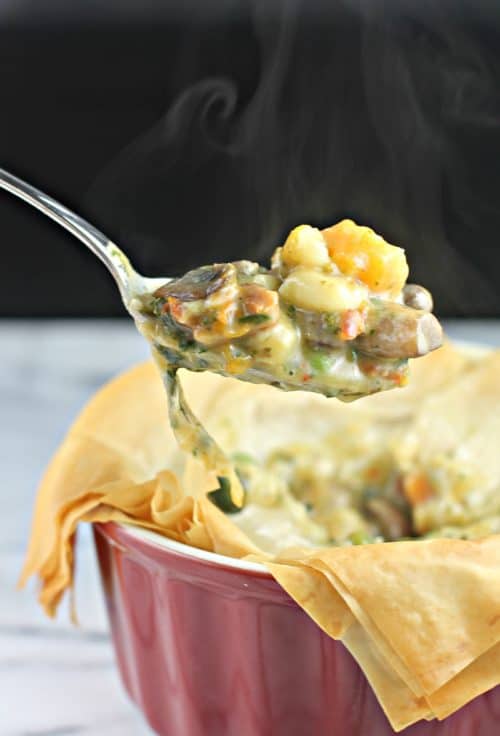 Take all that and add sun-dried tomatoes and Italian herbs and seasoning …and you have this glorious, DELICIOUS, easy-to-make, dinner for four.
So that's it folks. I adore this recipe. I expected it to be good, but the flavors turned out SO GOOD I was so surprised and proud to be honest. Leftovers reheated well, and even the 7 year old liked it! Crazy right??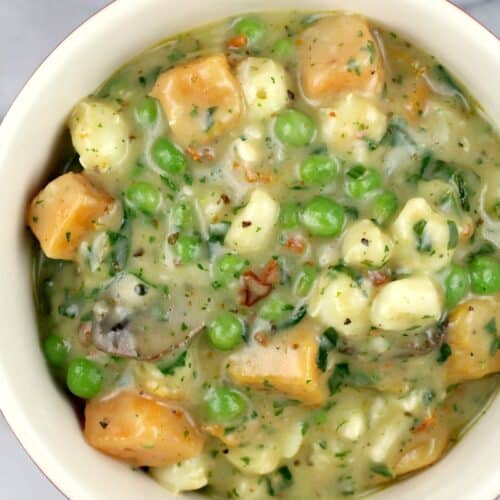 Italian Veggie Pot Pie
Tender vegetables, baked in dreamy sauce, under a crispy toasty blanket. This lightened-up Italian Veggie Pot Pie spin on the classic recipe will surprise you, it is THAT good.
Ingredients
For the veggies:
3

tsp

Mazola® Corn Oil

divided

1

lb

diced butternut squash

8

oz

fresh sliced mushrooms

1

large clove garlic

1

cup

chopped fresh spinach leaves

1

cup

peas

1

15.5 oz can white hominy, drained

¼

cup

heaping marinated sun-dried tomato, chopped

1

tsp

Italian seasoning

1

Tbs

flat-leaf parsley

chopped

1

Tbs

fresh basil

chopped

½

tsp

kosher salt

¼

tsp

fresh cracked pepper
For the sauce:
2

Tbs

Mazola® Corn Oil

3

Tbs

all-purpose flour

1

cup

milk

1-1/2

cup

vegetable stock

¼

cup

freshly grated or shredded parmesan cheese
For the crust:
12

sheets phyllo dough

thawed according to package directions (see Notes)

Mazola® Corn Oil for brushing the dough

alternatively, can put oil in a mister to spray
Instructions
Heat oven to 425F.

Toss the butternut squash in 1 tsp corn oil and spread in a single layer on a sheet pan. Roast at 425F for 15 minutes until just toasty. Remove from the oven and set aside.

Meanwhile, heat 2 tsp Mazola® Corn Oil in a nonstick pan on high heat. Add the mushrooms and saute, tossing occasionally, until browned. Add the garlic and spinach, and cook, stirring often, until garlic is fragrant and spinach is wilted. Set aside.

Prepare the sauce: heat the 2 Tbs corn oil in a medium saucepan. Add the flour, whisk until smooth, and cook 1 minute to make a roux. Slowly whisk in the milk and stock. Cook on medium-high/high heat, whisking constantly, until mixture comes to a simmer and thickens enough to coat the back of a wooden spoon. Remove from the heat and add the cheese.

In a large bowl, combine the roasted squash, mushrooms-spinach mixture, and the remaining ingredients for the veggies. Add the sauce. Taste for seasoning. Spoon into four large ramekins.

Heat oven to 350F.

Lay out a sheet of wax paper on the counter (alternatively, a cutting board can be used). Lay one sheet phyllo. Brush or spray with Mazola® Corn Oil. Repeat to make five more layers, for six total. Cut in half crosswise, and cut the bottom off lengthwise to create two 6×6-inch square stacks of phyllo. Top two ramekins, tucking in around the rim. Repeat to top the remaining two ramekins.

Place pot pies on a large bake sheet and put in the oven to bake at 350F for 25-30 minutes or until filling is bubble and top crust is crispy golden brown. Yields: 4 servings.
Calorie count is purely an estimate calculated using an online application to serve as a guide and not to be taken as accurate nutritional information. Percent Daily Values are based on a 2,000 calorie diet.
Tried this recipe?
Leave a comment below and let me know!
~✿♥✿~
Leave me a comment! What are your tips for getting your family to eat better?