Coffee-Rubbed Pork Chops over Creamy Queso Corn
This Coffee-Rubbed Pork Chops over Creamy Queso Corn recipe is all summer baby! Easy grilled pork, bright fresh salsa, and creamy cheesy corn – all super easy to cook so you can get right back to the summer fun.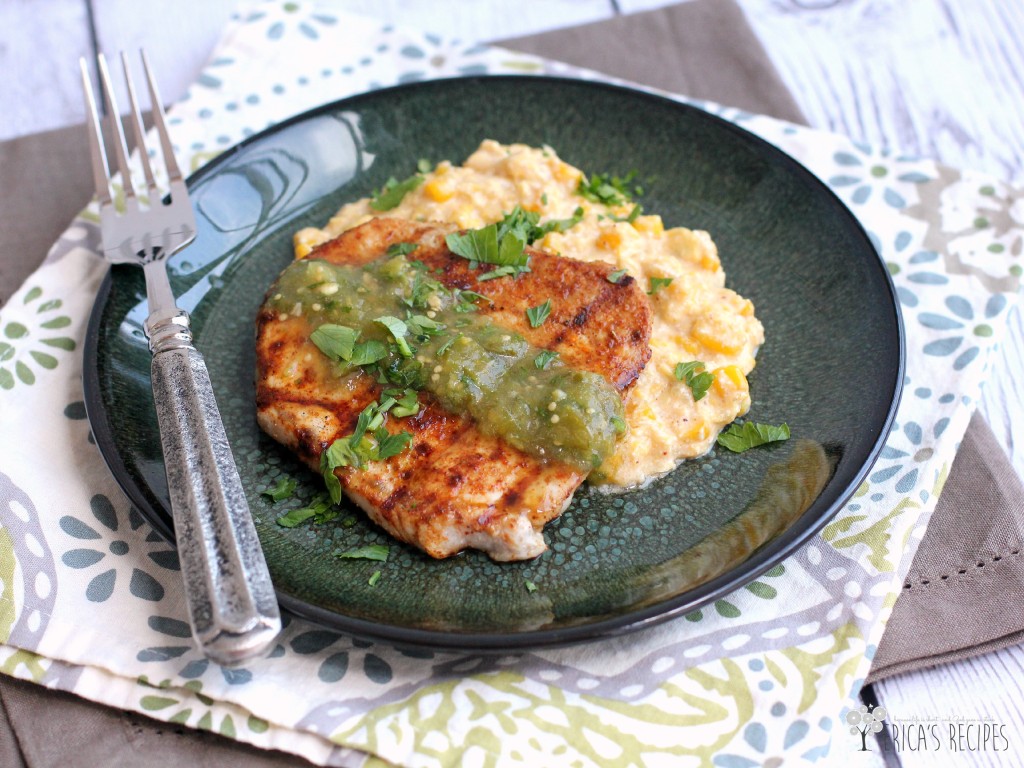 I keep little plastic containers of my own grilling rubs for pork and chicken and taco seasoning stocked in my fridge. That way, I've always got them there to throw on whatever I am going to throw on the grill. Homemade rubs and seasoning mixes are more flavorful than storebought, as are homemade salsas, but you can replace the grilling rub and the salsa with storebought if you desire. The point of this dinner is easy yumminess!
The components of this recipe are all easy to assemble and can be assembled in advance making this a great company meal. And I used thin-sliced pork loin chops which don't need to be brined and cook very quickly. So when you are ready to eat, just grill the chops right up, mix up a cold drinkity drink, and you are done! And the flavors here are amazing of course – especially the tangy tomatillo salsa balanced with sweet and creamy corn – sooo delicious!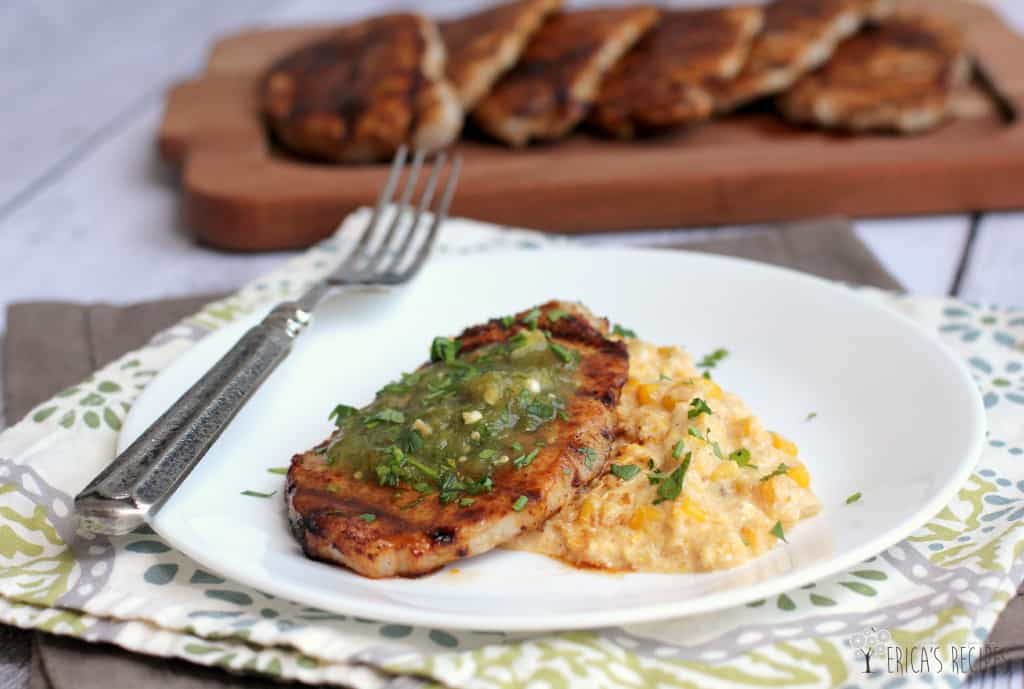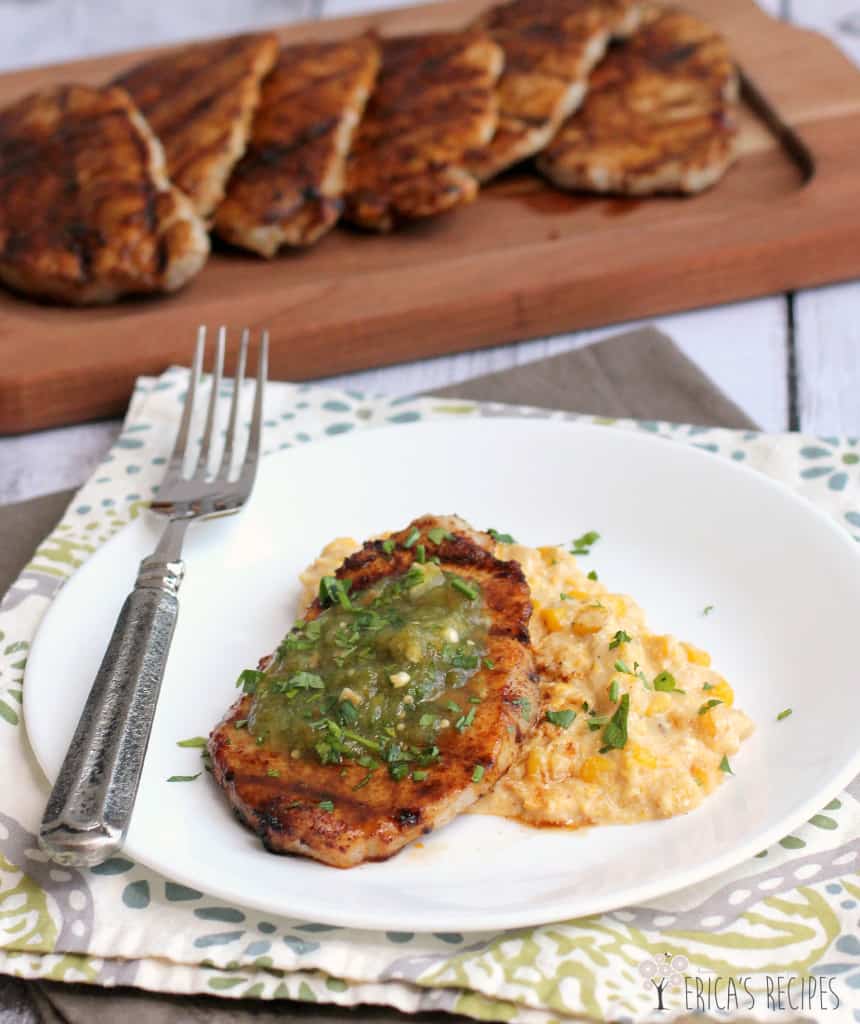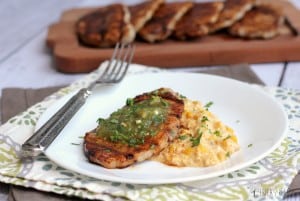 Coffee-Rubbed Pork Chops over Creamy Queso Corn
Ingredients
2

lbs

thin sliced boneless pork loin chops

2

Tbsp 

Grilling Rub for Chicken or seasoning of choice

1

Tbsp

instant espresso powder

1

Tbsp

extra virgin olive oil

plus more for the chops

1

16 oz bag frozen corn kernels, thawed

1

small onion

diced

4

oz

queso fresco cheese

½

cup

heavy cream

½

tsp

kosher salt

½

tsp

cumin

½

tsp

chili powder

garnish: fresh chopped oregano or cilantro
Instructions
In a small bowl, combine the Grilling Rub with the espresso powder. Very lightly coat the pork chops with a little olive oil. Coat the oiled pork chops in the coffee-rub mixture and set aside at room temperature.

Meanwhile, heat the grill to high heat.

While the grill is heating, prepare the corn. Heat the olive oil in a large saucepan over high heat. Add the corn and onion and cook, stirring regularly, until corn is lightly browned and the onion is softened. Remove from the heat. Transfer half of the corn-onion mixture to a bowl or plate on the side. To the corn remaining in the pot, add the queso fresco, cream, salt, cumin, and chili powder. Using an immersion blender, process the corn mixture in the pot until smooth (alternatively, this can be done in a blender or food processor). Return the whole corn mixture to the pot and stir. Keep warm until ready to serve.

Grill your chops, turning once, until just cooked through, ~1-2 minutes per side depending on thickness. Serve over creamy queso corn topped with Roasted Tomatillo Salsa. Yield: 4 servings.
Calorie count is purely an estimate calculated using an online application to serve as a guide and not to be taken as accurate nutritional information. Percent Daily Values are based on a 2,000 calorie diet.
Tried this recipe?
Leave a comment below and let me know!