This is the sauce of my dreams! Yes that sounds so wrong, but it's true – THIS Cherry Chipotle Barbecue Sauce – this beautiful, balanced, tangy, sweet, finger-licking jar of awesomeness is simply the best barbecue sauce I have ever made and maybe ever had.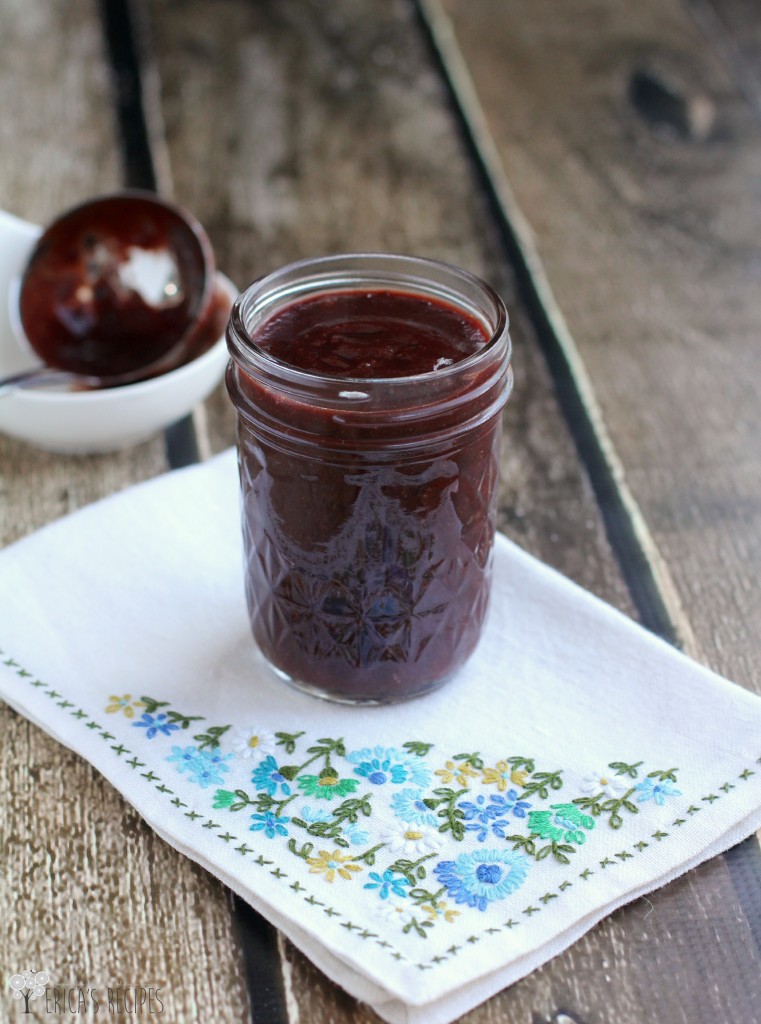 Yep, I mean that. I have wanted to have my own BBQ sauce to be proud of for-like-evah, and this right here is it.
First, we have sweet cherries. What goes better in barbecue than a little hint of sexy cherry sweetness? As my 3yo says, "nuff-ting!" Then, I poshed it up with balsamic vinegar and Dijon mustard, and THEN with a little chipotle smokey smoke, it was happy dance time. Yep, this sauce makes me giddy and I haven't even been drinking.
Totally easy to make, you just throw these ingredients in a little saucepan, let her warm up, blend, and you're ready to go. And you can control the heat with the amount of chipotle you add. I have already used this Cherry Chipotle Barbecue Sauce on burgers and for pork, and those posts will come – I just wanted to first introduce my new sauce to the world!
Cherry Chipotle Barbecue Sauce
Ingredients
1

c

fresh

pitted cherries, thawed if frozen

1

c

ketchup

1

T

balsamic vinegar

2

T

Worcestershire sauce

2

T

light brown sugar

1

T

molasses

1

T

Dijon mustard

1

T

steak sauce

2

t

adobo sauce

from a can of chipotle jalapenos; *Note: if you want the sauce extra spicy, add a little finely diced chipotle pepper, but a little goes a long way!

1/2

T 

Grilling Rub for Pork

kosher salt to taste
Instructions
Combine all the ingredients in a medium saucepan. Heat on medium-low heat to combine flavors until warmed through. To blend in the cherries, use an immersion blender right in the sauce pan, but this can also be accomplished in a blender or food processor. If making ahead, store in the fridge. Yield: about 2 cups.
~✿♥✿~