Grilled Flatbread with Brie, Arugula, Candied Nuts, and Balsamic-Honey Drizzle
Grilled Flatbread with Brie, Arugula, Candied Nuts, and Balsamic-Honey Drizzle is an easy, fun recipe, ready in a snap, and a bit fancy too!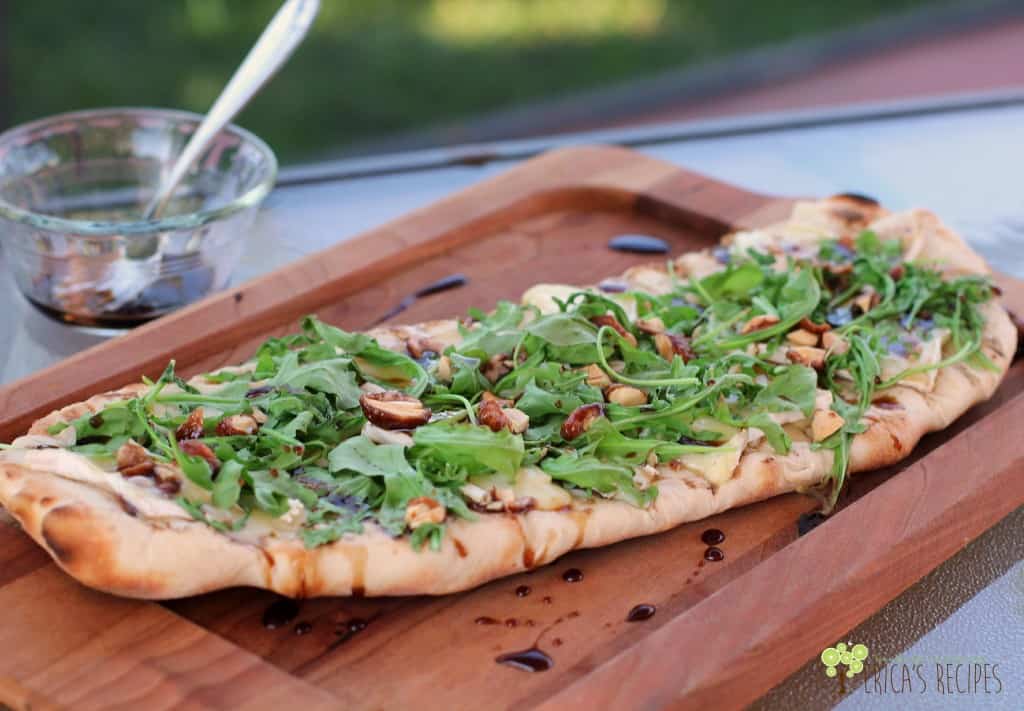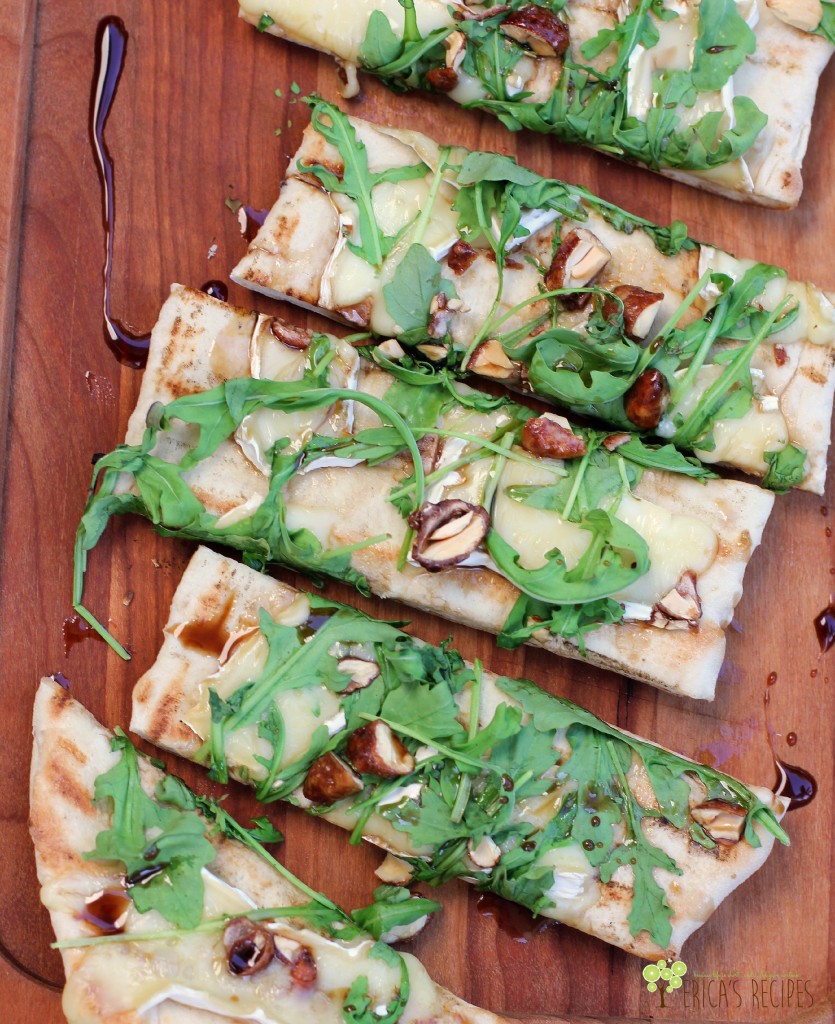 Oh yes I did. I put nuts on pizza. Holla!
So is this an appetizer? Is it dessert? A random treat? Who knows – it's hella-good though I'll tell you that. Let's break this down a bit though because there's actually a lot going on here….
First, there's brie. Creamy, dreamy brie. Then there's sweet, candied almonds …the ones I used also had a touch of cinnamon to them which was totally perfect. I would have preferred candied pecans because they would have been a bit softer, but almonds were all I could find at the store so almonds it was. ….first world problems, you know?
With the candied nuts and honey (I knew I wanted to add a sweet, sticky drizzle), I added peppery arugula and balsamic vinegar to balance that sweetness. Then the ultimate touch was to grill it all and get that smokiness in there too. Whew! That's a lot to think about, but I really did put this recipe together thoughtfully like this. Iron Chef, here I come.
So if you are feeling just a little adventurous or want a break from the usual – or if you want to impress your friends and look all trendy – make this pizza!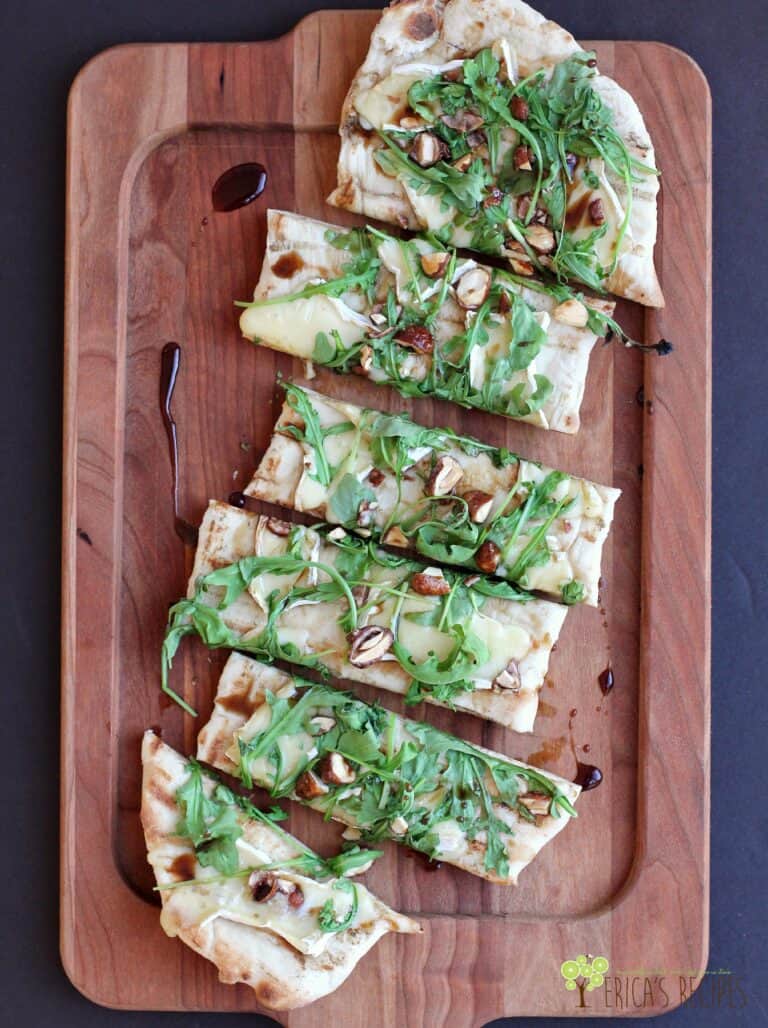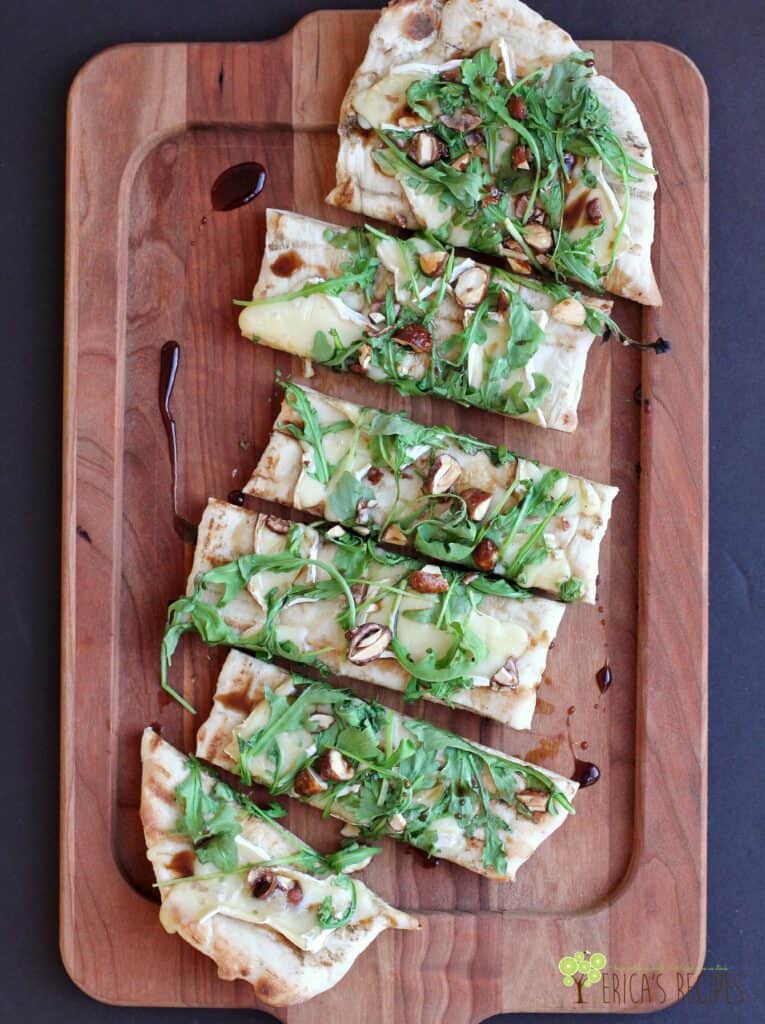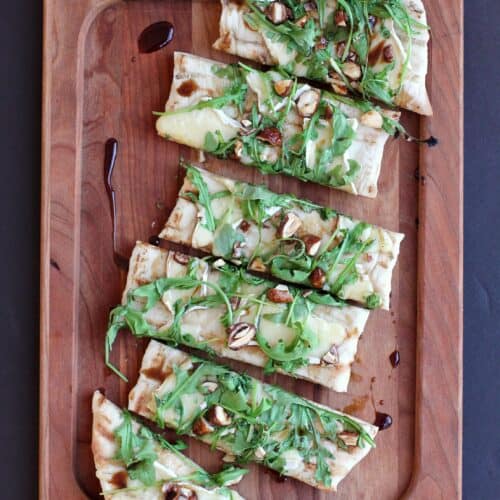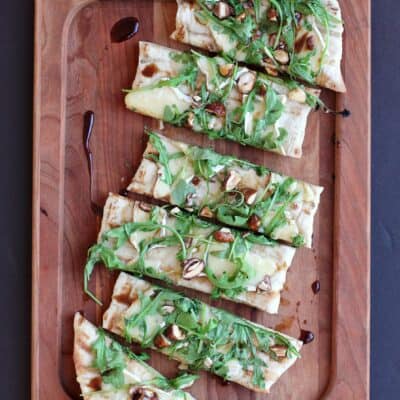 Grilled Flatbread with Brie, Arugula, Candied Nuts, and Balsamic-Honey Drizzle
Ingredients
prepared pizza dough

enough for 1 small or 1/2 a large pizza;  on this occasion I picked up some dough in the bakery section of the grocery store

3

oz

brie cheese

sliced

3/4 

c

loosely packed arugula

¼

c

chopped candied nuts

I used cinnamon toasted almonds from the grocery store

1

T

honey

½

T

balsamic vinegar
Instructions
Heat your grill to high heat.

In a small bowl, combine the honey and balsamic vinegar.

While the grill is heating, prepare all the fixings (brie, arugula, and chopped candied nuts) on a dish or bake sheet to bring out to the grill with you.

Roll out the pizza dough and kinda, sorta shape it into a rectangle.

Bring everything out to the grill, including a pair of thongs. Transfer the rolled out dough onto the grill. Grill for 2 minutes or until slightly charred on the bottom. Flip the dough over, add the toppings: lay out cheese, arugula, and nuts. Cook another minute or two, covered, until bottom of crust is slightly charred and cheese is melted. Remove pizza from the grill and drizzle with the balsamic honey. Serves 4 as an appetizer.
Calorie count is purely an estimate calculated using an online application to serve as a guide and not to be taken as accurate nutritional information. Percent Daily Values are based on a 2,000 calorie diet.
Tried this recipe?
Leave a comment below and let me know!