Tuscan Mushroom Ricotta Mini Tarts
Pretty little party appetizers with buttery cream cheese crust, lemon ricotta, Tuscan mushroom topping, and cheese. This finger food recipe can be served warm or room temperature, and it can be made in advance making this a great party food idea.
I received samples of BLENDABELLA Portabella Mushroom Blends as an incentive to enter a recipe contest. I have received no other compensation.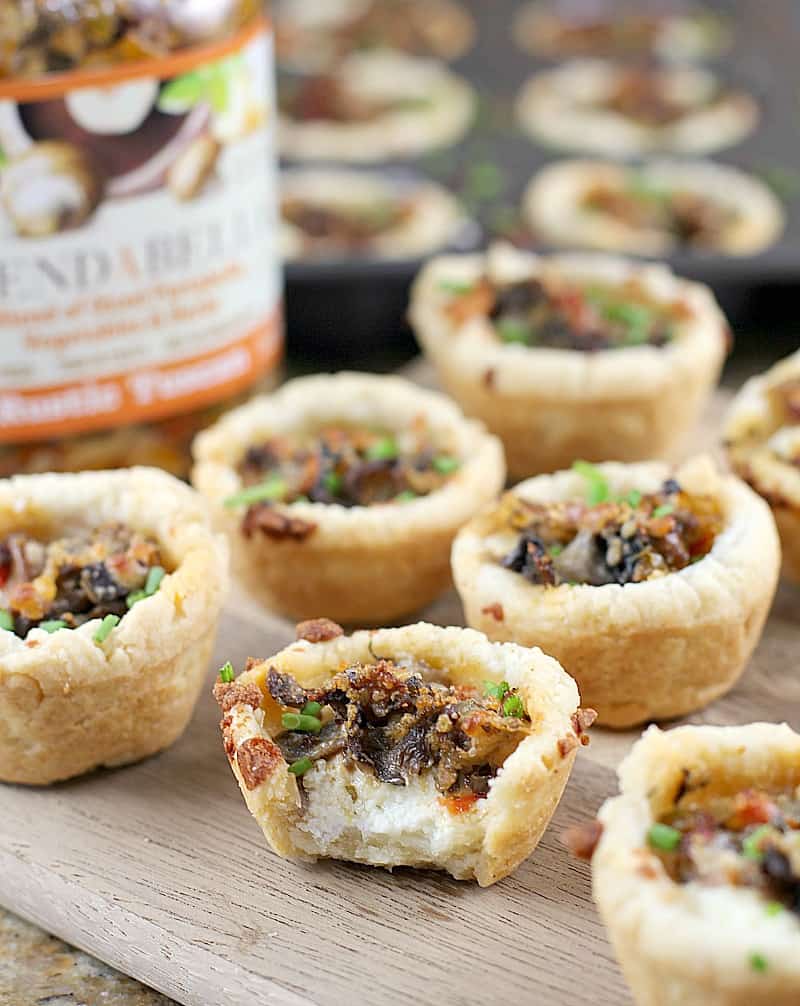 Tuscan Mushroom Ricotta Mini Tarts
Here we have for our lucky selves some yummy party food! And this vegetarian appetizer are SO much easier to make than you might think.
This is a very straightforward recipe for some fancy fancy little bites that look snazzy, but are ready pretty quickly. Easy finger food for the win.
There are only a couple steps to making these Tuscan-inspired, fun little, vegetarian appetizer, and they are thusly:
How to make Tuscan Mushroom Ricotta Mini Tarts party appetizers
Combine butter, cream cheese, and flour to make the dough.
Form the dough to make the mini tart crusts (this is where a tartlet tamper sure comes in handy! You can find them easily online and they are inexpensive).
Combine ricotta and lemon zest, and pipe into the tart shells.
Top with BLENDABELLA Tuscan Portabella Mushroom Blend and parmesan.
Bake and done!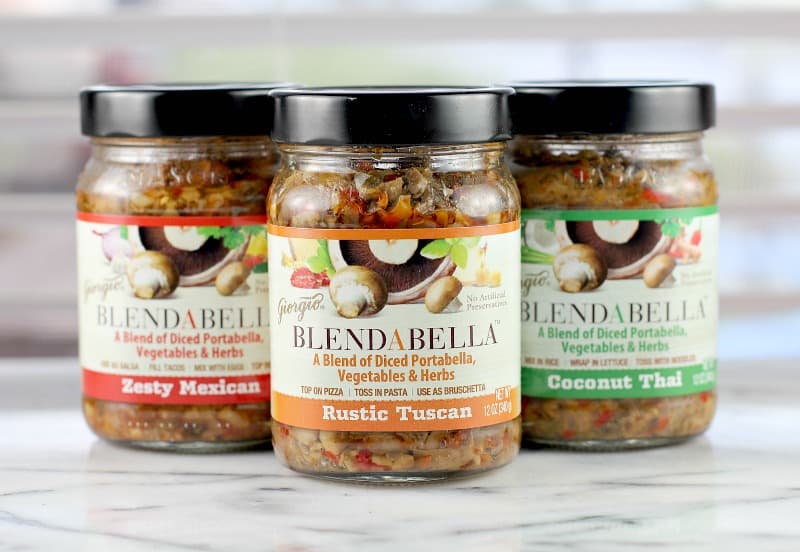 See? Not hard at all. This is one of those recipes where you just knock it out and look at the clock and you're like "Dang, that took a lot less time than I thought it would".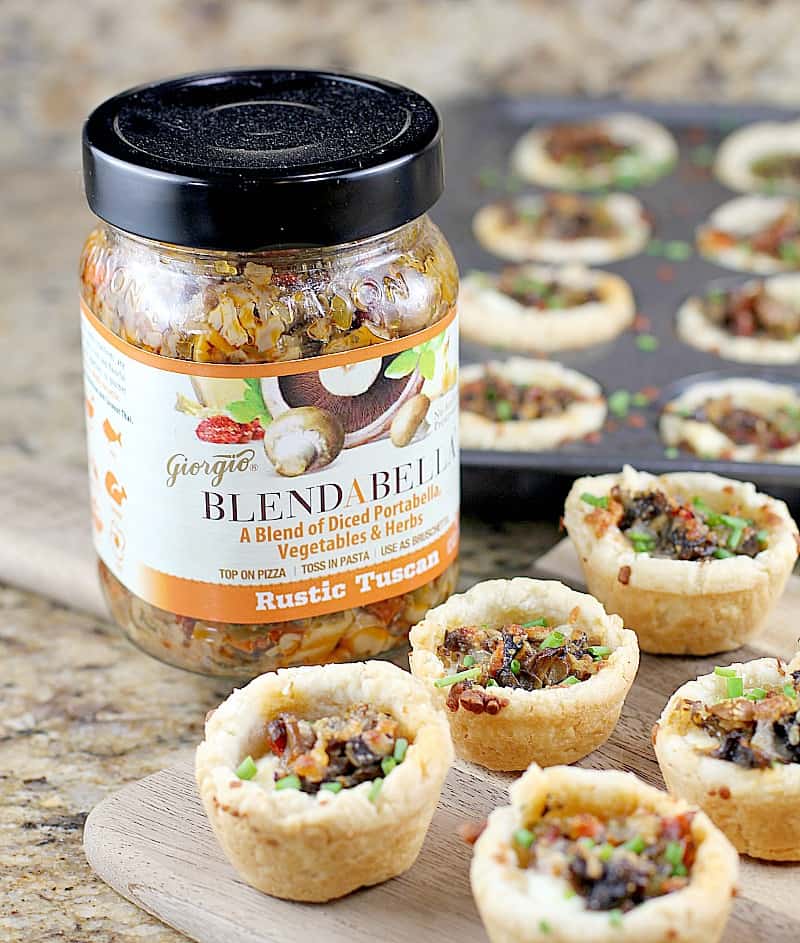 The pie dough here, with butter, flour, and cream cheese, is totally based on the dough for my Black Cherry Cup Christmas Cookies. That recipe uses twice as much butter and cream cheese though, and I wanted this crust to be a bit lighter, and I definitely didn't want anyone to think "dessert" when they bit in.
So, same amount of flour, but half as much butter and cream cheese and we have a lighter, flakier crust. And just as tasty.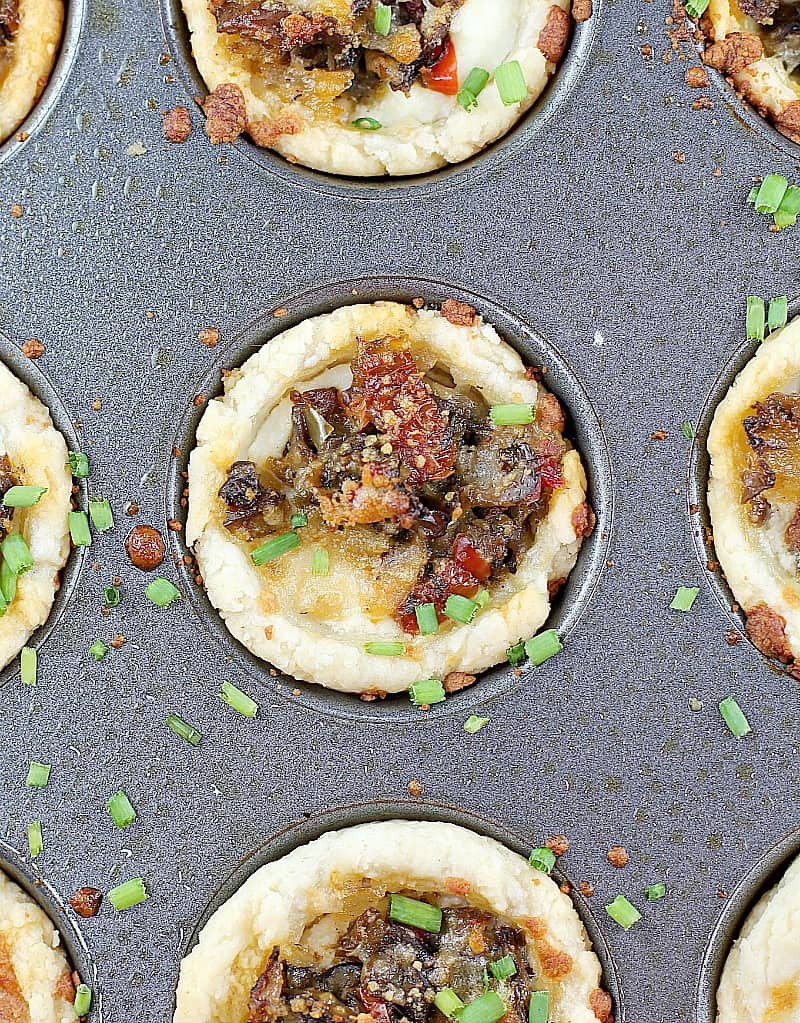 A little layer of lemon ricotta is next. Two ingredients. TWO. JUST two, because we never count salt because salt is a given, but if you do count salt, well then we are at three ingredients. Still simple.
Part-skim ricotta with the zest of a lemon gives just the right creamy, acidic bite. It sings though with each bite, but in a balance mellow way. Which is why I stuck to zest and didn't use lemon juice.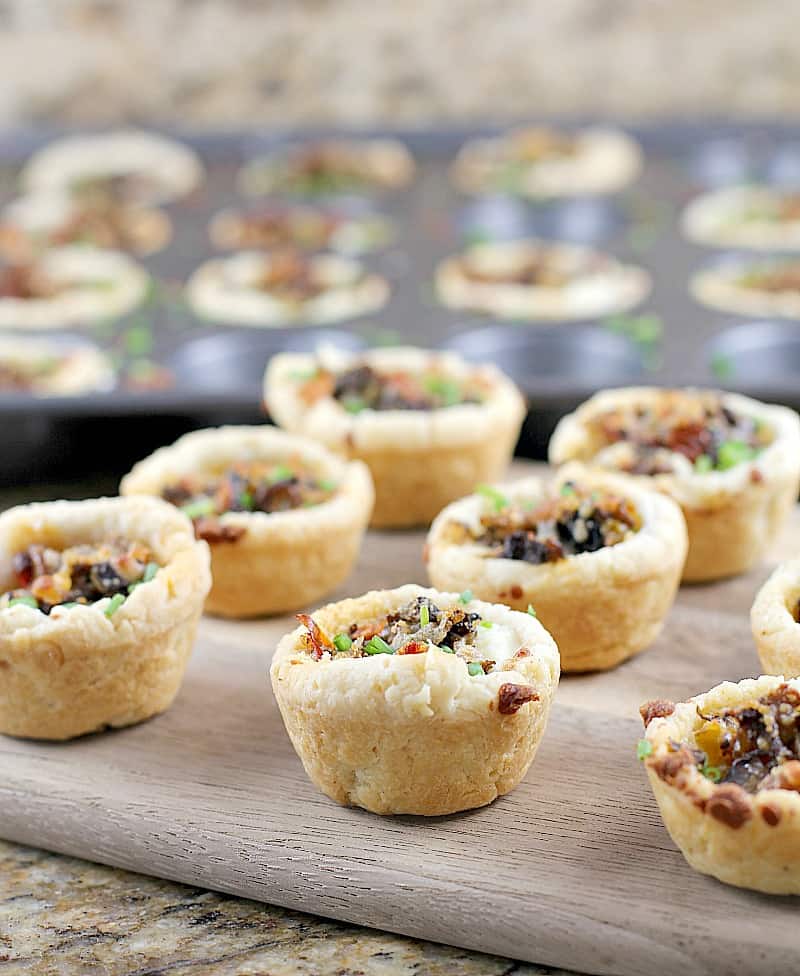 The BLENDABELLA Mushroom Blend is next and it is a new-found, now-favorite recipe hack. I first used the Coconut Thai blend in my Spicy Vegetable Thai Flatbread.
Then, I've thrown it in a cream sauce to top roast pork (no recipe link for this one, it was a weeknight win but I was too tired to take photos. It happens.) And now these fun little bites of Italian awesome have a bit on top of each party appetizer.
Then cheese. Because that is required.
So that's it kids. Delicious Tuscan-inspired, party appetizers.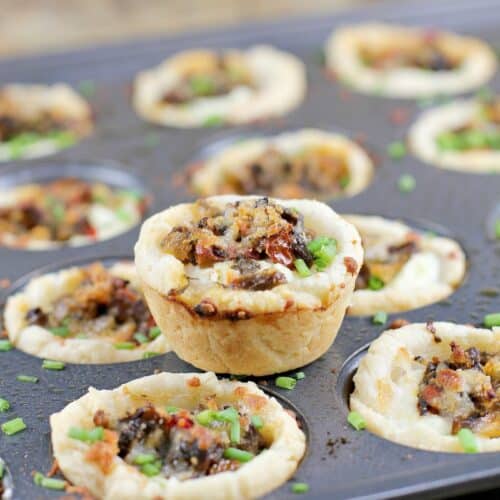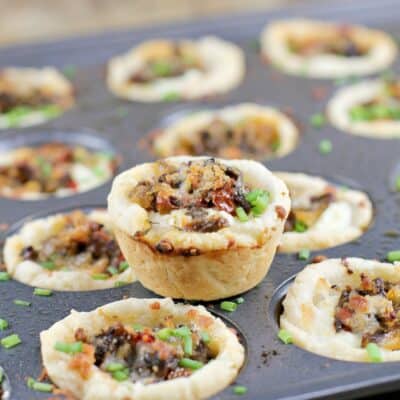 Tuscan Mushroom Ricotta Mini Tarts
Pretty little party appetizers with buttery cream cheese crust, lemon ricotta, Tuscan mushroom topping, and cheese.
Ingredients
4

oz

pkg cream cheese

softened

½

cup

unsalted butter

softened

2

cups

flour

cold water

7-1/2

oz

part-skim ricotta cheese

zest of 1 lemon

couple pinches kosher salt

BLENDABELLA Tuscan Portabella Mushroom Blend

3

Tbs

freshly grated parmesan cheese

2

Tbs

finely chopped chives
Instructions
Heat oven to 350F.

In a mixing bowl, whip together the cream cheese and butter. Use a wooden spoon to stir in the flour (mixture will be crumbly). Add 2 tablespoons cold water and stir in. Repeat as necessary until the dough holds together when pinched but is not wet.

Spray a 24-count mini muffin pan lightly with cooking spray. Roll the dough into ~1-1/2-inch balls and drop each into a tin of the muffin pan. Using your fingers or a wooden tamper dusted with flour, push each dough ball to form a pie crust lining the muffin tin.

In a mixing bowl, whip the ricotta until light. Add the lemon zest and a couple pinches salt. Transfer into a resealable storage bag. Snip a corner, then pipe the filling (~1-1/2-2 teaspoons per tart) into each tart shell.

Top each tart with ~1-2 teaspoons BLENDABELLA Tuscan Portabella Mushroom Blend. Bake tarts at 350F for 25 minutes or until crust is just lightly golden.

Allow tarts to cool 5-10 minutes before removing from the pan (using a knife helps, they should come out easily). Top with chives and serve. Yields 24 tarts.
Calorie count is purely an estimate calculated using an online application to serve as a guide and not to be taken as accurate nutritional information. Percent Daily Values are based on a 2,000 calorie diet.
Tried this recipe?
Leave a comment below and let me know!
~✿♥✿~
BLENDABELLA Mushroom Blends are available online.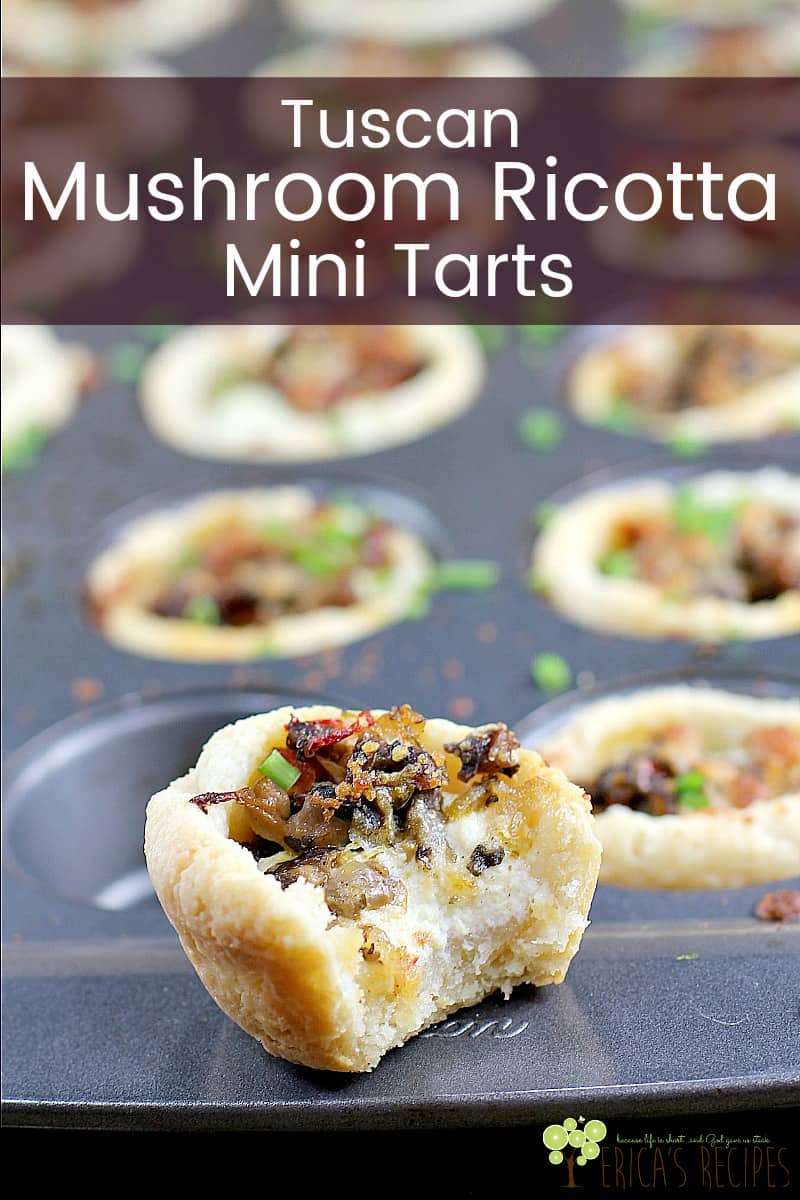 If these Tuscan Mushroom Ricotta Mini Tarts look good, check out these other party appetizer ideas