Texas bbq pizza has everything you want to make a creative, fun, AMAZING tasty pizza at home. Topped with slow cooker bbq pulled pork, veggies, and lots of cheese, this Texas-inspired pizza is simple in honor of its roots.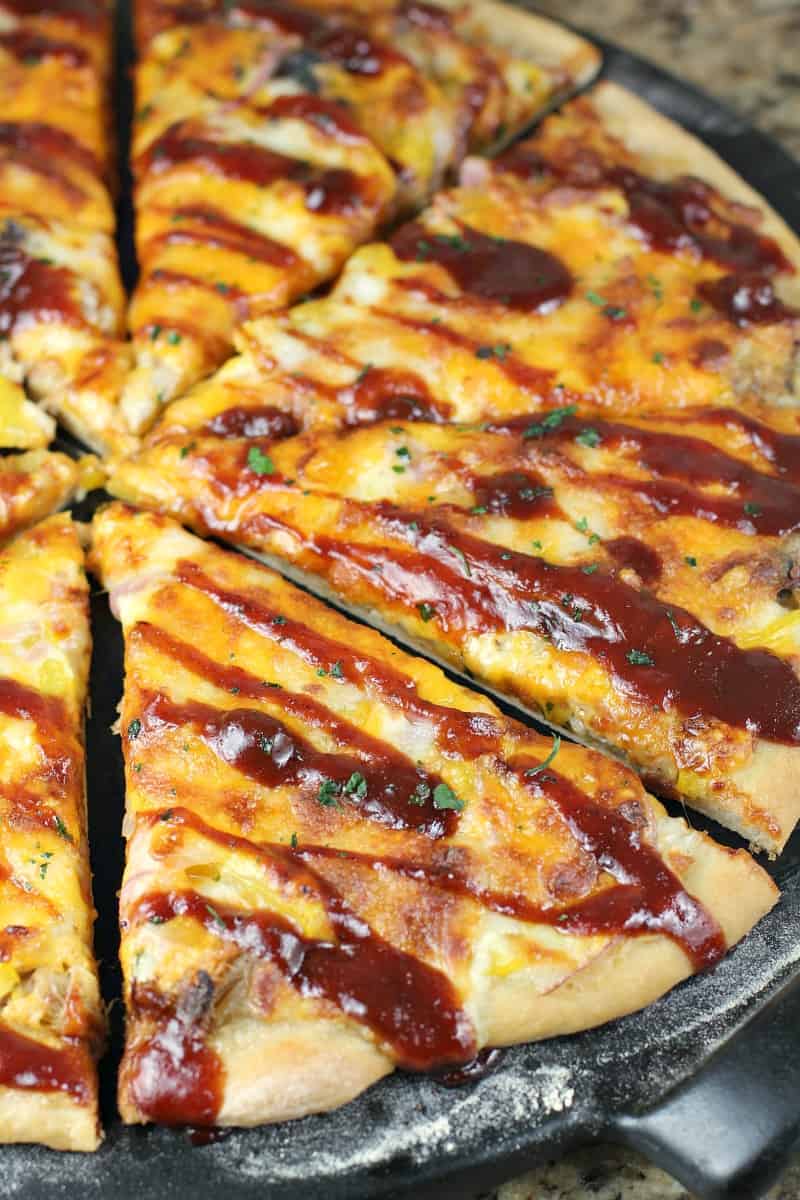 What makes this pizza so dang special?
First, this tasty Texas pizza was made on a weeknight. I want that knowledge out upfront, because it's important. This is an easy pizza recipe.
Second, this bbq pizza recipe uses my pride and joy Cherry Chipotle Barbecue Sauce. In the morning, I threw the pork in the slow cooker with some sauce and let it go slow and low all day.
When we came home that evening, my house smelled like heaven. Pork fumes wafting out the nooks and crannies of my home perfuming my whole little corner of the world and making the neighbors jealous.
Then I took that super easy, super succulent, slow cooker bbq pulled pork, threw it on my pillowy pizza dough with a butt-load of Longhorn cheese, and the fact that pizza is my favorite food was reaffirmed. Life was good.
Why is Texas famous for BBQ?
I lived in Texas during my 20s and hated it. It was too hot, too flat, too dry, too… Texas. I need ocean. I need trees. I need east coast.
But Texas does do one thing right …food. Grub in the Lonestar State is amazing. Texas is also where I learned to cook. So this pizza is a shout-out to Texas.
Texas barbecue is all about the rub seasoning before cooking (if it is even used, because often it may just be salt and pepper), wood or coals during cooking, then just the right sauce after cooking. Barbecue in Texas is simple and delicious.
Smoked brisket served with simply with fresh sliced onion, jalapeno, thick-sliced sandwich bread, and beans would be a typical meal. However, which meat – brisket, ribs, sausage, turkey or pork, varies with the region. Texas is THAT big, that barbecue is regional.
There is not a town in Texas where there isn't a (or many) barbecue joint. I have had it in San Antonio, Houston, Dallas, and Amarillo, and Texas barbecue is fantastic every time.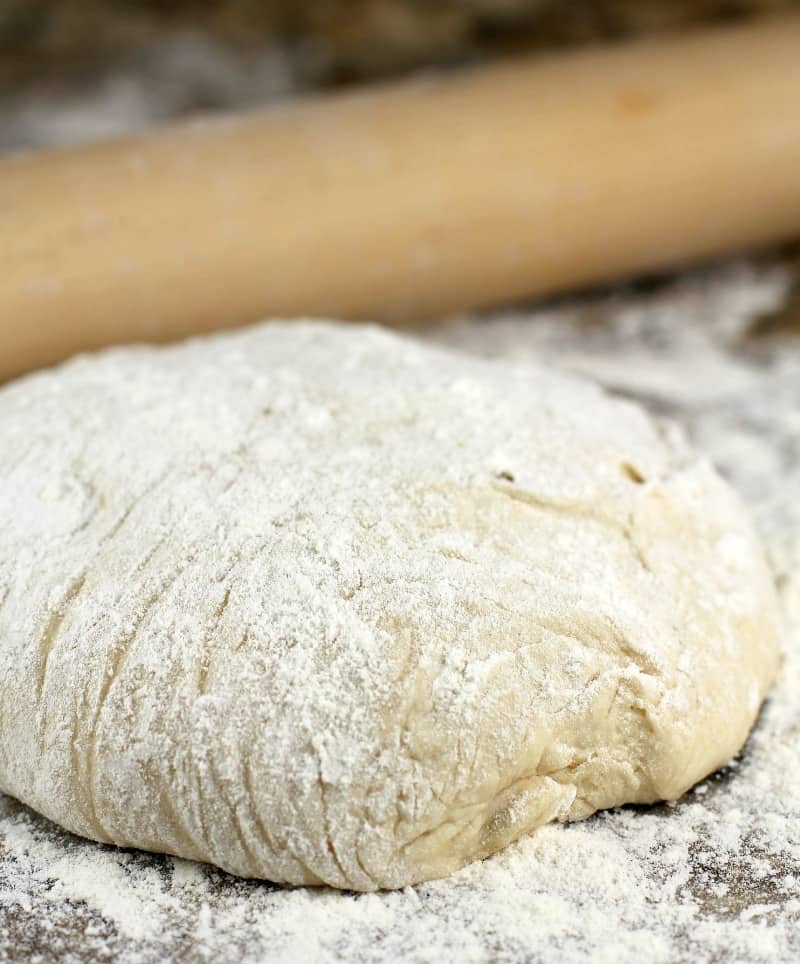 BBQ pizza ingredients
Country-style ribs. These boneless cuts of meat are actually Boston butt just like you would use for any pulled pork. I list them specifically because they make it easier to buy just the amount we need rather than a whole roast. Even then, this is more pork than you will need for the pizza, so plan a use for the leftovers.
Seasoning. Any BBQ seasoning blend of choice or you can make your own with my Grilling Rub for Pork recipe.
BBQ sauce. This can be purchased, although I really, truly recommend my Cherry Chipotle Barbecue Sauce.
Ranch dressing. Ranch makes an easy white pizza sauce.
Pizza dough or crust of choice. I have used my Sam Adams Beer Pizza Dough, as well as my Whole Wheat Pizza Dough – both with fantastic results.
Red onion. For that peppery onion bite and beautiful color.
Yellow bell pepper. Also for color and I prefer yellow bell pepper flavor for this pizza. If not available, substitute red or green – no worries.
Cheese. Longhorn-style cheese is what I would get if I still lived in Texas, but sharp cheddar is an appropriate substitutes. We also use mozzarella because this is pizza.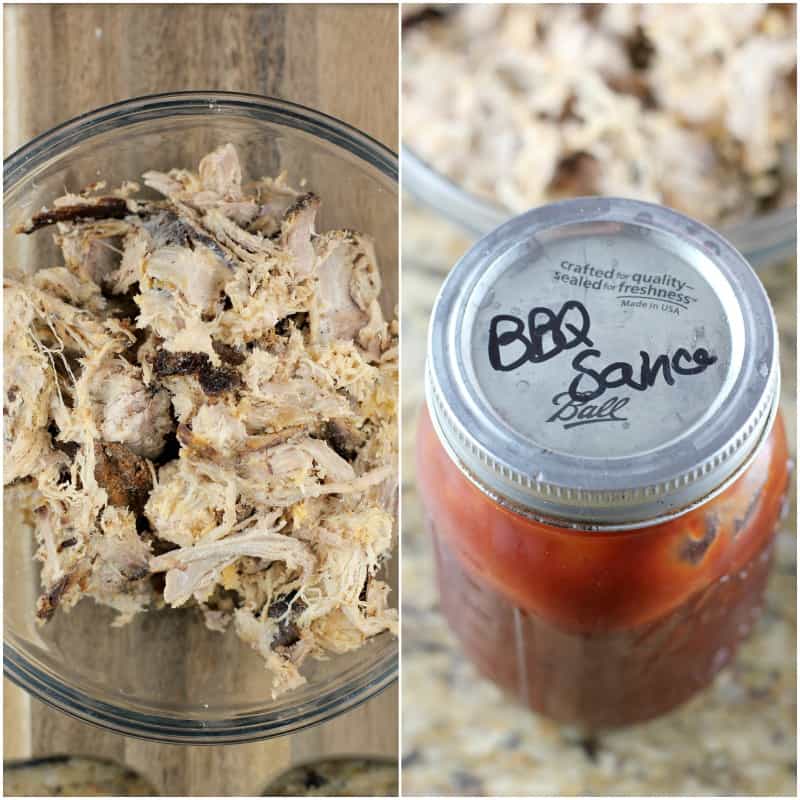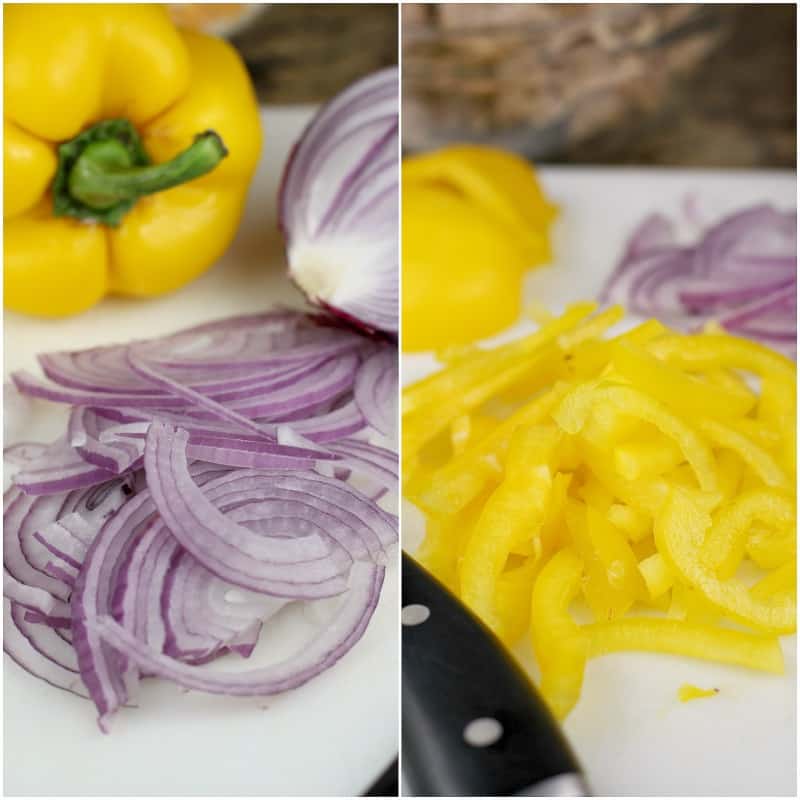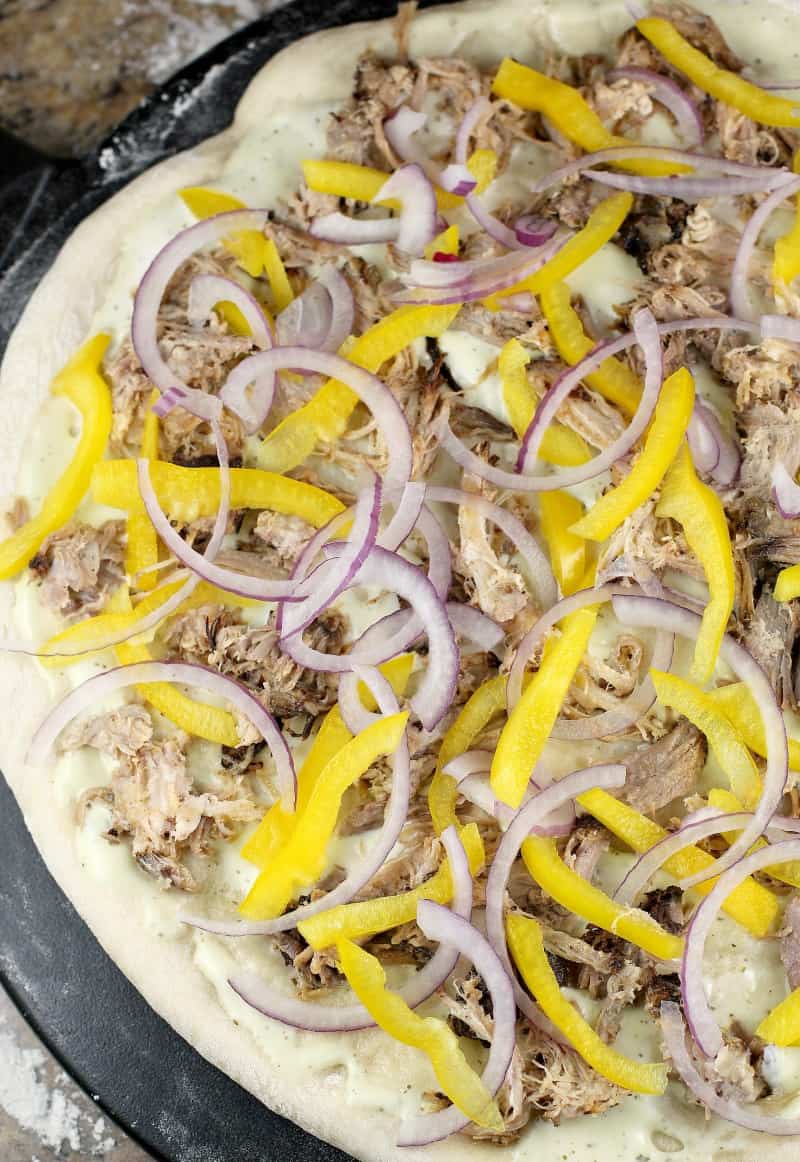 Steps for making Texas pizza
Earlier in the day, season the pork, and put in your slow cooker with some barbecue sauce. Cook the pork 8 to 10 hours on the low heat setting. Alternatively, you can cook for 4-6 hours on high heat. Once, that is done, shred the meat. This can be done up to 3 days in advance.
The next steps are universal preparation steps that I use for each and every pizza I make (unless I'm grilling it).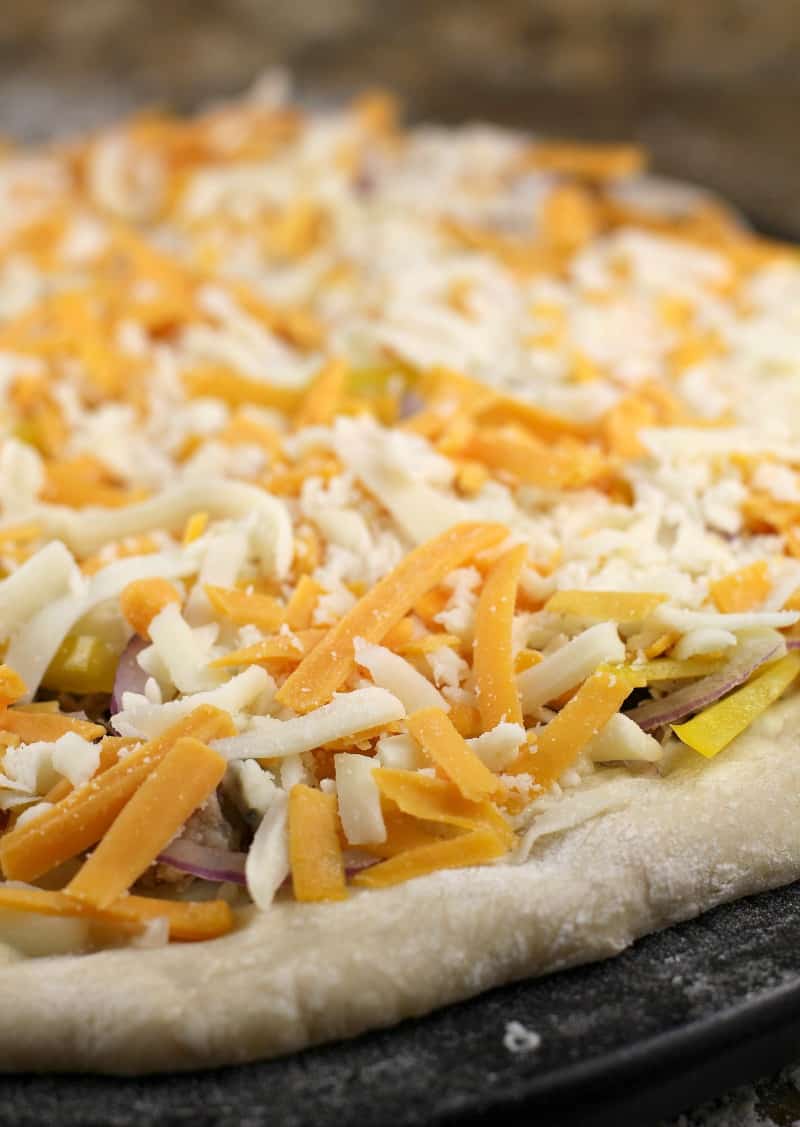 steps to prepare literally any pizza
Heat the oven with the pizza stone in the oven. Then heat an additional 15 minutes to thoroughly heat the stone nice and hot. This is KEY to ensuring the dough cooks through (especially in the center) in the time it takes to cook the toppings.
Roll out the dough on a clean, floured surface. I use a rolling pin, but if not available, you can use your hands to gently press and stretch the dough into the desired shape.
Transfer the dough to the preheated pizza stone (taken out of the oven and put on the stove-top). Using a rolling pin helps to move the dough from the floured surface where it was rolled out to the pizza stone.
Bake your pizza until the crust is cooked, the toppings are hot, and the cheese is all awesome melty.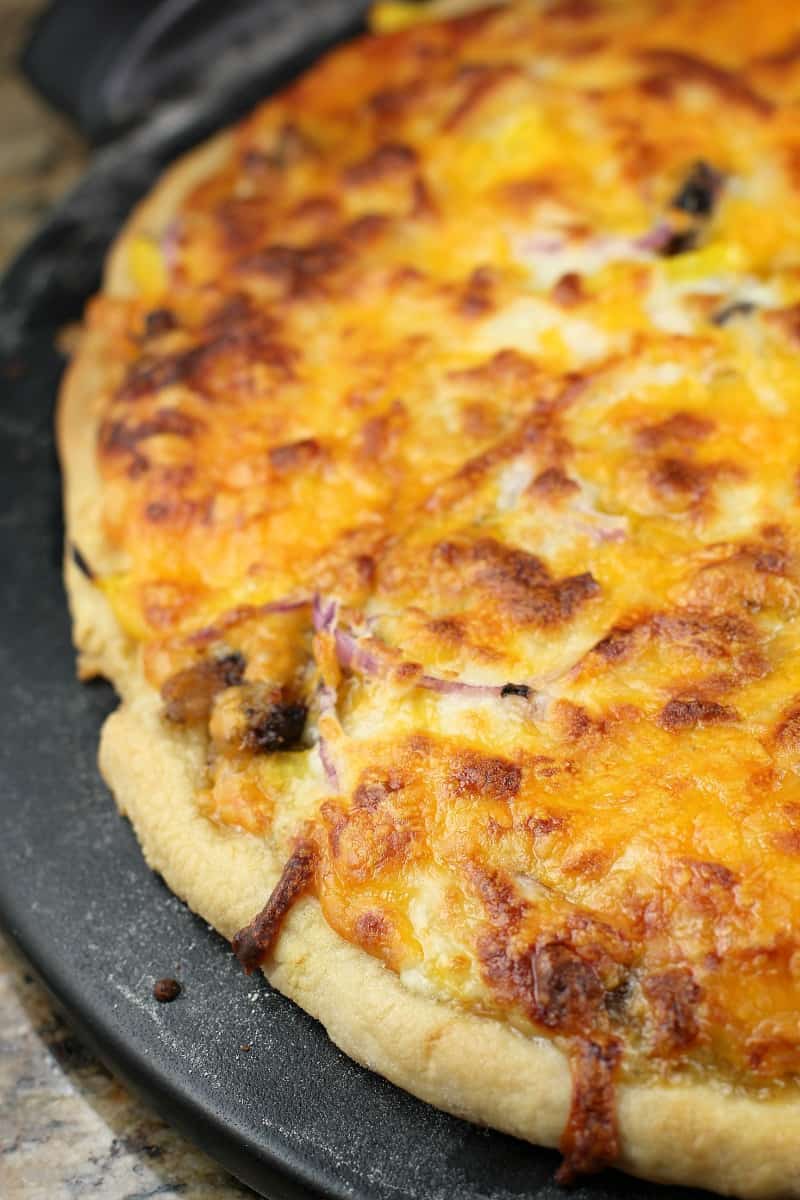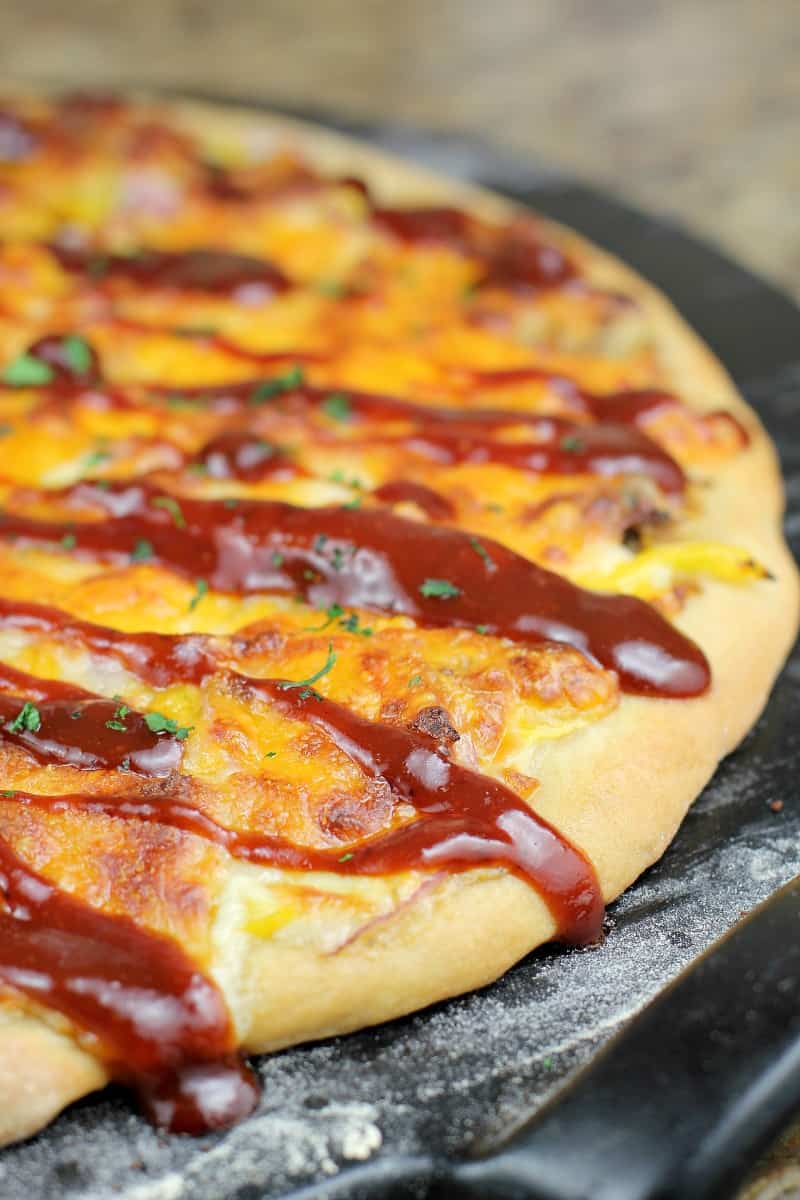 Last tips
The pulled pork can be cooked up to 3 days in advance (or even further, if you freeze it). This recipe does lend itself to using any pulled pork actually. Doesn't have to be mine specifically.
I highly recommend either my Sam Adams Beer Pizza Dough or Whole Wheat Pizza Dough for this pizza. However, if you aren't up for all that, then I find fresh dough in the bakery section of my grocery store. Another alternative is to use a precooked, purchased crust.
If using fresh pizza dough, always thoroughly preheat the pizza stone (or bake sheet) in the oven to ensure the dough cooks completely.
I recommend keeping an eye on the pizza (through the oven door with the light on – don't open the oven and let heat escape). This way if the cheese on top starts to brown around the edges too quickly, you can reduce the heat. If we take the pizza out too early, we may have under-cooked dough in the center and no one wants that.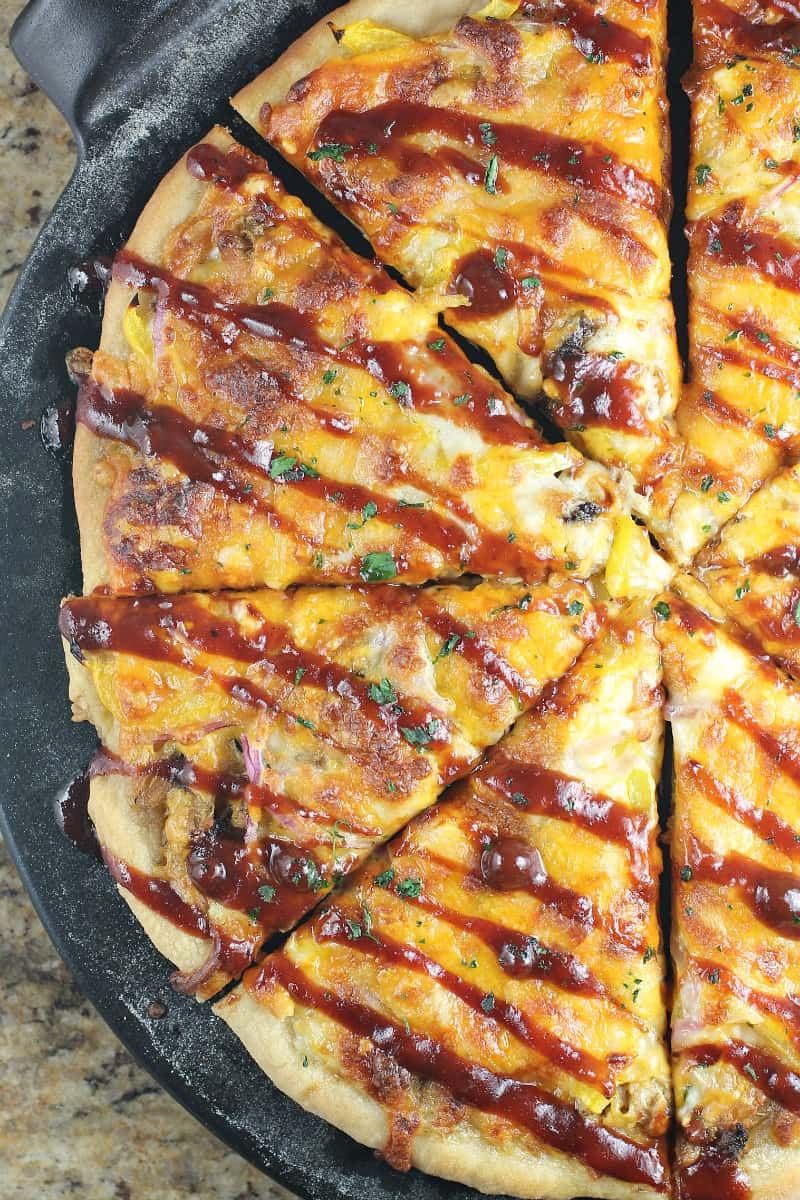 More recipes from Texas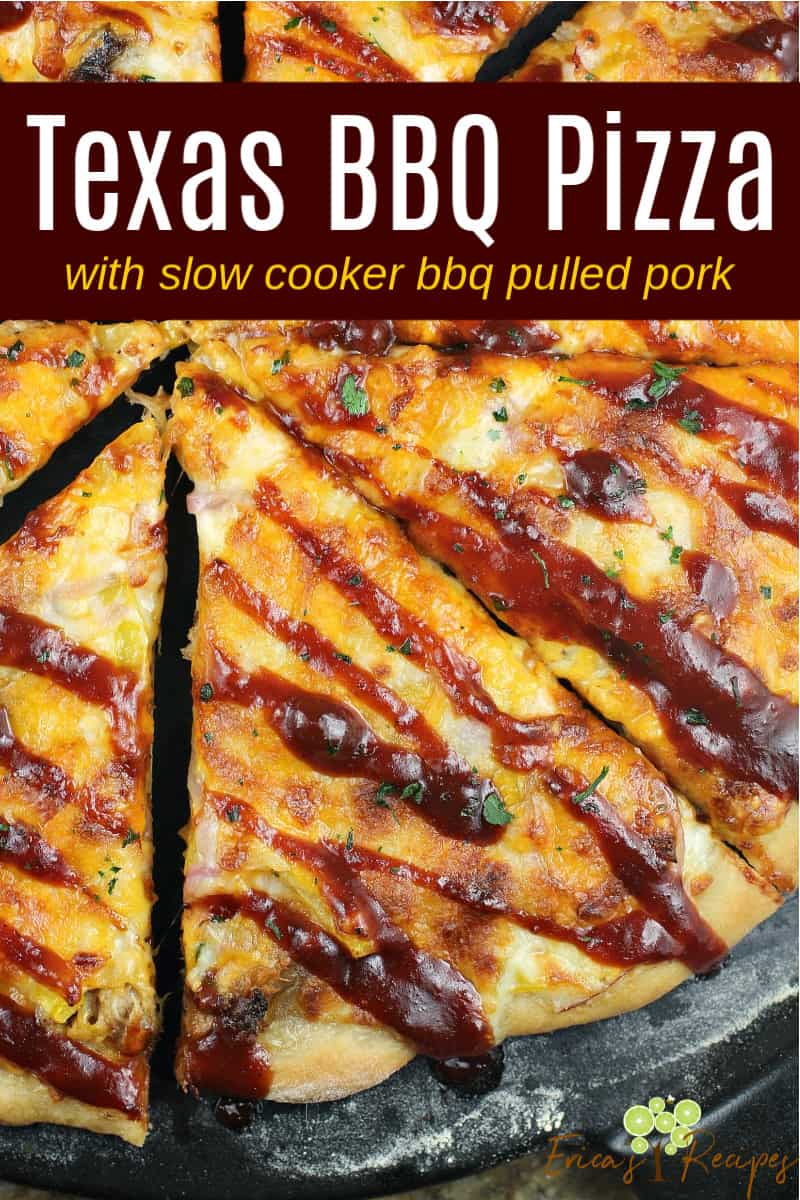 This recipe uses my Sam Adams Pizza Dough made with beer. Also check out my Homemade Pizza Sauce with wine and garlic.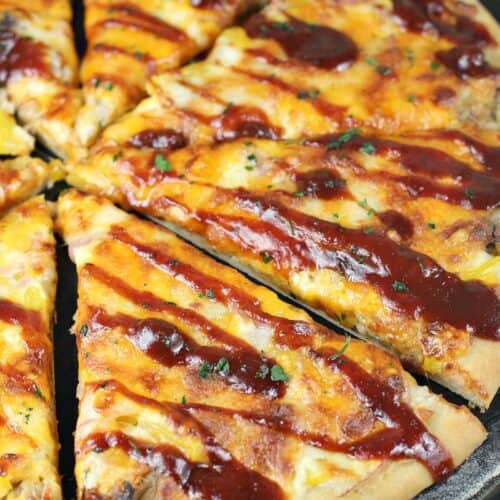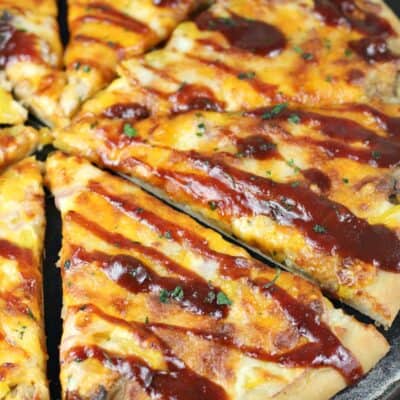 Texas BBQ Pizza
Texas bbq pizza is an AMAZING tasty pizza. With slow cooker bbq pulled pork, veggies, and cheese, this Texas-inspired pizza is simple in honor of its roots.
Ingredients
2

lb

country-style shoulder pork ribs

1

Tbsp

Grilling Rub for Pork

or bbq seasoning blend of choice

1-½

cups

Cherry Chipotle Barbecue Sauce or bbq sauce of choice

divided

½

cup

ranch dressing

fresh pizza dough for a large pizza

see Notes

½

cup

thin red onion rings

1

yellow bell pepper

seeded and thinly sliced

1-½

cups

Longhorn-style cheese

shredded

1-½

cups

shredded mozzarella cheese
Instructions
For the slow cooker bbq pulled pork
Season the pork well all around with the grill rub. Place in the slow cooker with 1 cup barbecue sauce. Cook on low 8-10 hours (or high 4-6 hours).

Shred the pork using two forks.
For the pizza
Place a pizza stone in the oven and heat oven to 450°F. Once oven is heated, heat an additional 15 minutes to ensure stone is fully heated.

On a floured surface, roll out the dough with a rolling pin. Transfer to the preheated pizza stone.

Layer the following ingredients in order: ranch dressing, onion, bell pepper, pork (~1 to 1-½ cup), and cheese.

Reduce oven heat to 425°F and transfer the pizza stone into the oven. Bake 10 minutes until dough is cooked, toppings are hot, and the cheese is melted and golden around the edges.

Drizzle bbq sauce over pizza. Slice and serve.
Notes
Both my

Sam Adams Beer Pizza Dough

and

Whole Wheat Pizza Dough

make enough dough for 2 pizzas. Therefore, in addition to the Texas pizza, you can make another, such as a Random Veggie Pizza to use stuff up from the fridge.
If not available, a good substitute for

Longhorn cheese is sharp cheddar. I have made this substitution and it works well.
Nutrition
Calorie count is purely an estimate calculated using an online application to serve as a guide and not to be taken as accurate nutritional information. Percent Daily Values are based on a 2,000 calorie diet.
Tried this recipe?
Leave a comment below and let me know!