This lobster gratin with Florida flair has lobster, sherry, and plenty of creamy ingredients and cheese. This very special, DELICIOUS dish is indulgent and extravagant. But at the same time, this Florida Lobster Gratin recipe is all the comfort of your favorite classic casserole.
This website uses affiliate links which may earn a commission at no additional cost to you. As an Amazon Associate I earn from qualifying purchases.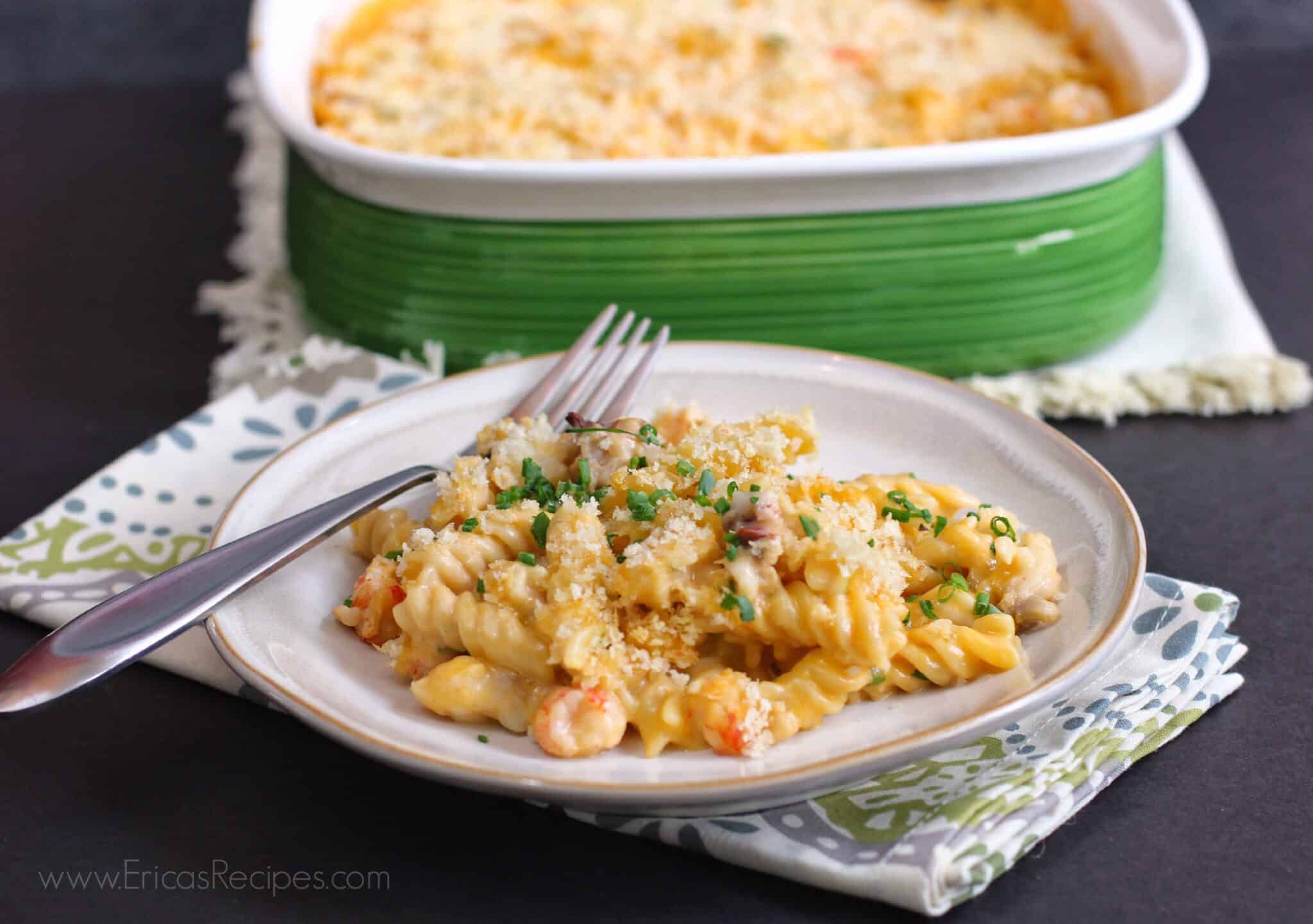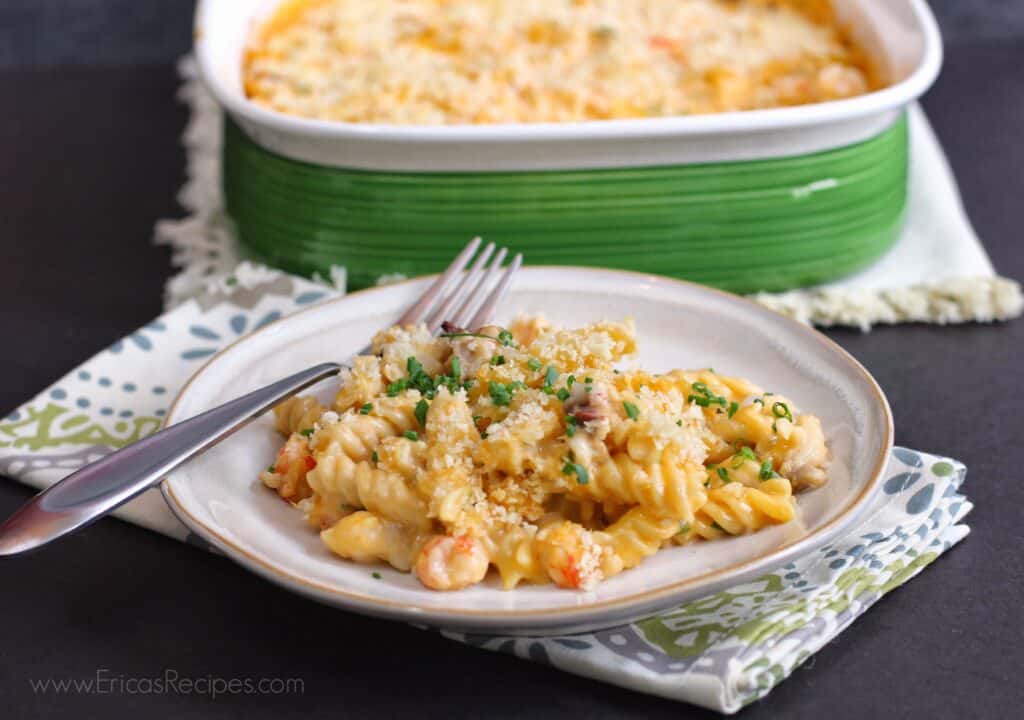 Alright, I try new recipes all the time. But every so often, I try something that absolutely blows me away. This is one of those dishes. I first had it at the grocery store of all places. Our grocery store, Publix, does a recipe of the week sort of thing, prepared in the store for sampling if you time it just right to be there …which I make sure I do at least once a week. Sometimes twice. This lobster casserole recipe is my adaptation of the one from the week of Valentine's Day last year.
But first things first …yesterday was my first triathlon at the Olympic distance (1500m swim, 24.5 mile bike, and 10K run) and my time was 3 hours, 9 minutes – not too shabby! I came away learning 3 things: 1) I can now run without knee tape, braces, or straps (with my knee history, this is a big deal), 2) I need to spend this summer on my bike because I am suh-lowwwww, and 3) the half-Ironman is now a reachable goal. Shockingly, the best part was my swim which is what I was most nervous about. Doing this event took months of preparation and training, and it was absolutely worth every minute.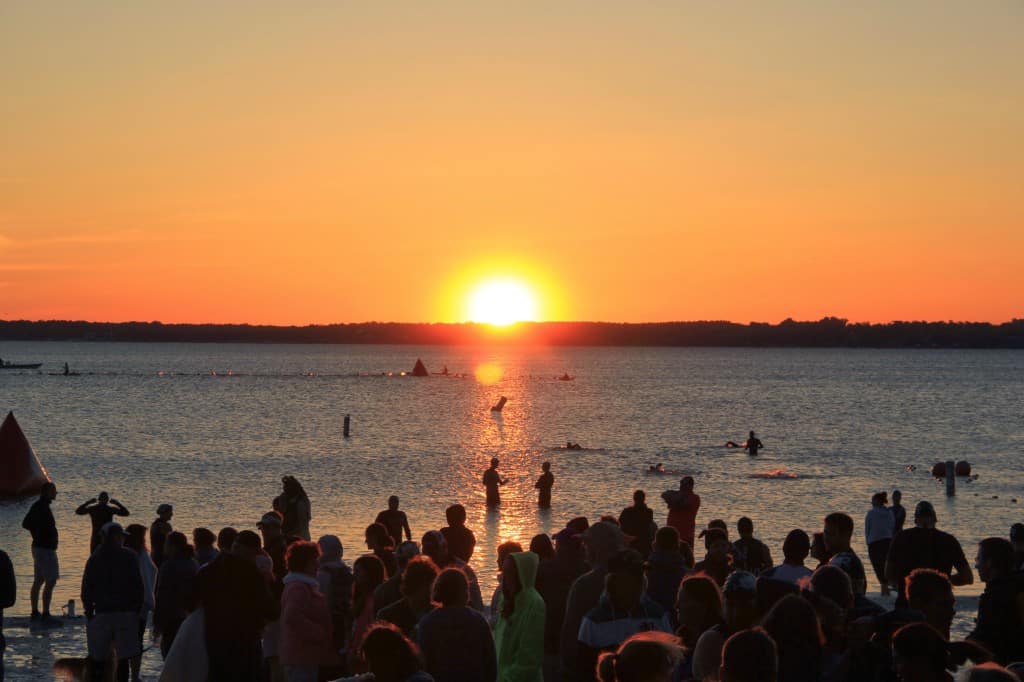 So after being super healthy for the past couple months, now I get to splurge for a couple days! YAYYYYYY!!! Let's see …breakfast was a brownie and literally a TON of coffee, lunch was a Turkey, Mushroom, and Fontina Panini with Arugula Aioli, afternoon snack was a swing by the fro-yo bar before stopping by Yankee Candle to smell ev-er-y candle they have, and then there was a Reese's peanut butter egg. When I give myself a green light, I don't mess around. And, since every muscle in my body is sore today, this easy, totally indulgent, casserole was the perfect treat for dinner tonight.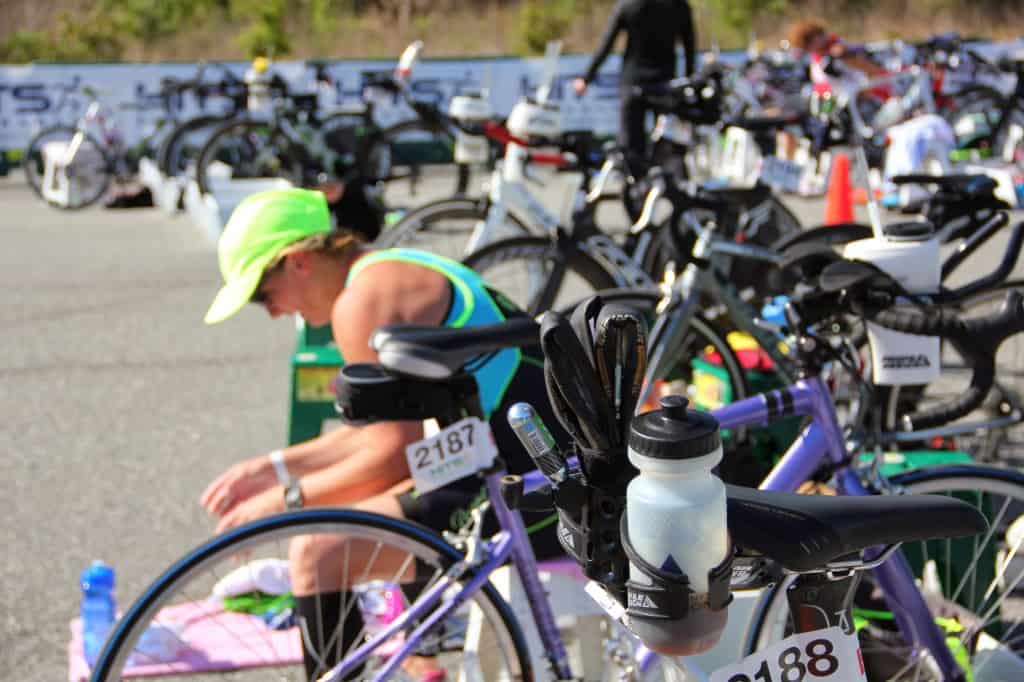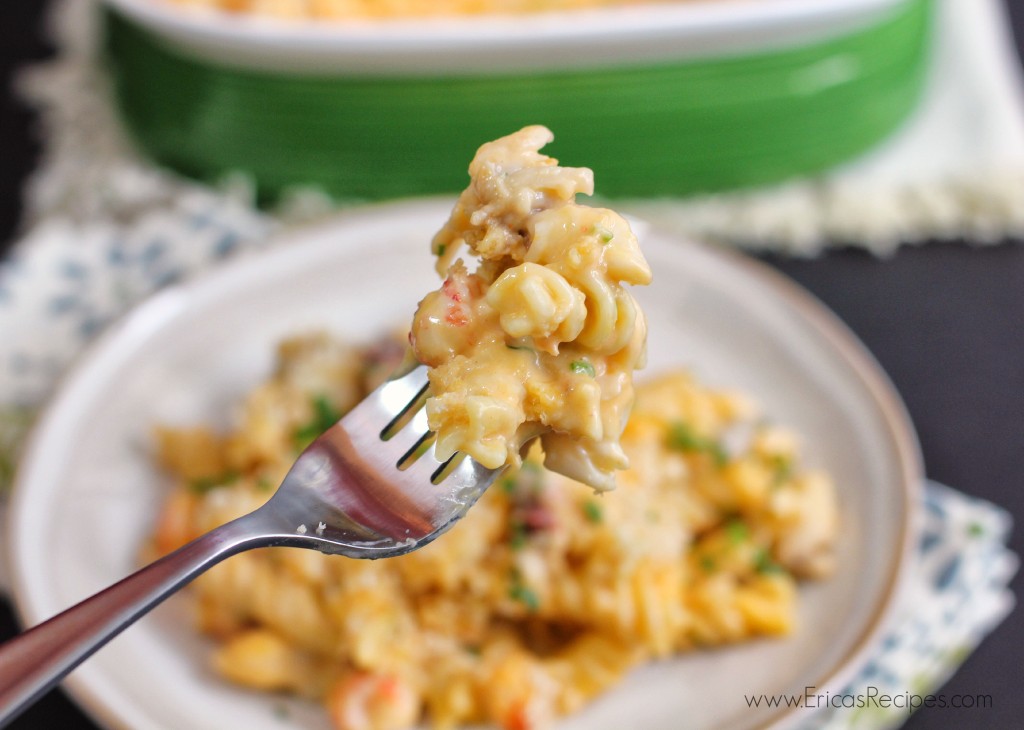 This casserole is special because it has lobster. No matter what and no matter where, including lobster makes it – whatever it is – special. Because other than that, this casserole is just a couple other things thrown together. But there's lobster. So it is amazing. I call this a Florida Lobster Gratin because, living in Florida, lob-stah ain't cheap. It's actually pretty consistently outrageously expensive. So I include just some lobster and augment that with rock shrimp. Rock shrimp, or langoustine, are very lobster-esque in flavor and texture. So in a creamy, bisque-y, lobstery casserole, they blend in perfectly making this dish full of luxurious seafood.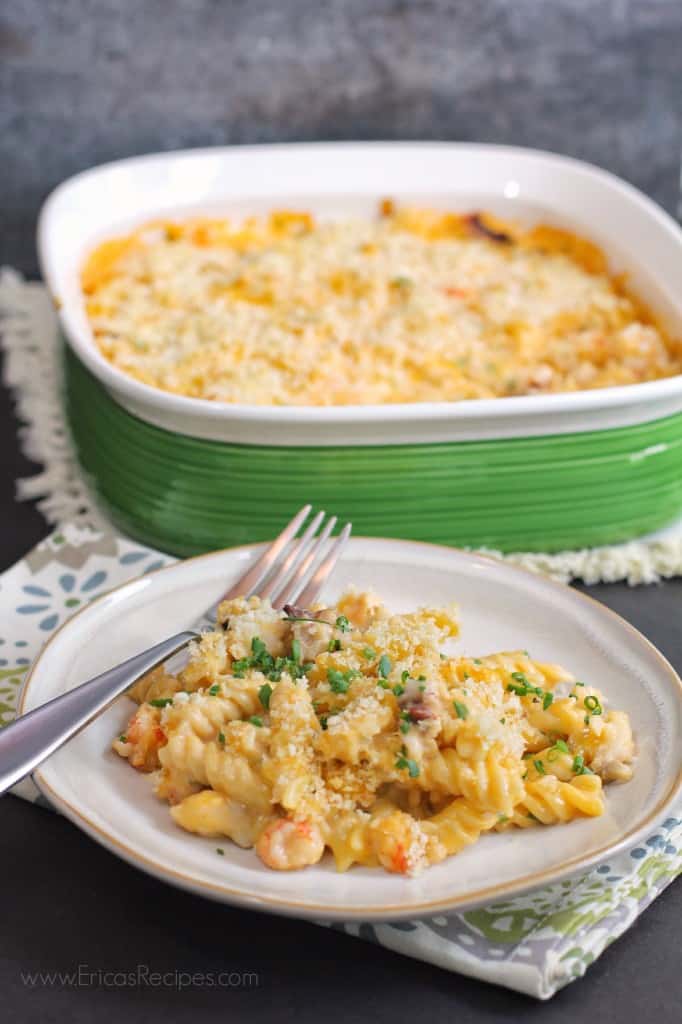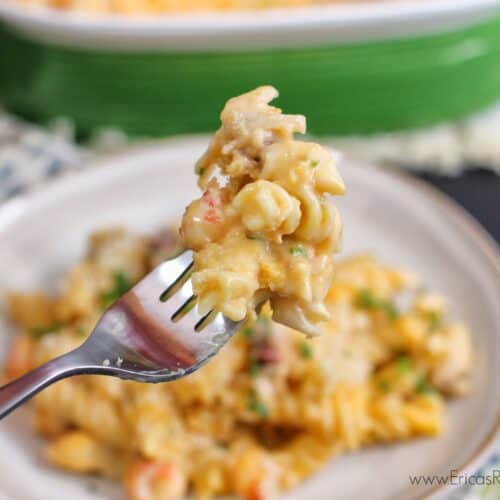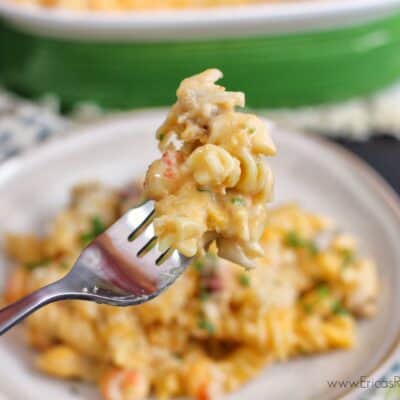 Florida Lobster Gratin
This lobster gratin with Florida flair has lobster, sherry, and plenty of creamy ingredients and cheese.
Ingredients
8

oz

rotini pasta

2

Maine lobster tails

3–4 oz ea, meat removed from shells and chopped into 1/2 inch pieces

8

oz

rock shrimp

½

cup

dry sherry

2

cup

shredded sharp cheddar cheese

10.5

oz

Wood Chunks" class="wprm-recipe-ingredient-link" target="_blank" rel="nofollow">condensed cream of shrimp soup

undiluted

1

10 oz container lobster bisque

¼

cup

fresh chives

chopped

½

cup

plain panko breadcrumbs

2

tsp

freshly grated Parmigiano-Reggiano cheese

1

Tbsp

unsalted butter

melted
Instructions
Preheat large sauté pan on high. Add sherry, lobster, and shrimp. Simmer on medium 2 minutes or until lobster is opaque. Remove from the heat.

Cook pasta to al dente in salted water according to package directions. Drain.

In large bowl, combine the lobster-shrimp mixture with the chives, cheese, cream soup, and bisque. Add the pasta. Transfer to a casserole dish or 2-quart baking dish.

In a small bowl, combine the panko bread crumbs, parmesan, and butter. Sprinkle over the casserole. Bake for 30-40 minutes at 375°F until golden and very bubbly.
Calorie count is purely an estimate calculated using an online application to serve as a guide and not to be taken as accurate nutritional information. Percent Daily Values are based on a 2,000 calorie diet.
Tried this recipe?
Leave a comment below and let me know!
~✿♥✿~