Mexican Street Corn Deviled Eggs
Mexican street corn delivered in deviled eggs. These Mexican deviled eggs with all the elements of street corn are easy, elegant, and outright delicious. A fun corn and egg recipe for any gathering.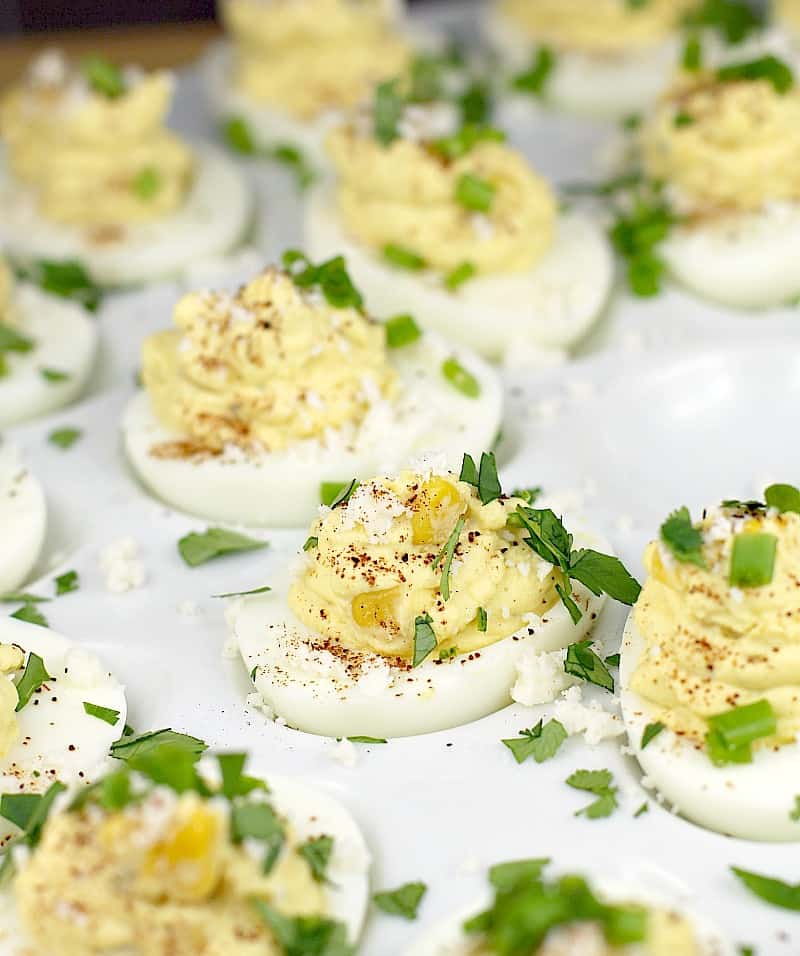 Not long ago, I gave you my Creole Shrimp Deviled Eggs with Bacon and that recipe was so fun, I wanted to make another crazy deviled eggs recipe.
I love Mexican street corn. Oddly enough, I have never had it on the cob, and have never been to Mexico. So, no I have never had authentic street corn, on a street, in Mexico.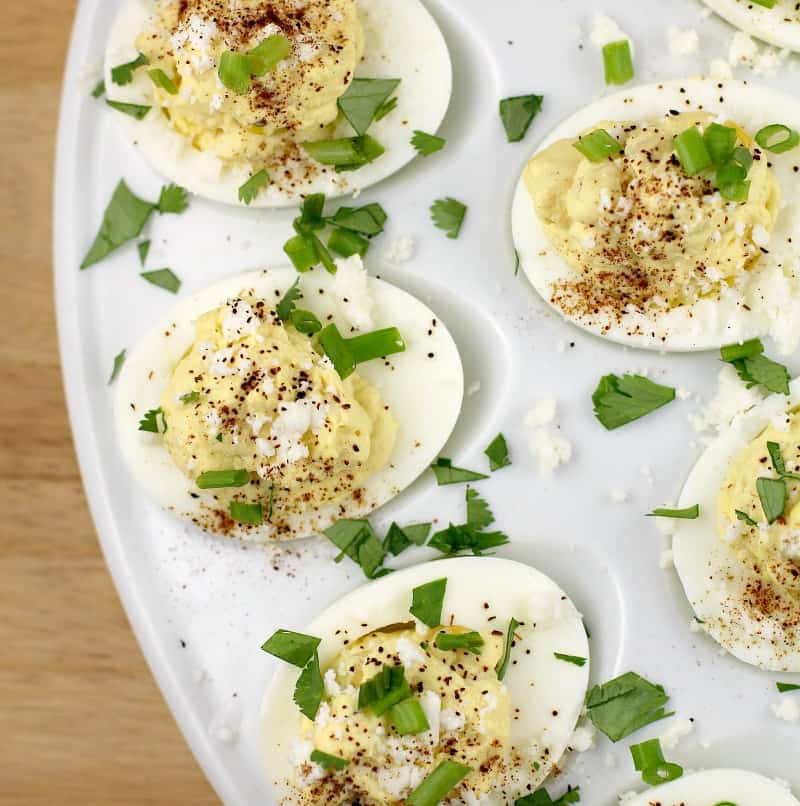 What I have had is off the cob street corn at a restaurant in the Virgin Islands that was to die for. I have also made Mexican Street Corn Casserole several times for large dinners I cook at church, at it always gets rave reviews.
So, why not take all the delicious fun of Mexican street corn and translate that in Mexican style deviled eggs! That is precisely what this recipe does.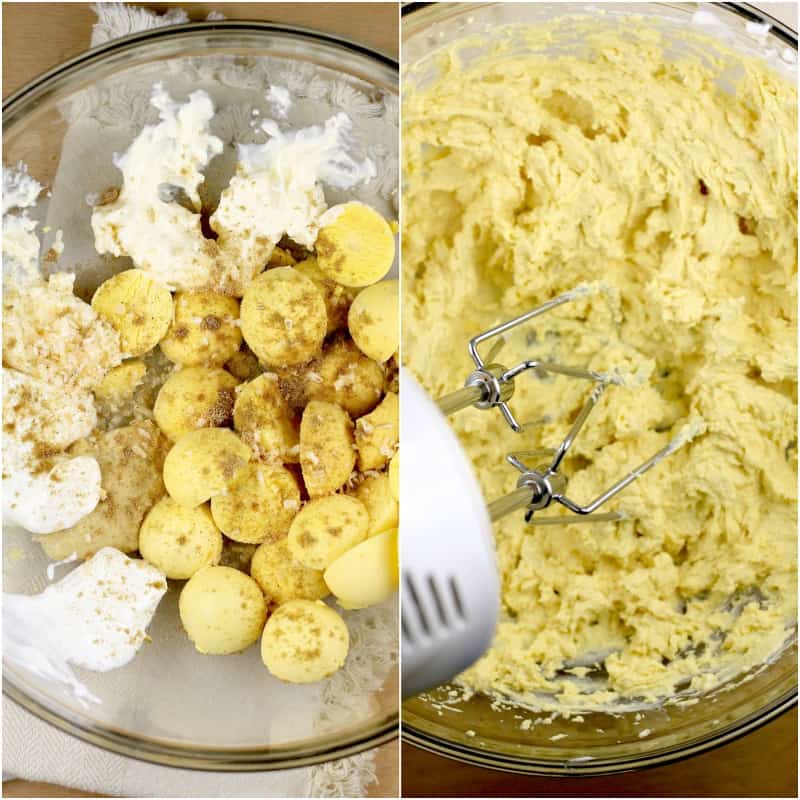 What is Mexican street corn?
Mexican street corn, or elote, is Mexican corn on the cob. Where we Americans just coat our corn in butter and salt, cobs of corn are grilled in Mexico and then coated in a delicious mixture of mayonnaise, sour cream, cojita cheese, chili powder and lime.
The flavor combination in these Mexican style deviled eggs, just like in real street corn, is subtle because not one ingredient is overpowering. It is Heaven.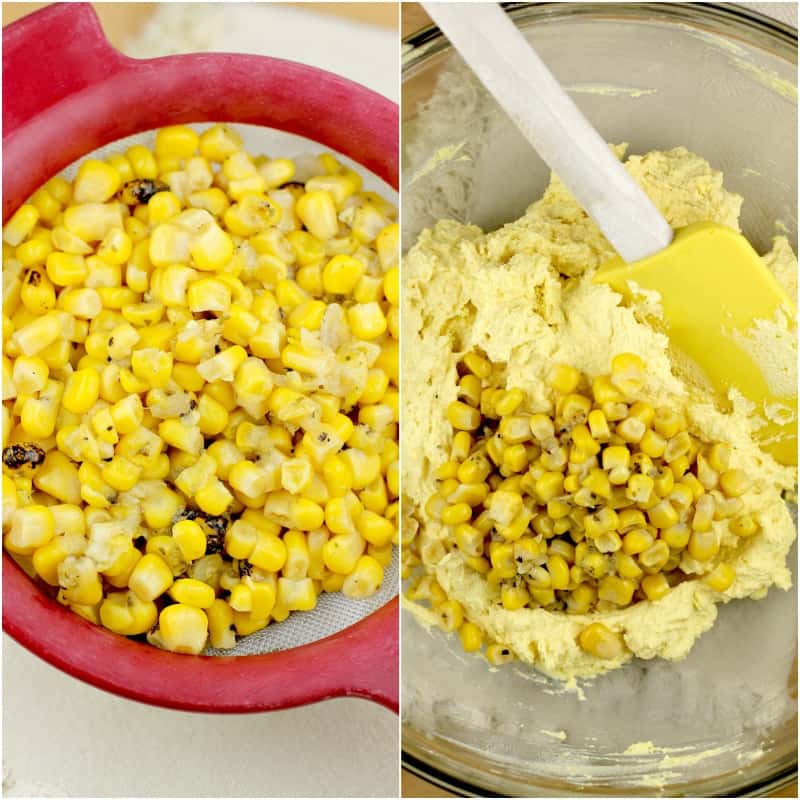 What are the ingredients for Mexican deviled eggs?
Eggs. Of course.
Mayonnaise and sour cream. The foundational coating for Mexican street corn.
Vinegar, Dijon, and dried minced onion. These bring the bite, thus deviling our eggs.
Cumin, garlic powder, and salt. Seasoning to bring flavor.
Hot sauce. Optional, and I tend to omit because of my kids. But add if that's your thing.
Worcestershire sauce. I always add Worcestershire sauce to deviled eggs for the rich flavor it brings.
Corn. Of course.
Garnish. Chili powder, applied lightly over top as we would do with paprika if making plain deviled eggs. Creamy crumbly queso fresco cheese (available in US grocery stores). And a little touch of green from cilantro and chive.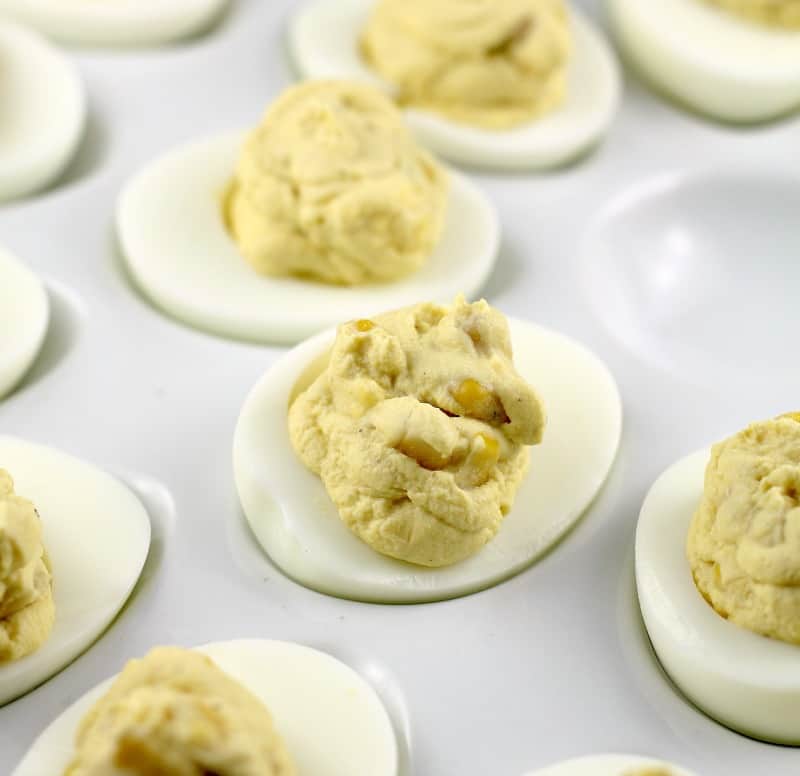 How to make Mexican street corn deviled eggs
Split the eggs and get the yolks in a bowl.
Add the rest of the filling ingredients and combine with a hand-mixer. A fork would work too if a hand-mixer is not available.
Fill the egg whites with the yolk filling.
Garnish.
Standard deviled egg protocol, except we're using exciting ingredients like corn and cumin.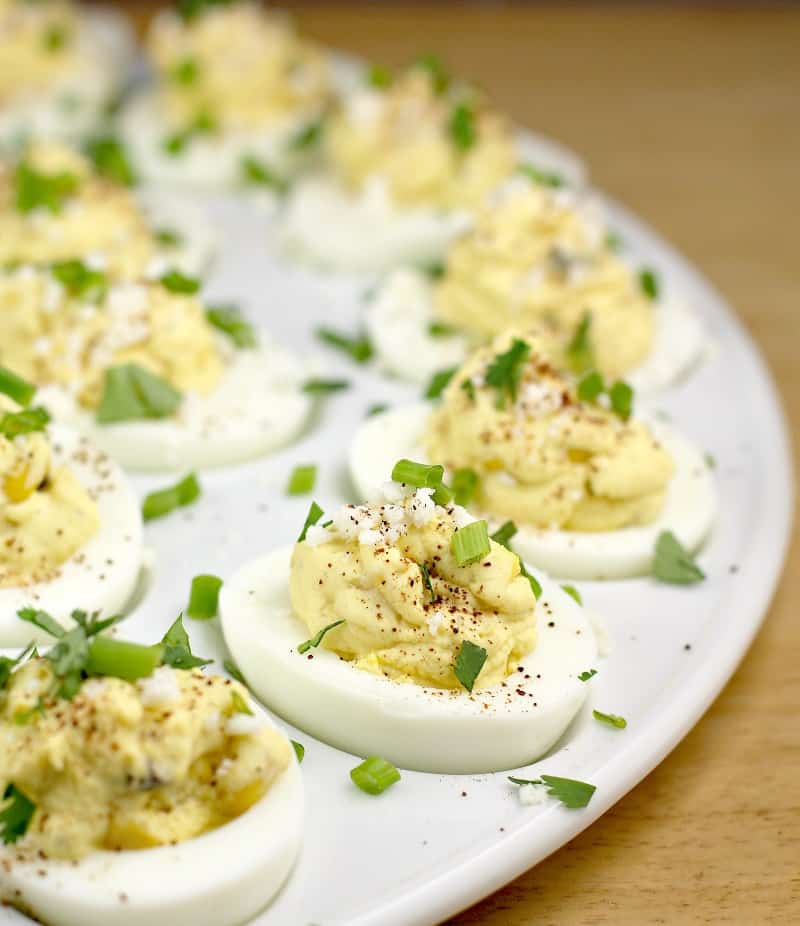 Tips for this Mexican street corn and egg recipe
Using a resealable bag to "pipe" the yolk filling into the egg whites is a tried and true method I always use for deviled eggs. What used to take a while to do with a fork (and I would make a mess), now just takes me a minute.
Fresh eggs are jerk eggs and you don't want to use them for deviled eggs. They are harder to get the shells off. So, I know it sounds weird but older eggs work better for deviled eggs.
The chives and cilantro are optional for this corn and egg recipe because when I did my marketing research, about 30% of my respondents (i.e. my daughter), preferred the Mexican street corn deviled eggs without the green. So, know who you are making these for, and garnish accordingly.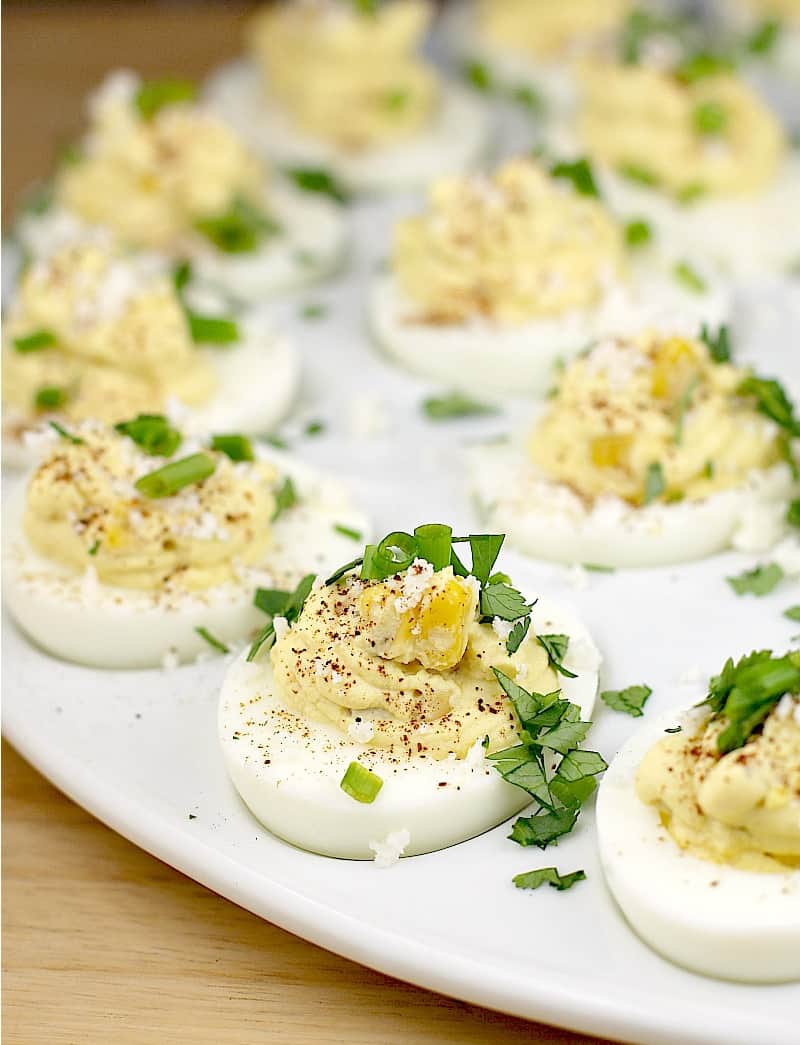 Frequently asked questions
Can these Mexican style deviled eggs be made in advance? Yes. They can be made a day in advance.
What can I substitute for the fire-roasted corn if I can't find it? I used canned fire-roasted corn as a time saver, to be honest. Fire-roasted canned corn is available in US groceries stores with the rest of the canned corn. But if not available, simply toss regular canned corn in a little olive oil, and roast under a hot broiler or saute in a pan on the stove-top until toasty. Always keep an eye on corn because it will scorch quickly from the starch, so stir often.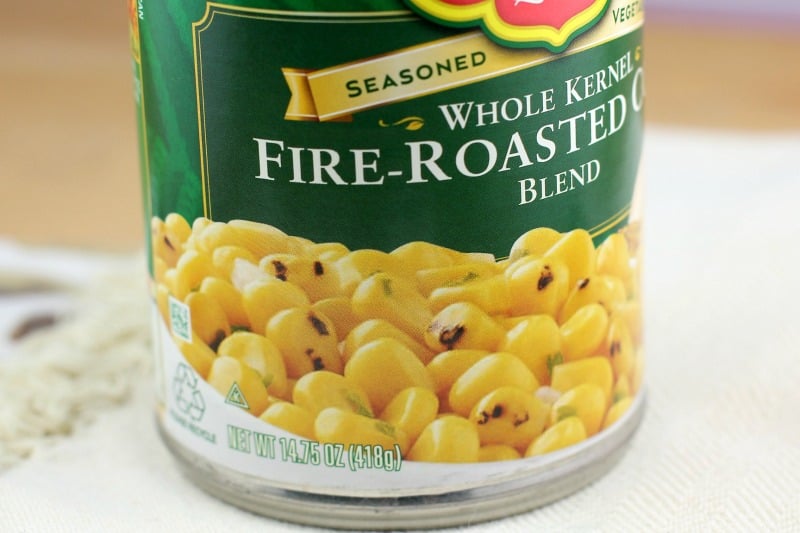 What if I don't like cilantro? Then leave it out! No biggie. Cilantro tastes like literally soap to a lot of people, so there's that. And others may just not like it. I love it, and I find more people like it than don't. What I don't recommend is substituting with parsley for these Mexican street corn eggs because of the delicate balance of flavors. If you want to omit the cilantro, just do that and don't try to replace it with something else.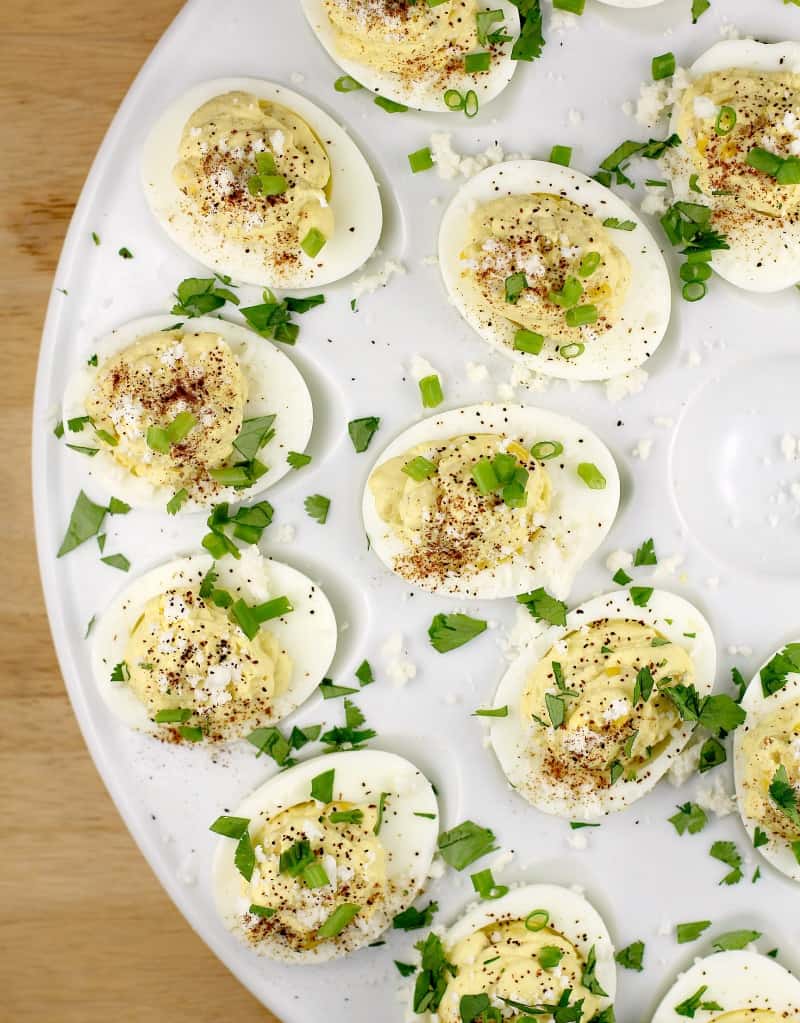 Here are more Mexican-inspired recipes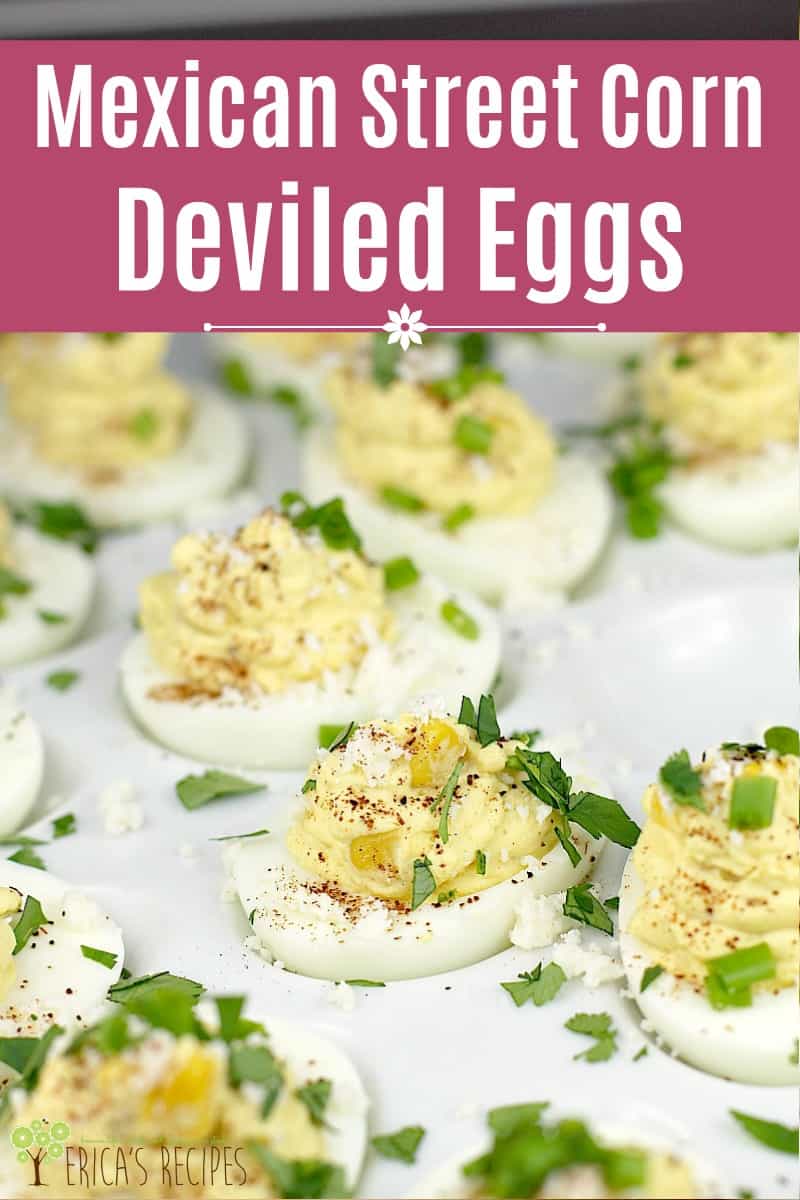 For a fun recipe to serve with these deviled eggs, check out my crispy Cheesy Fiesta Potatoes.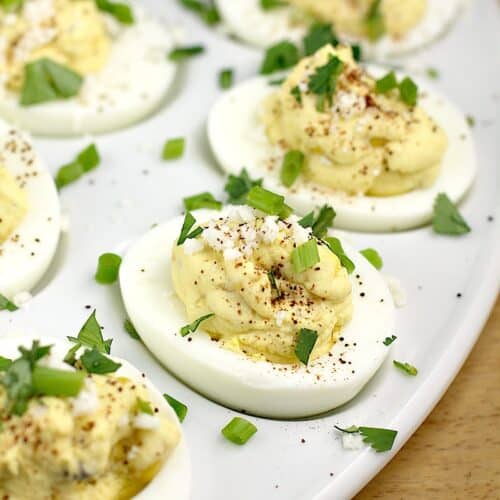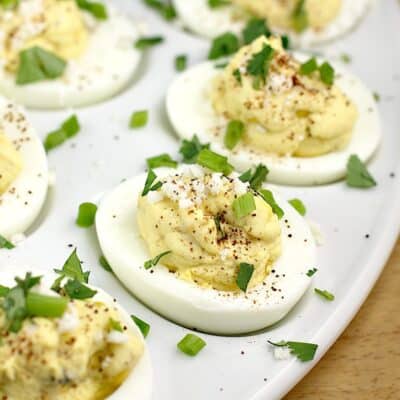 Mexican Street Corn Deviled Eggs
These deviled eggs with all the elements of Mexican street corn are easy, elegant, and delicious.
Ingredients
1

dozen hard-boiled eggs

cooled and peeled

3

Tbsp

mayonnaise

3

Tbsp

reduced fat sour cream

3

tsp

white vinegar

1

Tbsp

Dijon mustard

1

tsp

dried minced onion

¾

tsp

cumin

¼

tsp

garlic powder

small pinch kosher salt

2

dashes hot sauce optional

4

dashes Worcestershire sauce

¾

cup

fire-roasted corn from a can

drained (see Notes)

garnish: chili powder, crumbled queso fresco cheese, chopped chives (optional), chopped fresh cilantro (optional),
Instructions
Split the eggs and put the yolks in a mixing bowl.

Add the mayonnaise, sour cream, vinegar, Dijon, onion, cumin, garlic powder, salt, Worcestershire sauce, and hot sauce (hot sauce is optional).

Use a hand mixer to mix the ingredients until well-combined.

Use a spoon to stir in the corn. Transfer to a large resealable bag.

Snip a corner of the bag making a hole large enough for the corn to pass through. Pipe the egg filling into the egg whites.

Sprinkle chili powder over like you would with paprika on traditional deviled eggs.

Top deviled eggs with queso fresco cheese, chopped chives and cilantro (chives and cilantro are optional).
Notes
Look for fire-roasted corn in the section with the rest of the canned corn in US groceries stores. If not available, broil or saute regular canned corn until toasty. Allow to cool and proceed with the recipe.
Nutrition
Calorie count is purely an estimate calculated using an online application to serve as a guide and not to be taken as accurate nutritional information. Percent Daily Values are based on a 2,000 calorie diet.
Tried this recipe?
Leave a comment below and let me know!