Creamy Pesto Shrimp Pasta
Creamy pesto shrimp pasta is a beautifully flavorful dinner. Ready in 30 minutes, pesto pasta with shrimp and mushrooms is a perfect romantic dinner recipe.
Where are my romantics at? Because this one is for you. Pesto, succulent shrimp, juicy mushrooms, and tender fresh pasta. And all of it ready in 30 minutes.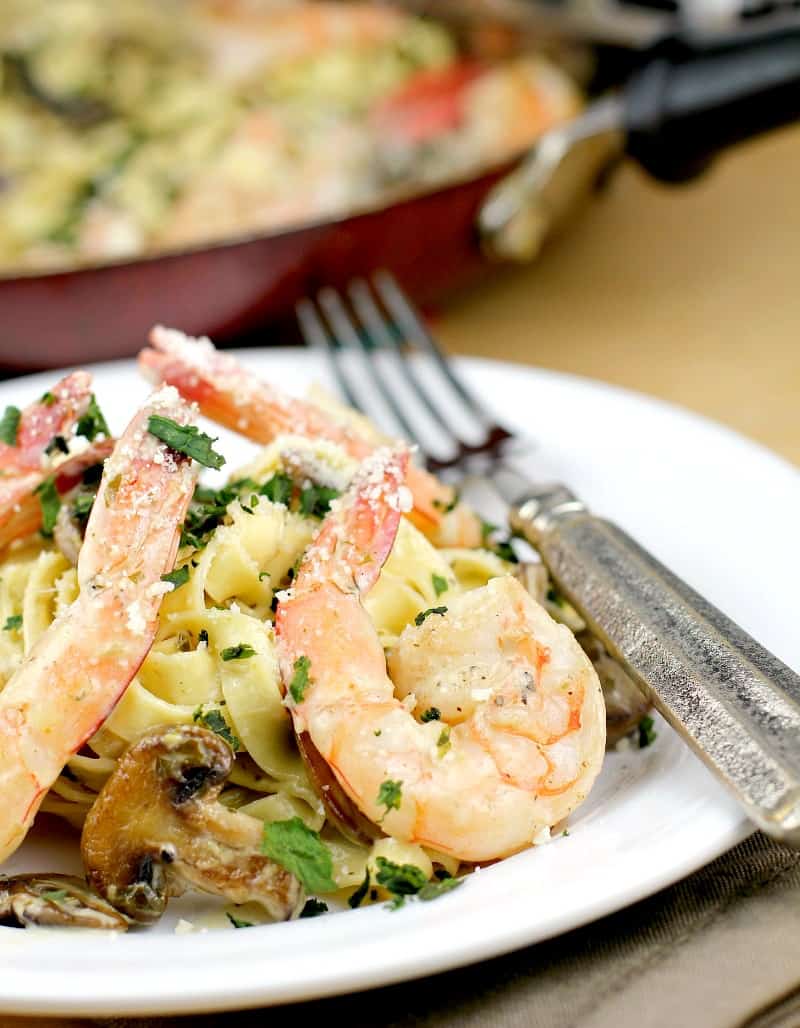 What is this creamy pesto pasta with shrimp recipe?
This recipe is a really easy, very elegant dinner. There aren't a lot of ingredients, and the ingredients are all easy to find, approachable, and they cook QUICKLY.
I went back and forth – is this a weeknight meal? Make-your-family-happy kind of recipe? … Or is it this … a super sexy romantic dinner recipe, made even more perfect because it is so stinking quick and easy to make. Yeahhh, that's it.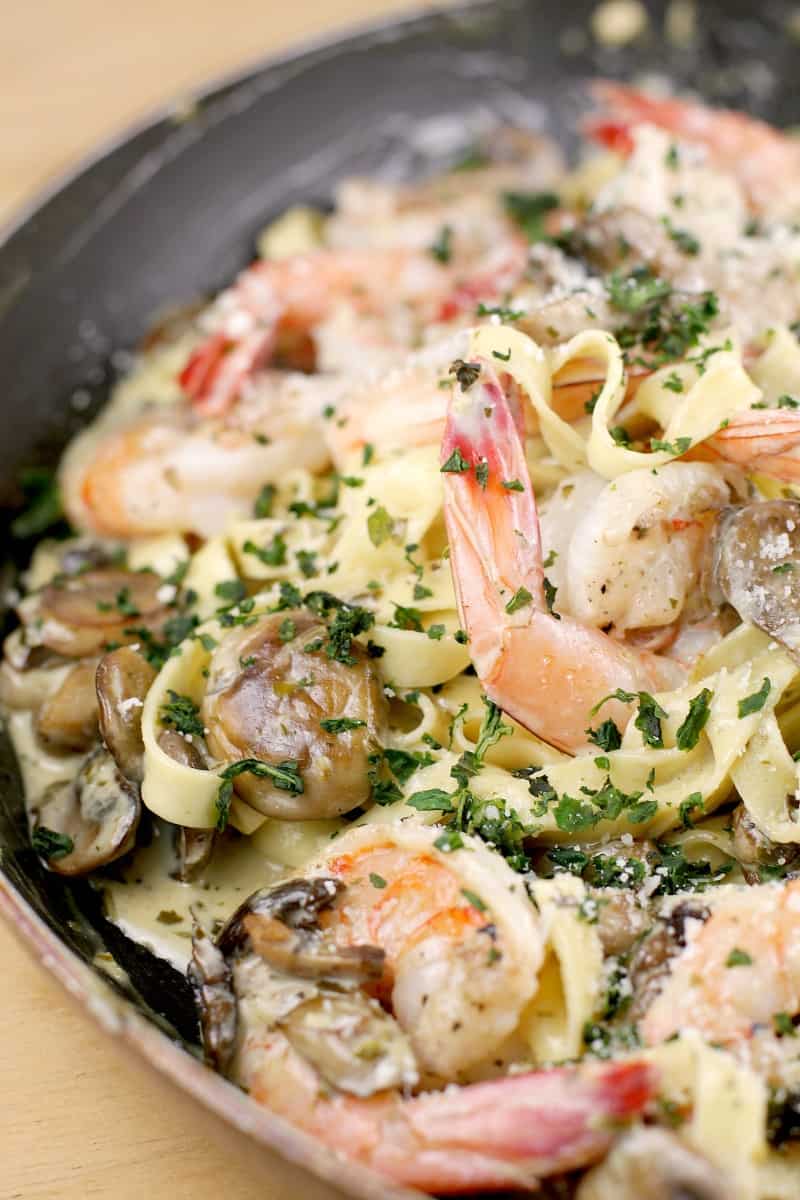 What are the ingredients for pesto shrimp pasta?
The ingredients for this creamy mushroom pasta with shrimp are thusly:
Extra virgin olive oil. This is for browning the mushrooms and for coating the shrimp, which are cooked separately at first.
Mushrooms. Because beautifully browned mushrooms are amazing and if you've never made them you should.
Shrimp. Get wild-caught shrimp if possible rather than farm-raised. They taste better.
White wine. Because why use lemon when we can use wine! (totally kidding, lemon has its place too. I just like wine in this one).
Cream. Just because yummm.
Pesto. Fresh or store-bought, pesto brings flavor with garlic and basil to our sauce. No chopping garlic needed!
Parmesan cheese. Not a lot, just a little to thicken the sauce and make everything perfect.
Fresh pasta. Such as linguine or fettuccine, find it refrigerated usually near the dairy section.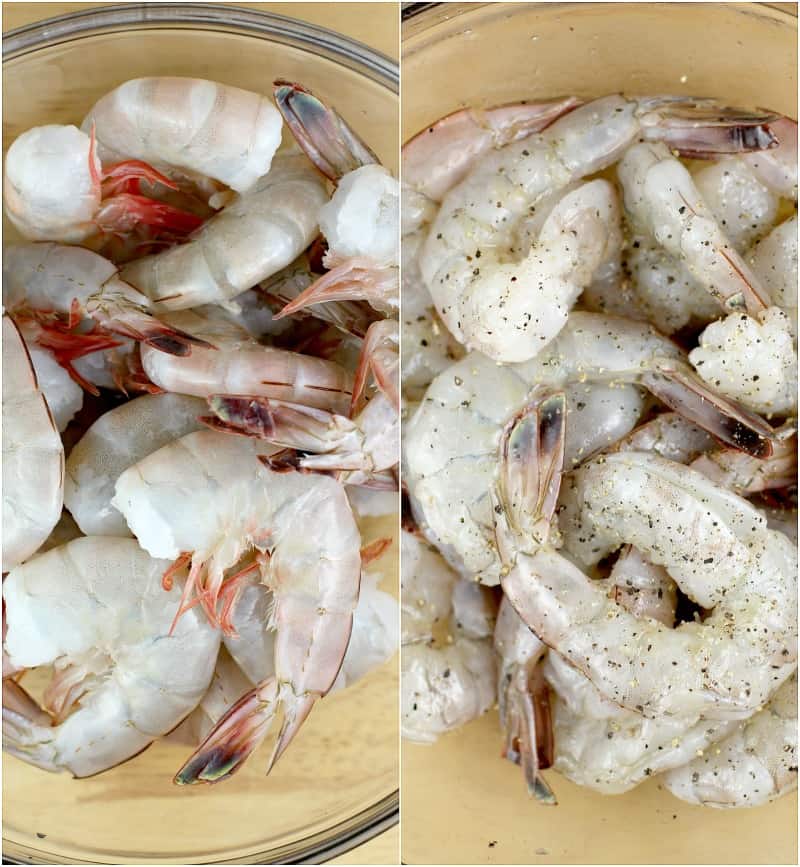 Large shrimp are a bit of a splurge, but actually not compared to other seafood. We're not cooking lobster here.
And fresh pasta is special too, rather than from a box. Both touches for our pesto shrimp pasta, and both are totally available at grocery stores in the US, make a meal special.
Like you are adding love and making what can very easily be a romantic dinner recipe. Because it's seafood and fresh pasta. But yet your wallet still likes you too.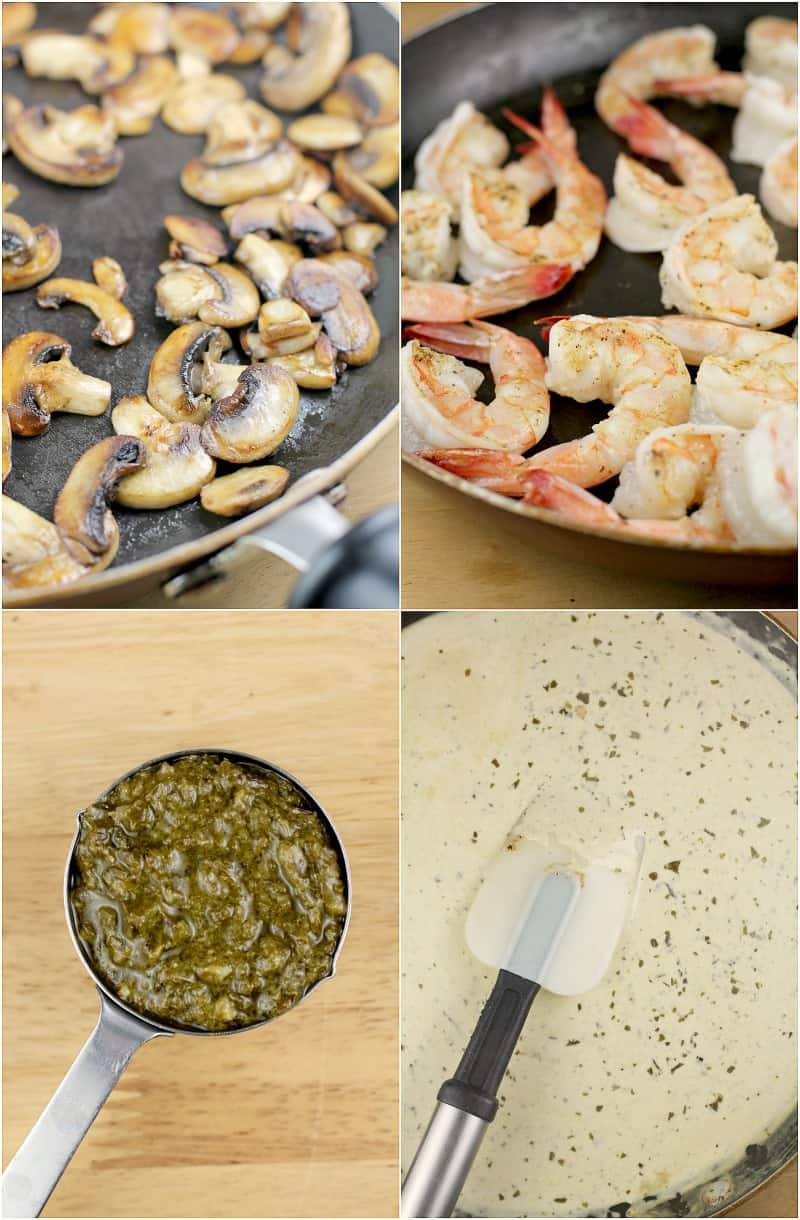 How to make this easy pasta recipe?
Brown mushrooms. Directions are below, but for more details I have a whole post on browning mushrooms.
Saute shrimp. Shrimp cook QUICKLY. And it is better to under cook just a bit rather than over cook, because they will keep cooking from carryover heat and also once added to the sauce.
Make the sauce. We deglaze the same pan used for the mushrooms and shrimp with wine, reduce, then add cream, pesto, and cheese. Super easy.
Add the cooked pasta. Fresh pasta cooks in a faction of the time than boxed.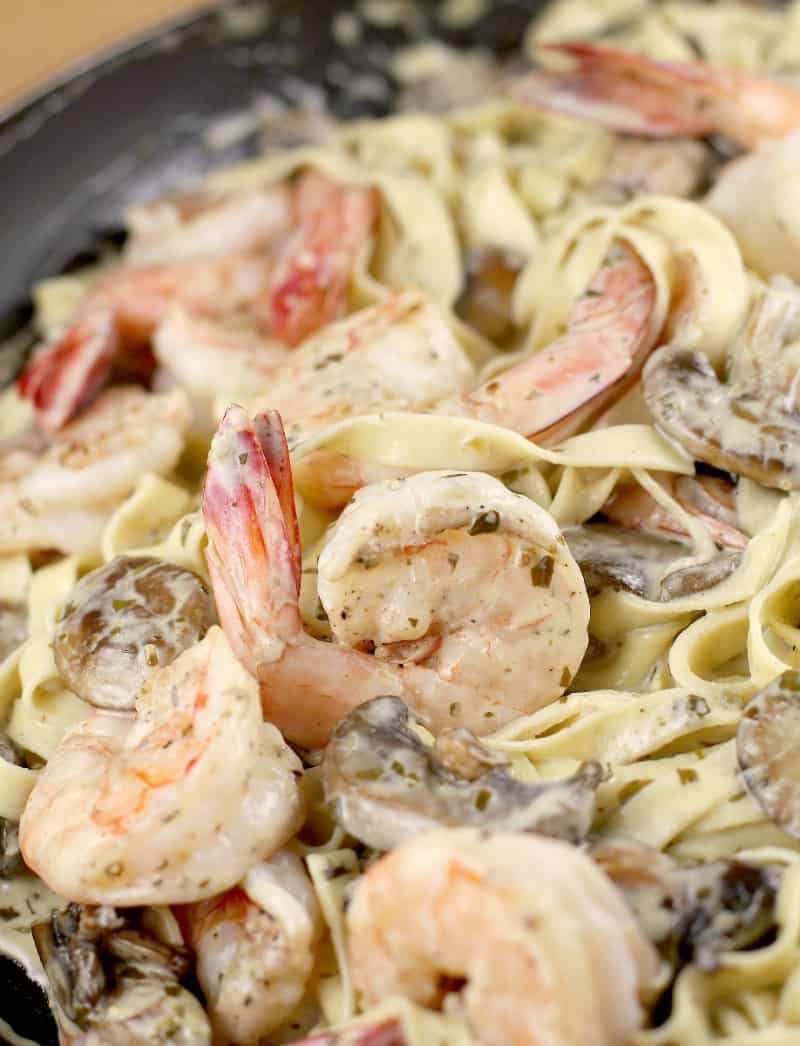 Can this shrimp recipe be made in advance?
Ehhh, not really. And I doubt it would freeze well either. The thing about making sauces with cream is that the oil tends to separate out if it cools and then reheats. So, make it to eat when you want. And don't freeze.
That said, I actually love recipes like this reheated the next day. Yes, the oil from the cream separates out a bit, but I don't care. At least I'm not eating salad for lunch (kidding/not kidding).
So, for the main event, cook this recipe fresh, but definitely don't throw out those leftovers.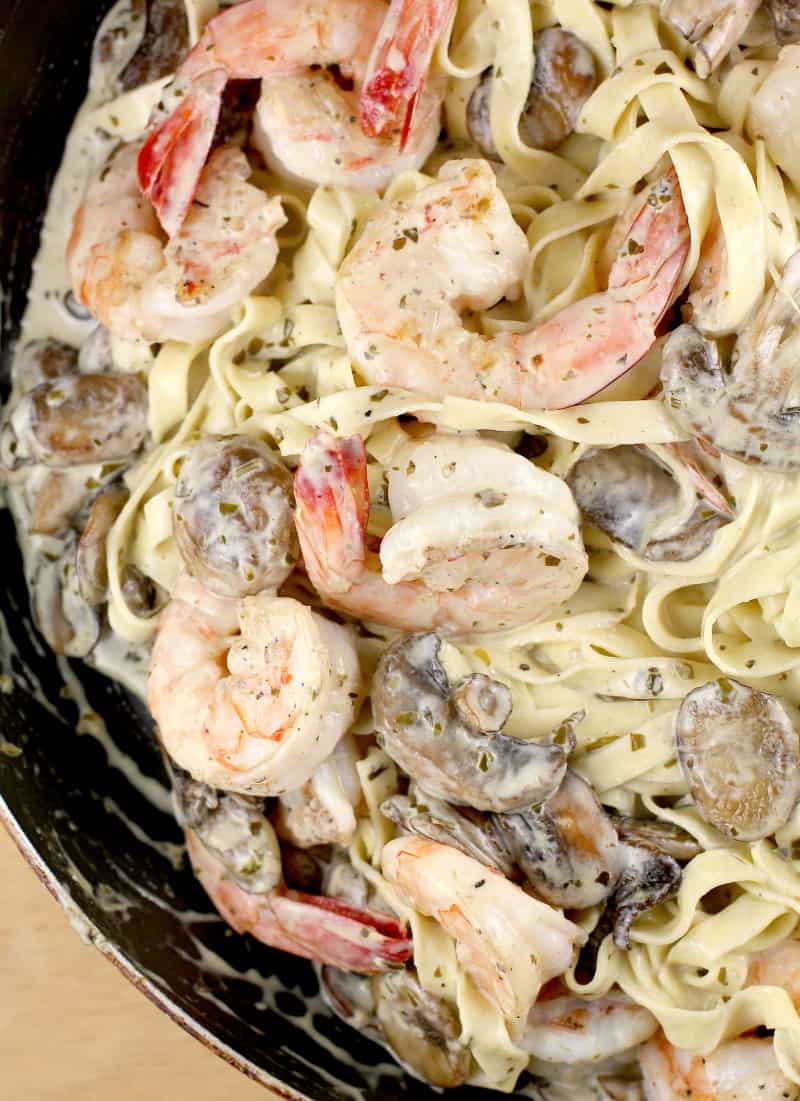 Can this creamy pesto pasta recipe be made vegetarian?
Yes. Just omit the shrimp, and double the mushrooms. Add all 3 tablespoons to saute the mushrooms too since there will be more. Simple creamy mushroom pasta is sooo good too.
What is the best way to serve pesto shrimp pasta?
You can serve this piled on plates, but I do prefer to make it a little perdy.
Take a plate, and using thongs or a fork and large spoon, and get it up and spin onto the plate to make a little twist to the pile.
Then take shrimp and place around the pile, tails up.
THEN, finish with a sprinkle of fresh basil and grated parmesan and you have just made yourself a beautifully plated presentation.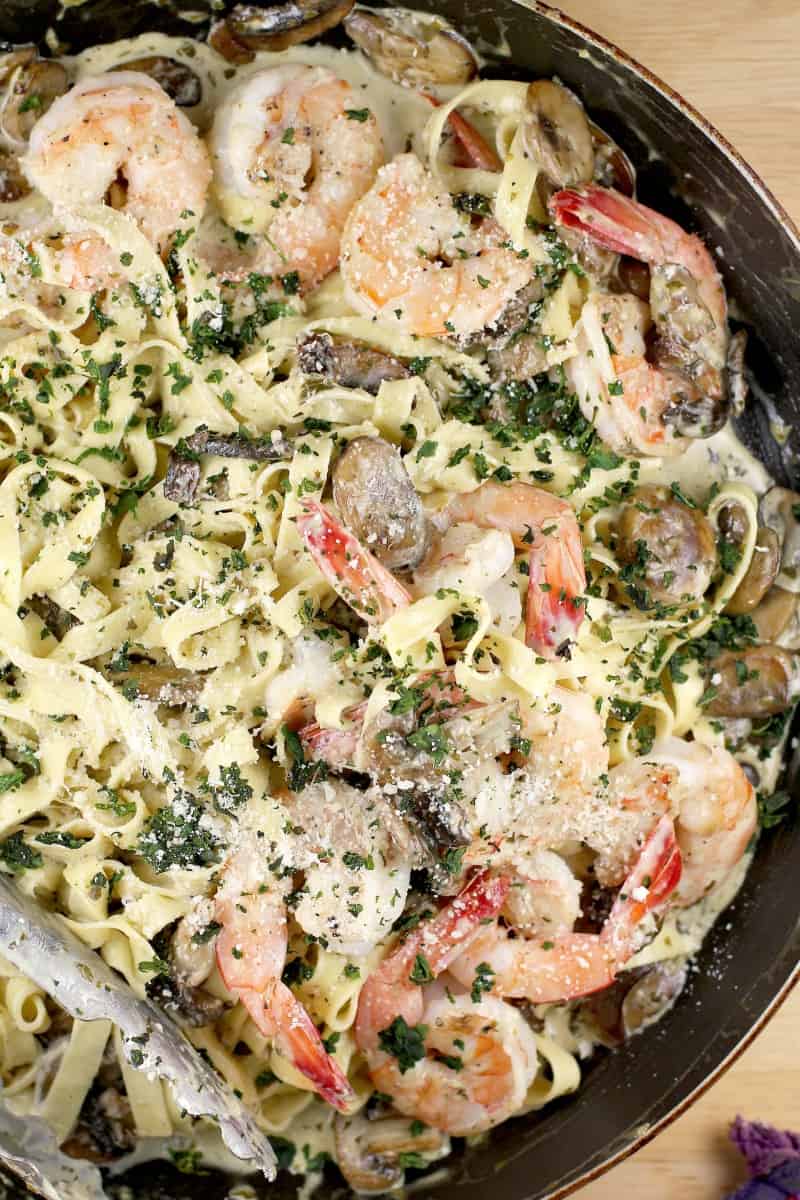 For more romantic dinner recipes, check these out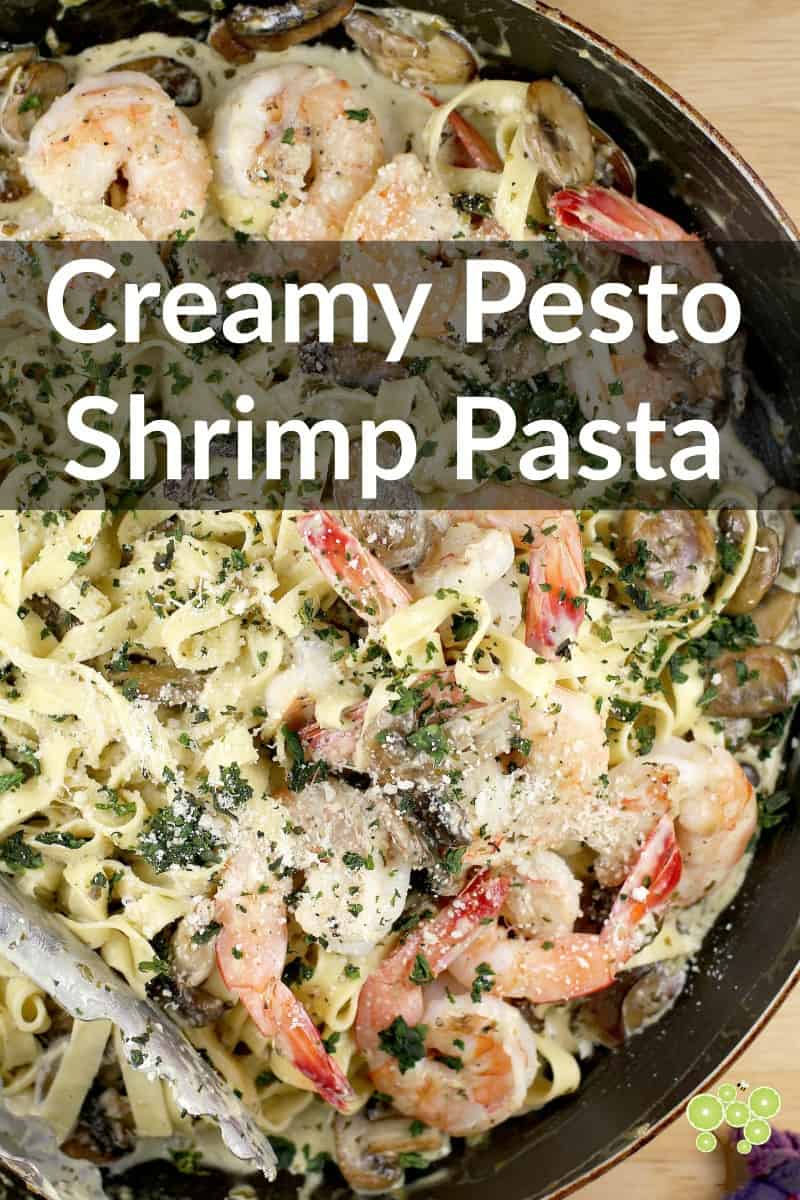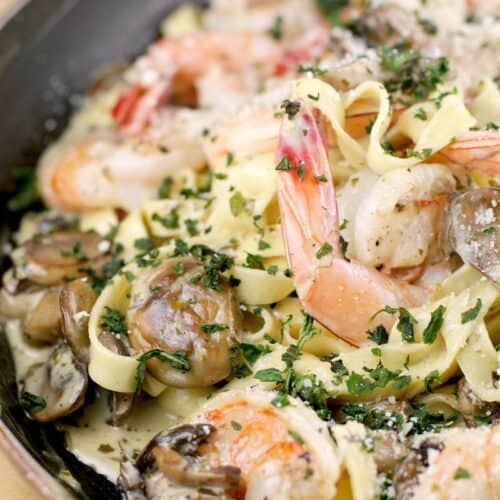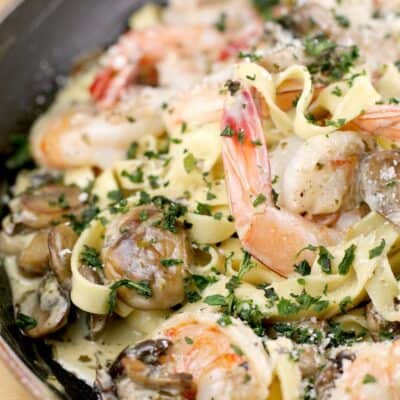 Creamy Pesto Shrimp Pasta
Creamy pesto pasta with shrimp and mushrooms is a beautifully flavorful dinner. Perfect romantic dinner recipe and ready in 30 minutes.
Ingredients
3

Tbsp

extra virgin olive oil

divided

8

oz

sliced white button mushrooms

1

lb

large shrimp

peeled and deveined (see Notes)

½

cup

dry white wine

1

cup

heavy cream

2

Tbsp

freshly grated parmesan cheese

¼

cup

prepared basil pesto

1

9 oz

package fresh pasta such as linguine or fettuccine

garnish: fresh chopped basil and parmesan cheese
Instructions
For the Mushrooms
Heat 2 tablespoons olive oil in a large nonstick skillet over high heat.

Once hot, add the mushrooms, toss in the oil, and saute tossing occasionally, until mushrooms are nicely browned.

Transfer browned mushrooms to a plate and set aside.

Keep the skillet off the heat to cool a bit while you prepare the shrimp.
For the Shrimp
Toss the prepared (peeled and deveined) shrimp in a couple pinches salt and pepper and the remaining 1 tablespoon olive oil.

Add the shrimp to the skillet used for the mushrooms. Cook over medium-high heat, turning the shrimp once, until shrimp are opaque and just barely cooked through.

Transfer the shrimp to the plate with the mushrooms and set aside.
For the Pesto Sauce
Put the same skillet used above over high heat.

Deglaze the pan by adding the wine and simmer until the wine is reduced by half.

Reduce heat to medium and add the cream. Simmer gently, stirring regularly, until slightly thickened.

Turn off the heat and add the cheese and pesto. Taste for seasoning, and add salt to your taste (at least 1/2 tsp because this will season the pasta once added). Sauce will continue to thicken a bit more.
For the Pasta
Cook the pasta according to package directions. Drain and add the pasta to the sauce along with the shrimp and mushrooms and toss well.

Garnish with basil and more parmesan and serve.
Notes
I prefer to leave the little tails on the shrimp to keep them pretty. My husband prefers them off so make eating them easier.
Nutrition
Calorie count is purely an estimate calculated using an online application to serve as a guide and not to be taken as accurate nutritional information. Percent Daily Values are based on a 2,000 calorie diet.
Tried this recipe?
Leave a comment below and let me know!