Smoked Meatballs Marinara
Smoked Meatballs Marinara is The Deal! This is a freaking crazy tasty recipe where meatballs are smoked then added to smoked marinara sauce for the BEST Italian meatballs of your life. Make them Big Green Egg meatballs or in your electric smoker. This recipe will blow you away, it is so good.
In the spirit of my cult classic favorite Smoked Over the Top Chili, I now give you OTT meatballs and smoked marinara sauce. [applause] So grab some garlic bread, a glass of red, and settle in, because smoked meatballs is our new favorite.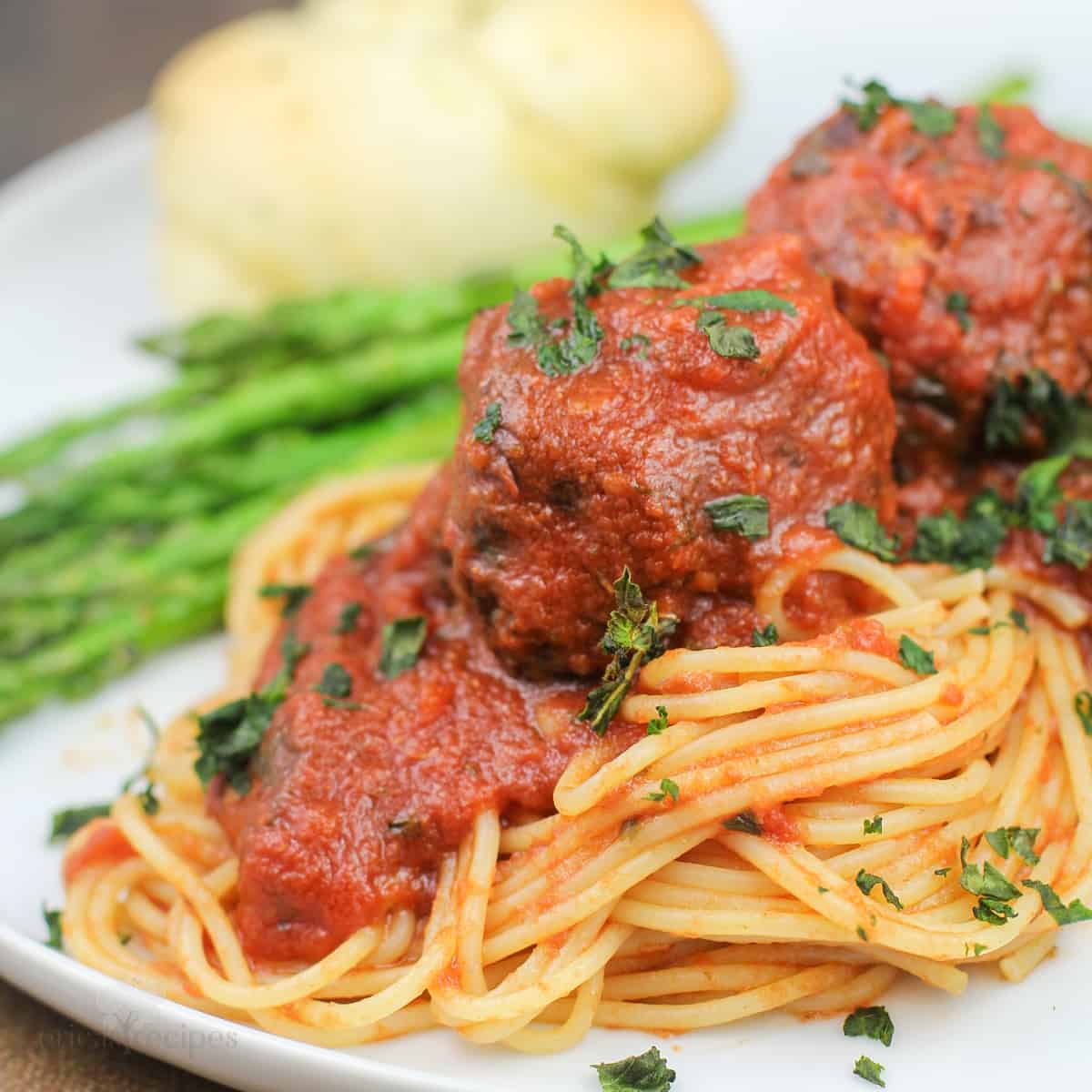 Why you will love this recipe
These smoked meatballs and smoky marinara flavors are ridiculously good, and it's so easy to make it happen. I made this recipe for our Easter dinner, it was not stressful in the slightest, and we spent the meal raving about what we had created.
These are savory tender pork meatballs smoked then simmered in my homemade marinara sauce made smoky too. Meatballs marinara with a touch of hickory smoke flavor!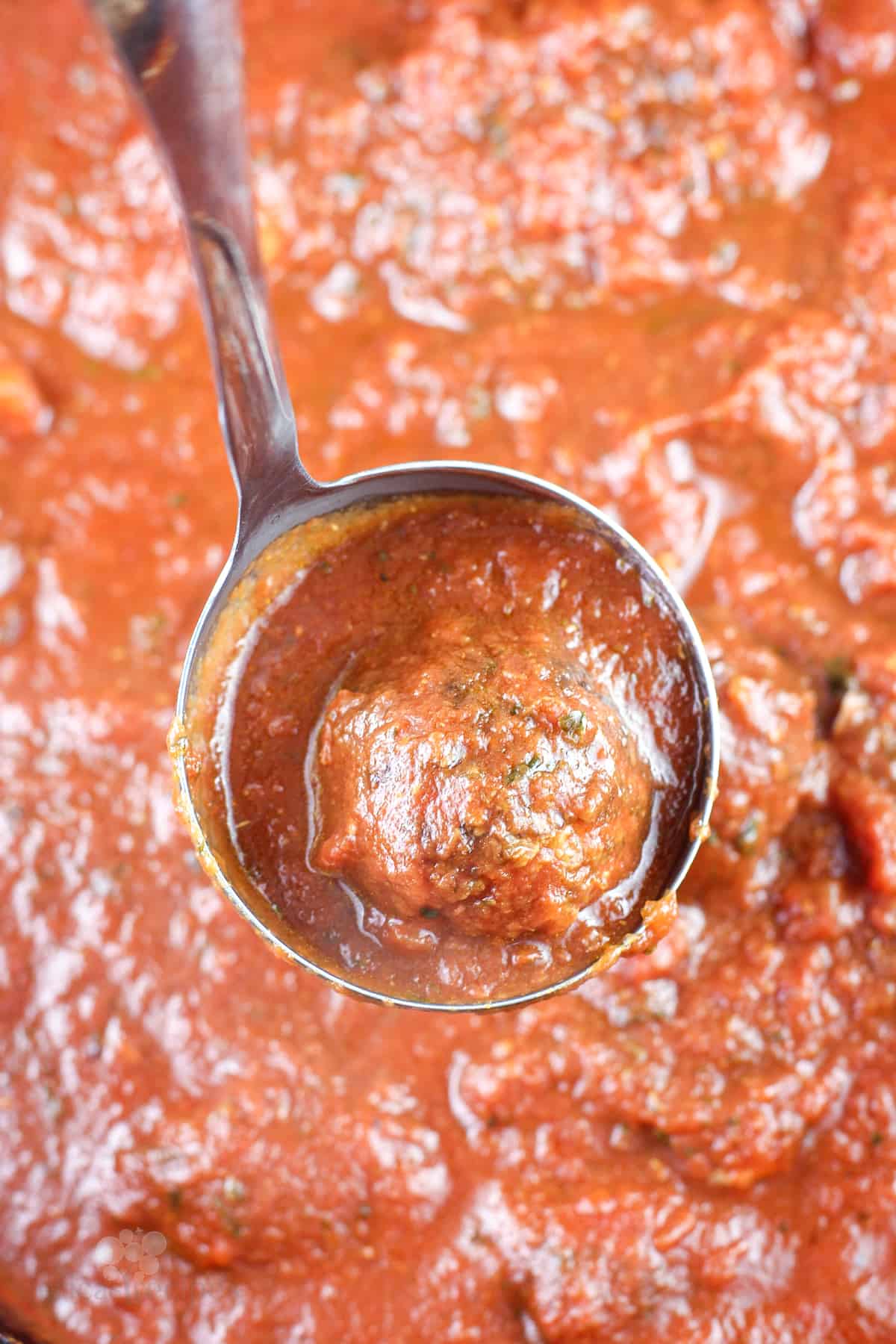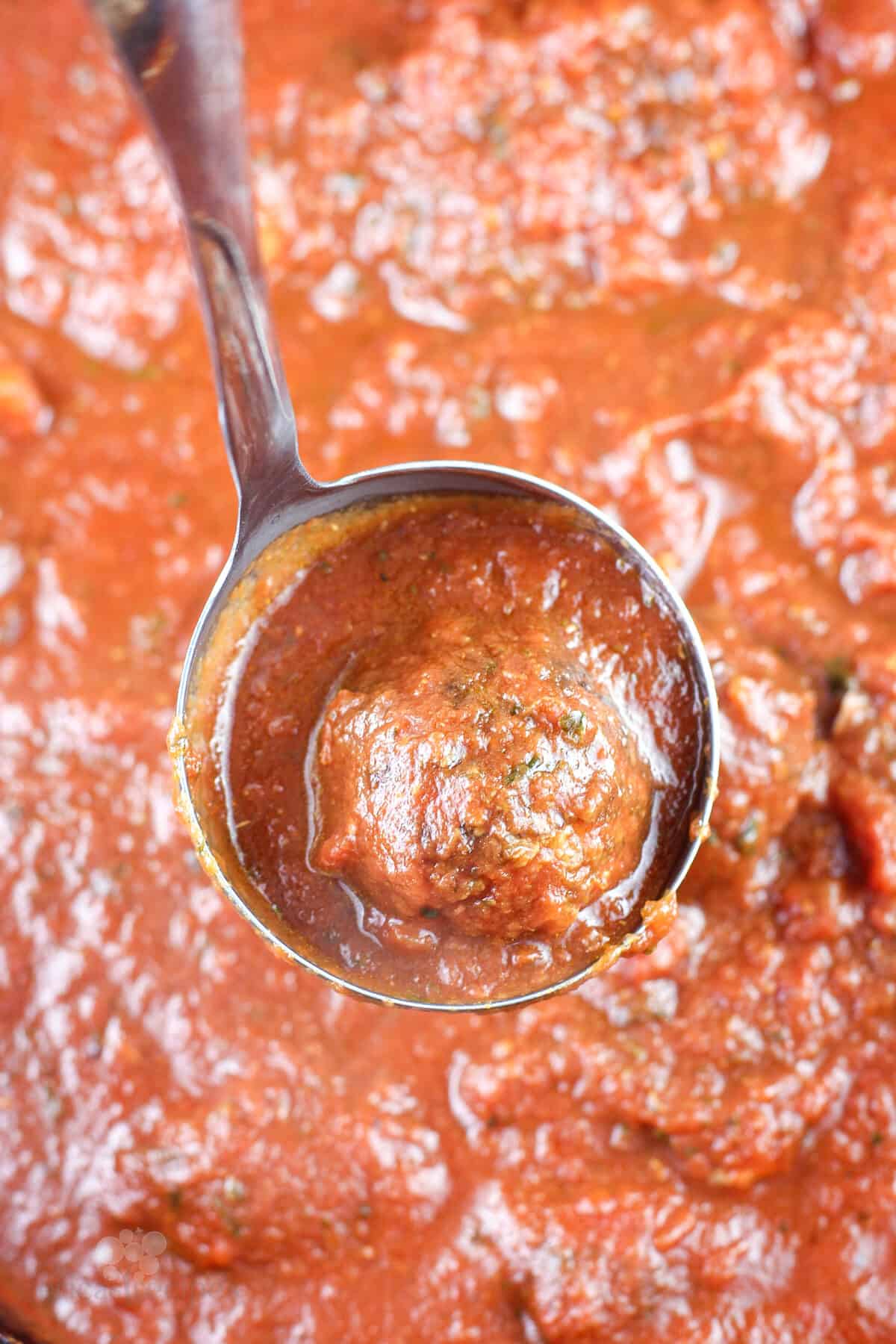 About the ingredients
Nothing special or spectacular about the ingredients. They are all approachable and super easy to acquire.
Ground pork.
Grated parmesan cheese. Use real, fresh Parmigiano-Reggiano from the dairy section and not the stuff in the shaker.
Panko breadcrumbs. Find these in the baking aisle with the other breadcrumbs. Be sure to use plain and not seasoned.
A couple large eggs.
Seasonings: kosher salt, pepper, and Italian seasoning. Be sure especially to use kosher salt in making both the meatballs and the marinara sauce.
A batch of my Homemade Marinara recipe.
My marinara sauce also uses olive oil, garlic, red wine, crushed tomatoes, diced tomatoes, fresh basil and oregano, salt, and a teensy bit of sugar.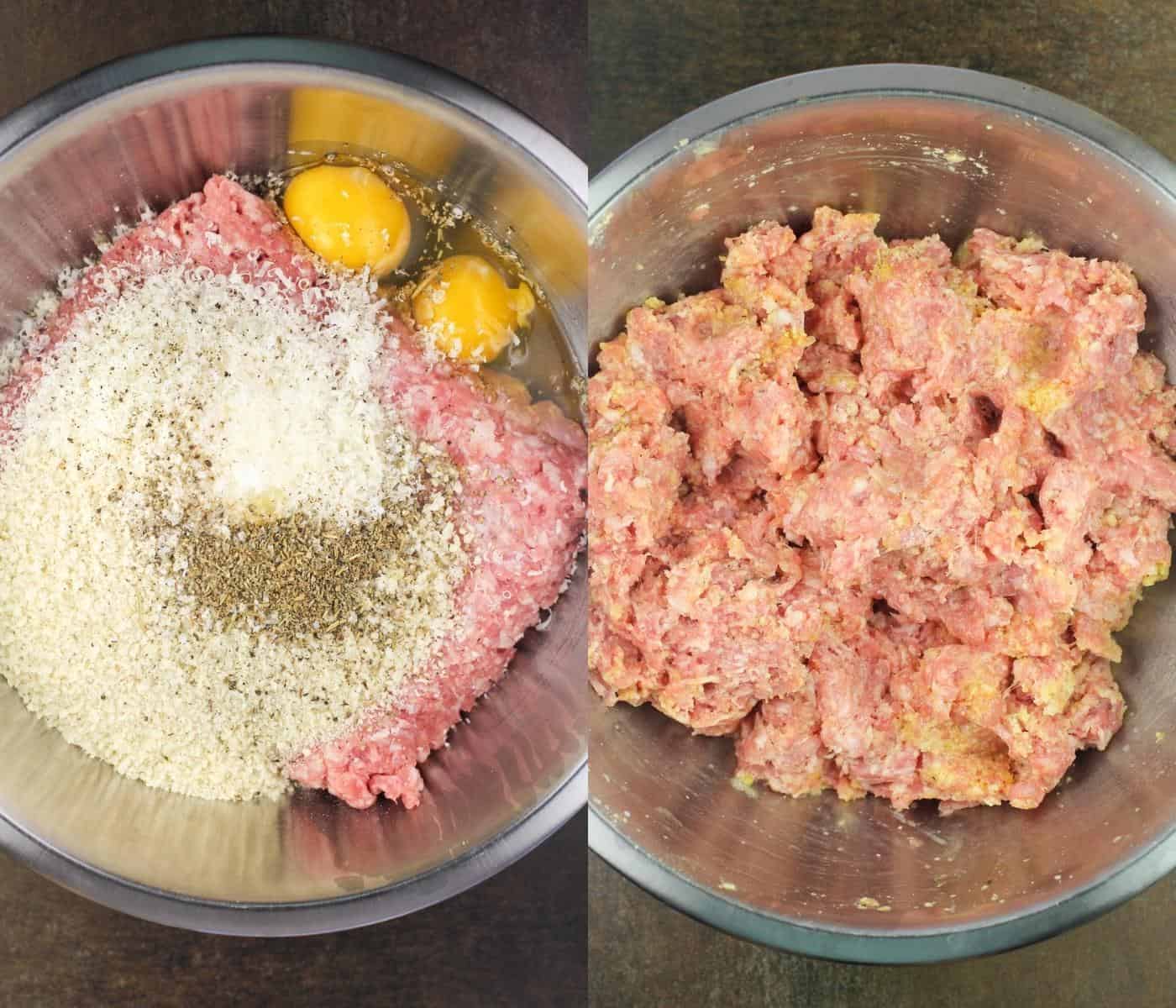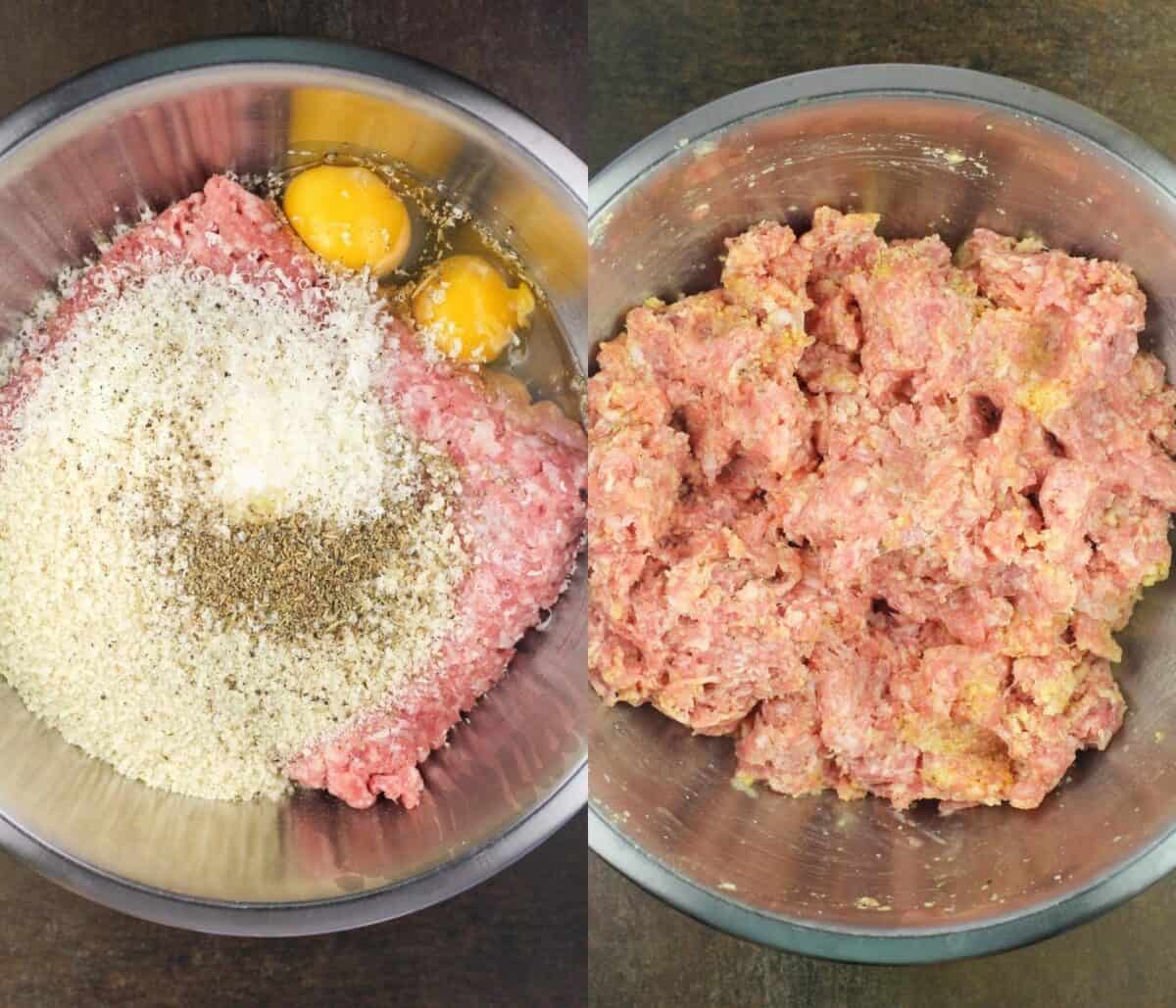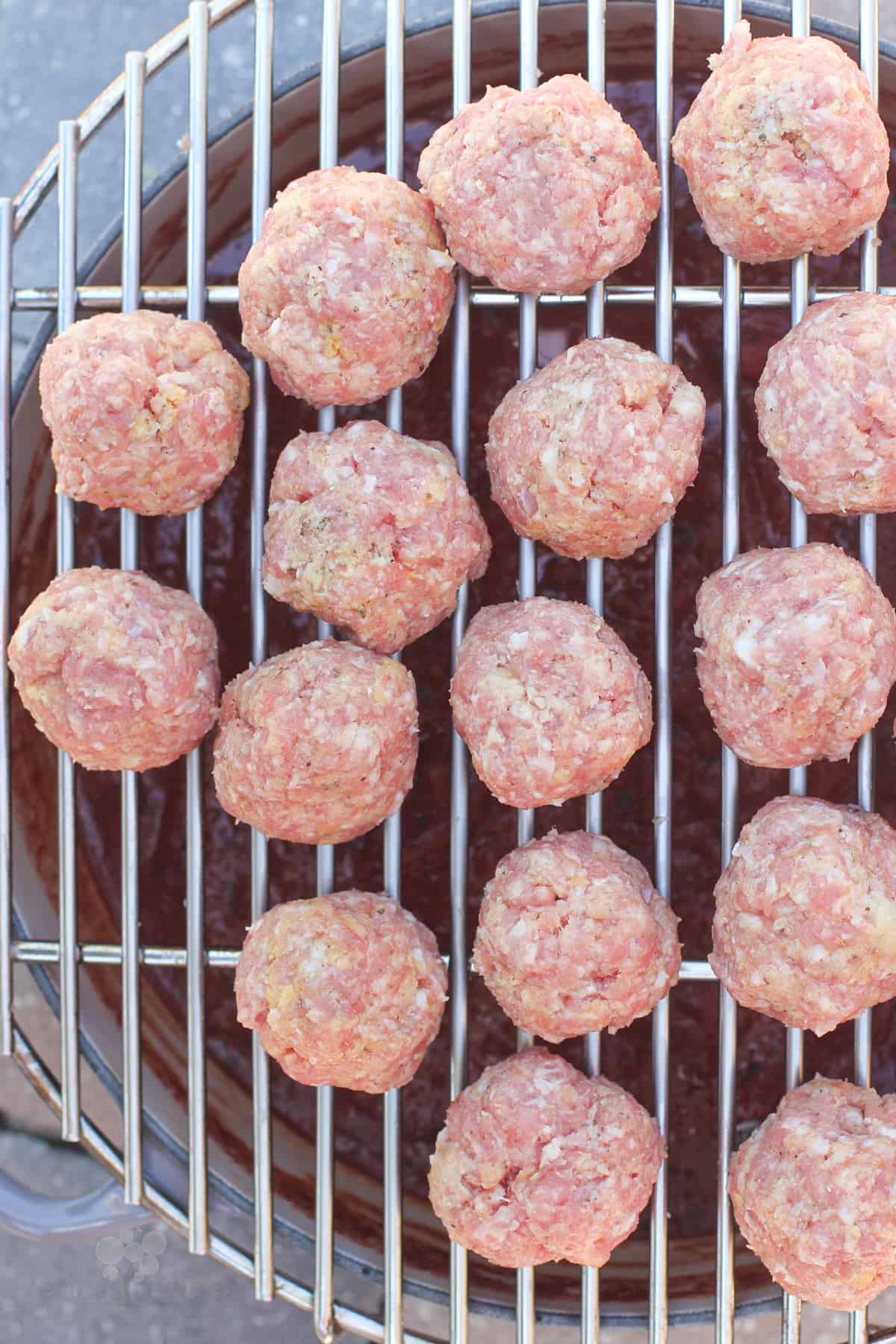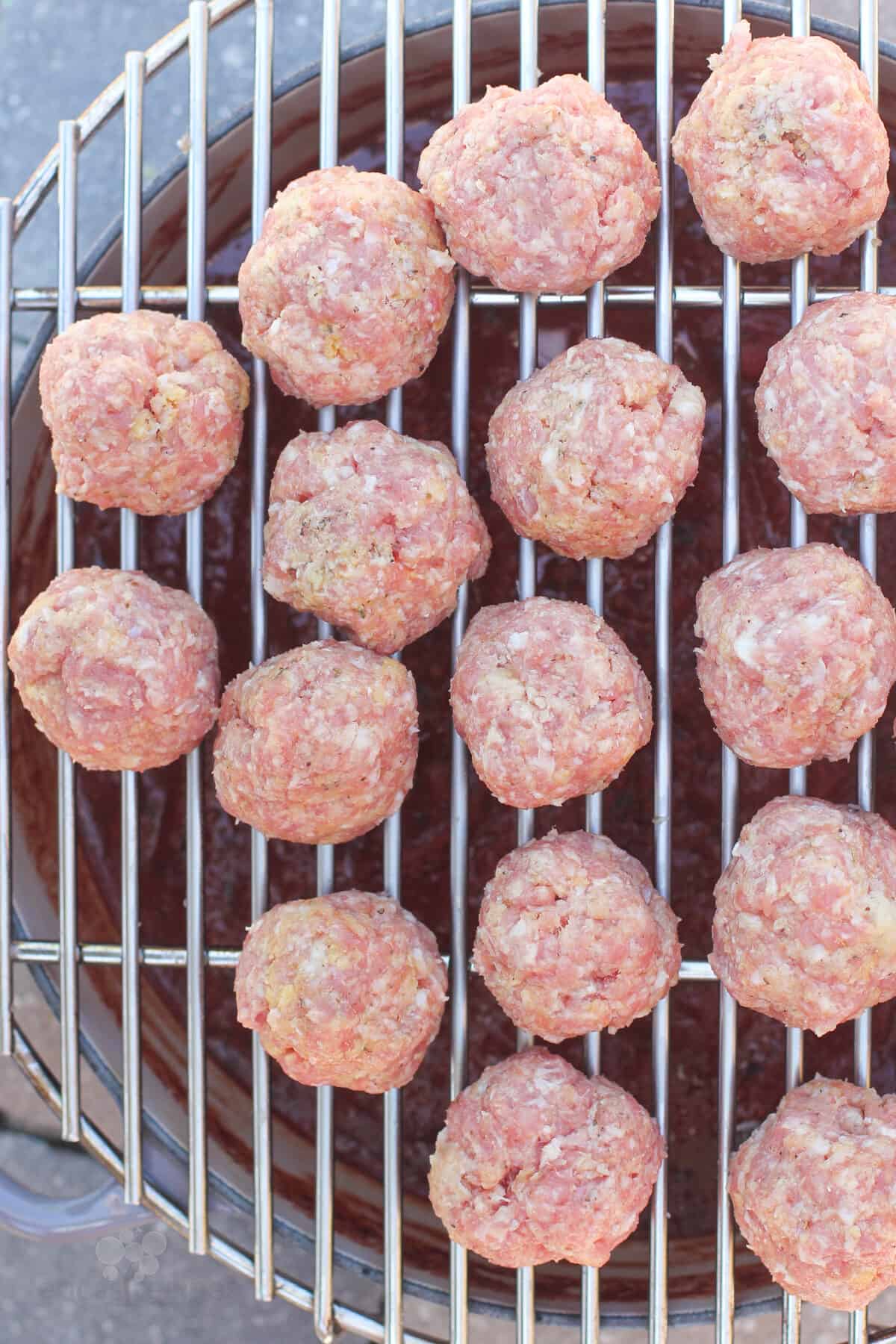 How to make Smoked Meatballs Marinara
You can see my directions for sauce in my marinara recipe, but for this recipe we are only just putting the sauce together. So, follow steps 1-4 of that recipe only (i.e. everything before simmering).
Once our marinara is ready to go, we make the meatballs by mixing those ingredients together with our hands and forming ~2-inch balls. Get the Big Green Egg or electric smoker ready to go at 250°F and it's go time.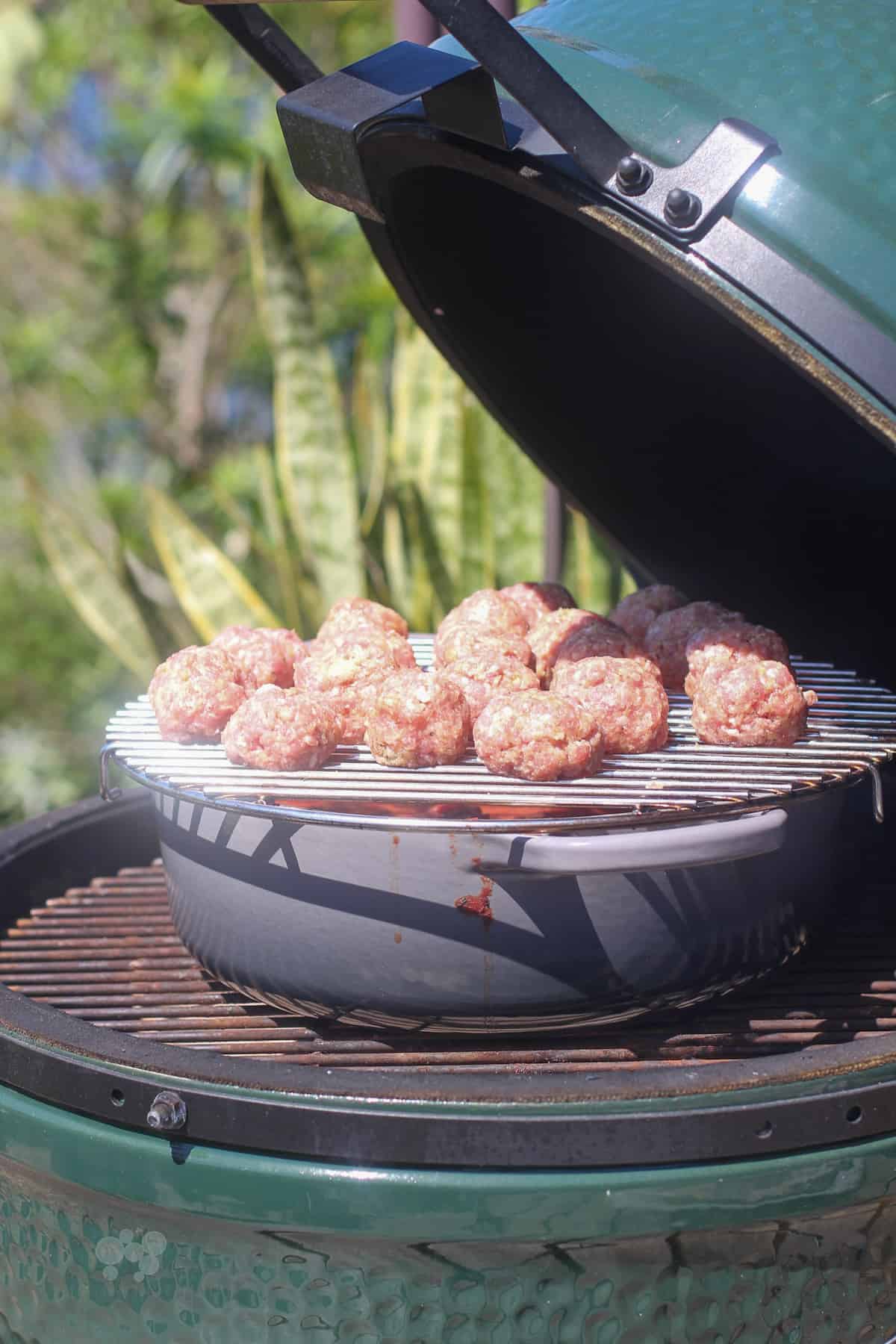 We place the meatballs on a grill grate that fits over the pot that the marinara is in. I use a 6.75 qt enameled Dutch oven and find that works best. The acidity of the tomatoes in the marinara will react with cast iron, so if using a cast iron Dutch oven, ensure it is well-seasoned.
Then the magic happens! We smoke for a bit to cook the meatballs and impart that flavor, then put the meatballs into the sauce for it all to simmer a bit and become amazing. During this time the marinara also thickens a bit to perfection. Whip up some spaghetti or serve your smoky meatballs in a sub roll.
How long should you smoke meatballs
You want to smoke the meatballs until they reach an internal temperature of 145°F-150°F. A little under is better than overdone since they will still simmer and finish cooking in the marinara sauce. This should happen in 30-40 minutes. An instant-read thermometer is really helpful to quickly check temperature.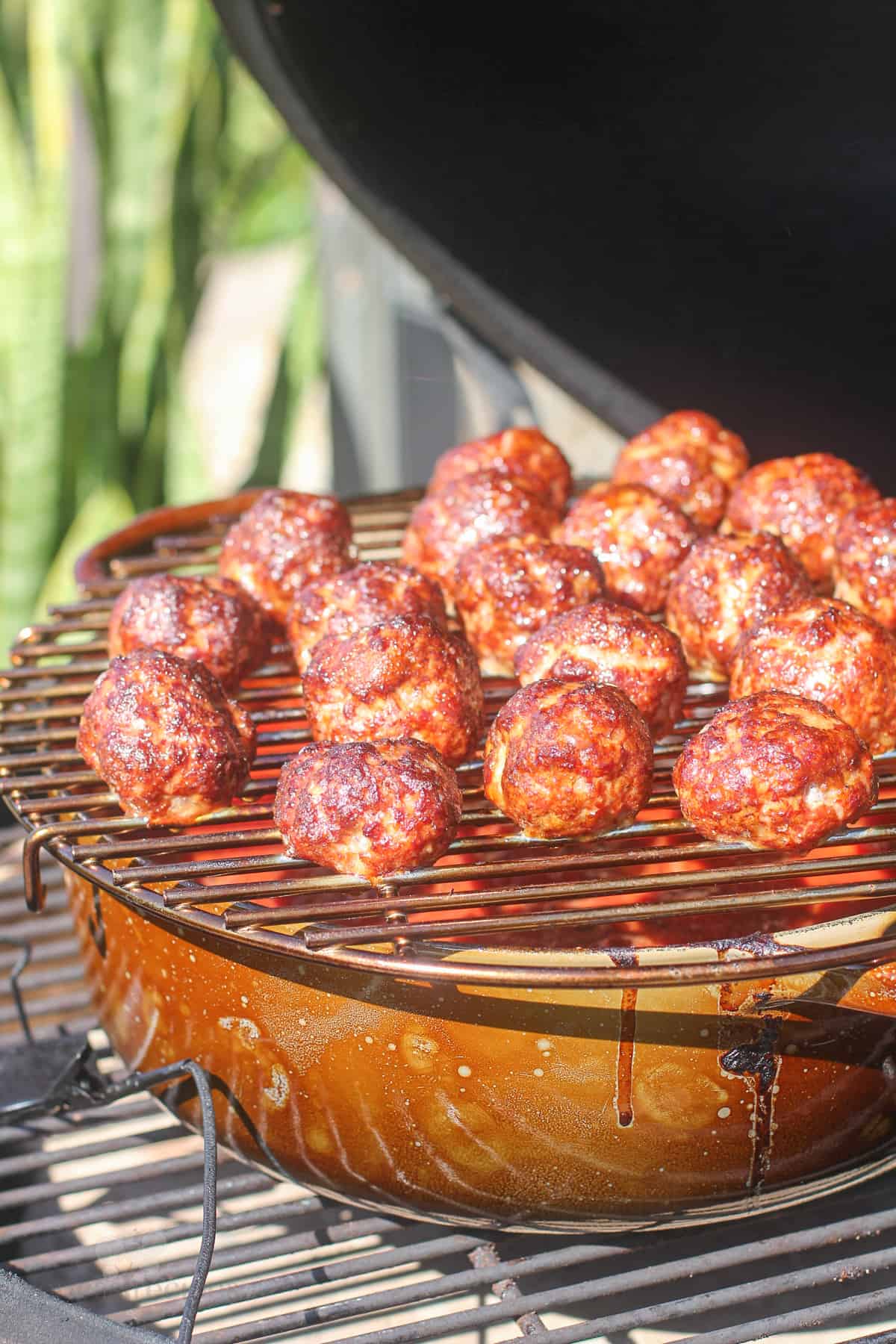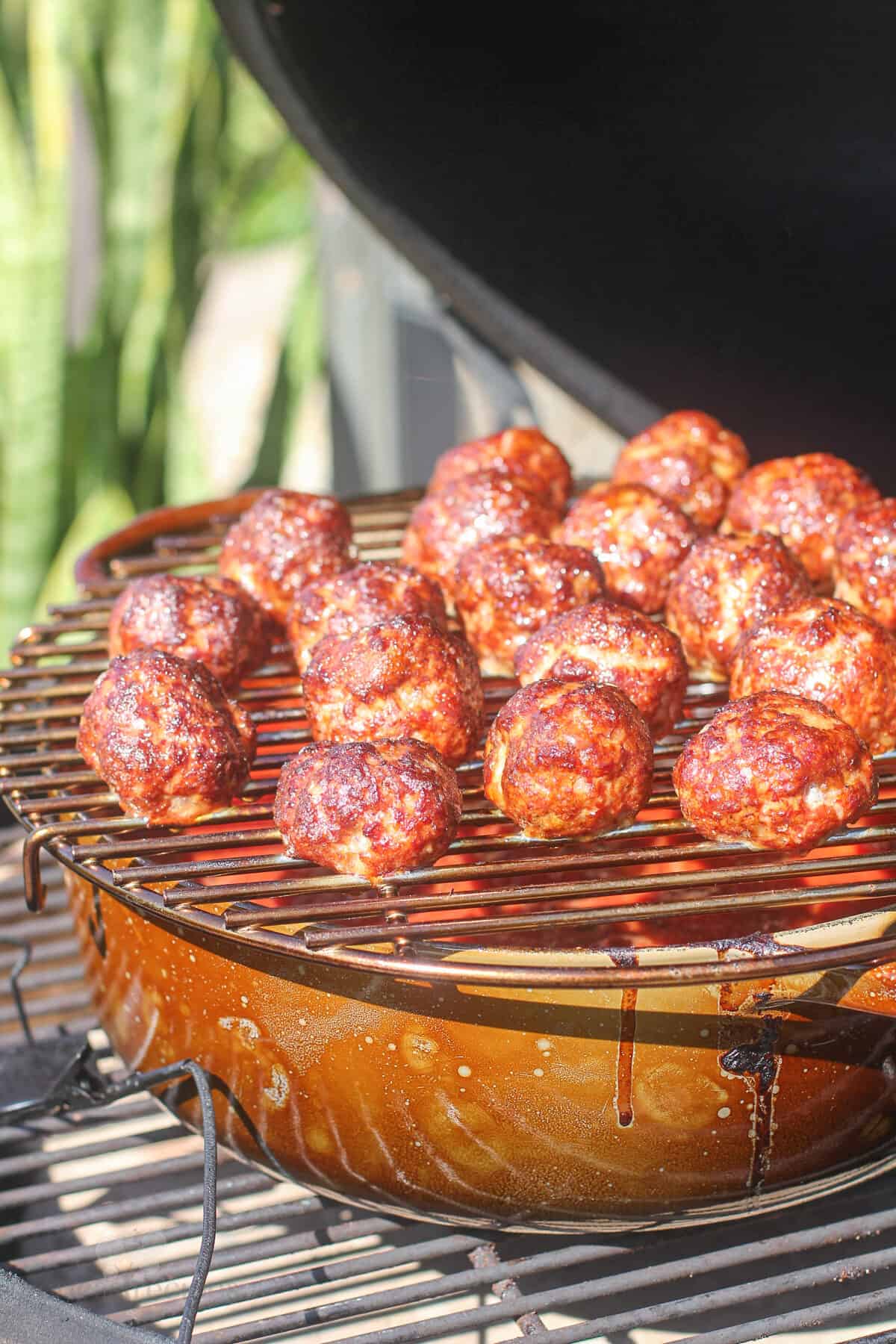 What temperature is best for smoking Italian meatballs
The key is that meatballs will cook quickly, so we want to keep the temperature low enough to have the time necessary to impart the desired smoky flavor before they fully cook and get tough. Keeping the Big Green Egg or smoker in the range of 250°F-275°F works best.
How to serve these smoked meatballs
These Italian smoked meatballs are delicious over spaghetti or in a sub roll hoagie-style. Top with chopped fresh herbs and a sprinkling of freshly grated parmesan cheese for nice finishing touches.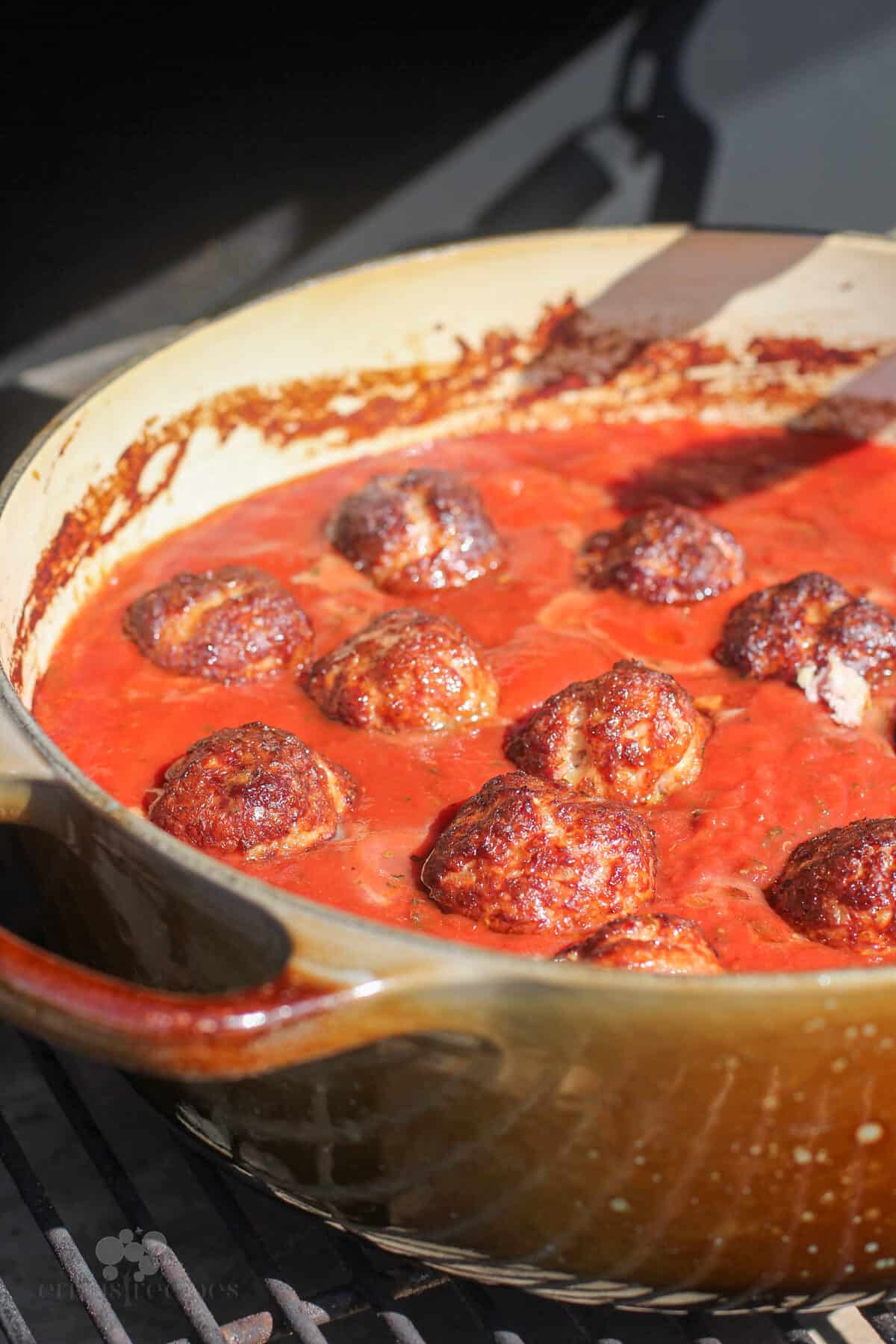 What to serve with smoked marinara sauce
With the deep rich smoky flavor in this marinara sauce, the dish is best with lighter sides such as roasted veggies or a salad. Also garlic bread or garlic knots. Here are sides that really complement this smoky sauce:
What is the best way to store leftovers
Store leftover sauce and meatballs in the refrigerator for up to 3-4 days in a nonreactive container. Glass is best, but plastic will work too. Just know that the sauce can leave a plastic container stained.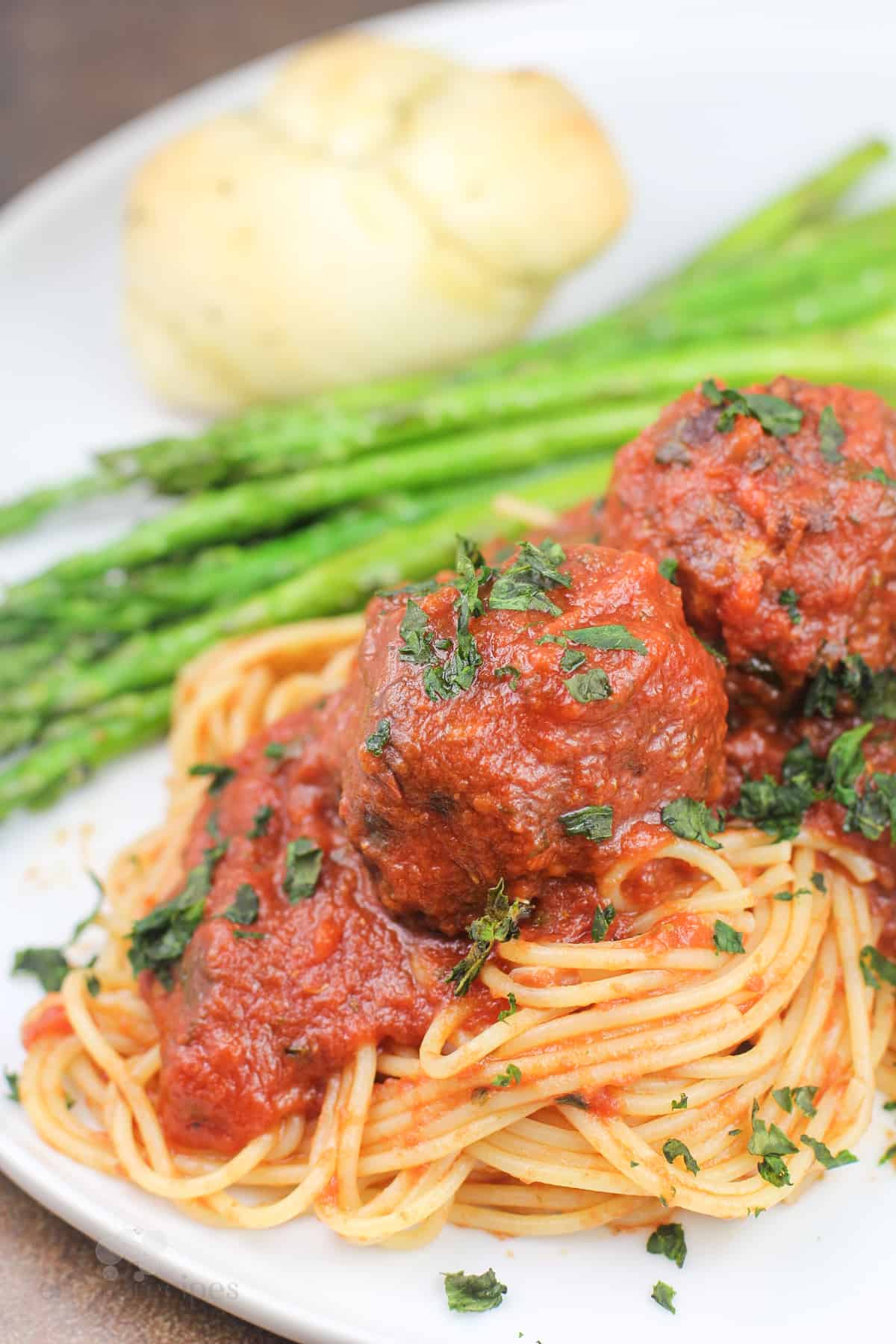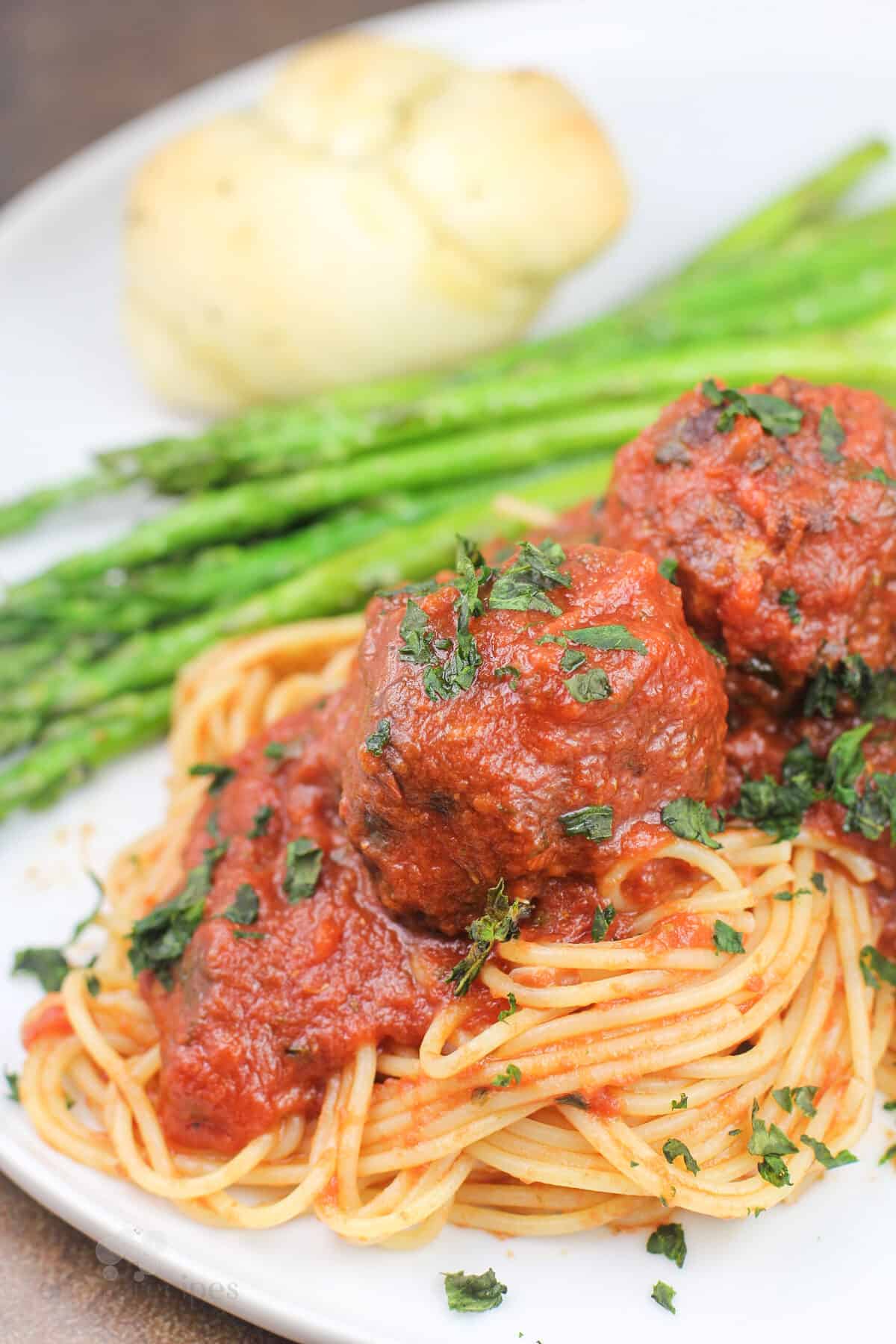 How to reheat smoked meatballs
A quick little zap in the microwave is sufficient to reheat these meatballs and sauce.
What wood is best for smoking marinara
For this recipe, as well as my Over-the-Top Chili recipe, I use hickory wood. For smoking meats, I prefer pecan or apple, but for marinara and chili, I go with hickory.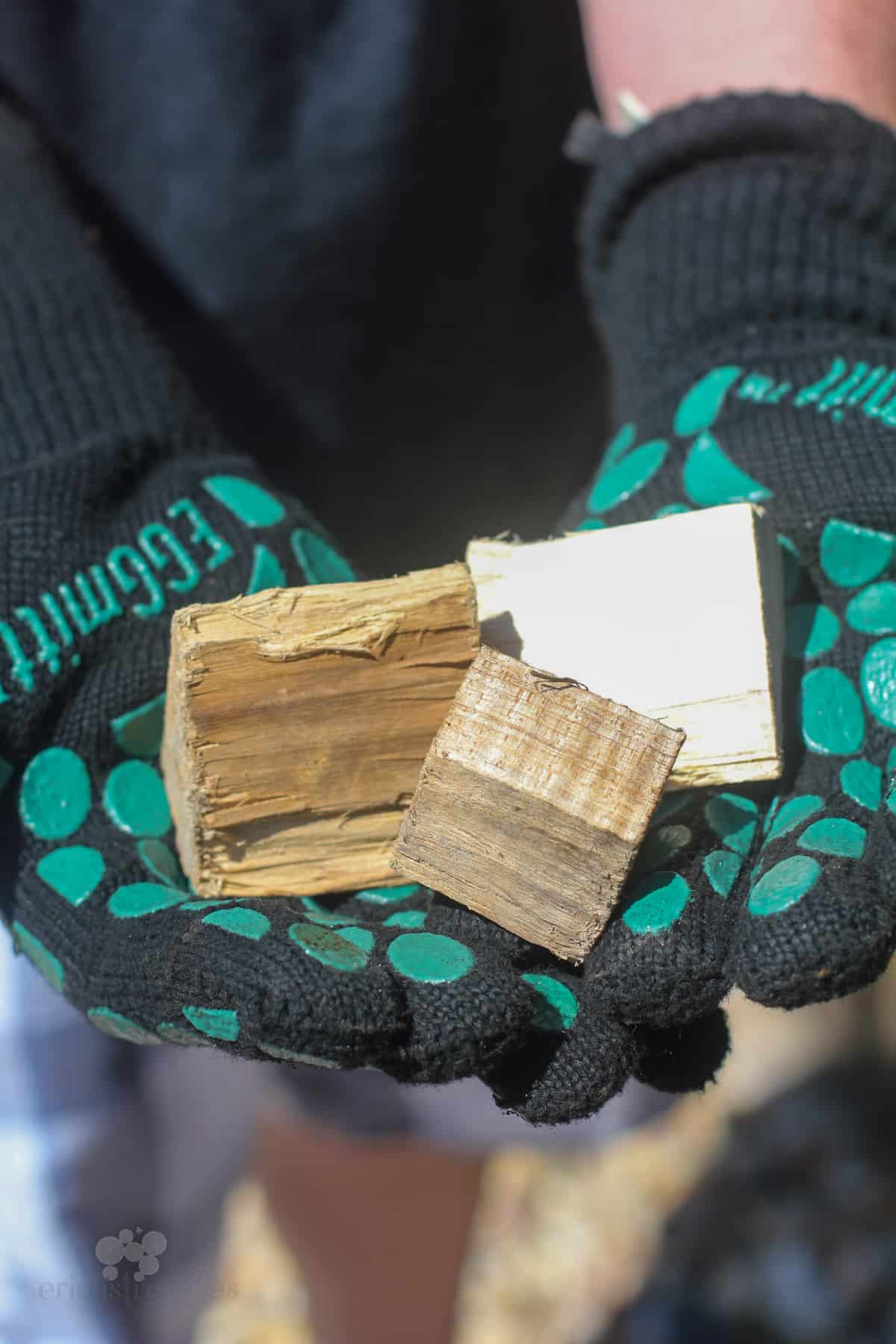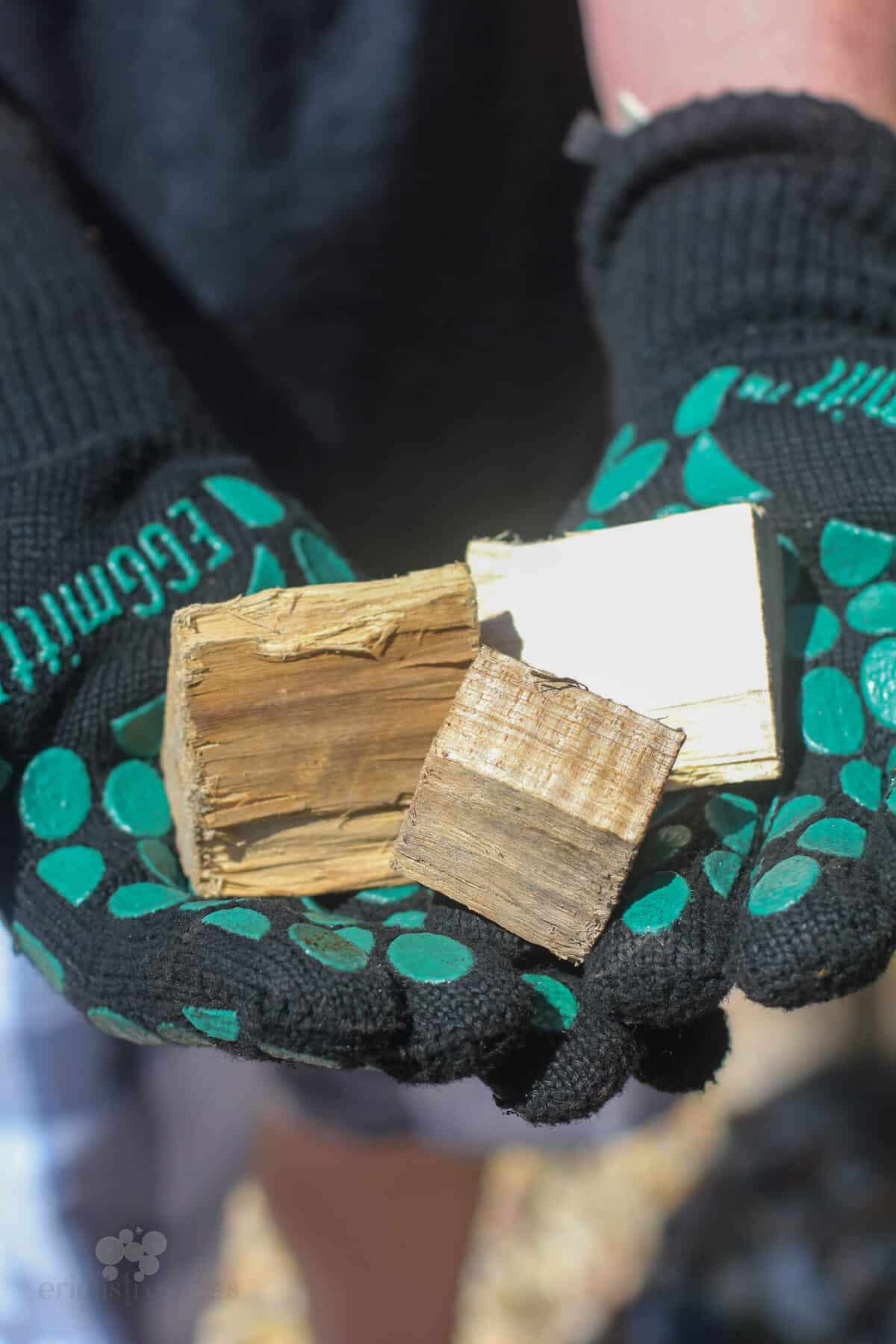 How much wood should be used
Hickory has a super strong flavor, so a little wood goes a long way. In a Big Green Egg, use 3 to 4 small chucks with the bark knocked off. In an electric smoker, you may need to refill with some more chips but I would not do that more than once.
Should the wood be dry or soaked in water
Whether using wood chunks in a Big Green Egg or wood chips in an electric smoker, use the wood dry. Water interferes with the wood smoldering and can affect your flavor, so always use your wood dry.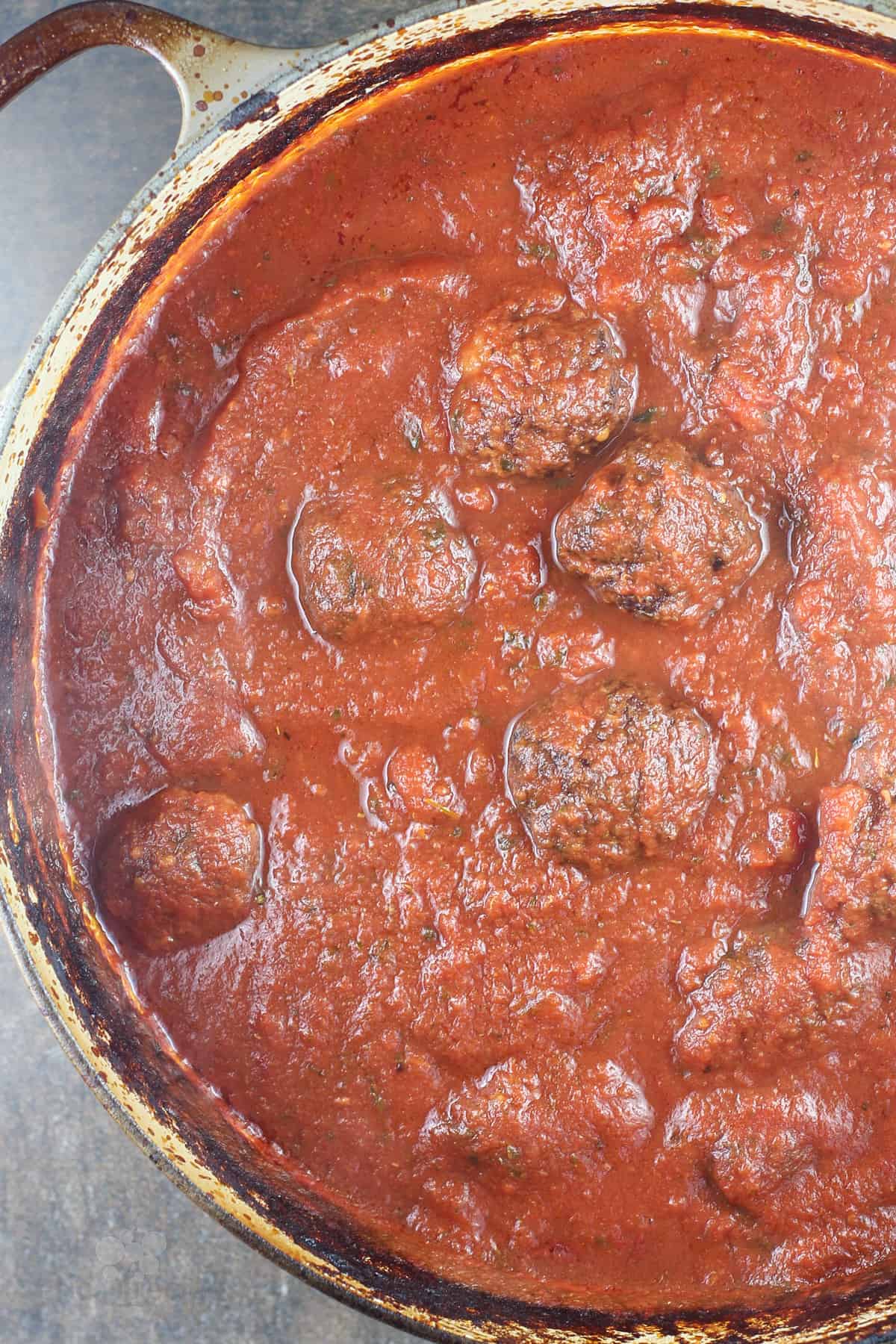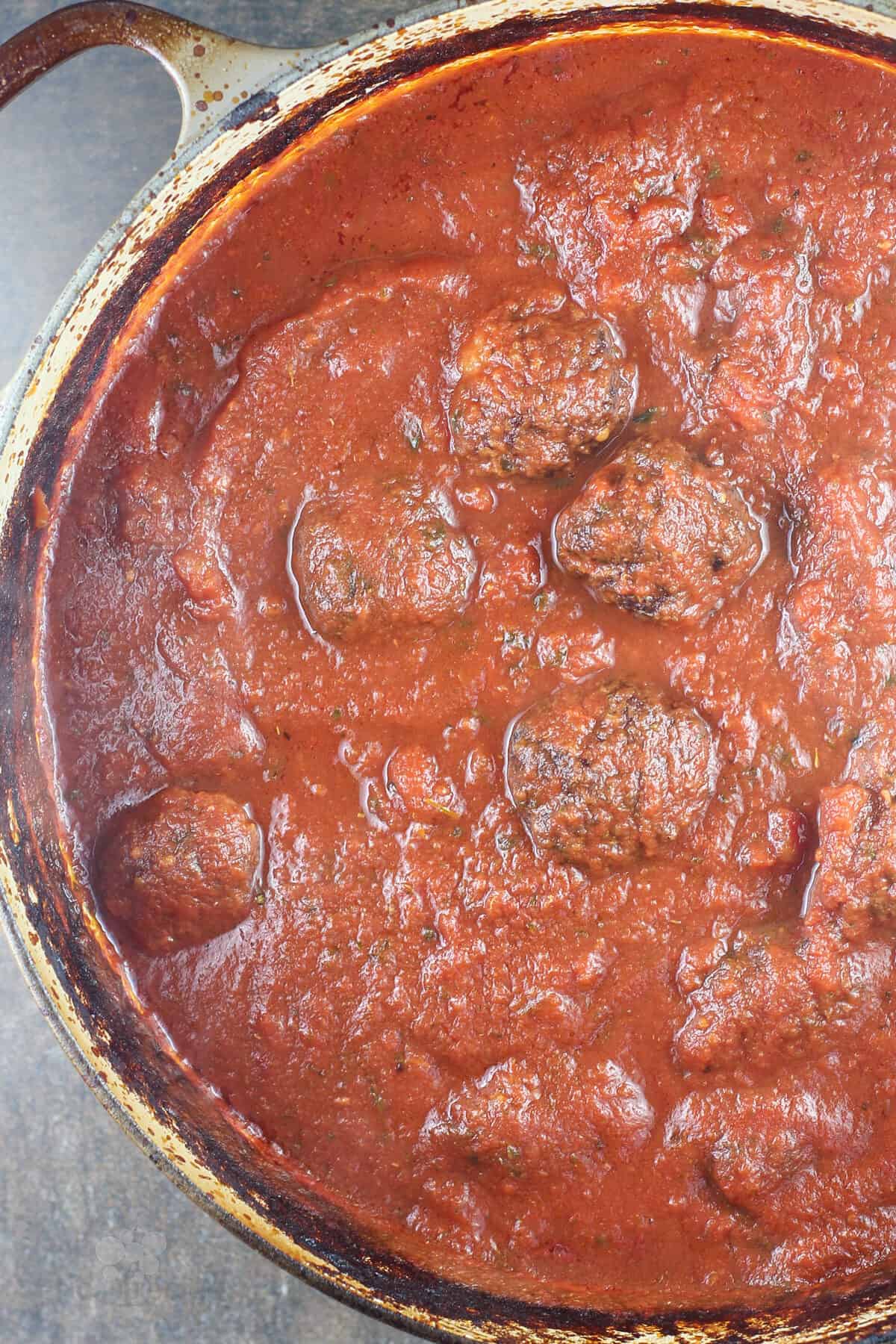 How to make these meatballs without smoking
If you do not have a smoker, this is still a fantastic recipe for Italian meatballs. The first time I made them, I did not smoke them – that idea came later. Simply assemble the meatballs, give them a sear on the stovetop in a skillet until browned, then throw them in the marinara to simmer.
FAQs
Can a different ground meat be used rather than ground pork?
I assume ground chicken or turkey could be used, but I have not done so. I have more confidence in saying that ground beef should work just as well as pork, but chicken or turkey could be tough. I am totally feeling that next time I make this recipe, I'm going to try a 50/50 mix of pork and beef – if you try that, please leave a comment how it turns out!
What is the best pot to use for the marinara?
An enameled Dutch oven works best for making smoked marinara sauce. Cast iron can work too but only if it is very well-seasoned since the acidity of the tomato can react with the iron and impart a metallic taste to the sauce. A well-seasoned cast iron has the protection of the seasoning layer to protect against that.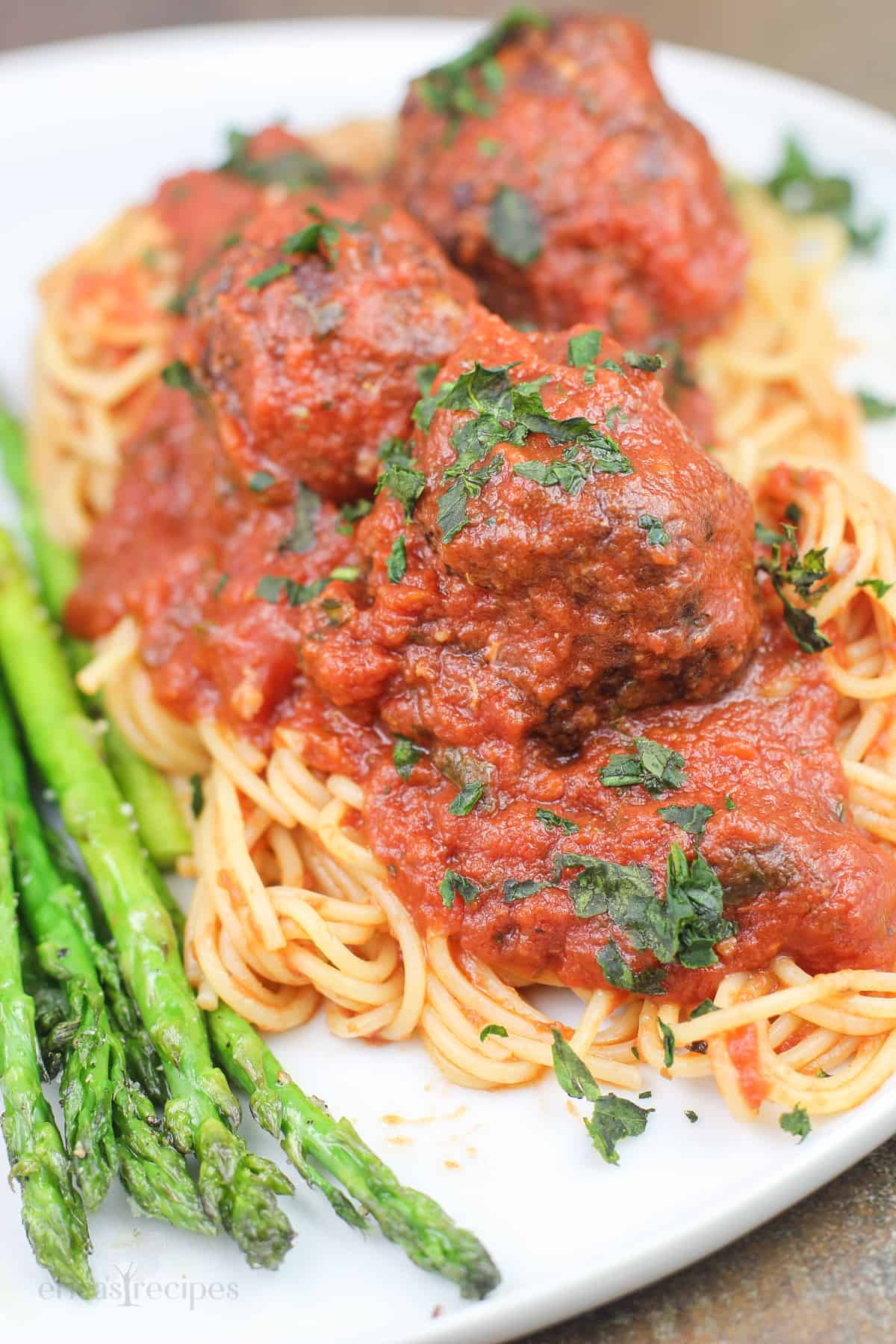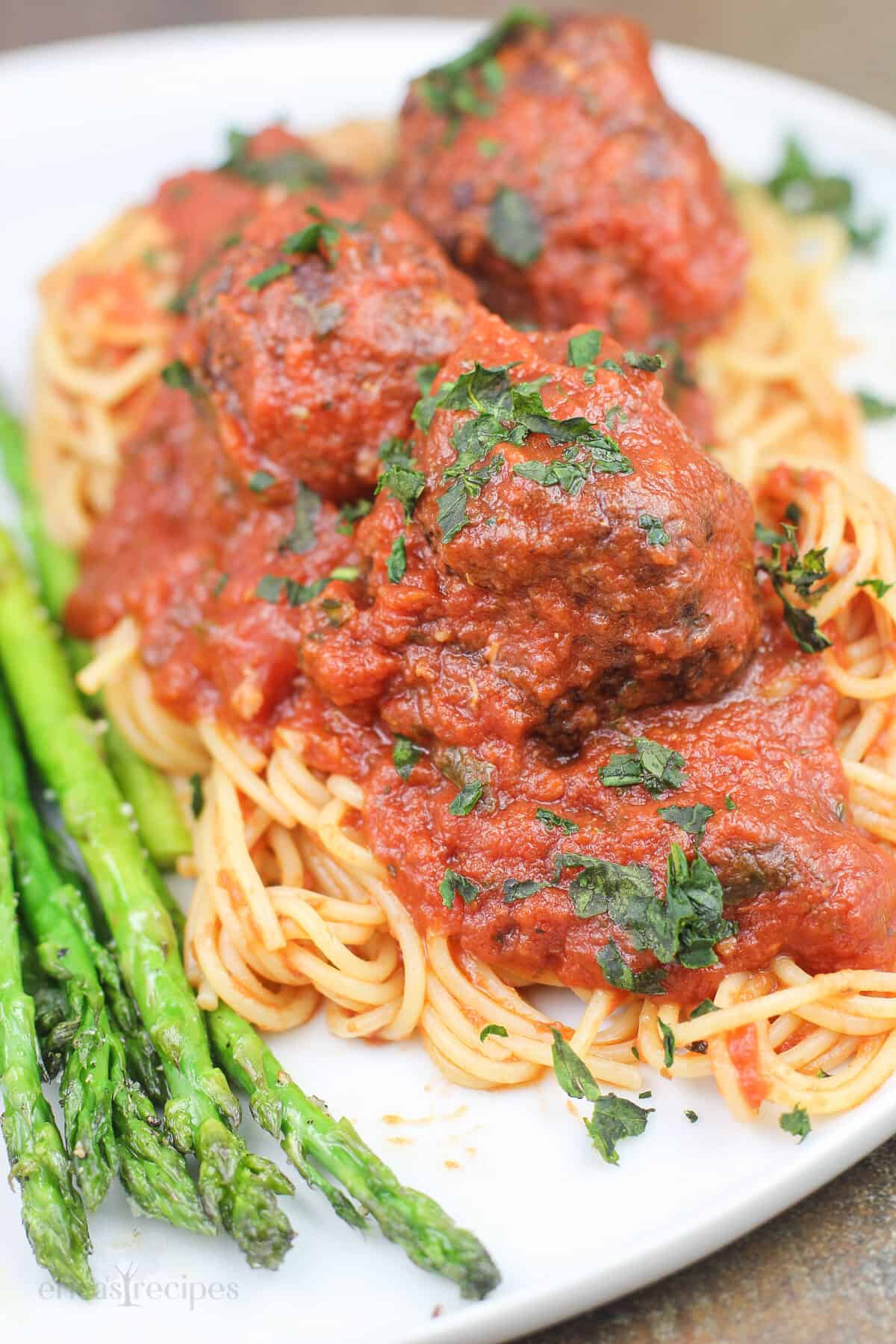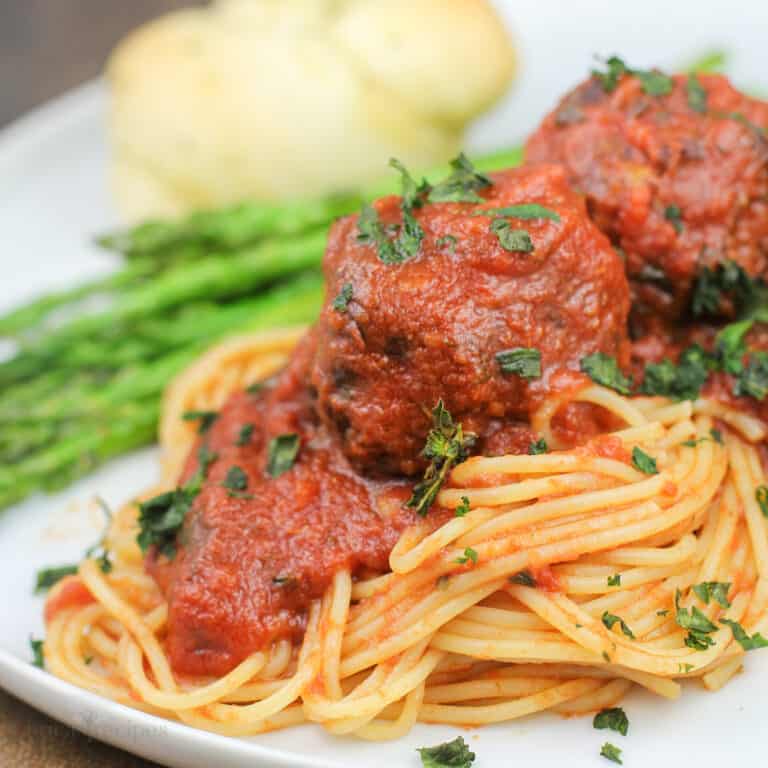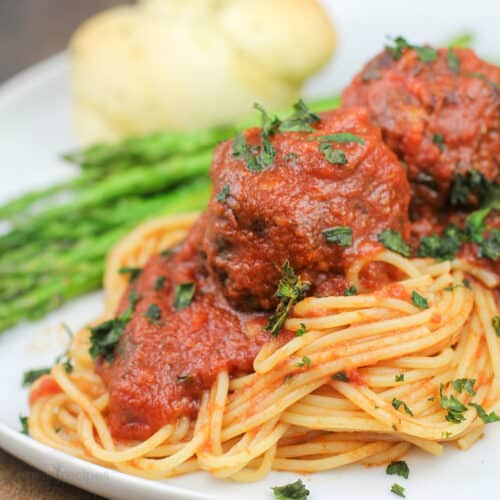 Smoked Meatballs Marinara
Smoked Meatballs Marinara has meatballs smoked over pasta sauce to catch the drippings for the BEST smoked Italian meatballs of your life.
Ingredients
1

lb

ground pork

½

cup

freshly grated parmesan cheese

¾

cup

plain panko breadcrumbs

2

large eggs

lightly beaten

½

tsp

kosher salt

¼

tsp

fresh cracked pepper

1

tsp

Italian seasoning

1

batch Marinara

assembled but not cooked (*see Notes)
Instructions
In a bowl using your hands, loosely combine the pork, parmesan, panko, eggs, salt, pepper, and Italian seasoning. Form into 2-inch balls (yields ~22 meatballs).

Place the meatballs on a small grill grate or rack that fit/sits atop the Dutch oven with the marinara sauce.

Prepare electric smoker or Big Green Egg to smoke at 250°F-275°F. In a Big Green Egg, this is with the grill grate on top of the platesetter inserted with the legs up.

Add the dry hickory wood to the smoker. (*see Notes)

Place the Dutch oven with the marinara on the grill grate. Place the rack with the meatballs on the Dutch oven.

Smoke 30-40 minutes until the internal meatball temperature reaches 145°F-150°F.

Use tongs to transfer the meatballs into the marinara. Cook an hour (still at 250°F-275°F) to combine flavors and thicken the sauce.

Serve smoked meatballs marinara over pasta or in a sub roll. Top with fresh parsley and parmesan cheese if desired.
Notes
For the Marinara, prepare my marinara recipe in an enameled Dutch oven up through and including Step 4: "Add the remaining ingredients and stir to combine" and then stop. At that point, remove from the heat. Do not simmer on the stovetop because we are going to cook it in the smoker instead.
A little hickory wood goes a long way, so not much is needed. In a Big Green Egg, 3-4 small chunks (bark removed) is sufficient. In an electric smoker, 2 rounds of chips is sufficient.
Nutrition
Calories:
425
kcal
(21%)
|
Carbohydrates:
25
g
(8%)
|
Protein:
20
g
(40%)
|
Fat:
28
g
(43%)
|
Saturated Fat:
9
g
(56%)
|
Polyunsaturated Fat:
1
g
|
Monounsaturated Fat:
4
g
|
Cholesterol:
126
mg
(42%)
|
Sodium:
968
mg
(42%)
|
Potassium:
1047
mg
(30%)
|
Fiber:
6
g
(25%)
|
Sugar:
12
g
(13%)
Calorie count is purely an estimate calculated using an online application to serve as a guide and not to be taken as accurate nutritional information. Percent Daily Values are based on a 2,000 calorie diet.
Tried this recipe?
Leave a comment below and let me know!