Spinach & Artichoke Pizza
Spinach & Artichoke Pizza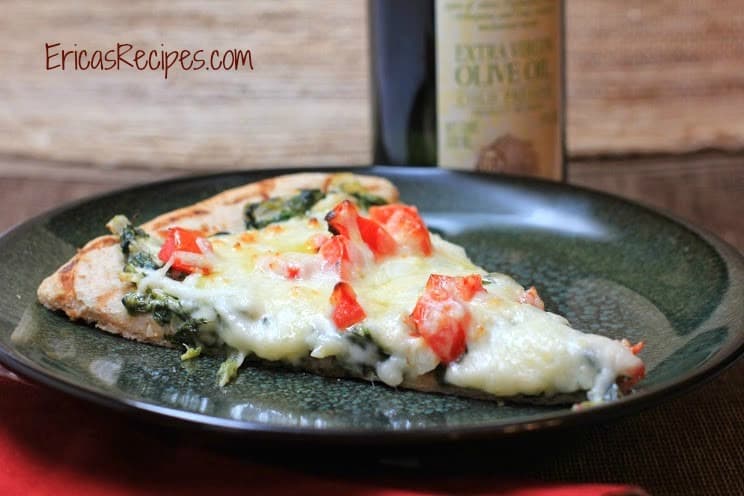 I love love love quick and easy weeknight meals like this that just hit the spot!
Spinach & Artichoke Pizza
1 prebaked pizza crust (I get mine at a local gourmet shop. They are The Pizza Gourmet, Wood Grilled Pizza crusts, but any crust you like will do. I used whole wheat for this recipe)
1 (7.5 oz) container marinated artichoke hearts, drained and chopped
1 (10 oz) package frozen chopped spinach, thawed and excess water squeezed out
1/2 c mayonnaise (I use Hellman's Olive Oil mayo)
1 T reduced fat sour cream
pinch fresh lemon zest
1 t freshly grated Parmigiano-Reggiano
1/2 t bread dip seasoning (purchased or click Here for a recipe)
pinch kosher salt
pinch fresh cracked pepper
1 1/2 c part-skim mozzarella cheese, shredded
1 c fontina cheese, shredded
1 tomato, seeded and chopped
extra virgin olive oil, for drizzling
Preheat oven to 425F with a pizza stone in the oven. Heat an additional 10 minutes to be sure the stone is fully heated.
Meanwhile, in a medium mixing bowl, combine the chopped artichoke hearts, spinach, mayonnaise, sour cream, lemon zest, parmesan, bread dip seasoning, salt, and pepper. Set aside.
Carefully remove the stone from the oven and add the crust. Working quickly, spread the spinach-artichoke mixture over the pizza crust. Next spread the tomato over. Lastly, layer the fontina and mozzarella cheeses heavily on top. Bake ~10-13 minutes until toasty and melty! Serve drizzled with a little olive oil. Serves 4.
~✿♥✿~