Classic Steamed Blue Crabs
Only recently have I discovered how absolutely sweet and amazing Classic Steamed Blue Crabs really are. Sorry lobster …you have been replaced. Because blue crabs have my heart.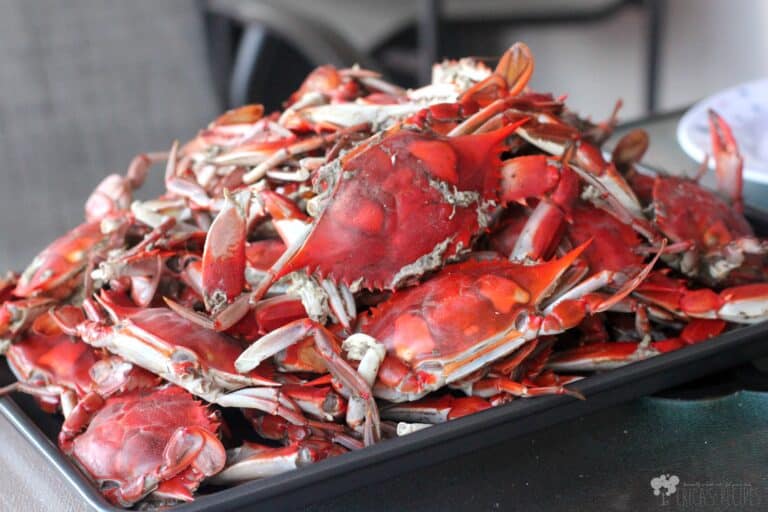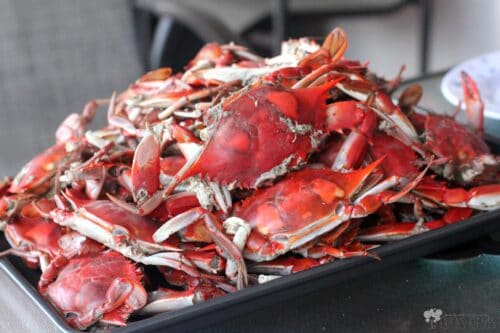 But before we start ripping these babies apart …can we talk? I have been called a supermom, a turbo mom, etc. And I'm not really sure what to make of it other than I just take on too much. But regardless, I do know that I am supposed to make us sit down for dinner together each night. Right?? After working full-time, kids' activities, homework (for both me and the kids, because oh btw, I'm taking classes again), and working out like a maniac to fight the effects of gravity on my butt, I am expected to provide my family with a wholesome meal that we eat together while we discuss our day.
So here it is ….this does not happen! And you know what? I am over it! You can't "make time" when it just isn't there, and I am not going to beat myself up over it. The reason we are busy is because we are supporting our kids with their activities or enriching ourselves with our own, so if a sit-down-together-and-eat dinner doesn't follow that every night and instead I'm just reheating/throwing randoms foods at everyone, oh well. I'm just over it. Because we are doing the best we can, and that is enough.
Whew! Thank you for listening, I feel better. …And nowww, I can tell you about these crabs and how our weekly "Seafood Fest" has become the cornerstone of our week!
Exhibit A: my daughter, who is willing to try anything. Especially seafood. I've talked about our complete love of seafood here, here, and here, and she does not fail to do me proud …leaving a pile of shells and fish bones in her wake.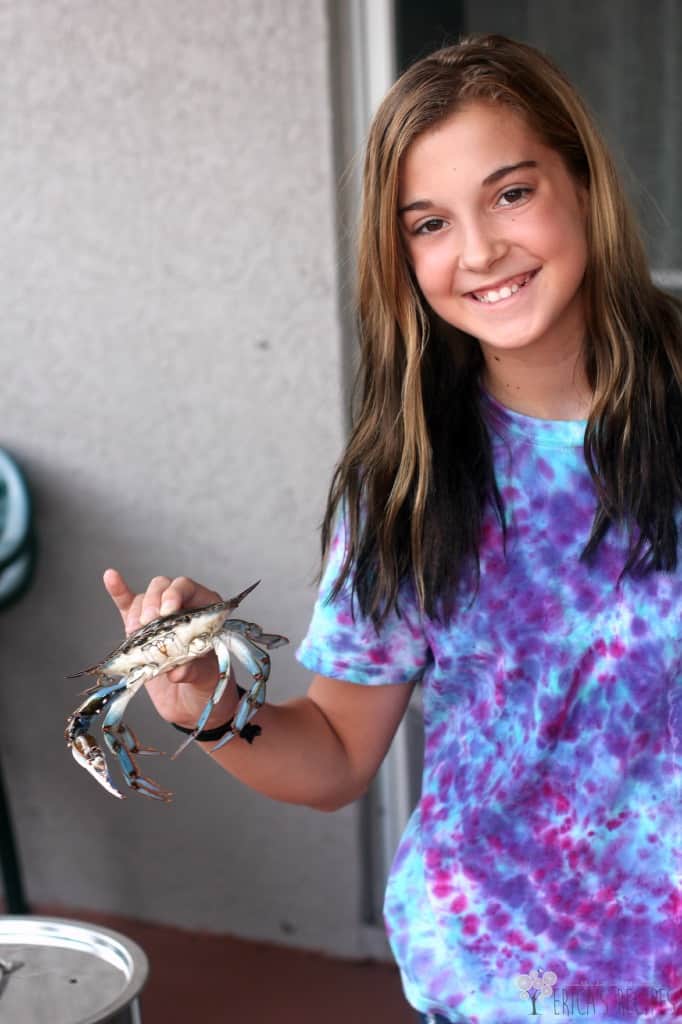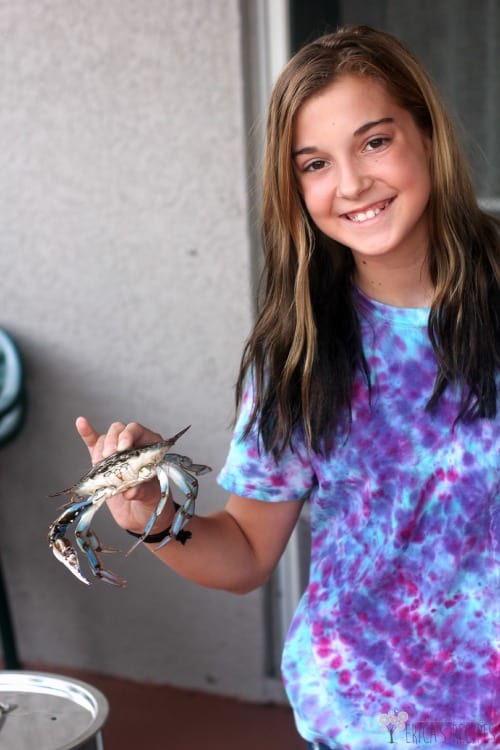 Exhibit B: my handsome husband who never ever ever used to cook. This man ate hot pockets and takeout when I met him. However, he doesss like to cook seafood, as long as I am there to work a timer and tell him when things are done. …this translates into less work for me and he gets tons of praise – win win.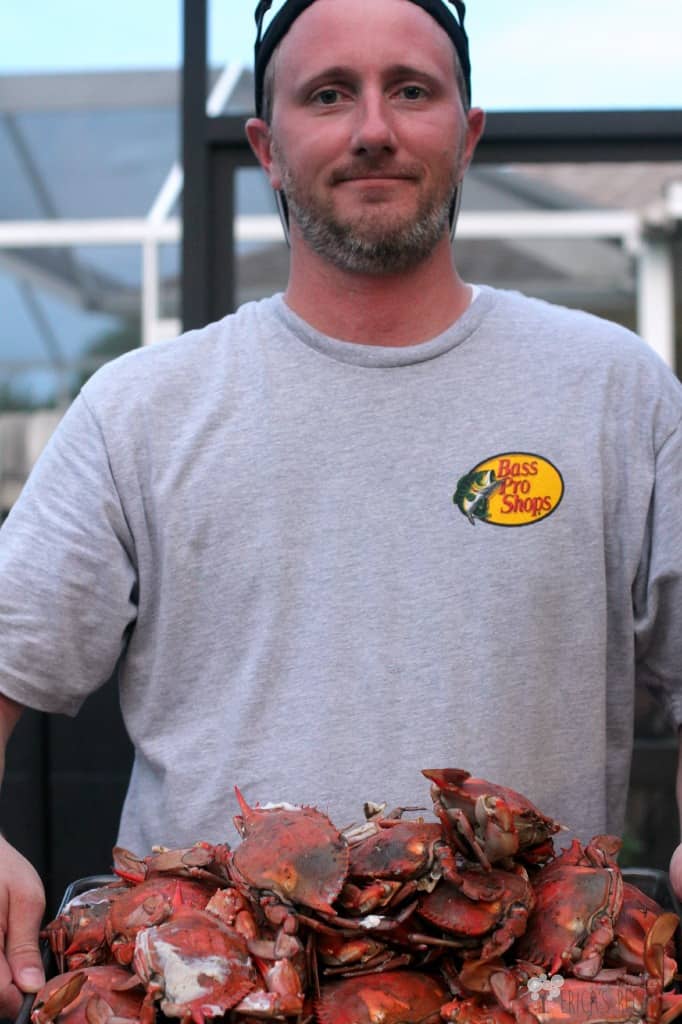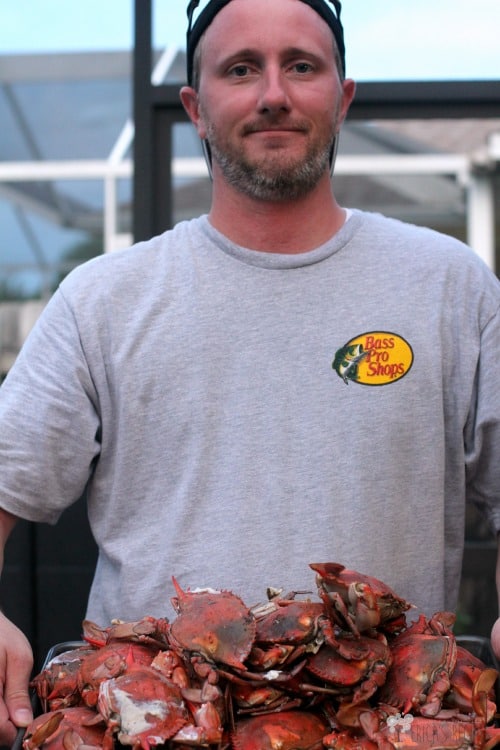 And then there's our son. Who finally just ate his first grilled oyster. …He'll get there. I am not worried.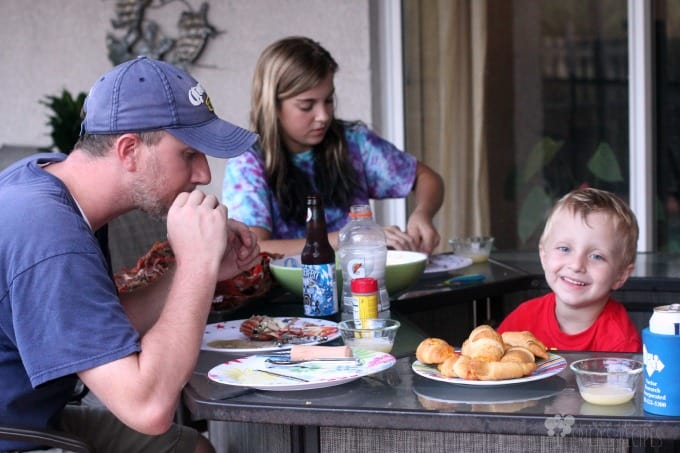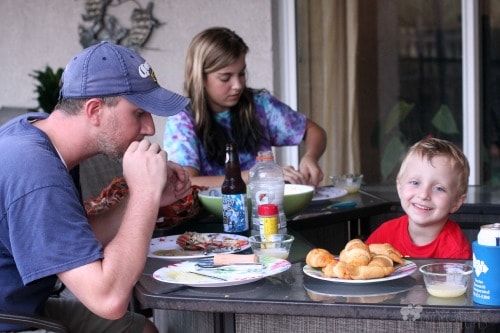 So our Seafood Fests have grown to be a special time. A time to bond, laugh, enjoy, love, and regroup as we recover from one week and prepare for the next. And remember that we're not just living together – we are a family.
I adore my family. I love each of them to the moon and back. We frustrate the hell out of each other. We argue. And sometimes we just want to give a good punch in the nose. But we don't. So we're good 🙂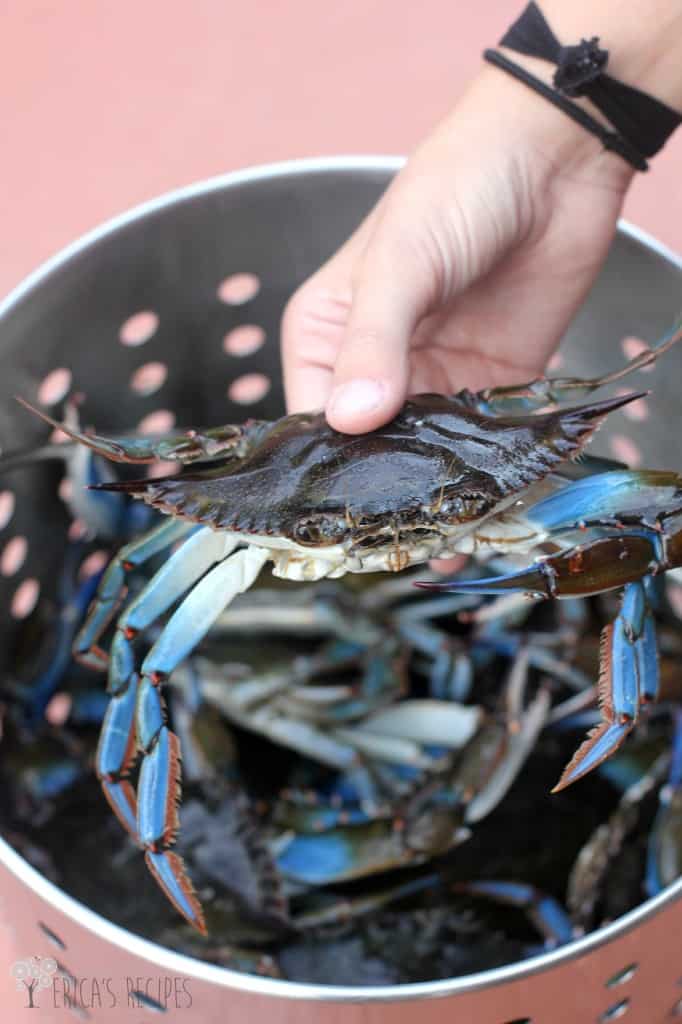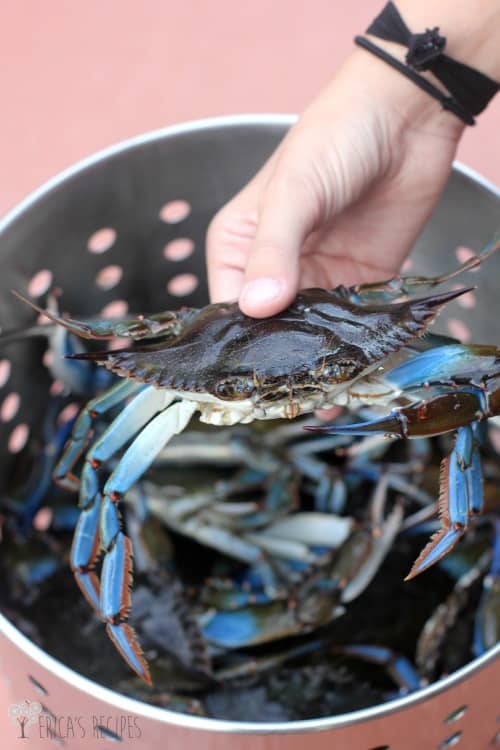 So, what does our seafood night consist of? ….well, surprisingly little. Most often, we grill up some oysters – grilled oysters are amazing – usually with some corn on the cob and Cheddar, Bay, and Bacon Biscuits. Recently, we made Garlic Butter Mussels with Crusty Bread and simple roasted fingerling potatoes. If my husband catches anything fishing that day, we do a happy dance thanking God for the miracle and throw it on the grill whole, filled with herbs and lemon. If he doesn't catch anything (usually the case), then Whole Grilled Snapper from the fish monger it is.
And now we enjoy blue crabs, simply with butter, Roast Asparagus, and cheesy Cheddar Bay Crescents. Life is good indeed.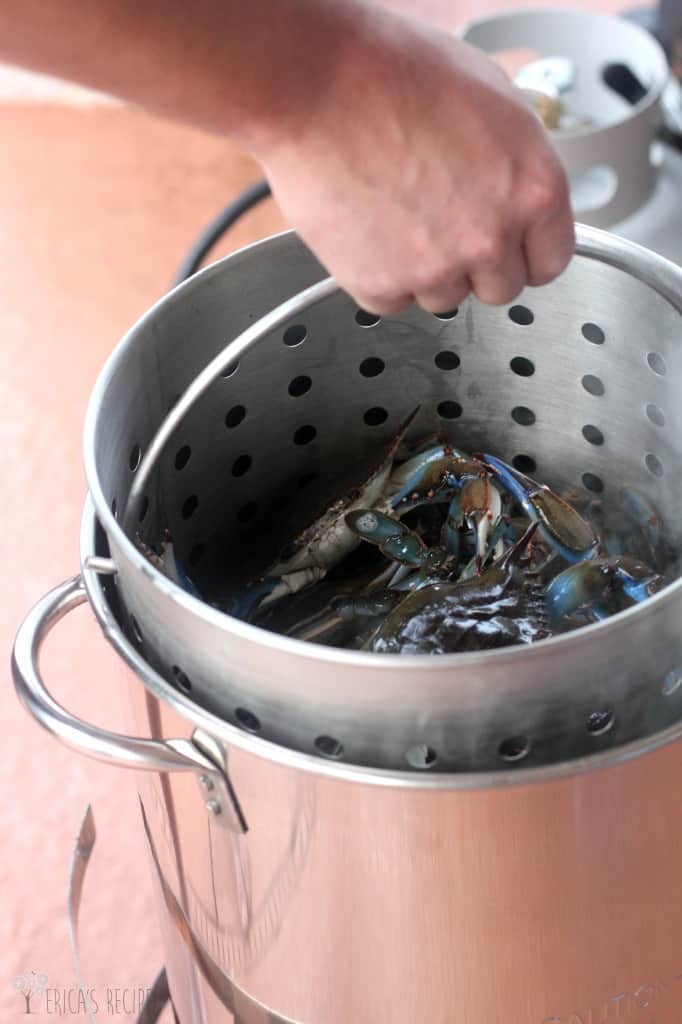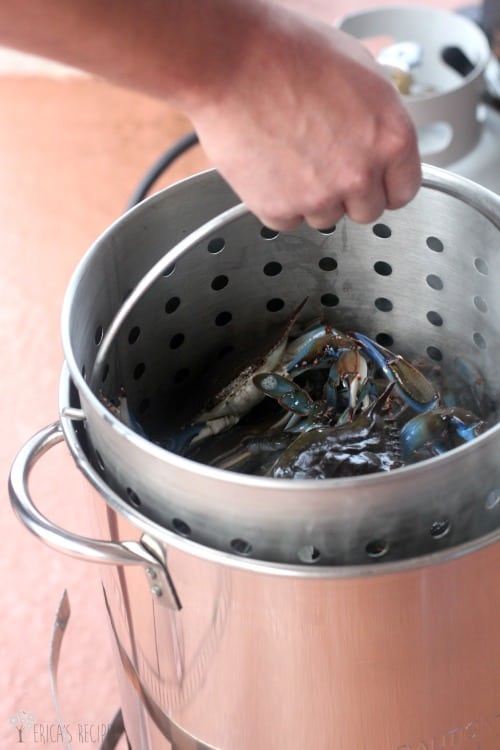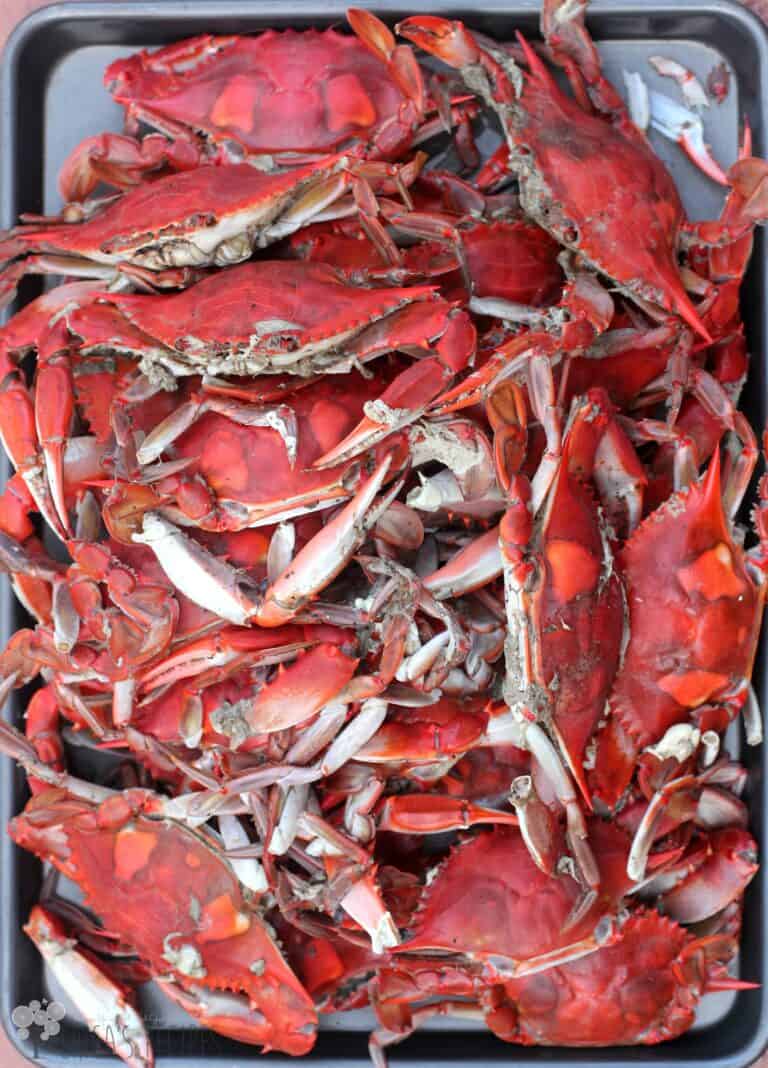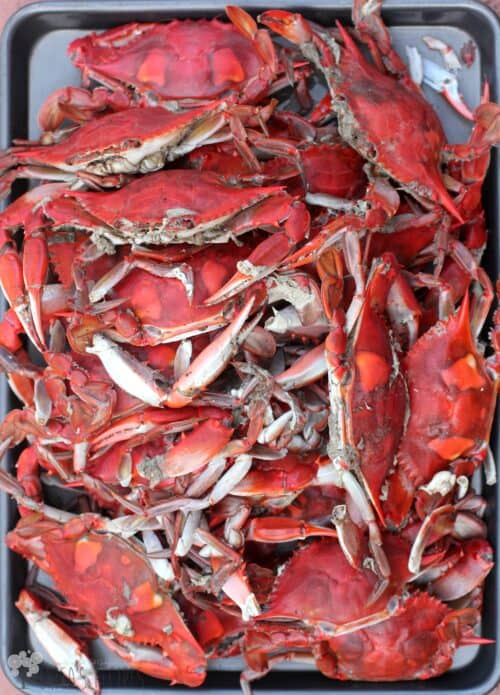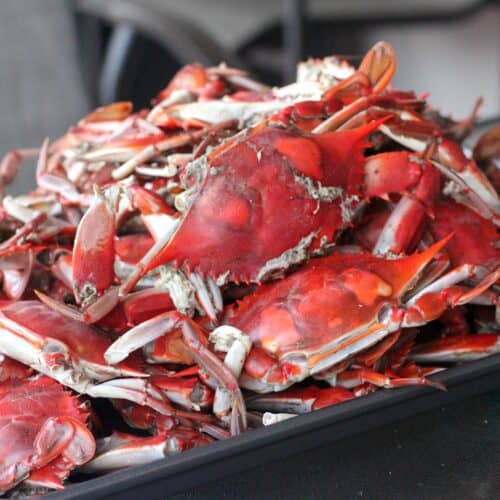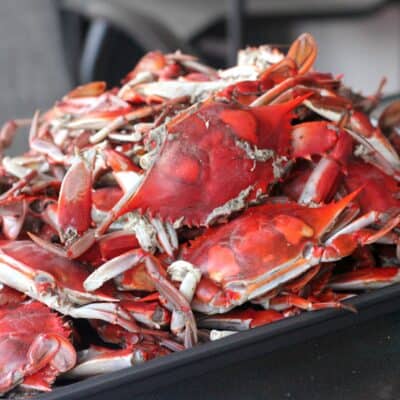 Classic Steamed Blue Crabs
Classic Steamed Blue Crabs with Old Bay and beer is a Maryland tradition easy to make at home.
Ingredients
male blue crabs

preferably mediums or larger if available (I plan 6 per person)

6-8 

12 oz

beers

1/2 

cup

Old Bay seasoning

1

stick

unsalted butter

melted
Instructions
Into a large pot (we use a turkey fryer), add the beer and Old Bay seasoning. Bring to a boil.

Put the crabs in a steamer basket. You can sprinkle the crabs with more Old Bay if desired. Add the basket to the pot and cook 12-15 minutes, depending on the size of the crabs.

Serve immediately with melted butter for dipping.
Notes
Cook the crabs in batches if necessary, depending on the size of your pot and how many crabs you are cooking. In our pot, we cook 2 dozen smalls or 1-1/2 dozen large at a time.
Calorie calculation is approximate and is per 3 oz crab meat.
Nutrition
Calorie count is purely an estimate calculated using an online application to serve as a guide and not to be taken as accurate nutritional information. Percent Daily Values are based on a 2,000 calorie diet.
Tried this recipe?
Leave a comment below and let me know!