Cheddar Beer Pumpernickel Bread Dip
Cheddar Beer Pumpernickel Bread Dip is a recipe from my childhood and lifelong favorite bread dip of all time. Of course you can use other bread, but the match this hoppy cheesy beer dip makes with pumpernickel bread is magical.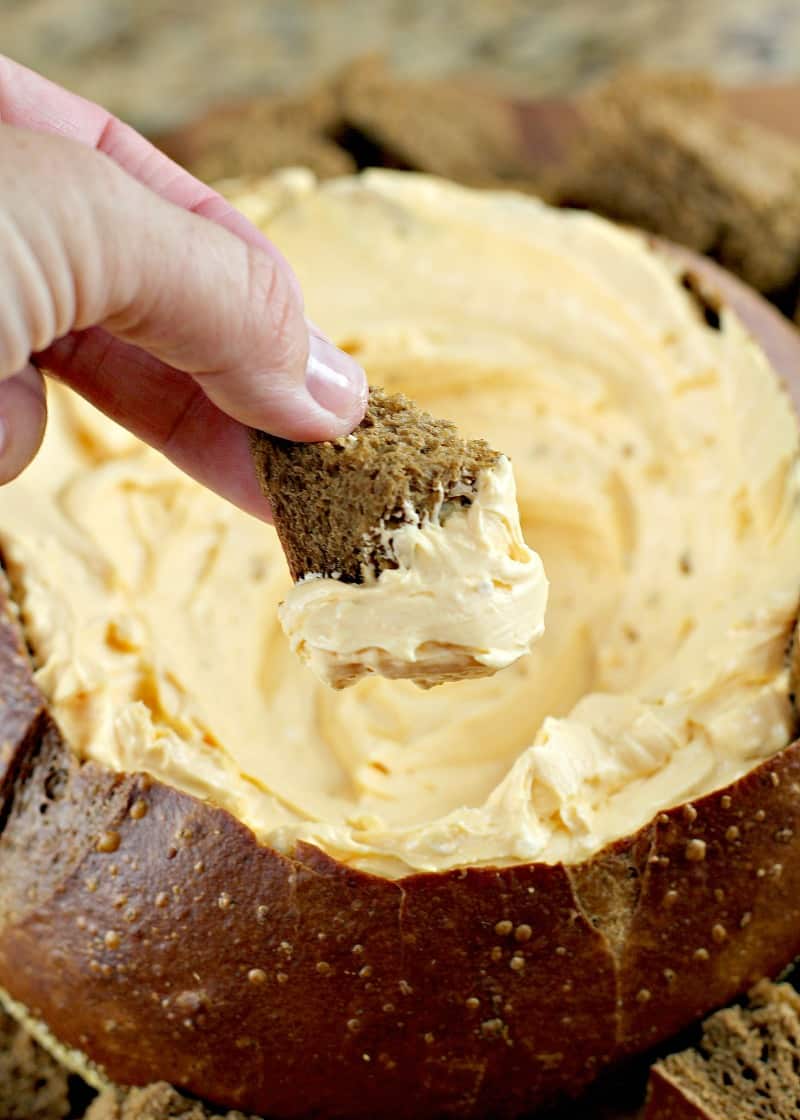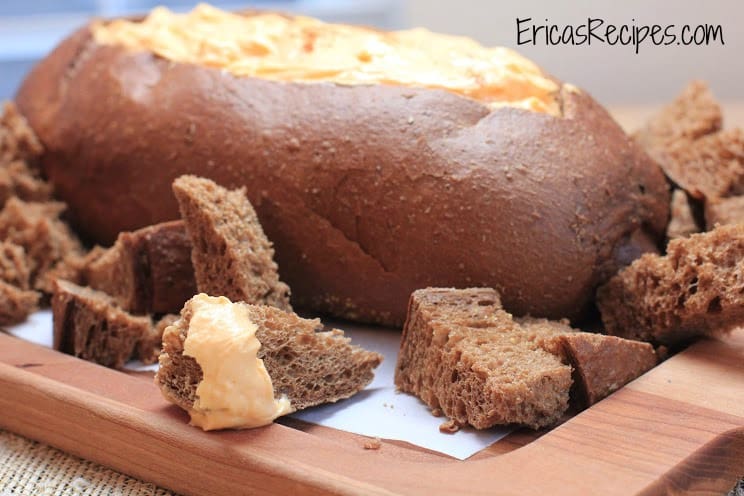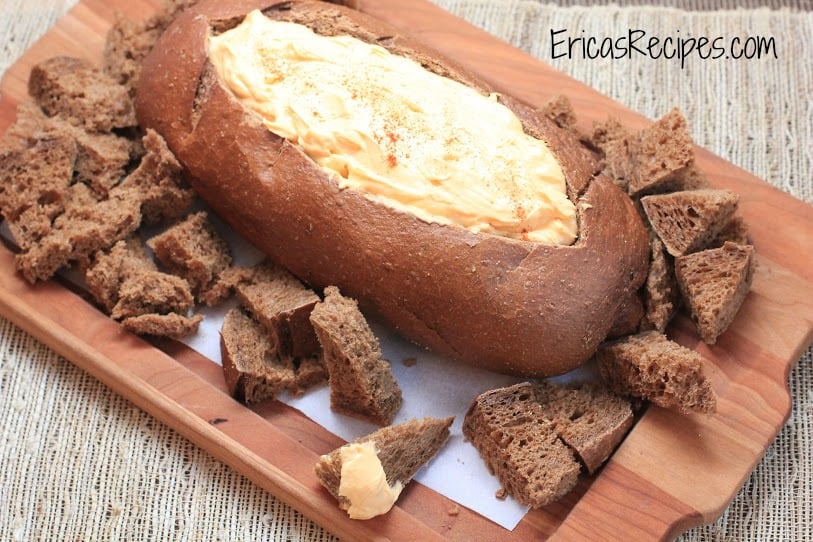 This recipe is one that conjures up memories of childhood. Every evening, whether we had just commuted home from Boston or if we were on our sailboat on the weekend, my grandfather would have a mini happy hour. One Old Fashioned to drink (two if it was a special occasion) and a little basket of cheese and crackers that my grandmother would set up for him.
I have so many memories of that time, and what a great thing for my grandparents to have taught us. That once work was over, and everyone was home safe, we always – ALWAYS – spend a few minutes to just chill, reconnect, and enjoy each other.
My grandfather live a long, very full life. I once asked him what was his secret. His response, "A bowl of Total [cereal] every morning and an Old Fashioned each night".
In general, stuff on crackers crackers were a constant in my home. The happy hour baskets at home. Old English cheese at a restaurant in Ipswich. Bean dip and crackers at another restaurant in Reading. Lots of pub cheese. But then, my mom often made a bread dip recipe similar to this one.
So, not on crackers, but still a pub-like cheese and soooo good. And my recipe here is my version, hopped up if you will (see what I did there?), and I just love it so much.
This Cheddar Beer Pumpernickel Bread Dip could not be easier. These are the simple steps to make it:
Simple Steps for Cheddar Beer Pumpernickel Bread Dip
Combine cream cheese, cheddar spread, garlic powder, and a splash of Worcestershire.
Hollow out a loaf of pumpernickle bread and cut the removed bread into large chunks.
Spoon the dip into the bread.
Preferably, we want a round loaf of pumpernickel bread. It just looks better. However, as you can see in my photos, we just have to sometimes go with the flow and what's available and make due. It all tastes the same and when I want to get this dip on, I don't really care what shape the bread is.
The flavor of this dip is stellar. Sharp cheddar cheese spread blended with cream cheese…. you know how you just add a little cream cheese to something – kinda anything – it just gets so much more Mmmmmm? Well, that totally happens with this recipe. Mmmm. And with pumpernickel bread Jesus Take the Wheel this is SO good. I eat it all, always do.
So that's it kids. A tasty tasty recipe from my childhood that is just as much a favorite of mine today. Use fresh bread always, but the dip itself can be made up to two days in advance.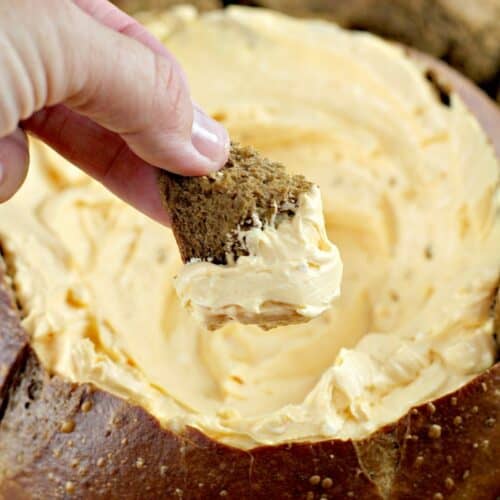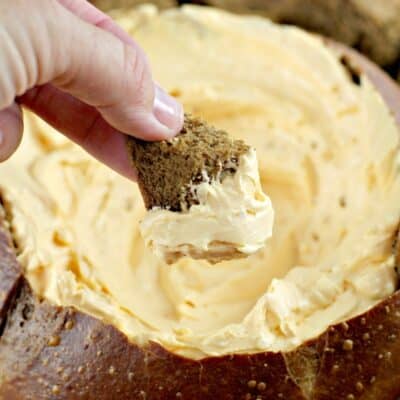 Cheddar Beer Pumpernickel Bread Dip
The match this hoppy cheesy beer dip makes with pumpernickel bread is magical.
Ingredients
8

oz

sharp cheddar cheese spread, softened

see Notes

8

oz

cream cheese, softened

¼

cup

any full-bodied beer such as a stout or pumpkin ale

dash garlic powder

couple good sprinkles Worcestershire

loaf of pumpernickel bread

preferably round
Instructions
Combine and serve in a carved out loaf of pumpernickel bread. Reserve the bread cubes for dipping.
Notes
I have used Wispride, Kaukauna, Merkts, and President brand cheddar cheese spreads for this recipe. All work, but I have listed them in my order of preference.
Calorie count is purely an estimate calculated using an online application to serve as a guide and not to be taken as accurate nutritional information. Percent Daily Values are based on a 2,000 calorie diet.
Tried this recipe?
Leave a comment below and let me know!
~✿♥✿~