Cajun Smoked Sausage and Gnocchi (Ready in 20 minutes!)
Smoked sausage cooked up with onion, mushrooms, garlic, sun-dried tomatoes, and lots of Cajun seasoning, then served with super easy gnocchi. This new dinner idea is ready in under 20 minutes and versatile so we can change it up however we like to help us during this busy time of the year.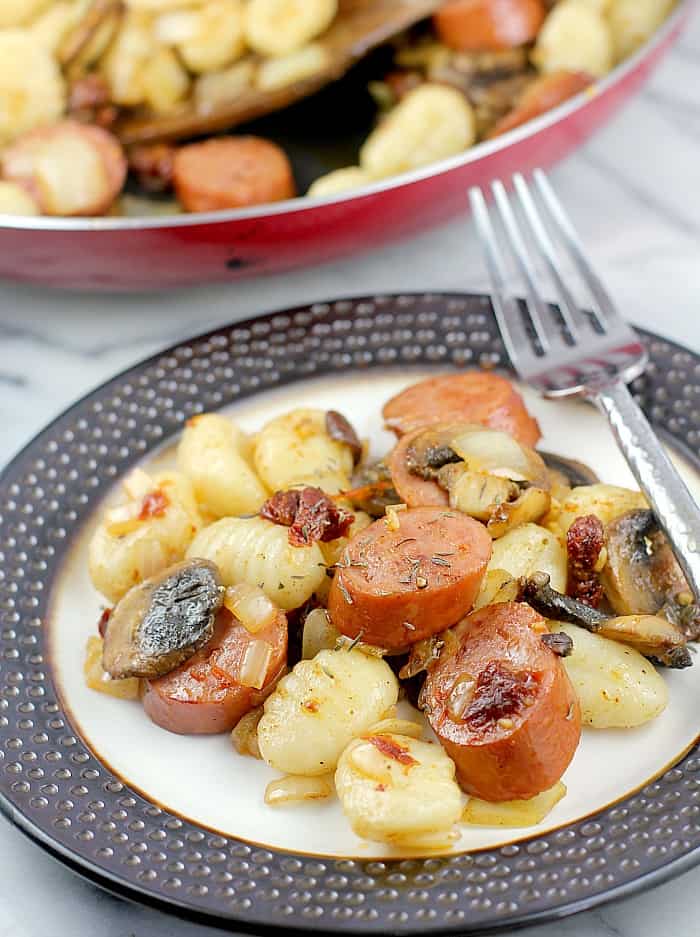 Holy H-E-double-hockey-sticks. Busy much? We are. And we just kinda laid out how October is going to go, and we are stocked. Booked. There ain't a weekday or weekend without STUFF to do. So much stuff. Swim meets, martial arts tournaments, I have THREEEE races, including a half Ironman I will be completely undertrained for. Yikes.
Save me Cajun Smoked Sausage and Gnocchi. Save me.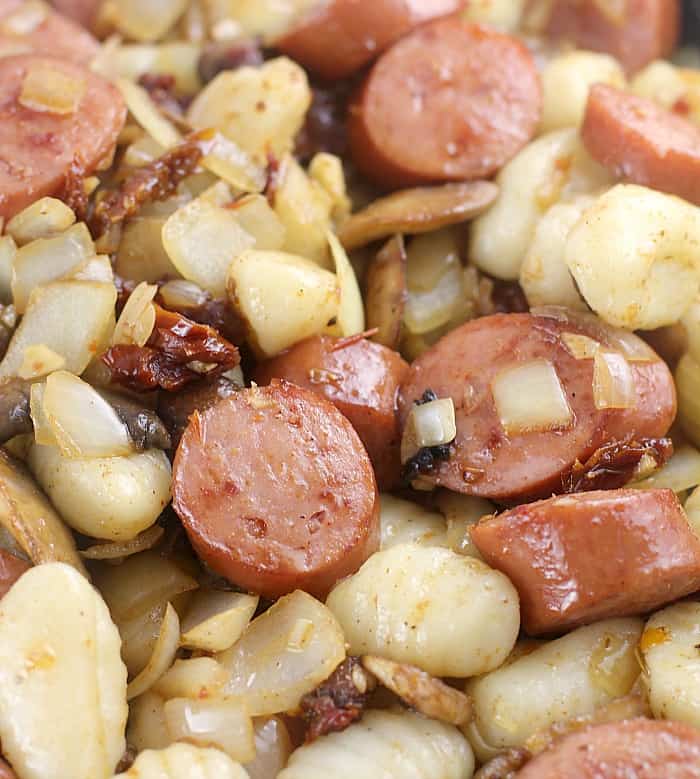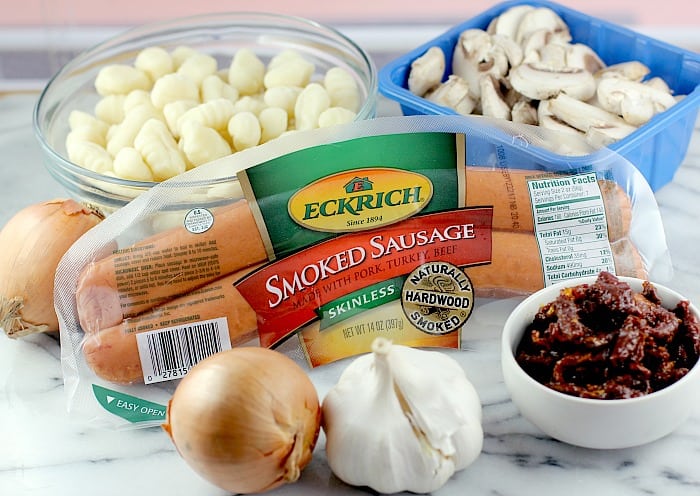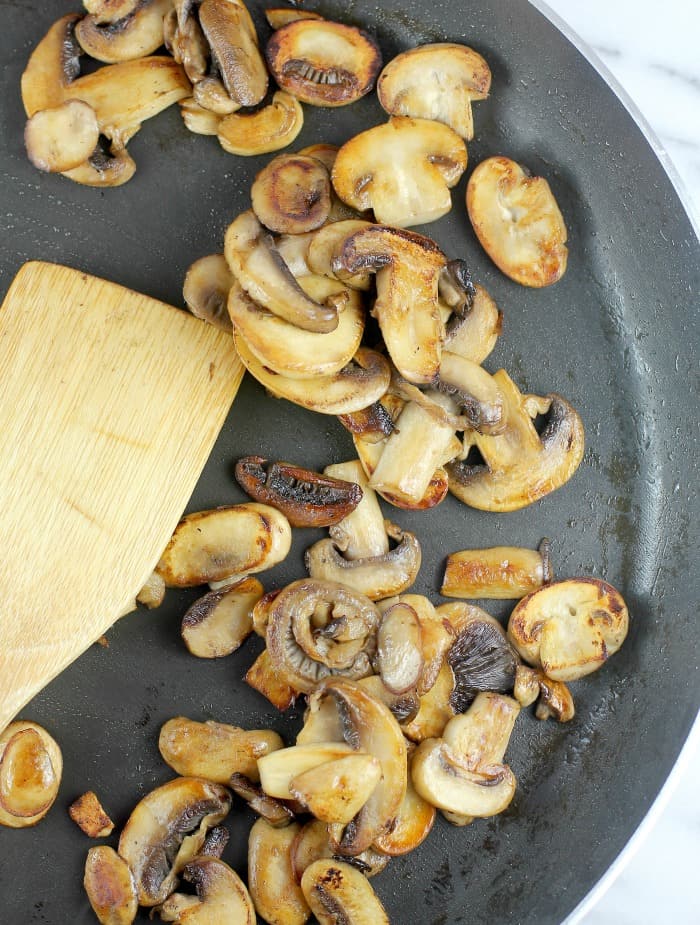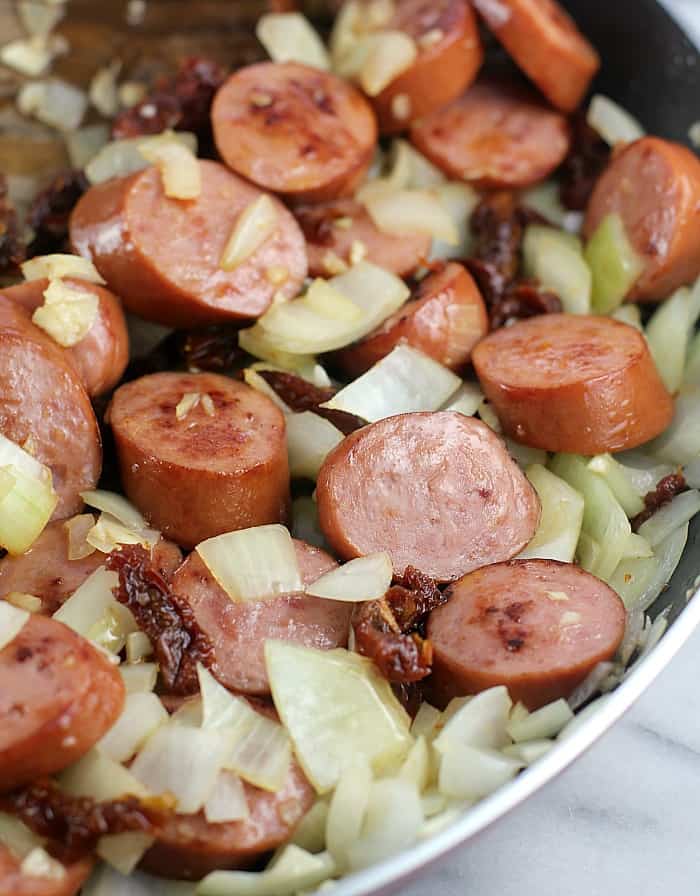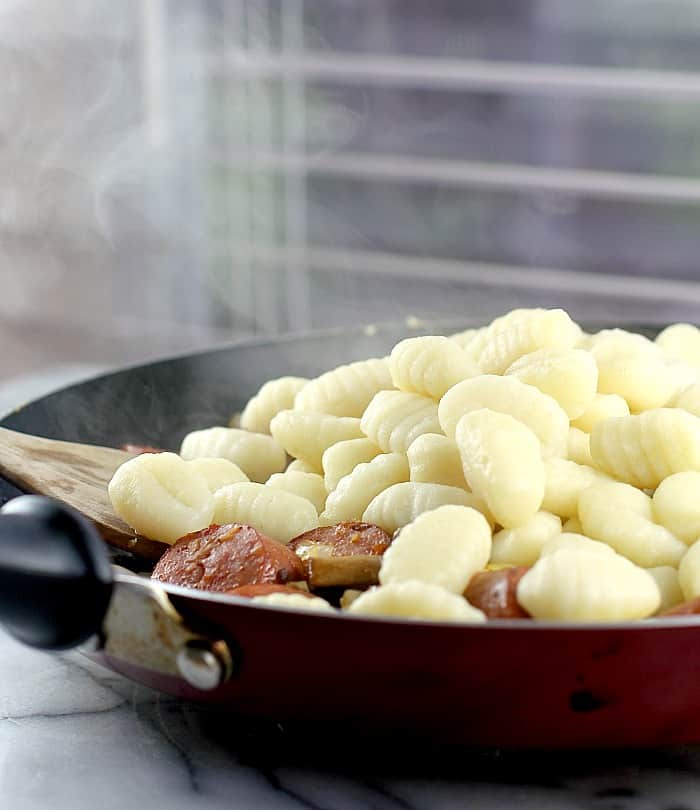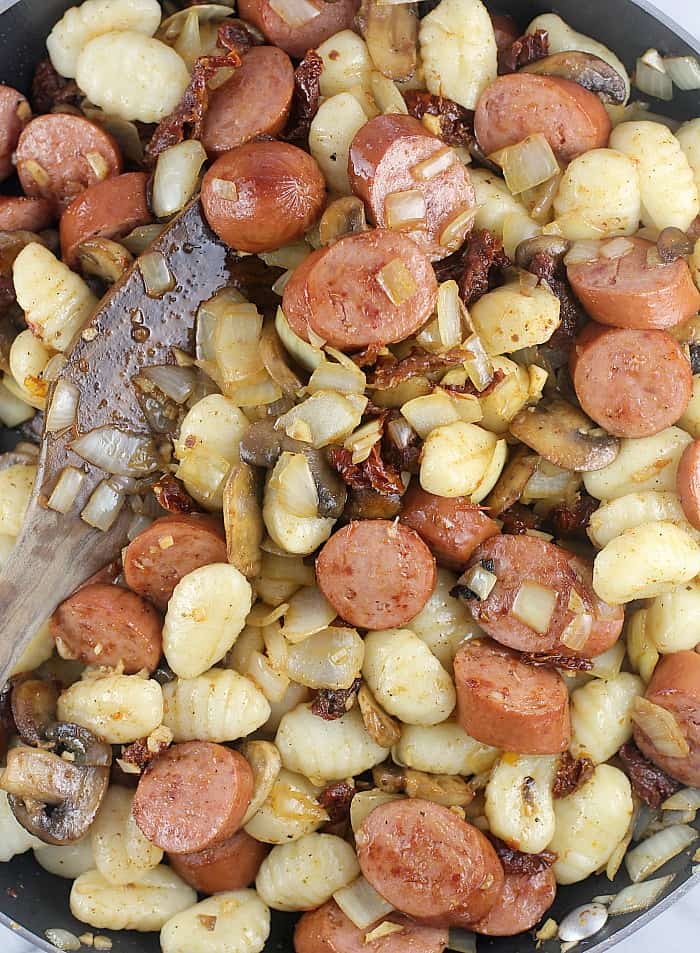 Okay, so this Cajun Smoked Sausage and Gnocchi post is for a life-saving recipe. This recipe is ridiculously easy to make and ready in under 20 minutes, I pinky promise. Because we need recipes like this folks – easy go-to's so we can just Get. It. Done. …but still eat together as a family, at once, even in the middle of a busy week.
So enter Eckrich Original Skinless Smoked Sausage. Why this smoked sausage you ask? Because it comes skinless and I can get it at Publix. Yeah, sometimes, those are enough boxes to check with me. …Kidding aside, I like it because it has a good flavor because it is naturally hardwood smoked for the true smokehouse taste but mild enough my kids like it too. And it's a good performer, especially in recipes like this one, and pretty versatile. Just unwrap, slice or dice it up, then throw it in whatever recipe – even slow cooker recipes or soup – that you like, and you will be happy. And, because it is such a time saver, you will have more time to do all the other things we busy parents need to on a weeknight. When you don't even get home until 7pm, then it's homework, baths, getting ready for the next day, story-time, and HOPEFULLY at least a little downtime, this Eckrich Smoked Sausage sure helps me get a tasty dinner together lickity-split.
Next question, why gnocchi? Because it is different! And yummy. And the kids love it. And it's a nice change from pasta, rice, or potatoes. AND, here's the kicker …they cook in under THREE minutes. Boom. So, next time you get to the point "Which carb do I want in my meal", remember gnocchi and find them in the pasta section at the grocery store.
So what I did for this Cajun Smoked Sausage and Gnocchi recipe was saute up mushrooms, the smoked sausage, onion, garlic, and sun-dried tomato. Then I added a good bit of Cajun seasoning and the gnocchi. That is it, and it is delicious. I have made like a zillion various variations of this recipe too: You can add chopped spinach or grated carrot to boost the nutrition. You can change up the sausage and use Eckrich Polska Kielbasa Skinless Smoked Sausage and replace the mushrooms with bell pepper strips for sausage and peppers with the gnocchi. You want gluten-free? Then drop the gnocchi all together and load up on veggies like broccoli, peppers, and fennel. Need some mid-week comfort food? Use Eckrich Jalapeño & Cheddar Smoked Sausage Links with the gnocchi, but make a cheese sauce and do it up like gnocchi mac and cheese. So, Change. It. Up. This recipe is so cool like that.
That's it kids! This easy Cajun Smoked Sausage and Gnocchi recipe is truly a weeknight life-saver. Ready super fast, low-key no stress, and fantastically tasty. Score all those parent points, get dinner on the table, eat together, and get on with it all. ❤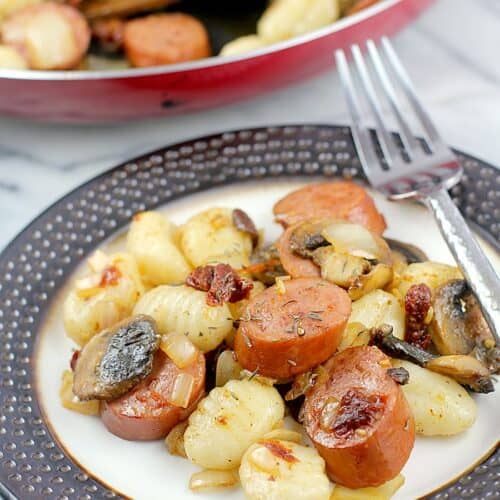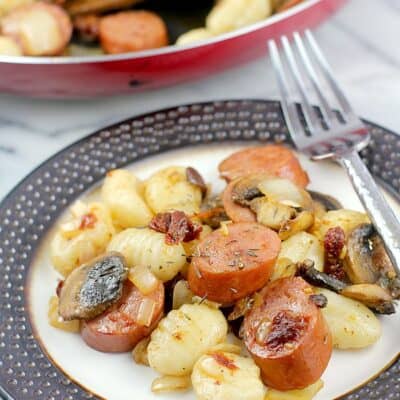 Cajun Smoked Sausage and Gnocchi
Smoked sausage cooked up with onion, mushrooms, garlic, sun-dried tomatoes, and lots of Cajun seasoning, then served with super easy gnocchi.
Ingredients
2

Tbs

unsalted butter

divided

1

8 oz pkg sliced mushrooms

1

14 oz package Eckrich Original Skinless Smoked Sausage, sliced into 1/2-inch slices

2

small or 1 large yellow onion

diced

2

large cloves garlic

chopped

½

cup

julienne sun-dried tomatoes in olive oil

1

Tbs

Creole or Cajun seasoning of choice

¼

tsp

fresh cracked pepper

1

16 oz package gnocchi
Instructions
Bring a large pot of water to a boil.

Heat a large nonstick skillet on high heat. Add 1 tablespoon of butter and the mushrooms, and cook, tossing occasionally, until browned and yummy. Transfer to a plate.

In the same skillet, heat the remaining tablespoon butter. Add the smoked sausage and cook until very lightly browned. Add the garlic and onion, and cook until onion is translucent but not overly soft (we want the onion to retain some texture).

Add back the mushrooms to the skillet with the smoked sausage mixture. Add the sun-dried tomatoes, Cajun seasoning, and pepper. Remove from the heat.

Add the gnocchi to the pot of boiling water. Gnocchi float when they are ready (and this occurs inside of 3 minutes), so simply scoop them out and transfer to the smoked sausage mixture in the skillet as they rise to the surface.

Toss the cooked gnocchi into the smoked sausage mixture. Serve. Yields 4-5 servings.
Notes
Once the Cajun seasoning is added, the smoked sausage mixture will be quite salty, but that salt will be taken up by the gnocchi. So, wait until the recipe is fully prepared to judge and taste for seasoning.
Calorie count is purely an estimate calculated using an online application to serve as a guide and not to be taken as accurate nutritional information. Percent Daily Values are based on a 2,000 calorie diet.
Tried this recipe?
Leave a comment below and let me know!
~✿♥✿~