Buffalo Turkey Pizza is a tasty and clever leftover turkey recipe because pizza is always the right choice. If you want an easy recipe with turkey, this leftover Thanksgiving recipe is for you! And it works perfectly with chicken too for Buffalo Chicken Pizza.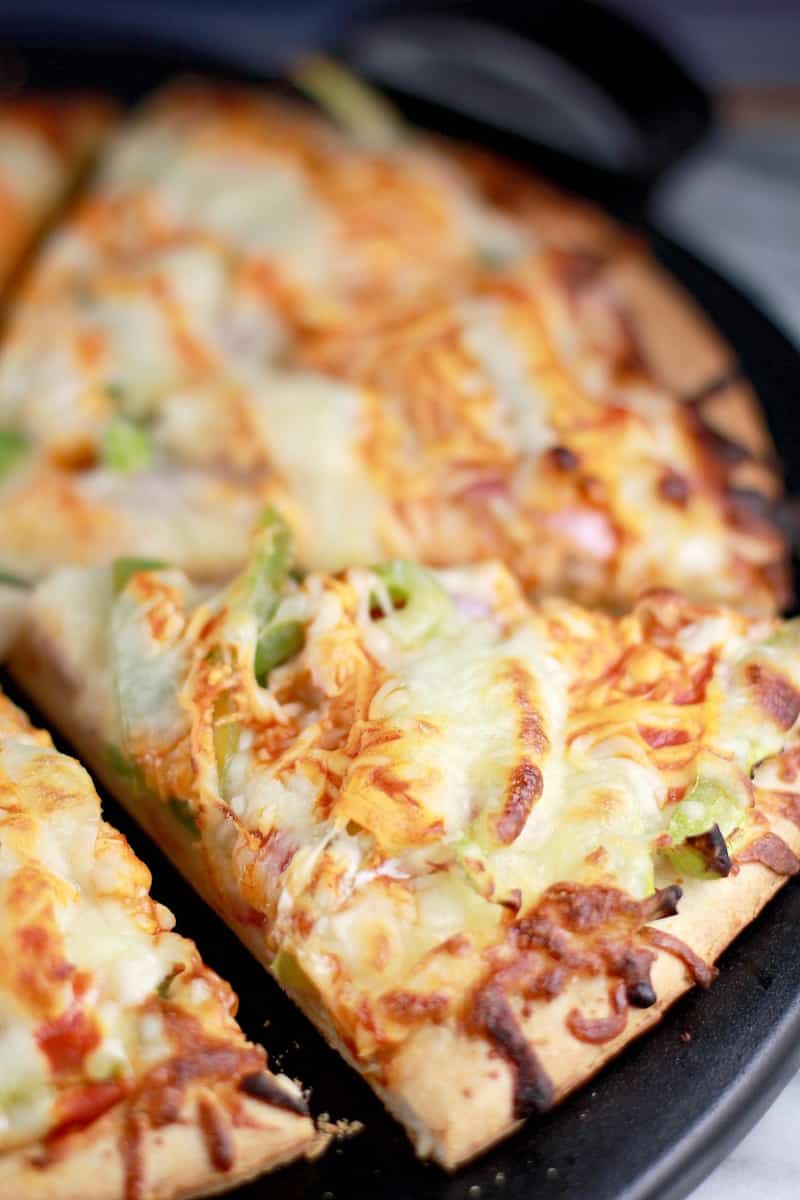 After all the planning, all the anticipation, all the thawing-and-brining-and-roasting, after all the love you levied out to produce the juiciest, best turkey of your life….
Then, it's over.
Like any highly anticipated event, it's always a little anticlimactic, no? Just a little? And THEN not only are we just done and tired (although at the same time, completely proud of our turkey achievement), but there are still dishes to do, clean-up, and dessert. Huzzuh.
Evening falls. We sleep in our food coma.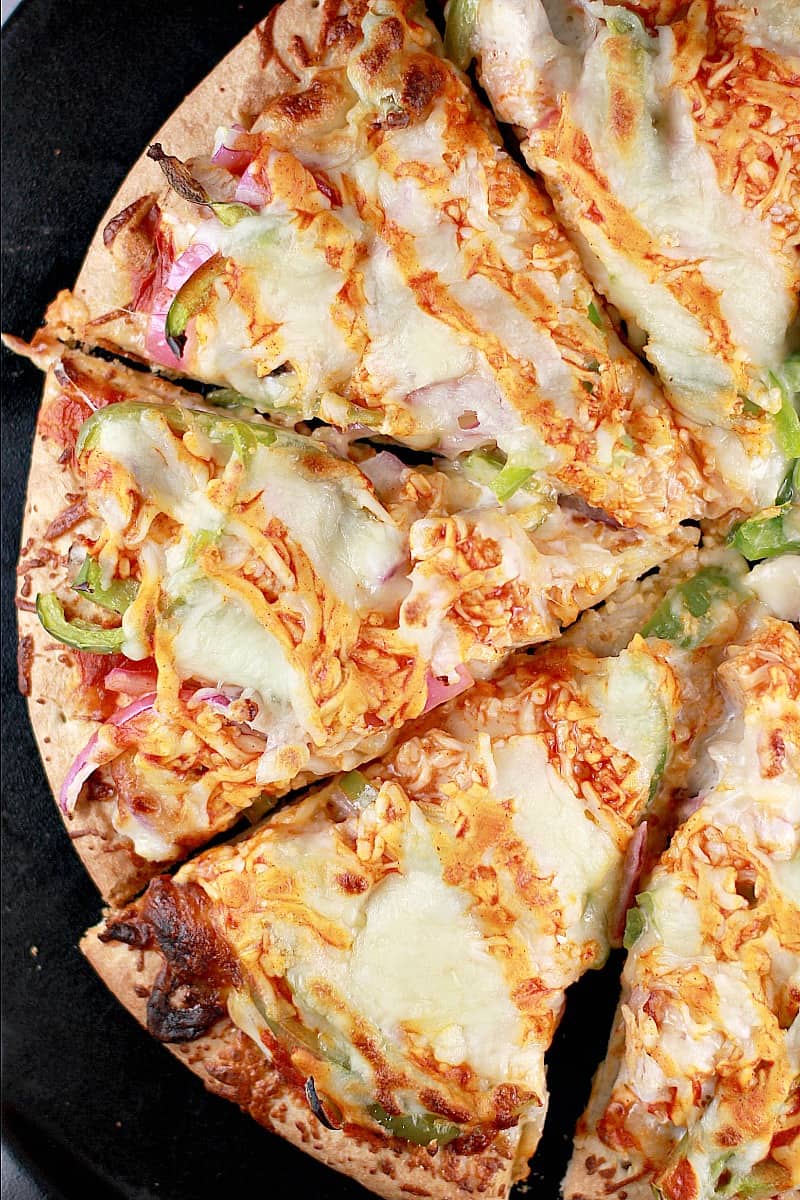 Then the next day, our bodies have the audacity to get hungry again.
And literally the last thing I want to do the day — or days — after cooking a big holiday meal, is to cook again.
BUT the problem is this: We can only make so many turkey sandwiches. We can only take so much microwave reheated turkey. There are only so many leftover Thanksgiving recipes!
And hence, easy clever recipes like Buffalo Turkey Pizza are born. They come to the rescue and save us with a delightful and tasty dinner, with very little effort.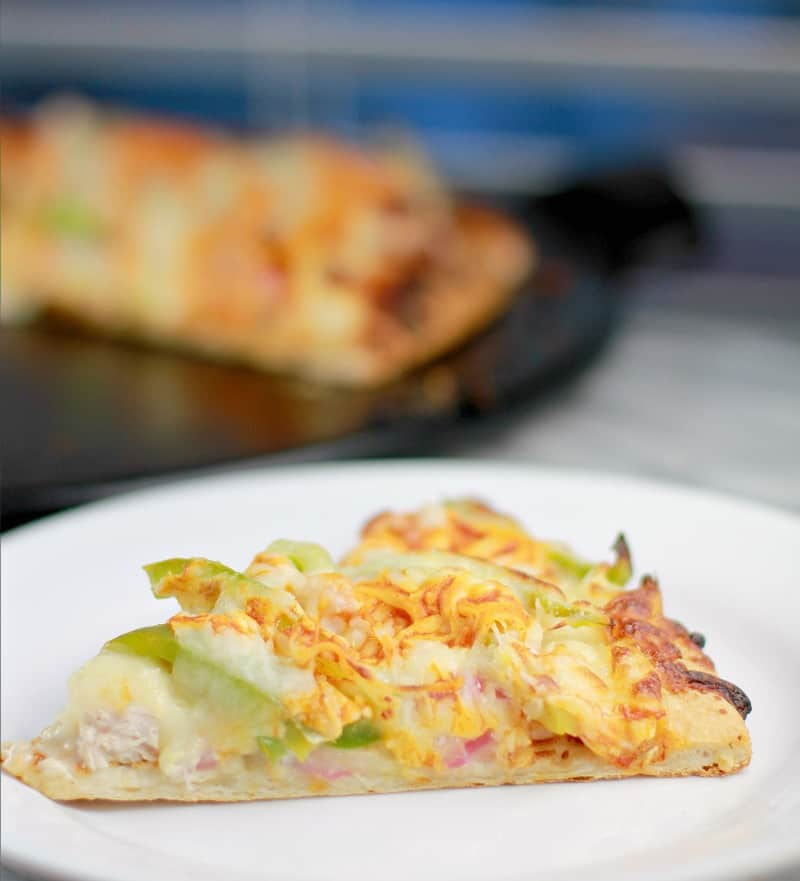 What to do with Leftover Turkey
Turkey, as it turns out, is fantastically amenable to all sorts of yummy delicious casseroles, dishes, and feastings. The flavor of turkey goes so well with so many every day ingredients, that it is really easy to come up with creative ways to use it.
You have your classic turkey tetrazzini – can't go wrong there. You have my Turkey Tamale Casserole, which is insanely good and also very easy. And then you can always make chili! I love my recipe for Turkey, Sausage, and Poblano White Chili.
However, Buffalo Turkey Pizza – this, the easiest of recipes – is my regular go-to after Thanksgiving. I love making this pizza, and I do so each year because pizza is my favorite food, so there. And this is a 30 minutes dinner. Win win.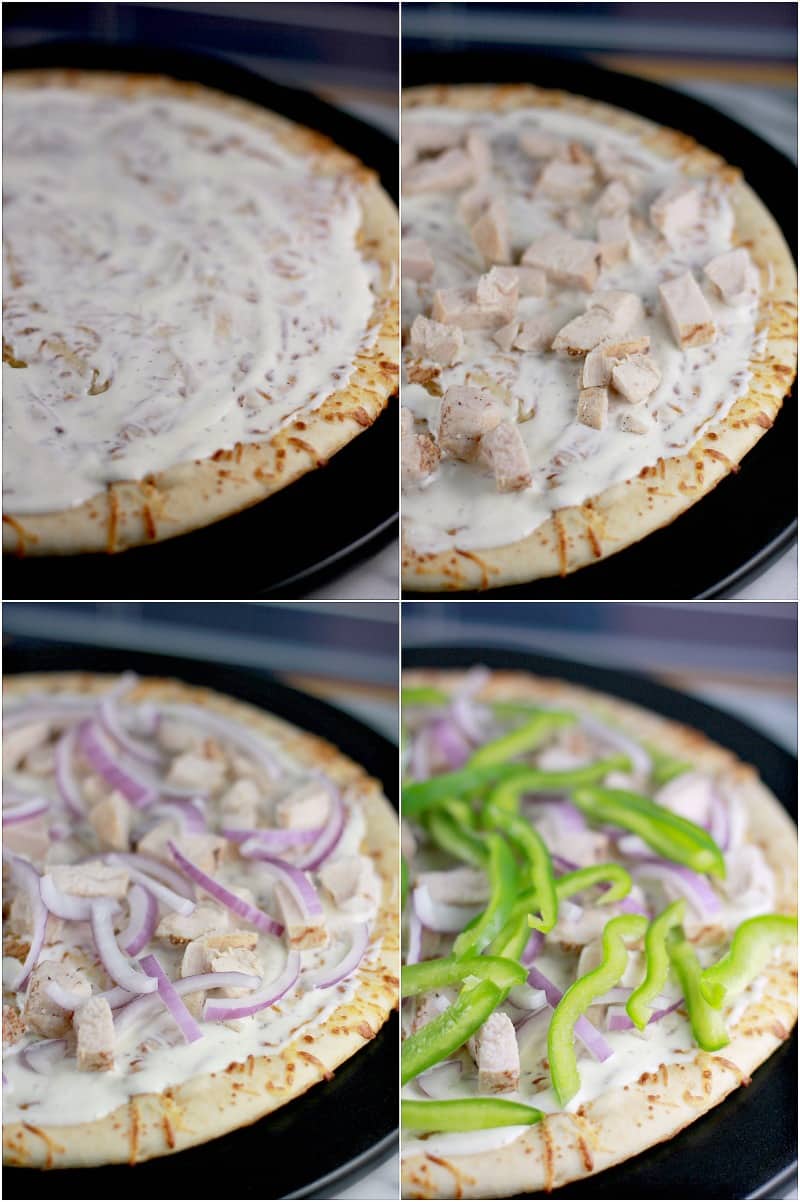 Now, a logical question is how long does cooked turkey (or chicken) last in the fridge?
The USDA says 3-4 days. But I meal prep lunches all the time for the week, making them on Sundays and eating through to Friday. [shrug]
So really the best advice, to be on the safe side, is to make THIS PIZZA within a couple days after you roast that bird.
Otherwise, freeze a batch of meat (1-1/2 cup chopped or ~8 ounces).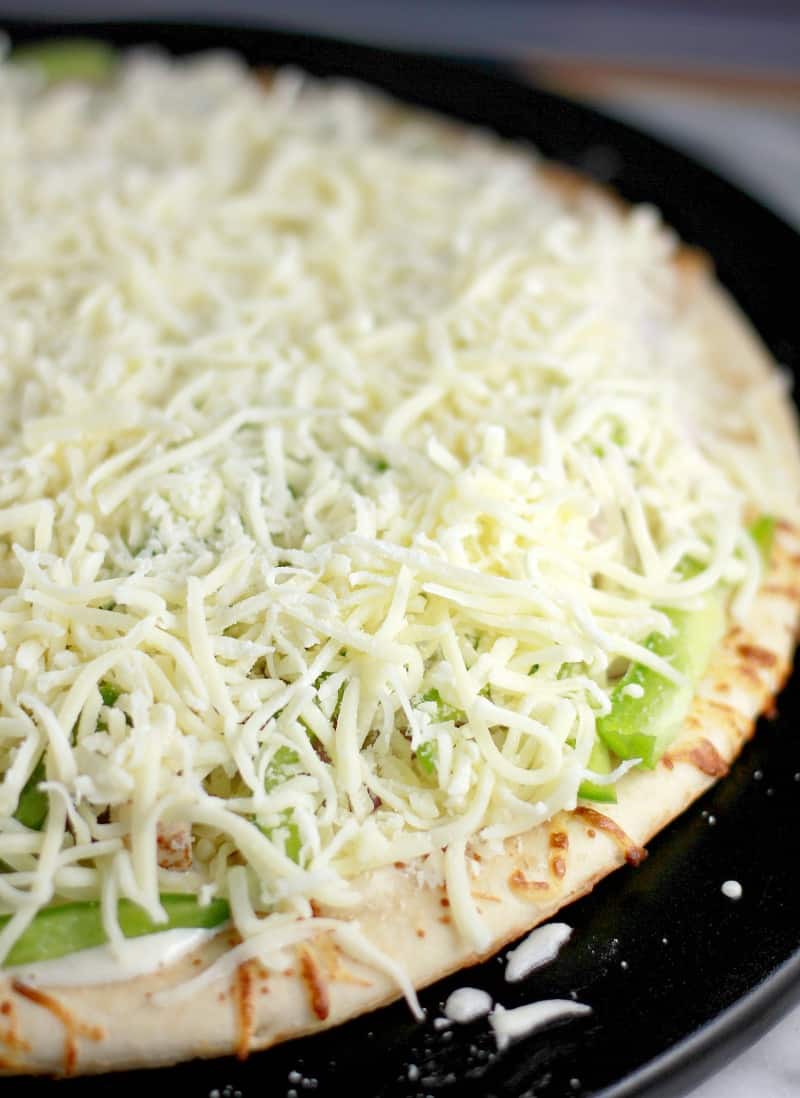 How to Make Buffalo Turkey Pizza
Preheat the oven.
Gather/chop the ingredients.
Layer the toppings on the pizza crust.
Bake.
This is why pizza is awesome. We can get more sophisticated and gastromme with fancy pizza (see below for a list of fancy pizza recipes).
Or we can keep it a low-key pizza to use up leftovers and just make for an easier evening all around.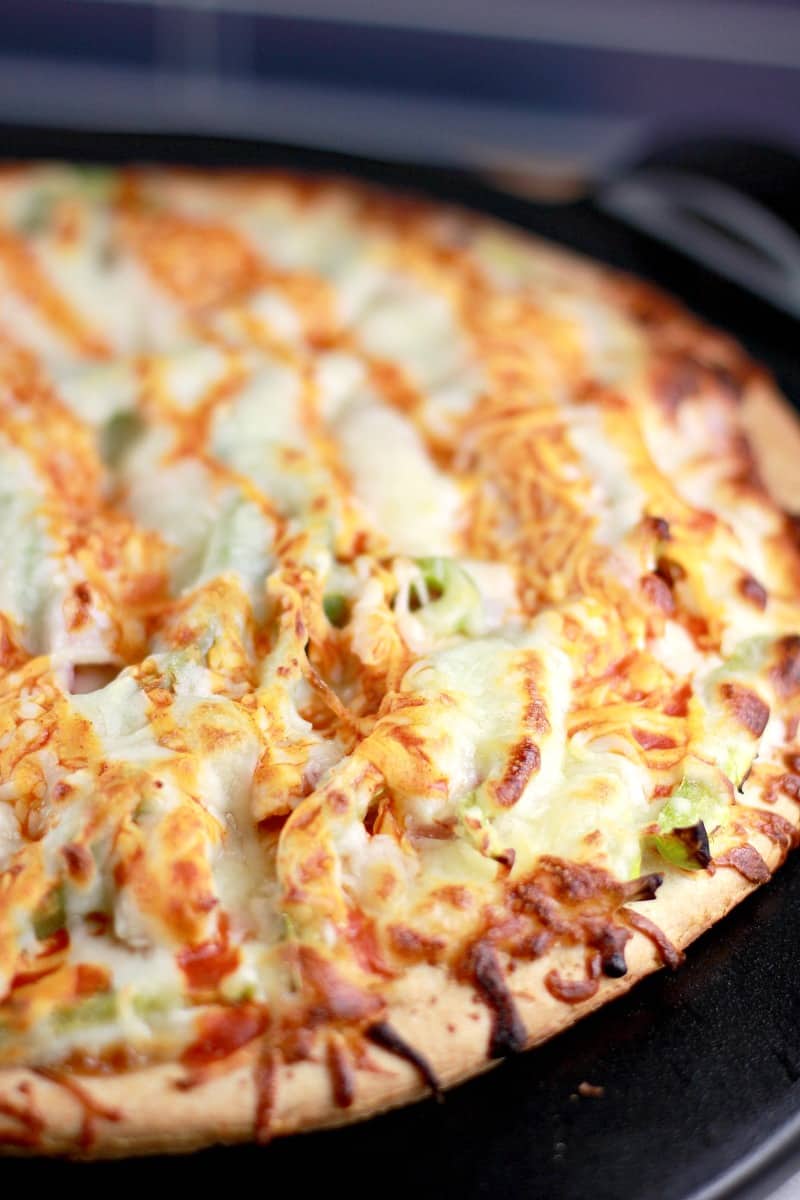 Helpful Tips for Buffalo Turkey — or Chicken — Pizza
See what I did there? Turkey OR chicken. Because this recipe works with either meat. Or any meat. So bring your leftover sausage, ground beef, veggie crumbles, bacon, even shrimp. This recipe can take them all.
If you want a little more zing in your pizza, use purchased Spicy Ranch or add a little buffalo sauce or Sriracha to your ranch. By no means is this required, but some of you like it hotter than others.
Invest in a pizza stone! Cooking on a pizza stone makes a better, crispier crust by far.
Preheat the pizza stone in the oven while the oven is preheating. This ensures a nice cooked crust underneath all our toppings.
I have made this pizza using whole milk and part-skim mozzarella, and I do prefer whole milk cheese for its more melty yumminess.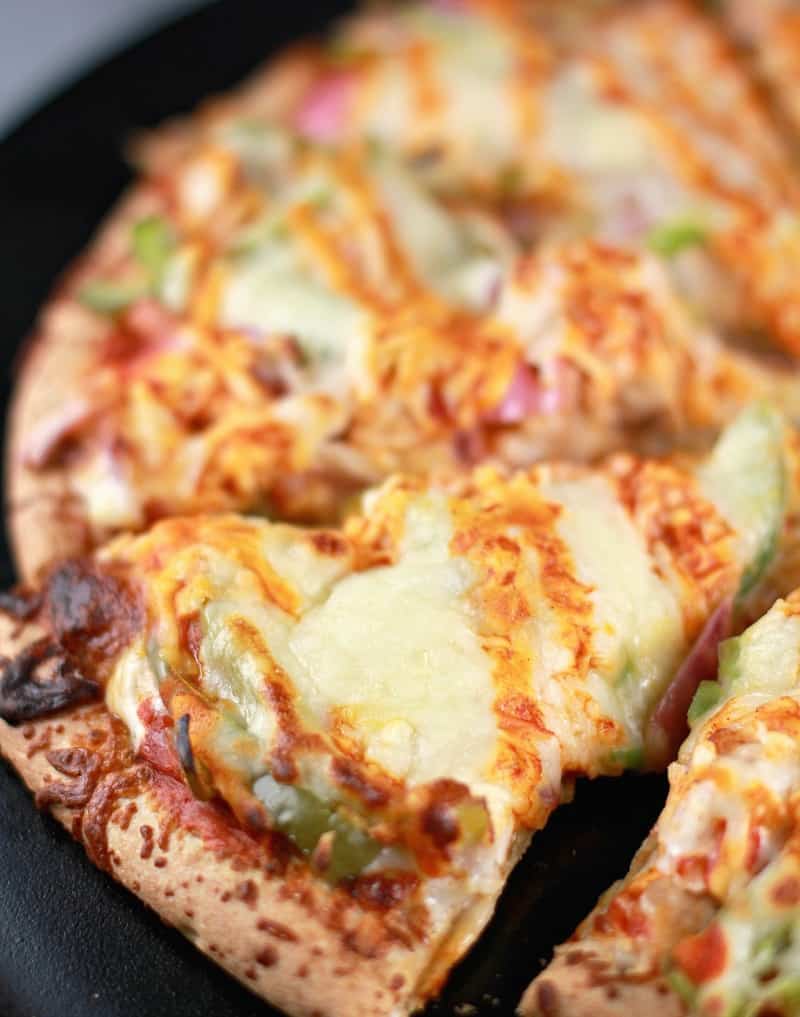 Use a purchased crust or make pizza dough from scratch?
This is a tough one, because they yield pretty different results.
For this recipe, I have done both. And they were both delicious. I have used my Whole Wheat Pizza Dough and I love how that flavor goes with these ingredients. I have also used my Sam Adams Pizza Dough, and I have to say I preferred the whole wheat for this one.
But that said, I feel that the spirit of this Buffalo Turkey Pizza is simplicity. A spectacularly EASY quick dinner for leftover turkey to the rescue when we just are not having the idea of cooking more than that.
So, I prefer purchasing a crust for this pizza specifically to help myself out and Knock It Out. And be done.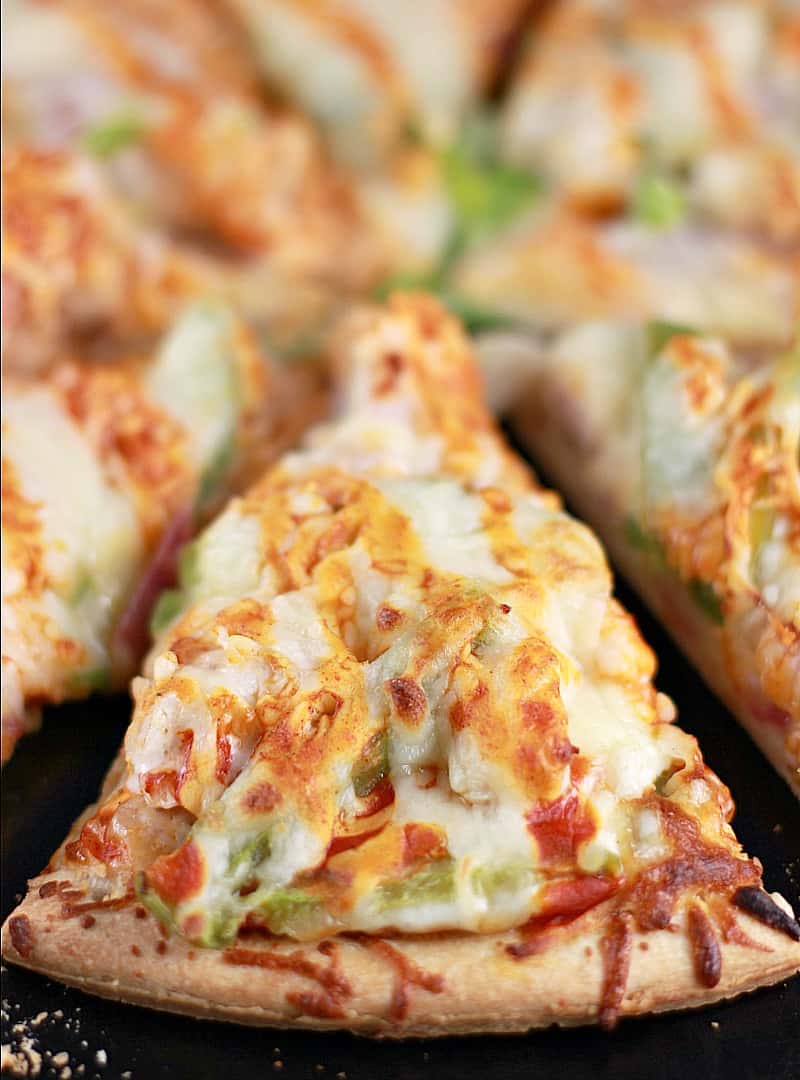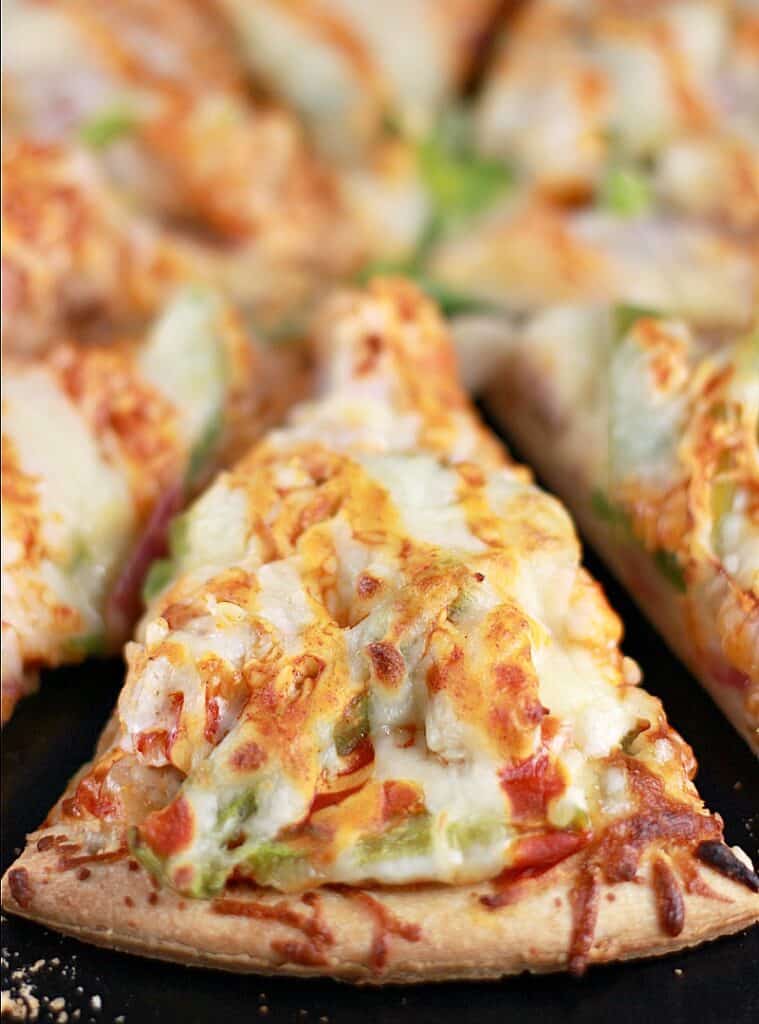 If you love pizza like I do, here are more recipes
So that's it kids. A super easy recipe with turkey and great way to use leftover Thanksgiving turkey especially.
Creamy sauce, crunchy veggies, gooey cheese and the kick from buffalo wing sauce. This easy dinner with satisfy you all.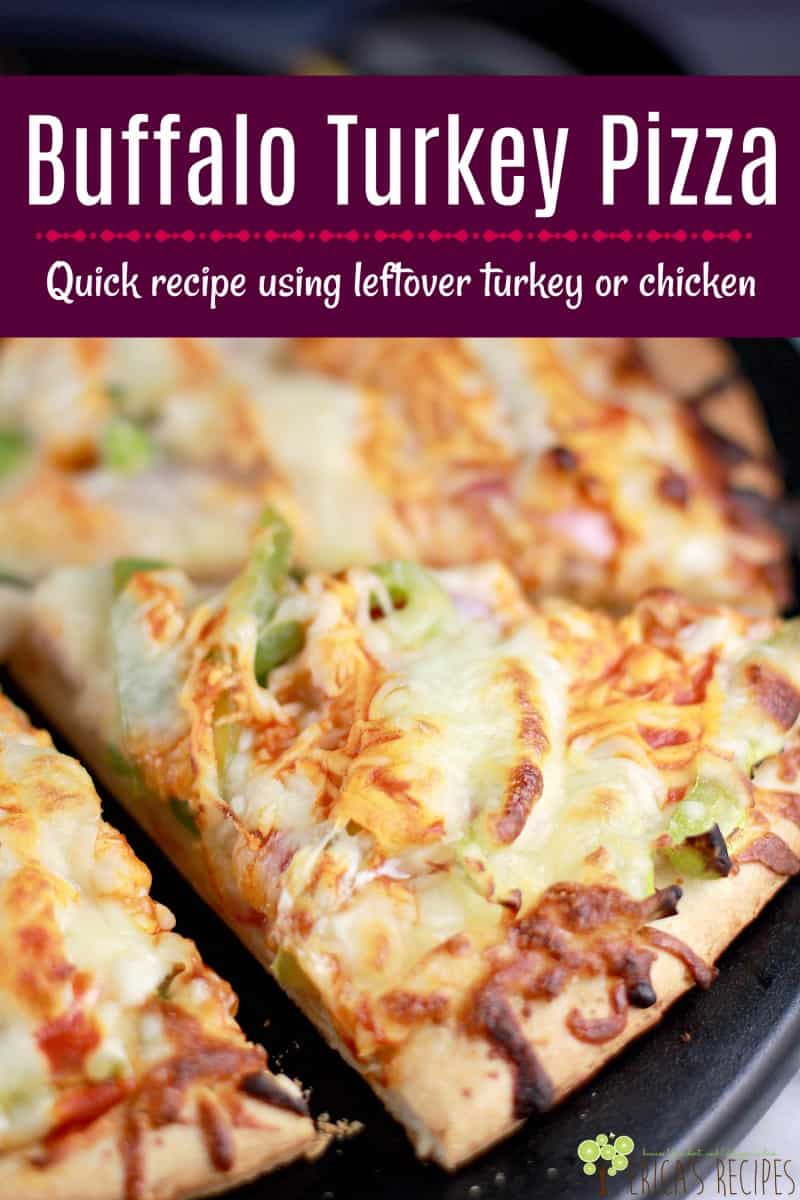 This recipe uses my Sam Adams Pizza Dough made with beer. Also check out my Homemade Pizza Sauce with wine and garlic.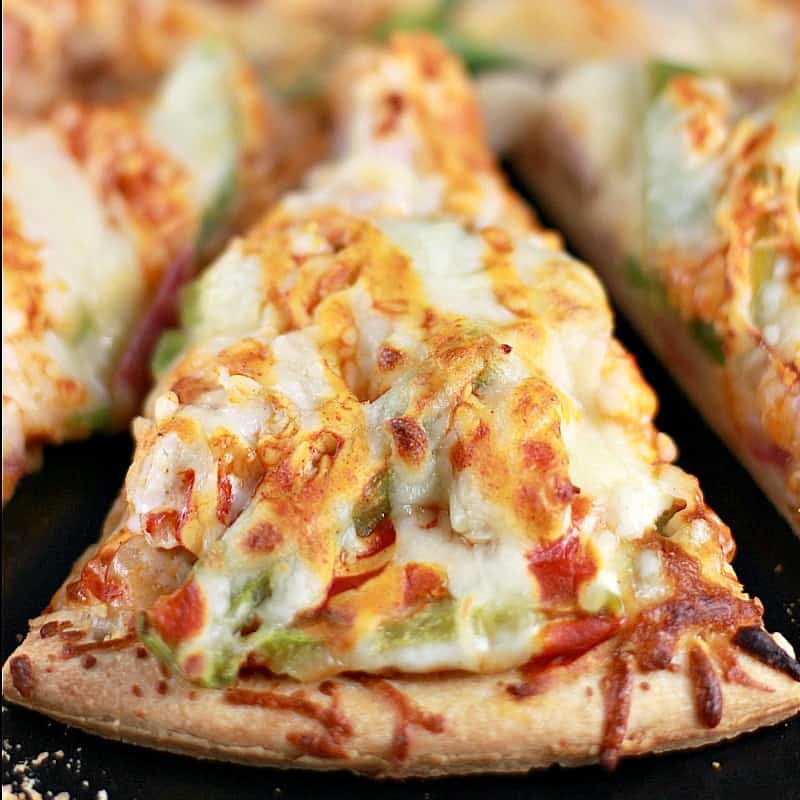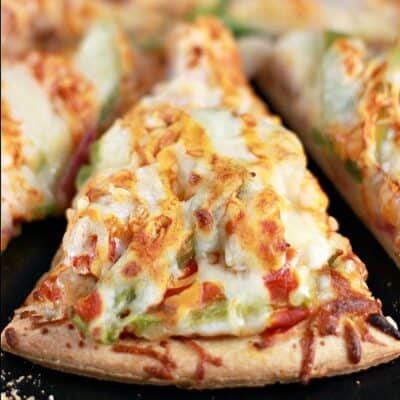 Buffalo Turkey Pizza
Buffalo Turkey Pizza is a clever leftover turkey recipe because pizza is awesome.
Ingredients
Whole Wheat Pizza Dough or a purchased crust

¼

cup

ranch dressing

original or spicy

1 ½

cup

cooked turkey or chicken meat

chopped

¼

medium red onion

thinly sliced

½

large green bell pepper

seeded and thinly sliced

2

cup

shredded whole milk mozzarella cheese

¼

cup

buffalo wing sauce

fresh cracked pepper
Instructions
Preheat oven to 425F with the pizza stone (if using) on the middle rack. Once the oven is ready, continue to heat the stone in the oven an additional 10 minutes to make sure the stone is fully heated.

Remove the pizza stone from the oven. Put the pizza dough or prepared crust on the stone.

Layer, in order, the ranch dressing, turkey or chicken, veggies, and cheese. Drizzle Buffalo sauce over top. Finish by grinding fresh cracked pepper over top.

Put the stone with the pizza back in the oven and cook 10-20 minutes, depending on the crust you are using and its thickness, until cheese is melty and crust is toasty.

Remove from the oven and serve. Yields: 8 slices.
Notes
If you want to spice up this pizza more, you can use spicy ranch or just add a bit of Sriracha to regular ranch. I have used regular ranch and spicy with good results every time.
I have used both whole milk and part-skim mozzarella for this pizza, and the whole milk melts much better.
Calorie estimation is approximate and per slice.
Nutrition
Calorie count is purely an estimate calculated using an online application to serve as a guide and not to be taken as accurate nutritional information. Percent Daily Values are based on a 2,000 calorie diet.
Tried this recipe?
Leave a comment below and let me know!
~✿♥✿~